October 30th, 2015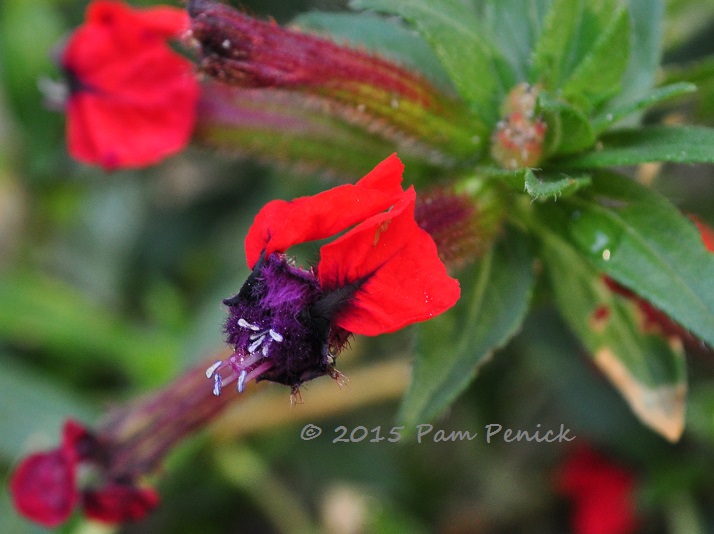 Austin is home to 1.5 million Mexican free-tailed bats, which summer under the Congress Avenue bridge downtown and constitute the largest urban bat colony in North America. The bat is the unofficial mascot of the city, and the rest of Texas thinks liberal-hippie Austin is pretty batty in every other respect, so what better way to show your civic pride in the garden than by growing a plant whose flowers resemble the heads of bats?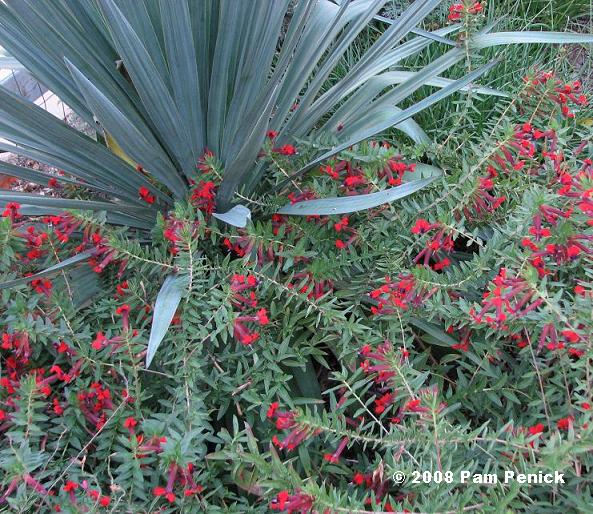 Bat-face cuphea (Cuphea llavea), like the Austin bats, is native to Mexico and enjoys Austin's hot summers. Unlike the migrating bats, it may even overwinter in central Texas. Marginally winter-hardy here, it dies to the ground in normal winters and may be killed outright during a cold winter or even a short-lived deep freeze. Your best bet, then, is to plant it in late spring so that it can get well established before winter. While it blooms sporadically in summer, its best bloom season is late summer through fall, when its sprawling stems sport clusters of tubular flowers with purple calyxes (the bat face) with two showy, ear-shaped red petals.
Out of bloom, its hairy, oval leaves have a slight blue cast, which can be played up by pairing it with softleaf yucca (Y. recurvifolia), as pictured above, or paleleaf yucca (Y. pallida).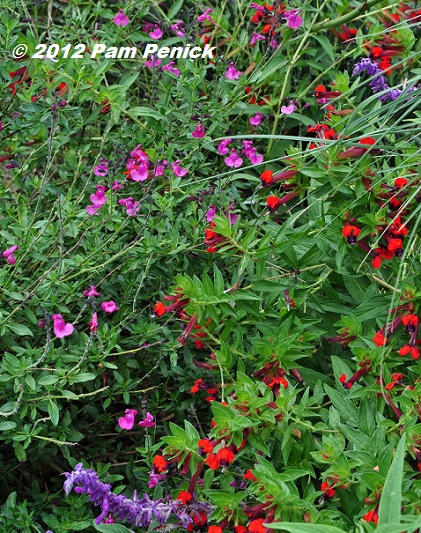 Or amp up your fall display by pairing it with pink autumn sage (Salvia greggii) and Mexican bush sage (Salvia leucantha). It stays small — about 1 to 2 feet tall and wide — so it's best used at the front of the bed.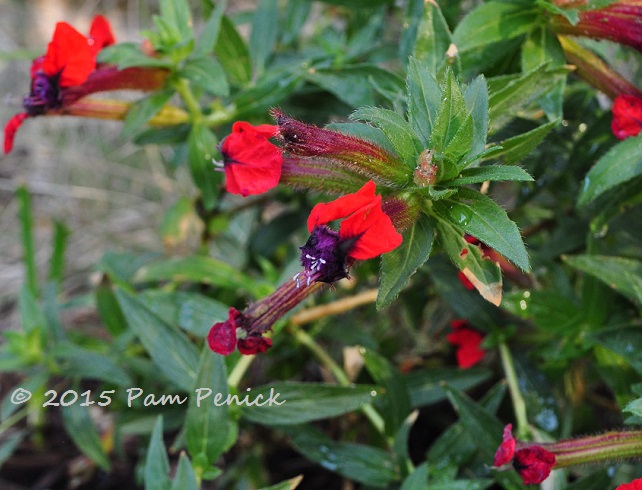 Unlike its nocturnal namesake, bat-face cuphea loves the sun but does well in part-sun too. It can get crispy during our hot summers unless given regular water — at least once a week.
Even if you grow it as a warm-season annual, bat-face cuphea is a fun addition to the garden, especially if you like oddities, have children who would enjoy the bat "faces," or just want to honor our local flying mammals. It also adds a playful touch of Halloween spookiness to the garden. (Ghostly shrubby boneset is another Halloween-blooming favorite of mine.)
So go ahead and plant some bat-face cuphea next spring. You'd be batty not to!
Note: My Plant This posts are written primarily for gardeners in central Texas. The plants I recommend are ones I've grown myself and have direct experience with. I wish I could provide more information about how these plants might perform in other parts of the country, but gardening knowledge is local. Consider checking your local online gardening forums to see if a particular plant might work in your region.
All material © 2006-2015 by Pam Penick for Digging. Unauthorized reproduction prohibited.