October 19th, 2015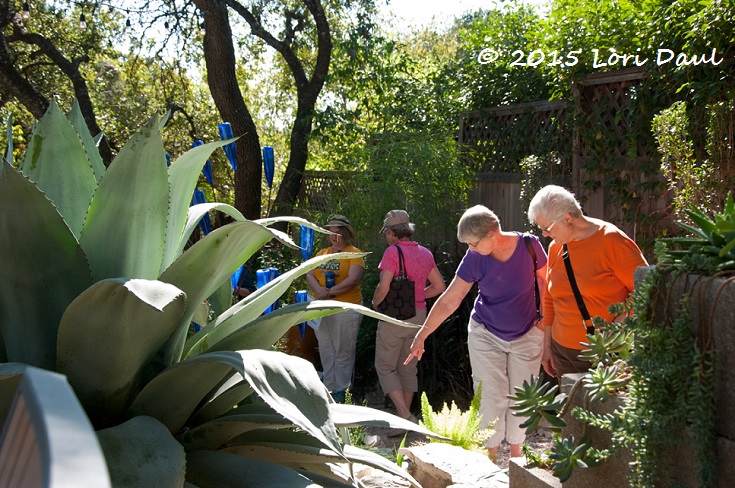 I opened my garden as part of the Inside Austin Gardens Tour last Saturday. It was my first time to participate in a public garden tour, and after all the garden prep, it was wonderful to finally put down the pruners and the shovel and welcome people into my garden.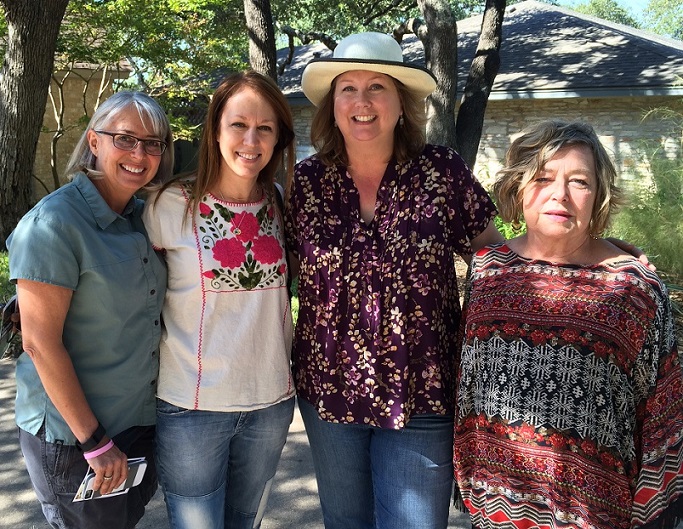 Approximately 400 people came through the garden, including many readers of Digging, some of whom drove in from out of town to see a garden that they'd been reading about for years. I wish I'd taken more selfies with Digging fans like these lovely visitors from Dallas (if I remember correctly?). Anyone who travels 8 hours round-trip for a garden tour is a bona fide tour nut — like me! — so I felt an instant connection. So here's a shout-out to all the "Diggers" who came to see me! I loved meeting you all.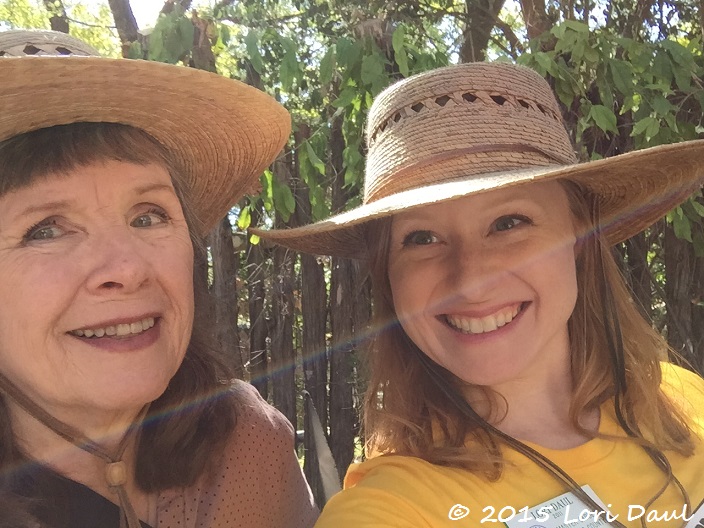 My friend and tour volunteer Lori Daul kindly shared her pictures with me, which I appreciate because I didn't have time to take any. Lori blogs at The Gardener of Good and Evil, and here she is (on the right) with Annie of The Transplantable Rose, one of the first garden bloggers I ever met, back in the early old days of blogging, around 2007. They're wearing the same hat!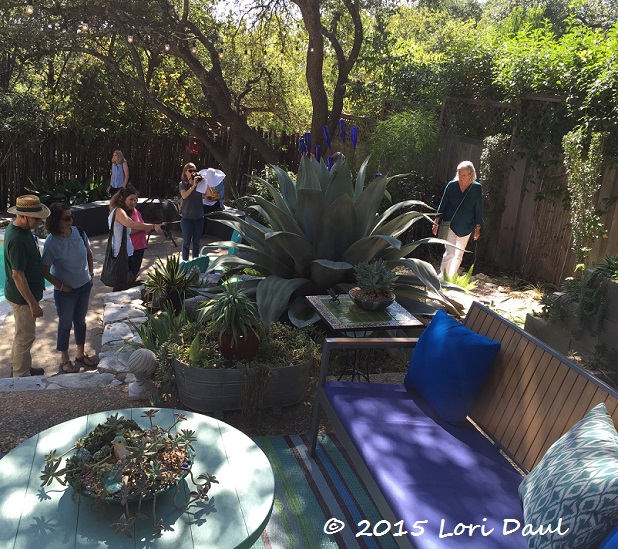 After a week of temps in the upper 90s leading up to the tour, the weather on tour day was idyllic: sunny and upper 80s F with low humidity. Hats were in abundance to keep the bright sun at bay, but under the live oaks it was very pleasant.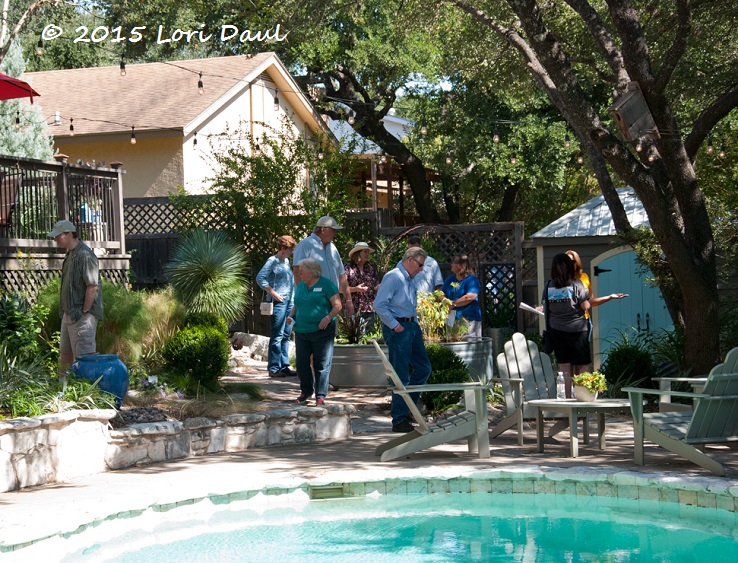 There I am in the center background, explaining how to make a stock-tank pond. By far, though, my most-asked question was, "Did you bring in the big rock slabs behind the pool, or were they always there?" I think I answered that question about 30 times. For the record, yes, they've always been there. And yeah, they're very cool.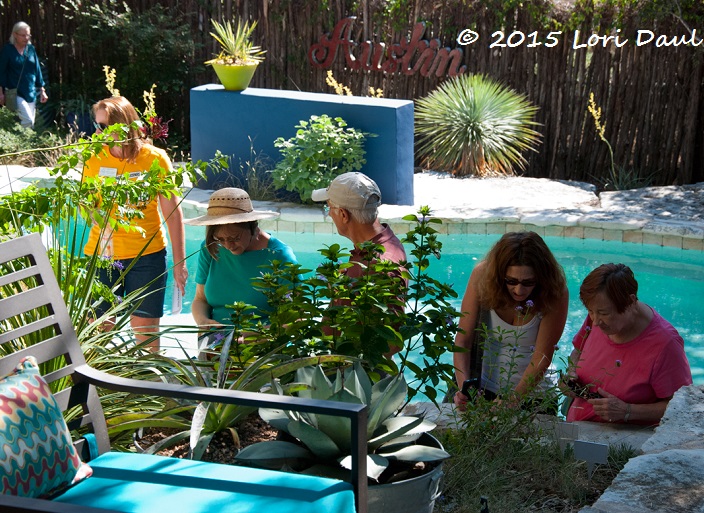 Another question I got asked a lot was some variation of, "Did you make the berms in the front yard and plant the trees on them?" Answer: No, that's a natural feature of our property. I believe the undeveloped lot had a long natural berm that stretched across the front yard and into our neighbor's yard. When the house was built, the developer carved into the berm in order to pour the circular driveway, which resulted in two small berms with a cluster of live oaks on each.
Aside from berms and rocks, visitors were most curious or complimentary about the sedge lawn, bamboo muhly grass, garden art, 'Vertigo' pennisetum, cinderblock succulent wall, stock-tank pond, 'Amistad' salvia, mirrored trellises, Philippine violet, and 'Sparkler' sedge. I told many people about my plant list, with hyperlinks to detailed posts I've written, for more info about many of the plants.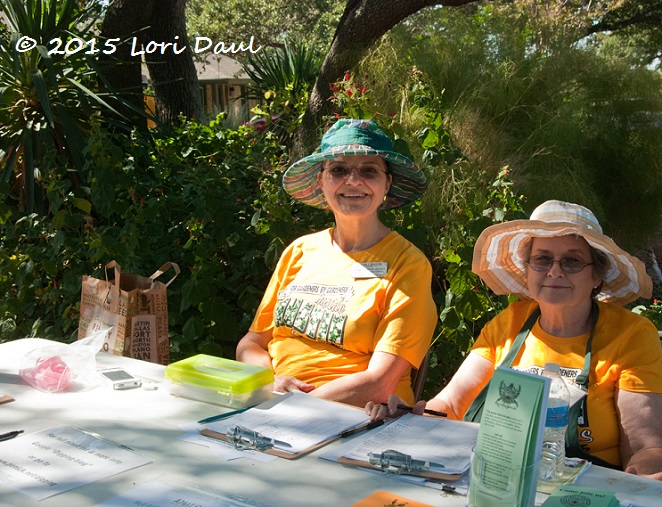 I must thank the army of Travis County Master Gardener volunteers who worked in my garden all day, selling tickets, answering questions, and even selling my books for me (I sold an entire box of 24 books — yay!). My friend Vicki Blachman of Playin' Outside was my Garden Captain, and she kept the ship afloat with smooth sailing. Thank you all!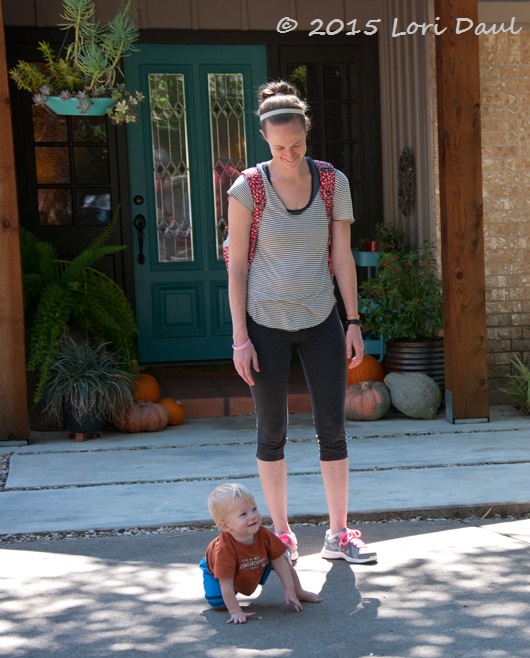 Thank you, too, to everyone who came to see my garden. You made the day really fun!
For those wanting to replicate some of the projects they saw in my garden, here are links to my how-to posts:
How to make a container pond in a stock tank
How to make mirrored trellises
How to plant a sedge lawn
Make a cinderblock wall planter
For more "How I Did It" posts, click here. And if you're curious to see before-and-after pics of the garden, you'll enjoy this post I wrote last spring.
All material © 2006-2015 by Pam Penick for Digging. Unauthorized reproduction prohibited.