October 16th, 2007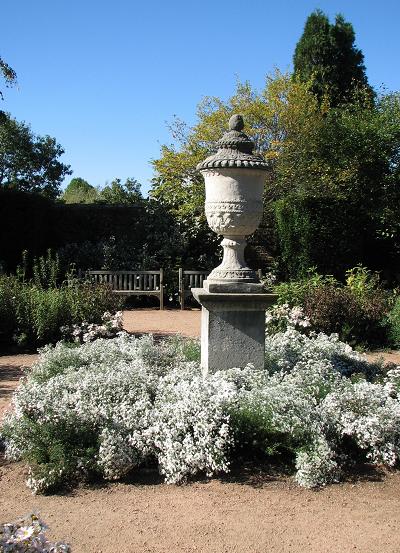 After unseasonable heat for the Chicago Marathon weekend, our last day in Chicago, October 9th, dawned clear and cooler, with highs in the 70s. Ahhh, much better! Taking advantage of the beautiful day, we took a 45-minute train ride north of town to the Chicago Botanic Garden. We had to hoof it a mile or so from the train stop along a suburban road to the entrance, but once we stepped through the gates, the gorgeousness on display made the journey worthwhile.
With 23 display gardens and three native habitats luxuriously spread on 385 acres, the garden is too big to be seen in one day. But, oh, how I tried. I walked my DH's marathon-tired feet off in an attempt to soak up as much of the garden as I could. Fellow garden lovers will understand how six hours of walking and admiring vignettes of plants simply flew by. Our baffled spouses will merely shake their heads and continue, I hope, to humor us.
Today I'll show you my favorite display garden, the English Walled Garden, designed by John Brookes.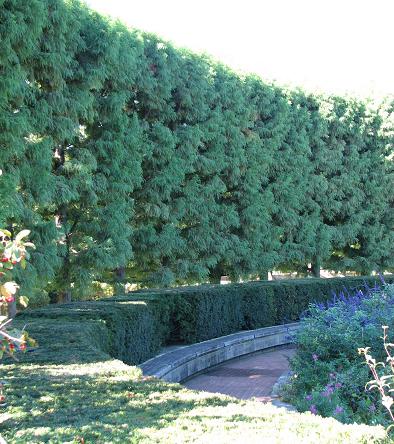 To get there, we passed The Crescent near the Botanic Garden's entrance. The garden occupies nine islands, and you cross a long bridge to enter this space.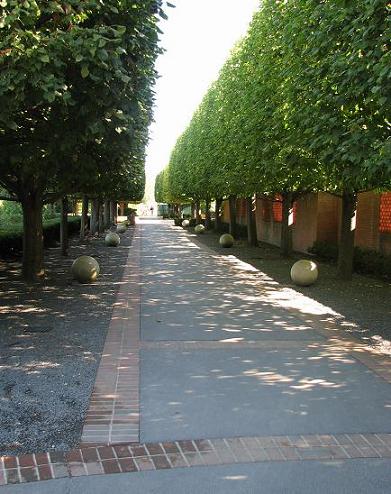 The formal elements caught my eye on the way to the English Walled Garden. This allee divides the Rose Garden from the Walled Garden. Don't worry, fellow romantics—colorful borders and cozy, relaxed garden rooms are just around the corner.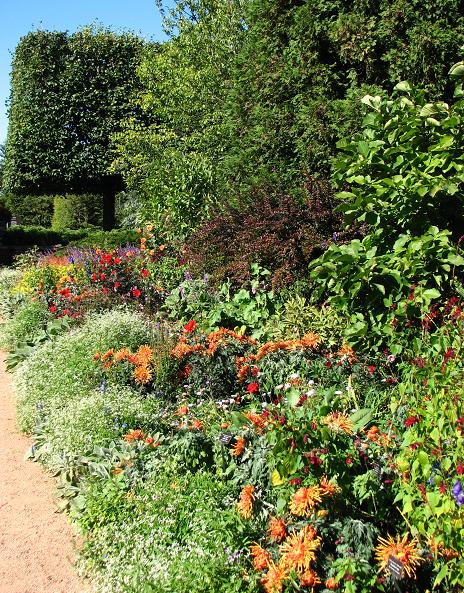 At the Walled Garden's entrance, a long, sunny border was tricked out in autumn's rich hues.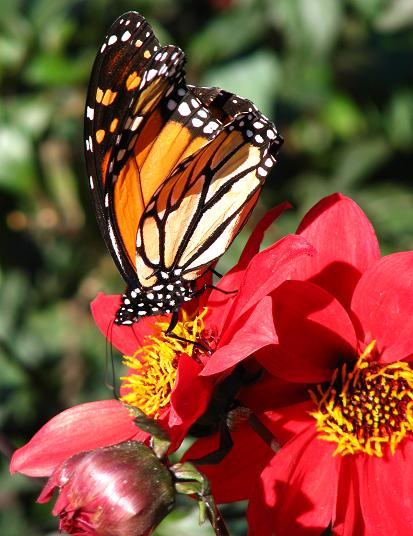 All sorts of visitors were drawn to the flowering perennials.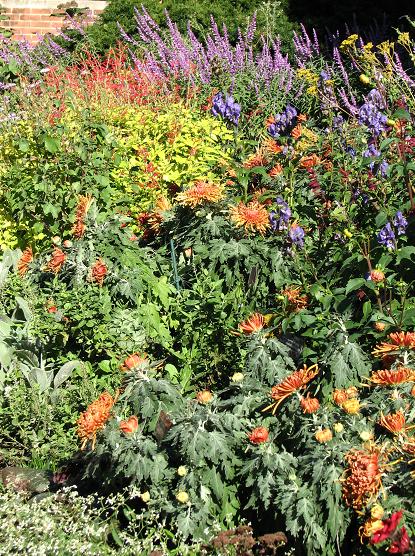 More riotous color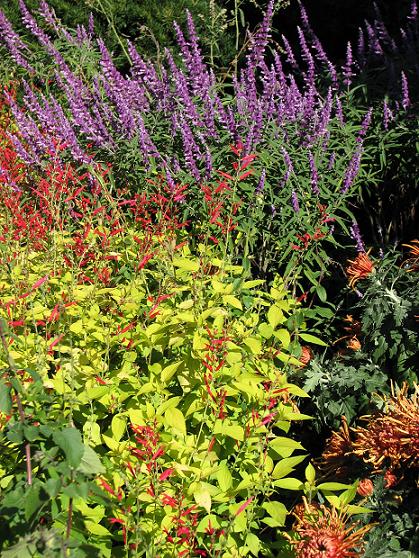 Pineapple sage keeps company with Mexican bush sage.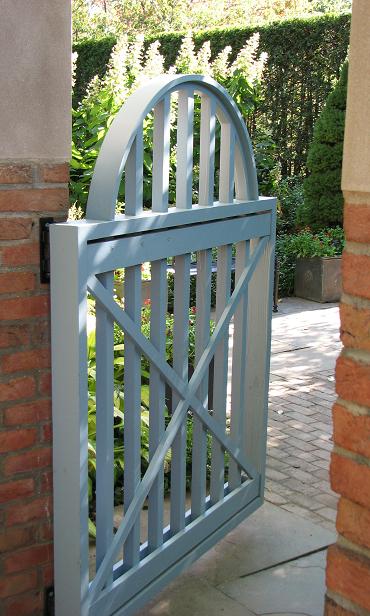 Once you tear yourself away from the border, a charming gate marks your arrival. Beyond, brick walls, hedges, and pergolas mark the boundaries of the various gardens within the English Walled Garden.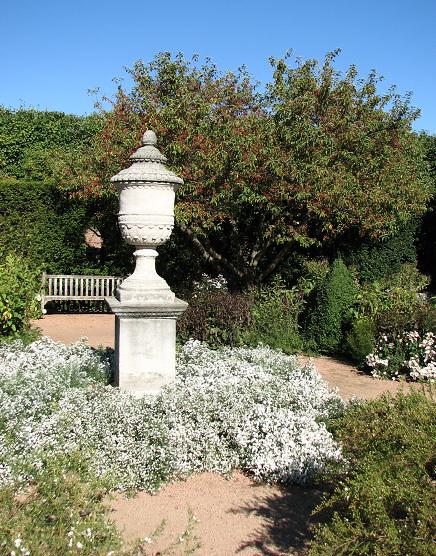 I was drawn to this formal garden, a white urn anchoring the center amid a froth of white flowers.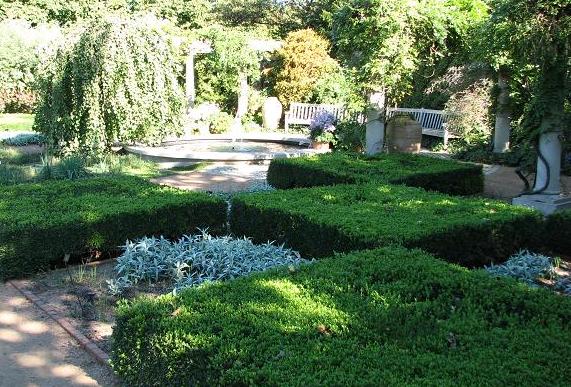 The Checkerboard Garden. Normally the boxwood squares offer counterpoint to artemesia clipped at the same height. But a sign explained that the artemesia had suffered some sort of setback and was regrowing. I always find it encouraging to see that even artistically designed and professionally staffed gardens like this one have less-than-perfect moments.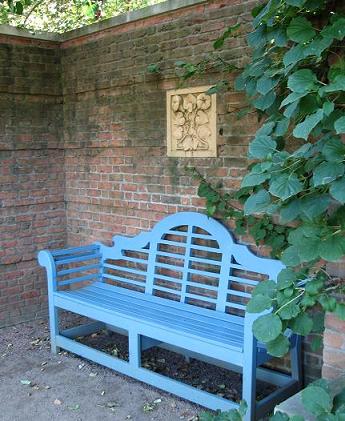 A blue bench tucked into the corner of a wall offers a place for quiet reflection.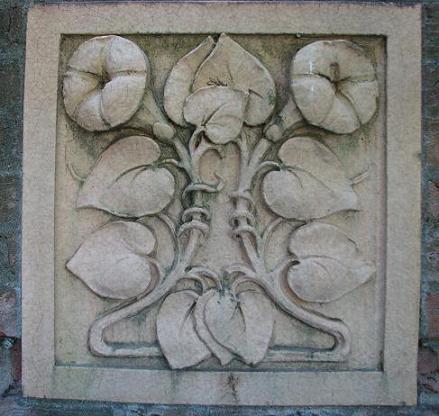 Behind it, a morning glory wall plaque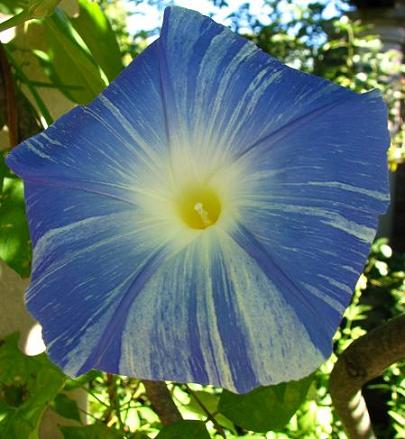 Life imitates art : a morning glory swags over the pergola nearby.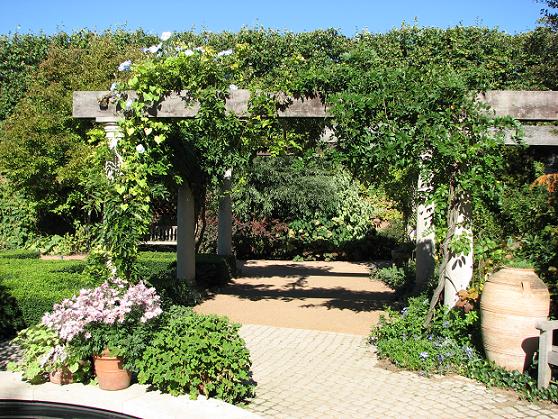 Classical columns and heavy beams support a wisteria as well.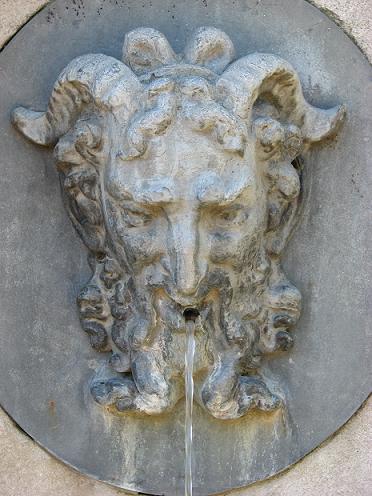 Satyr wall fountain, one of many, many aquatic focal points in the Botanic Garden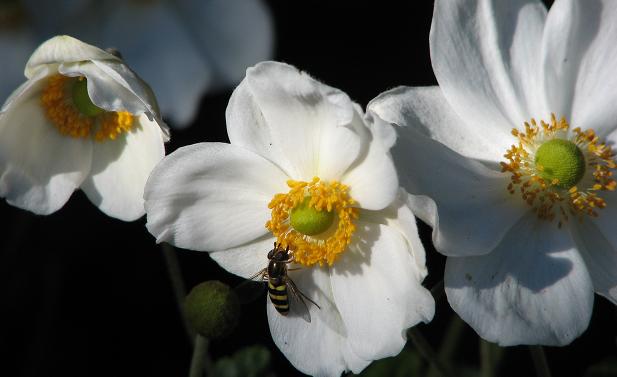 Japanese anemones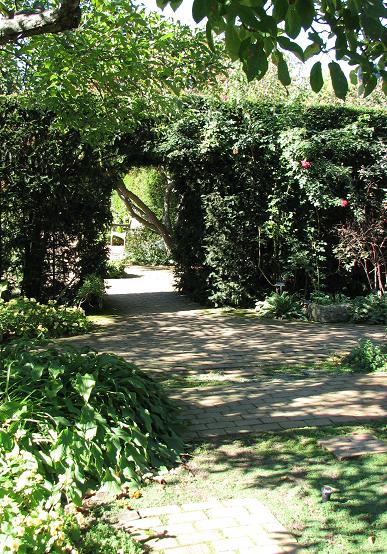 Arched doorways open up the tall hedges. Very "secret garden." Very romantic and charming.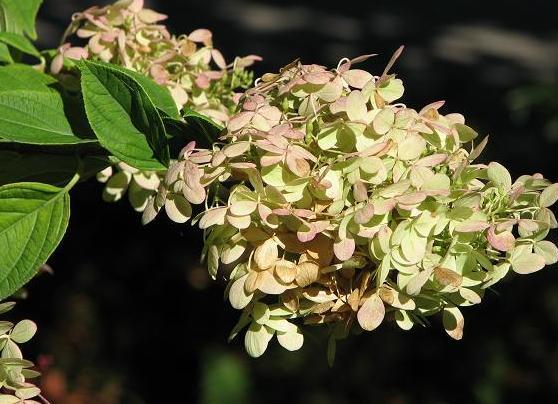 It's easy to visualize this muted hydrangea blossom in a dried arrangement, a reminder of summer all winter long. If, in fact, you lived in a climate where you wanted to be reminded of summer once you'd gotten through it.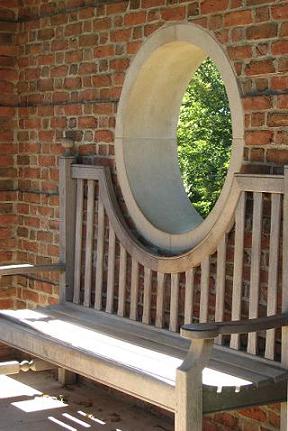 I'll leave you to rest on this bench, with its back cut precisely to match the circular window behind it. Next time I'll show you the Japanese Garden and the Bonsai Collection.
posted in
1st garden--2007
,
Arbors
,
Bees
,
Botanic/Public Gardens
,
Butterflies/Moths
,
Fountains
,
Garden art
,
Garden tours 2007
,
Gates
,
Travel
,
Vines