October 7th, 2015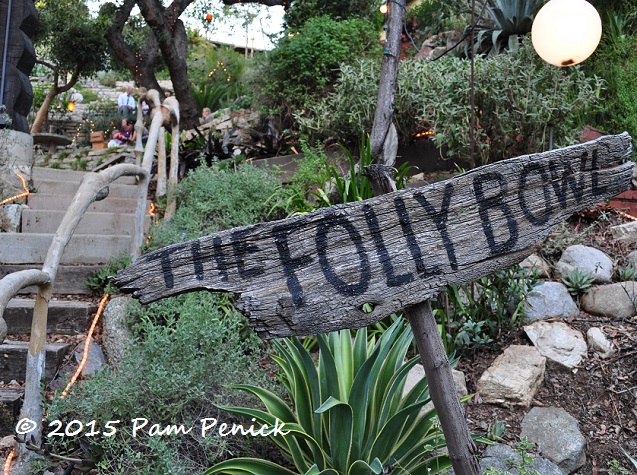 Twelve years ago, Los Angeles garden designer Susanna Dadd and her husband, artist James Griffith, built a back-yard amphitheater in a ravine alongside their Altadena home. Dubbing it The Folly Bowl, they've been hosting free, or nearly free, public concerts each summer, choosing unique performers that will draw a crowd — but not too big of a crowd. I visited with a small group of friends prior to the Garden Writers conference a couple of weeks ago, just before an evening performance.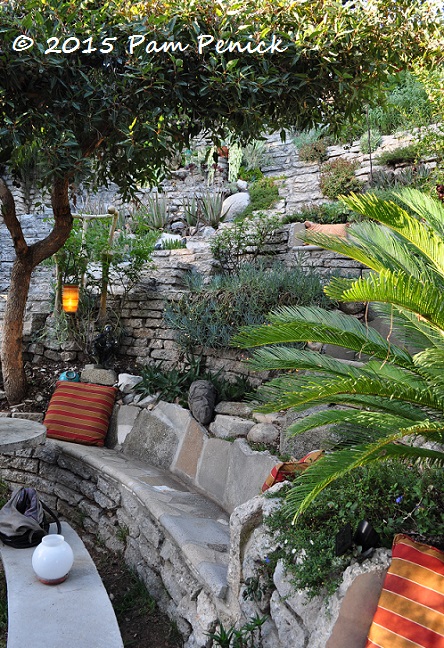 Using fill dirt, rock, and urbanite (broken pieces of concrete), Susanna and James constructed tiered seating all the way up the steep hillside. Susanna filled the gaps among the stones with dry-loving succulents and other tough plants.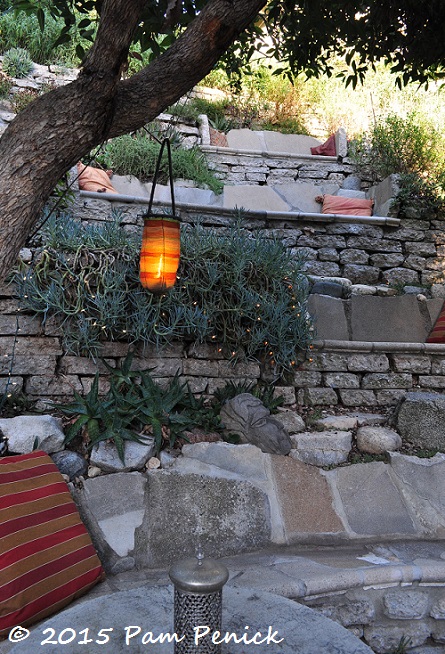 Twinkle lights weave through some of the plants, and hanging lanterns add glowing ambience on summer evenings.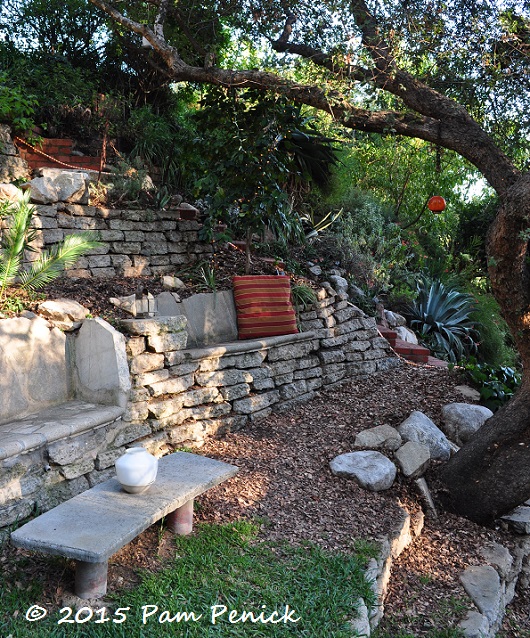 Colorful pillows soften the benches, and low tables are positioned in front of some of them. Concertgoers are encouraged to bring a picnic dinner to enjoy during the show.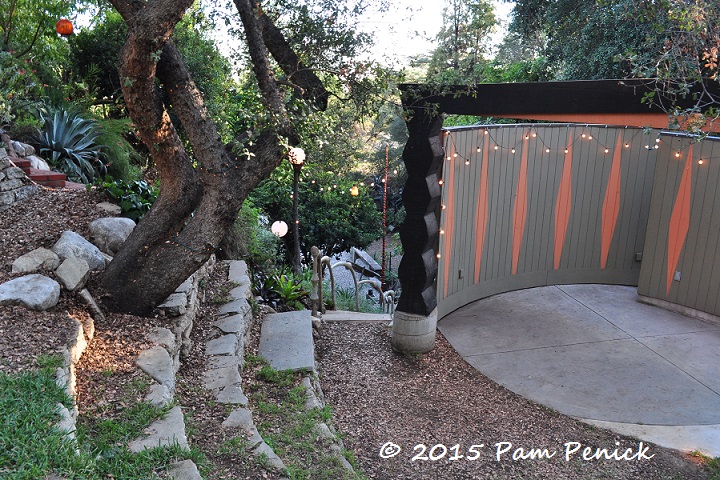 The stage is beautifully framed by carved wooden posts and a curved, painted backdrop, and string lights provide soft illumination.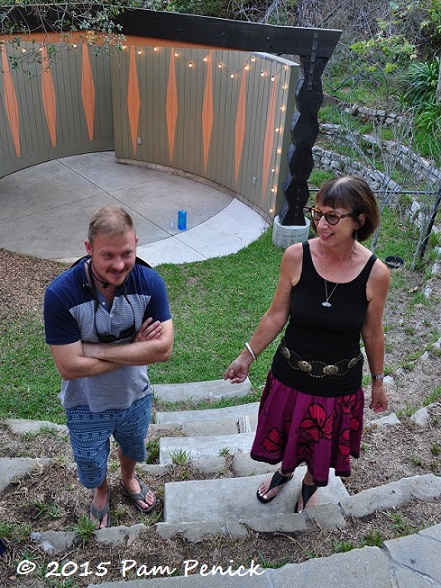 Here's Susanna, the owner, along with Dustin Gimbel, another L.A. designer whose garden we toured earlier that day. It's amazing to consider how generous Susanna and James are with their garden, inviting the public in on a regular basis for pure enjoyment.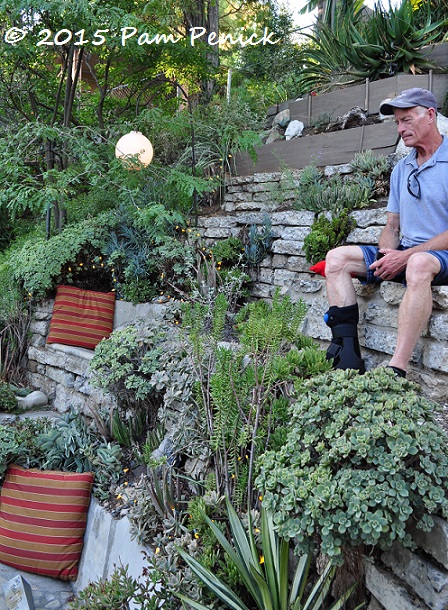 Bill Thomas of Chanticleer taking in the view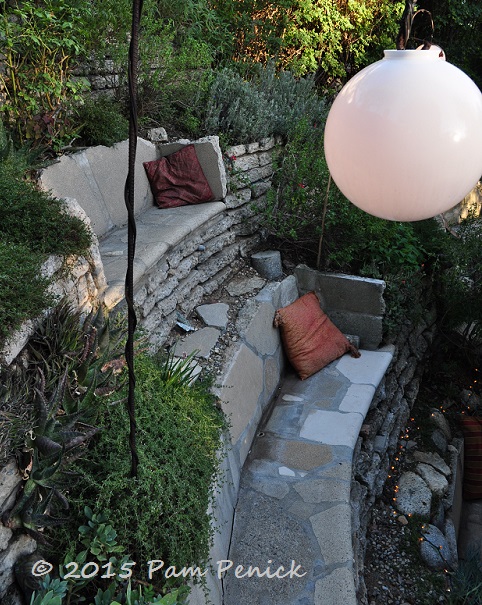 I love the eclectic assortment of lamps and lanterns placed throughout the space.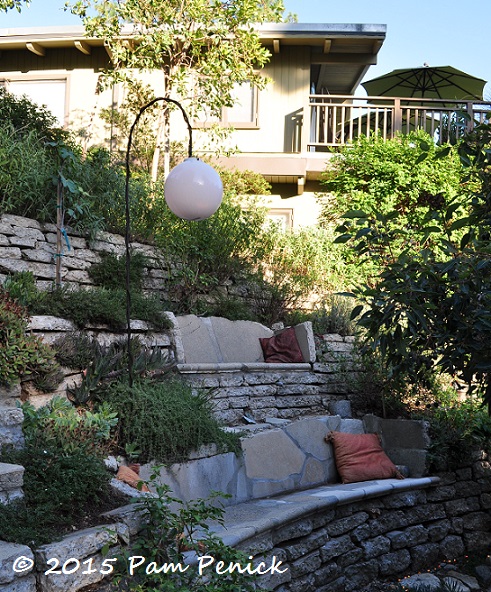 In the background you can see a wing of Susanna and James's L-shaped house, which sits atop the hill and enjoys a nice view of the neighborhood.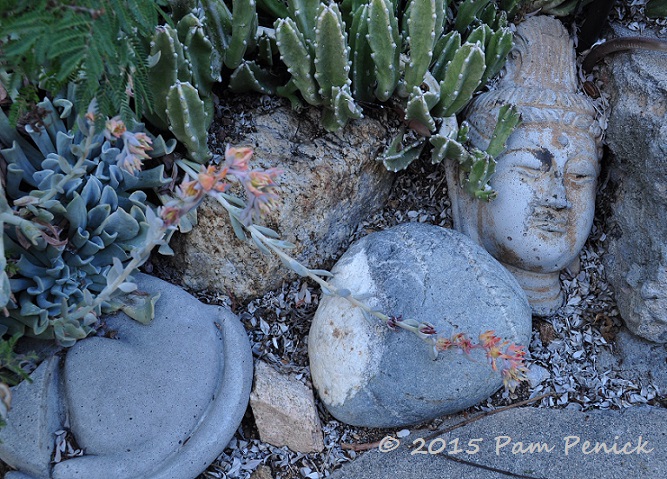 Small details abound for those who look, like this Buddha head placed amid river stones and succulents.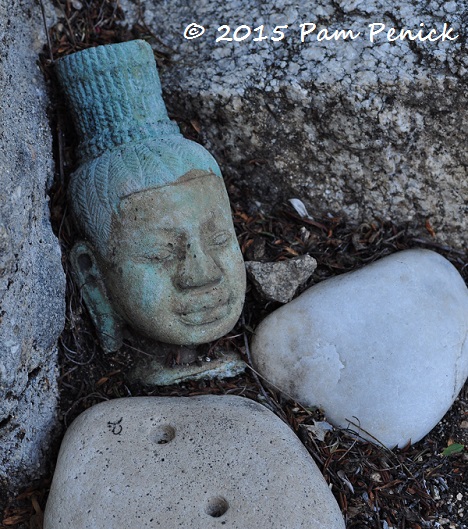 And another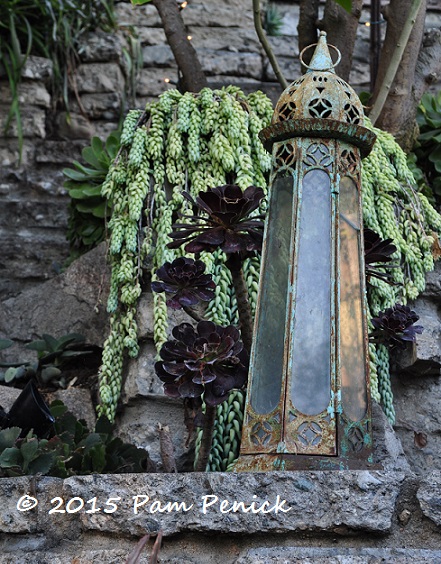 A verdigris lantern, burro's tail sedum, and nearly black aeonium make a pleasing combo.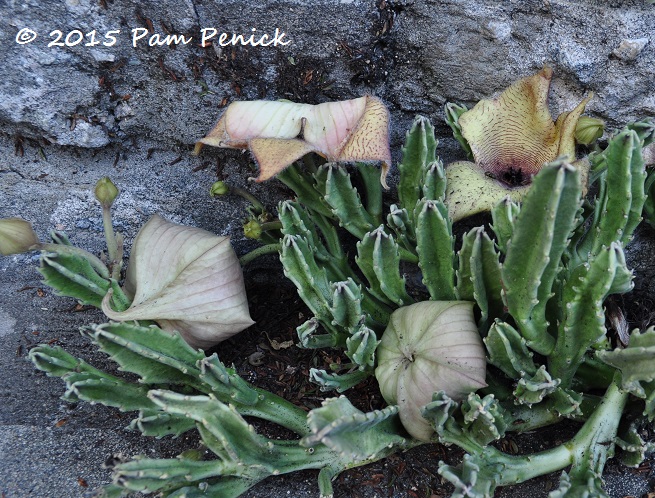 Susanna boldly planted carrion plant (Stapelia) near the benches, and its odorous blooms were open and attracting flies.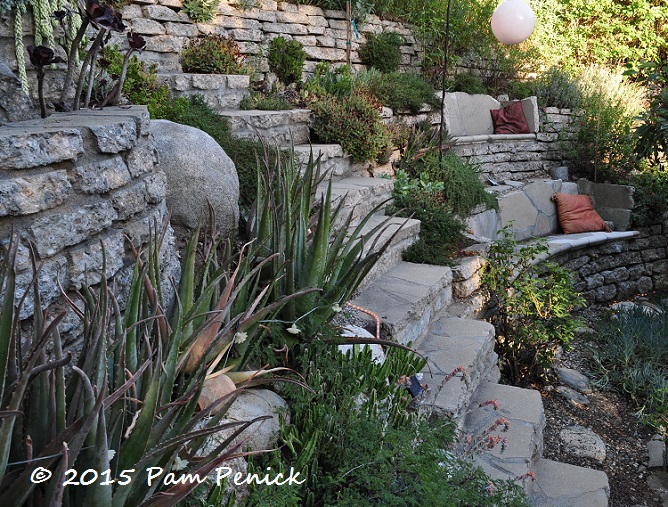 The Bowl is very steep, so you must be pretty spry to get to the top. Susanna climbed up and down her steps with the sure-footedness of a mountain goat! I followed at a slower pace, careful of each step.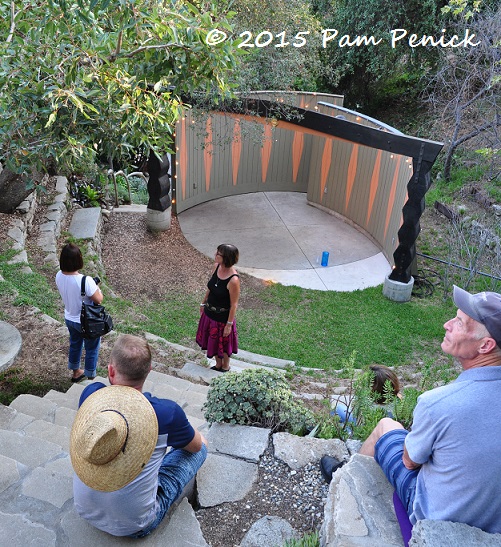 Looking down from about halfway up. That's my friend and fellow blogger Diana Kirby talking with Susanna.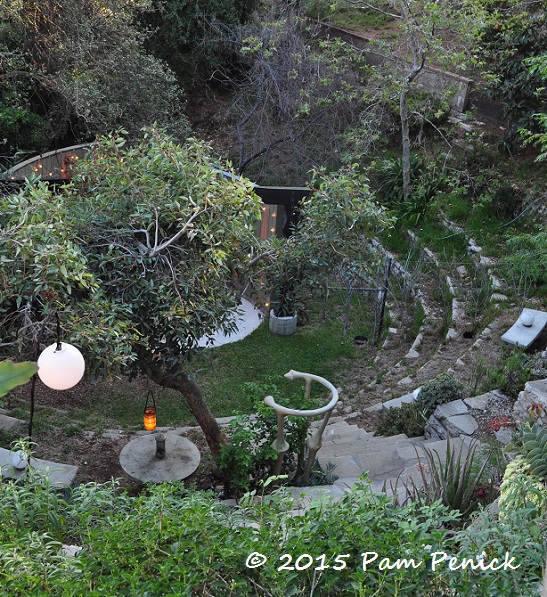 And now we're at the top, at the level of the house, overlooking the Bowl.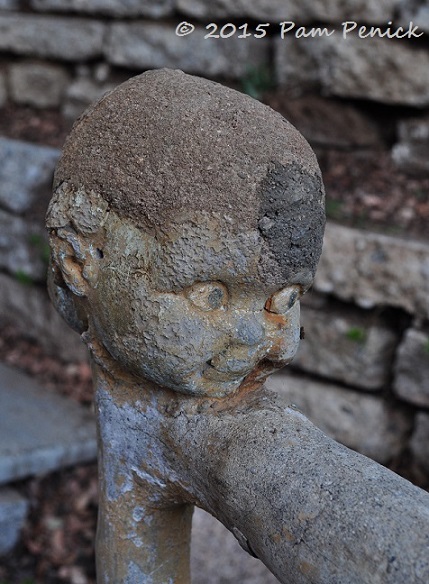 A baby head is part of a whimsical handrail along the steps.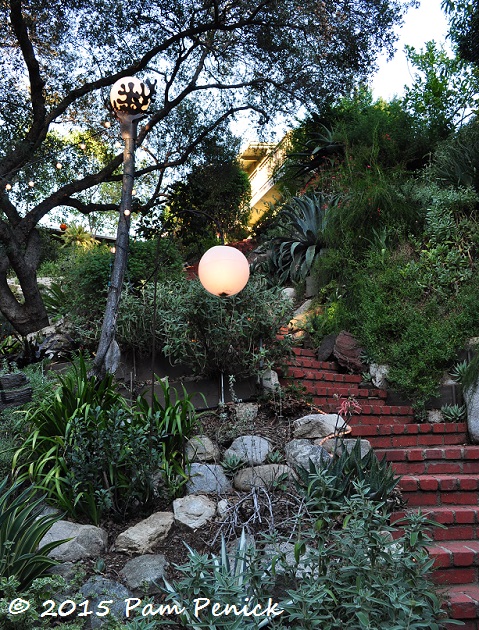 To the right of the amphitheater, a long stair of red brick leads up to the house. This garden offers lots of exercise.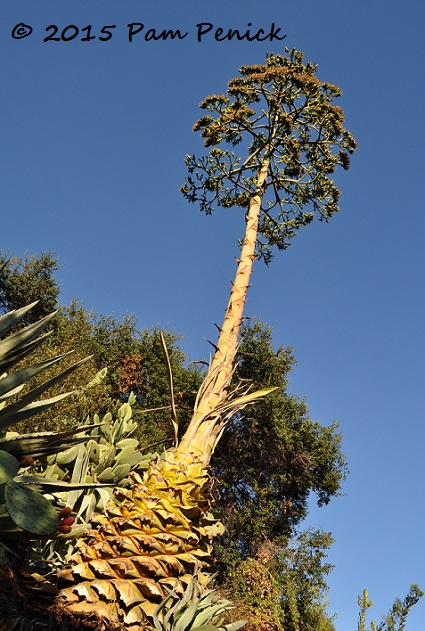 After showing us the Bowl, Susanna led us down to the street, where I stopped to admire an agave in bloom on the hillside. Susanna had pruned off the dying leaves, leaving the tree-sized bloom stalk up until it was finished.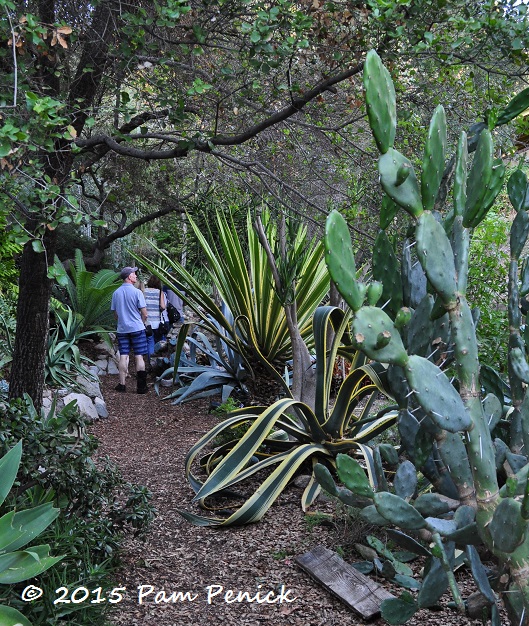 A few yards along the street, Susanna turned onto a shady, mulched path that led around the other side of her home. Enormous agaves, yuccas, and prickly pear greeted us with their fantastical forms.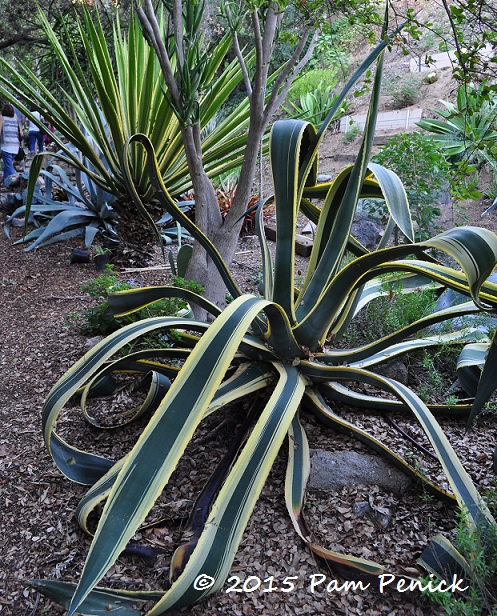 These plants are full of personality.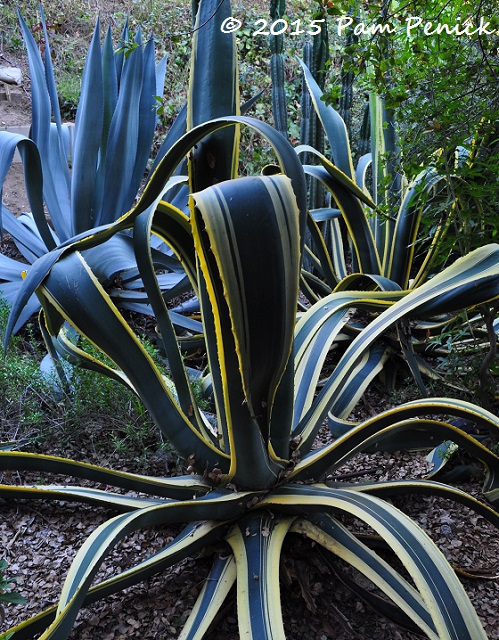 With their yellow-edged leaves, variegated agaves glow in the late-afternoon light.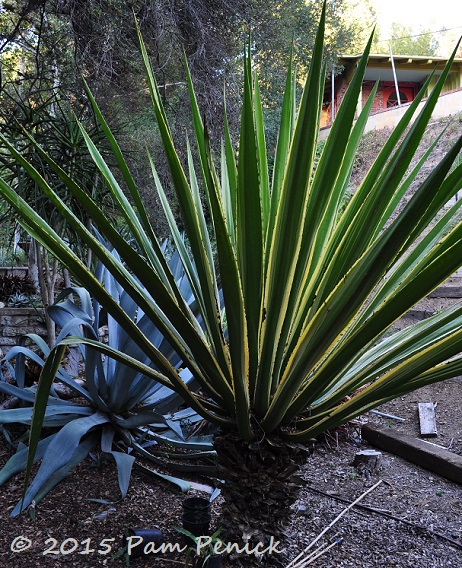 A sword-leaved, variegated yucca has been pruned up for safety.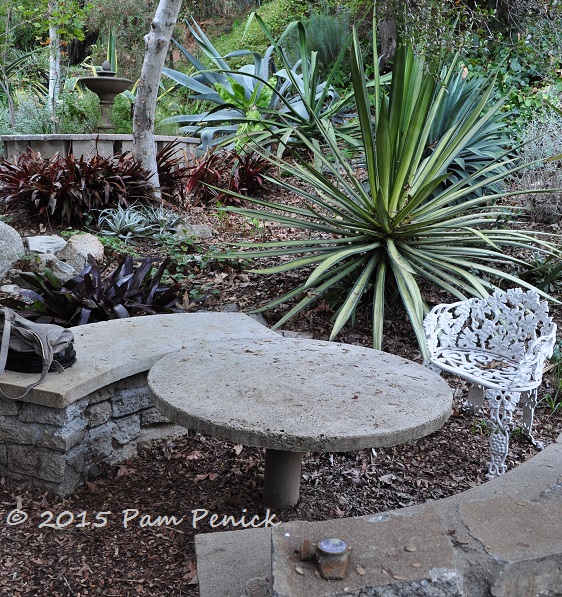 A small sitting area is dwarfed by another large agave.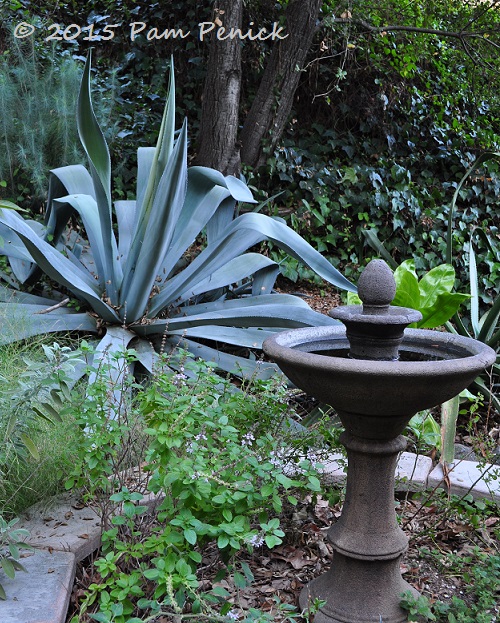 A fountain-turned-birdbath makes a classic focal point within a circular bed.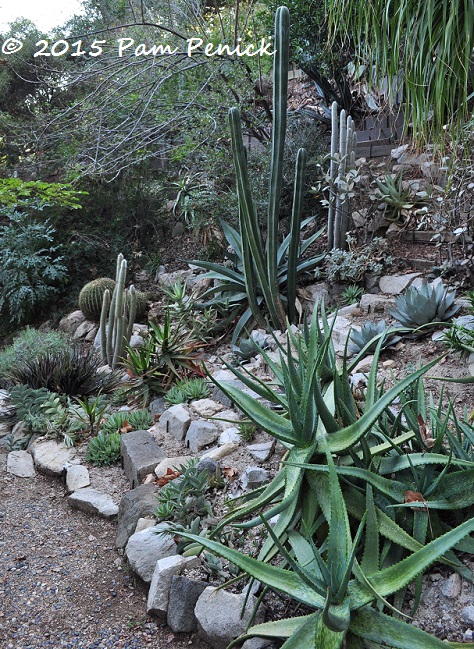 In a sunny clearing, columnar cacti add vertical accents amid agaves and aloes.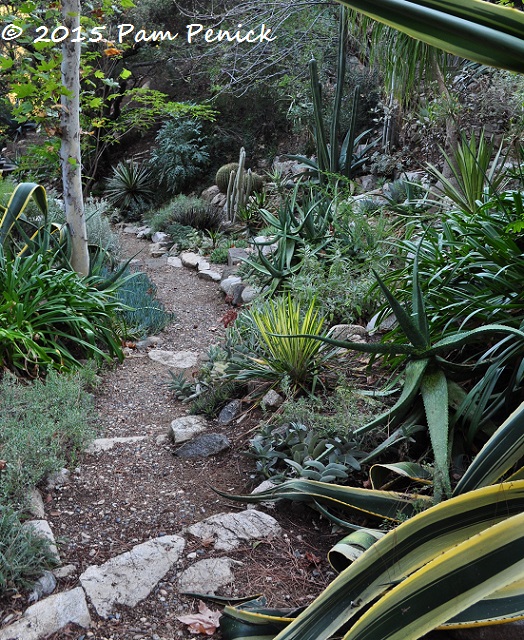 It's quite a plant collection.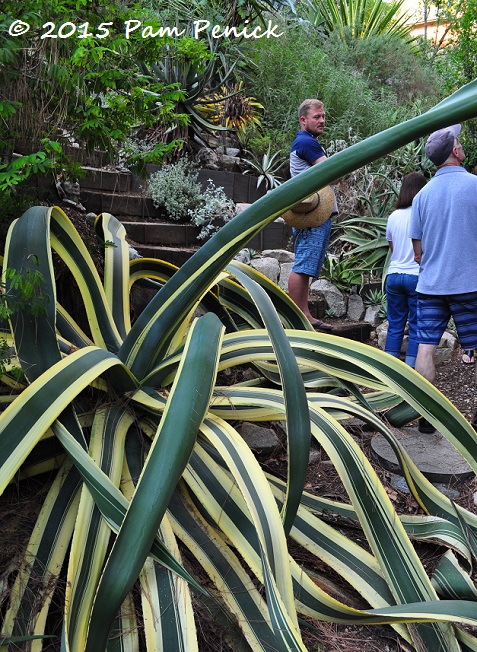 And the size of those agaves!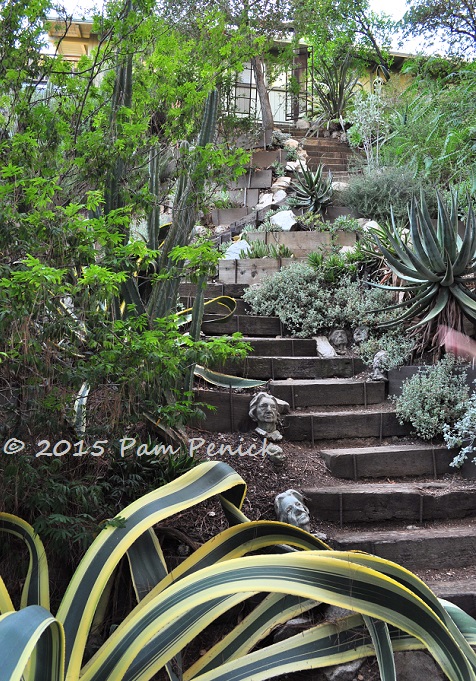 Railroad ties make a rustic, winding stair back up to the house.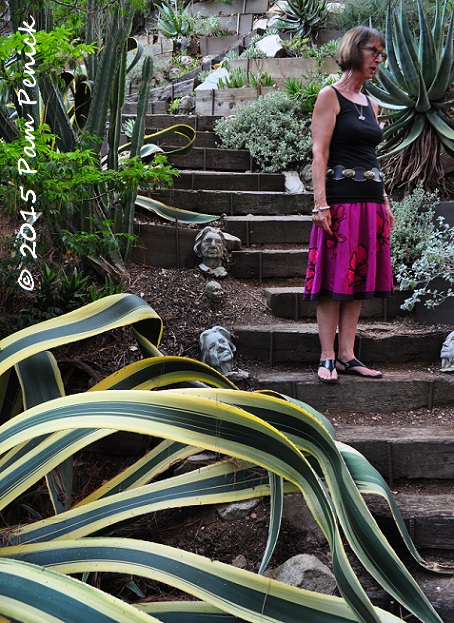 As Susanna stood there telling us about her garden, I found myself staring at an assortment of faces gazing up around her feet.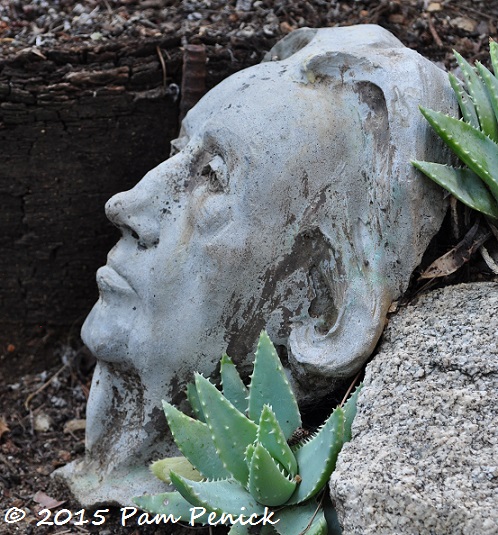 Although their expression is placid in repose, the effect is a little eerie. And doesn't the face look remarkably like…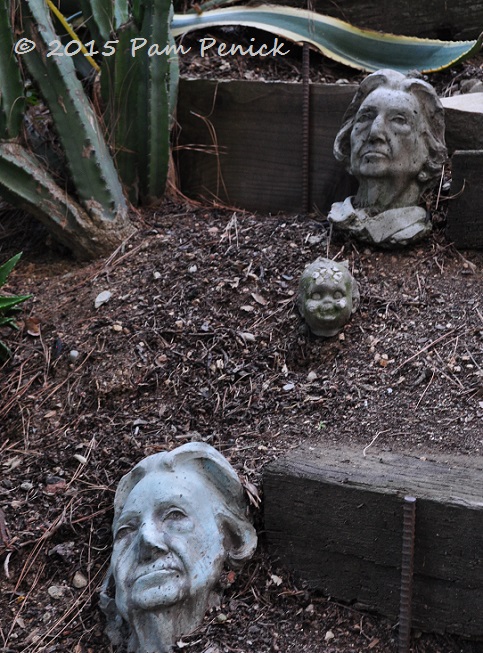 …Hillary Clinton? No?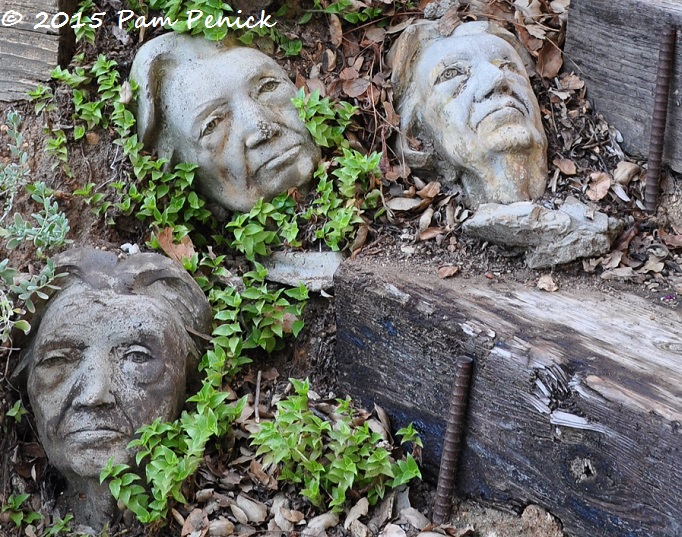 They'd found the mold, Susanna said, on their travels and cast multiple faces from it.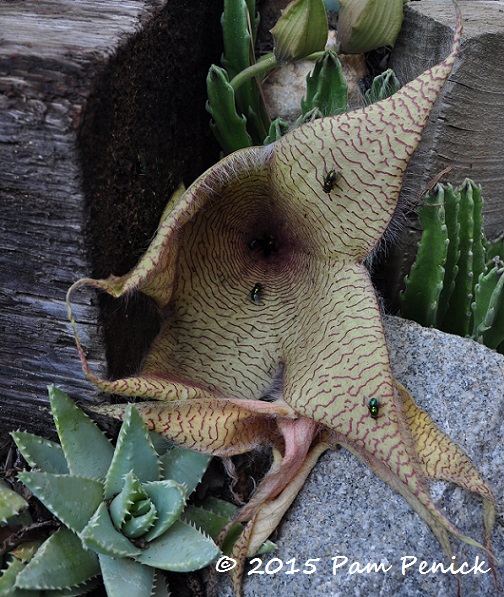 Another stapelia was in bloom here.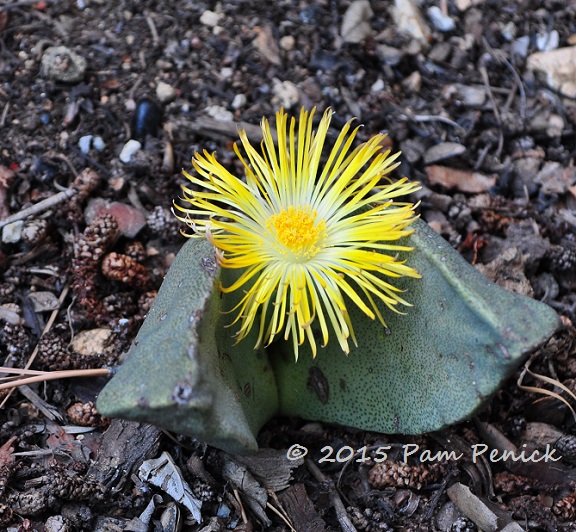 As was a lithops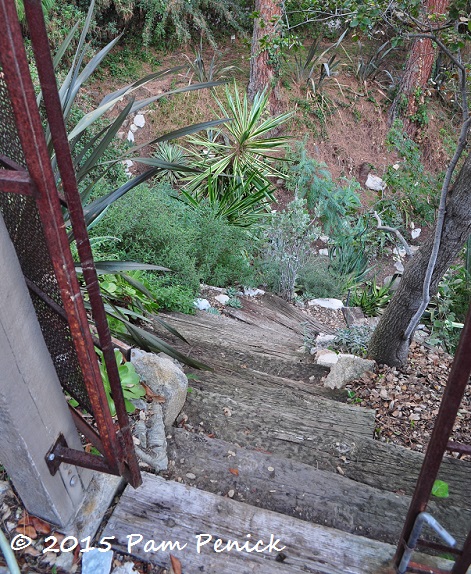 Climbing all the way up, I reached the top behind Susanna and ventured a look back down. Steep!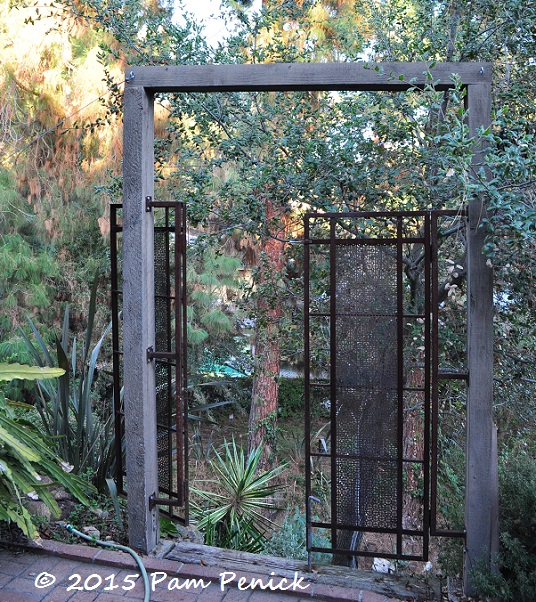 A handsome gate and arbor at the top of the stairs marks the path.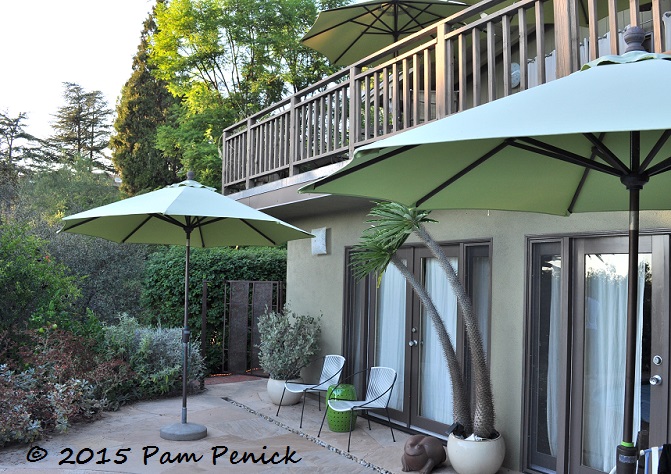 This wing of the house has an upper porch and lower patio…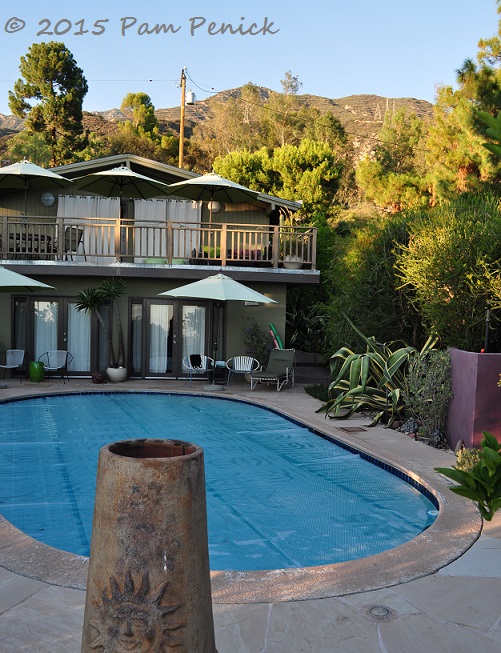 …both overlooking an oval swimming pool, which was covered to reduce water loss during California's epic drought.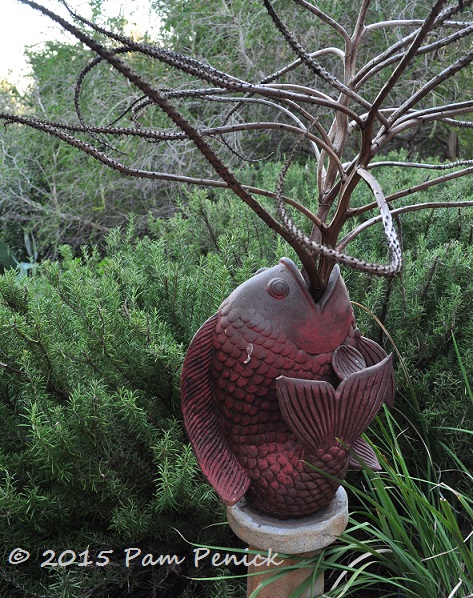 A fish pot on a pedestal seems to spray a fountain of branches instead of water.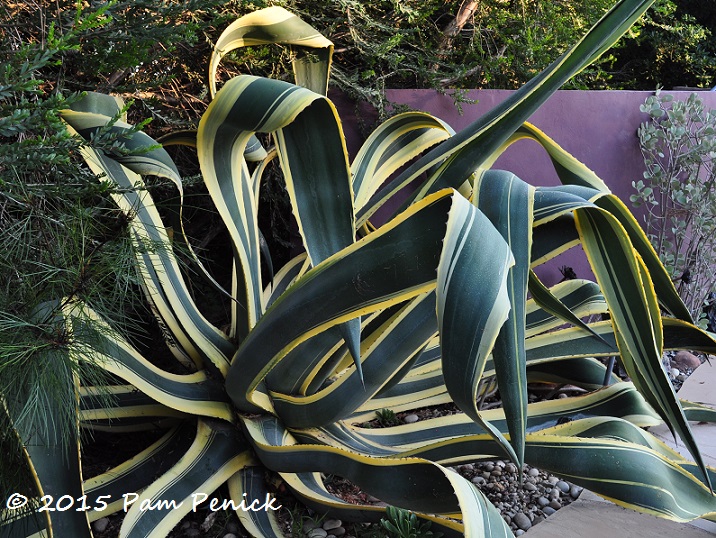 I love this gigantic variegated American agave against a purple wall.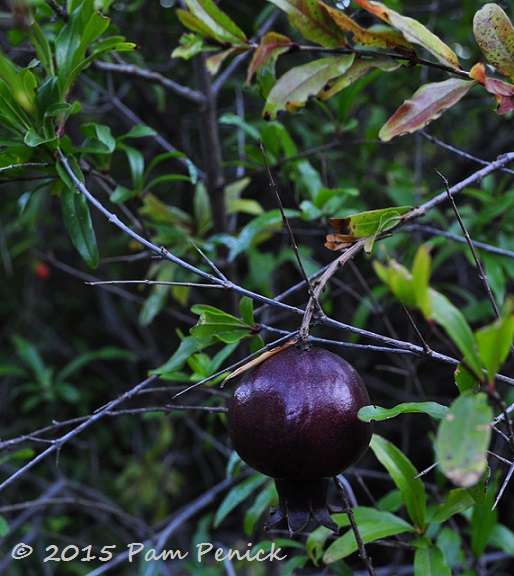 Nearby, a plum-colored pomegranate — 'Eight Ball' maybe? — echoes the purple hue.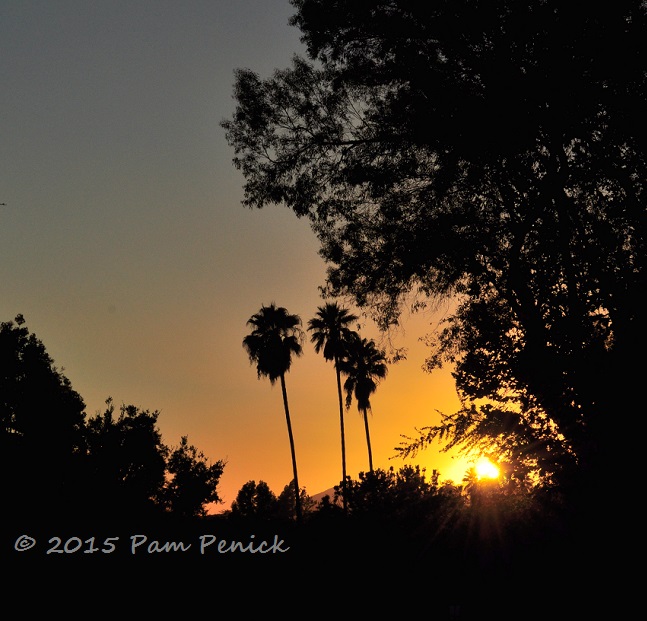 As the sun set over the palm-studded hills, the Folly Bowl concert was just getting started. Diana and I had hoped to stay for it, but after a full day of garden touring in triple-digit heat, we decided to call it an early night. Even so, seeing the Folly Bowl twinkling with lights and filled with happy people sipping wine and munching on picnic spreads was delightful. My thanks to Susanna for welcoming us into her lovely and imaginative garden and sharing the magic with us!
Up next: A visit to garden shop Big Red Sun in Venice, CA. For a look back at the terraced hillside garden of Joy and Roland Feuer, click here.
All material © 2006-2015 by Pam Penick for Digging. Unauthorized reproduction prohibited.
posted in
Agaves
,
Aloes
,
Amphitheater
,
Arbors
,
Cactus
,
Crevice garden
,
Decor
,
Fish
,
Garden art
,
Garden structures
,
Garden tours 2015
,
Gates
,
Hillside
,
Lighting
,
Palms/Cycads
,
Paths
,
Patios & decks
,
Rock
,
Sculpture
,
Seating
,
Signs
,
Sky
,
Succulents
,
Sustainable Gardening
,
Swimming pools
,
Travel
,
Trees
,
Walls
,
Water-Saving Garden
,
Xeric plants
,
Yuccas