September 16th, 2015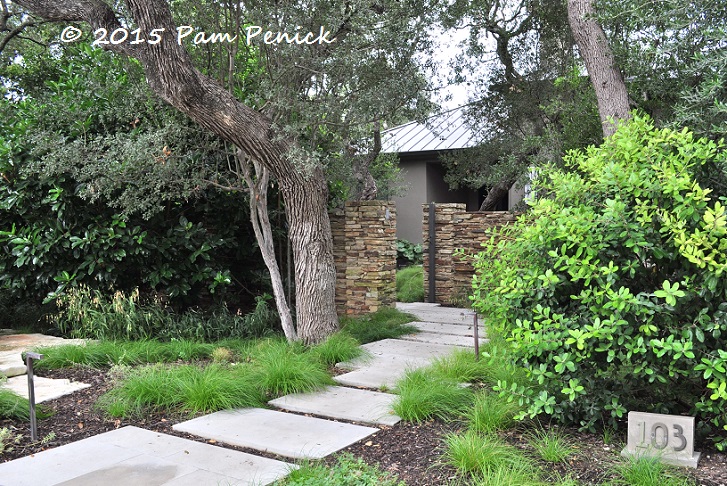 Austin designer Mark Word (see my profile about him) designed this serene, green San Antonio garden that you can see on the upcoming Watersaver Landscape Tour on October 24. I got a preview last Friday thanks to Shirley of Rock-Oak-Deer.
The garden belongs to Pat Mozersky, the longtime, recently retired food writer for the San Antonio Express-News. Pat generously allowed us to photograph her garden one day before the Mark Word maintenance crew came for a late-summer clean-up and refresh. Thanks to the garden's good bones and evergreen plant palette, it looked photo-ready anyway.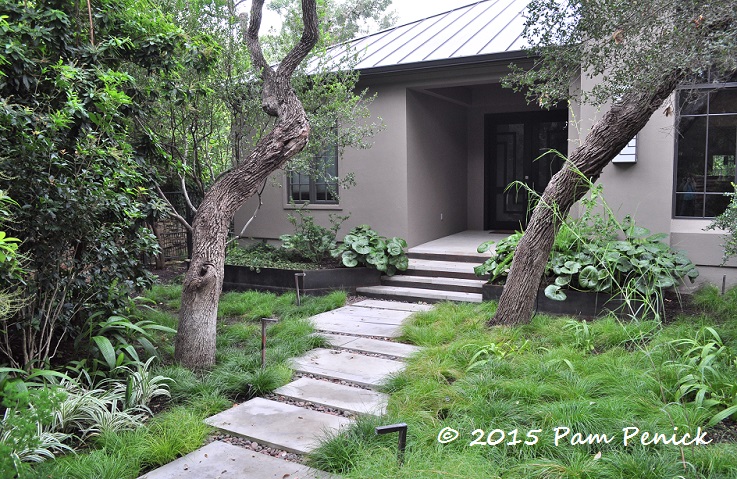 Simple, restrained hardscape and swaths of evergreen foliage are the key to year-round good looks. Pat and her husband built this home, downsizing from a larger property and reducing their home and garden maintenance in the process. The new house sits on a small lot, and in place of a traditional lawn, a meadowy swath of Berkeley sedge (Carex divulsa) needs little care and stays green all year. Greening up the garden walls and providing additional privacy from nearby houses are understory viburnums, clethra, redbuds, and Texas persimmons. Live oaks shade nearly the entire garden.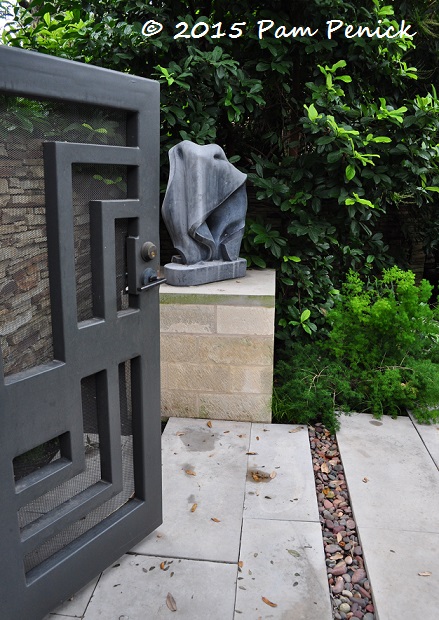 The front yard is protected from deer by a handsome stacked-stone wall and gated entry.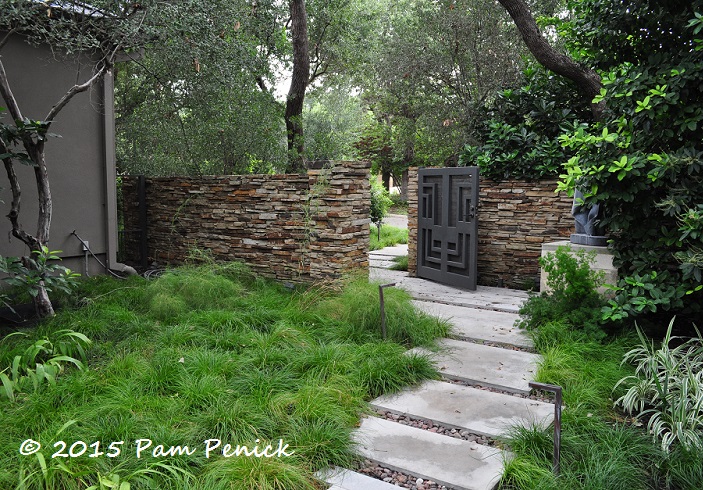 This is the view from the front porch looking toward the gate and the street beyond. As you can see, it's green and unfussy but has a naturalistic look.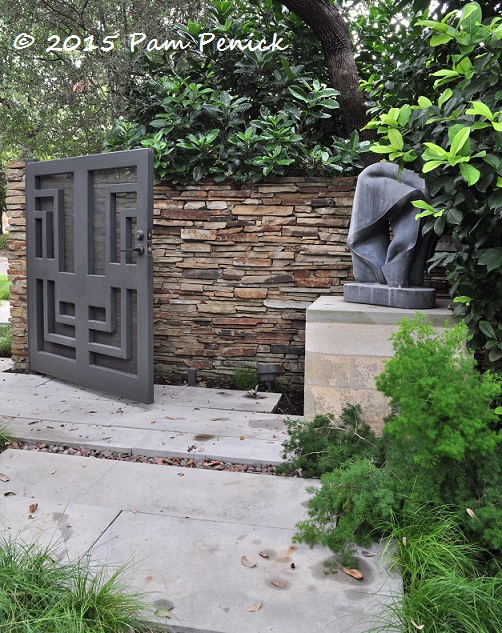 Lueders limestone pavers spaced by ribbons of river rock make up a contemporary front walk and allow runoff to soak into the soil.

At the front porch, on each side of the steps, steel planters are filled with round-leaved ligularia, feathery foxtail fern, and abutilon for seasonal flowering.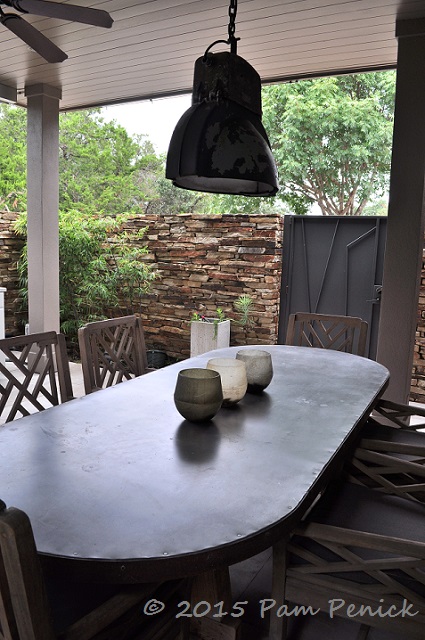 Pat took us through her house and out the back door onto a covered back porch. A zinc-topped table and an old factory light from Germany blend well with the custom steel gate.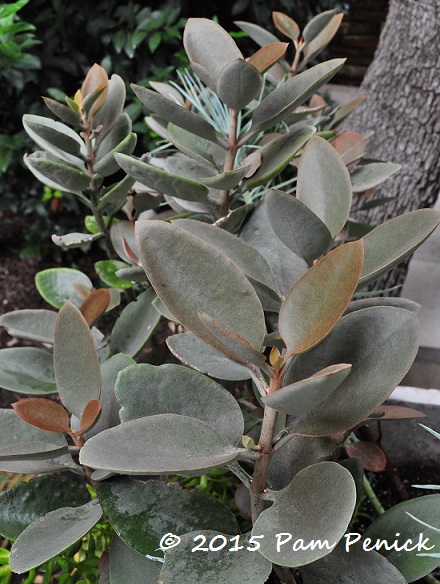 A few pots filled with low-maintenance succulents offer interesting foliage texture and colors.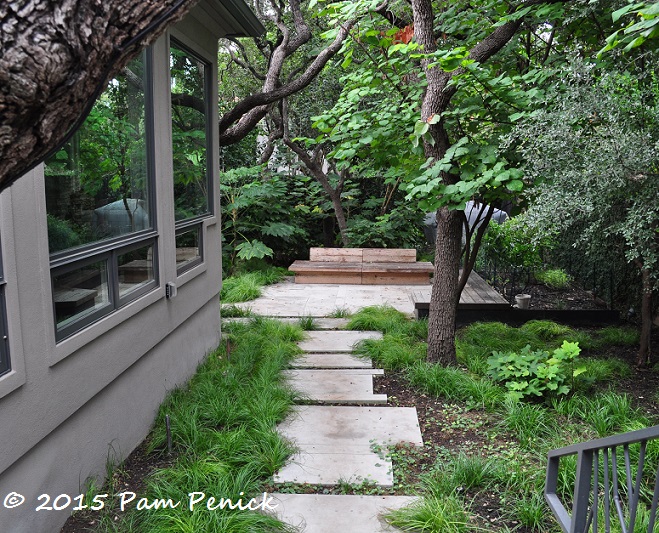 Lueders pavers in random widths keep the eye from running straight to a separate patio. An oversized teak bench is the simple focal point. A built-in corner bench offers additional seating that doesn't take up much space.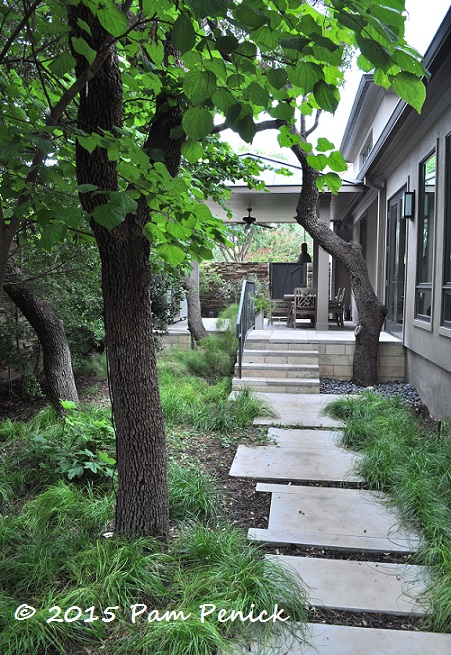 The view looking back toward the porch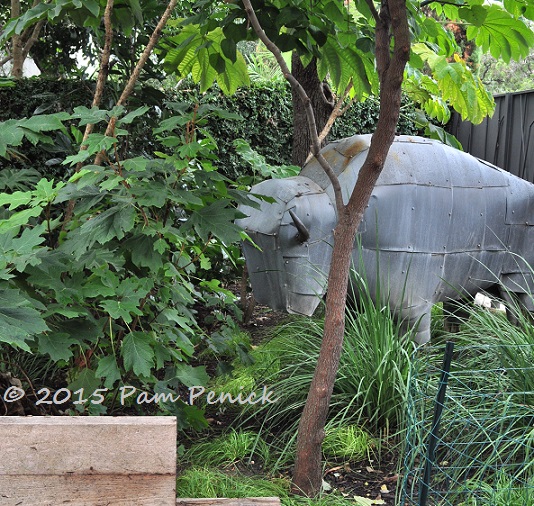 In the back corner of the garden resides a nearly life-size metal bison, a gift from Pat to her husband and a smile-inducing sculpture in the otherwise serene garden.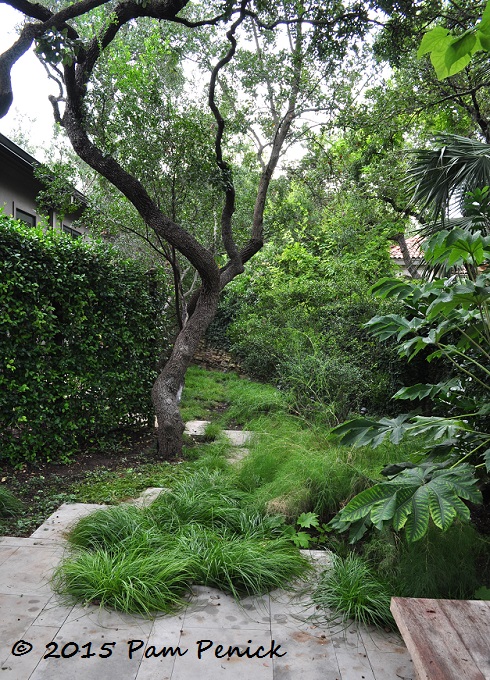 Tufty sedges are planted around back of the house too, as pavers thread a narrow pathway through them.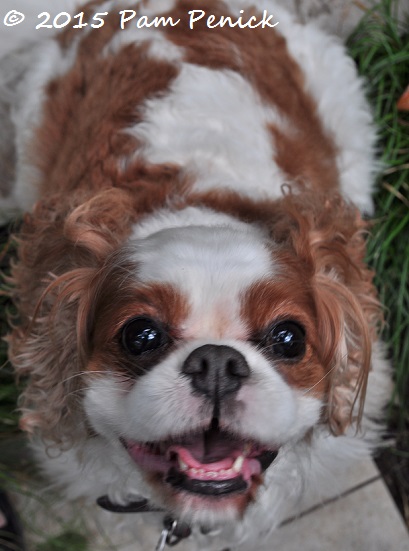 Pat has two friendly cavalier King Charles spaniels, Layla and…I forget the other one's name.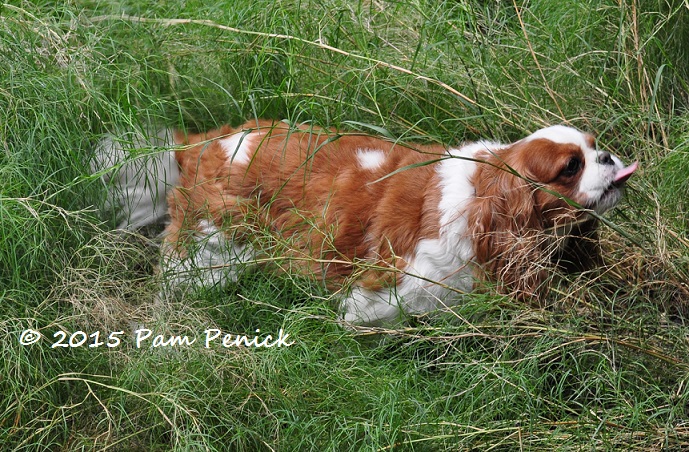 They appear to enjoy the garden, especially the bamboo muhly! My dog, Cosmo, also loves to nosh on bamboo muhly, so this didn't surprise me. Luckily, it's pretty tough and able to recover from dog browsing.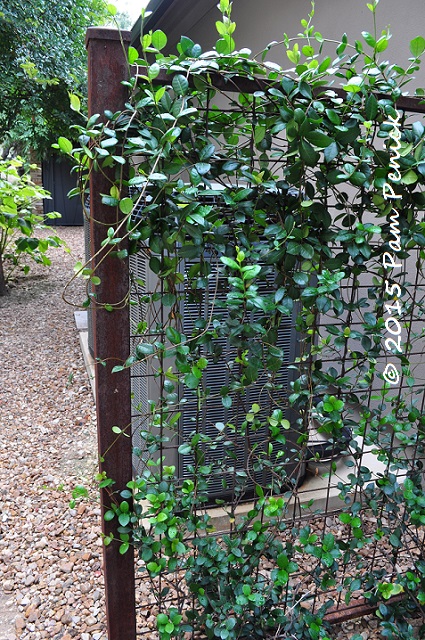 Near the driveway, outside the walled garden in a hot, sunny side yard, evergreen, glossy-leaved star jasmine climbs a wire-panel trellis to hide the A/C unit from view.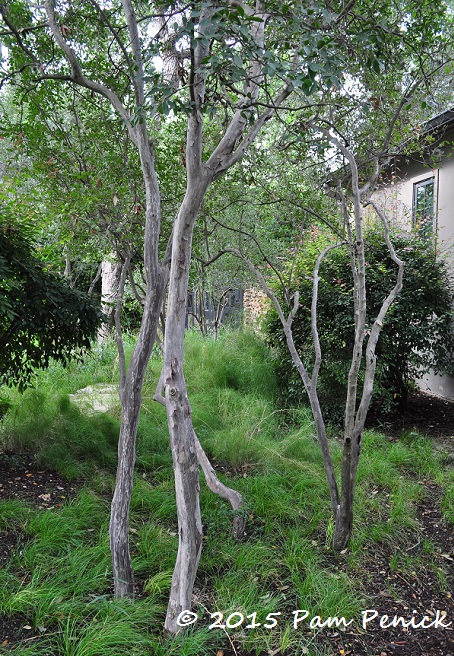 And here's a last look from outside of the front garden wall, of native Texas persimmons standing ghostly amid Berkeley sedge — a tough and drought-tolerant combo.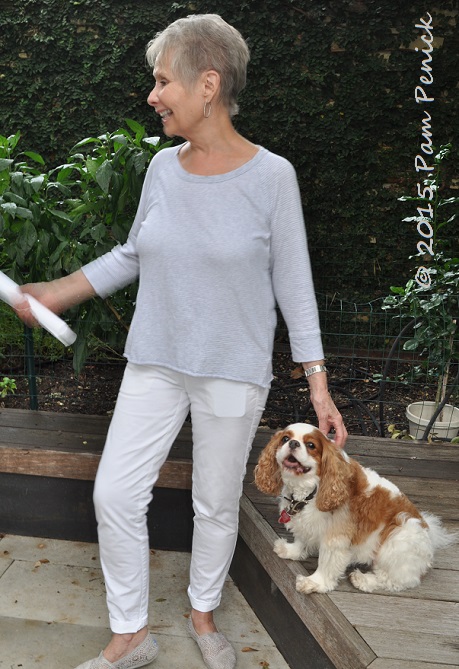 My thanks to Pat for sharing her lovely garden with us! If you long for an easy-care, evergreen garden because of a busy schedule or physical difficulty in keeping up with maintenance, Pat's foliage-based garden is an inspiring example.
This is my September post for Foliage Follow-Up. Fellow bloggers, what leafy loveliness is going on in your garden this month, or in one you've visited? Please join me in giving foliage its due on the day after Bloom Day. Leave a link to your post in a comment below. I really appreciate it if you'll also link to my post in your own — sharing link love! If you can't post so soon after Bloom Day, no worries. Just leave your link when you get to it. I look forward to seeing your foliage faves.
Up next, also from my San Antonio visit last week: A modern garden that's a cactus and succulent lover's dream. For a look back at the gorgeous courtyard xeriscape garden of Linda Peterson, click here.
All material © 2006-2015 by Pam Penick for Digging. Unauthorized reproduction prohibited.
posted in
Bamboo
,
Containers
,
Design
,
Dogs
,
Foliage Follow-Up
,
Garden art
,
Garden tours 2015
,
Gates
,
Grasses
,
Groundcovers
,
Lawn Gone!
,
Lawns
,
Lighting
,
Paths
,
Patios & decks
,
Porch
,
Sculpture
,
Seating
,
Shrubs
,
Trees
,
Trellis
,
Vines
,
Walls
,
Water-Saving Garden
,
Xeric plants