August 8th, 2009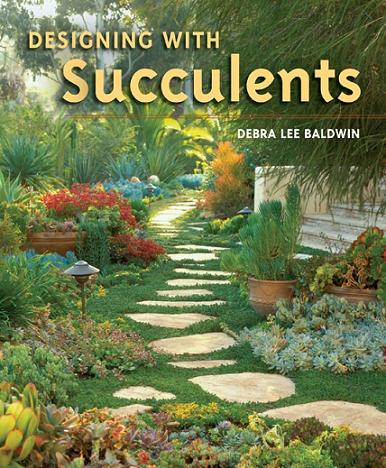 When the Death Star trains its energy-sapping, plant-frying beam on central Texas each summer, I find inspiration in succulent gardens, which use heat-loving, water-thrifty agaves, aloes, cacti, and groundcover succulents to create a tapestry of colorful foliage. This summer I've been devouring the images and design ideas in Debra Lee Baldwin's book Designing with Succulents.
Filled with beautiful photos of succulent gardens (most of which Debra took herself), her book will have you plotting the removal of all your plants that rely solely on flowers for their appeal or that disappear into a pile of bare sticks in the winter. You'll be itching to imitate the textural, Dr. Seussian plant combinations shown in colorful detail.
Her book is also meaty enough to cover growing conditions and cultivation of succulents, design principles, plant care, and cold-climate succulents. Alas, having to limit oneself to frost-tolerant succulents is hard to accept once you've seen the fantastic variety of tender succulents splashed across these pages. Ah well. We can't all live in southern California, and those of us in subtropical zones, like Austin, can push the envelope by planting tender succulents in warm pockets in the garden—for instance, against a south-facing wall or in an enclosed courtyard. But we must also remember that some succulents can burn in too much sun. Many of the groundcover succulents, like sedums, echeveria, and sempervivum, actually do better with afternoon shade in our blistering climate.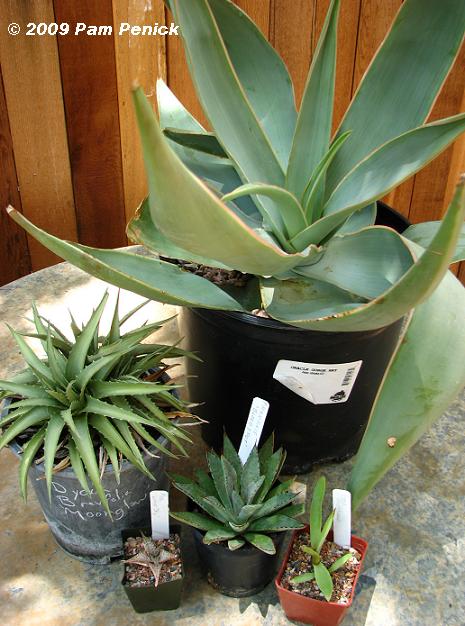 Primed by Debra's book, images of Jeff Pavlat's succulent garden on "Central Texas Gardener," and Jeff's "CTG" conversation with host Tom Spencer about frost-tolerant aloes, I was raring to find some cool new succulents today when I went to Bob Barth's semi-annual cactus and succulent sale at Oracle Gorge Nursery, which he operates out of his West Lake Hills home.
I got there at 11 am, and, boy, the place was packed with cactus hounds. I scored a large Aloe striata (in back), Mangave 'Bloodspot' (center), two freebies on either side of the mangave, and, from a separate trip to Barton Springs Nursery, a Dyckia brevifolia 'Moonglow.'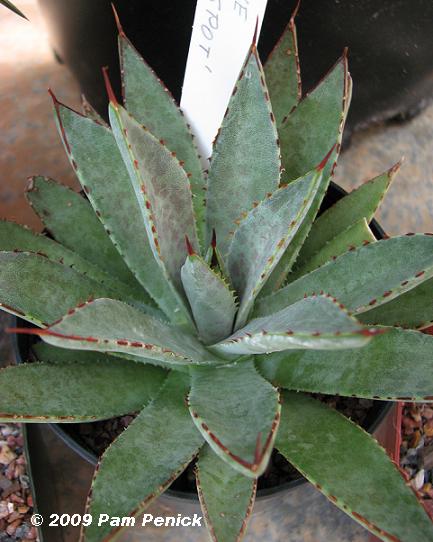 I'm excited to try the 'Bloodspot' mangave, especially since I've been enjoying the fabulous 'Macho Mocha' mangave in my garden for several years. One of Bob's assistants told me that 'Bloodspot' should have a little more shade and water than an agave, which is consistent with what the 'Macho Mocha' needs as well.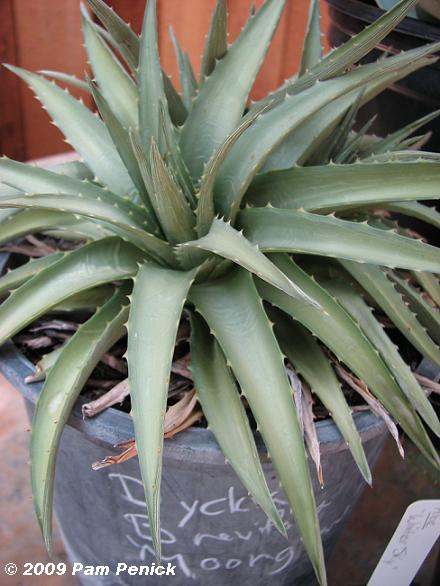 Little 'Moonglow' dyckia has a pretty, sage-green leaf, and it's supposed to have a yellow-flowering bloom stalk in spring.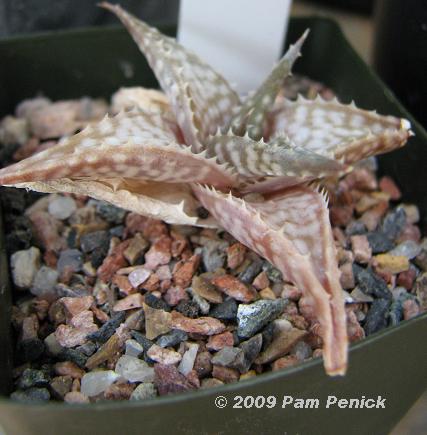 One of the freebies from Bob's sale, Aloe 'Winter Sky', is probably frost-tender. I'll have to stick it in a pot, I guess, or let it take its chances in the warmest pocket of my garden. What the heck—it was free.
All material © 2006-2009 by Pam Penick for Digging. Unauthorized reproduction prohibited.