August 16th, 2015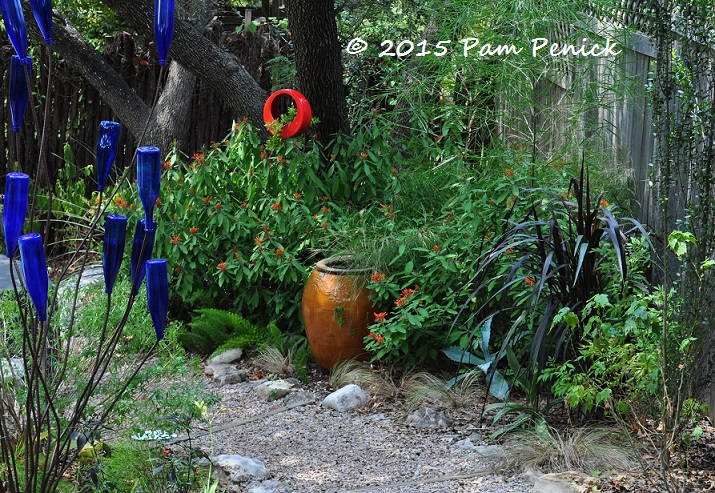 Mexican honeysuckle adds leafy lushness in the dappled shade of live oaks and is flowering to boot. Its companions include Mexican weeping bamboo, Agave colorata, foxtail fern, and Pennisetum purpureum 'Vertigo'.
These are "the bitter days in the garden," according to West Texan Susan Tomlinson, who blogs at The Bicycle Garden. How right she is. Even with the heavy spring rains that ended the interminable Texas drought, our long, hot summer — measured in triple-digit temperatures and no rain since early July — has seemingly erased our gains. Leaves hang droopy and curled on trees and shrubs. Perennials are crispy. Even some of our stalwart agaves are sporting yellowed, sun-damaged leaves.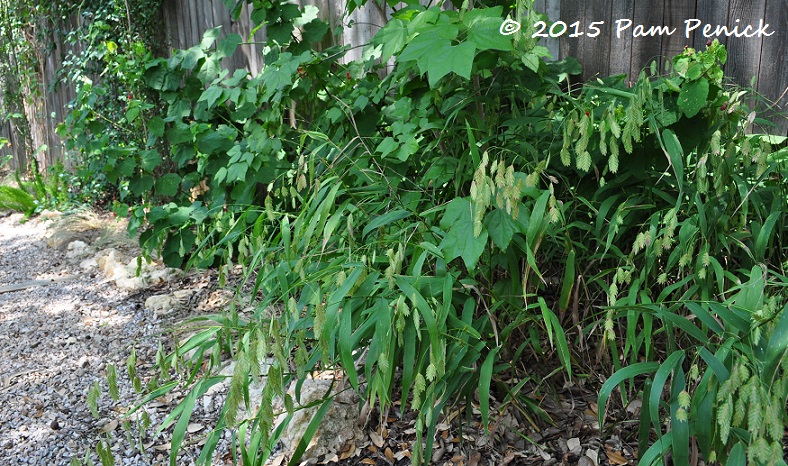 Shade-tolerant tough guys: inland sea oats and Mexican orchid tree
Still, most of us have survivors and even plants that thrive in the heat, right? Today is Foliage Follow-Up, a meme held on the day after Bloom Day in which we celebrate plants that offer far more than pretty flowers. They give leafy lushness or structure that lasts for months or even all year. Take a look around your August garden and share your hardiest survivors. What's looking good? Let's all plant more of those, shall we? And if you live where late summer is a delightful season, by all means, share your faves with us too. We heat-crisped Texans need something to get us through to October, when reasonable weather returns.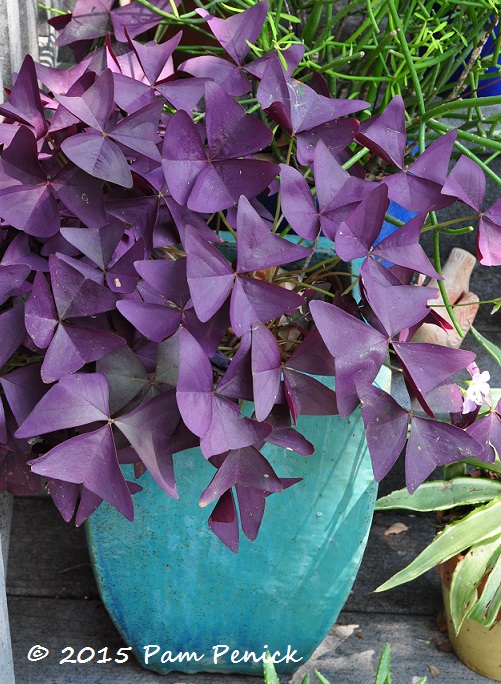 In my garden, aside from the shade-tolerant shrubs, grasses, and groundcovers pictured in the top two photos, I'm loving the eggplant-purple leaves of purple oxalis (Oxalis triangularis), which brightens a shady patio. It's hardly flowering in this prolonged heat, but the leaves look good with a weekly watering.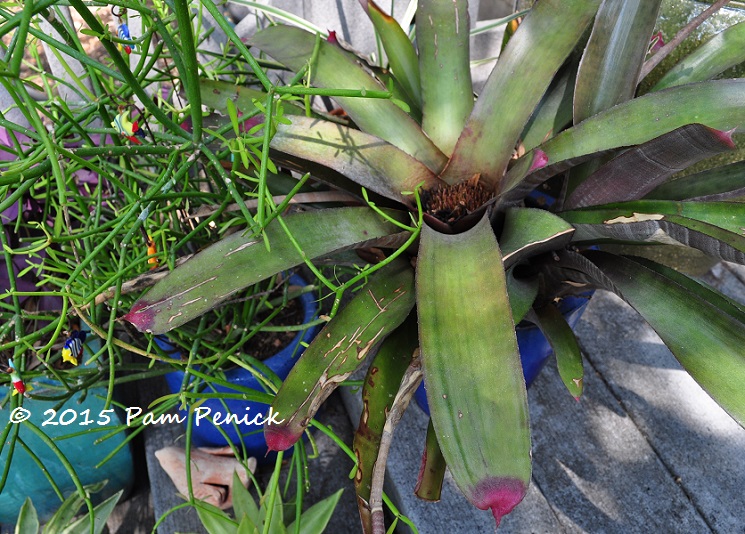 Painted Fingernails bromeliad, a gift from Houstonites Laurin and Shawn at Ravenscourt Gardens, doesn't mind the heat at all, so long as it has shade and a weekly watering. The hot-pink tips at the ends of its leaves explain its fun common name. This is a tender tropical in Austin's climate, so I bring it indoors when it freezes. Also, to prevent mosquitoes from breeding in its water-holding leaves, I sprinkle organic mosquito bits over it every couple of weeks.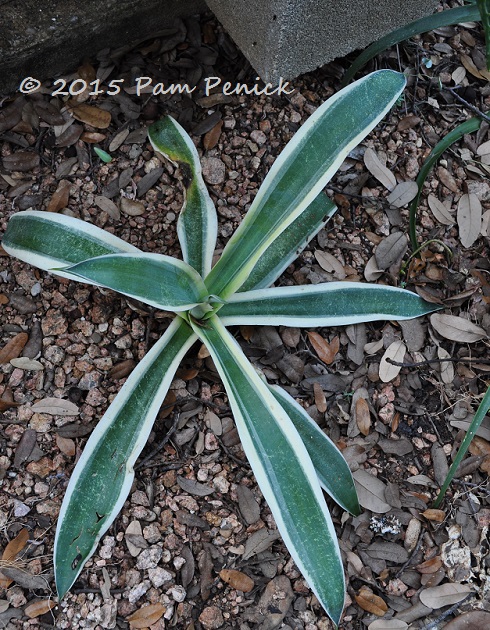 My little 'Espresso' mangave, a white-striped version of 'Macho Mocha' mangave, which I received as a pup from author/designer Scott Ogden a few years ago, is looking good this August. It even produced a few pups recently, which I shared with friends, after saving one particularly nice pup for Scott, who'd lost his original plant to the agave snout-nosed weevil. This is a good reason to share plants, right? If something bad happens to your original, hopefully you'll have shared enough with others that you can get a division to get started with again.
So what leafy love is going on in your August garden? Please join me for Foliage Follow-Up, giving foliage its due on the day after Bloom Day. Leave a link to your post in a comment below. I really appreciate it if you'll also link to my post in your own — sharing link love! If you can't post so soon after Bloom Day, no worries. Just leave your link when you get to it. I look forward to seeing your foliage faves.
All material © 2006-2015 by Pam Penick for Digging. Unauthorized reproduction prohibited.