July 28th, 2009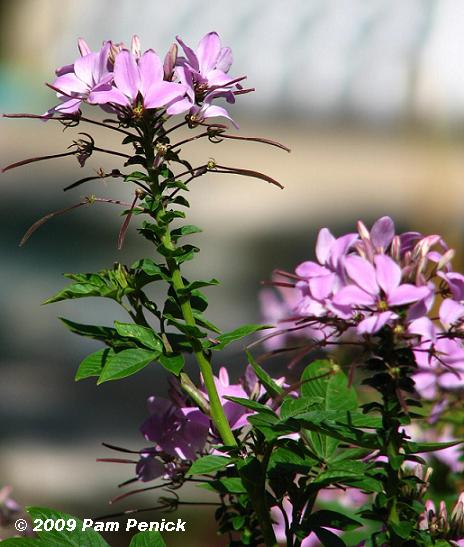 Of all the Proven Winners plants I'm trialing, 'Senorita Rosalita' cleome has impressed me the most. I'd never grown a cleome before, and I understand they can be rather prickly, smelly, and invasive. Not so with 'Senorita Rosalita.' She is thornless, non-stinky, and sterile. I'm actually disappointed about the latter because I'd love to get volunteers to spread around my garden next year.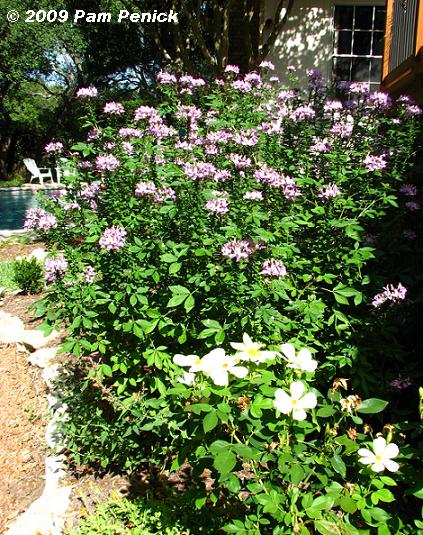 Austin is in the midst of the summer to end all summers, from a gardener's point of view anyway. Severe drought and heat have taken a toll on anything lush and flowery except toughies like yellow bells (Tecoma stans ) and pride of Barbados (dwarf poinciana). But just look at the Senorita. She's four feet tall, bushy, unwilted, and covered in beautiful lavender-pink flowers, as she has been for months.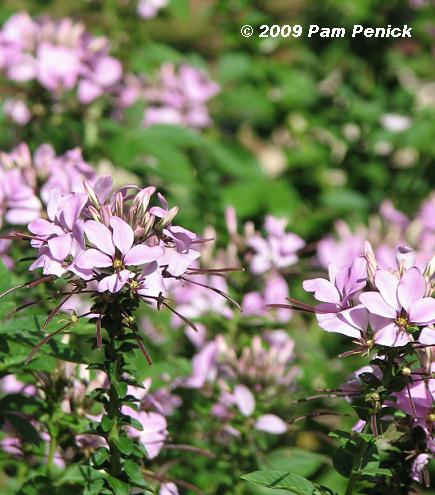 PW sent me two tiny plants in April. I planted them in a new bed (with good soil from Natural Gardener) along the deck—adjacent to what is now the pond circle—in sun with late-afternoon shade. I watered them well the first two months to get them established, and since June they've been watered twice a week. As we Austin gardeners have been complaining, this summer has been tormenting us with more than 30 days of 100+ degree heat, hot and humid nights, and no rain to speak of. Some of the other PW plants I'm trialing have shriveled up under such conditions, but the cleome is still stunning.
With lovely palmate leaves (kind of like cannabis leaves, actually) and flowers that won't stop, 'Senorita Rosalita' cleome is a winner in my garden. This one may not be readily available in nurseries, so I suggest we all start asking our favorite suppliers to place orders for next spring.
Note: My Plant This posts are written primarily for gardeners in central Texas. The plants I recommend are ones I've grown myself and have direct experience with. I wish I could provide more information about how these plants might perform in other parts of the country, but gardening knowledge is local. Consider checking your local online gardening forums to see if a particular plant might work in your region.
All material © 2006-2009 by Pam Penick for Digging. Unauthorized reproduction prohibited.