July 21st, 2015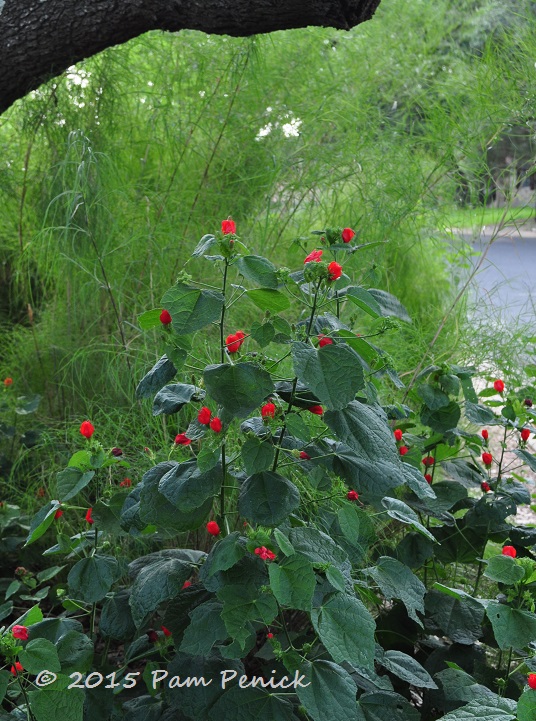 Death Star-adapted plants tend to be small-leaved and airy, the better to retain precious water. But our native Turk's cap (Malvaviscus arboreus var. drummondii) defies that expectation with vaguely heart-shaped leaves the size of a napkin scrounged out of your car's glove box, and just as crinkled.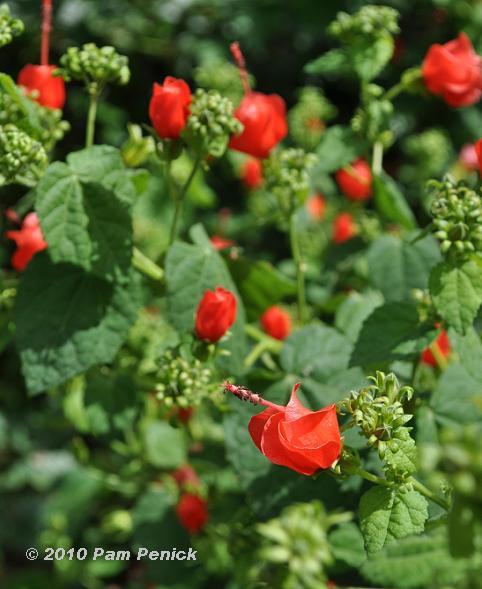 For the foliage alone, which the deer ignore in my garden, Turk's cap would be worth planting. But the twisted, tomato-red flowers that blaze among the leaves from late spring through fall make Turk's cap one of my favorite perennials for shade or part sun. Hummingbirds adore these blossoms, and you'll see them zipping around for a drink all summer long.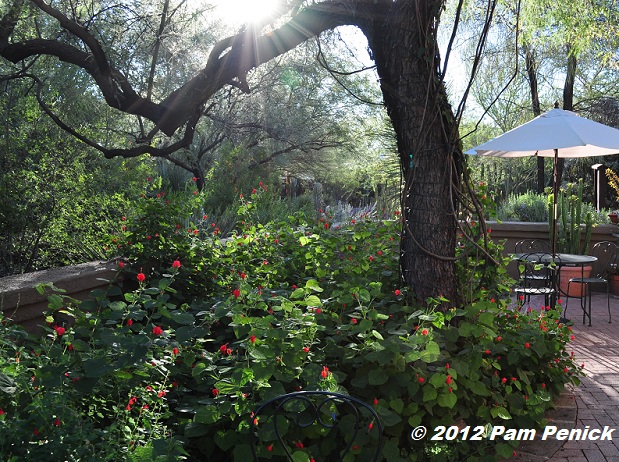 Turk's cap will grow in either sun or shade, although it can look wilted by the end of the day in full sun. For that reason I prefer to give it afternoon shade. If you garden under live oaks, as I do, you'll find Turk's cap thrives in those conditions. This photo was taken in Tucson, Arizona, showing that Turk's cap can be grown west of its native range.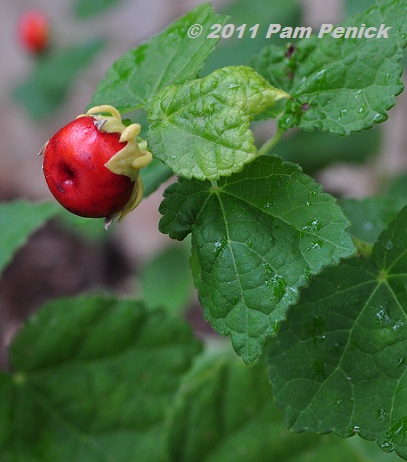 Flowers give way to small, red fruits around Thanksgiving, which birds enjoy. It dies to the ground after a hard freeze, and I usually leave the stems standing until my mid-February cut-back, when I prune them to about 6 inches. This year I'm finding a lot of Turk's cap seedlings in my island bed out front, but they pull easily.
In my garden, Turk's cap grows to about 4 or 5 feet high and 3 to 4 feet wide, and it pairs nicely with bamboo muhly (Muhlenbergia dumosa) in sunnier spots and inland sea oats (Chasmanthium latifolium) in shadier ones. It's said to be root-hardy to zone 7b.
If the standard red Turk's cap is old hat for you, you might enjoy trying other cultivars, like the pink 'Pam Puryear', also called 'Pam's Pink', or the hard-to-find and harder-to-grow (at least for me) white Turk's cap. There's also a variety from Mexico called 'Big Momma', whose red flowers are larger and showier.
Note: My Plant This posts are written primarily for gardeners in central Texas. The plants I recommend are ones I've grown myself and have direct experience with. I wish I could provide more information about how these plants might perform in other parts of the country, but gardening knowledge is local. Consider checking your local online gardening forums to see if a particular plant might work in your region.
All material © 2006-2015 by Pam Penick for Digging. Unauthorized reproduction prohibited.