September 23rd, 2007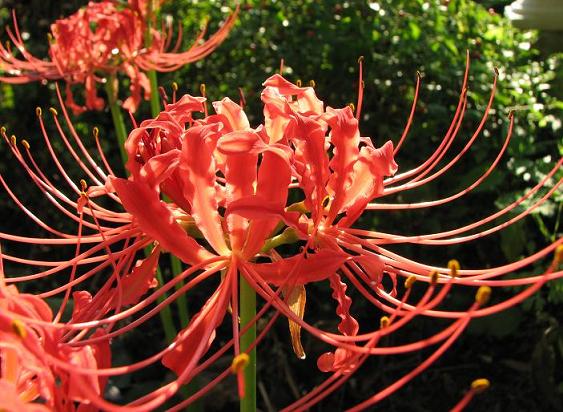 Lycoris radiata at sunset
A little later than usual, but already putting on a better show than last year, when the garden was struggling through a long drought, the spider lilies have sprung up seemingly overnight.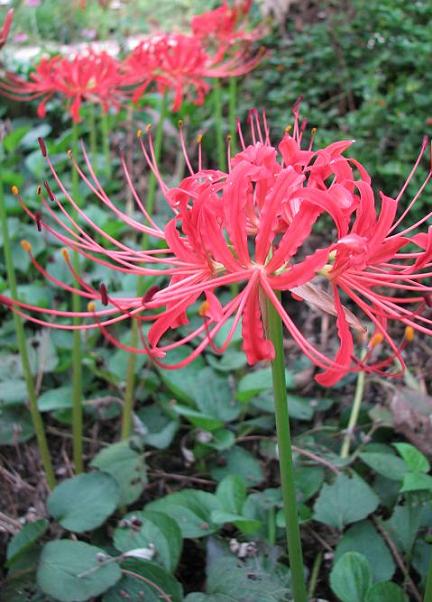 In the morning light, the lilies are a cooler red.
Also known as hurricane lily—it blooms during hurricane season—Lycoris radiata stands, like a resting flamingo, on a long, bare stem. Narrow green leaves appear after the flower fades, and that's a good time to divide the bulb, while you can still find it. Once the leaves and the flower stem have died back, it's easy to forget about this fall bloomer until next year.
I inherited these bulbs at my last house, where an earlier gardener had planted them and they'd been taking care of themselves ever since, multiplying and blooming each September. I dug up a few before my move and stuck them amid the rudbeckias in my new garden, in the light shade of the vitex tree, where they pop up after the rudbeckias have finished blooming. The red berries of a nearby chile pequin echo the red of the spider lilies.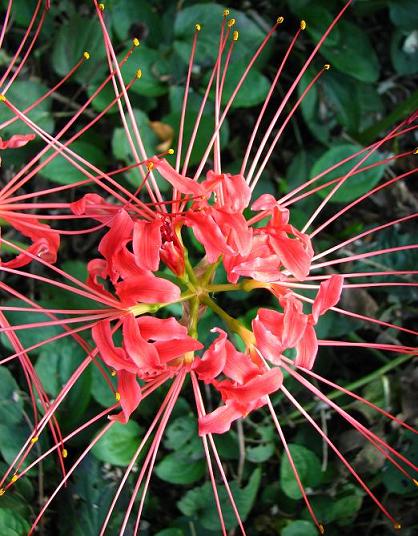 A view from above. From this angle, it kind of reminds me of Pride of Barbados.
Note: My Plant This posts are written primarily for gardeners in central Texas. The plants I recommend are ones I've grown myself and have direct experience with. I wish I could provide more information about how these plants might perform in other parts of the country, but gardening knowledge is local. Consider checking your local online gardening forums to see if a particular plant might work in your region.
All material © 2006-2013 by Pam Penick for Digging. Unauthorized reproduction prohibited.