September 18th, 2007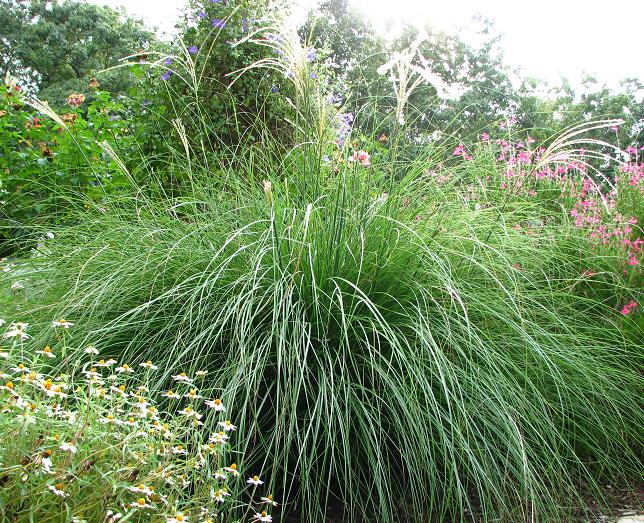 Miscanthus sinensis 'Adagio'
Several garden-bloggers who live farther north have posted beautiful photos (and videos) of their ornamental grasses in recent weeks, and invited others to do the same. I've held off because here in Austin the grasses still aren't at peak bloom. But then I thought it might be nice to show a preview and then a follow-up in a week or two when they peak.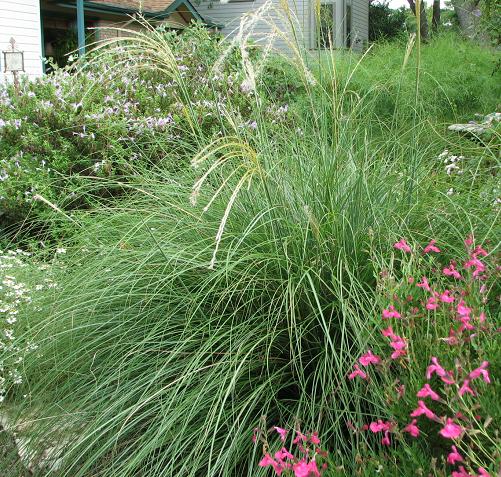 Another look at 'Adagio,' which is new to my garden this year. It is just beginning to bloom.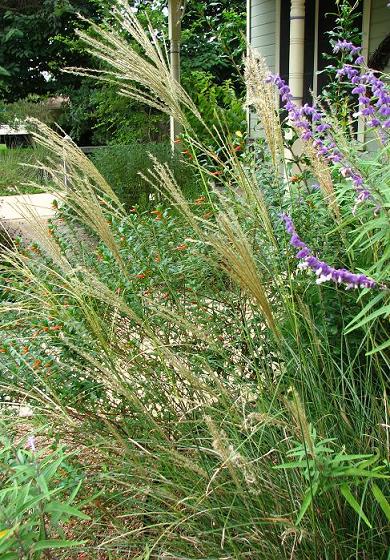 Miscanthus sinensis 'Yaku Jima,' also new this year. As you can see, it's smothered by a huge, flowering Salvia leucantha. I plan to give them some separation this winter.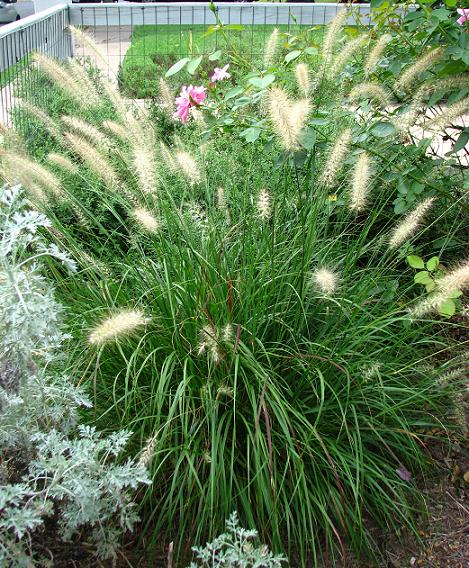 The mystery pennisetum, blooming its little head off. You may remember that this is not the grass I intended to buy—it was mislabeled as a miscanthus, and once it bloomed I recognized the mistake—but it's doing too well to pull up, and it's growing on me.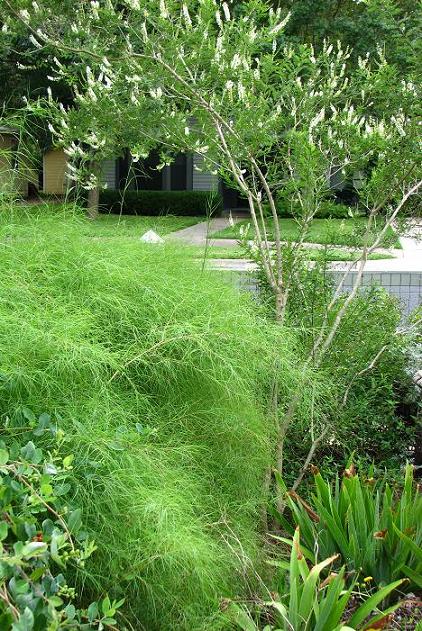 Bamboo muhly (Muhlenbergia dumosa )—not a bamboo, though it resembles one, but a feathery, clumping grass. Native to southern Arizona and northern Mexico, it grows well in sun or partial shade, and I'm using it both loose and feathery and neatly topped off throughout the garden. I love its texture and chartreuse color. The kidneywood tree is blooming behind it.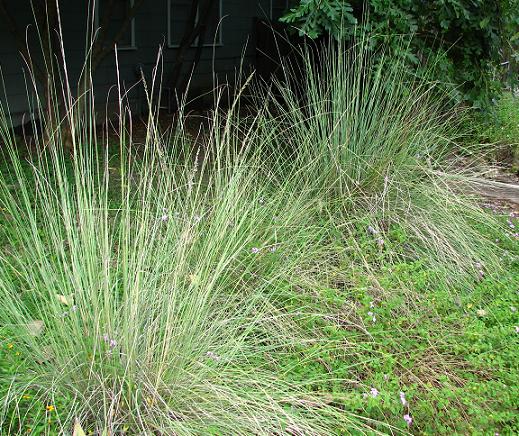 And now for the native muhly grasses. These are more, well, stringy, for lack of a better word, but I like their meadowy texture. They've barely begun to bloom, so I'll be sure to show these again later in the season. Here are three big muhlies (Muhlenbergia lindheimeri ) growing along the driveway strip—a very low-care zone—intermixed with purple lantana and zexmenia.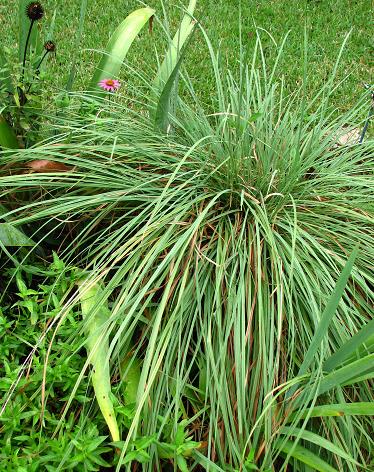 This is a smaller muhly, but I'm not sure what kind. When I bought this many years ago at Natural Gardener, I thought the nurseryman told me it was a dwarf Lindheimer muhly, but I can't find any information on such a plant, so who knows.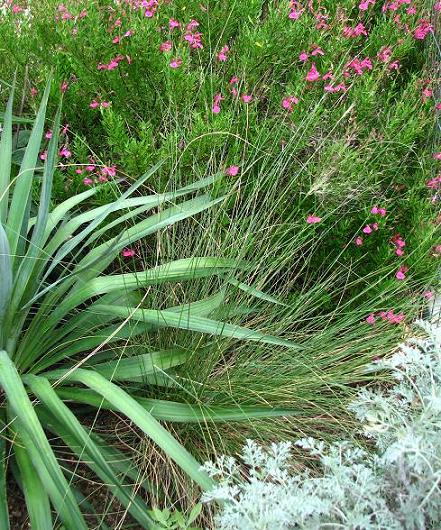 Gulf muhly (Muhlenbergia capillaris ). This is one of the most beautiful grasses I've ever seen, though you wouldn't know it from the photo of this crowded little thing. Massed against the morning or evening light, it can't be beat, but I've always had trouble growing it, even when I've placed it better than this one. Gulf muhly is often thought to be native to central Texas, and I've seen it looking beautiful in Austin gardens, but I believe its natural range doesn't extend this far west. Check out this link for a picture of Gulf muhly in its glory.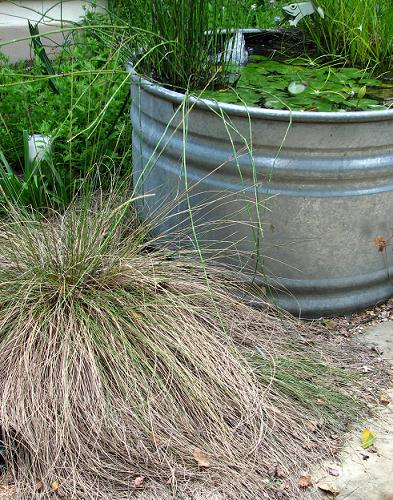 This pine muhly (Muhlenbergia dubia ), not looking its best either, will be blooming soon. It probably wants more sun; my back garden has become increasingly shady.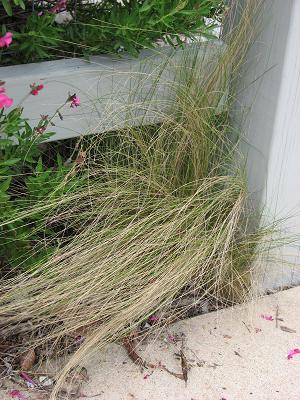 Mexican feathergrass (Stipa tenuissima ) is one of my workhorse plants, filling in small spaces and toughing it out by the curb with almost no supplemental water. But fall isn't its best season.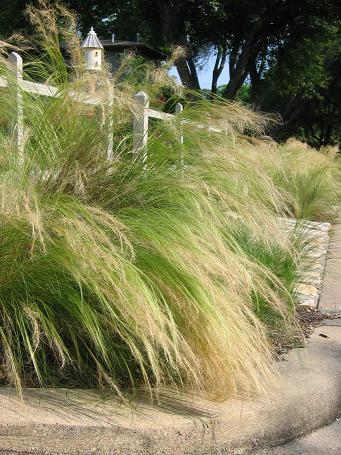 Spring is. So here is a photo from last spring.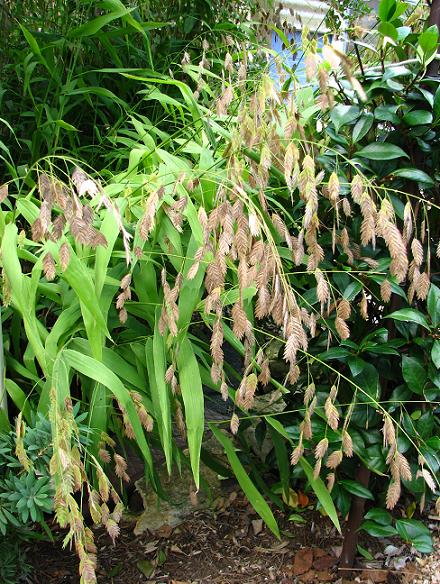 Inland sea oats (Chasmanthium latifolium ), also called northern sea oats. I see this plant on garden blogs across the country, so clearly it has a huge range. It's also native to central Texas, and if you've hiked along the Barton Creek Greenbelt you've probably seen it growing along the trail. It seeds out prolifically, so I keep it contained in an isolated bed edged with flagstone.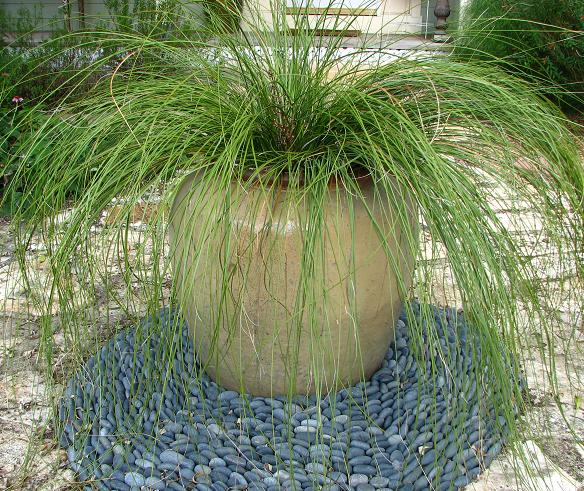 Not a true grass, Nolina texana looks like one. It doesn't send up fall seedheads, however, and in spring it blooms somewhat like a yucca, with clustered white flowers on a short stalk.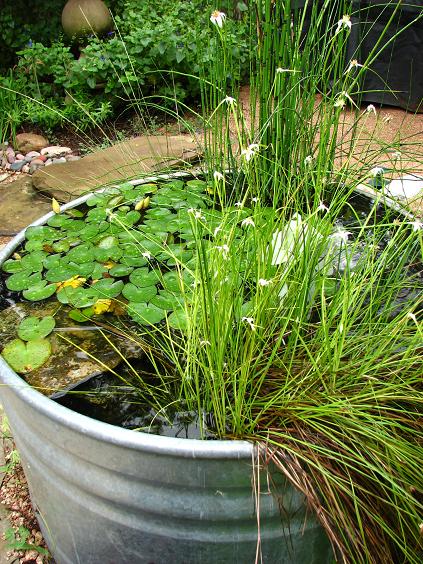 I know, this isn't really a grass either, but it looks like one. Star grass sedge (Dichromena colorata ), also a central Texas native, likes wet feet. Mine grows as a marginal plant in the container pond.
I hope to do a follow-up post once my grasses really start blooming. If you love ornamental grasses, be sure to visit Layanee, Craig (take the time to watch his videos of his grasses blowing in the wind), Shirl, and Kim's posts. Check out their comments pages to find other ornamental-grass links.
I leave you with a couple of recent garden visitors.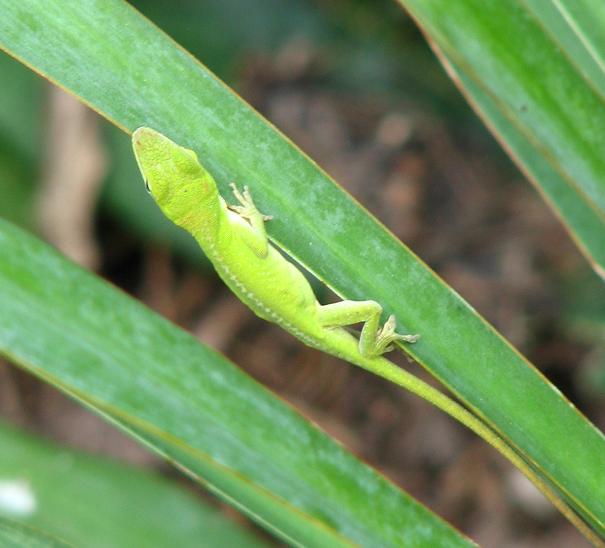 An anole tries to blend into the softleaf yucca's leaf.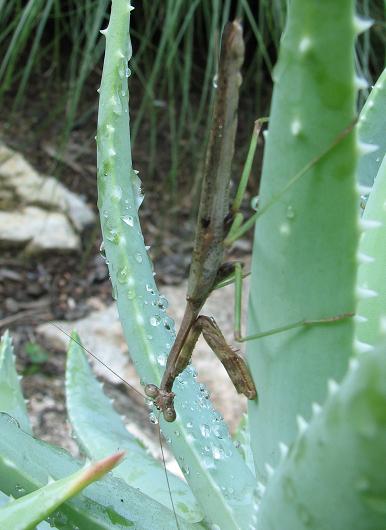 This praying mantis was checking me out as I stooped for a closer look at her.