September 11th, 2007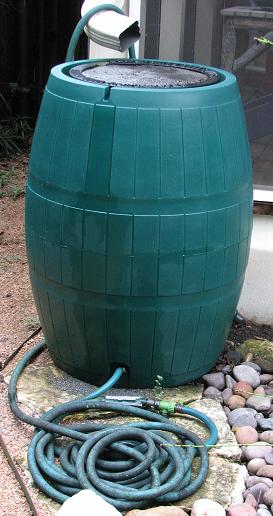 Conserving water is integral to "green" gardening in central Texas. Although Austin receives an average of 32 inches of rain a year, much of our rainfall is concentrated in spring and fall and in heavy showers that run off quickly rather than soaking into the soil. Yet while water restrictions have become a sign of the times, the buzzword "xeriscape" still turns some people off and makes others think only of cactus gardens.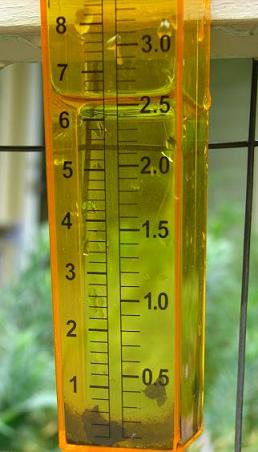 Watersaver Lane at San Antonio Botanical Garden, which I recently visited, seeks to dispel this misconception. Xeriscape gardens in five styles offer inspiration and an alternative to the ubiquitous and thirsty St. Augustine lawn with mustache hedge and water-guzzling annuals. Built around six miniature cottages, the gardens (Cottage, Wildscape, Texas Hill Country, Spanish Courtyard, and Manicured Xeriscape) contrast with the "control garden," the Traditional Landscape, and illustrate that conserving water in the garden can look beautiful.

Let's look at the Traditional Landscape first. Unappealingly but accurately rendered as a St. Augustine lawn bordered by disease-prone red-tipped photinia, it also includes stalwart but unimaginatively used boxwood, liriope, and annuals. (Even the house is painted a boring taupe color. Note the finishing touch of the plastic flamingos.)
To many people, this is the American ideal for the suburban yard. Most gardeners, however, would agree that it's utterly boring. Don't get me wrong—a boring yard is not the worst thing in the world. A more-ambitious but poorly executed or maintained garden can be more of an eyesore. But this garden's main failings include high water consumption, high energy consumption (in the form of lawn mower use), and a total lack of regional or personal character. Where is this garden located? Anywhere, USA. No regional clues exist to tell us; these exotic but traditional plants appear in gardens all across the country. Who lives here? No personality is evident; all we know is that he or she has a fondness for kitschy yard ornament.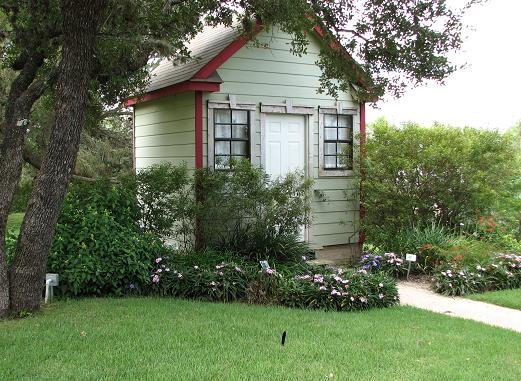 For those who like the tidy, traditional look of a lawn and foundation hedge, the Manicured Xeriscape garden shows how to do it by using less-thirsty, better-adapted plants in a traditional design. Katie's dwarf ruellia provides perennial color at ground level, and dwarf Southern wax myrtle replaces boxwood as a foundation shrub. Turk's cap—not poorly suited hydrangea or azalea—grows in the shade of the trees.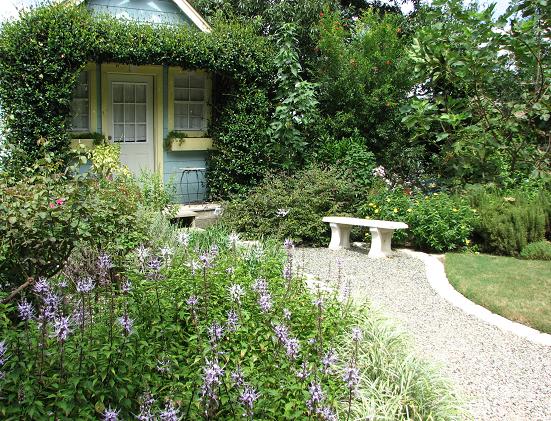 If you like a Cottage Garden, Watersaver Lane shows you how to do it with old-fashioned but tough favorites like cleome, heirloom roses, star jasmine . . .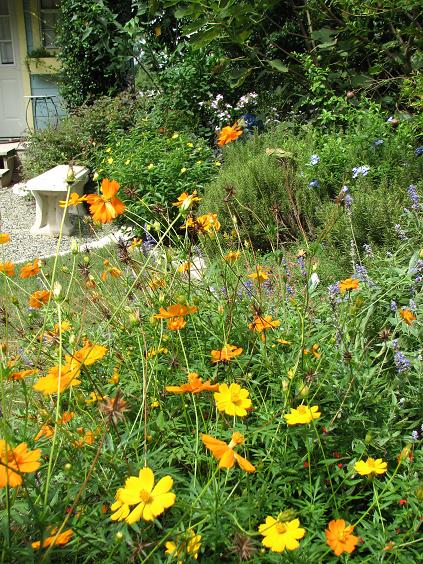 . . . and orange cosmos. A curvy, gravel path, bench, window boxes, and flowering vine framing the door provide the finishing touches.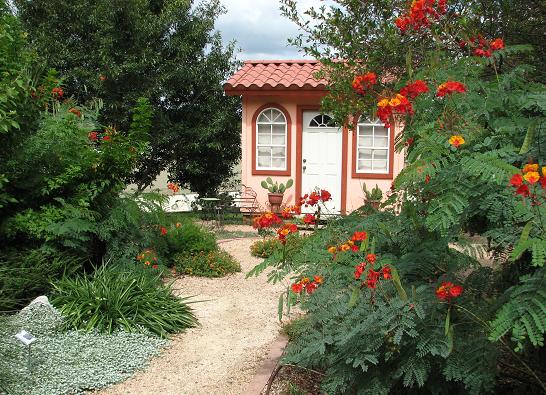 Gardeners in San Antonio and other southwestern cities might find Spanish Courtyard more to their liking. Drought-loving plants like Pride of Barbados, silver ponyfoot, palms, and yuccas partially screen a decomposed-granite courtyard.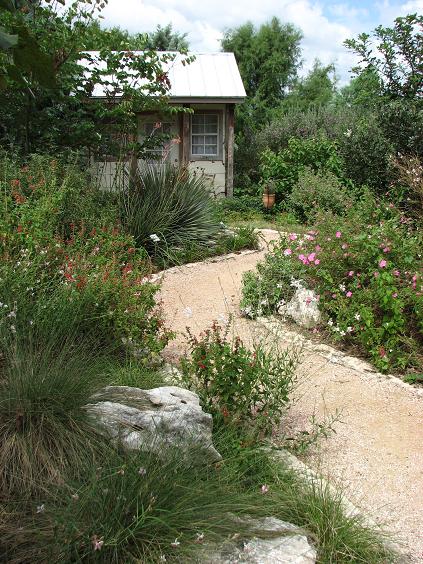 Texas Hill Country is one of my favorite gardening styles for Austin. The Hill Country is famous for its limestone outcroppings, rolling hills, and fields of spring wildflowers. If you already live on thin, limestone soil, why not play to your strengths? Instead of trying to keep a traditional landscape going, opt for this colorful, rugged garden style. Here a decomposed-granite path edged with chopped limestone winds its way to the door, bordered by tough natives like gaura, salvia, pavonia, muhly grass, yucca, and cenizo, and accented with a Texas redbud tree. Notice the lack of turf grass in this garden, but native buffalograss can fill that need.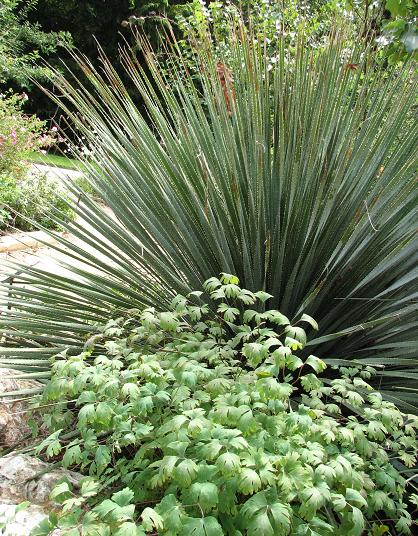 Columbine and sotol make a striking combination near the house.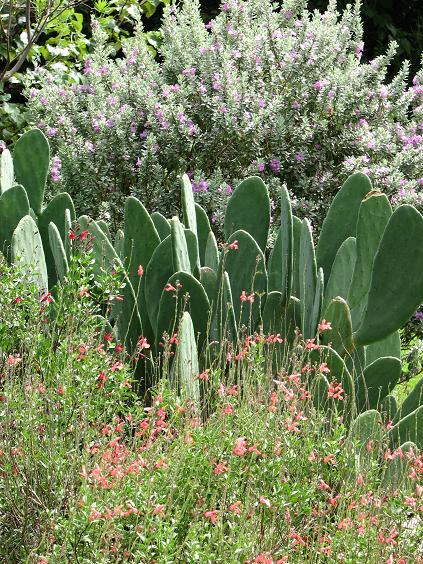 I like this trio of (front to back) Autumn sage (Salvia greggii ), spineless prickly pear, and Texas sage or cenizo (Scrophulariaceae ) in bloom.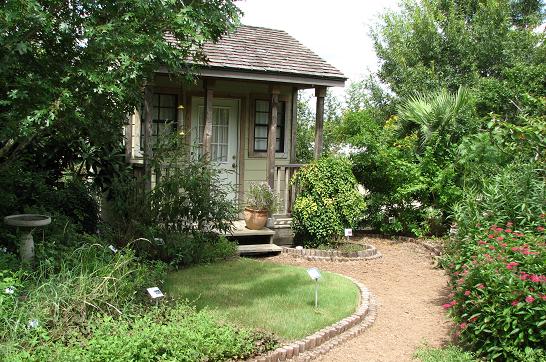 Perhaps you like to garden to attract wildlife. The Wildscape Landscape shows you how to use plants with seeds and nectar, roosting places and larval food, all suited to Central Texas' conditions without the need for chemical pesticides or fertilizers that could harm wildlife.
Each demonstration garden includes a sign with information about how to create that garden style, as well as maintenance requirements. Very handy. The website contains even more information about each garden.
Austinites interested in seeing xeric, or water-saving, demonstration gardens can visit the Green Garden at Zilker Botanical Garden or the Home Owner Inspiration Garden at the Lady Bird Johnson Wildflower Center.
But what I like about Watersaver Lane in San Antonio is that it not only educates visitors about xeric plants and green-gardening practices, but it also teaches them about different garden styles. For instance, you can view the cottage garden and then stroll on into it ; afterward you can stop and read the sign for a brief history of the cottage garden and what kinds of plants and hardscaping you'd typically find in one.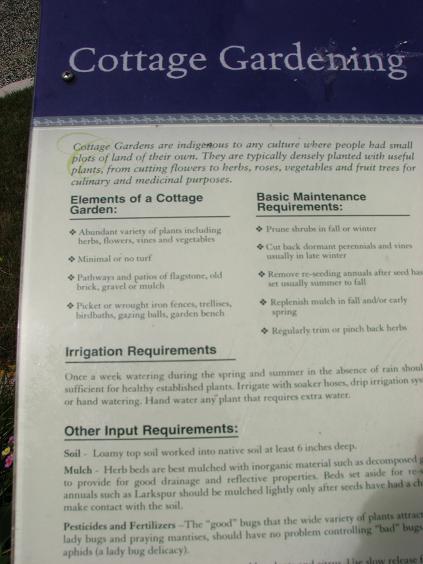 For new gardeners, this could be the inspiration that gets them digging.