September 5th, 2007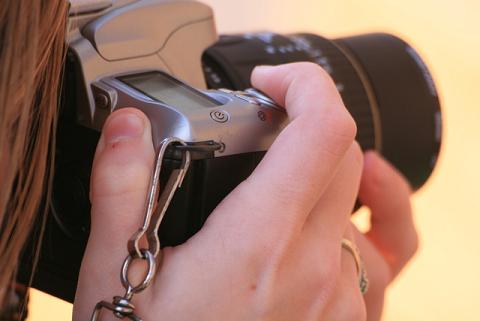 Photo by Mary R. Vogt, courtesy of MorgueFile
If you're a regular reader, you might have noticed that I often post photos of people on my blog. People exploring a garden. People enjoying a festival. People just doing what people do when they're out in public. I generally don't ask permission before taking a candid photo, only for posed shots. I also regularly post photos of other people's gardens (on tours, usually), though in that case I do ask permission first if I'm on their property, but not if I'm shooting from the sidewalk or street.
Lately I've noticed some bloggers saying they are reluctant to use photos of people or even other people's houses and gardens because of legal or ethical concerns. The latest comment to that effect appeared on a post at A Study in Contrasts, regarding Kim's and Chuck's neighborhood photo tours. Firefly asks, "[D]o you need permission to photograph and publish pictures of your neighbors' houses? . . . [I]f I saw a picture of my house on someone's blog (especially with a comment about the garden) I'd be pretty unhappy if the person hadn't let me know it was coming."
This notion of house privacy surprised me. I'd given thought to the legality and ethicality of posting photos of people but not property. So I did a little investigating to see what I could learn. Here's what I found out from a couple of online sources (for what they're worth).
At About.com: PC World Computing Center (no longer available), a discussion titled "More on Your Photos and the Law" offers this:
Photographing People in Public
Q: Can I photograph people in public places without their permission?

A: Absolutely. People get really muddled about this issue, but the reality is that you have a virtually unrestricted right to use a camera in public. One big caveat: It's common courtesy to get verbal permission. Nonetheless, people don't have the right to bar you from photographing them in public, where they would not ordinarily have an expectation of privacy.

Q: Can I publish pictures of people I've photographed without permission?

A: That depends upon the purpose of the picture. If it's artistic or editorial in nature, or can be characterized as to inform or educate, then you do not need your subject's explicit permission.

If the picture or any associated text may be libelous, defamatory, or fall outside of what courts have described as "the normal sensibilities" of the target audience, then you may need permission from the subject for your own protection. You also need permission from the subject if the picture is used for commercial purposes, such as in an advertisement.
So flaming someone is a no-no, and potentially libelous, but posting a photo of someone in a public place or at a public event, so long as the intent is not mean-spirited or commercial, is OK.
From Oregon lawyer Bert P. Krages II comes an explanation of the photographer's rights, which I found educational. Here's a link to the .pdf file, in which he says:
Members of the public have a very limited scope of privacy rights when they are in public places. Basically, anyone can be photographed without their consent except when they have secluded themselves in places where they have a reasonable expectation of privacy such as dressing rooms, restrooms, medical facilities, and inside their homes.
And as far as photographing houses goes, About.com: PC World Computing Center (link no longer available) says this:
Most of the kinds of pictures you're likely to want to take are within your constitutional right to do so. However, in some situations you're not protected and can be held liable for damages. These, as you can see, are fairly obvious, common-sense situations and can easily be avoided:

Photographing on private property. You may not enter or photograph on private property without the owner's permission.

Libel or slander. You can't misrepresent facts through the use of a photograph or accompanying text.

Use of the photograph in a commercial application. You need permission to photograph someone for an advertisement.
It sounds to me that if you take house or garden photos, without permission, from a public street or sidewalk, your actions are perfectly legal—though naturally your neighbor may come out to ask what you're up to.
Making critical or disparaging comments online about identifiable gardens, houses, or people is another matter, of course. That feels unethical to me, and I know I would not want to be on the receiving end of a post like that. The key is intent, as I understand it. We all know when the intent of a post is mean-spirited, and even if the writer believes the subject will never read it, you just never know. The internet's reach is very wide.
I think Kim and Chuck have both been excellent and kind-spirited reporters on their neighborhood walks, showing us photos of interesting, humorous, or unusual sights along the way. I hope my numerous posts of public gardens and spaces, including people photos, have been perceived in that same spirit, which has always been my intent.
Ethics discussions are useful to all bloggers, so I'm glad to have been spurred into learning more from the comments at A Study in Contrasts. Perhaps by knowing their rights and responsibilities as photographers, other bloggers will be emboldened to let people into their photos now and then, because I find that adds richness to garden photography. People bring a garden to life, give it scale, and show us how to be part of it.
Added 9/12/07: Check out Andrew Kantor's column CyberSpeak (12/29/05) in USA Today for more.
Note: I am not a lawyer, and nothing in this post should be construed as legal advice.