April 30th, 2015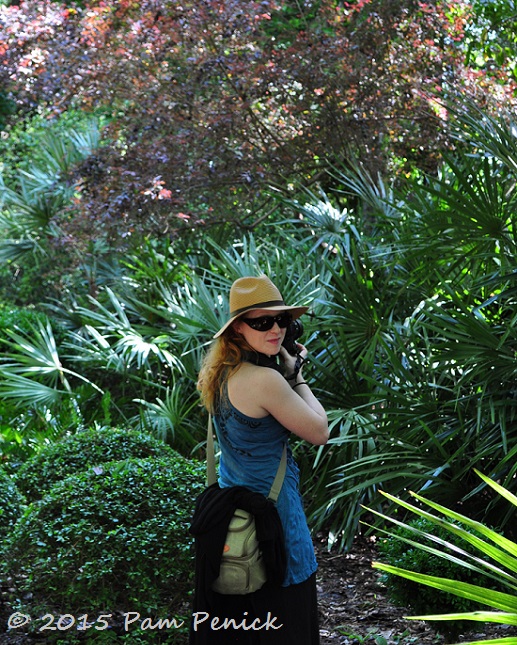 For new visitors, the name Peckerwood tends to elicit raised eyebrows because of the word's history as a racial slur in the South. But touring Peckerwood Garden itself — it was named, explains the owner, after the plantation in Auntie Mame — induces amazement, both because of the owner's extensive collection of rare plants and because he's been at it for more than 40 years, utterly transforming his Hempstead, Texas, property from farmland to an artistically designed collector's garden, which is now guided by the Garden Conservancy as it transitions to a public entity.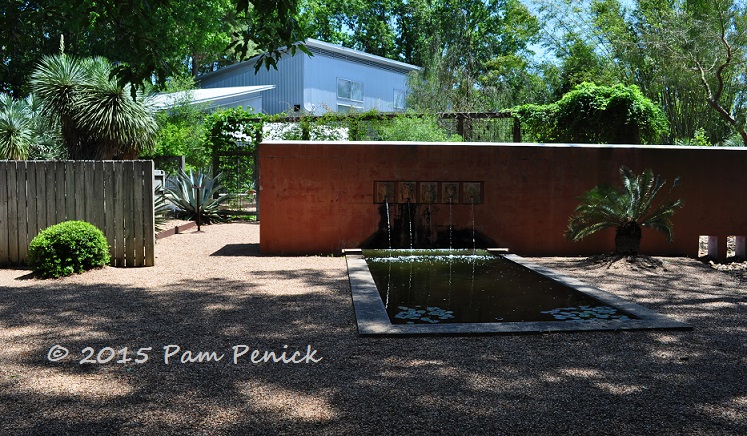 On April 19, I made the two-hour drive east along with a few friends (that's Lori of The Gardener of Good and Evil pictured at top), and we took a guided tour. While it offers ticketed open-day visits, Peckerwood is still very much the personal garden and home of artist John Fairey, a plant explorer and collector of rare specimens from northern Mexico and Asia and a recently retired professor of architecture at Texas A&M University. His house is the corrugated metal building screened from public view by layers of trellis, wall, and fence.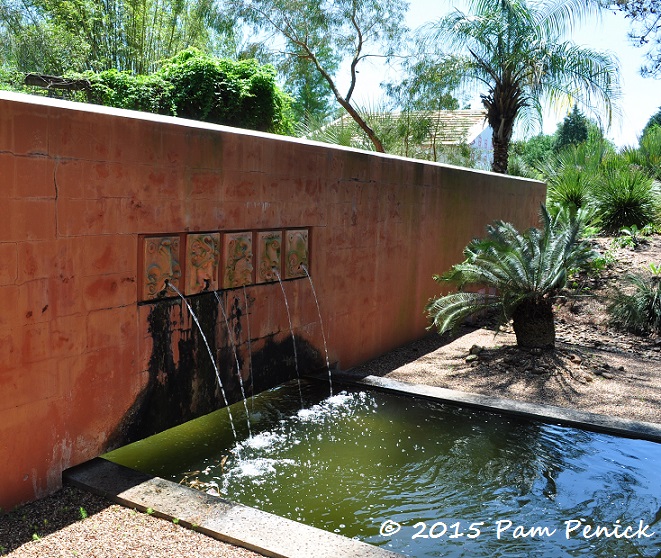 I wrote about Peckerwood for Garden Design magazine a couple of years ago, and the article is available online if you'd like to know more about the garden and its soft-spoken owner. For this post, though, I'll just show you some of my favorite scenes from the tour, like this terracotta-colored wall with five faces spouting water into a rectangular pool, which flows under the wall to be enjoyed on both sides.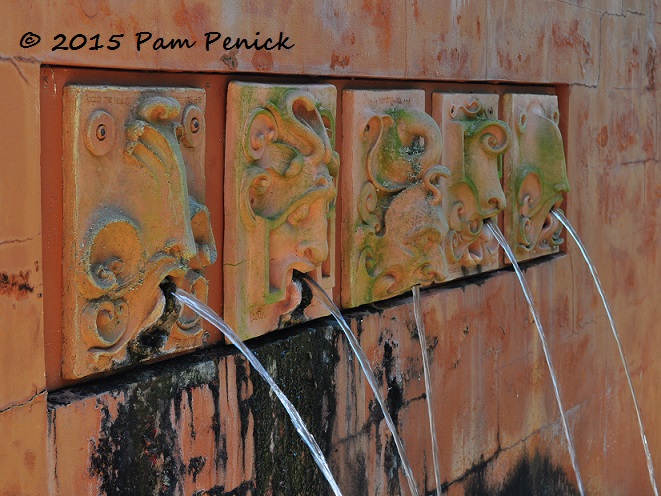 Whimsical faces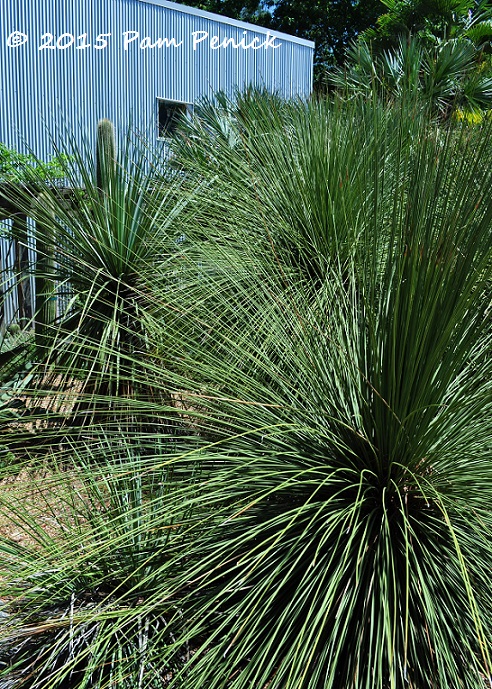 The dry garden is the most dynamic space, with shimmering, spiny plants of monumental size clamoring for your attention, like these Mexican grass trees, or toothless sotol (Dasylirion longissimum). I like how their lines echo the lines of the metal structure behind them.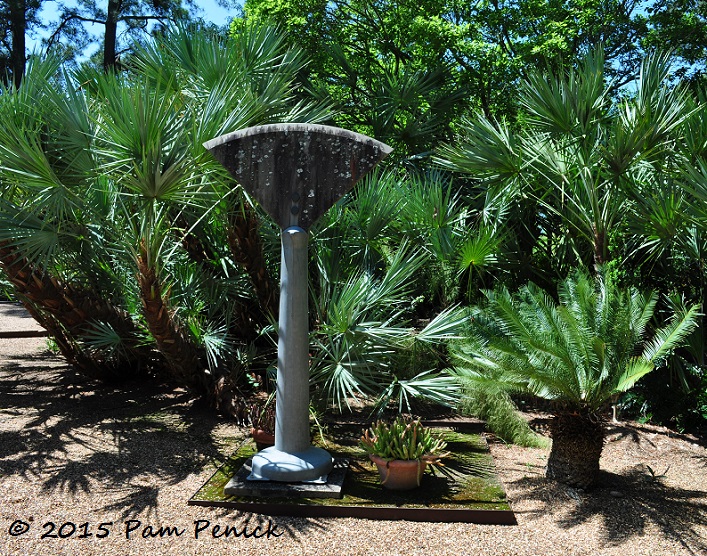 A metal sculpture is reminiscent of the shape of palm fans.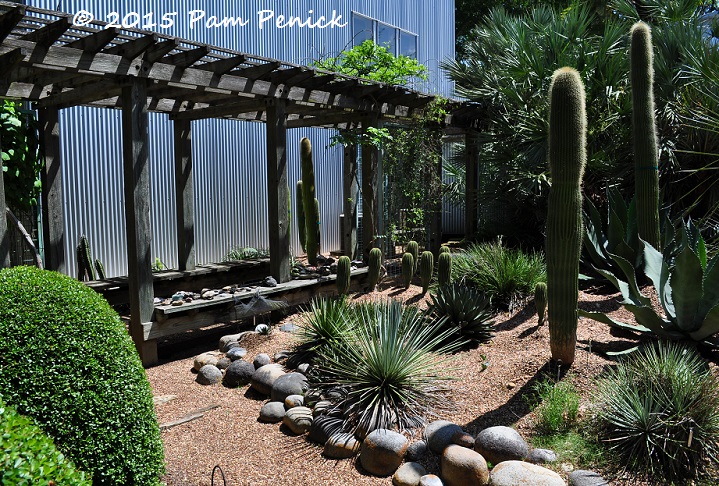 A long pergola offers shade, which was welcome on this warm, humid day.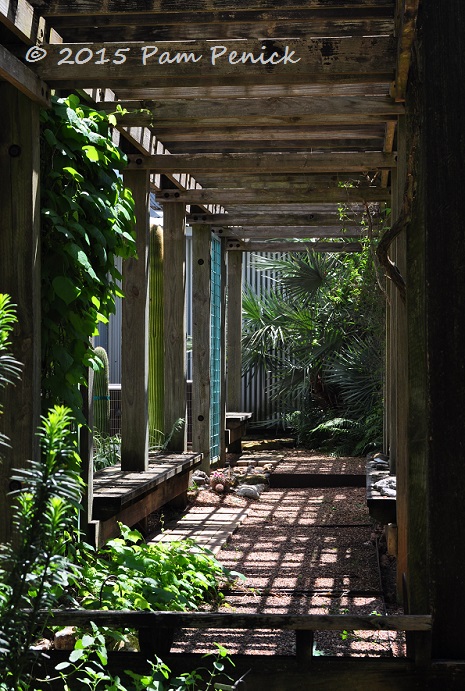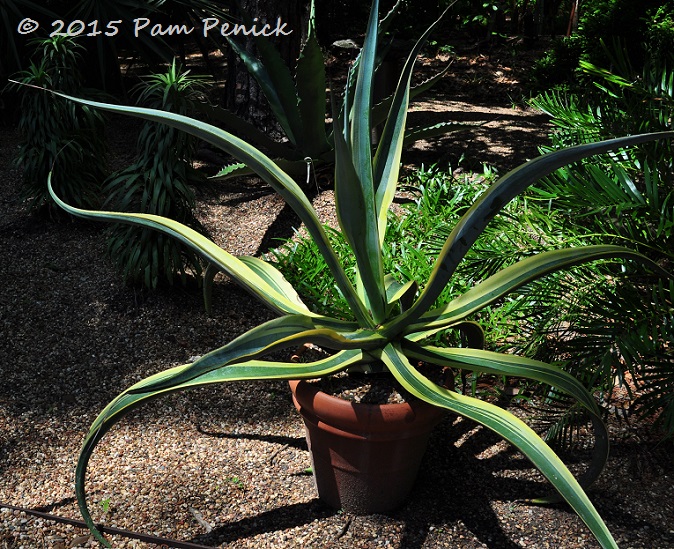 Fun details abound, like this variegated octopus agave.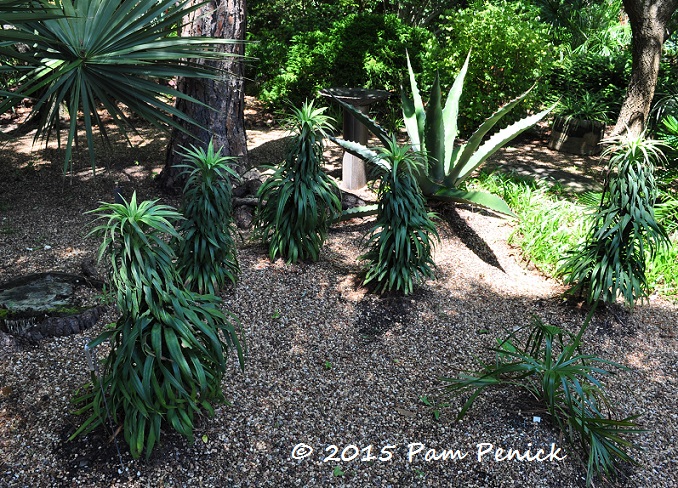 And these Dr. Seussian characters, tagged as Yucca desmetiana 'Blue Boy', although they look pretty different from the one I'm growing (aka Yucca aloifolia 'Blue Boy').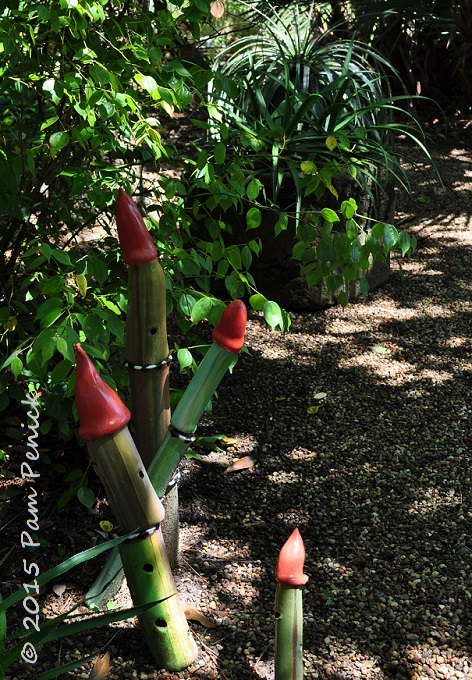 I've visited ceramist Marcia Donahue's garden in Berkeley, California, which makes it even more fun to run across her art in other gardens. These phallic, bamboo-like poles are instantly recognizable as her work.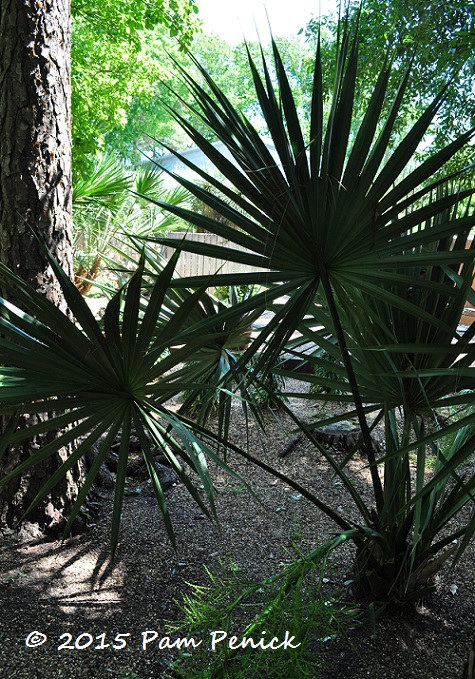 Jazz hands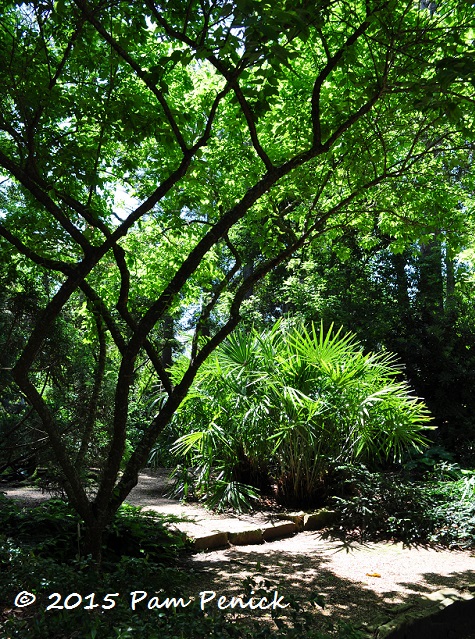 In the woodland garden, sunbeams illuminate plants for a brief period around noon, as light filters through tall trees, each one planted by Fairey decades ago.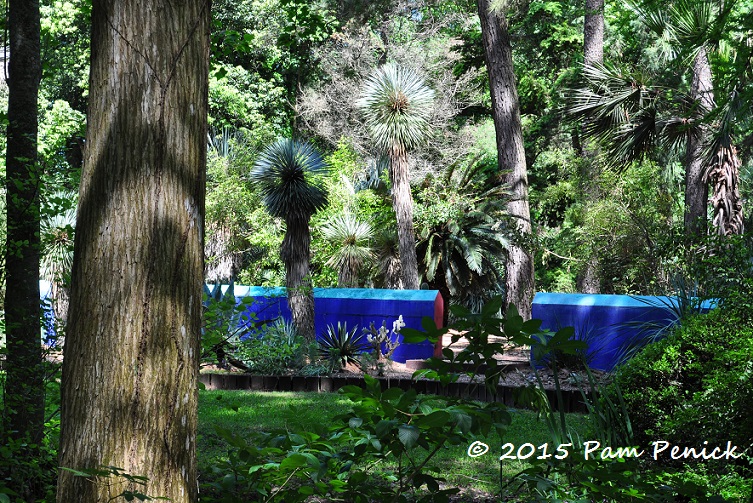 Across a woodland stream you get a tantalizing glimpse of a blue wall and a prehistoric-looking garden of palms and Yucca rostrata. I've longed to see this part of the garden for years, but after three visits to Peckerwood this is as close as I've gotten. Apparently the garden needs funds to construct a safe bridge for visitors to cross the creek and see this area. Until then, this part of the garden is always closed to visitors. Sigh –so close and yet so far!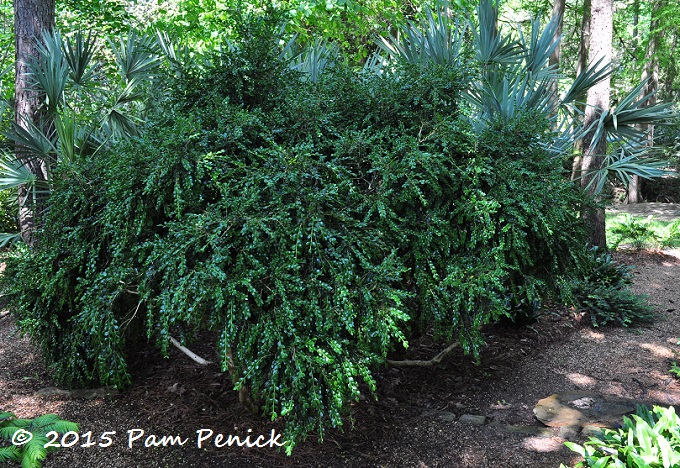 Weeping boxwood — this is cool.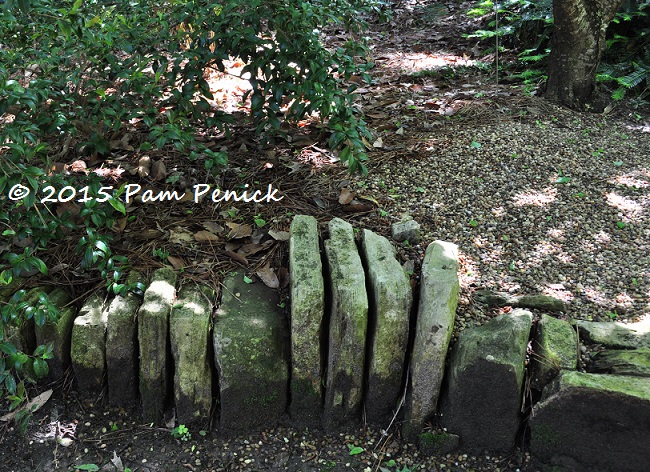 Vertically laid stone for edging a small change in level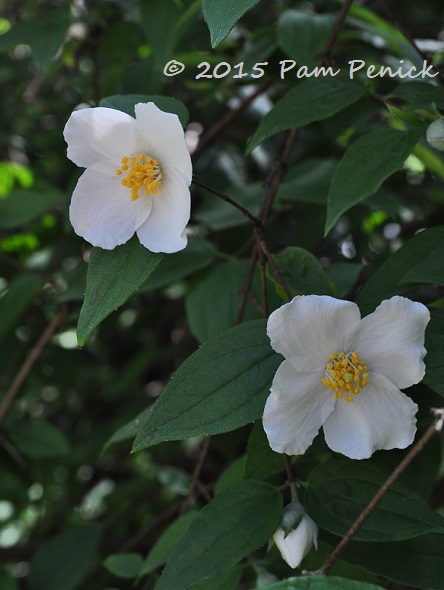 Lovely white flowers on a shrub I neglected to get an ID for. Update: it's likely mock orange. Thanks, readers!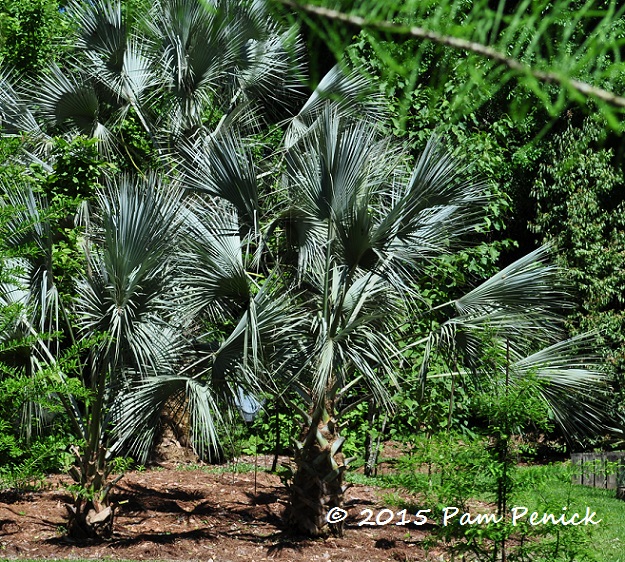 More silvery blue palms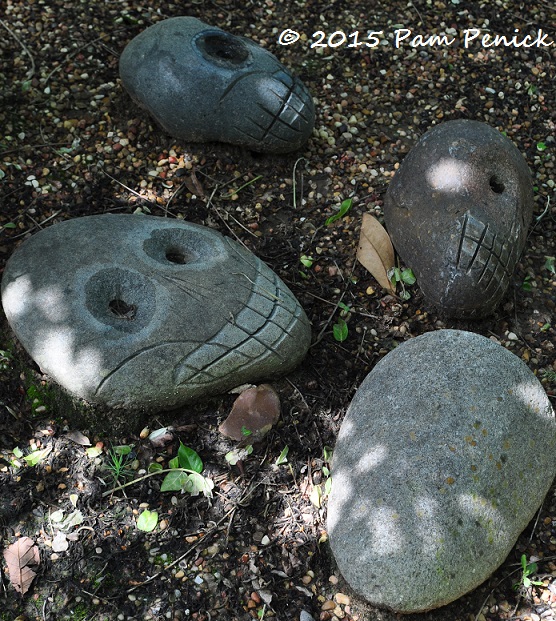 And more Marcia Donahue art, perhaps? I saw carved skulls like these in her garden.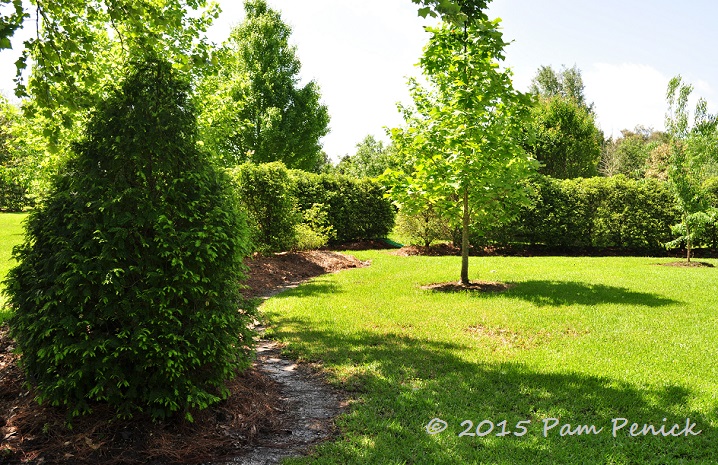 This sunlit rondel is lovely. Our guide told us a little about the trees and shrubs here, but my memory for plant names is terrible — perhaps because I'm always walking away from tour guides to take pictures. It would be wonderful if Peckerwood's website had descriptions of each of its gardens, but such things always take money and volunteer hours, of course.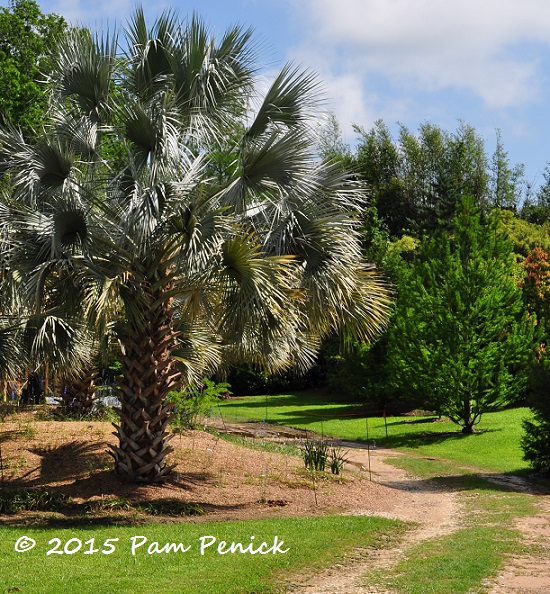 Most of the plants are planted atop berms for drainage, which allows for greater diversity than what could be grown in sometimes soggy clay.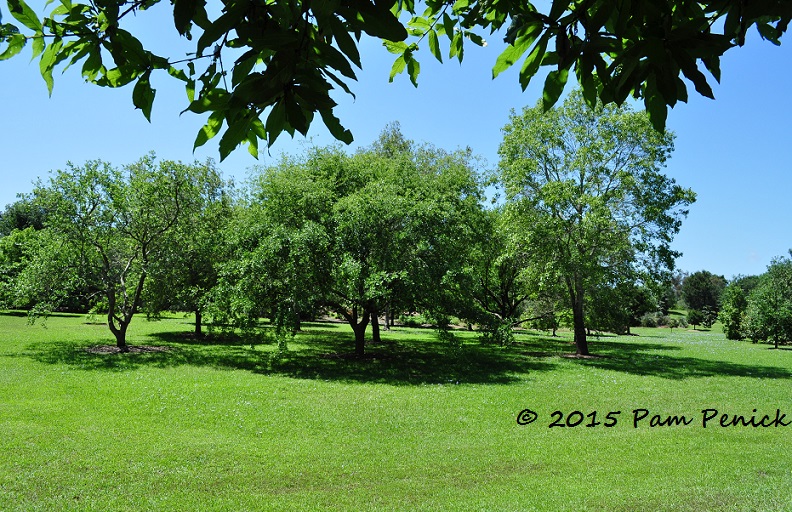 The arboretum, where a vast collection of Mexican oaks has been grown from seed gathered on plant-hunting expeditions. This place really is a plant nut's mecca.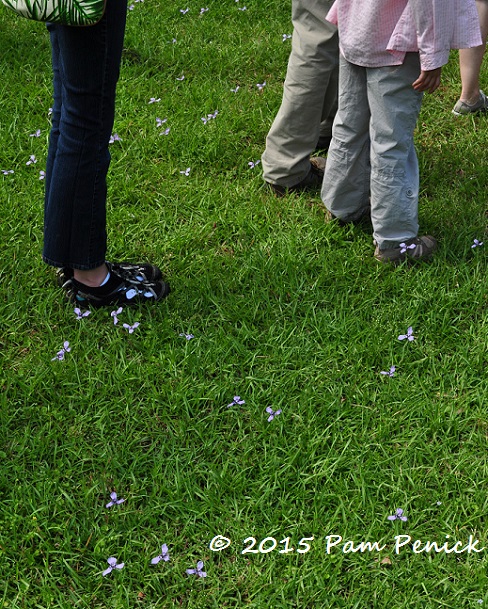 Amid the majestic oaks, prairie nymph (Herbertia lahue), a native wildflower, was blooming in the lawn, showing that even the most common and lowly plants offer plenty of beauty as well.
All material © 2006-2015 by Pam Penick for Digging. Unauthorized reproduction prohibited.