September 6th, 2007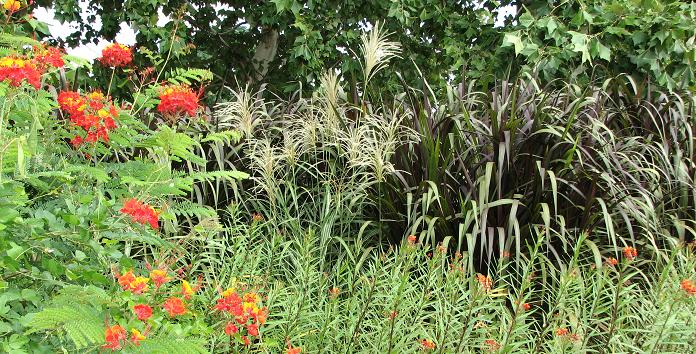 At summer's end, Pride of Barbados ( Caesalpinia pulcherrima) steals the show at the entrance to the Botanical Garden, paired with butterfly weed and a tall ornamental grass.
On a business trip in San Antonio last week, I lucked into an hour to spare before I needed to make the hour-and-a-half drive back to Austin. I decided to make a quick first visit to the San Antonio Botanical Garden. There I was, strolling around a south Texas botanical garden at noon on the last day of August, thinking, "This is amazing! I'm willingly outdoors in August . . . and it's not that hot!"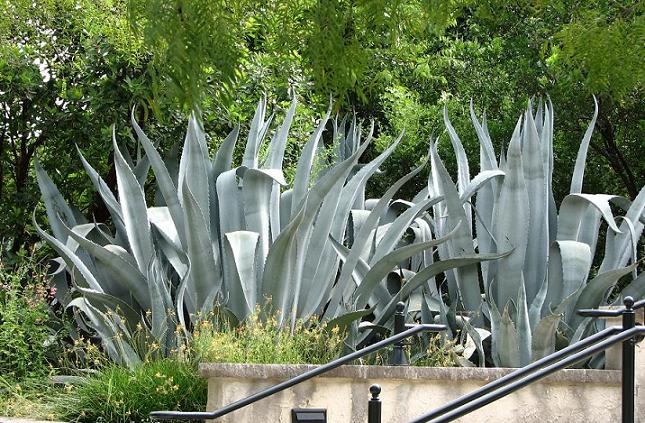 OK, enough about our amazingly temperate summer this year. Back to the garden. If it had been a more-typical 99 degrees that day, these gigantic agaves (Agave americana ) would have been just as beautiful, like silver tongues of fire.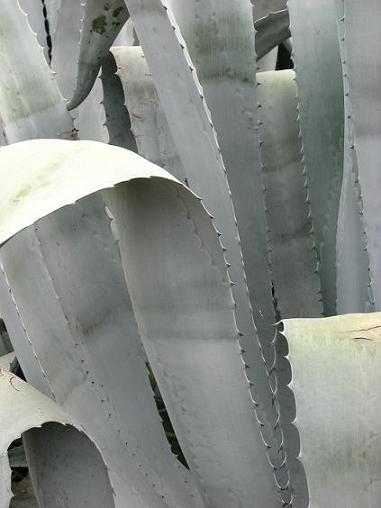 A closeup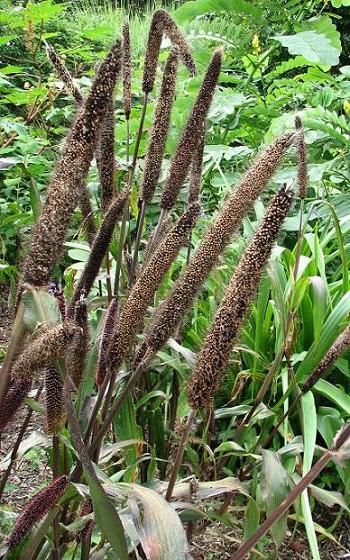 My first stop was the Old-Fashioned Garden, where a stand of pearl millet caught my eye.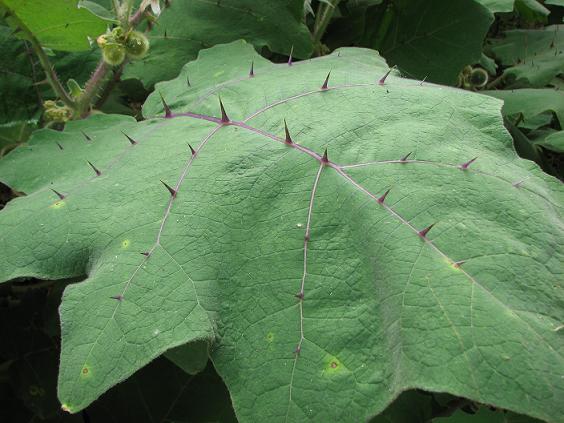 Check out this intimidatingly spiky leaf. I neglected to get the plant name. But what kind of old-fashioned garden is this? My grandma didn't plant monsters like this. Nevertheless, it certainly was interesting. Update: This plant is called, appropriately, Bed of Nails (Solanum quitoense ). Thanks to my mother for the ID.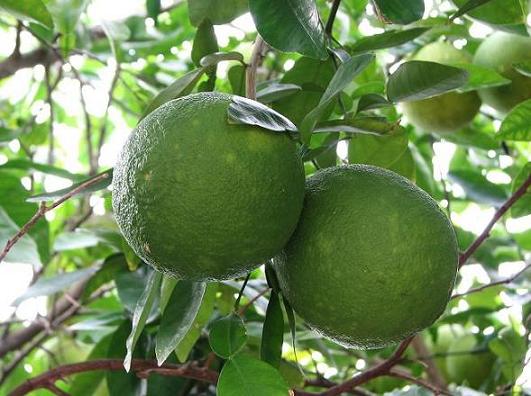 Nearby, a large Ponderosa lemon tree sported clusters of large, ornamental lemons.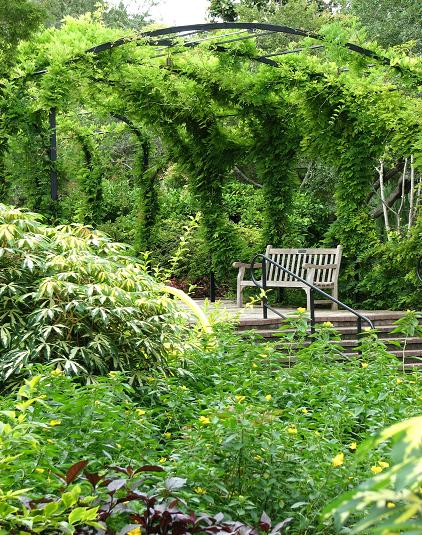 A wisteria arbor, swagged with green, invited me into the next part of the garden.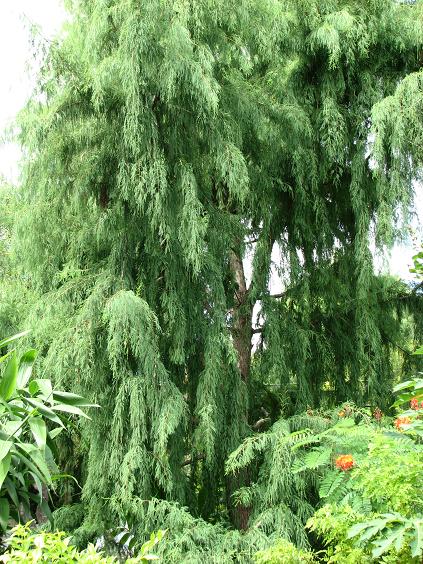 Where I found charming vignettes composed of beautiful weeping trees . . .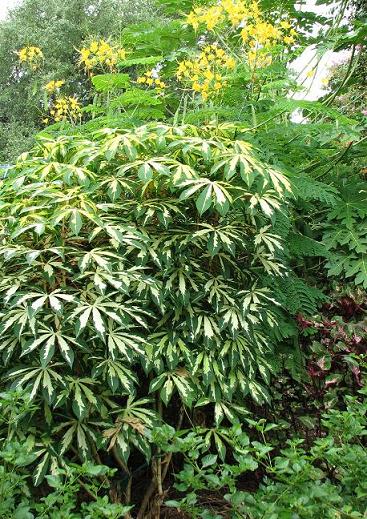 . . . variegated shrubs . . .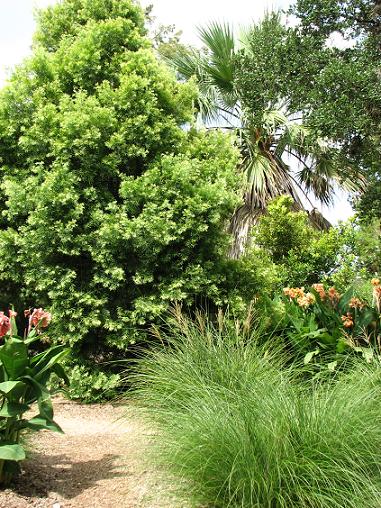 . . . and ornamental grasses.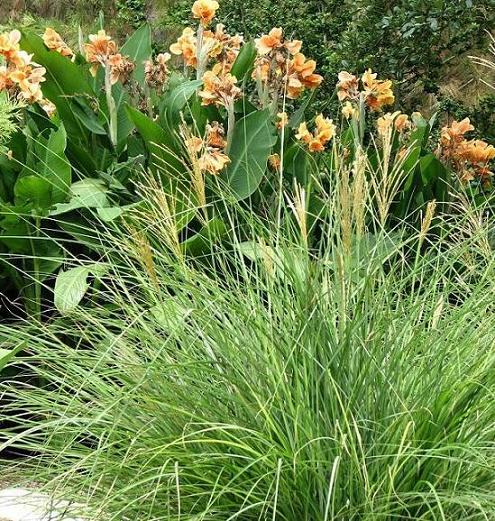 Here's another look at what appears to be a miscanthus grass backed by tawny-orange cannas. I don't go for the tropical look in my own garden (except for yellow bells), but I actually like this juxtaposition of tropical and prairie.

Silver-leaved cenizo (Texas sage) and ruellia combine in a pink and purple fiesta. Cenizo is sometimes called barometer bush because it blooms only when a front moves in, bringing rain. You can water it all you want (though it prefers arid conditions), but you can't trick it into flowering. Once it blooms, however, you cannot take your eyes off it: those airy, silvery branches spangled with purple flowers. Unfortunately, the sun was high when I snapped this photo, and it doesn't do the colors justice.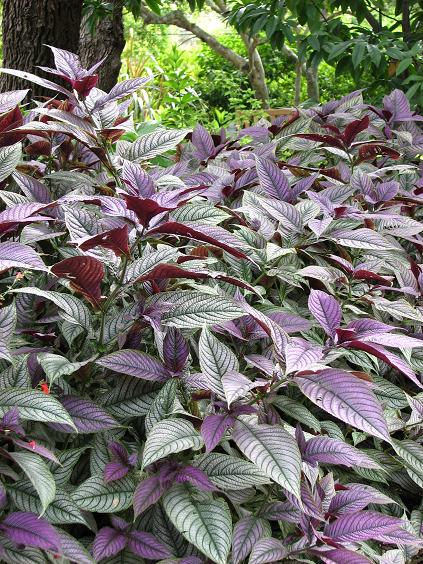 Persian shield provides more purple in the shade.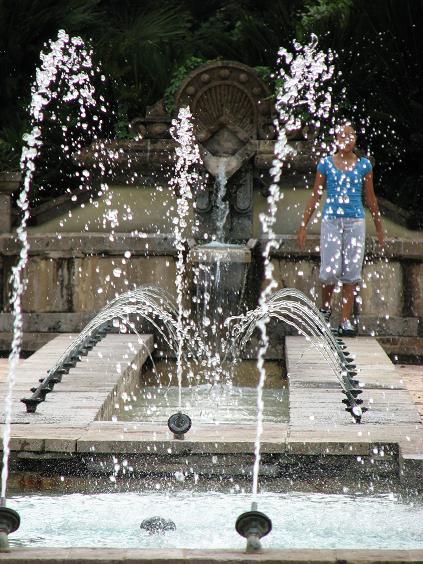 A Spanish-style fountain attracted the attention of several children, including this girl.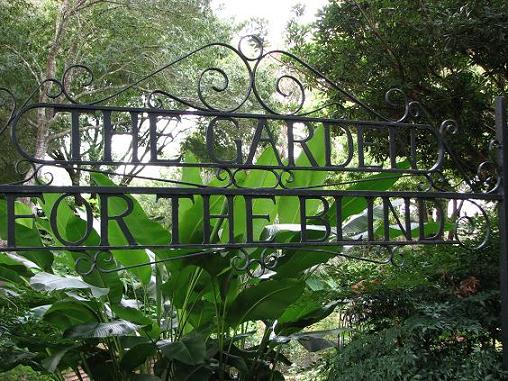 An iron sign announced "The Garden for the Blind," although on the website this area is referred to as the sensory garden.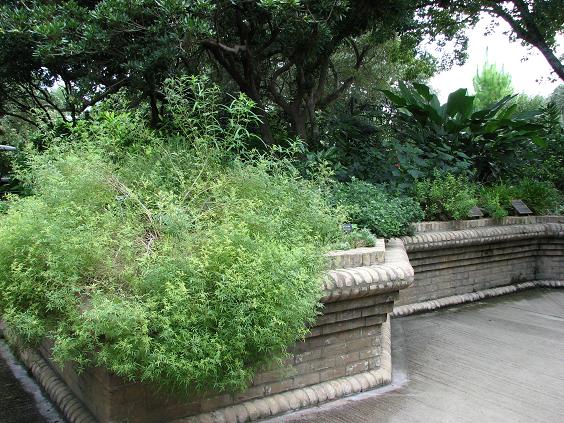 Planted in raised beds for easy touch and smell, the Garden for the Blind is meant to be explored with the senses other than sight. Brushing against or crushing a few leaves of the Mexican mint marigold in this corner engages the sense of smell.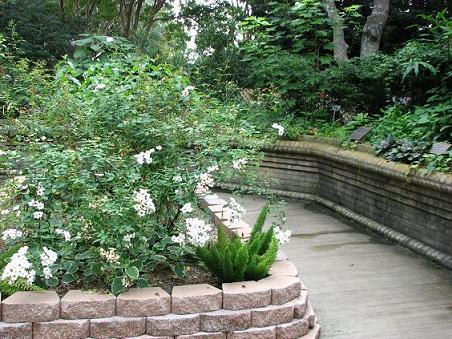 Over here, a rose offers floral fragrance, while foxtail fern begs to be touched. This would be a great garden for children to explore too.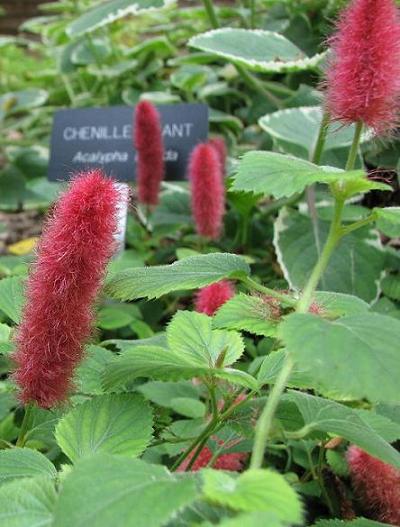 I can never resist touching chenille plant's fuzzy spires.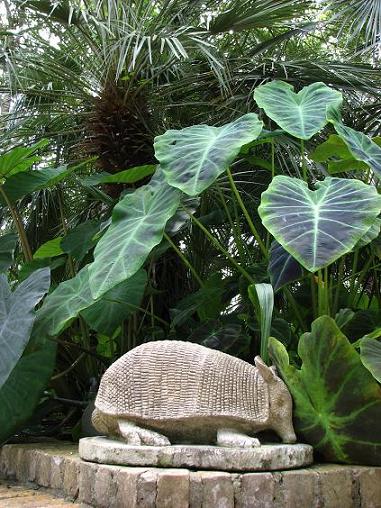 You know you're in Texas when you see armadillo statuary. Backed by a palm and elephant ears, this scene looks more tropical than the arid vistas many people associate with Texas. But San Antonio is far enough south to grow a lot of semi-tropicals. Water availability is another matter, of course.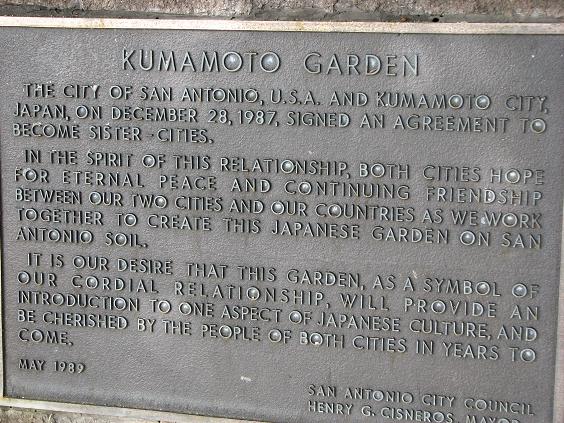 The path leads next to the Kumamoto Japanese Garden, established in 1989 as a gesture of friendship between San Antonio and her sister city, Kumamoto, Japan.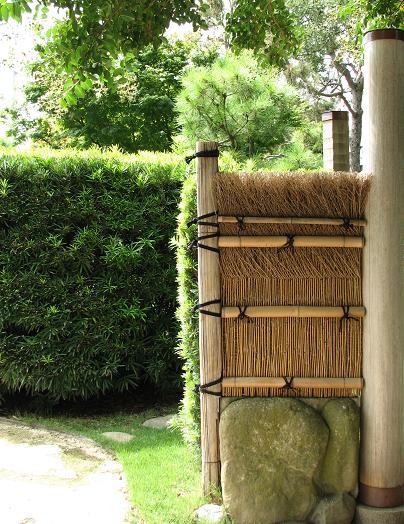 The beautiful entry to the Japanese Garden.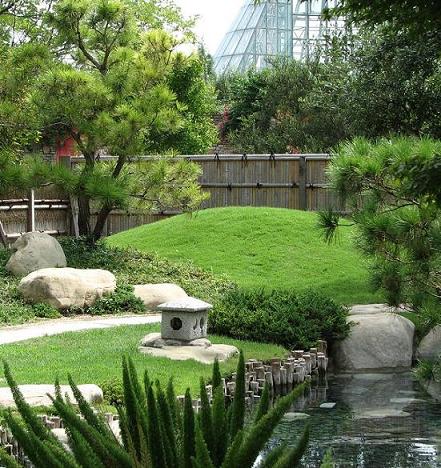 Old style meets modern: the glass pyramid of the Halsell Conservatory rises above the wall of the Japanese Garden.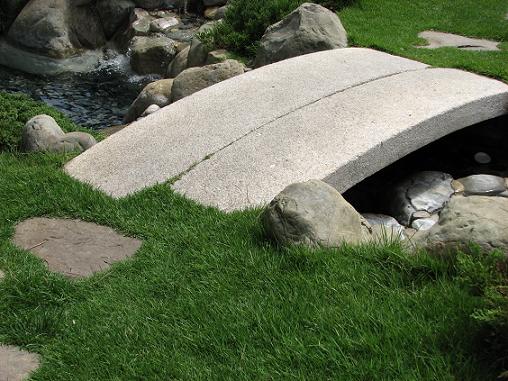 A gently arching bridge crosses a tumbling stream.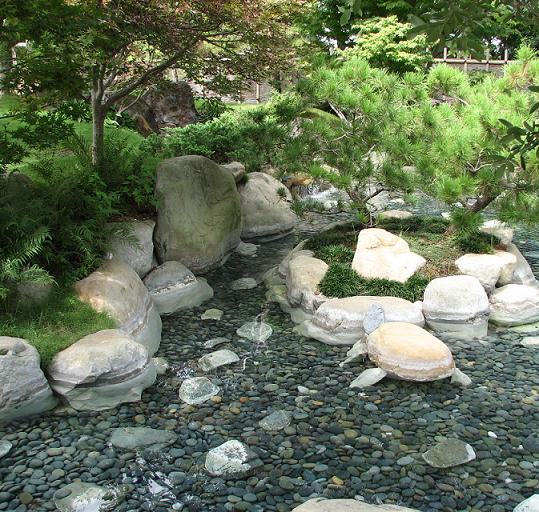 On the other side you get a view of the pond and a pine on a little island. Do you see the "turtle"? I overlooked it on my visit and didn't see it until I reviewed my photos.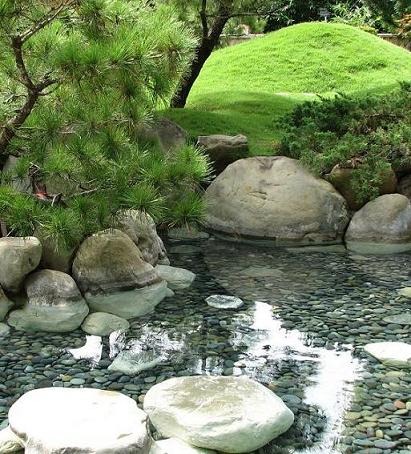 Another look at the pond. No water lilies here. Just stone and water.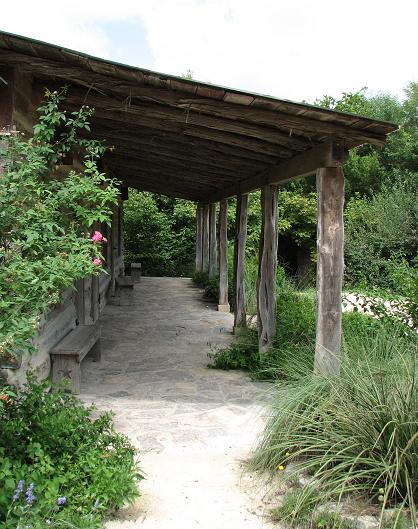 On to something completely different. Strolling to the north side of the gardens, I came upon the Auld House and a small Hill Country garden.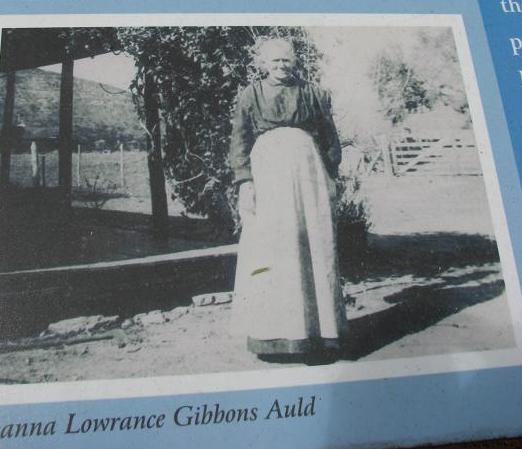 Here's Mrs. Auld, the original owner, who raised seven children in this home in the 1880s, according to an interpretive sign.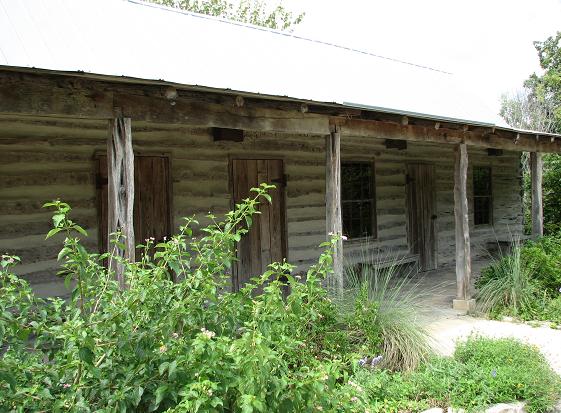 The front porch and a garden of Texas natives, including lantana and Lindheimer muhly grass.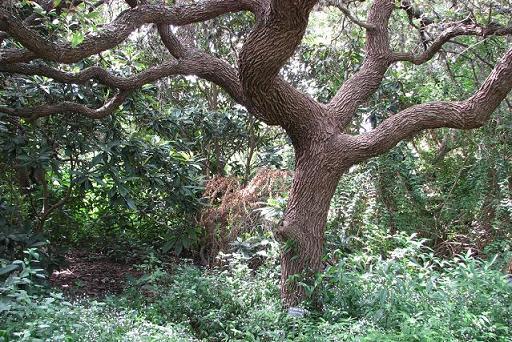 A sinuous live oak provides a shady respite.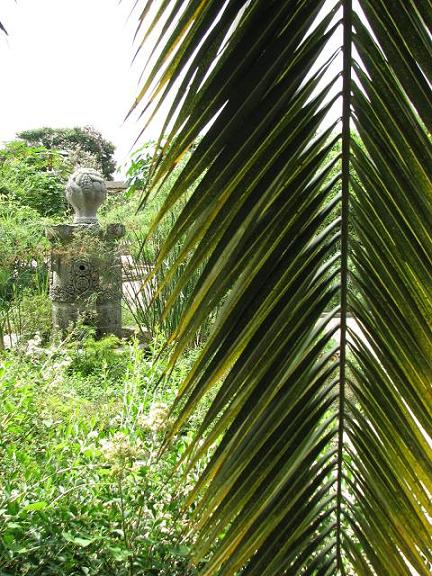 An enormous Canary Island date palm's long, drooping branches frame the view of a columnar fountain surrounded by papyrus that anchors this Mediterranean-style garden.
By this time, my hour was up, and I needed to head home.* I missed seeing the view from the overlook, the conservatory, the cactus and succulent garden, more of the Hill Country garden, and the East Texas and South Texas trails. It's hard to leave a garden unexplored, but that will be reason enough for a return trip with the family sometime this fall.
__________
*Before leaving I explored Watersaver Lane, a demonstration garden illustrating different styles of xeric (water-conserving) landscapes. Read about it here.
posted in
1st garden--2007
,
Agaves
,
Botanic/Public Gardens
,
Bridges
,
Conservatory
,
Edibles
,
Fountains
,
Grasses
,
Japanese garden
,
Palms/Cycads
,
Paths
,
Ponds