April 21st, 2015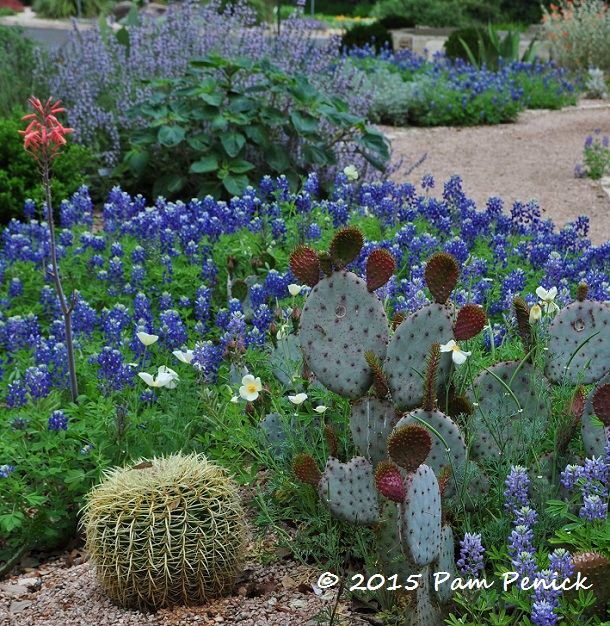 Putting their money where their mouth is, more and more cities that urge citizens to reduce their water usage are replacing thirsty lawns around courthouses and city halls with xeric landscaping. Rollingwood, a tiny city of around 500 homes just three miles from downtown and surrounded by greater Austin, is setting a fine example with its new City Hall Waterwise Garden at 403 Nixon Drive, installed in autumn 2013.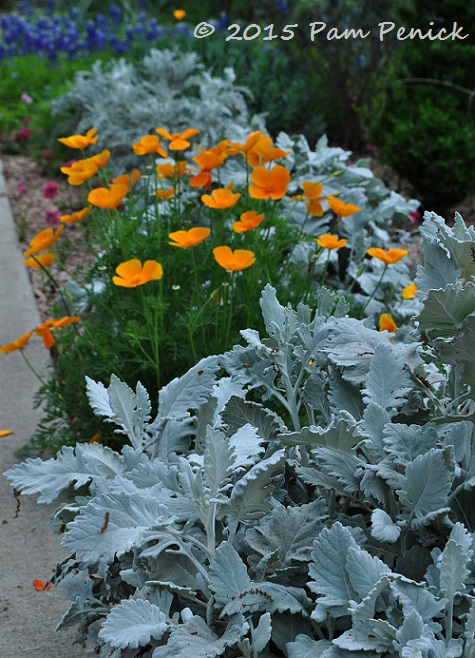 Not every city has the wherewithal to get the famous Ogdens — part-time Austin residents Scott Ogden and Lauren Springer Ogden of Plant-Driven Design — to design it, however. Hired by the city, which received $16,000 in donations from residents (about half of the total design and installation cost, according to the Statesman), the Ogdens collaborated with local designer Patrick Kirwin to create a low-water, no-lawn, deer-resistant garden that offers a beautiful example to neighbors trying to cut back on their own water use.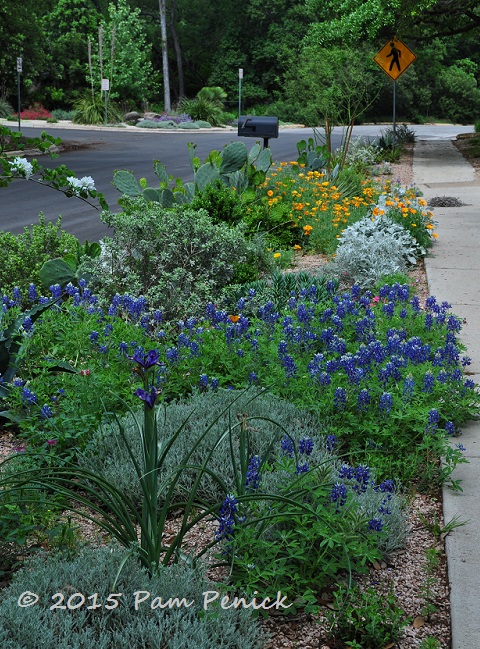 In this era of native-plant appreciation and, sometimes, rigidity, it's worth noting that the garden is not strictly a native-plant garden. The Ogdens use many natives in their designs, but they are first and foremost plant lovers who use plants from all over the world. The key to using non-natives successfully, as Scott has explained, is to choose plants from climates that are similar to our own. Well-adapted plants add diversity, which is especially welcome in gardens overrun with deer (which often results in a severely restricted plant palette) and to those who crave a little variety in plant choice.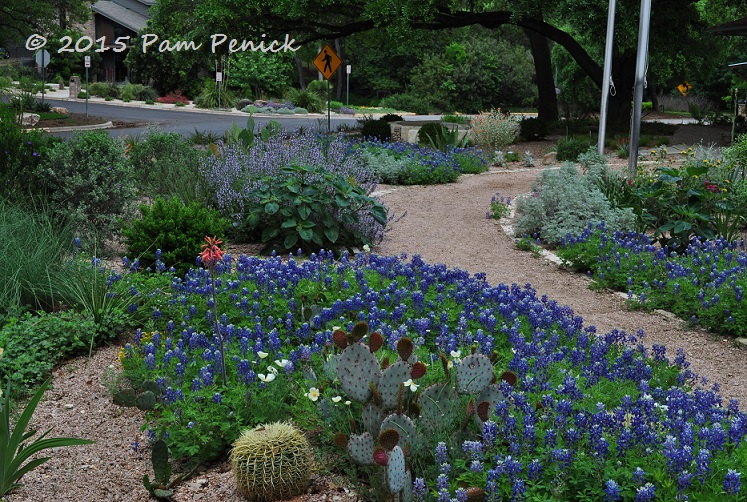 TexasDeb, a Rollingwood resident and blogger at Austin Agrodolce, alerted me to the new garden about a year ago and suggested I visit. Last week, when the bluebonnets were in full bloom, I stopped by and enjoyed a leisurely stroll through the spring-blooming garden. While still quite young, the garden is filling in quickly and should be showy this fall with 'Pink Flamingos' muhly and other grasses, salvias, lantana, mistflower, and beautyberry.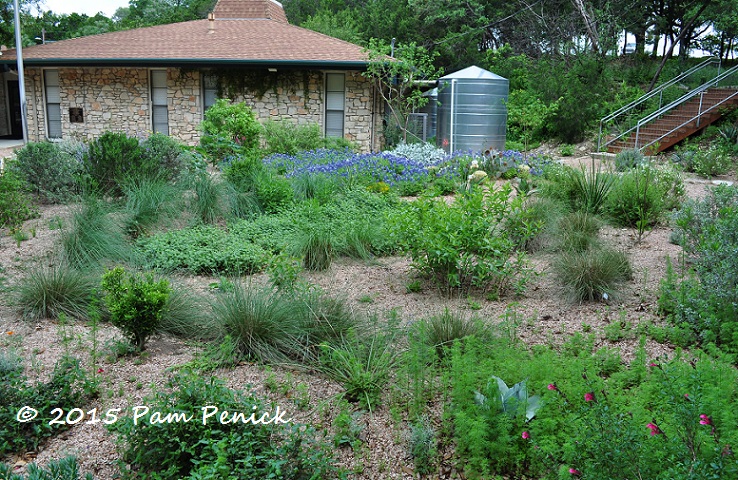 The garden harvests rainwater not just with cisterns connected to gutters but with earth-sculpting. A wide, shallow basin in front of the galvanized cistern collects excess water and holds it, giving it time to soak into the soil. Plants that appreciate a little extra water and can handle seasonal flooding are planted in the basin, like grasses, crinum lily, and Mexican summersweet (Clethra pringlei). Dry-loving plants are kept outside of the basin or on the fast-draining rim.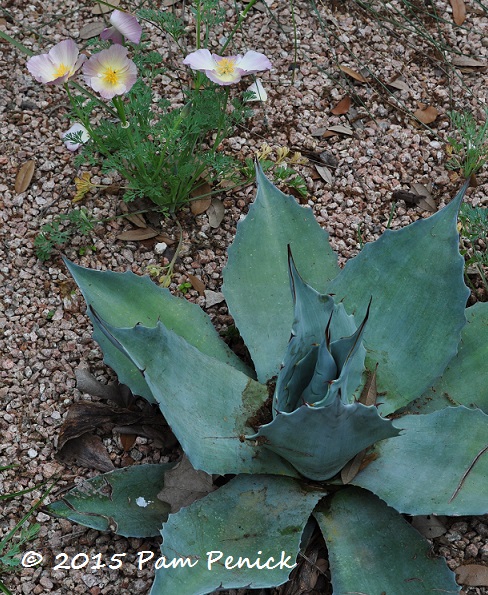 The entire garden is mulched with angular gravel, which wildflowers like poppy love as much as agaves.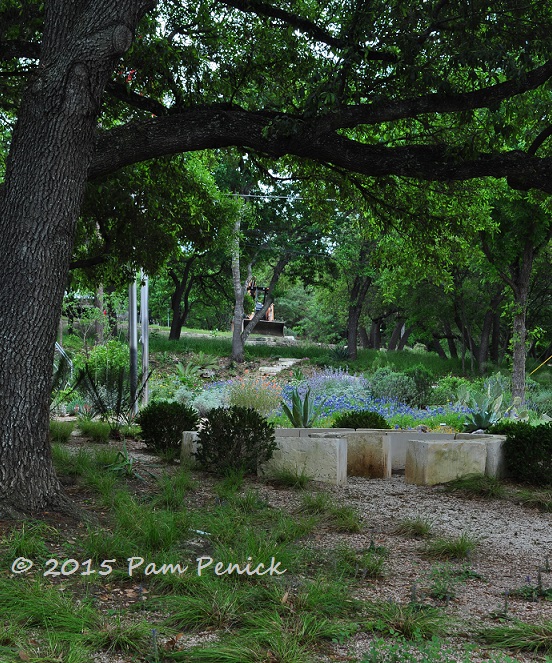 Chopped limestone edging sets off the main gravel path, but for secondary paths the gravel flows sans edging from beds to paths, for a unified look. Plant density, subtle berming, and extra-wide paths help people see where they should be walking and keeps them out of the plants.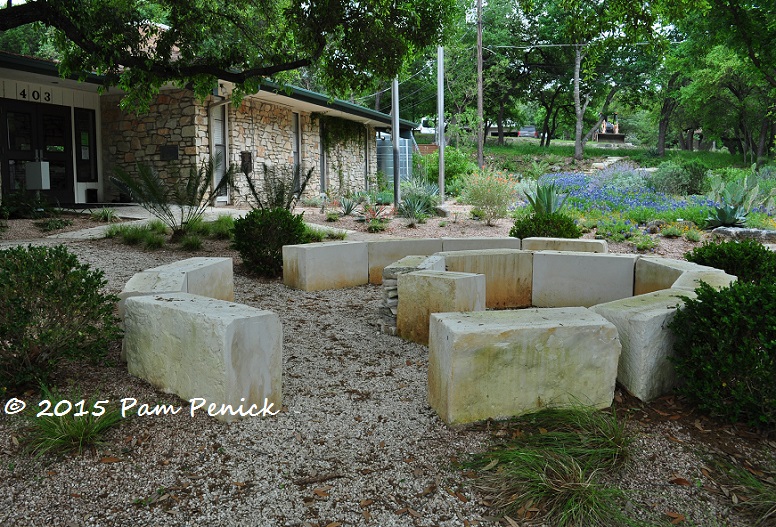 This seating spiral — a unique take on a council ring — is a cool feature.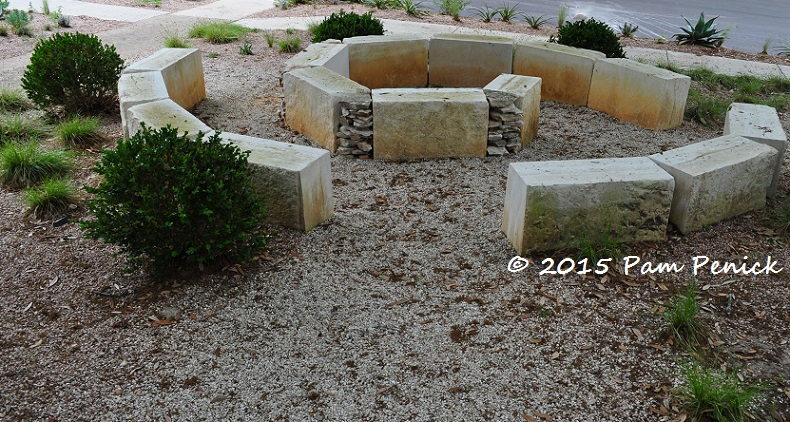 Equal parts seating, garden architecture, and art, it's constructed simply of large limestone blocks, with corners filled with cairns of stacked, flat stones. Five 'Green Gem' boxwood balls add evergreen rhythm around the perimeter.

A "lawn" of 'Scott's Turf' sedge (Carex retroflexa), which you can find at Barton Springs Nursery, is filling in under the shade of a large live oak.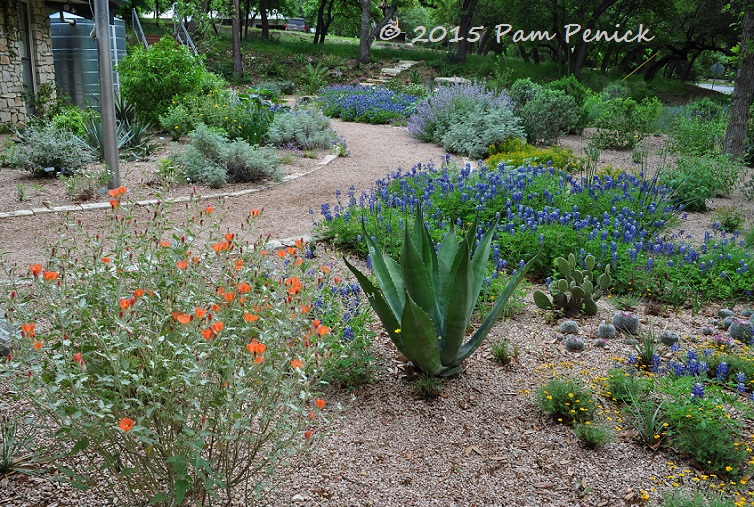 The sunny side was abloom, during my visit, with native and adapted wildflowers, which add fast-growing color amid slower but ultimately architectural plants like agave, sotol, yucca, prickly pear, and barrel cactus.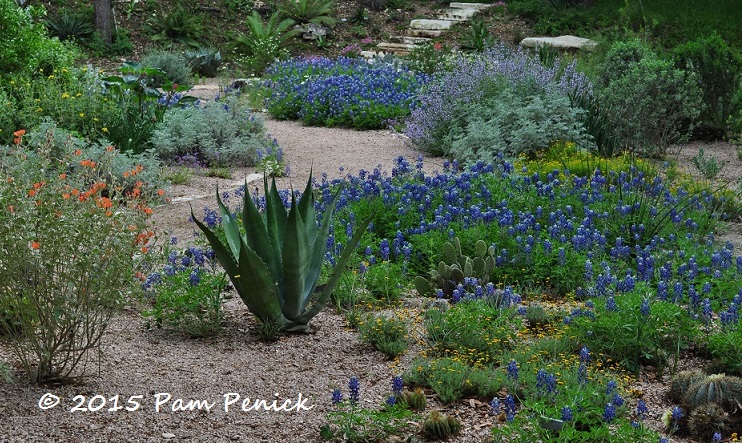 I think this is Agave salmiana, with gray globemallow and Texas bluebonnets.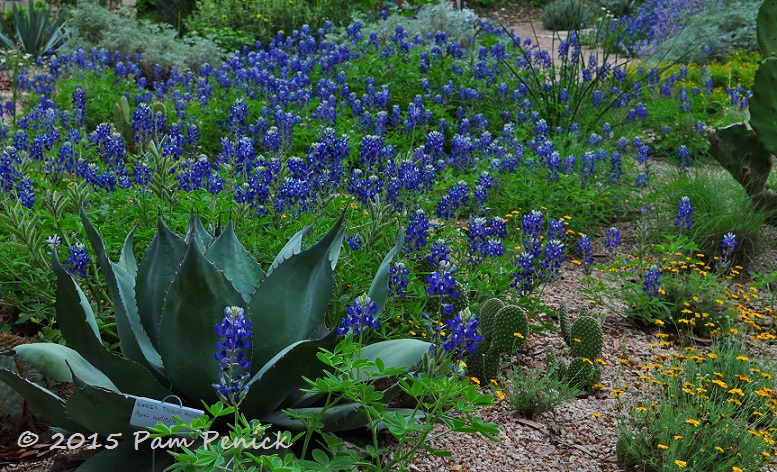 'Whale's Tongue' agave (A. ovatifolia) and bluebonnets — a pretty combo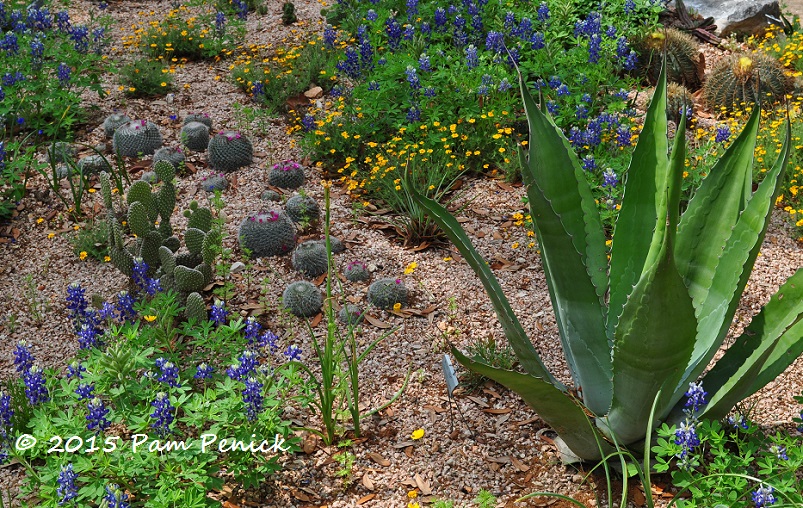 Wildflower, cactus, and succulent tapestry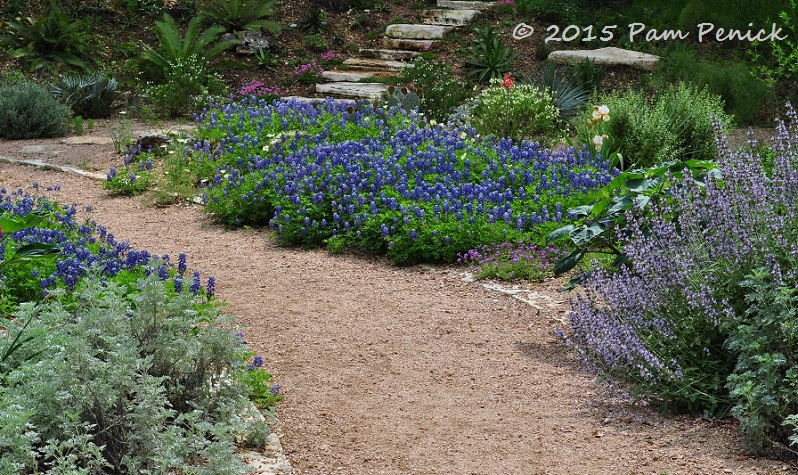 Blues, purples, and silvers keep the spring color scheme on the cool side.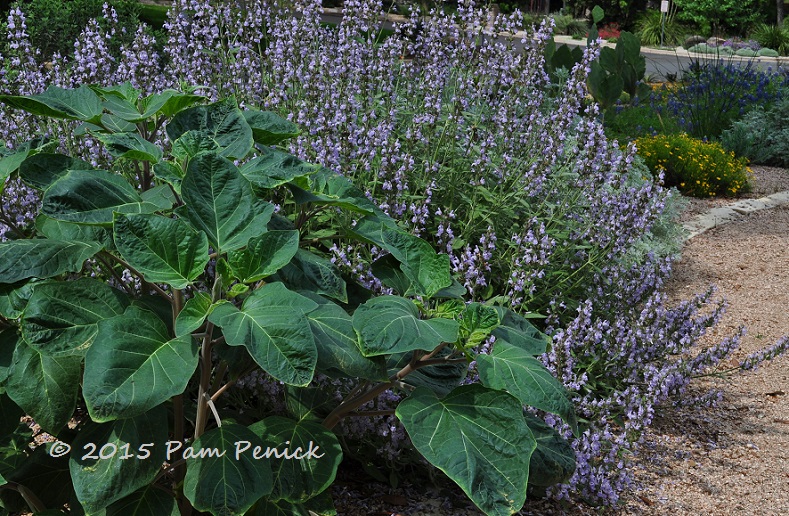 Datura and…what is this purple-flowering perennial? Update: It's Newe Ya'ar sage (Salvia officinalis x S. fruticosa). Thanks for the ID, Linda Lehmusvirta!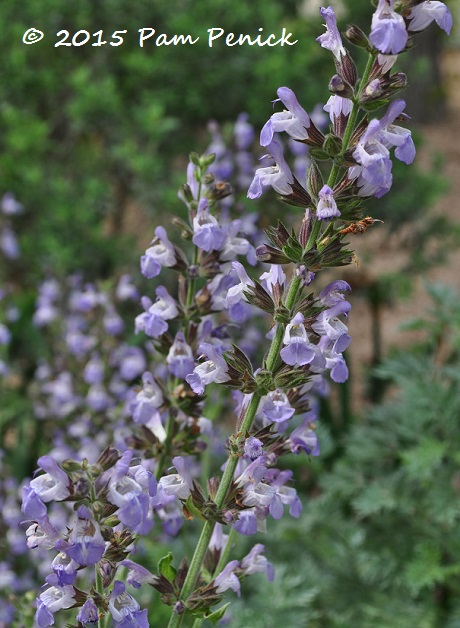 A close-up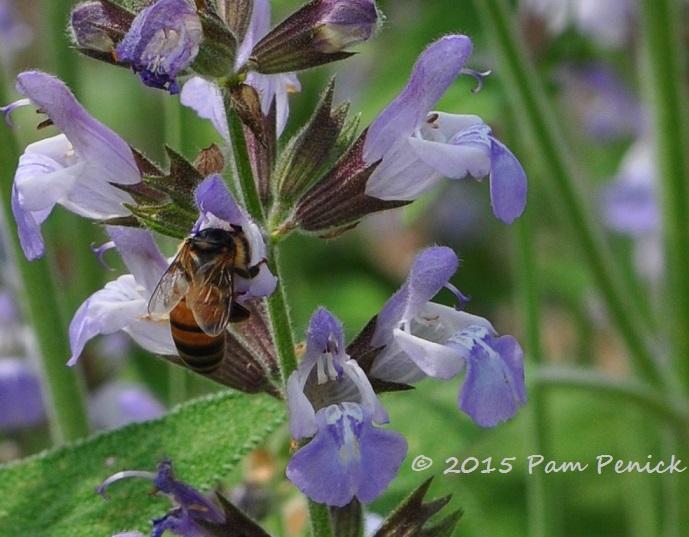 The bees liked it.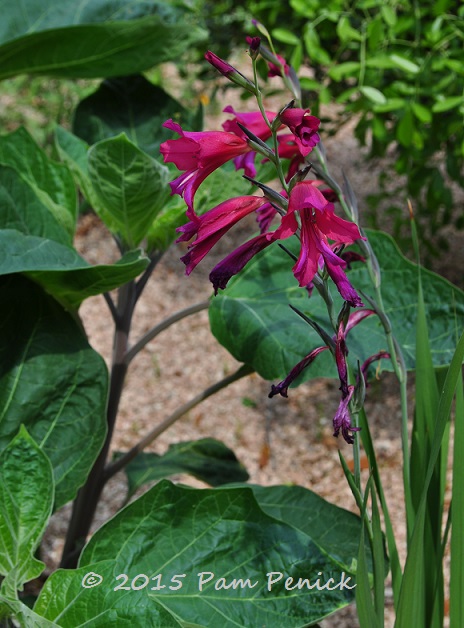 Byzantine gladiolus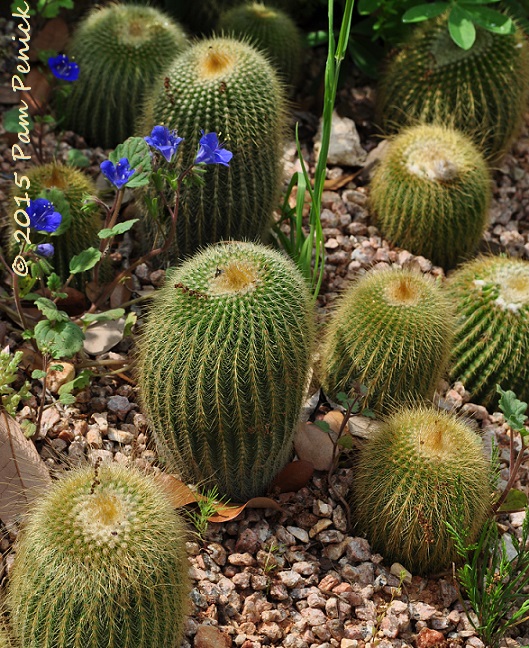 Cute cacti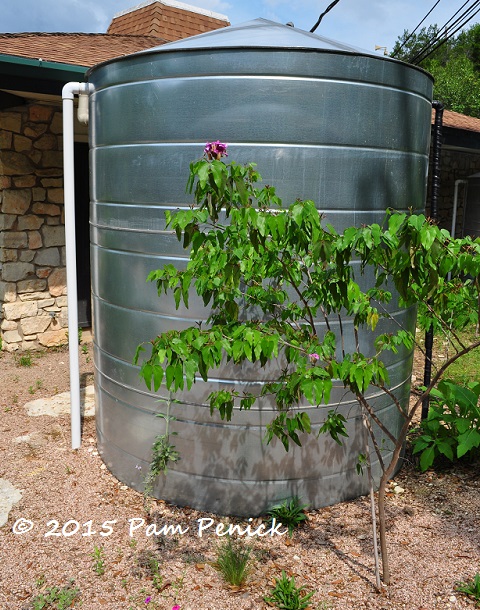 A pink-flowering bauhinia blooms by one of the two large cisterns.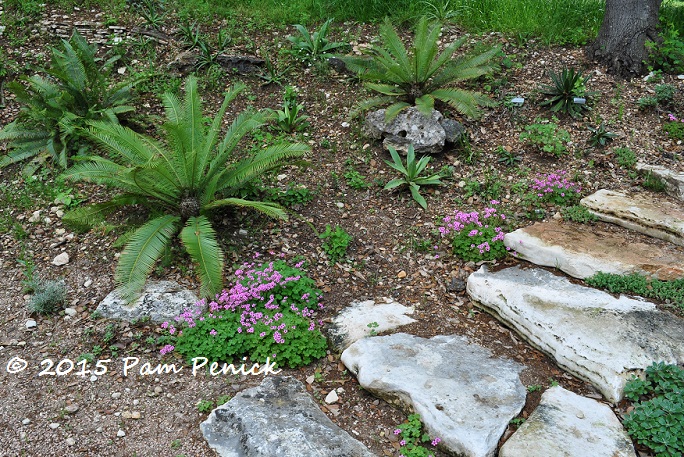 On a rocky hillside, Dioon angustifolium adds a prehistoric vibe.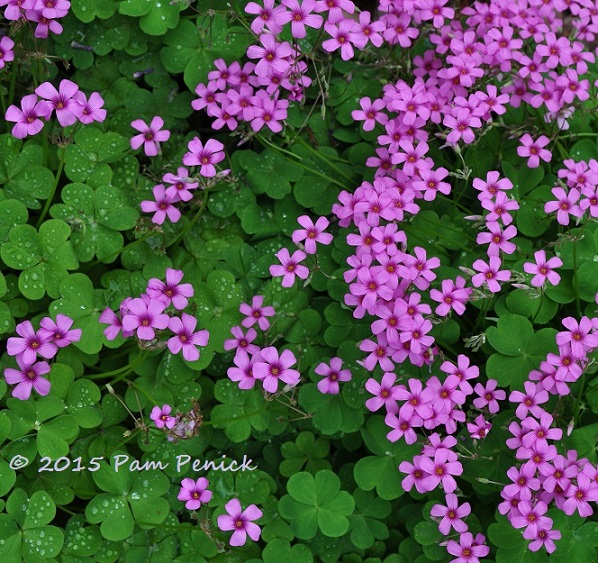 Pink oxalis — perhaps not planted; it grows wild in my garden — flowers at the dioons' feet.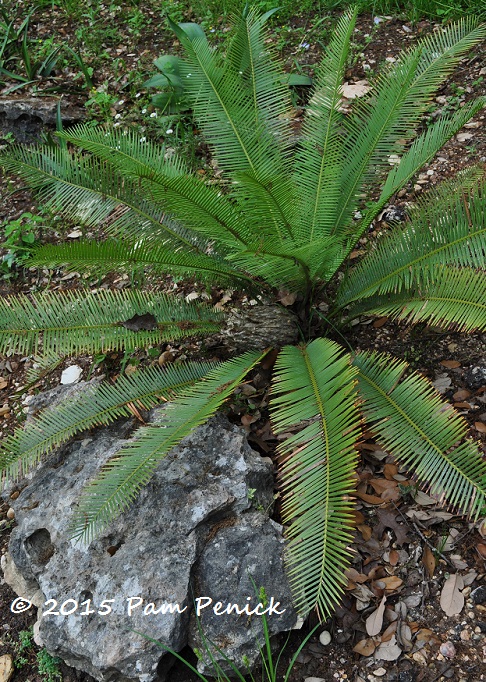 Feathery leaves of dioon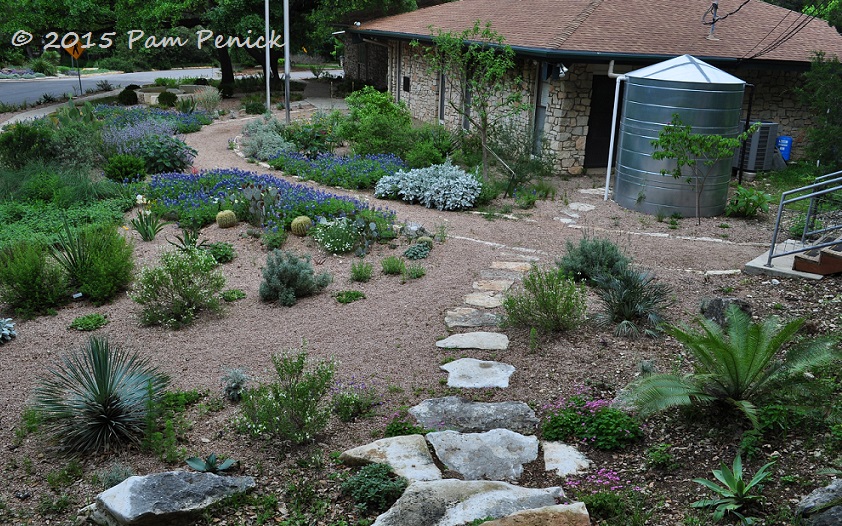 From the top of the steps up the hillside, you get a nice view of the sunny side of the garden. Yes, that's the city hall building — a former residential house, from the looks of it. Update: A local resident tells me it was built to serve as city hall.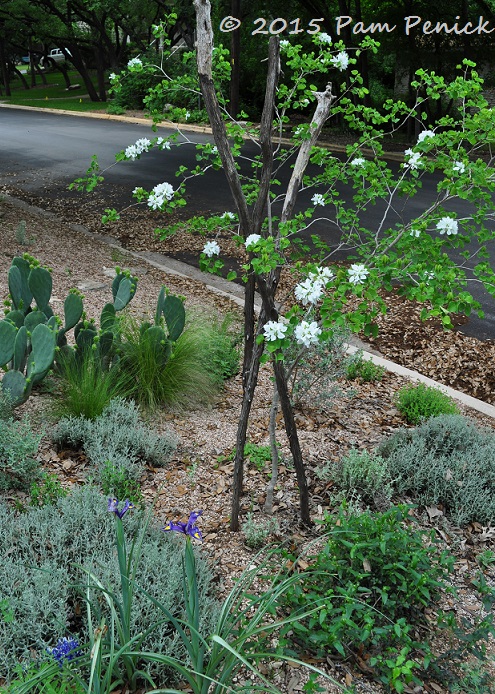 Anacacho orchid tree, supported (or protected from deer antlering) by a tepee of cedar posts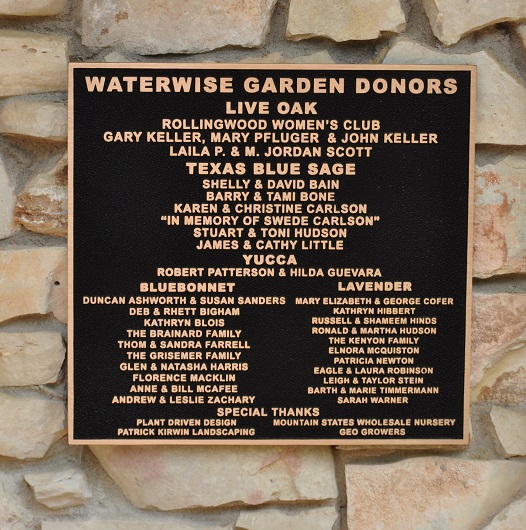 Congratulations to the residents of Rollingwood for funding and otherwise supporting the creation of this beautiful water-saving garden. What a great example for other cities to follow.
Update November 2015: I revisited this garden in the fall. Click for my post.
All material © 2006-2015 by Pam Penick for Digging. Unauthorized reproduction prohibited.
posted in
Agaves
,
Aloes
,
Annuals
,
Bees
,
Botanic/Public Gardens
,
Bulbs/Rhizomes
,
Cactus
,
Council ring
,
Design
,
Garden tours 2015
,
Grasses
,
Lawn Gone!
,
Palms/Cycads
,
Paths
,
Patios & decks
,
Rain garden
,
Seating
,
Spring color
,
Sustainable Gardening
,
Texas natives
,
Trees
,
Water conservation
,
Water-Saving Garden
,
Wildflowers
,
Xeric plants