April 14th, 2015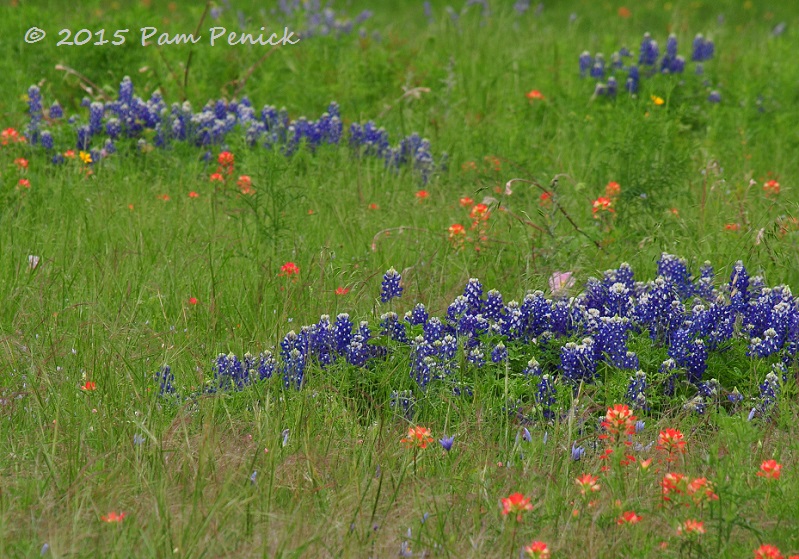 For my third and final post about last Saturday's visit to the Lady Bird Johnson Wildflower Center, I'll lead with the state flower and inducer of innumerable spring photo ops: the Texas bluebonnet (Lupinus texensis), pictured here with a smattering of Indian paintbrush (Castilleja indivisa).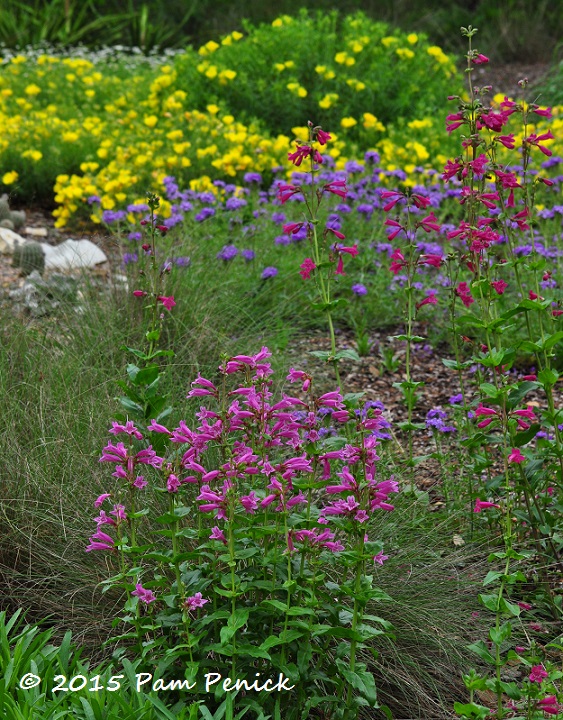 Flower peeping is what visitors were there for (if they weren't at the plant sale), and there was plenty of it.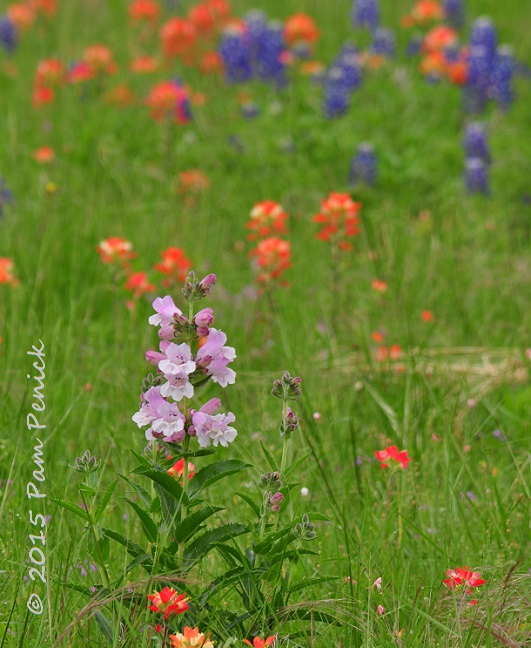 Prairie penstemon (Penstemon cobaea), I think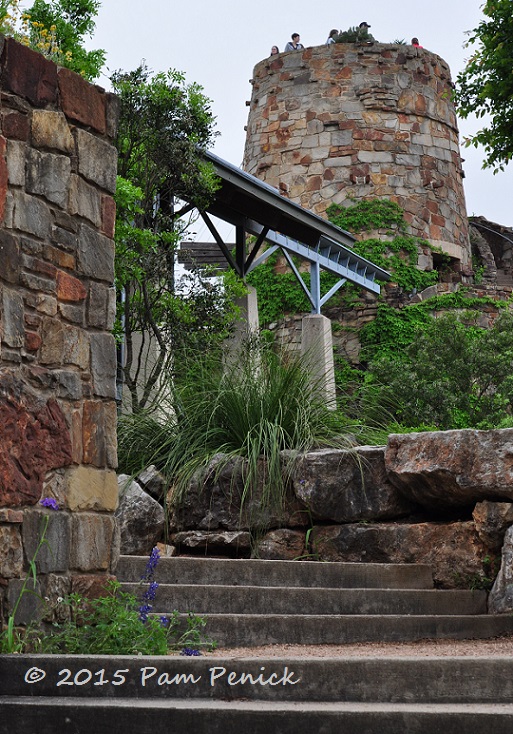 People atop the cistern tower were enjoying a bird's-eye view of the wildflower meadow. An aqueduct funnels runoff from a nearby rooftop into the center of the tower, which contains a water storage tank.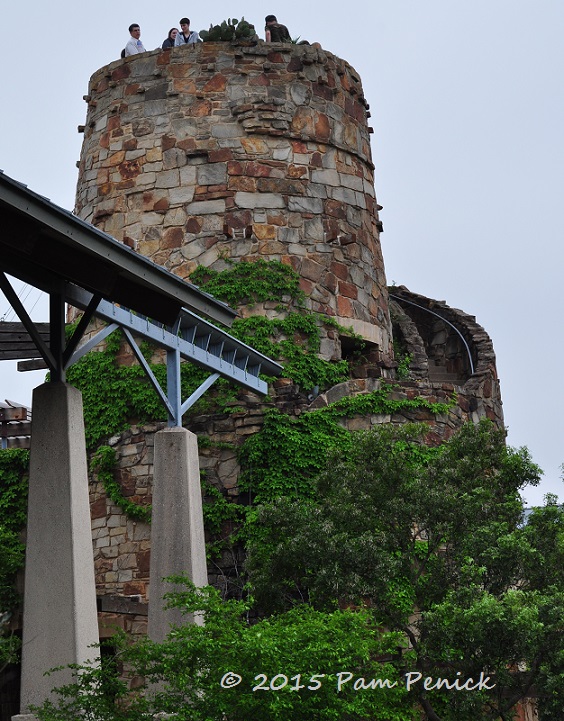 The upper part of the spiraling stair is on the outside of the tower, pictured here. The lower stair is inside the tower. A landing halfway up offers a view down into the water cistern. It's pretty cool!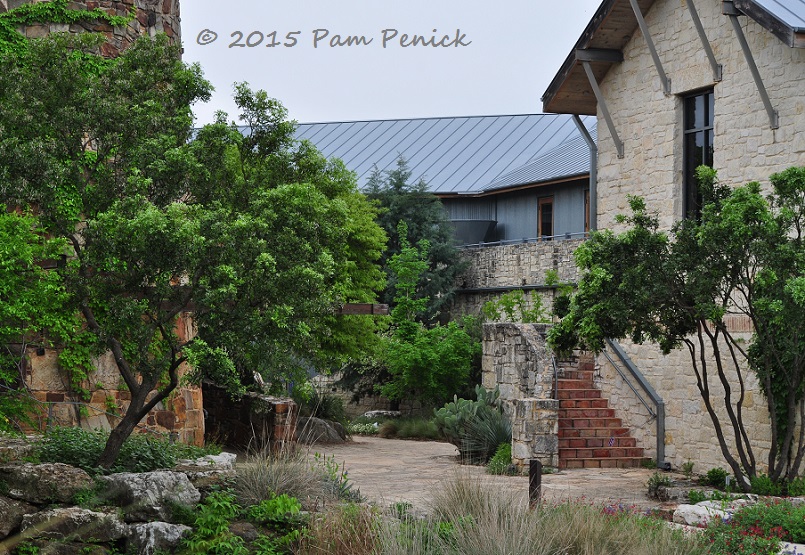 Administrative buildings and surrounding garden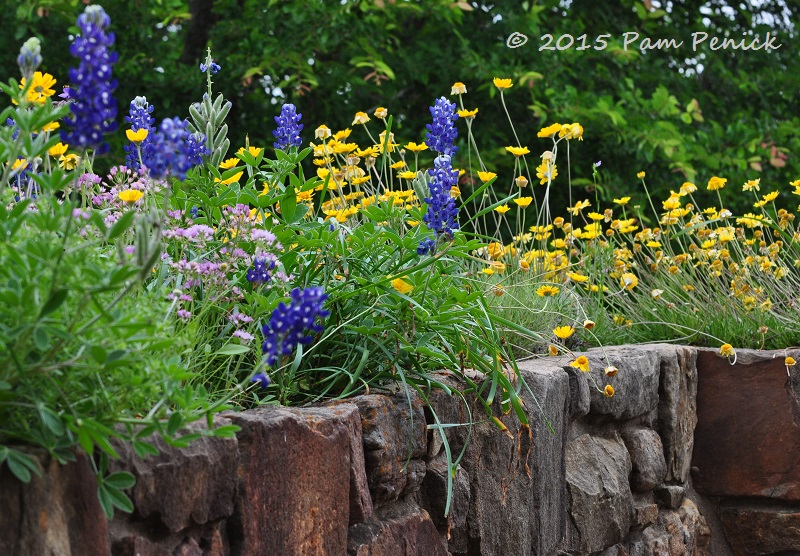 Atop one of the walls is a planting niche containing a sweet combo of bluebonnets and four-nerve daisy (Tetraneuris scaposa).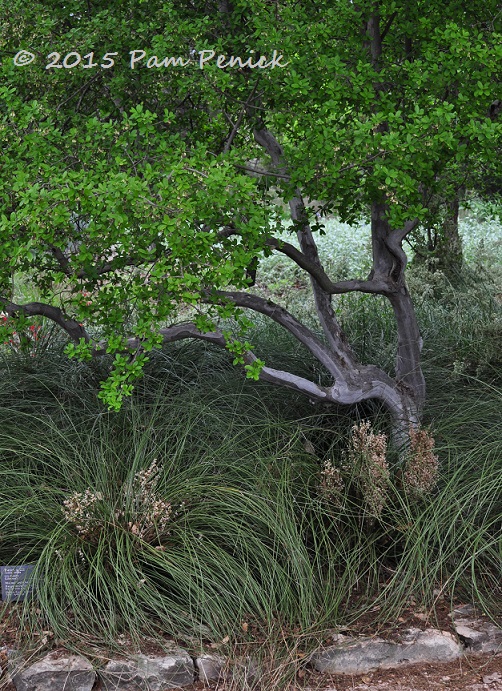 Moving on to the relatively new Arboretum, I stopped to admire a silvery-trunked Texas persimmon (Diospyros texana) underplanted with wiry Texas nolina (Nolina texana) in bloom.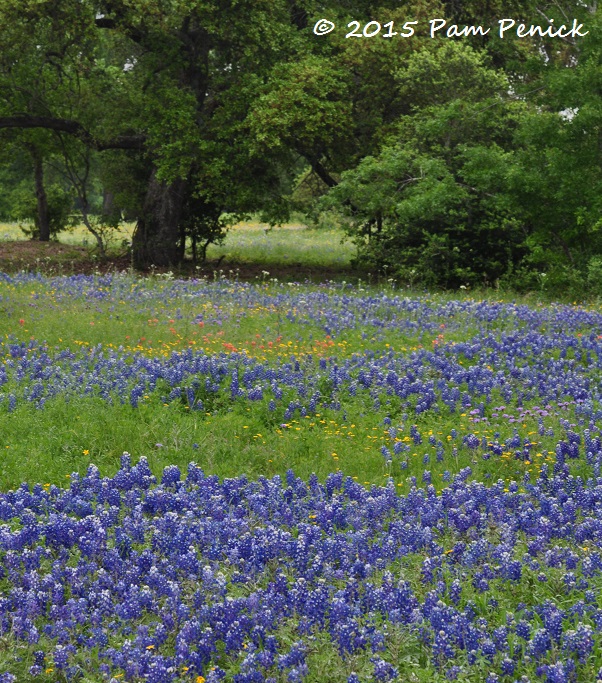 More bluebonnets!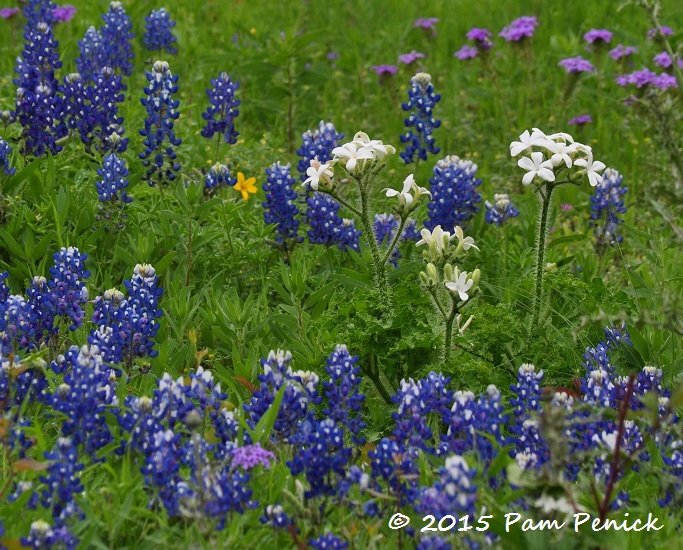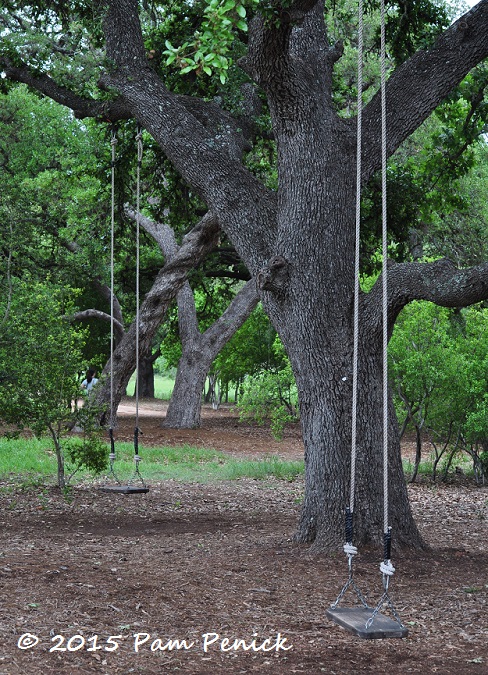 On the longer loop trail, you eventually come to a grove of live oaks, from whose branches hang a dozen or more swings, all kinds, from classic board seats (I had a swing here)…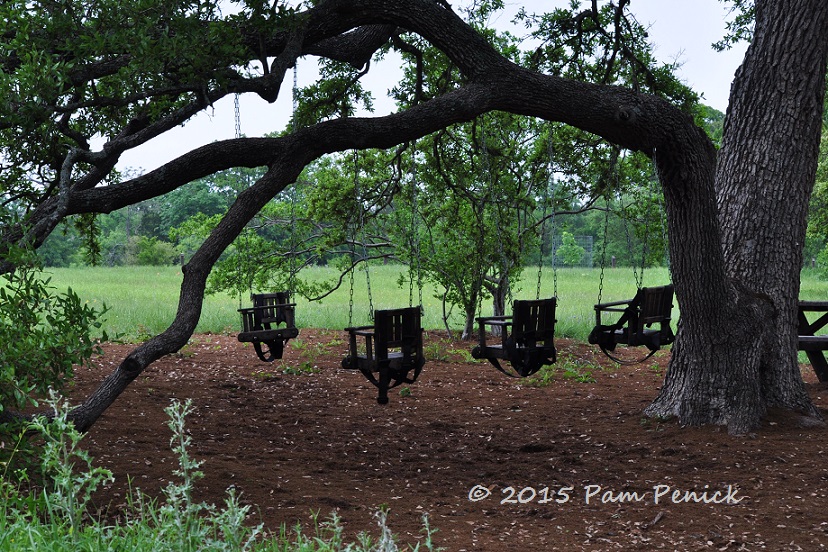 …to seats with safety straps for those who need a little extra help…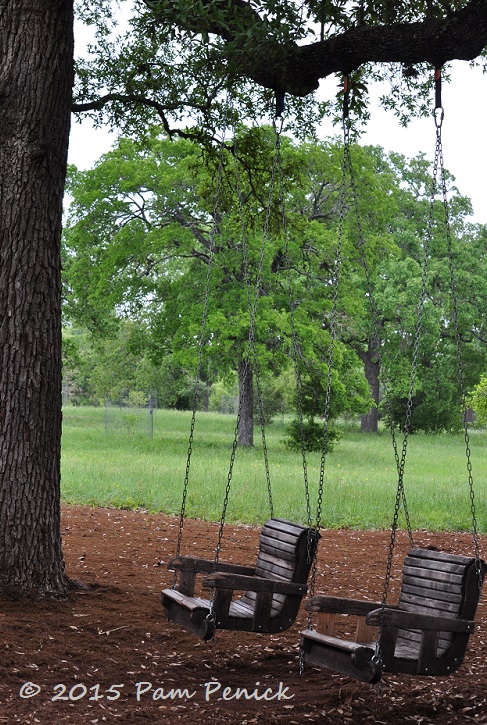 …to single and love-seat swinging chairs (I swung here too). There are even a few disk-style rope swings. Now tell me, who could resist stopping for a swing under the oaks?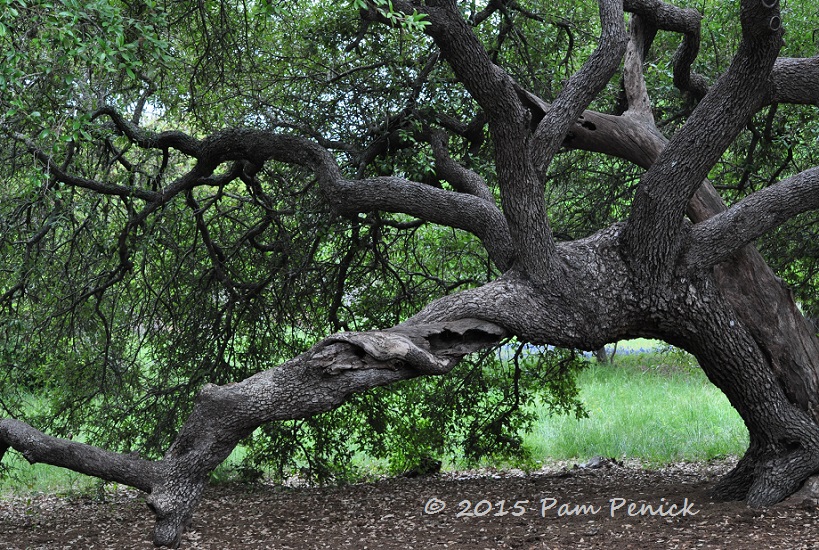 When they aren't supplying fun, the Arboretum's trees offer writhing, spiraling drama…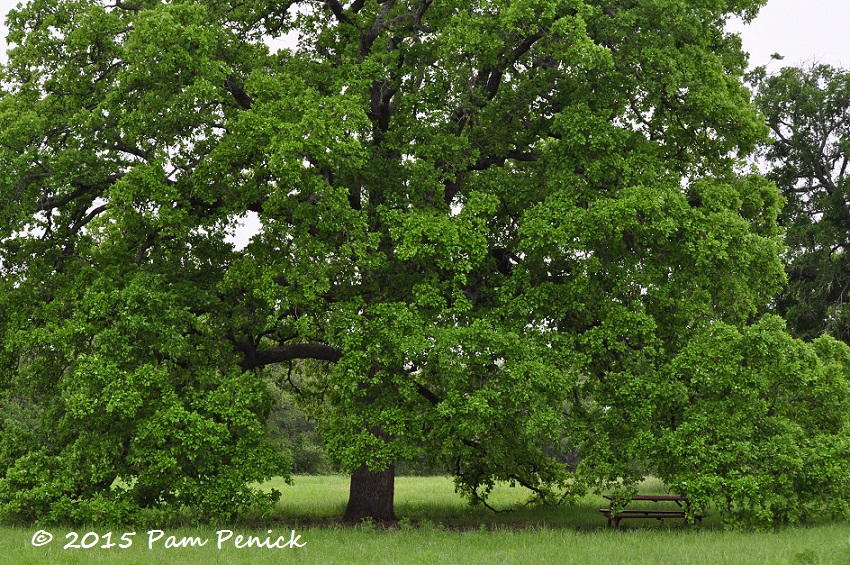 …or simply a shady resting spot.
I hope you've enjoyed this 3-part spring visit to the Wildflower Center. For a look back at the blossoming Family Garden, click here.
All material © 2006-2015 by Pam Penick for Digging. Unauthorized reproduction prohibited.