April 14th, 2015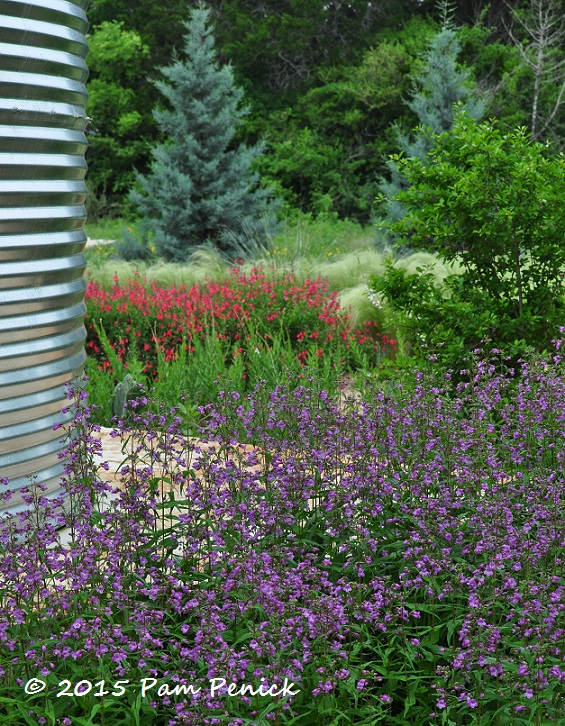 Spring is the Wildflower Center's showiest season, and last Saturday I shared the gardens with many other flower-peepers. (Click for part 1 of my Wildflower Center visit.) In this post we'll revisit the nearly 1-year-old Luci and Ian Family Garden, where Gulf Coast penstemon (Penstemon tenuis) was in full bloom.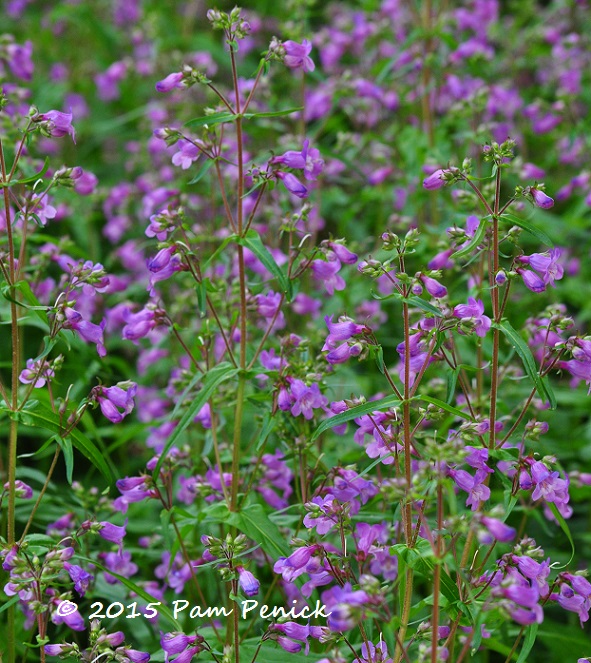 Gulf Coast penstemon is one of my favorite spring-blooming perennials for part shade in my garden, and it's beautiful in a full-sun rain garden here.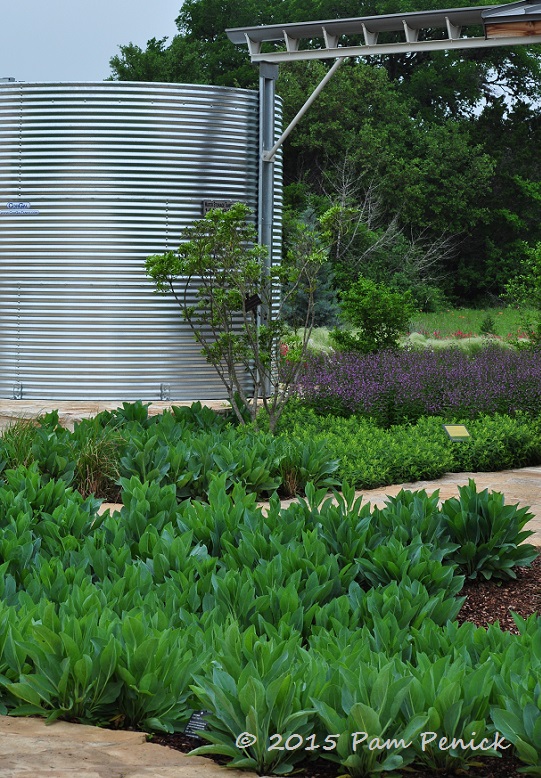 An extended gutter carries rainwater off the roof of a shade pavilion and into a large cistern. Excess water overflows into a surrounding rain garden.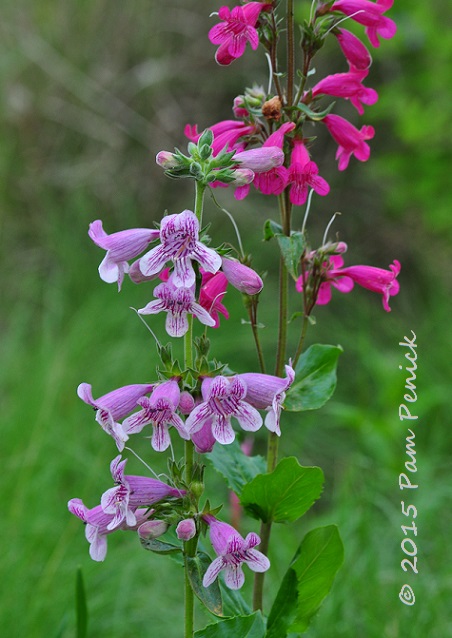 Hill Country penstemon (Penstemon triflorus), I think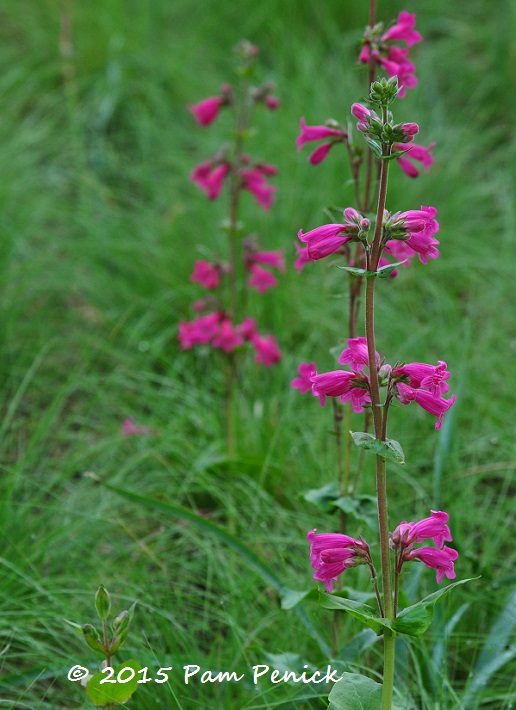 And more penstemon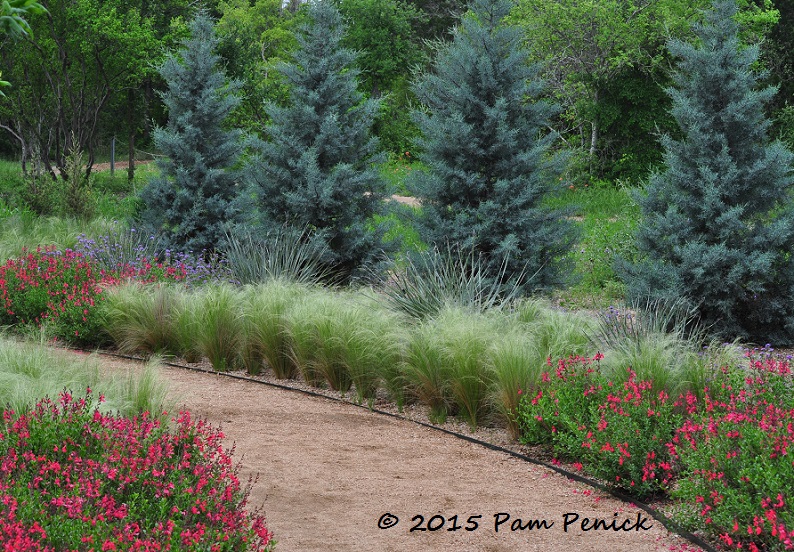 I really like this screen of Arizona cypress 'Blue Ice', fronted with masses of Mexican feathergrass (Nassella tenuissima), autumn sage (Salvia greggii), and Wheeler's sotol (Dasylirion wheeleri). Wouldn't this be pretty to screen neighboring houses in your sunny, dry back yard? That is, if you have no power lines to watch out for; those cypresses get tall.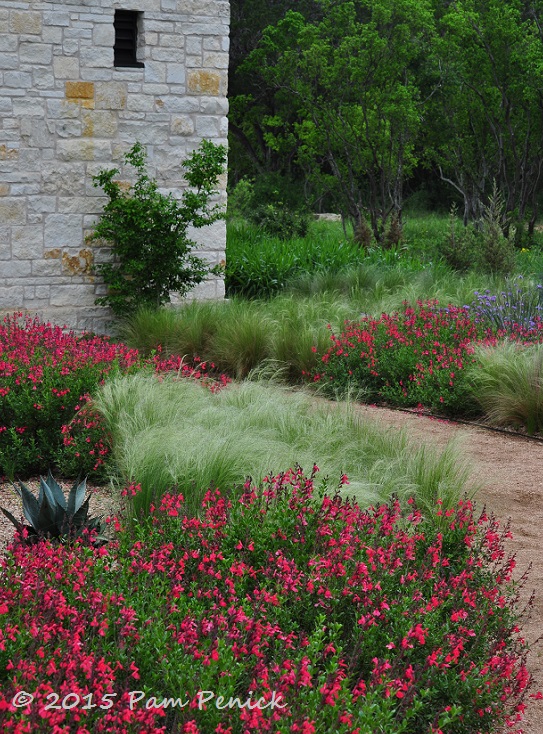 Rivers of autumn sage and feathergrass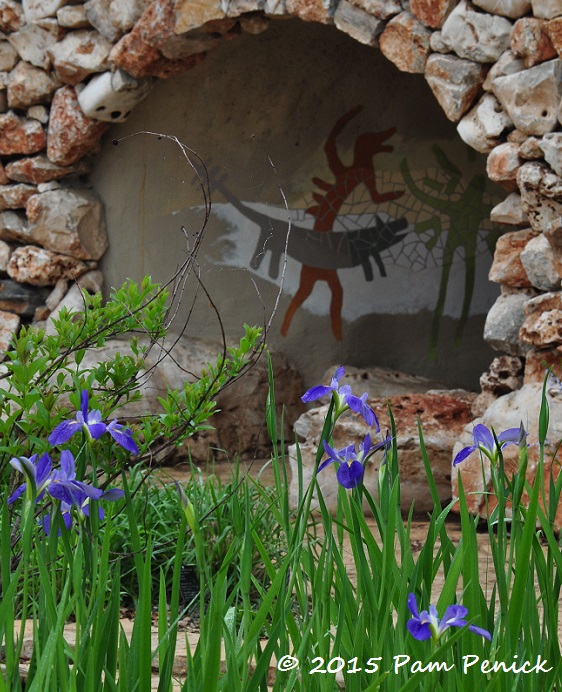 A stream runs through the family garden, and irises were in bloom along the margins. A tile "pictograph" in one of the play caves makes a fun backdrop.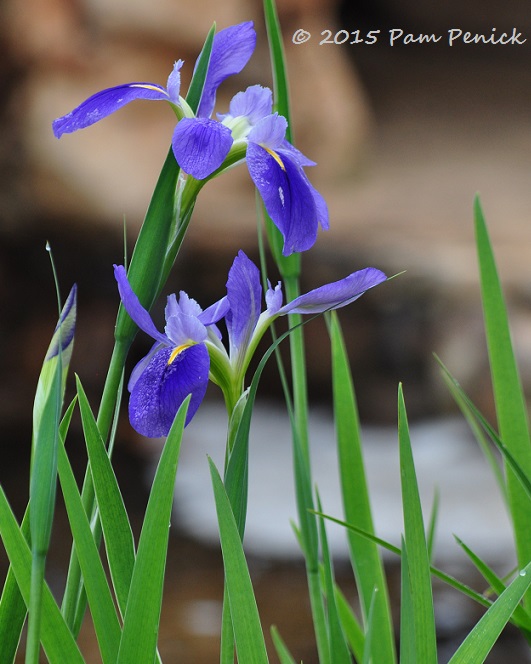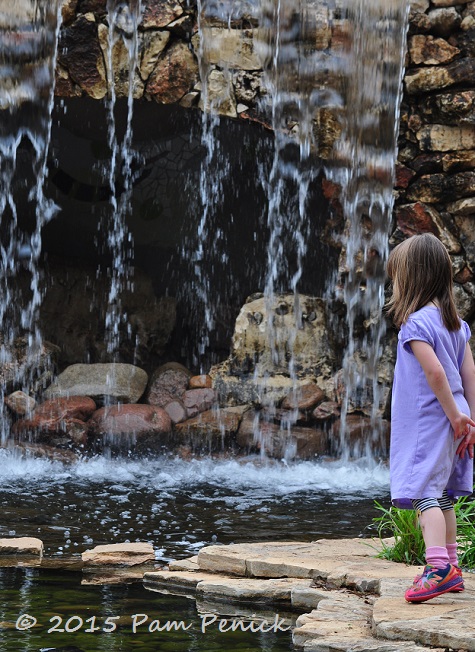 One little girl was fascinated by the waterfall…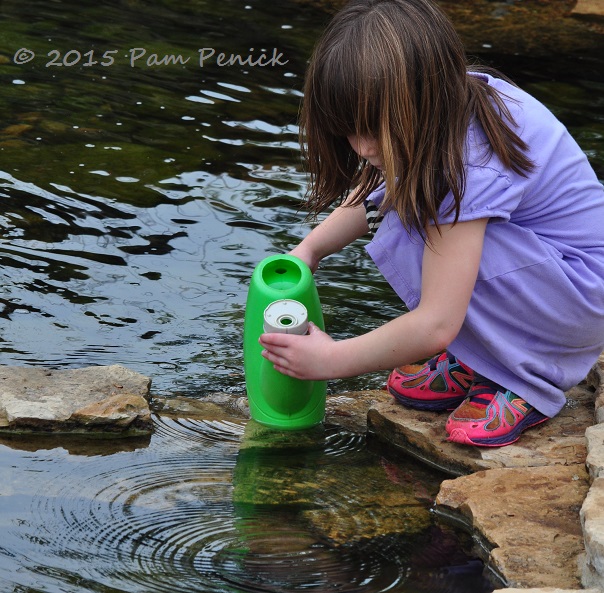 …and the stream. I wish this garden had been here when my kids were little. They'd have loved being allowed to muck around and do some hands-on exploration. Luckily for them, their parents knew where to find streams in the greenbelts around Austin, so they had plenty of mucking time anyway.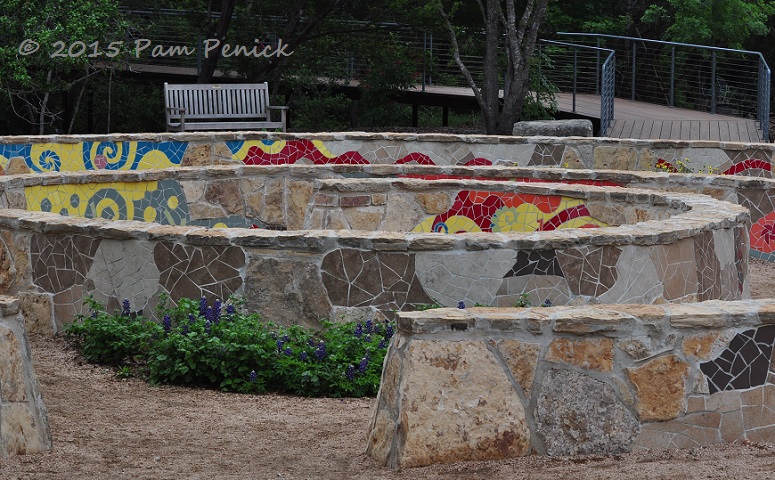 I never see many kids playing on the walls or walking the Nature's Spiral, but I guess it's hard to compete with running water.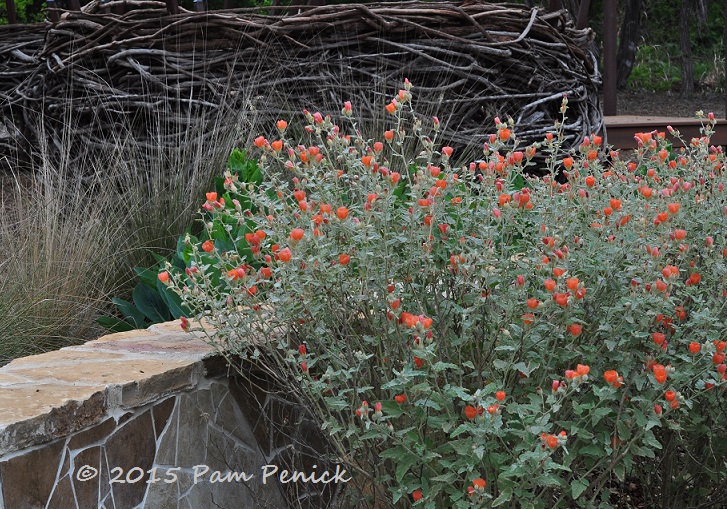 Gray globemallow (Sphaeralcea incana) was in full bloom here, as in my garden.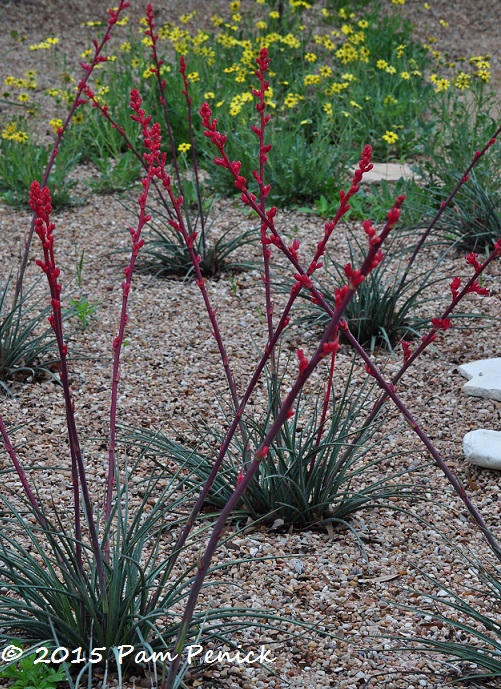 Although the Wildflower Center's gardens contain only plants native to Texas, the staff horticulturists are not averse to using new cultivars of old favorites, like 'Brakelights' red yucca (Hesperaloe parviflora), a smaller, red-flowering version.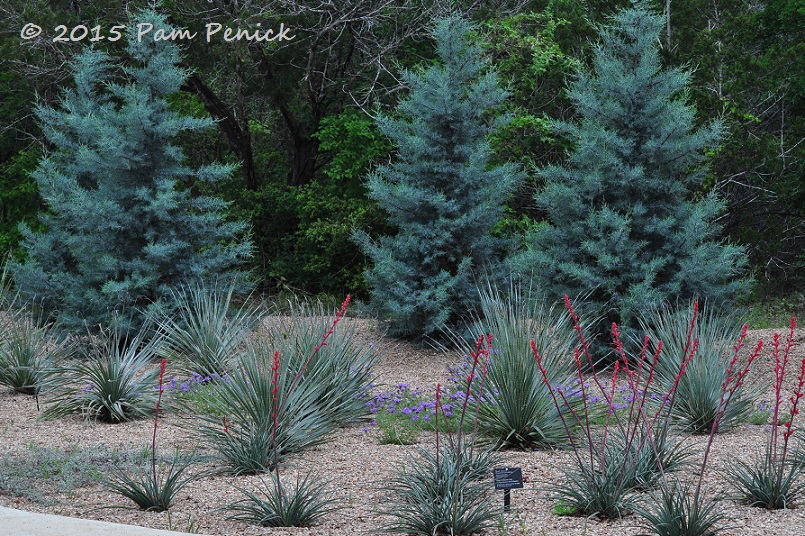 I'm a sucker for red and blue and enjoyed this combo of Arizona cypress, 'Brakelights' red yucca, and Wheeler's sotol. It looks like ground-covering purple verbena is starting to fill in nicely too.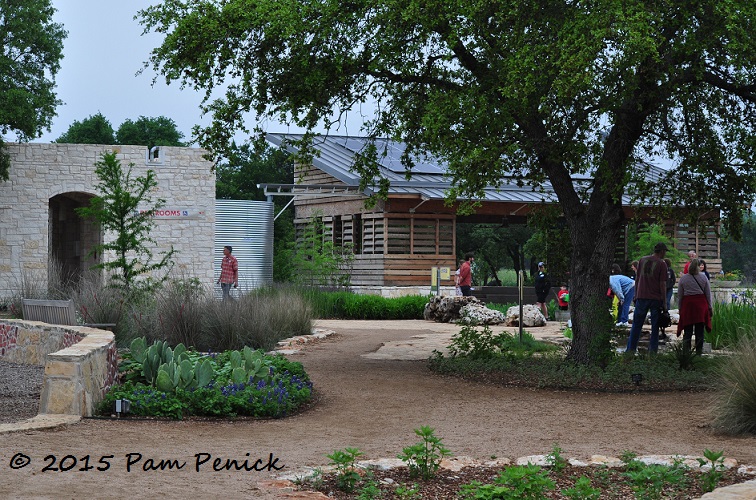 Looking back at the shade pavilion, and the cistern shown at the top of this post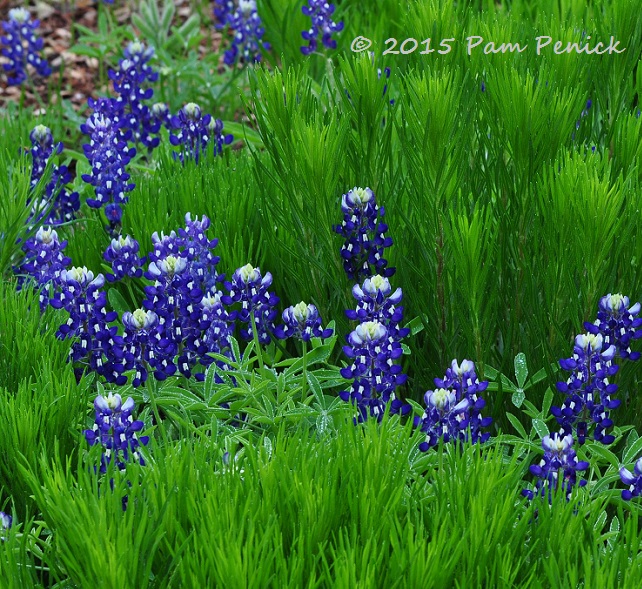 Bluebonnets mingling with the fresh green leaves of an emerging plant — standing cypress (Ipomopsis rubra) maybe? liatris (thanks, Agnes!).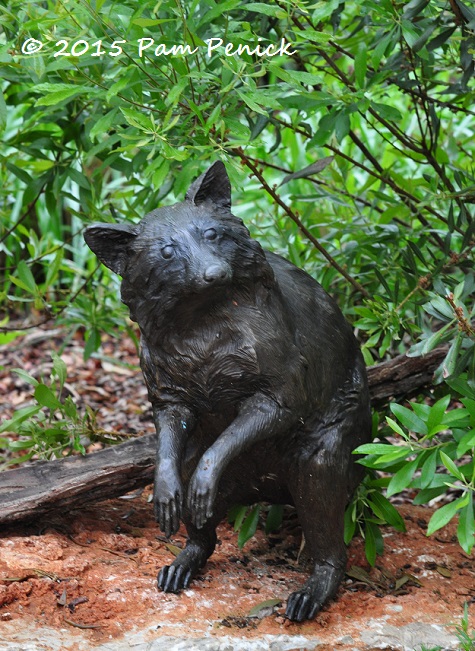 Throughout the family garden, bronze animal sculptures await discovery. Here we have an inquisitive raccoon…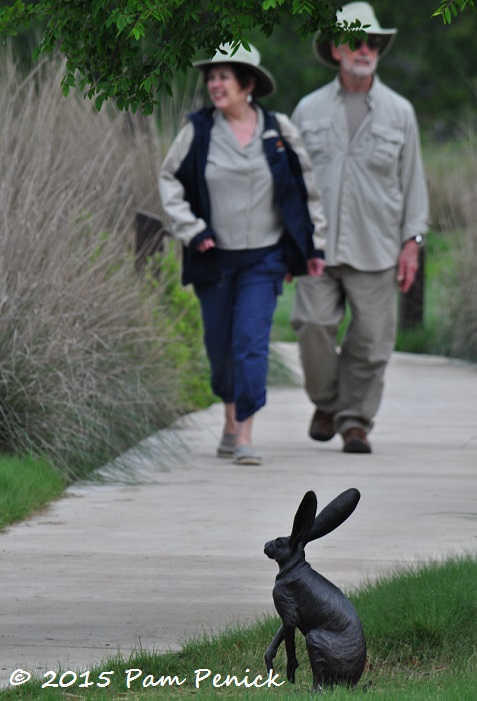 …a jackrabbit about to bolt…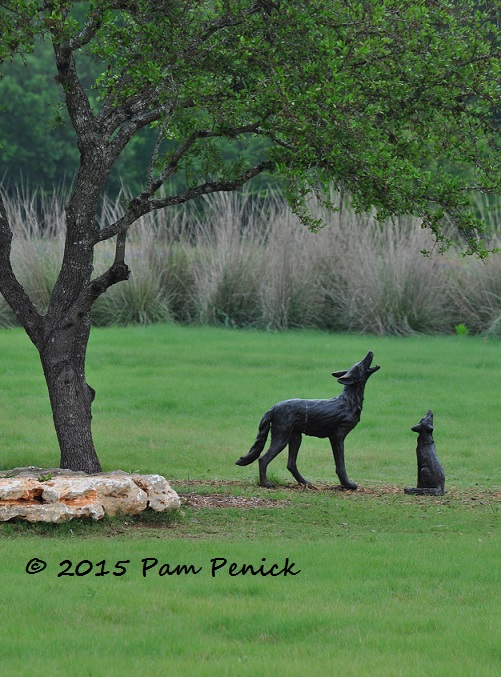 …a pair of coyotes howling at the moon…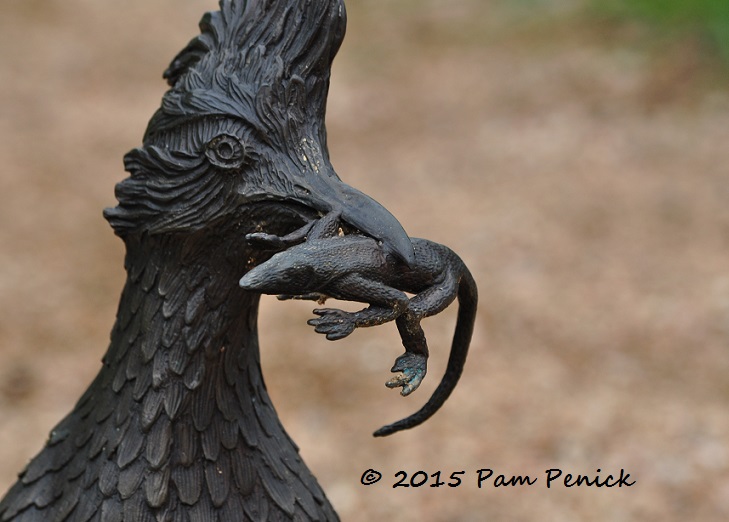 …a roadrunner with a freshly caught anole in its beak…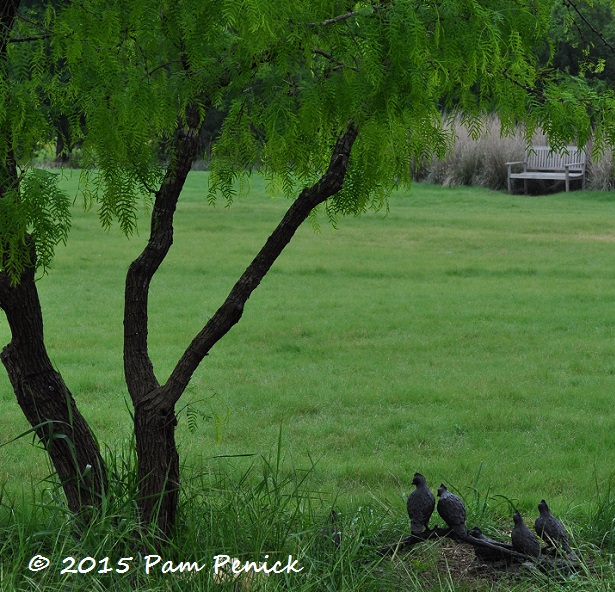 …and a covey of quail under a mesquite.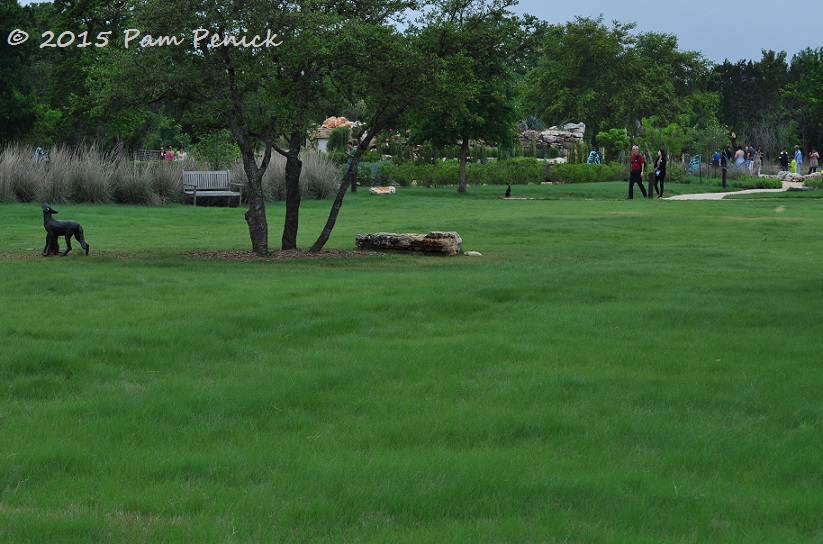 A large play lawn is seeded with Habiturf, a low-water, native lawn mix suitable for the hot, sunny Southwest. It looks beautiful, doesn't it?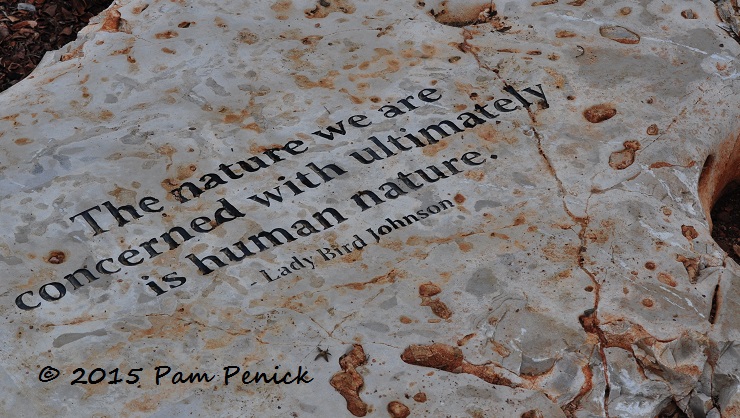 Lady Bird's vision for increasing environmental awareness and appreciation of native plants lives on, especially here in Austin.
Up next: Swinging in the Wildflower Center's native arboretum. For a look back at the Wildflower Center's birds and blooms, click here.
All material © 2006-2015 by Pam Penick for Digging. Unauthorized reproduction prohibited.
posted in
Agaves
,
Birds
,
Botanic/Public Gardens
,
Bulbs/Rhizomes
,
Caves
,
Children's gardens
,
Garden art
,
Garden structures
,
Grasses
,
Lawns
,
Lizards
,
Paths
,
Play spaces
,
Rain garden
,
Rivers & creeks
,
Rock
,
Sculpture
,
Seating
,
Spring color
,
Texas natives
,
Trees
,
Walls
,
Water conservation
,
Water features
,
Waterfalls
,
Wildflowers
,
Wildlife
,
Xeric plants