April 8th, 2015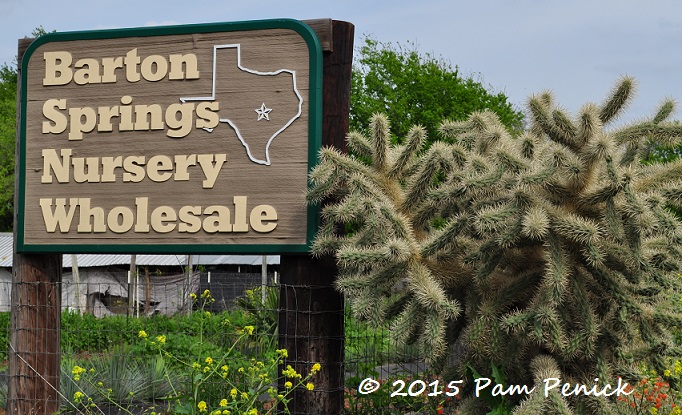 Do you ever wonder where your nursery plants are grown? In the case of Barton Springs Nursery, beloved by local gardeners for their selection of native plants in smaller, less-expensive pot sizes, they grow some of their own stock at "El Rancho," their 20-acre wholesale farm in East Austin. Growing their own is, of course, how they're able to keep their retail prices lower than some of their competitors, but the wholesale location also caters to designers and landscapers who need bigger, field-grown plants for their clientele.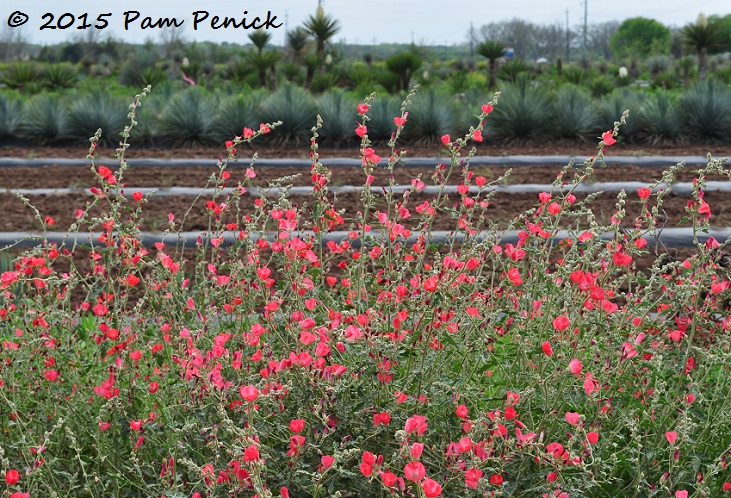 BSN Wholesale isn't open for retail sales, but as a designer and friend of BSN I was recently given the OK to visit. I stopped by one afternoon to look at their selection of beaked yucca (Y. rostrata) and was impressed to see large fields of both beaked and Spanish bayonet yuccas in all stages of growth.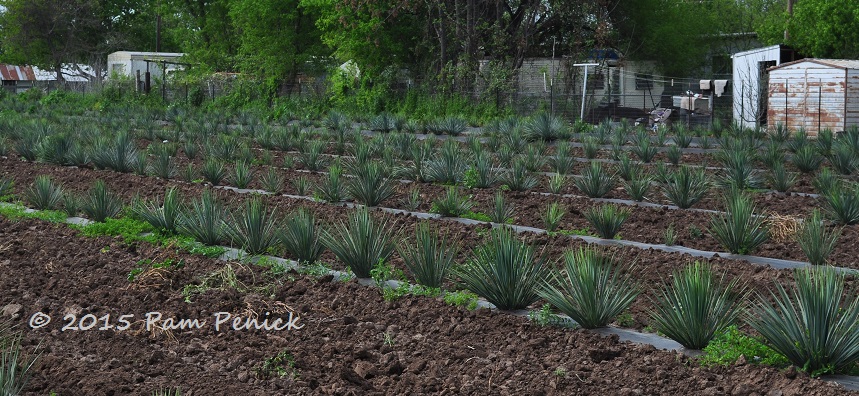 Rows of rows of baby Yucca rostrata are grown high on mounded soil, for drainage.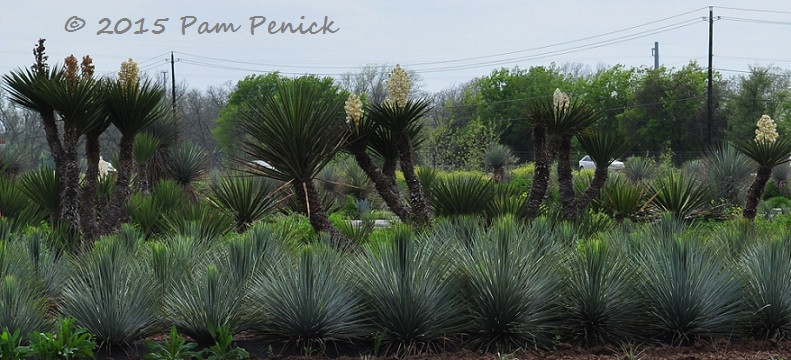 Larger specimens are backed by tall, trunking Spanish bayonet in full bloom.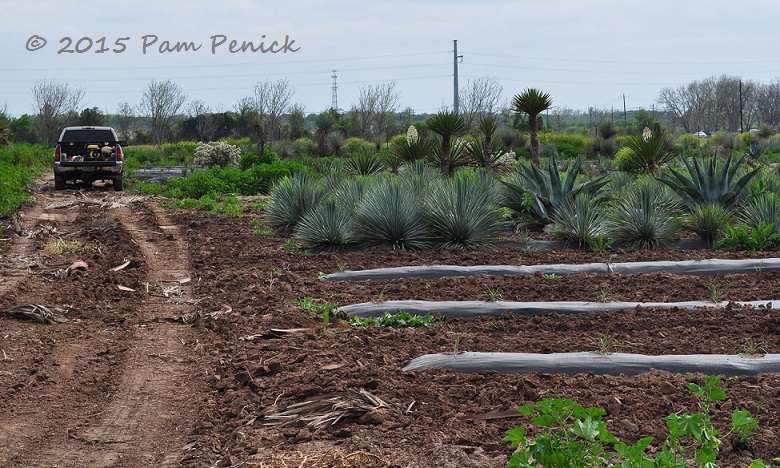 I hopped in a rugged, golf-cart-sized vehicle driven by manager Max Hanes, and he took me into the fields for a closer look. Aside from the yuccas, there were also some large agaves and lots of palms (not pictured).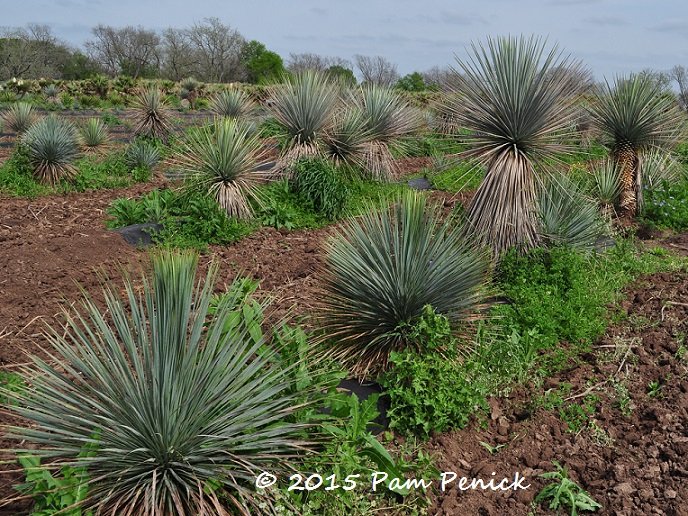 The yuccas are sold by the foot, and since these are slow-growing plants, each foot adds quite a lot to the price. Max cruised up and down the rows of Yucca rostrata, letting me look them over.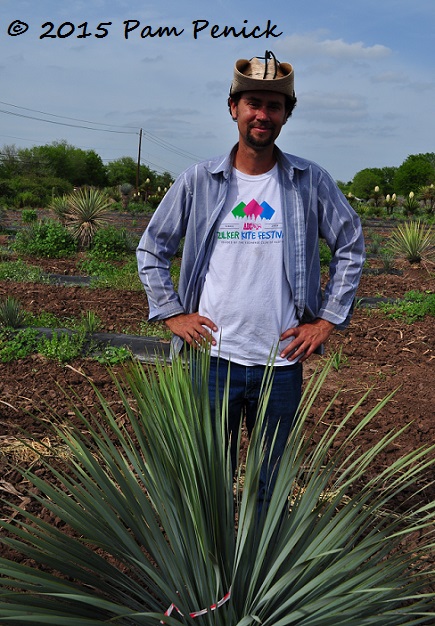 At last I spotted a pretty, blue-green one at the size I could afford. Max hopped out to tag it for me and said it would be dug up in a few days, the root ball wrapped in burlap, and be ready for my landscaper to pick up on Monday. Here he is posing with my yucca. Thanks for all your help, Max!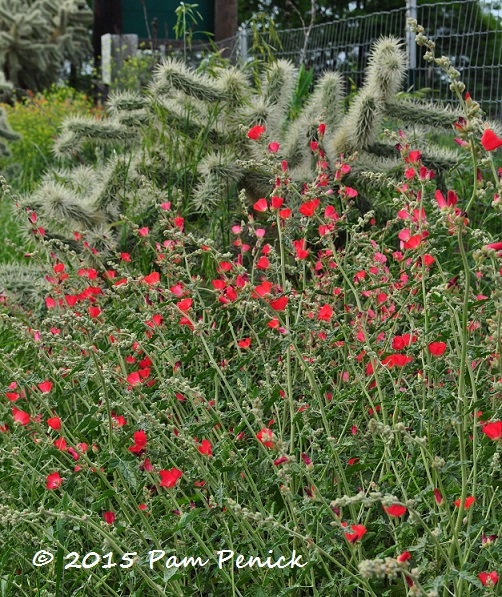 After paying and pausing to pet the ranch dogs, I headed out the long drive, past bristly cholla and fiery globemallow in full bloom.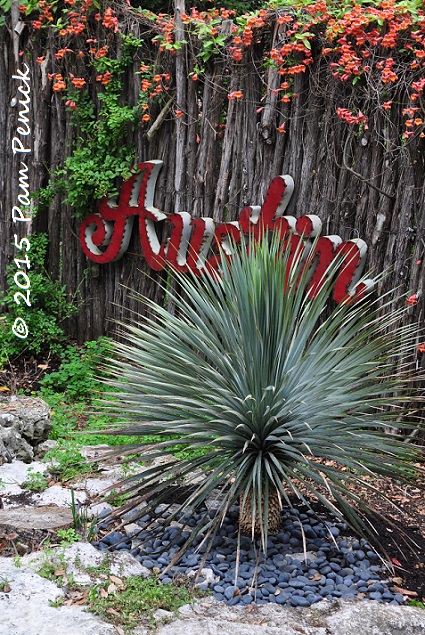 And here's my prize all planted up in its new home! Literally a prize, as I spent my winnings from the Better Homes and Gardens Blogger Awards on this baby — ha! You knew that money was going straight to a nursery, right?
All material © 2006-2015 by Pam Penick for Digging. Unauthorized reproduction prohibited.