March 10th, 2015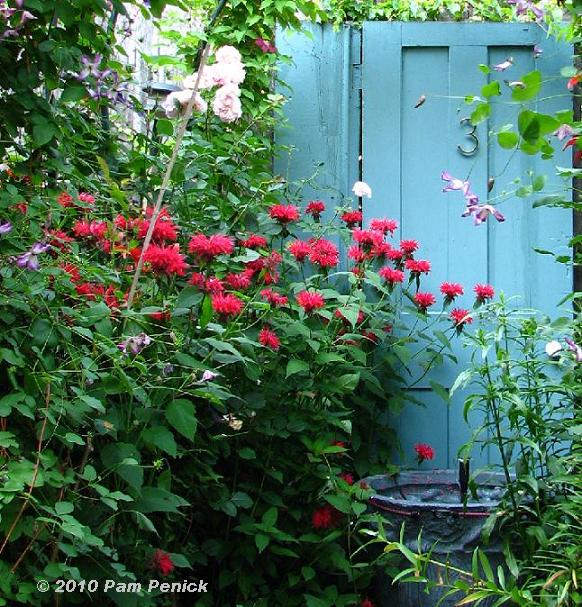 Bee balm and a mysterious blue door at Buffalo Fling 2010
The annual Garden Bloggers Fling is not only the best garden tour around. It's a win-win-win event for you, your garden, and your blog. How? First, you'll end up with oodles of ideas for your own garden, thanks to all the gorgeous ones you'll see, many of which are private gardeners' gardens packed with inspiration. Second, you'll take enough photos to feed your blog and share with your readers for weeks — or months. Third, and best of all, you'll meet 80 to 100 people who are just as obsessed as you are about gardens and about blogging, and spending a weekend on tour with them — and nursery shopping and eating and drinking with them — will immediately bond you in friendship.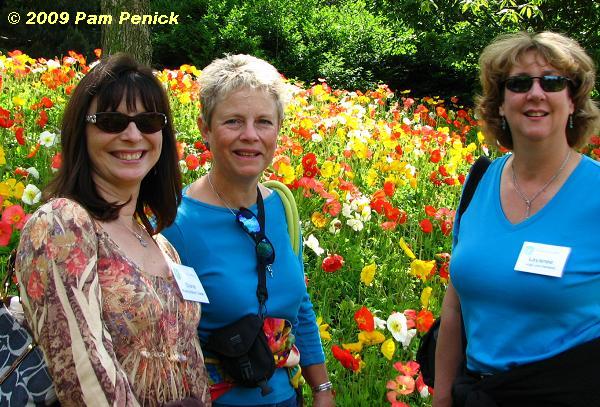 Diana, Cindy, and Layanee at Chicago Fling 2009
It's true! You'll come for the gardens, but you'll come back for your new friends. The Fling has always been hosted by garden bloggers, for garden bloggers. This is not a big corporate event but a group of volunteer bloggers sharing the gardens of their city with you.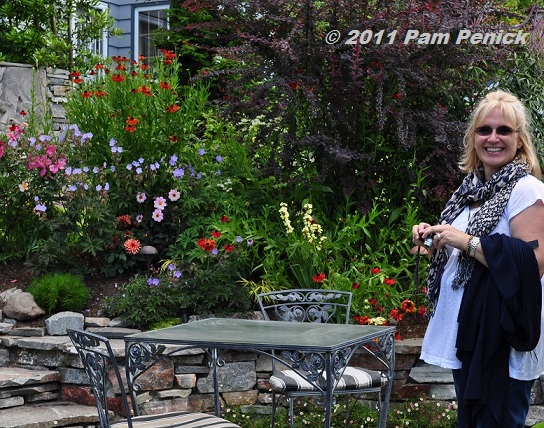 Victoria, one of several bloggers who has come to the Fling from England (Seattle Fling 2011)
This year the 8th annual Garden Bloggers Fling will be hosted for the first time outside the U.S., in Toronto, Ontario, Canada, just across the border from New York State. Registration is nearly full, but there are a few spots left, so now's the time to sign up. Click here for the Fling registration page. Remember, you'll need a valid U.S. passport to enter and leave Canada, so be sure to start the process now if you don't have a passport, and check your expiration date if you do.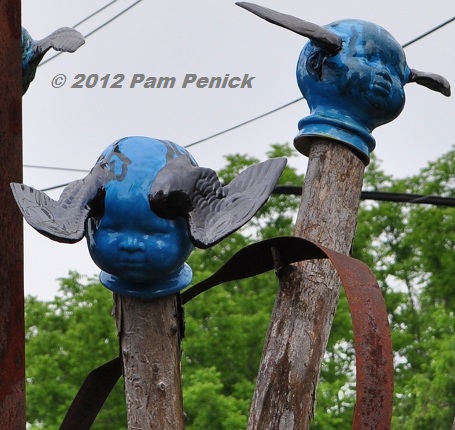 Flying baby heads, Asheville Fling 2012
Would you like to know who else will be there? Here's the current roster of attendees. Texas, I'm proud to say, is rocking the numbers with 12 attendees, half of those from Austin.
Maybe one of your favorite bloggers will be there. Maybe you'll meet other bloggers from your area. Maybe you want to represent your state or region. There are lots of reasons to come.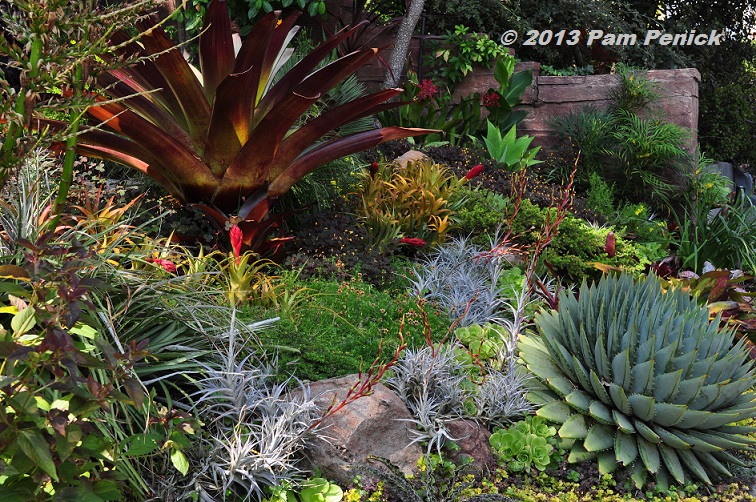 Gardens! (San Francisco Fling 2013)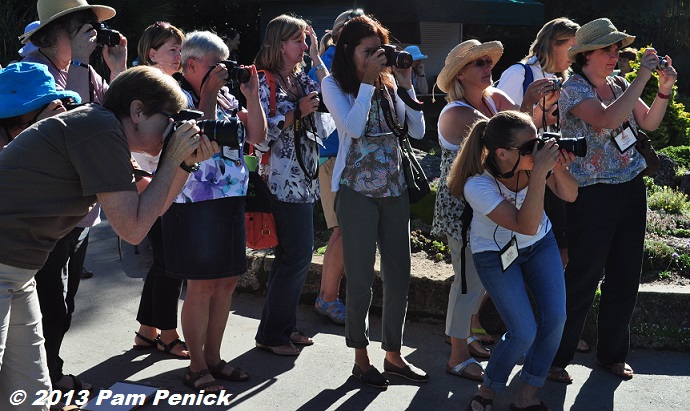 Blogging! (Photography workshop at San Francisco Fling 2013)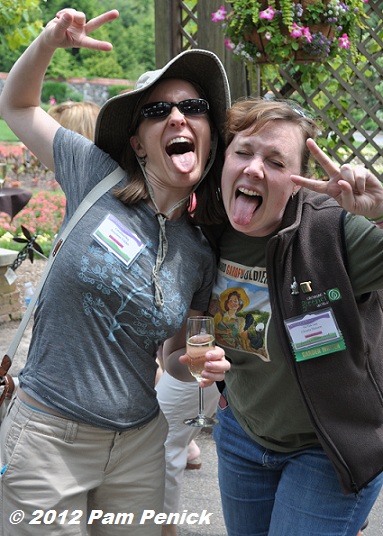 Wild and crazy gardening friends! (Anneliese and Christa at Asheville Fling 2012)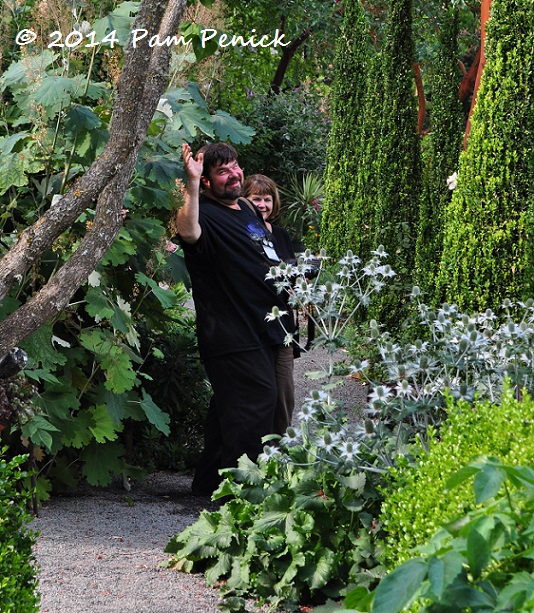 Come join the fun! (Peter and Loree at Portland Fling 2014)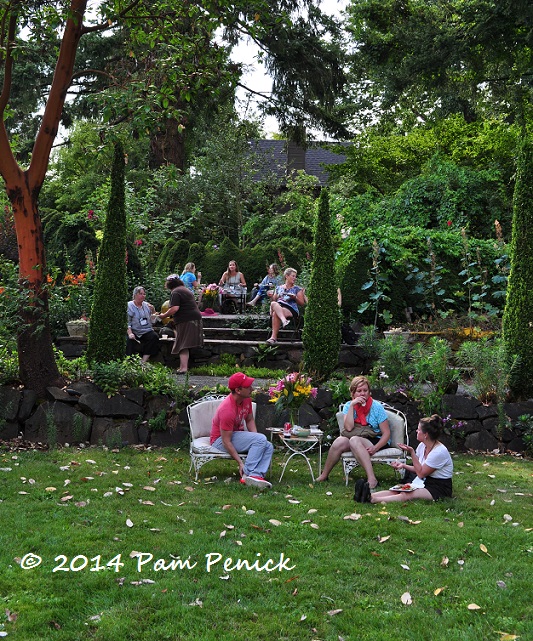 Farewell garden party, Portland Fling 2014
Toronto Garden Bloggers Fling
When: June 5-7, 2015; optional day to Niagara on June 8
Where: Toronto, Ontario, Canada
Hosted by: Helen Battersby of Toronto Gardens; Lorraine Flanigan of City Gardening; and Veronica Sliva of A Gardener's World
How to Register: Click this link for info
Insider info: If possible, plan to arrive by early afternoon on June 4 in order to attend a welcome event that evening
__________________
I'd love to have your vote in the Better Homes and Gardens 2015 Blogger Awards. Skip through to the Gardening category, select Digging, and then skip to the last page for your vote to be counted. You can vote as much as you like. Thanks for your support!

All material © 2006-2015 by Pam Penick for Digging. Unauthorized reproduction prohibited.