February 18th, 2015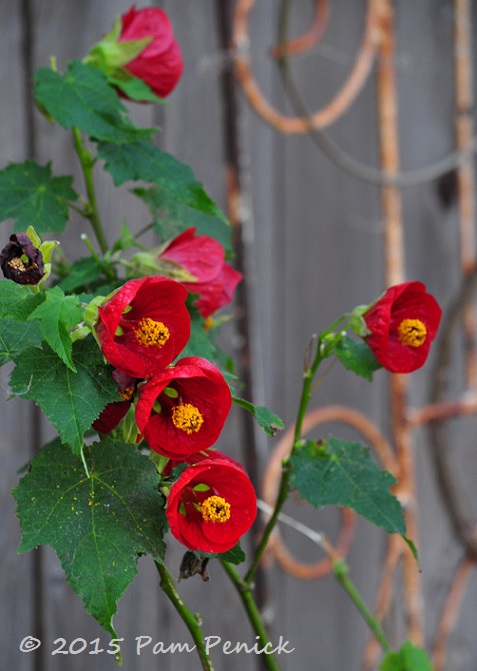 I opened the Plant Delights catalog recently and was coveting the rich-red 'Voodoo' abutilon in its pages, though balking at the shipping cost. A few days later I found 'Nabob' abutilon at Vivero Growers right here in Austin and scooped up three of them. Y'all know how much I love red!
Both 'Voodoo' and 'Nabob', pictured here, are said to be root hardy to 20 degrees F. Abutilon flowers in the cool season in Austin, and I hope 'Nabob' will become as dependable as the unnamed pink abutilon I got at Barton Springs Nursery, the 'Bartley Schwarz' I got at Plant Delights (low-growing and best suited to a pot so you can see its drooping blossoms), and the variegated 'Souvenir de Bonn', all of which have been blooming off and on this winter.
Note: My Plant This posts are written primarily for gardeners in central Texas. The plants I recommend are ones I've grown myself and have direct experience with. I wish I could provide more information about how these plants might perform in other parts of the country, but gardening knowledge is local. Consider checking your local online gardening forums to see if a particular plant might work in your region.
All material © 2006-2015 by Pam Penick for Digging. Unauthorized reproduction prohibited.