August 6th, 2007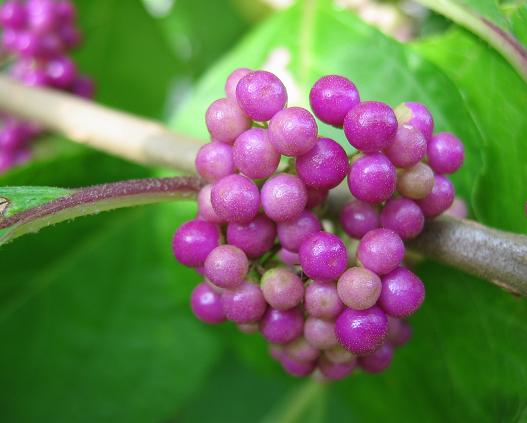 American beautyberry (Callicarpa americana ) is one of my favorite harbingers of autumn. At the point in a typical Austin summer when you think you just can't take the heat and humidity anymore—about now, actually, though this summer has been atypically cool—this understory shrub goes all purple on you and gives hope that fall isn't too far off.
Native to the southern U.S., as far west as central Texas, this deciduous shrub looks gorgeous in the back of a border, where it can grow to 6 or 7 feet tall and wide. Though it can handle drought, it prefers a little extra water. In Austin, I've seen it growing wild in the woods of St. Edward's Park along Bull Creek.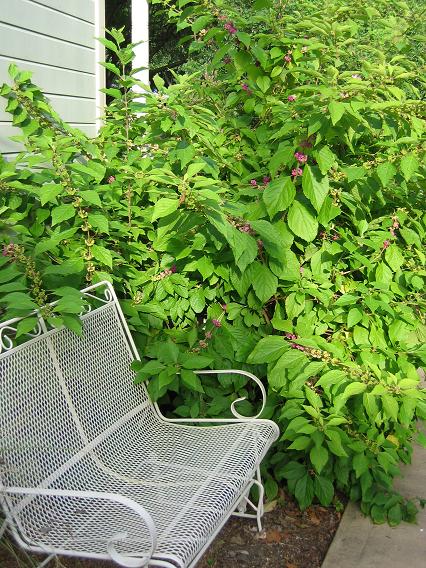 Mine grows behind the front-garden fence along the driveway, where it gets afternoon shade and probably has worked its roots into the French drain my husband installed years ago. As you can see, it has gotten huge and is threatening to take over this little sitting area. I can't cut it back now though, because the berries are just too beautiful to lose. I'll have to remember to prune it over the winter.
Carol, I want you to know that I'm going to paint this bench purple sometime this fall, to play off the color of the beautyberries. If I helped inspire you to paint your bench, so you've inspired me to paint mine.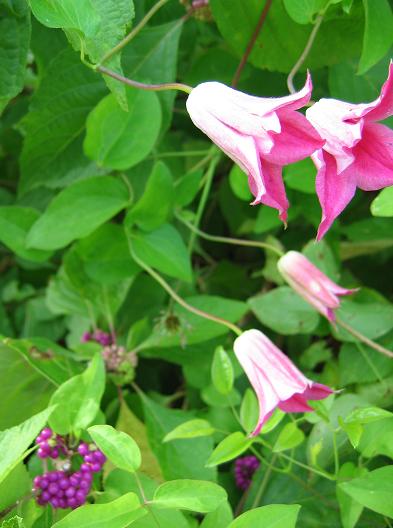 Although my boring white bench isn't making me sing, this 'Duchess of Albany' clematis certainly is. I love the way it twines delicately through the wand-like stems of the beautyberry, its purplish-pink flowers complementing the purple berries.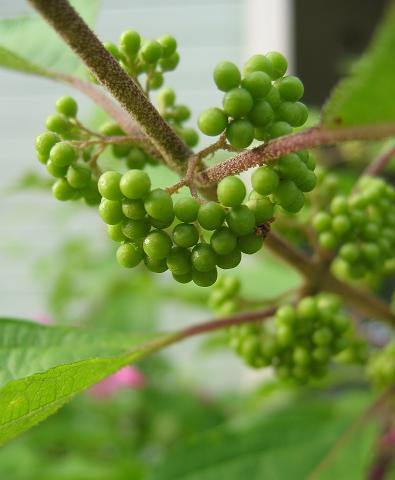 The berries are purpling by degrees. Many are still apple green, like these.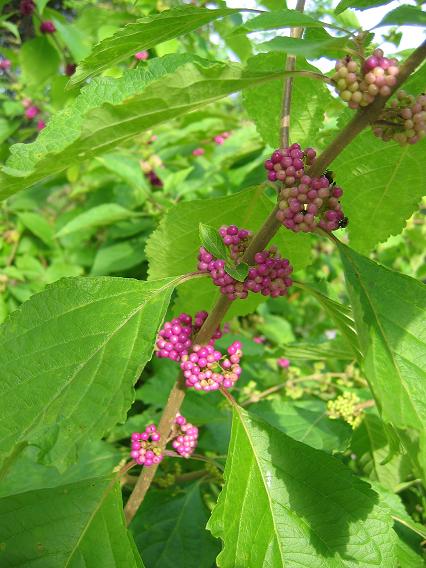 But as the days grow shorter, the berries grow more vibrant. Soon autumn will return, washing the skies bright blue, drying and cooling the air. Soon after that, the beautyberries will feed the mockingbirds, and the bush will lose its drama.
But that's OK. Nothing lasts forever. Not even summer in Austin.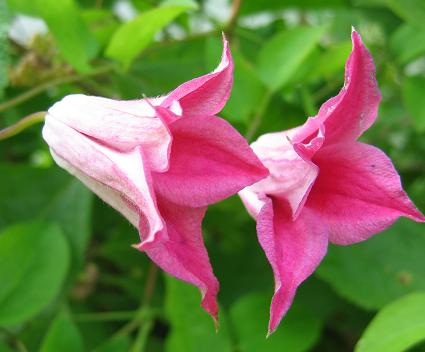 Clematis texensis 'Duchess of Albany'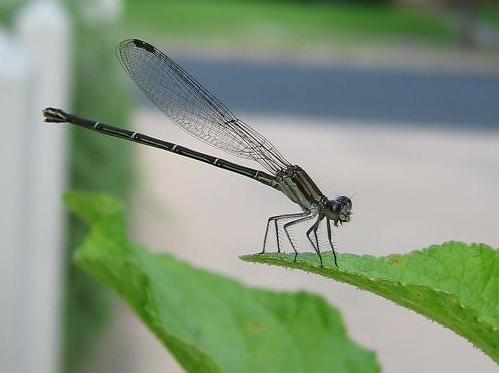 A damselfly posing on a beautyberry leaf
Note: My Plant This posts are written primarily for gardeners in central Texas. The plants I recommend are ones I've grown myself and have direct experience with. I wish I could provide more information about how these plants might perform in other parts of the country, but gardening knowledge is local. Consider checking your local online gardening forums to see if a particular plant might work in your region.
All material © 2006-2013 by Pam Penick for Digging. Unauthorized reproduction prohibited.