January 12th, 2015
In her new book, Cultivating Garden Style: Inspired Ideas and Practical Advice to Unleash Your Garden Personality, Rochelle Greayer, the blogger behind the well-known Studio 'g', has fun categorizing gardens with a stylist's eye. Like a friend who's good with design, she's here to help you pinpoint the style your garden leans toward, so you can enhance it, or, if you feel your garden lacks style, help you figure out what you like. The book is essentially a collection of 23 garden mood boards: images of gardens, products, and plants but also works of art, actors in costume, and travel scenes — i.e., anything that evokes a particular mood or style. To use a more contemporary example, mentioned by the author herself, reading the book is like exploring a designer's Pinterest boards. Stylistically, it also reminds me of HGTV Magazine: visually dynamic, a bit busy at times, and ideal for digesting over short stretches, like your lunch break.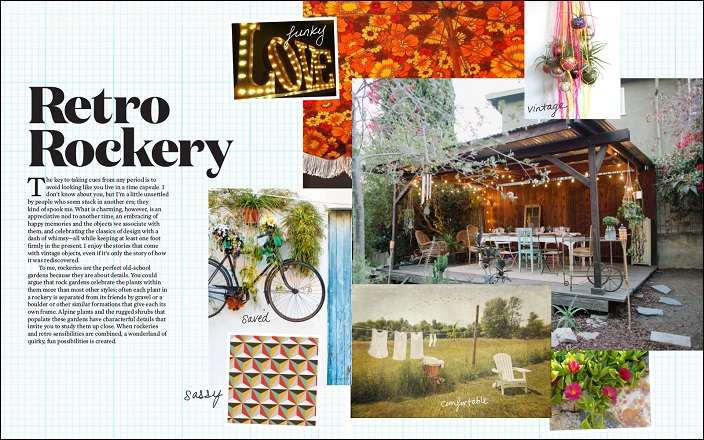 I enjoyed Greayer's creative and evocative names for the various garden styles she explores. You'll find Enchanted Bohemian, Tropical Noir, Low Country Shaman, Forest Temple, Playful Pop, and Homegrown Rock 'N' Roll, to name a few. Each chapter — each mood board — starts off with an image-dominated, four-page spread outlining the style and the motifs typically used to illustrate it.

Over the next two pages you're given ideas for accessories to bring the style into your garden, accompanied by pithy descriptions of variations on the style.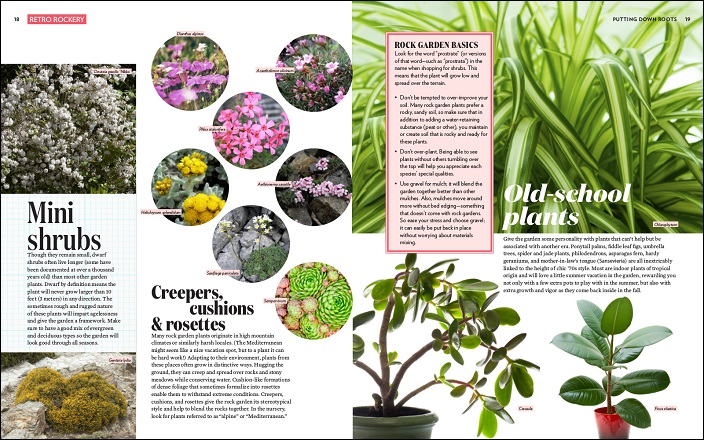 Suitable plants are suggested in the next two-page spread.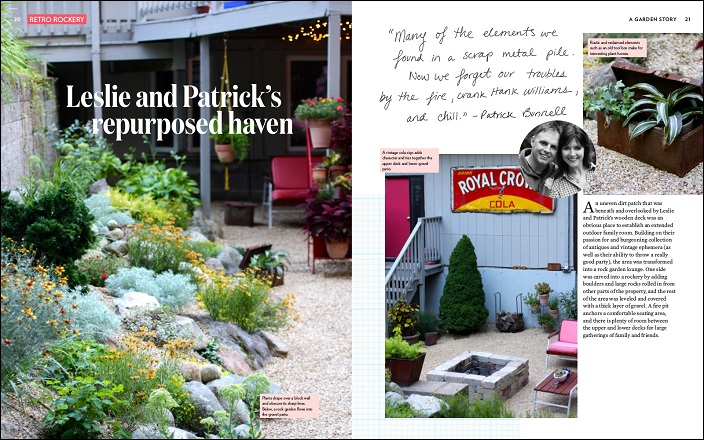 Then you get a "garden story," a virtual tour of a real garden that illustrates the style. This section impressed me the most, no matter which garden style I was reading about. Greayer's ability to find beautiful images of far-flung gardens, and to write about them and their owners as if she knows them personally — well, this is not easy, folks. I don't know whether she travels widely herself to pull off this feat or if she has a gift for making a stranger's garden seem intimately familiar, but it's one of the things I admire about her blog and this book.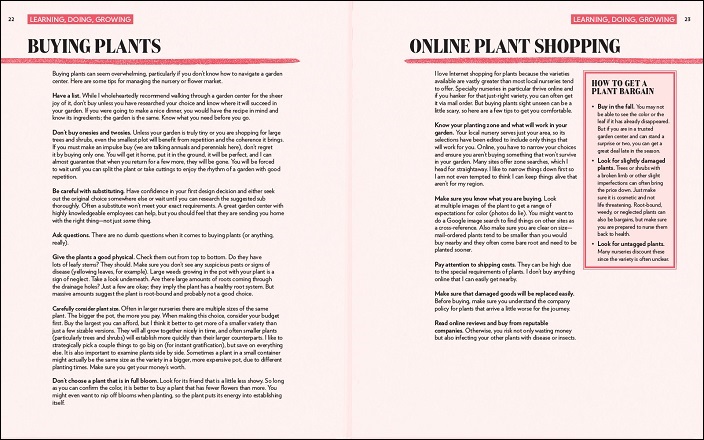 Each chapter concludes with two pages of practical information: design tips, how-to projects, horticultural information, and the like. Here Greayer shares a mishmash of handy info about everything from choosing outdoor fabric to firescaping to making your own light fixtures. Newbies will learn some useful gardening information, and DIYers will rejoice over new projects to try.
At 323 pages, the book is packed with colorful photos (including one of mine, from a garden I toured in Austin), accompanied by Greayer's breezy, conversational text. In spirit it reminds me of Judy Kameon's Gardens Are for Living, which I reviewed last summer. If your garden is as much for people as for plants, you'll enjoy reading Cultivating Garden Style to find your favorite style.
Disclosure: Timber Press sent me a copy of the book for review. I reviewed it at my own discretion and without any compensation. This post, as with everything at Digging, is my own personal opinion.
All material © 2006-2015 by Pam Penick for Digging. Unauthorized reproduction prohibited.
Style, which is about expressing yourself and your unique taste, applies as much to making gardens as to fashion or interior design. Most gardeners naturally prioritize plants when making a garden, but who doesn't also enjoy accessorizing his or her outdoor spaces with color, furnishings, and accessories like pots, cushions and pillows, and lighting?