December 11th, 2014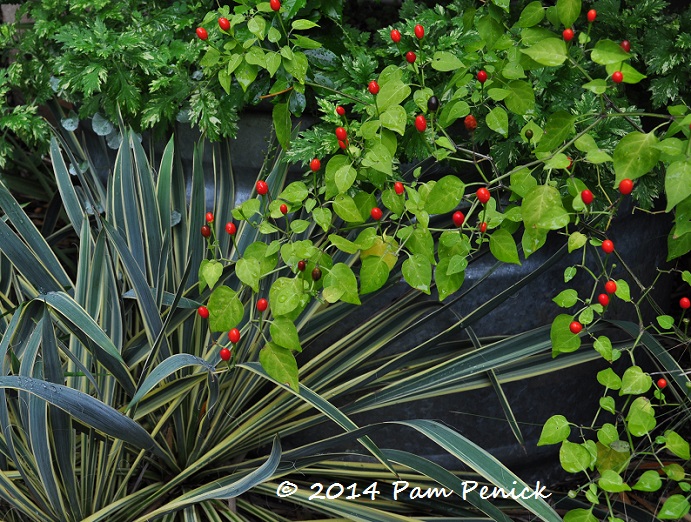 Native perennial chile pequin (Capsicum annuum var. glabriusculum) adds hot color to the fall garden with a profusion of tiny, red peppers held upright on rambling green stems adorned with chartreuse, spade-shaped leaves. And if you taste one, you'll find it heats up your tongue as well! These diminutive peppers pack a fiery punch that rivals the habanero, or so I've read, having never dared to sample one myself. I leave that to the birds, which are unaffected by spicy heat.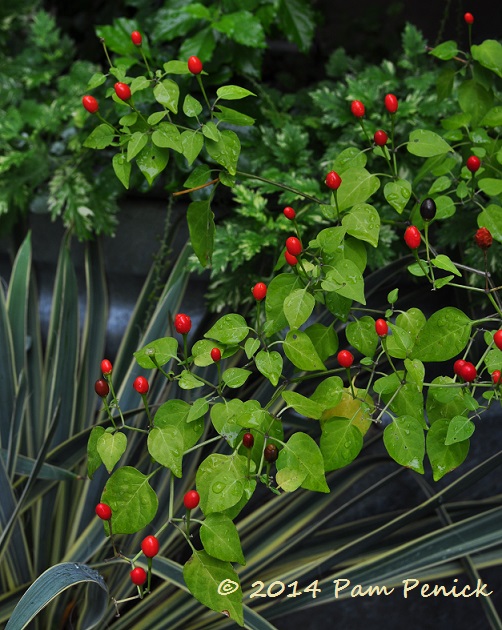 Michael at Plano Prairie Garden passed along this volunteer to me, and I love how it works with the yellow stripes of 'Bright Edge' yucca. I grew chile pequin in my former garden as well, pairing it with fall blooming spider lilies (Lycoris radiata) that echoed the red of the peppers.
Chile pequin has always grown well for me in part shade to full shade, but I've seen it in full sun as well. Once established, it's fairly drought tolerant, and it generally dies back in winter but returns from the roots. If you enjoy providing food for birds, chile pequin's 5-alarm fruit is a favorite, which is why it's also known as bird pepper. It grows to about 2 feet tall and wide — a small plant with spice to spare.
Note: My Plant This posts are written primarily for gardeners in central Texas. The plants I recommend are ones I've grown myself and have direct experience with. I wish I could provide more information about how these plants might perform in other parts of the country, but gardening knowledge is local. Consider checking your local online gardening forums to see if a particular plant might work in your region.
All material © 2006-2014 by Pam Penick for Digging. Unauthorized reproduction prohibited.