July 29th, 2007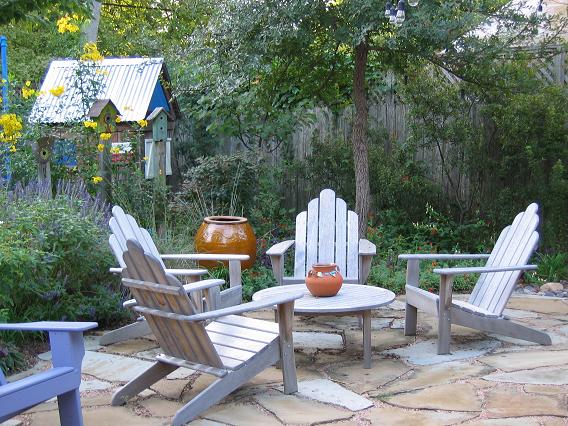 Stone patio, October 2006
I wasn't yet blogging in 2003, when I dry-laid a small, stone patio in the back garden. So when South Carolina Pam asked me about its construction, after its appearance in my last post, I decided to write a belated "how I did it"—for anyone else who desires a margarita-sipping spot in their garden.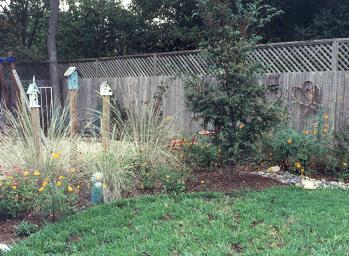 It's hard for me to remember that this is how my young garden looked pre-patio: a small lawn bordered by native grasses, tiny perennials, and fill-in orange cosmos, with a brand-new cedar elm stuck in the dirt. Behind that, you can glimpse the pea-gravel area that contained a playset for the kids (since converted to a smaller, mulched play space).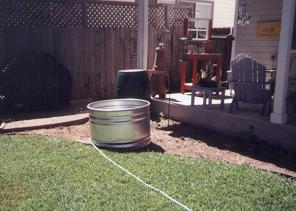 On the other side of the lawn that would shortly become a patio, I was digging out another bed and positioning a galvanized stock tank that I planned to use as a container pond. The open back porch had not yet been screened by my handy husband.
The lawn—scraggly and prone to fungus—wasn't an asset. I wanted a pleasant sitting area for enjoying the garden, so I decided to install a patio in its place. That winter, my husband and I dug out the sod to a depth of about 4 inches. [Update: A deeper foundation is better, and today I suggest digging out to a depth of 6-8 inches, then spreading 4 inches of crushed gravel or paver base and compacting it.] As necessary, I adjusted the steel edging that had surrounded the lawn; it would provide the containing edge around the new patio. I ordered a few cubic yards of coarse builder's sand and spread it over the bare dirt about 2 inches thick. A visit to Daniel Stone, one of my favorite stoneyards, turned up a lovely, brown-and-gray flagstone called Oklahoma patio stone that suited my budget, and I ordered two pallets in a 2- to 3-inch thickness. (Thinner stone, I was advised, can shift in an unmortared patio.)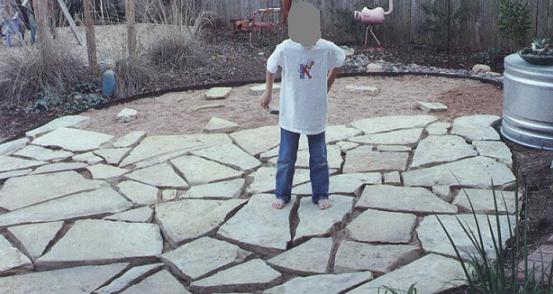 Austin's mild winters are the perfect time for do-it-yourself hard-labor projects—at least for people like me, who hate to sweat. This was definitely a hard-labor project, albeit do-able and satisfying. By January 2003, I was hauling the heavy slabs, one by one via a wheelbarrow, and fitting them closely together on top of the builder's sand.
I made sure the stones were flush with the top of the steel edging so I wouldn't have a tripping hazard later on. On hands and knees, I used a level to check each stone as I placed it. Not every slab was exactly the same thickness, so I added sand and scooped it away as necessary to level the stones as I went along. I followed the slight slope of my yard so that water would run off the patio rather than pooling on it. Also, I mixed up the larger slabs with the smaller, filler pieces; I didn't want to use up all the big stones at the start of the project, only to be left with a bunch of filler pieces when finishing the far side.
When the last stones were pieced in against the edging on the far side, I bought bags of decomposed granite to use as grout. I'd read that decomposed granite would keep ants out better than sand. Using a push broom I swept the crushed granite into the cracks, then used a hose to wet it down. As the granite settled, I added more until the "grout" was level with the stone.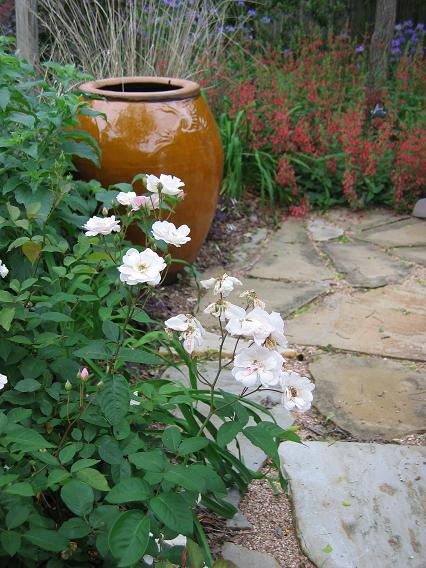 At last, it was time for the Big Reveal. Directing a hard stream of water from the hose, I carefully sprayed each stone to wash away the white dust and orange, decomposed-granite mud, revealing the beautiful browns and grays of the patio stone. My new garden room was finished.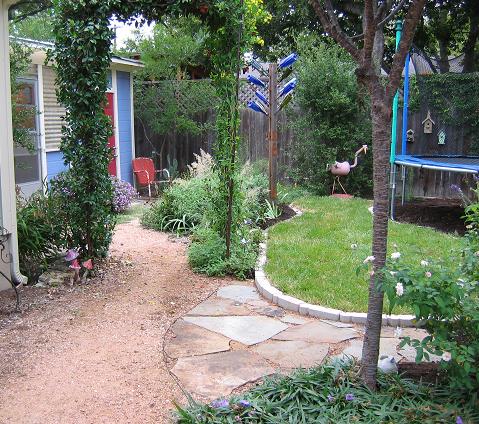 Postscript—Last fall, I added a stone "apron" that leads to the rear of the back garden. I constructed it the same way as the patio, using the same Oklahoma patio stone.
All material © 2006-2012 by Pam Penick for Digging. Unauthorized reproduction prohibited.