June 3rd, 2009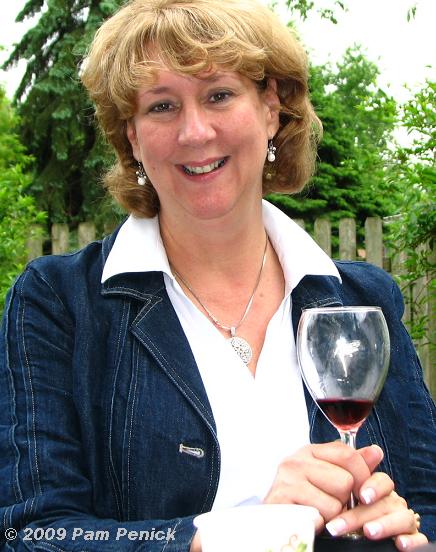 Layanee of Ledge and Gardens enjoying a glass of wine on Mr. McGregor's Daughter's patio. Layanee kept me in stitches with her wry humor.
I've posted mainly about the gardens we saw at Chicago Spring Fling, but of course the real reason we all went was to meet the people behind the garden blogs. If you are curious too, here are a few fun pics of fellow Spring Flingers. I only wish I'd taken more images of all the wonderful people I met or reconnected with last weekend.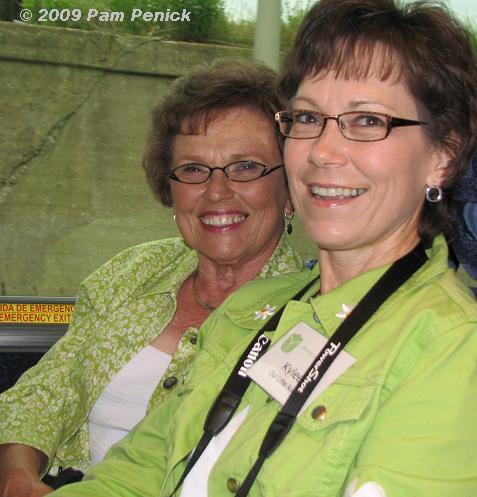 Kylee of Our Little Acre and her charming mom on the bus. They were always such fun to be around. And look at how they match—and it wasn't even planned (or so they maintained). ;-)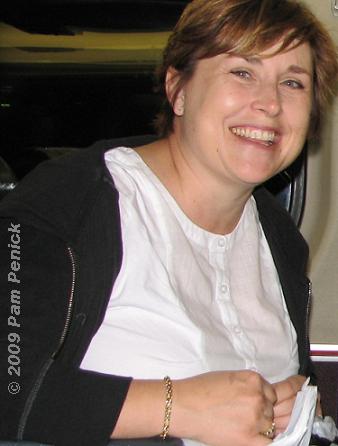 Dee of Red Dirt Ramblings, always so sweet, on the train. We met last year at Spring Fling Austin and again that summer when my mom and I visited her Red Dirt garden.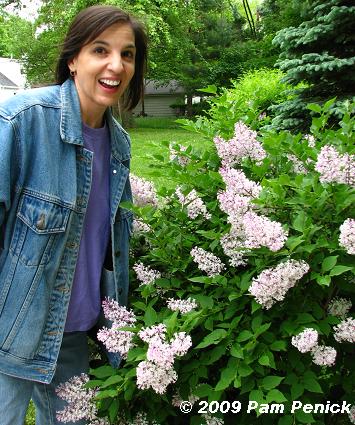 Mr. McGregor's Daughter, whose energy never seemed to flag, showing us Southerners the late-blooming lilacs.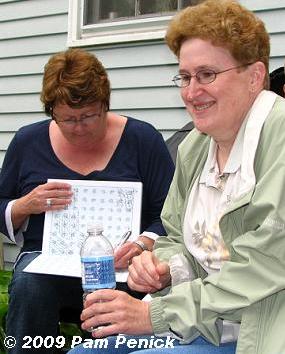 Redheads Mary Ann of Idaho Gardener and rock-star Carol of May Dreams Gardens. I met both of these funny ladies at Spring Fling Austin, and it was great to reconnect with them this year.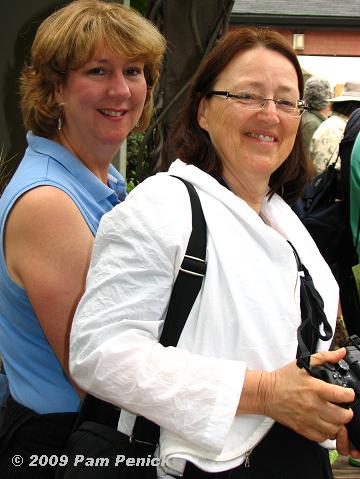 Layanee and Gail of Clay and Limestone enjoying the tour of Rick Bayless's garden. I missed getting a photo of Fairegarden Frances, but I thought of her and Gail as the team from Tennessee because they'd traveled together. I met both Gail and Frances last year but hardly got to visit with them. This year we found time to chat and get to know each other. And now—yippee!—I'm looking forward to a visit from Gail sometime this fall.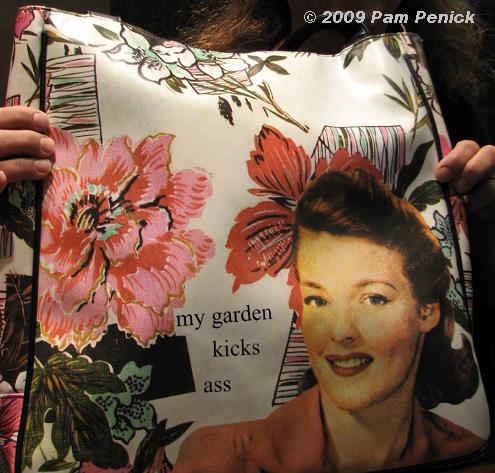 Isn't this bag a hoot? I so wish my photo of the owner, Leslie of Growing a Garden in Davis, had come out too, especially as she was such a good sport to pose with it. At any rate, it was wonderful to meet Leslie, who'd come all the way from California, making her and the young Gardenpunks, Katie and Chris, the first West Coasters to attend a Spring Fling.
You'll find more people pics scattered throughout my other posts about Spring Fling.
P.S. I'd like to add that the people of Chicago are among the friendliest I've ever encountered. Fellow Austinite Diana and I are directionally challenged, and numerous times strangers stopped to ask if we needed directions, helped Diana lift her amazingly huge suitcase, and just offered friendly hellos and smiles. What a great town!
All material © 2006-2009 by Pam Penick for Digging. Unauthorized reproduction prohibited.