November 16th, 2014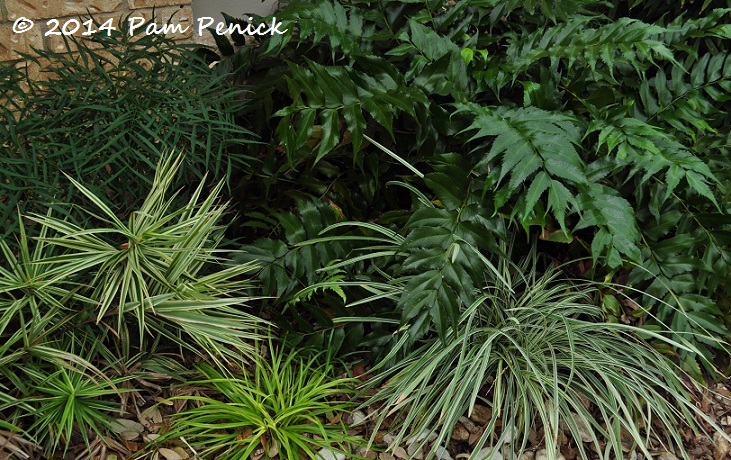 What won't block the windows and grows no taller than 3 feet? What remains evergreen? What can live in shade? What won't the deer eat? These are the foundation-planting questions that haunt generations of gardeners (or me anyway), especially those in the South, where we expect the garden to be green year-round, those who must share the garden with deer, and those dealing with shade.
I've got a foundation combo that works for my particular circumstances, which I'm especially liking since I recently sprinkled Aztec grass along the front edge; its bright variegation keeps all the greens from getting too heavy. Notice I didn't add "drought-tolerant" to my conditions above, since my home lacks gutters and these plants get waterfalled (is that a word?) when it rains, plus a dry stream in front funnels runoff from the driveway. My happy combo includes, from left to right, 'Soft Caress' mahonia (Mahonia eurybracteata 'Soft Caress'), 'Sparkler' sedge (Carex phyllocephala 'Sparkler'), 'Everillo' sedge (Carex oshimensis 'Everillo'), holly fern (Cyrtomium falcatum), and Aztec grass (Liriope muscari 'Aztec'). Just out of frame on the right is a pair of lovely Chinese mahonia (Mahonia fortunei) and more Aztec grass.
I should mention that 'Soft Caress' mahonia and Aztec grass have not proven deer-resistant in my larger garden, but here along the house they've been unmolested. And I used to hate ubiquitous holly fern for its lumpy form and inevitably browned fronds, but I may be coming to terms with it at last. I mean, anything the deer won't eat can't be all bad, right? The 'Everillo' Carex was sent to me for a free trial by Southern Living Plant Collection, and I dubiously plopped it in the ground thinking it would dry up and blow away by summer. No doubt it's a testament to its north-facing, shady, dry-stream location, but this golden, diminutive sedge has thrived with once-a-week watering in summer and looks great.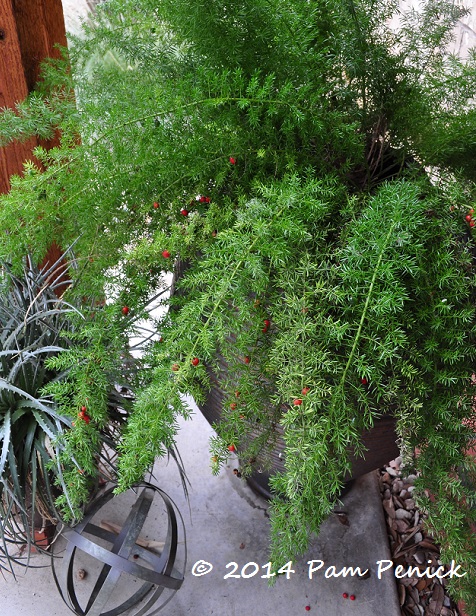 And while it's not a foundation plant, it could be! I love foxtail fern (Asparagus meyeri), and it works so well in pots. This one sits on my front porch, begging to be stroked by any passerby, and now it's producing pretty, red berries, which gives it a festive look.
This is my November post for Foliage Follow-Up. What lovely leaves are making you happy in your November garden? Please join me for Foliage Follow-Up, giving foliage plants their due on the day after Bloom Day. Leave your link to your Foliage Follow-Up post in a comment here. I really appreciate it if you'll also include a link to this post in your own post — sharing link love! If you can't post so soon after Bloom Day, no worries. Just leave your link when you get to it.
All material © 2006-2014 by Pam Penick for Digging. Unauthorized reproduction prohibited.