October 29th, 2014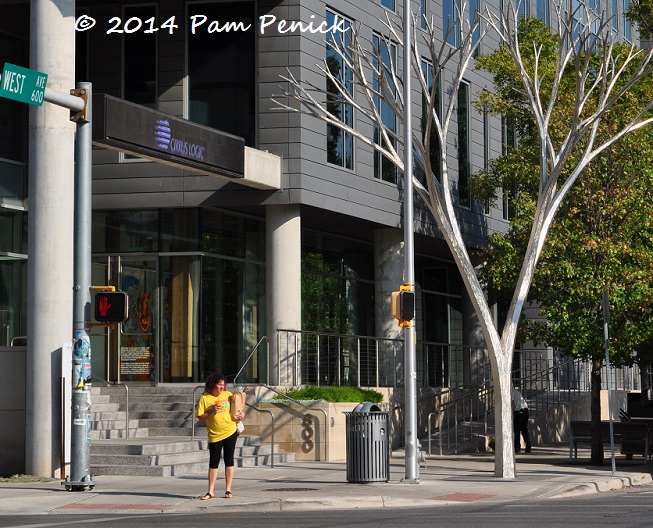 One day a silver tree sprouted on a street corner in downtown Austin where nothing had grown for a year but piles of construction debris from the new Cirrus Logic building at West Avenue and W. 6th Street. I'd crawl past with one eye glued to the tree, craning my neck to see it, risking impatient horn honking from those behind me. Last week I finally managed to snap a couple of photos while hanging my head out the window at a stoplight.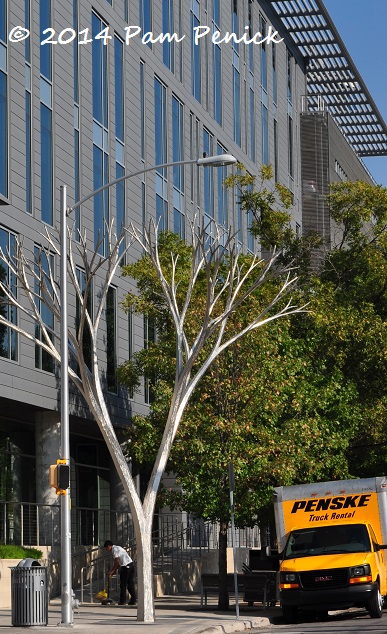 When I Googled it I was surprised and delighted to see that it's by Paul Sorey, the Washington artist who created Salmon Waves, a dynamic sculpture I admired at Seattle's Ballard Locks a few years ago.
The 25-foot, stainless-steel tree is titled Fractal Tree, and it's a "mathematically generated fractal: each part of the tree is an identical copy of the other parts, scaled and rotated in space," according to the City of Austin's Art in Public Places Program (click for construction details). It was commissioned by Cirrus Logic as a gift to the City of Austin. How cool is that?
I've spoken about the tree to a few people who work in the area and was surprised to hear they'd never noticed it. It makes you wonder how much we all miss as we go about our busy days.
All material © 2006-2014 by Pam Penick for Digging. Unauthorized reproduction prohibited.