October 19th, 2014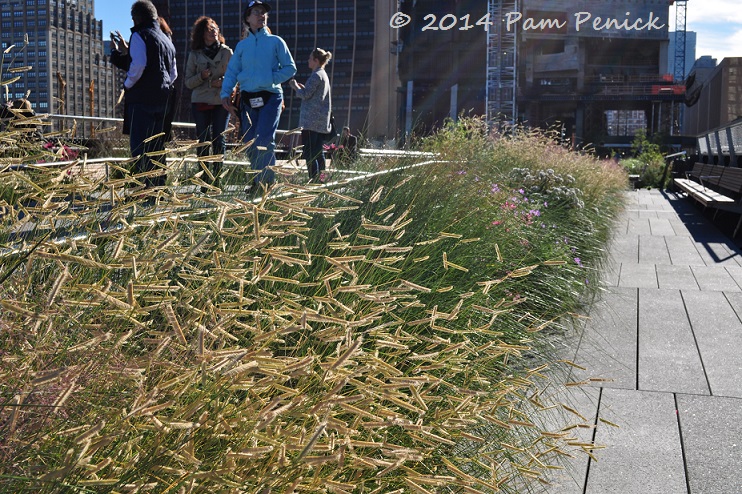 Have you ever flown across the country to see one garden? I did last weekend. Rapturous articles and blog posts about the High Line, New York City's garden-park conversion of an abandoned elevated rail line through the city's old Meatpacking District, had seduced me for 5 years. One day last June, I suddenly resolved to go see it and invited my teenage daughter to join me on a girls' garden-visiting, Broadway show-watching, big-city adventure. We flew to NYC last Friday, and on a cool, rainy Saturday we toured Wave Hill and New York Botanical Garden and caught an evening show. With an eye on the weather forecast, we reserved sunny Sunday, our last day, for the High Line.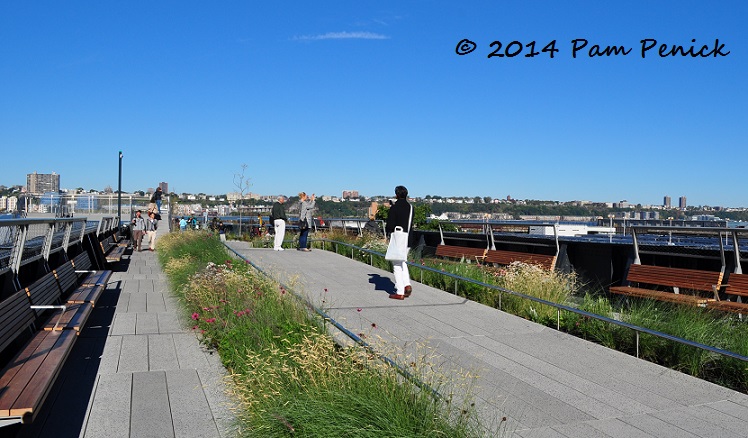 Wanting to get there early to beat the crowds, I set my alarm, yet we both managed to oversleep. Rushing out without breakfast, we took the subway from our Times Square hotel, paused to gawk at caped and costumed Comic Con attendees streaming into the Javits Center, and entered the High Line on the northernmost end by the Rail Yards — the park's newest section — around 10 am.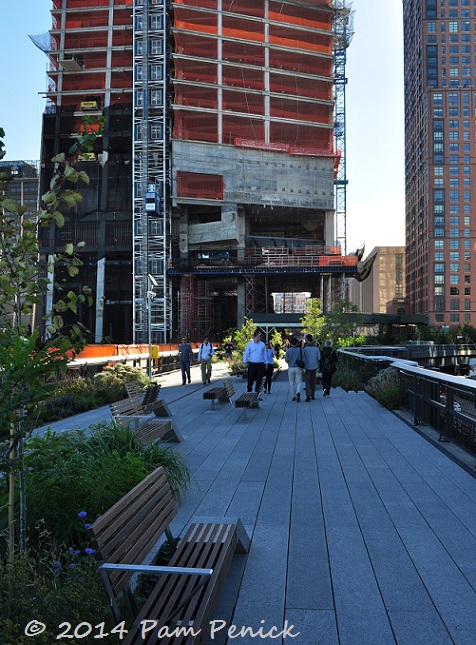 It was a crisp fall morning, and the first sunshine in days was peeking through the condos and other high-rises that surround the park and cast long shadows except at midday.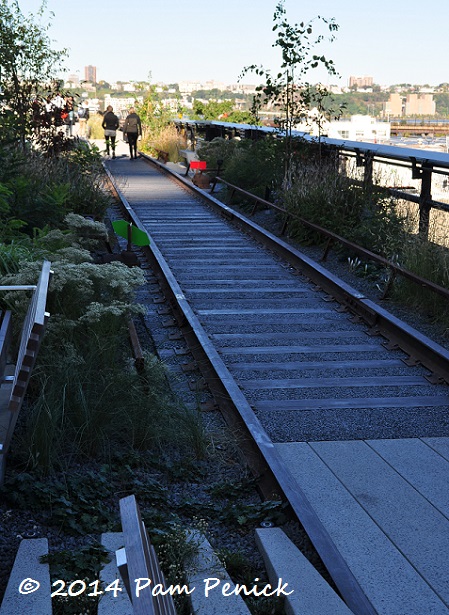 This new section of the park incorporates portions of the original railroad tracks into the pathways.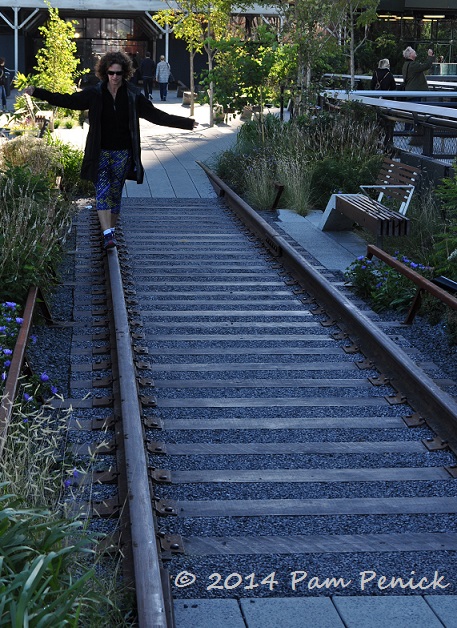 Exposed rails entice balancing acts, but the middle is smooth enough for strollers and wheelchairs thanks to a composite material that resembles the loose gravel that used to fill the space between the ties.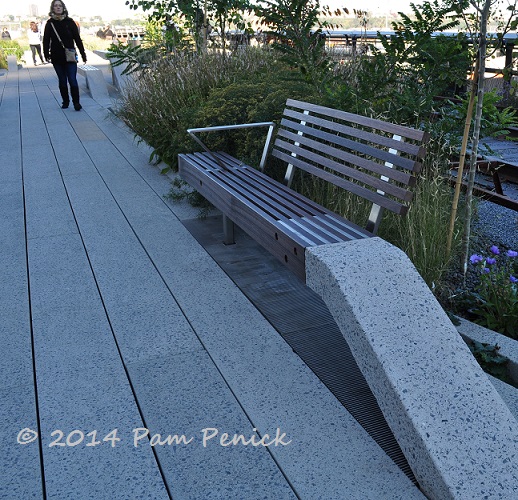 Cool design elements like "peel-up benches" seem to rise up out of the aggregate planking strips that make up the paths.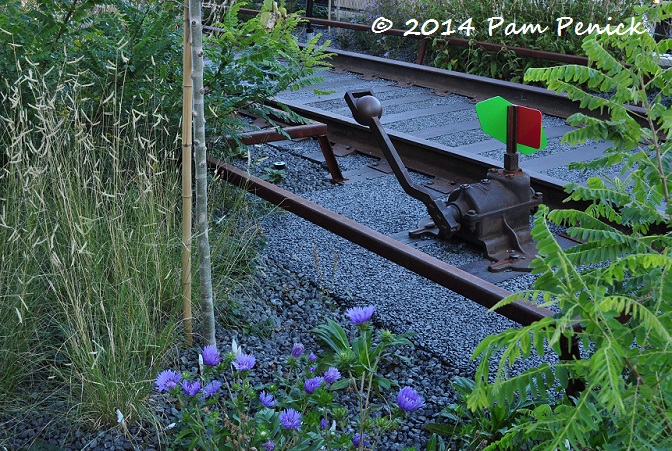 Old rail switches remain here and there for children to play with.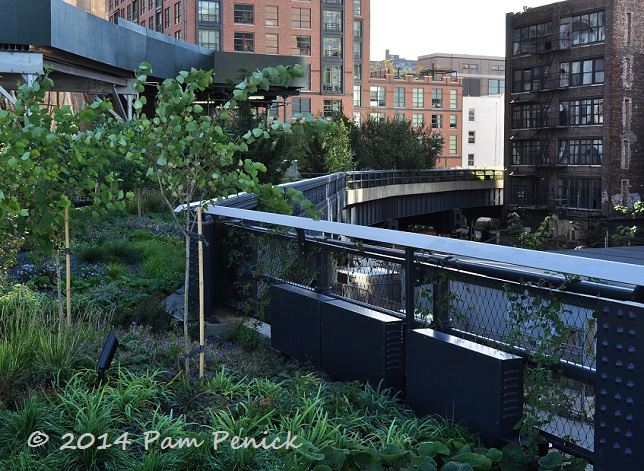 The High Line is only about one-and-a-half miles long, and it consists mainly of narrow planting beds on either side of a zigzagging, boardwalk-style path that runs its length. Essentially a green roof, planting pockets are shallow, only 18 to 36 inches, which manage to support an extensive number of species, from wildflowers and perennials to shrubs and trees.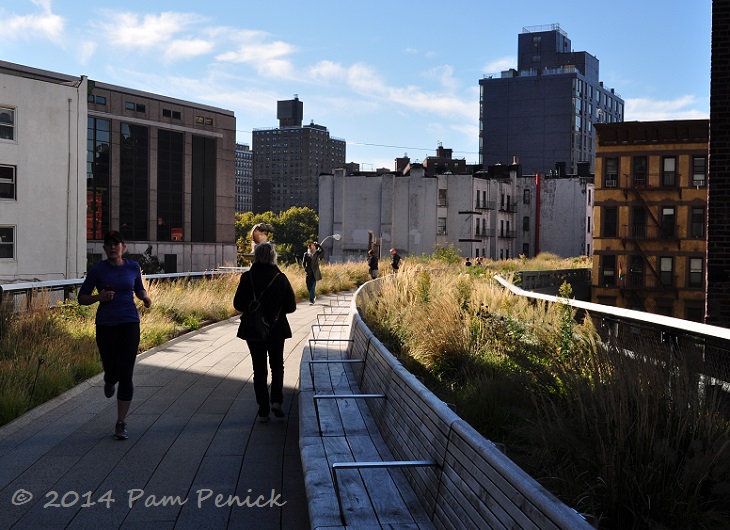 But all these onlys and restrictive elements can't convey the expansive experience of walking the High Line. Liberated from the street, you're up there, three stories high amid the architecture of Manhattan that spans two centuries. There's a certain peacefulness to it, but also an energy and a sense of companionability. You feel connected to the city and your fellow High Liners.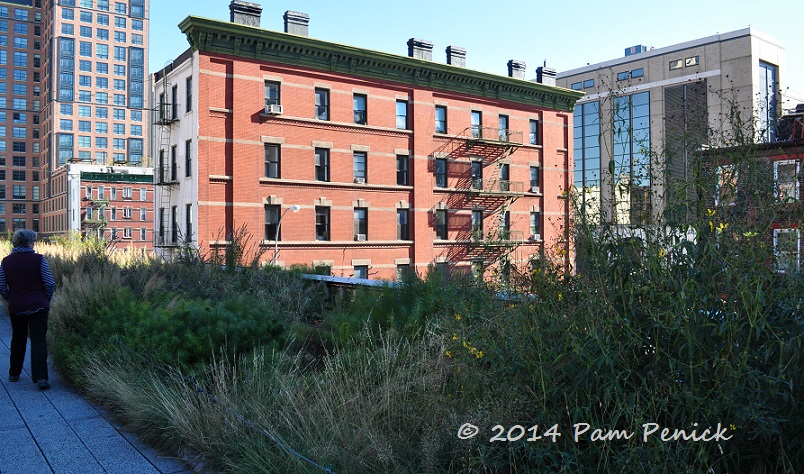 The story of the High Line is a nail-biter, its improbable success already legendary. After 40 years of rail deliveries, trucking put the rail line out of business, and the High Line fell into disuse in the late 1970s. Lined with razor wire that couldn't keep out vagrants, drug users, and adventurers, it became overgrown with opportunistic "weeds" like Queen Anne's lace, chives, and ailanthus trees. Many people considered it an eyesore, and the city was on the verge of tearing it down when Friends of the High Line was formed to save it. For publicity purposes, the group hired landscape photographer Joel Sternfeld to photograph the High Line in all its wild, lonely beauty, and his images galvanized the public and the city to preserve the space as a park.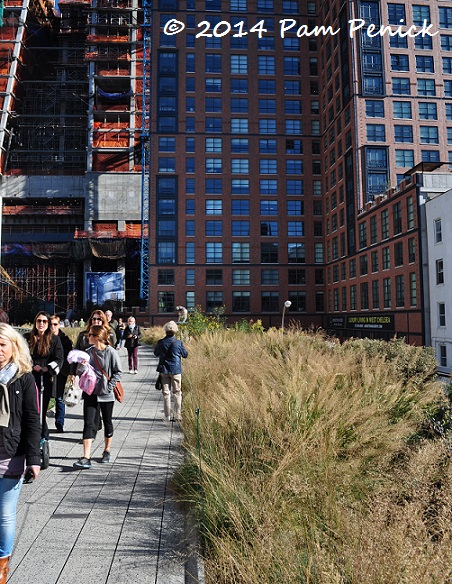 An international design competition was held, and the winning team of landscape architect James Corner Field Operations, architects Diller Scofidio + Renfro, and planting designer Piet Oudolf proposed to remake the line into a promenade and garden that pays tribute to the original, self-seeded wildscape that New Yorkers fell in love with. The first section opened in 2009, the latest in September of this year.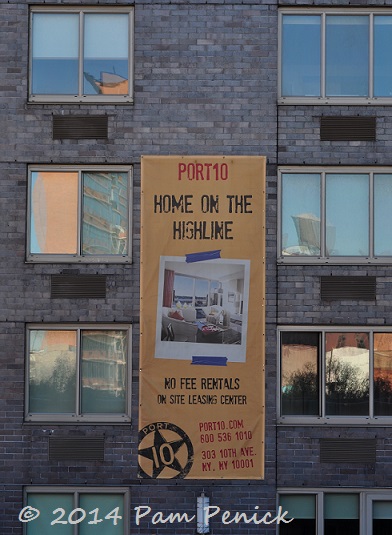 Development around the wildly popular park has been explosive. Cranes and construction are evident all along the park's length but especially at the grittier northern end.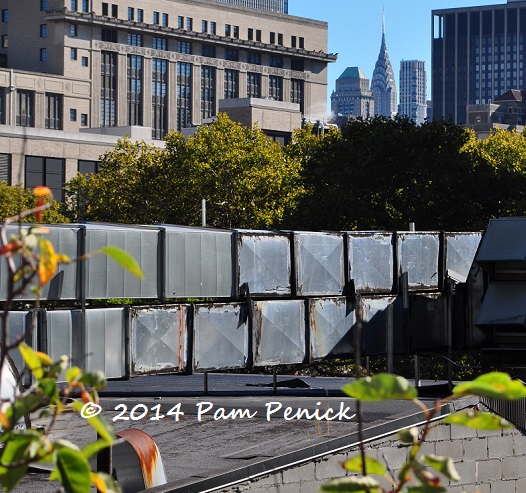 The Chrysler Building (above) and Empire State Building are visible from the High Line for now, although expected development will surely transform skyline views during the next decade.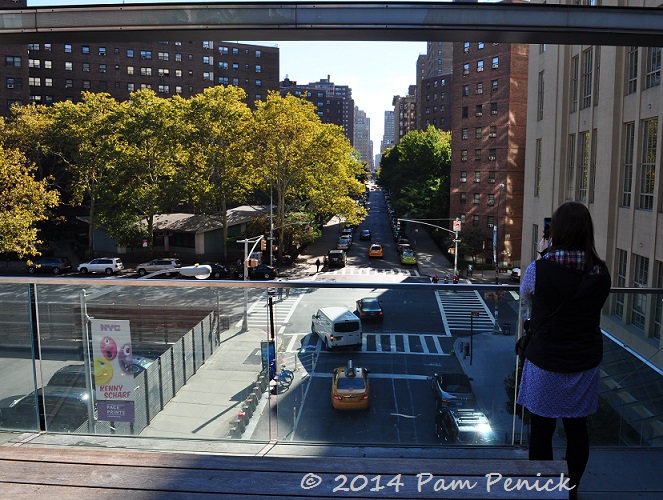 The genius of the High Line, as many enthused critics have pointed out, is that it puts the city on view rather than closing it off with screenings of plants or manmade structures. The High Line is not a retreat from city life, at least not in the traditional, encompassing Central Park fashion, but a viewing platform for it. For example, where a billboard over 26th Street once peddled goods to passersby below, today its empty frame invites viewing of the street from built-in benches.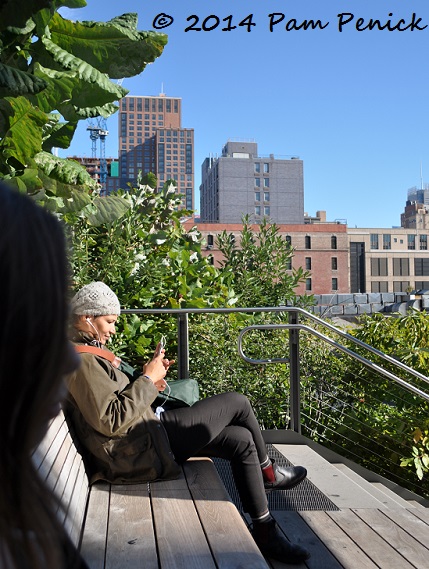 Park-goers, of course, are likewise framed for viewing by pedestrians on the street. It's a playful interaction between the park and the surrounding city.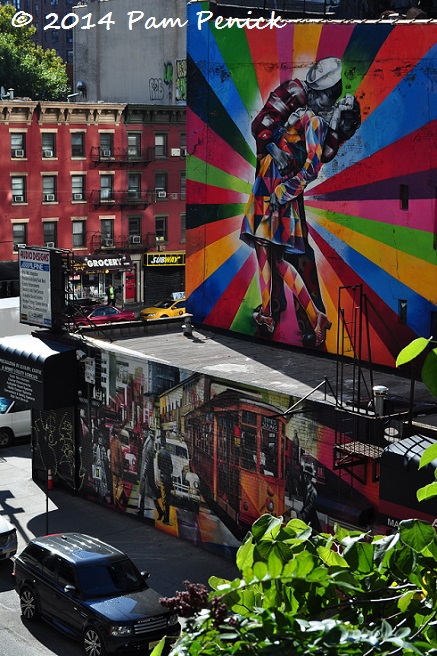 Art is also an important part of the High Line experience. Temporary exhibits of murals, sculpture, and performance art are commissioned by Friends of the High Line, which employs a full-time curator. Muralists who paint nearby buildings and street artists also find ways to put their own stamp on the High Line experience.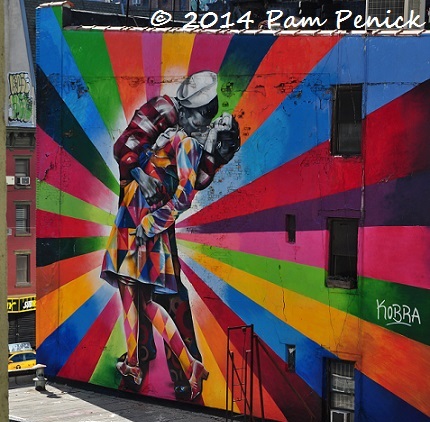 This explosively colorful mural comes into view at West 25th Street and 10th Avenue, stopping southbound park walkers in their tracks. Painted by Brazilian muralist Eduardo Kobra, it's his reimagining of Alfred Eisenstaedt's famous photo V-J Day in Times Square.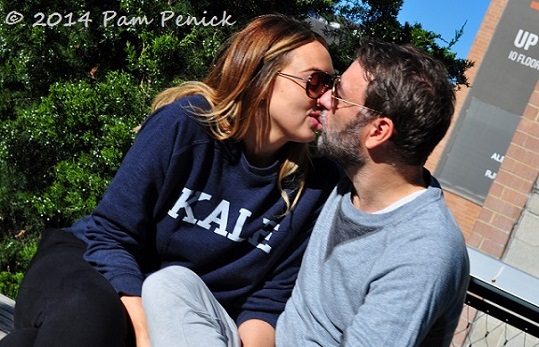 On a nearby bench, life was imitating art.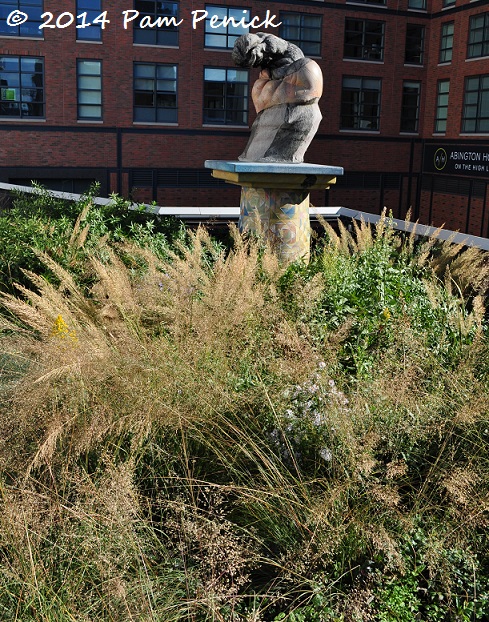 Dutch horticulturist Piet Oudolf's grassy, American-meadow planting scheme is very much part of the park's appeal too. You won't see sweeping beds of colorful, pampered annuals here, nor Main Street-style hanging baskets. Instead, the gardens pay homage to the tough native and exotic plants — i.e., weeds — that grew here during the abandoned years.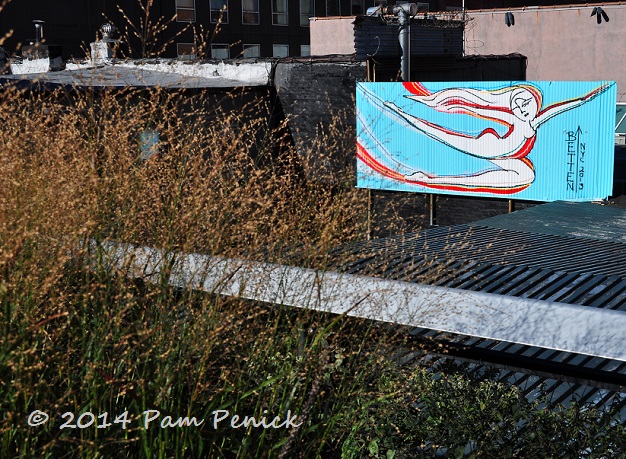 Warm-season grasses, which don't really get going until midsummer and bloom in fall, dominate large sections of the gardens and were aglow this sunny morning. Their touchable texture encourages you to run your hands along sweeps of prairie dropseed, sideoats grama, autumn moor grass, switchgrass, and little bluestem.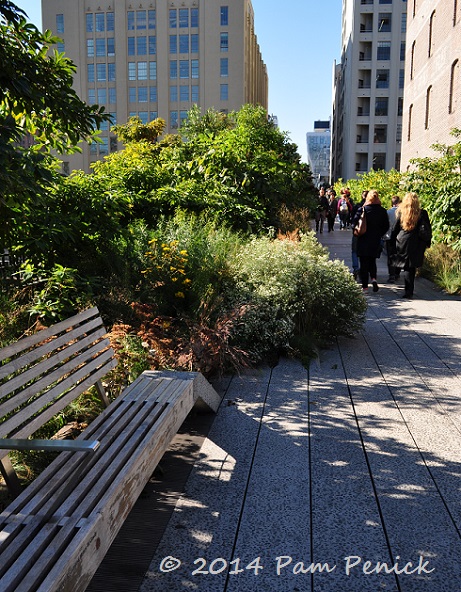 Alternating with open "grasslands" are sections of path enclosed by shrubbier plants.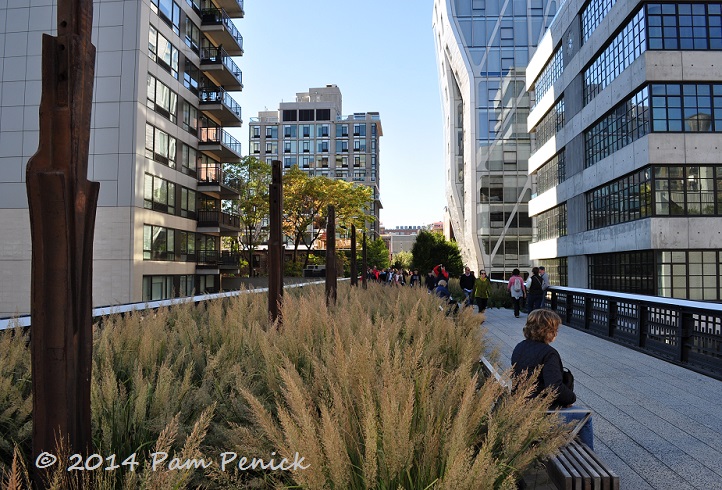 The High Line gives you an up-close look at many interesting buildings along the way, and sometimes into the windows of residential apartments and studios.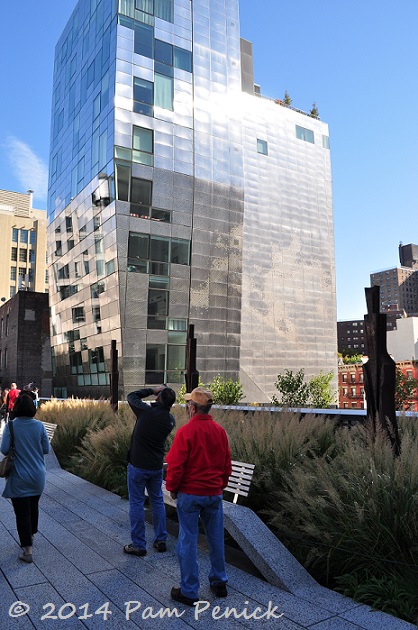 This is 245 Tenth Avenue, one of the many new condominiums springing up along the High Line.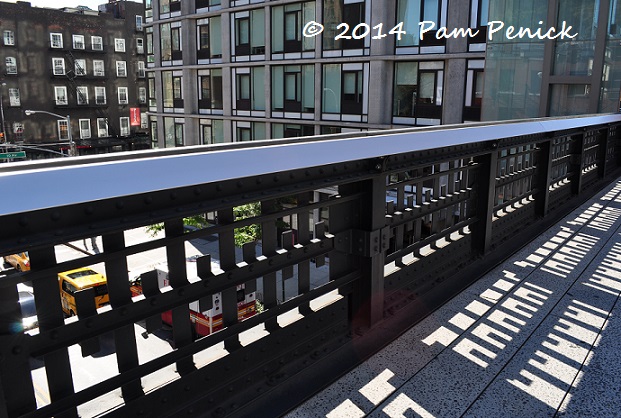 The original railings over streets, which create a fascinating shadow play, have been preserved.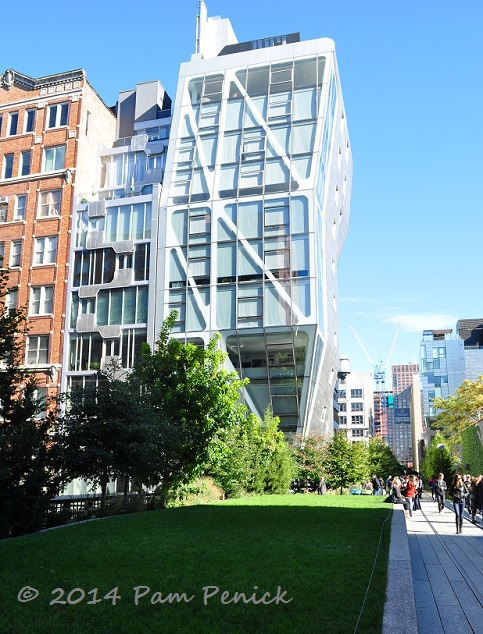 A rectangular lawn overlooks 23rd Street along its length. A bit threadbare, it was closed for renovation during our visit.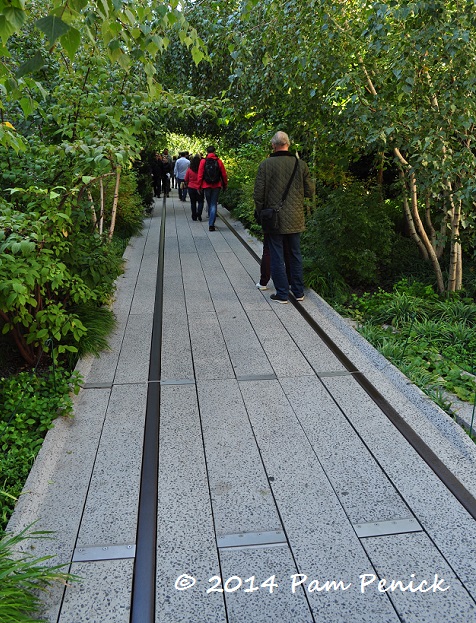 Passing the open lawn you enter Chelsea Thicket, a densely planted, tunnel-like space that makes you feel as though you're walking through a forest.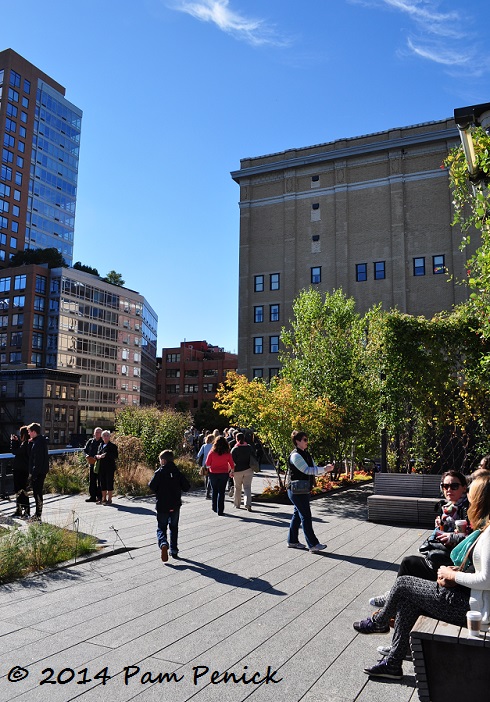 You emerge into another grassland and a small plaza whose openness is enhanced by contrast with the thicket.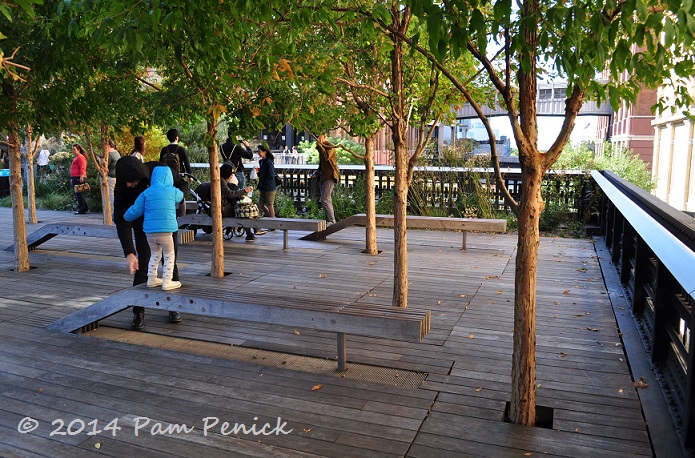 Just ahead is a popular spot, Tenth Avenue Square, with peel-up benches arrayed under a bosque of maple trees.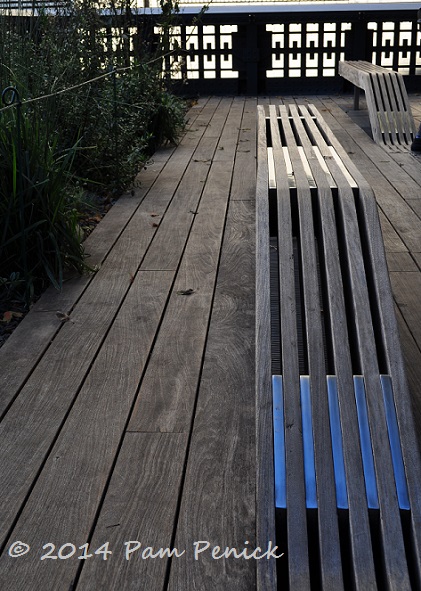 Those peel-up benches make fun ramps for kids.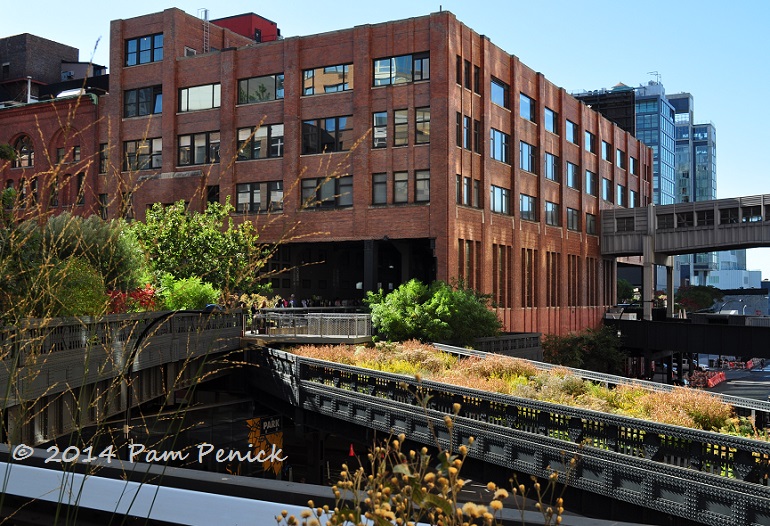 From the square you get a nice view of the Northern Spur Horticultural Preserve, a short, nonwalkable section that's planted to evoke the wildscape that preceded the park.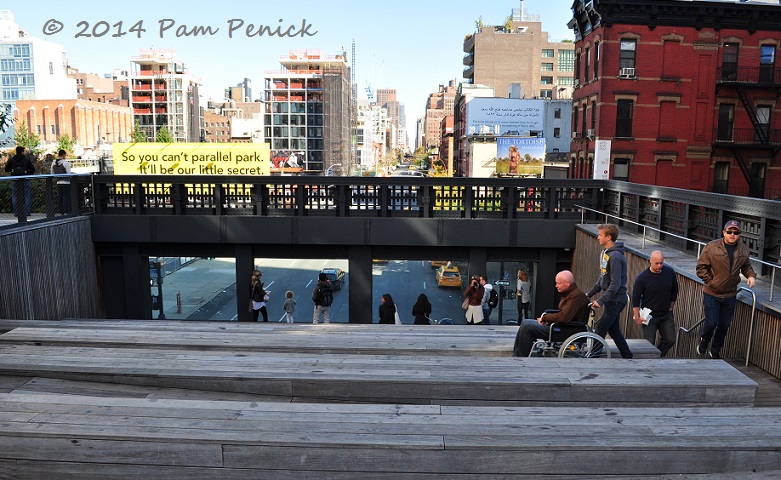 Before the High Line was built to move the trains off the streets, Tenth Avenue was known as Death Avenue because of all the train-pedestrian accidents. Today the Tenth Avenue Amphitheater offers bleacher-style seating and a framed view of car and pedestrian traffic on the street below.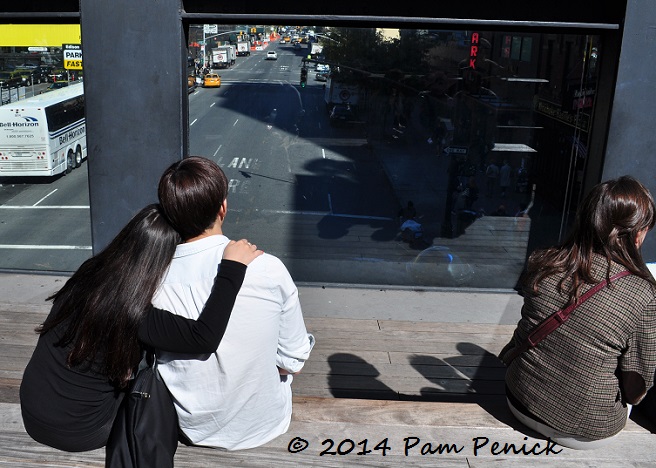 As hypnotic as a flickering fireplace, the Tenth Avenue view holds your attention, even on a sleepy Sunday morning. In the movie What Maisie Knew, a charming scene was filmed here, and I was excited to see it in person.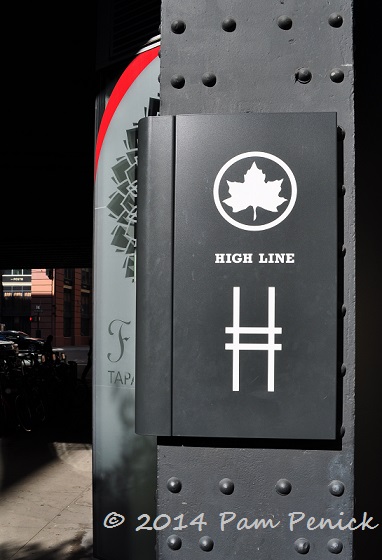 At this point, my daughter and I took the stairs down to Chelsea Market, an indoor retail and food market, for brunch. We came back up about an hour and a half later, sat on the bleachers for a while, and then continued our southbound High Line walk.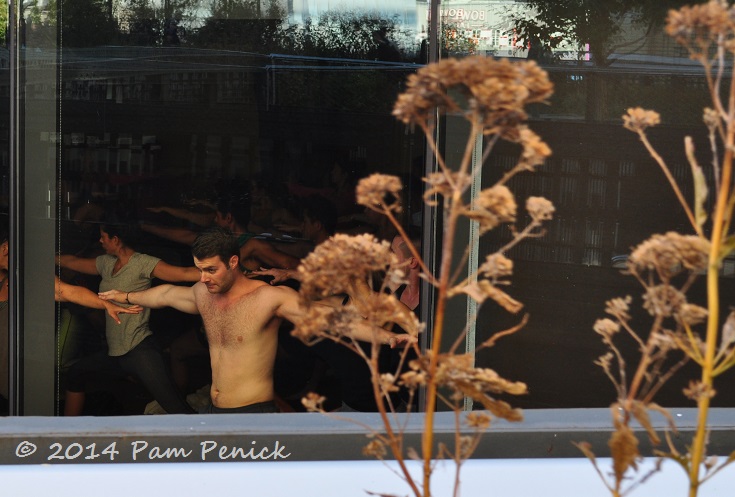 A yoga studio whose windows are level with the High Line had a class in session, and we stopped to watch for a few minutes.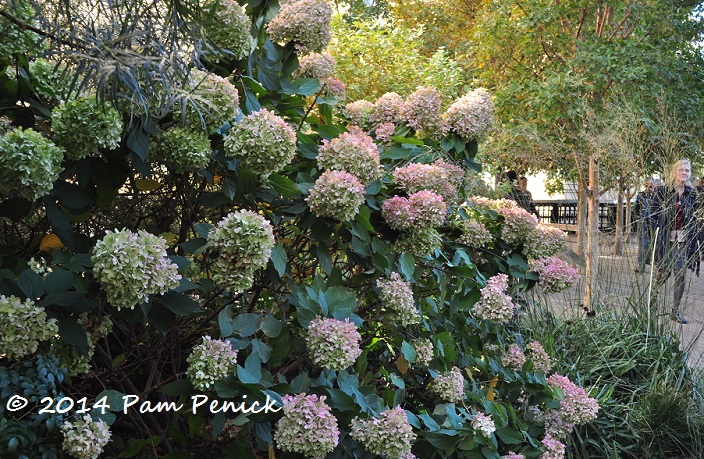 Moving on, I noticed blush-pink hydrangea blossoms fading to green in the chilly fall weather.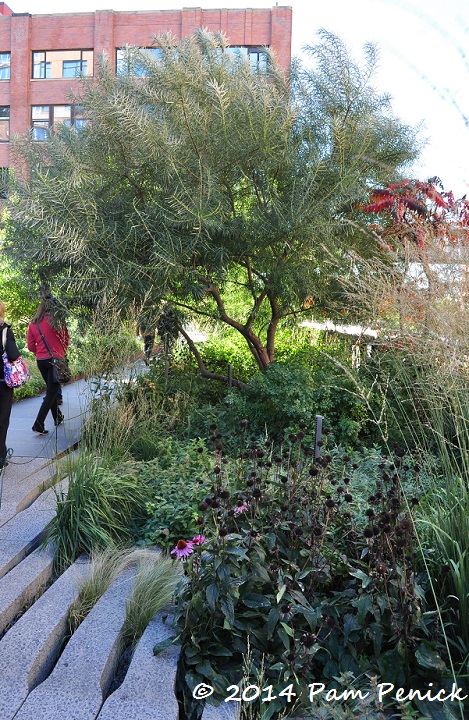 Purple coneflower had gone to seed as well. Like all perennials on the High Line, they'll be left standing through winter to provide food and cover for birds and other wildlife plus interesting views for visitors. In late winter everything is cut back to allow spring bulbs their shining moment and make room for new growth.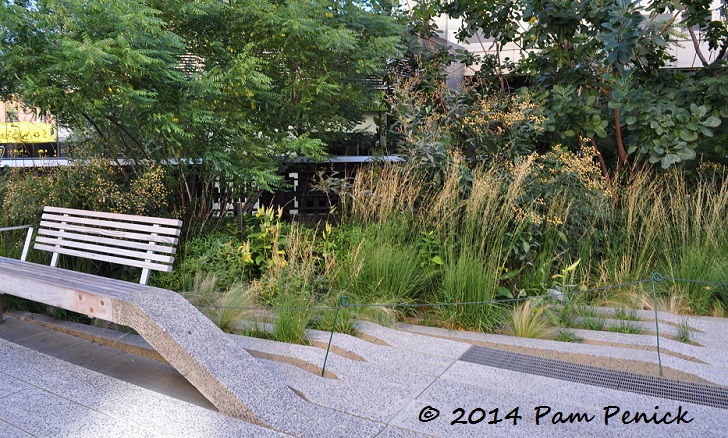 The design of paving strips with plants growing between them is one of the splendid design elements of the High Line, evoking the way plants colonize manmade structures over time. Unfortunately, their raised edges, which blend so well into the walkable paving, are a tripping hazard. You can see that low cable barriers have been installed, probably in an attempt to keep people out of the plants as well as to prevent tripping. But the irregular design that looks so great makes it difficult to rope off all the raised edges, and I stumbled over them a few times myself. The cables also detract unfortunately from the clean design of the paving. It's too bad that the planted strips weren't made level with the paths, but too late now.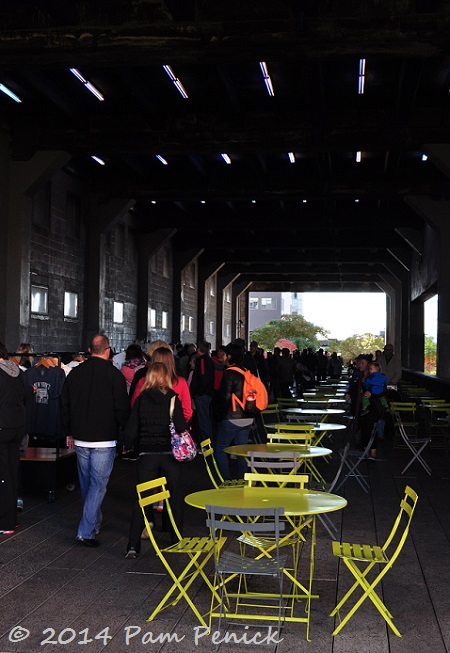 Continuing south we entered Chelsea Market Passage, where trains once loaded and unloaded goods in the old Nabisco building. Today it's a covered plaza with colorful bistro seating and art, food, and souvenir vendors.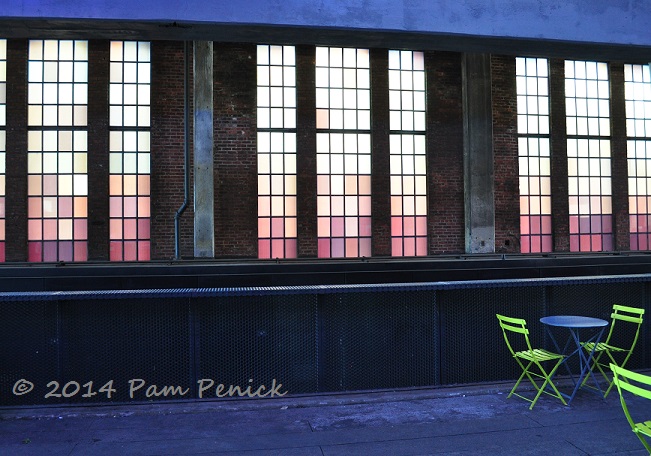 The stained-glass windows in the Passage are an artwork by Spencer Finch called The River That Flows Both Ways, referring to the tidal movements of the Hudson River. Finch spent a day on the Hudson photographing the river once a minute. One pixel of color from each image was arranged chronologically on the windows to represent the passage of time and the elusive color of water. The actual colors at top are much bluer than my camera captured.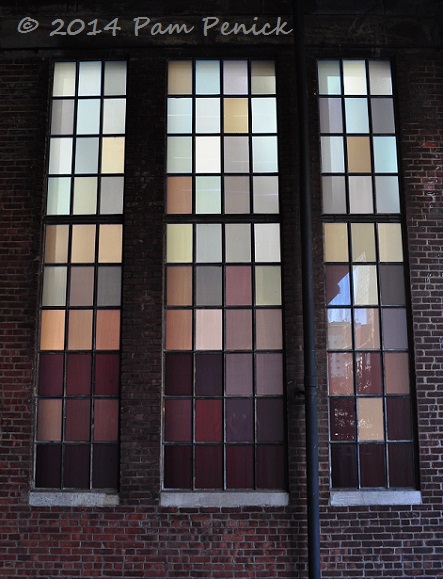 This is a little better.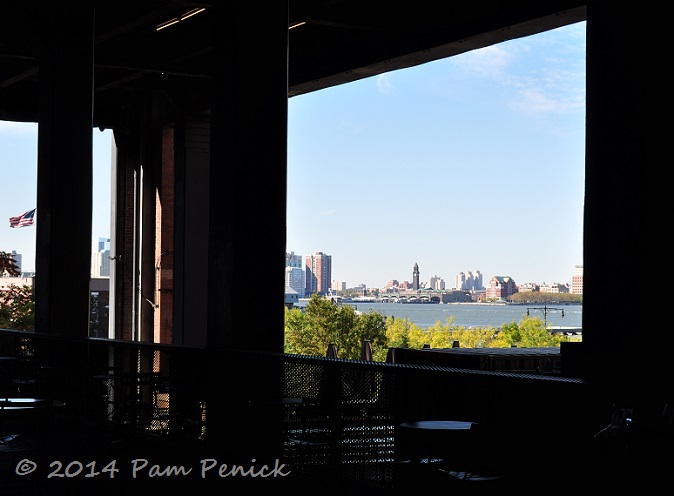 And there's the Hudson itself, one of many views you can enjoy from various points along the High Line.
Coming up: Part 2 of my visit to the High Line, continuing south to the steps at Gansevoort Street and our return northbound stroll later that afternoon.
All material © 2006-2014 by Pam Penick for Digging. Unauthorized reproduction prohibited.
posted in
Bosque
,
Design
,
Garden art
,
Garden tours 2014
,
Grasses
,
Green roofs
,
Lawns
,
Markets
,
Murals
,
Parks & greenbelts
,
Paths
,
Patios & decks
,
Public art
,
Rivers & creeks
,
Sculpture
,
Seating
,
Travel
,
Trees
,
Views
,
Walls
,
Wildflowers
,
Windows