October 8th, 2014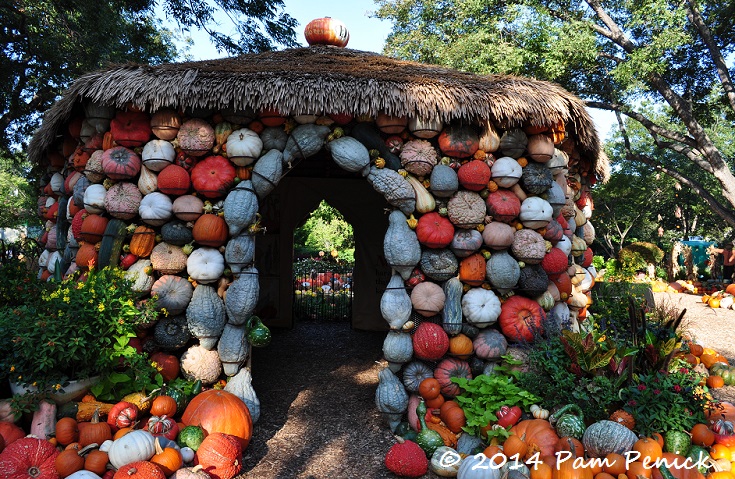 The Dallas Arboretum goes pumpkin crazy each fall.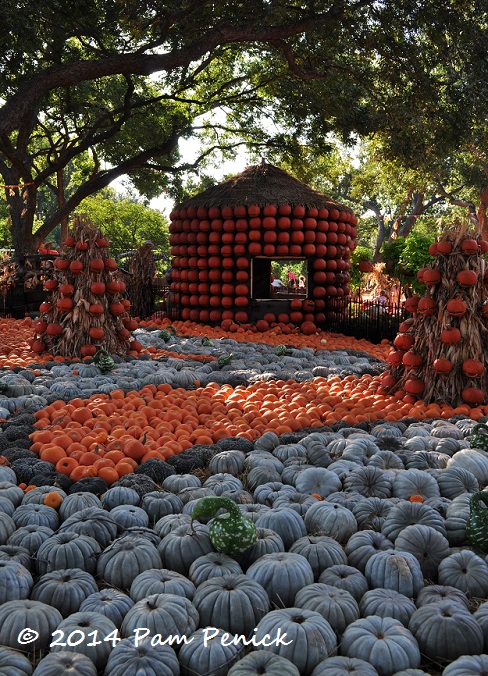 Last Sunday we visited to see their over-the-top Pumpkin Village, in which a whopping 65,000 pumpkins, gourds, and squash are used to create play houses, line paths, and fill a pumpkin patch that would make Linus proud.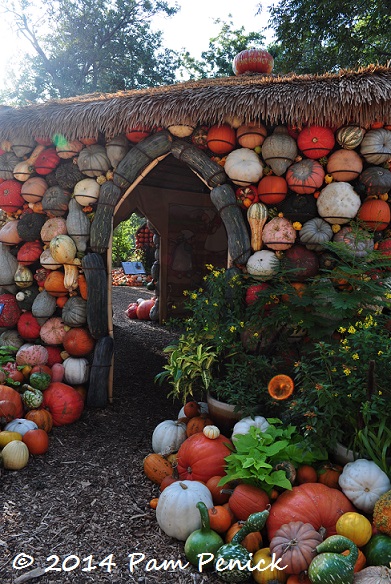 The pumpkin houses are fun for kids and adults alike.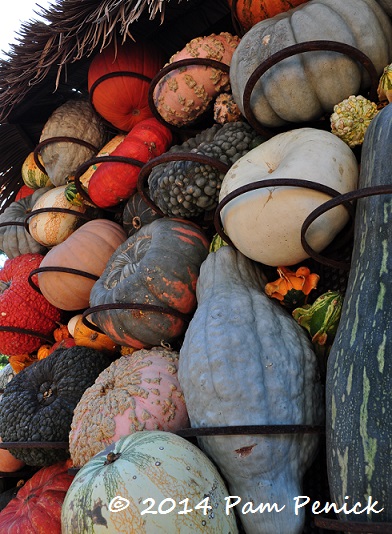 Metal rings on the walls hold an assortment of pumpkins and squash.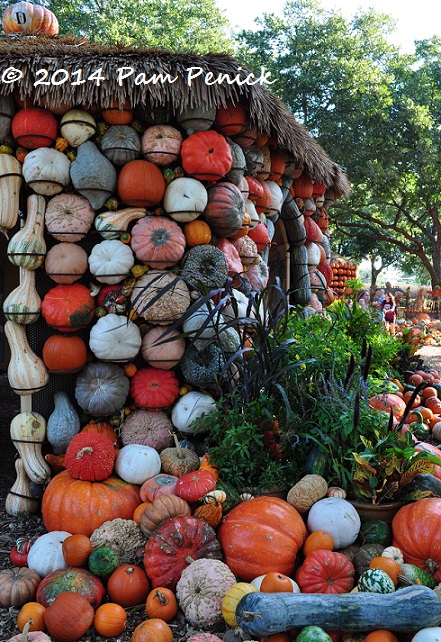 More are piled around the doorways in artful displays.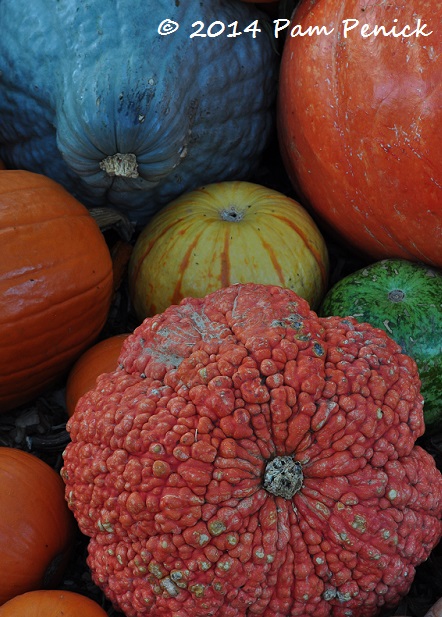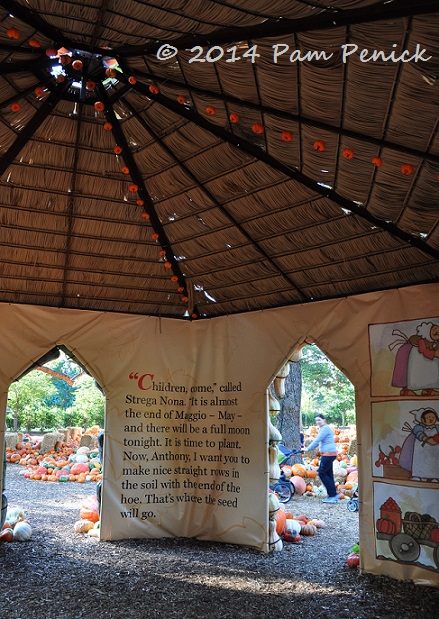 Interiors are decorated with strings of tiny pumpkins along thatched ceilings and printed children's stories on the walls.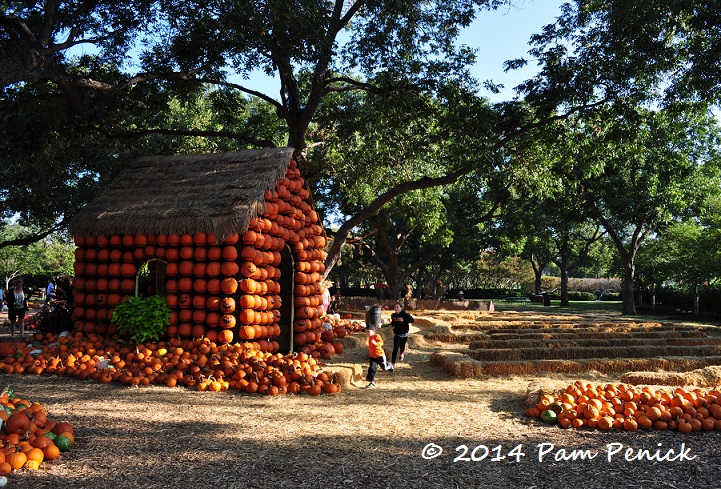 As in in any proper village, the houses have unique designs. This one is all orange pumpkins.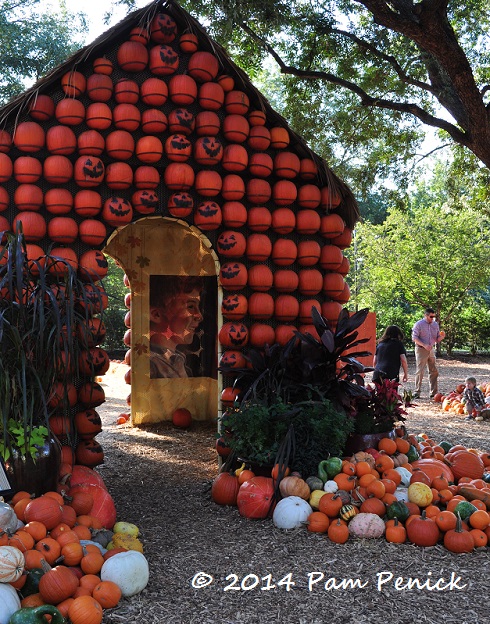 Spray-painted jack 'o lantern faces on some add a little spooky fun.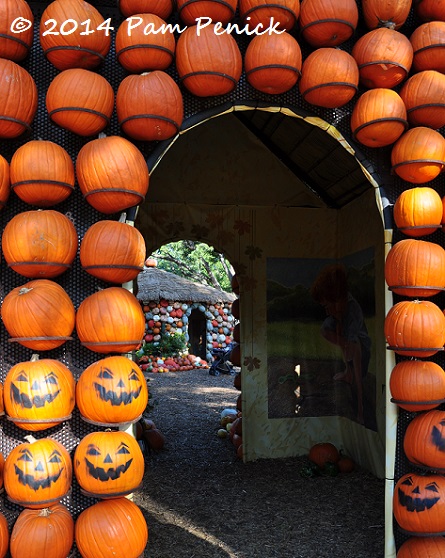 But not too spooky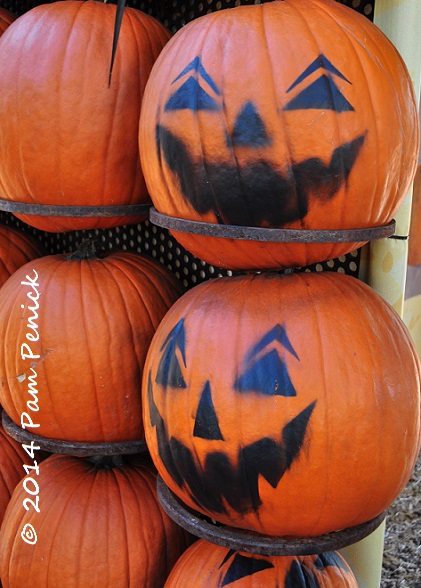 This is a smart way to decorate pumpkins in the South, where those carved too soon collapse in on themselves in the heat.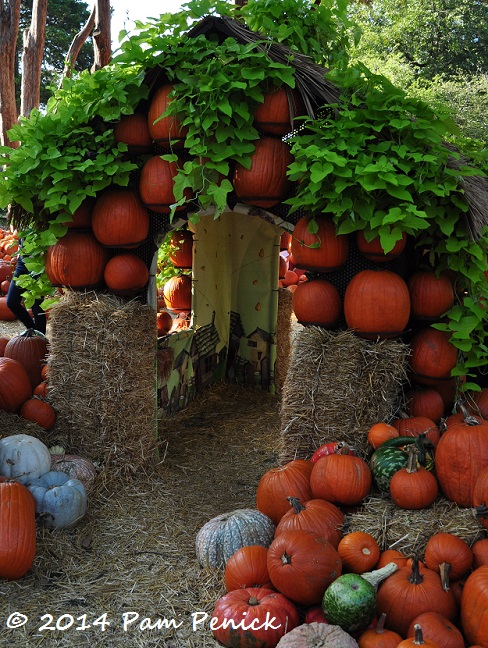 This house is truly child-sized. Potato vine spills across the roof like a fairy tale beanstalk.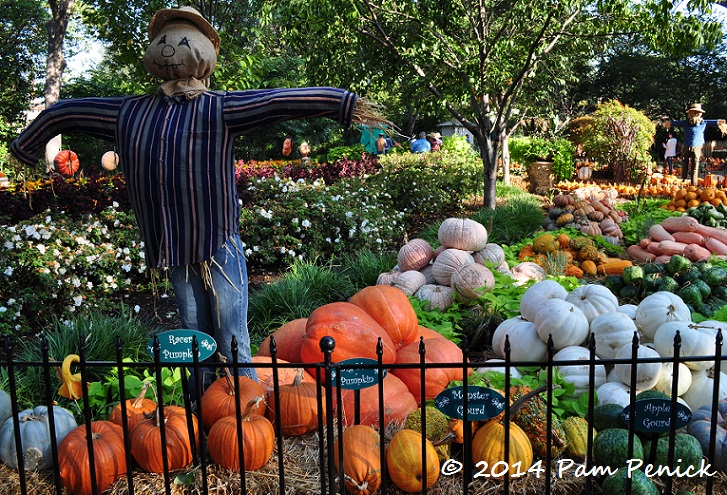 A fenced pumpkin patch guarded by friendly scarecrows contains pumpkins grouped by type — and there are so many varieties! Hand-lettered signs tell you what each type is called.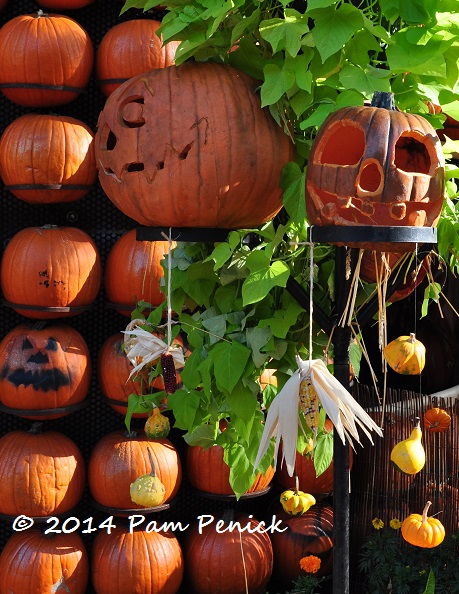 Boo!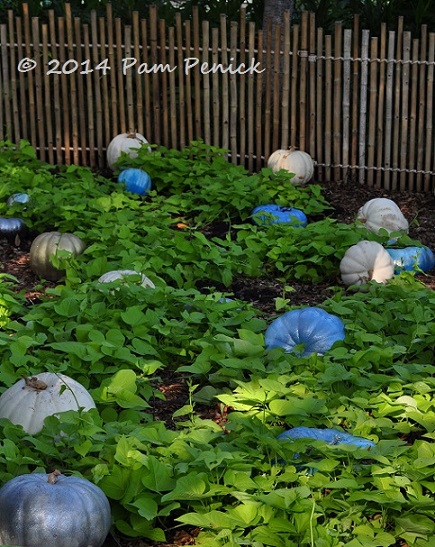 Cinderella's carriage, pulled by horses made of cornhusks and other natural materials (sorry, my pics didn't come out), sits near a pumpkin patch filled with blue-painted and white pumpkins. I like how the sprawling sweet potato vines stand in for pumpkin vines.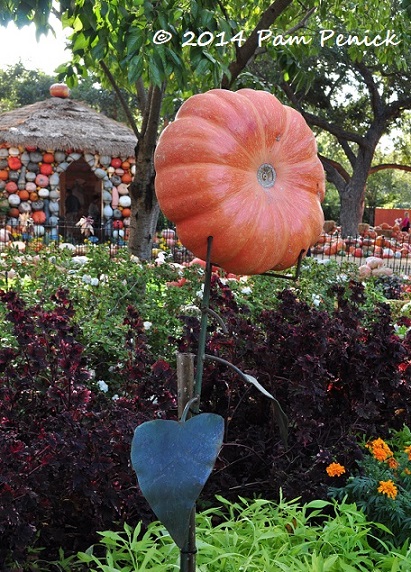 Pumpkins also transform into sunflowers!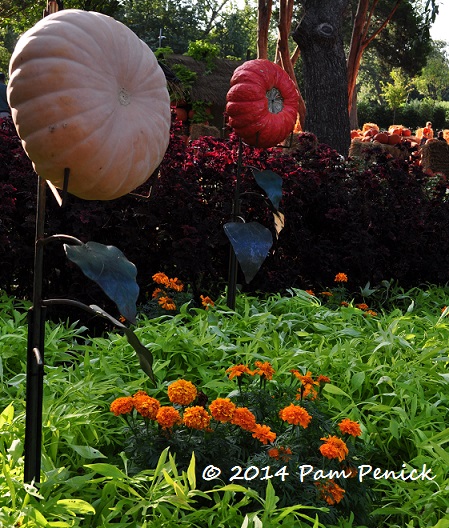 I think these are adorable.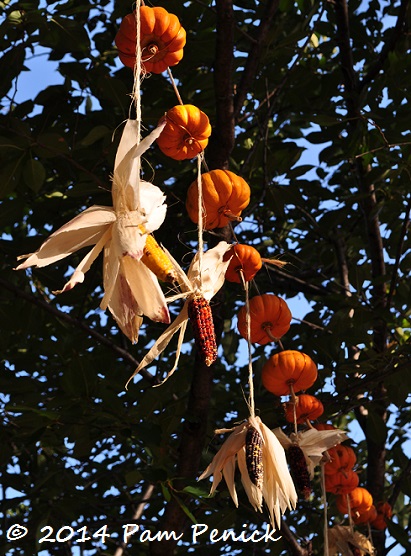 Indian corn and tiny pumpkins are festively strung between trees.

How do they do it? Copper wire wraps the pumpkins and corn and secures them to a steel cable.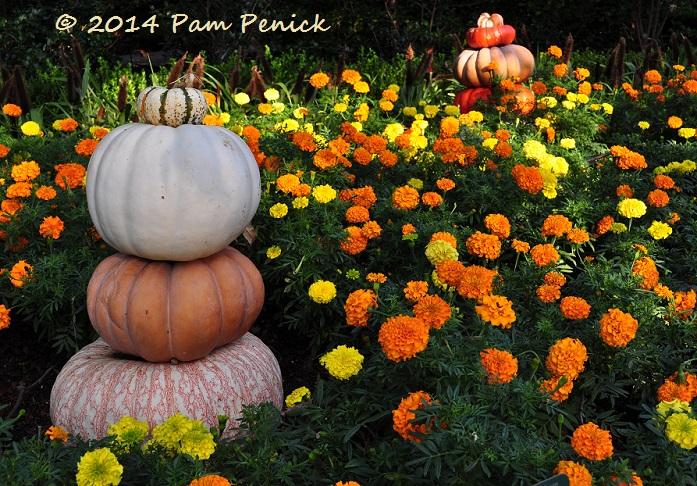 Stacked pumpkins, like Halloween totem poles, add structure to beds of colorful marigolds.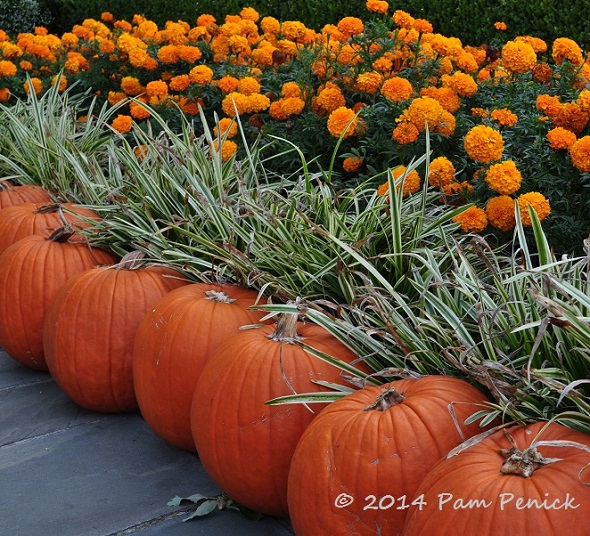 Orange marigolds echo the pumpkins' shape and color.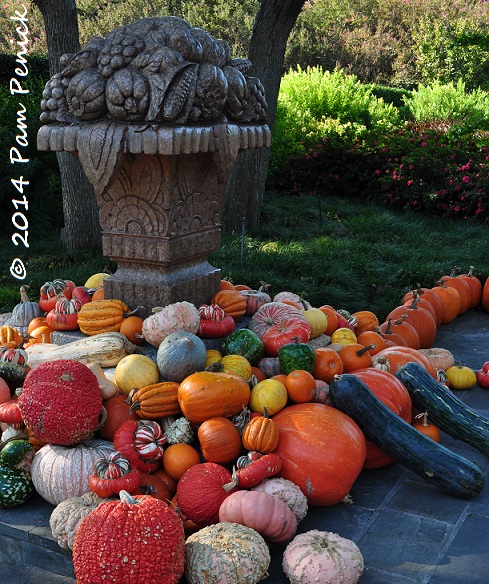 A statuary cornucopia is surrounded by a real-life one.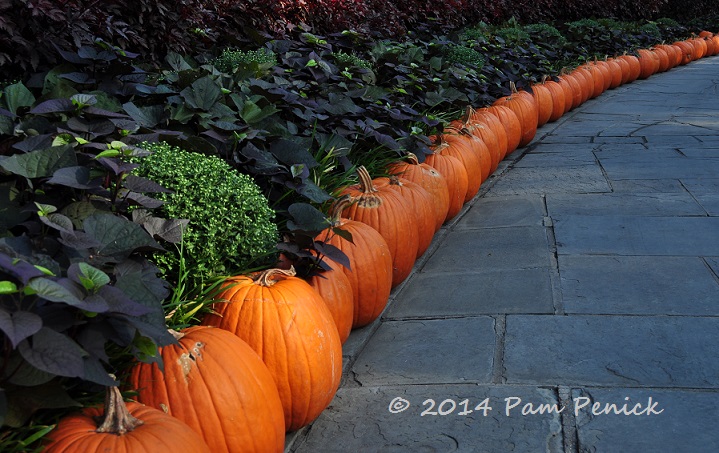 Orange pumpkins beyond count line the paths.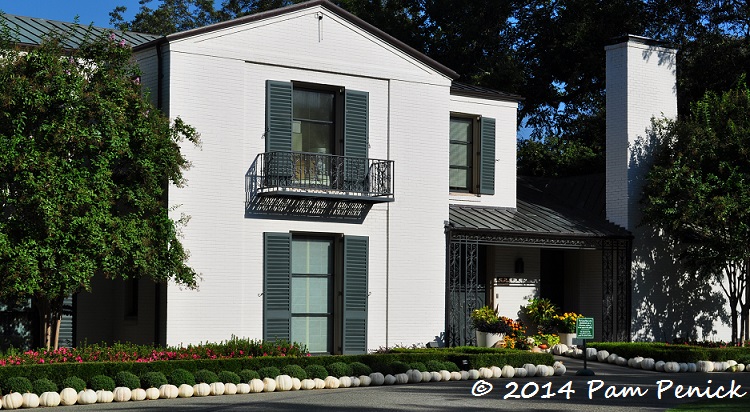 White pumpkins take over by the Alex Camp House to match the white brick.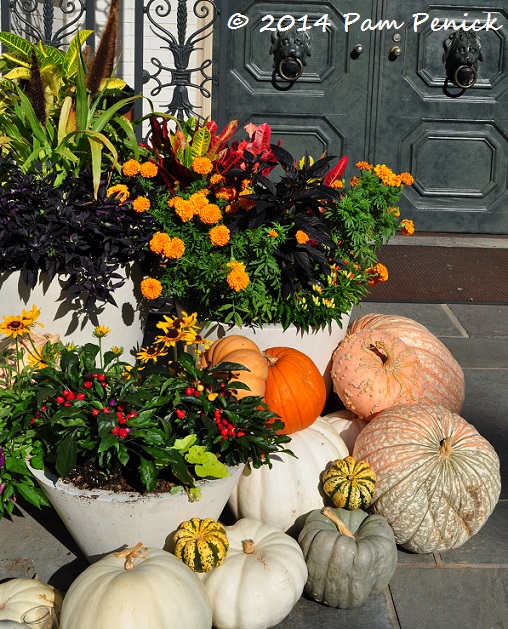 The front porch display features white pots filled with fall annuals and more pumpkins.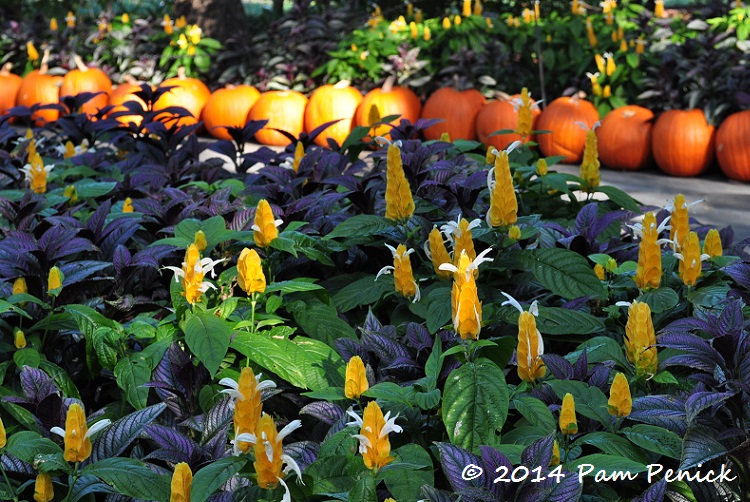 This is an unexpected and fun combination: golden shrimp plant and Persian shield, with more pumpkins along the walk.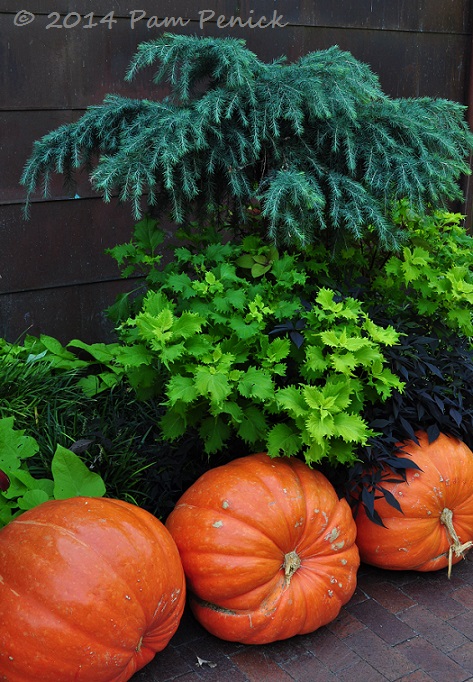 I also love this vignette, though I don't know what the plants are.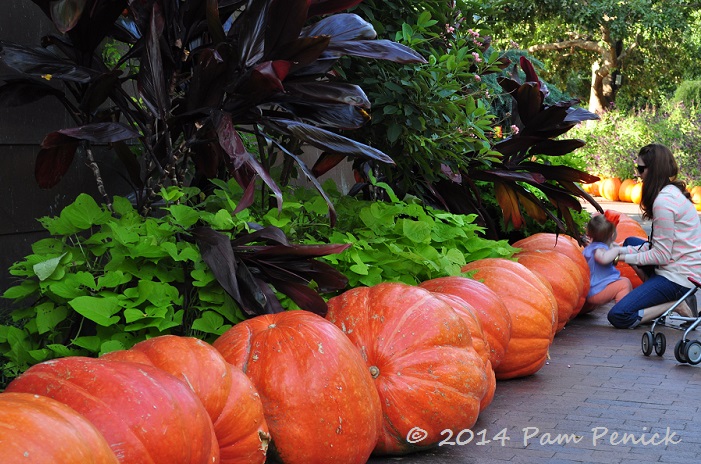 Just look at the size of those pumpkins!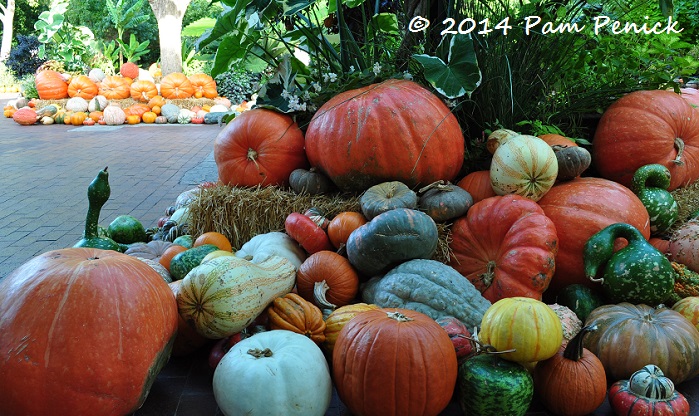 Piles of pumpkins, squash, and gooseneck gourds adorn the entry garden.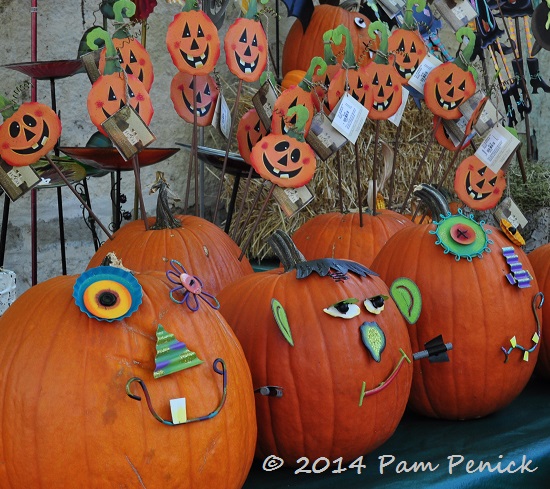 The gift shop is getting in on the action too.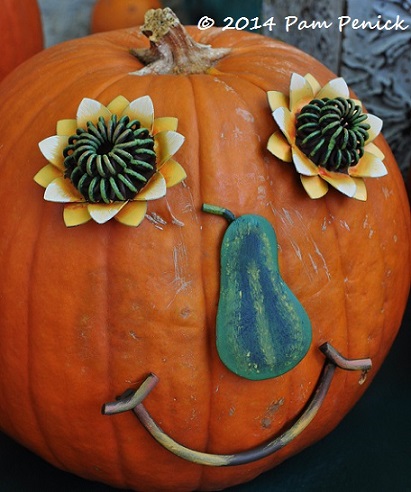 If you want to bask in the pumpkin glory, the Pumpkin Village will be on display until November 26. (I hated to see it so early, but they're also already putting up the Christmas display, which opens November 16.) The Arboretum is offering early admission hours on weekends through the end of October: 8 a.m. for visitors and 7 a.m. for members. And if you're a member of the Lady Bird Johnson Wildflower Center, you'll enjoy reciprocal free membership at the Dallas Arboretum!
Up next: Monarchs flutter into Dallas Arboretum on their fall migration
All material © 2006-2014 by Pam Penick for Digging. Unauthorized reproduction prohibited.