September 15th, 2014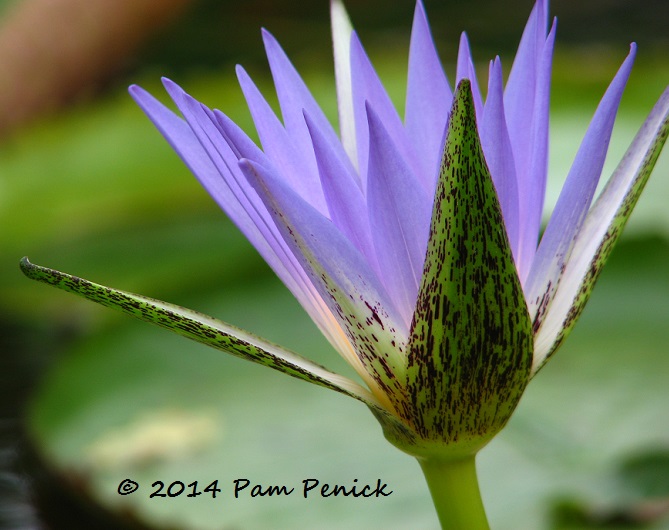 Perched on the northern edge of the Chihuahuan Desert, about 200 miles northwest of Austin, the small city of San Angelo is, surprisingly, home to a locally treasured and internationally known water lily garden, the International Waterlily Collection. Then again, maybe it's not all that surprising, given that San Angelo, which straddles the beautiful Concho River, is known as "the oasis of West Texas."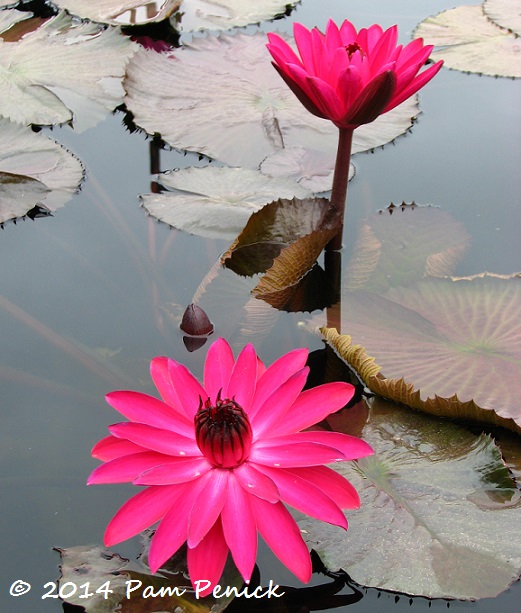 Still, San Angelo, like much of Texas, is in the grip of a throat-squeezing drought, and residents are having to adapt to watering restrictions and the potential for serious water shortages, made more urgent by a boom in oil fracking to the west, which uses copious amounts of fresh groundwater and has brought an influx of newcomers to the city, stressing its water supply even further.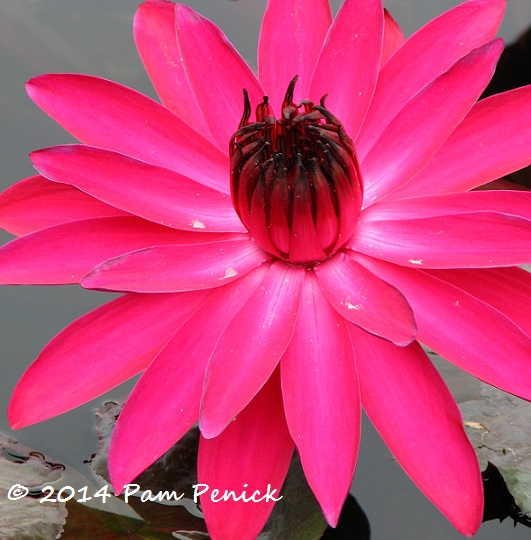 That sense of urgency about learning to live with less water is why I was invited to speak about "losing the lawn" at the Fall Landscaping Symposium hosted by the Concho Valley Master Gardeners last Saturday. Many of the gardeners I met there, all so friendly and welcoming, asked me if I'd seen the town's water lily garden yet. Well, no, I hadn't.
Since San Angelo had already surprised me with the contradiction of a lovely river (dammed, like Austin's Colorado River, for a constant level and flood control) flowing through a drought-stressed region, I decided to stop by Civic League Park after my talk to see the wettest garden one could ask for.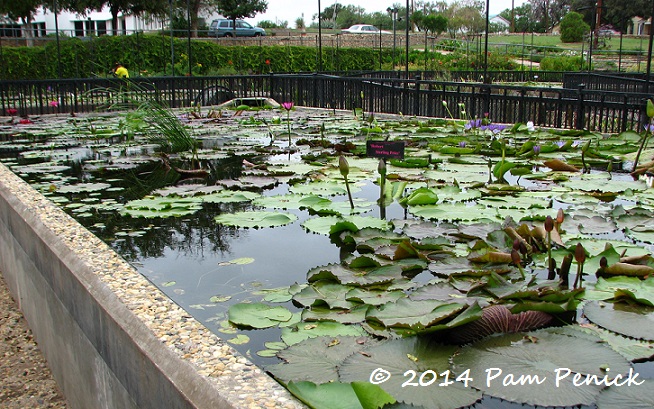 My husband had accompanied me to San Angelo, and we drove over to the park together. Our first glimpse of the water lily garden, a grid of raised, concrete-edged pools, was obstructed by the iron fencing that surrounds each one. Still, we could see confetti-colored blooms on the ponds, so we walked down the path between terraced beds of roses, bold-leaved annuals, and flowering perennials like garlic chives for a closer look.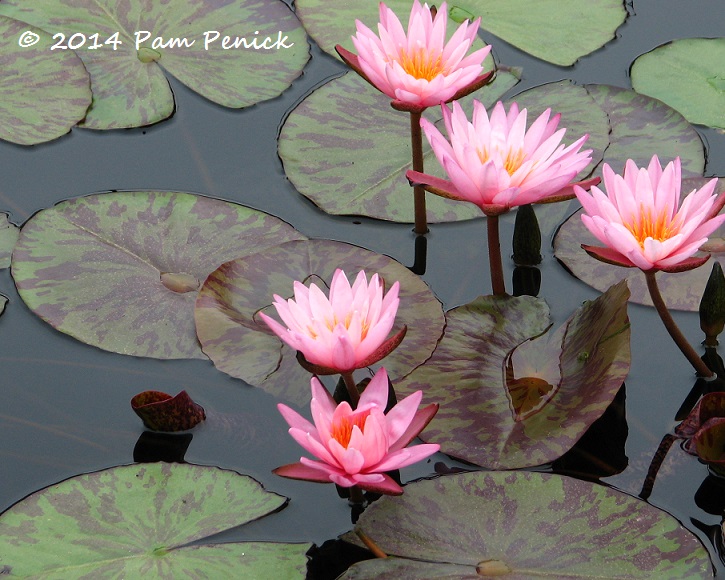 And how glad I am that we did! Up close, leaning over the fencing (a necessary protective measure, it turns out, for the lilies and for young visitors), I was struck by the number and variety of the lilies: hardy ones, tropicals, night-blooming, each loaded with fat buds and starry, candy-colored blossoms, their mottled or green leaves spreading across the water's surface like so many platters on a Thanksgiving buffet.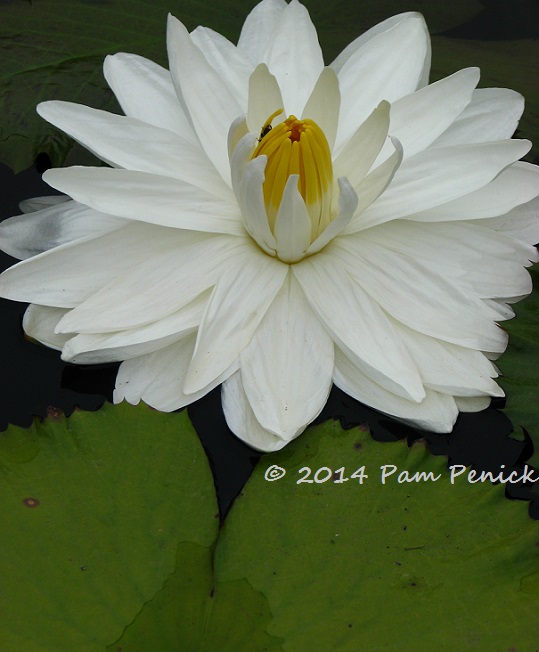 With a graceful, star-shaped form (rather like certain agaves, come to think of it), the flowers are very beautiful. Many are fragrant as well, although on this chilly day we were not able to detect any sweet smells.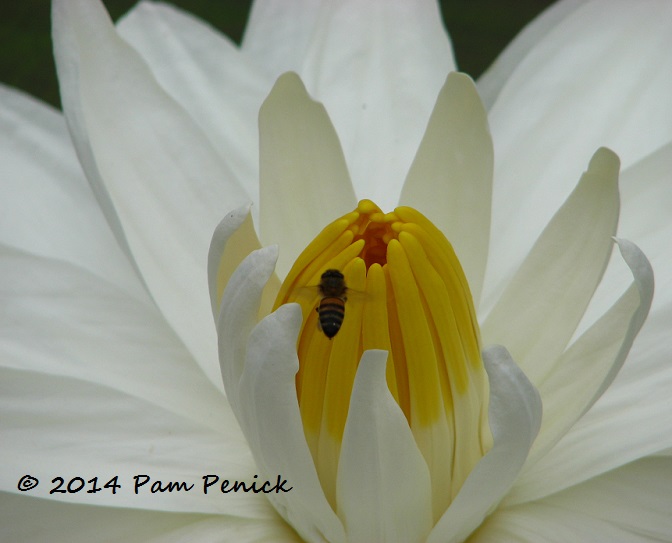 The bees, however, seemed to sense their sweetness.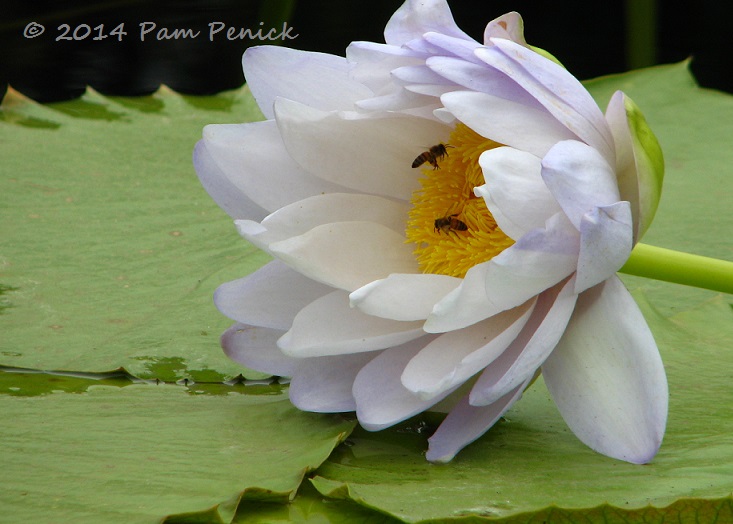 They buzzed about and wallowed greedily amid the stamens.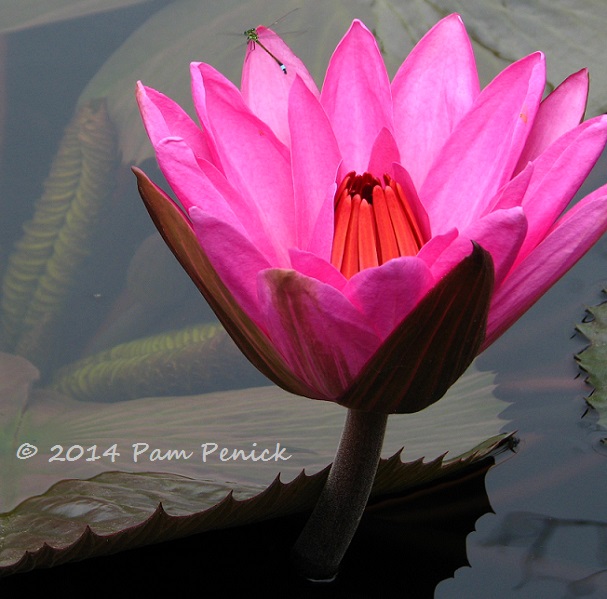 Damselflies rested on the petals.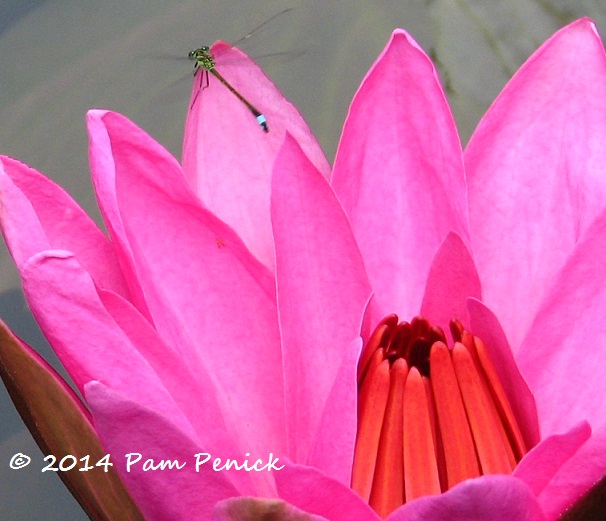 A closer look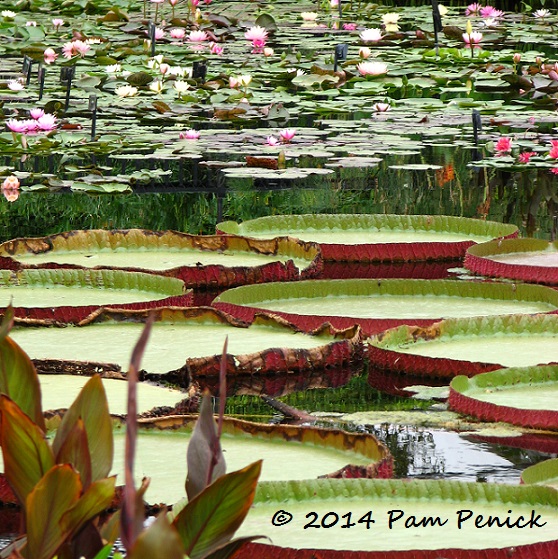 Long views across the ponds show a rainbow assortment of water lily blooms, plus the coffee-table-sized leaves of a Victoria amazonica, which, as photos on the garden's Facebook page illustrate, are large enough to support a child's weight.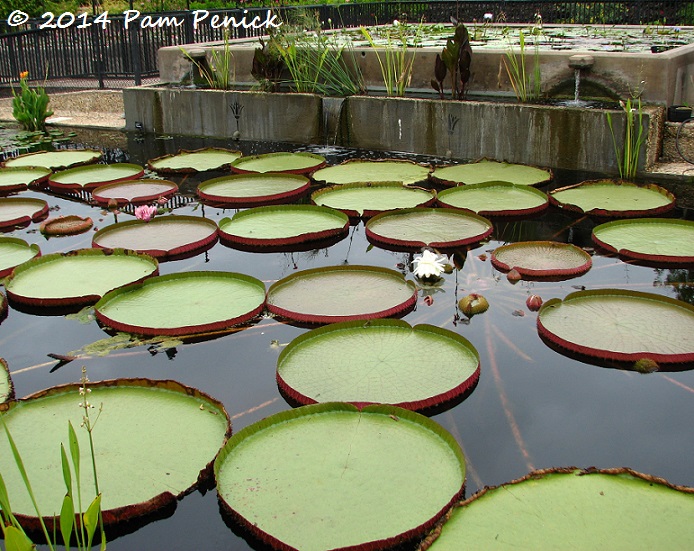 Although Victorias are night-blooming, we saw frilly open flowers in mid-afternoon, perhaps because the day was overcast.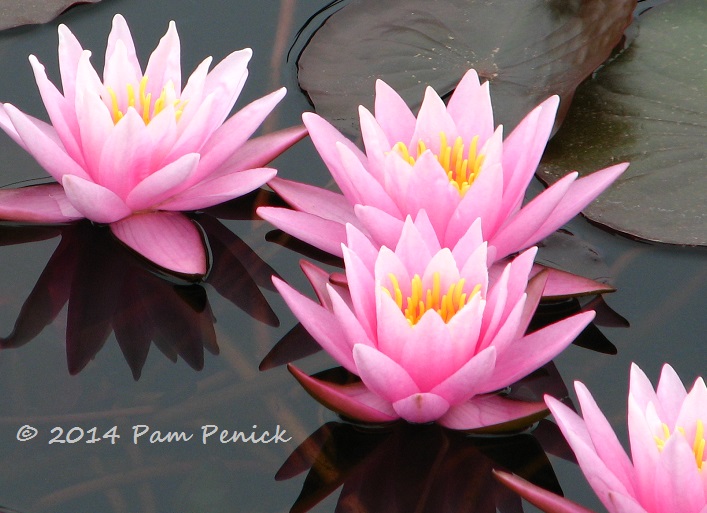 The collection and display garden is largely the work of one man, plant hunter Ken Landon, whose passion for water lilies has been embraced by the entire town. To celebrate the peak bloom of his lilies, San Angelo hosts LilyFest each year in September.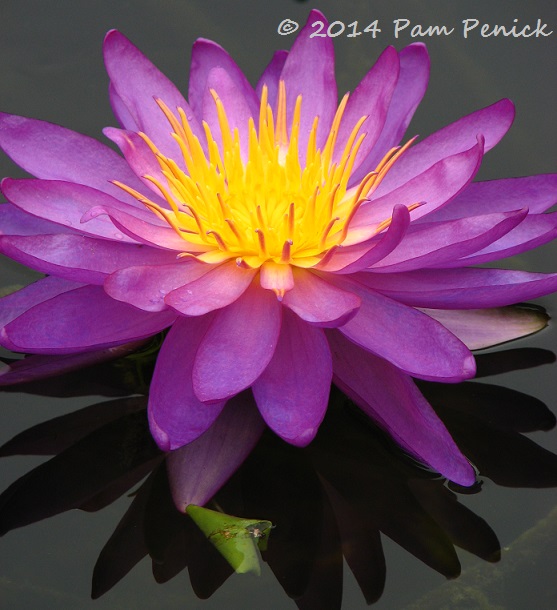 This year's LilyFest will be held this Saturday, September 20th, when enthusiasts from all over the world will come to see Ken's collection, which includes his celebrated hybrid introductions, like Nymphaea 'Blue Cloud' and 'Texas Dawn', adopted as the official water lily of Texas; endangered lilies from around the world; and even a shade-flowering water lily.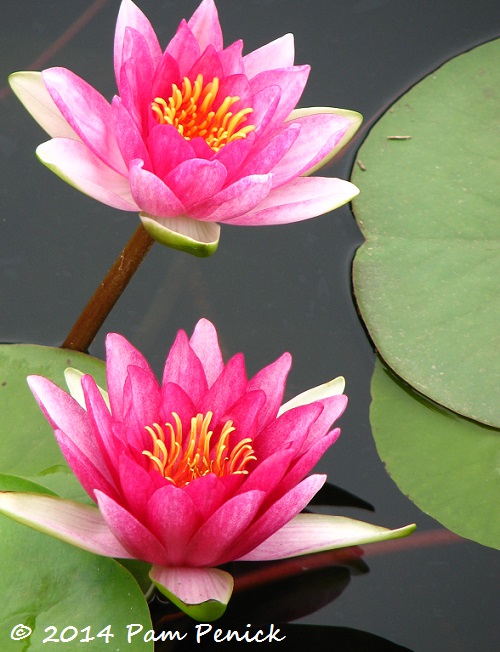 According to a New York Times article about Ken and the garden (an excellent read by Anne Raver), he worked for 10 years without pay but with the city's blessing to transform the park from a single, WPA-era reflecting pool into today's lily ponds, building the walkways and installing fencing himself too.
.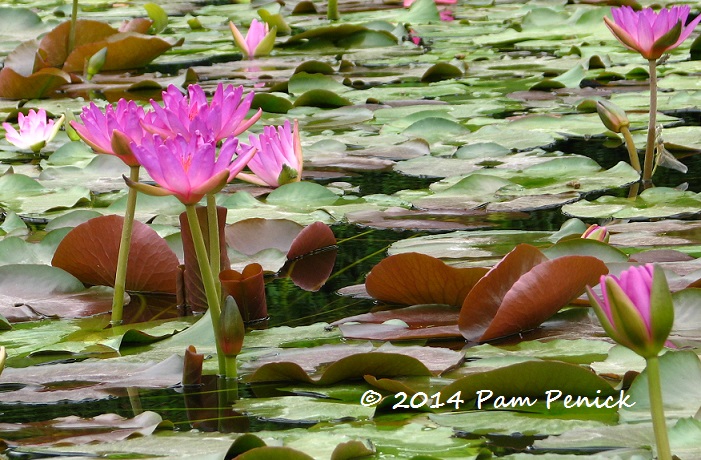 It's Ken's gift to the city of San Angelo, and San Angelo's gift to the water lily lovers of the world.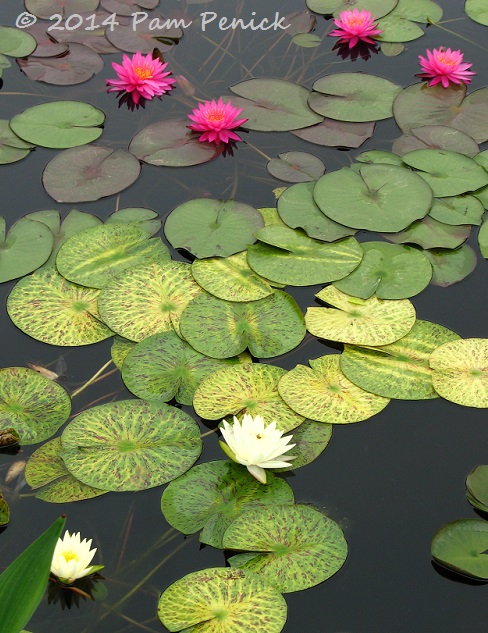 Some might question the wisdom of keeping a pond garden in an epic drought, and in 2012, as the city council debated enacting watering restrictions that would end all municipal watering and the running of city fountains, the garden's fate was in doubt. Supporters rallied to its cause, however, and an exemption for the ponds was approved.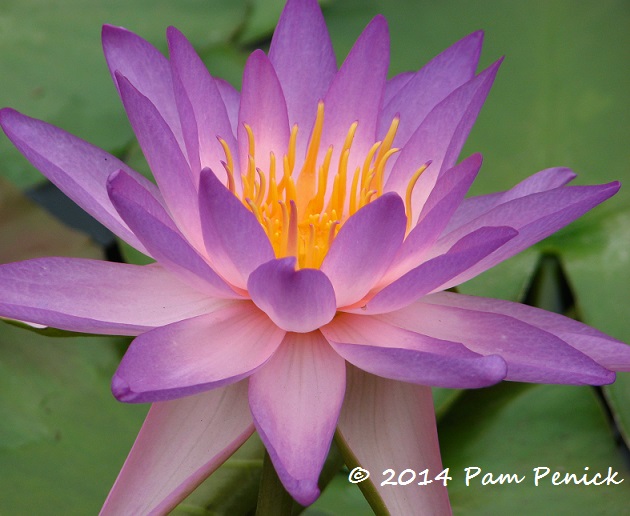 I'm glad. The driest places need symbols of watery abundance, as the makers of Moorish gardens knew a thousand years ago. It's an oasis for the spirit.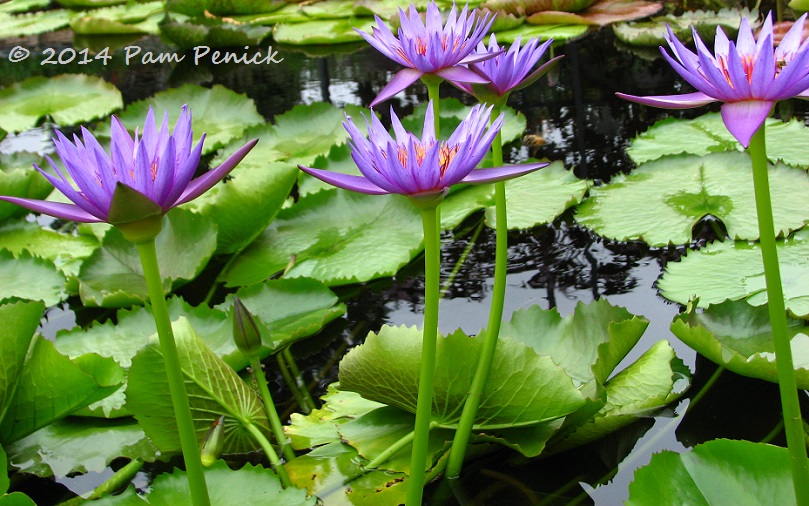 It's also a testament to the power of one person's gardening passion, shared with the community. May it never run dry.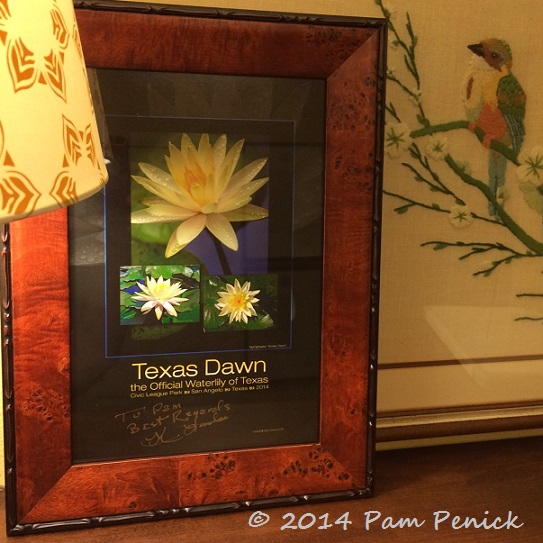 I saw our state water lily, Ken's hybrid 'Texas Dawn', at the gardens but didn't manage to get a good photo. Happily, I already had in my car a beautiful framed picture of 'Texas Dawn', autographed for me by Ken Landon — a gift from the Concho Valley Master Gardeners. Thank you, CVMG, and thank you, Ken!
Remember, LilyFest 2014 is this Saturday, September 20, 9:30 a.m. to 6 p.m., at the International Waterlily Collection at Civic League Park, 2 S. Park St. There will be classes on flower drying and water lilies available for purchase. LilyFest is held in conjunction with the City of San Angelo's annual River Fest.
Update: Since today is Garden Bloggers Bloom Day, I'm linking to May Dreams Gardens' Bloom Day post. Visit her site for links to Bloom Day posts from bloggers all over the world.
All material © 2006-2014 by Pam Penick for Digging. Unauthorized reproduction prohibited.