September 22nd, 2014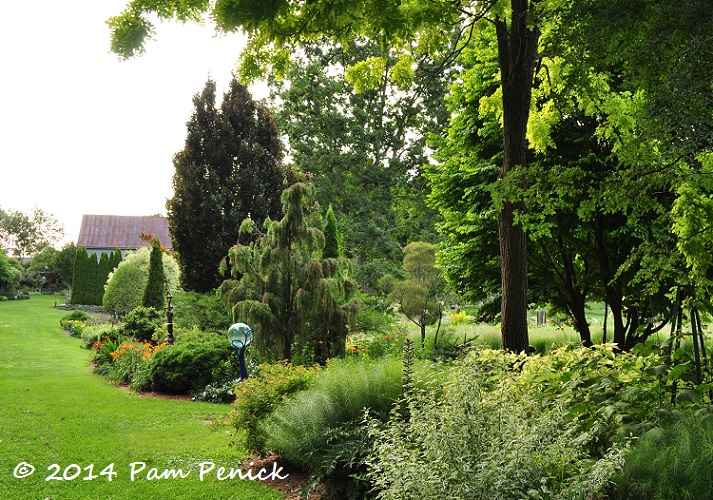 In my last post I introduced you to Bedrock Gardens, created by Jill Nooney and Bob Munger in Lee, New Hampshire, on a former dairy farm. It's a place of thoughtful design, beautiful views, eye-catching plant combinations, and fanciful found-object sculpture created by Jill.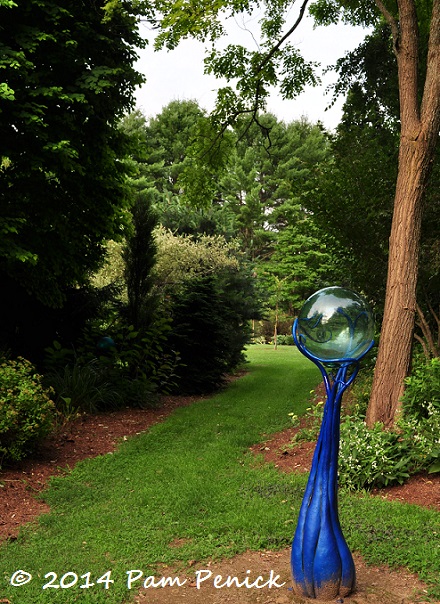 Continuing our tour, let's pause to admire one of Jill's sculptures, a sinuous, plant-like, blue base cradling a glass globe.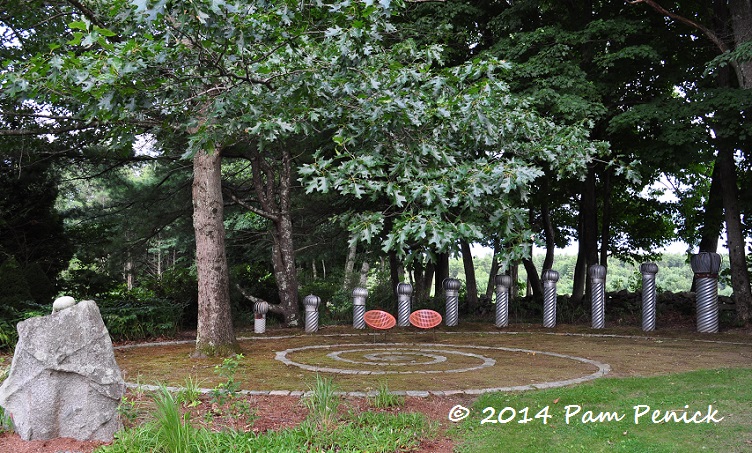 Hex Rock (at left) terminates a long axis view, and when you arrive you see, tucked under the trees, a large stone spiral set in moss. Behind it, a curving line of spinning roof ventilators atop culvert pipes seems to rise from the ground.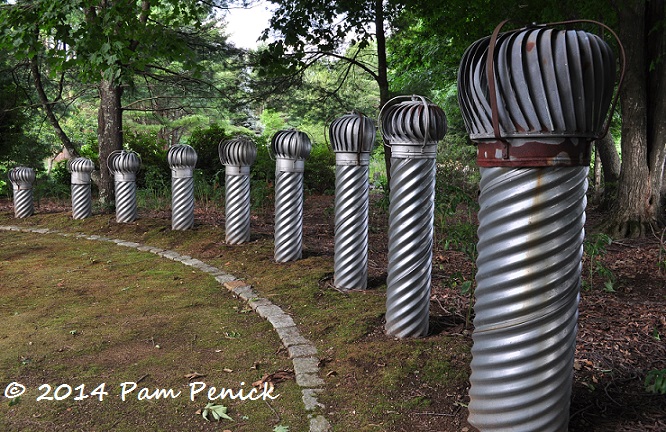 I use culvert pipes as vertical planters in my own garden, so I delighted to see them turned into art in Jill's.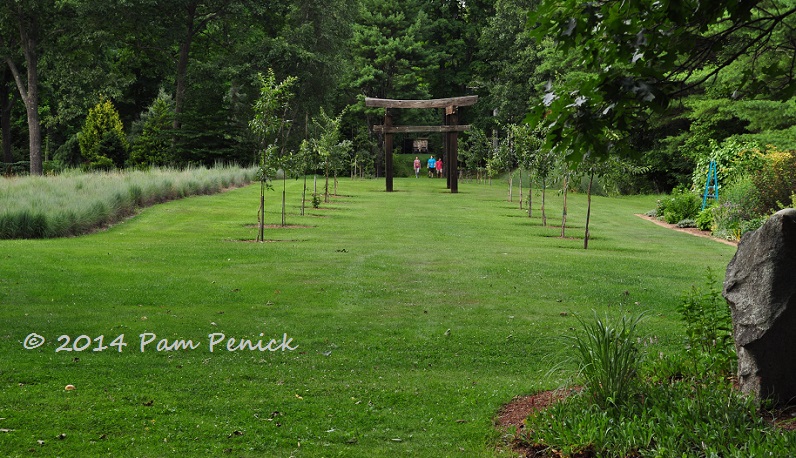 The Spiral Garden looks out on an allee of newly planted Chinese fringetree (Chionanthus retusus). The fringetrees have replaced a mature allee of Korean mountain ash, which Jill cut down when she learned it was invasive. A torii gate in the center draws the eye and invites you in.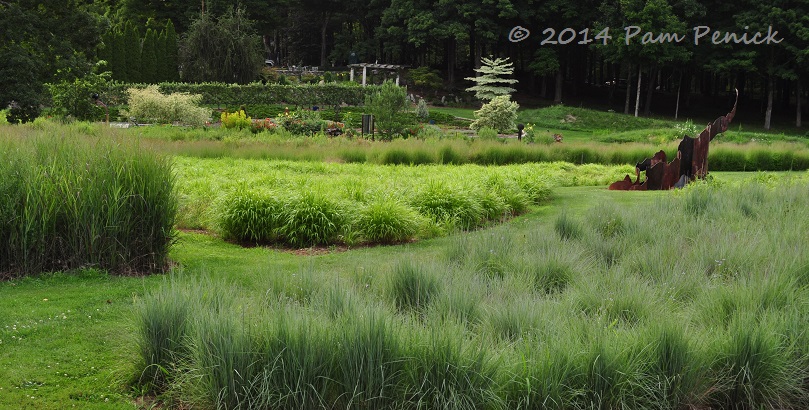 Looking left, back toward the espaliered apple fence and arborvitae hedge, you see GrassAcre coming into late-summer glory. Little bluestem, switchgrass, and hakone grass create a soft, abstract picture, with the sculpture SyncoPeaks as focal point.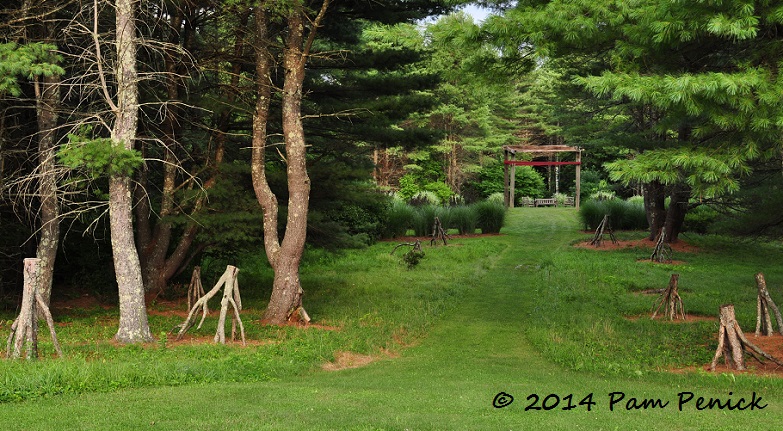 Looking right, another axis view opens up, leading the eye to the Baxis, a tall pergola in the shape of a double triangle. Stumpy remnants of the destroyed Korean mountain ash trees seem to scuttle like Thing toward this new destination.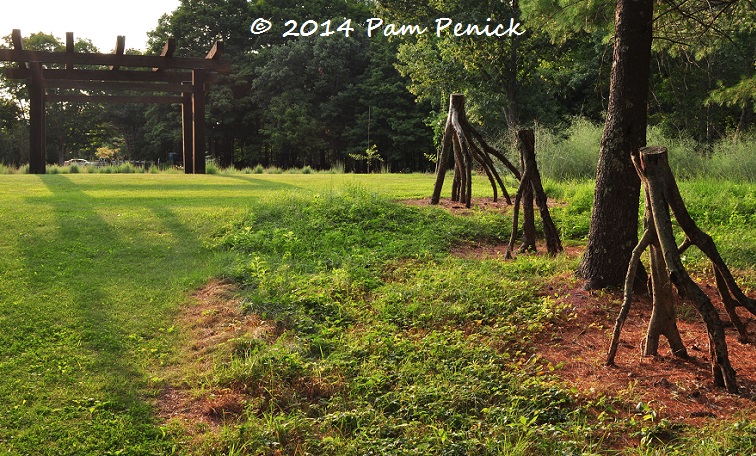 Looking back toward the torii gate as the setting sun bathes the garden in golden light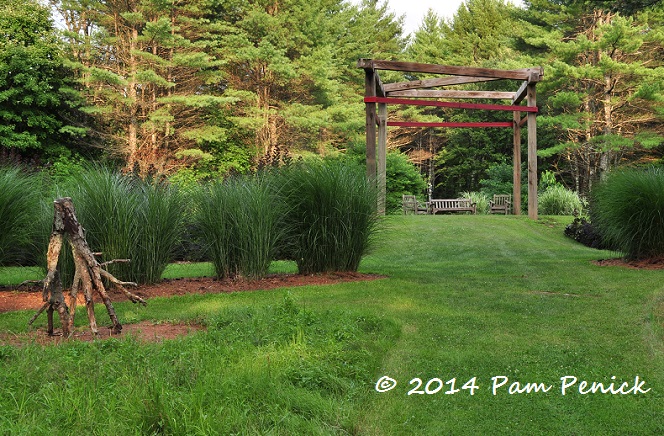 Nearing the Baxis, with tall grasses and pines framing the view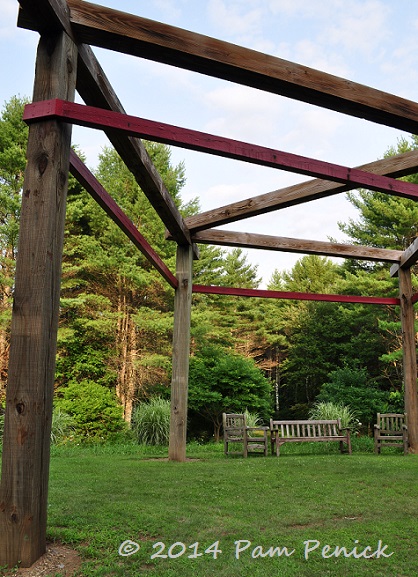 This is a monumental arbor. A few benches offer a place to rest and enjoy the view.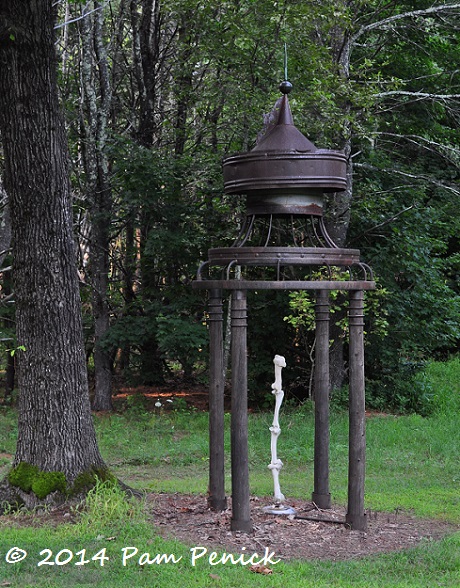 But you might want to watch your back because from here things begin to get a little spooky. This gazebo-like sculpture with bones hanging in the middle sets the tone as you enter a shadowy wood.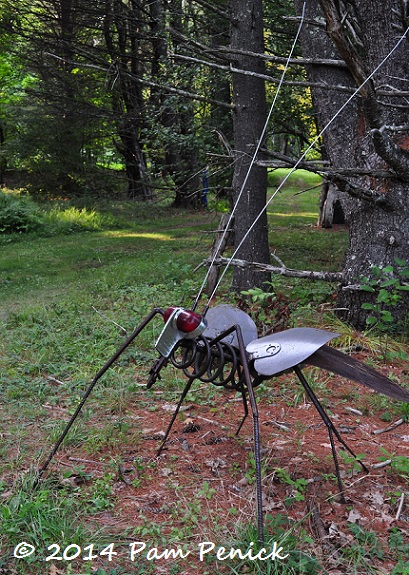 Mosquitoes began to harry us as the sun dipped to the horizon, and we saw monster-sized representations as well.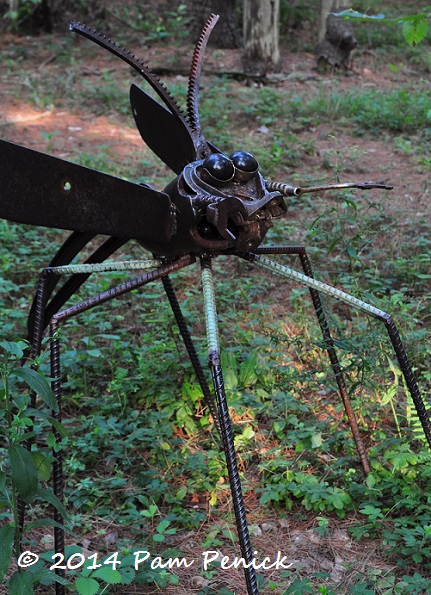 Hurry, before they get us!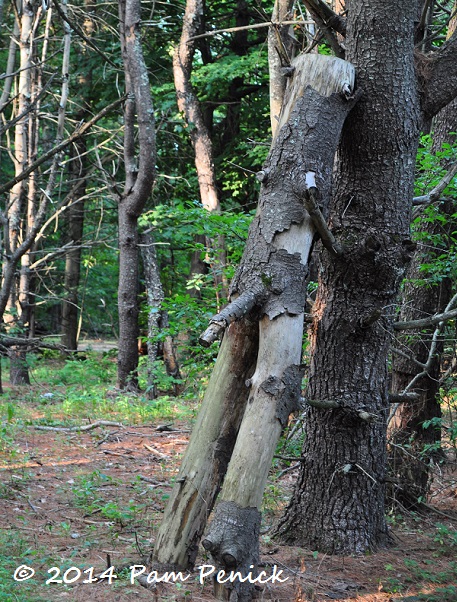 Tree men appear. Is that what I think it is?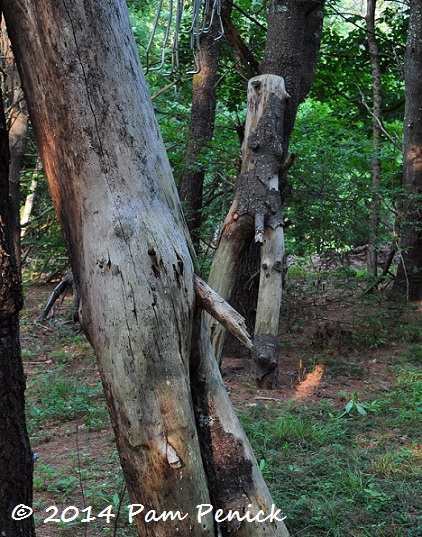 Jill confirmed that it was. They seem to be having a Bacchanalian orgy with other trees.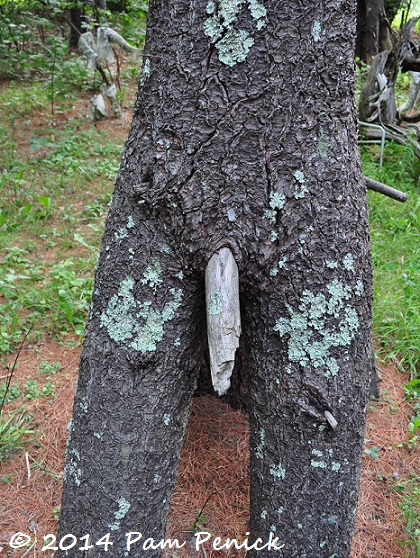 Then again, maybe it's just an arboreal nudist camp.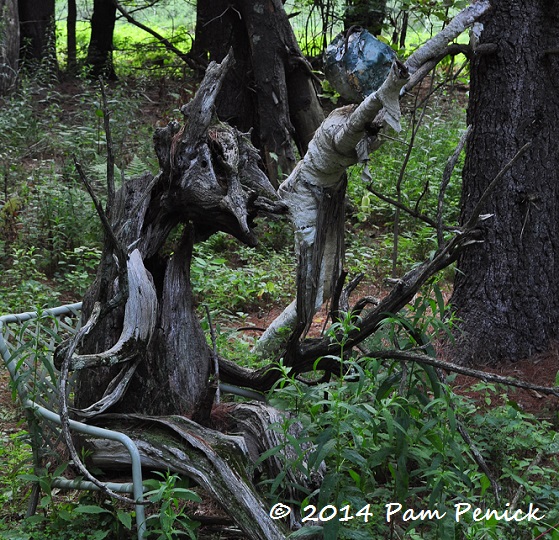 Stump creatures watch with sinister intent. I was starting to feel like I'd stepped into another world, a Pan's Labyrinth.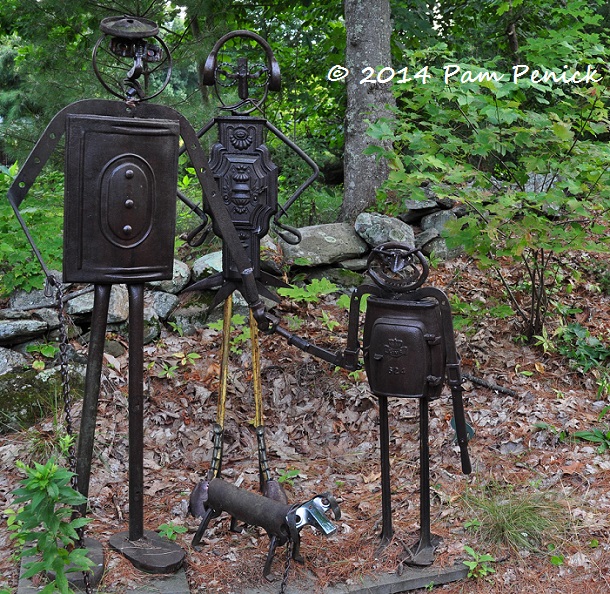 As I emerged from the woods, I wanted to warn this charming metal family — Papa in a beret, Mama in earmuffs — not to go in there. But then again I'd just walked through with my own kids, and we thought it was a hoot.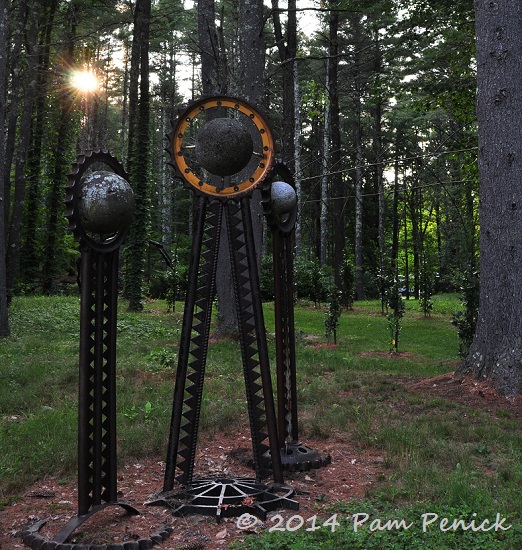 Sun-like sculptures echo the setting sun behind the pines.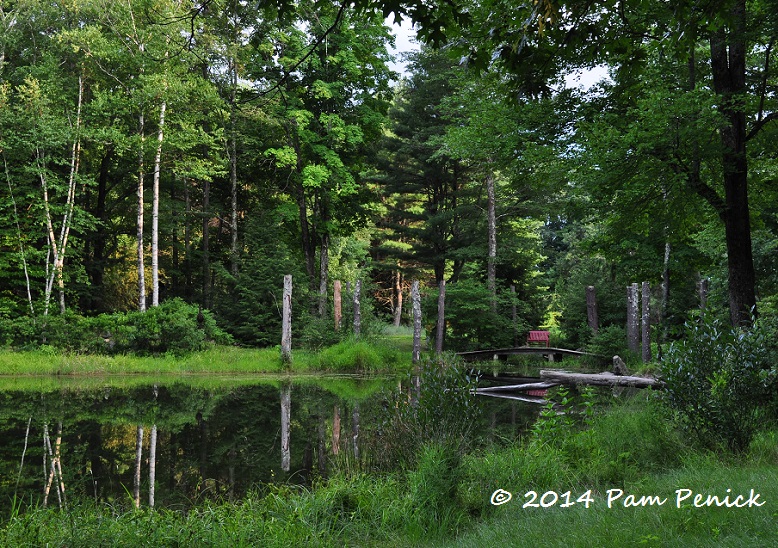 After the eerie Dark Woods, a clearing appears. A mirror-like pond reflects the surrounding trees and is bridged on one end with an elevated walkway reminiscent of a Japanese moon bridge. A red bench in the center overlooks the pond.
Framing the bridge and bench are tall stumps of trees that have been cut off at about 12 feet. I don't recall what Jill told me about these trees, but I like how she uses everything that happens in her garden, even the tragic things (like the removal of the invasive mountain-ash allee), to create art.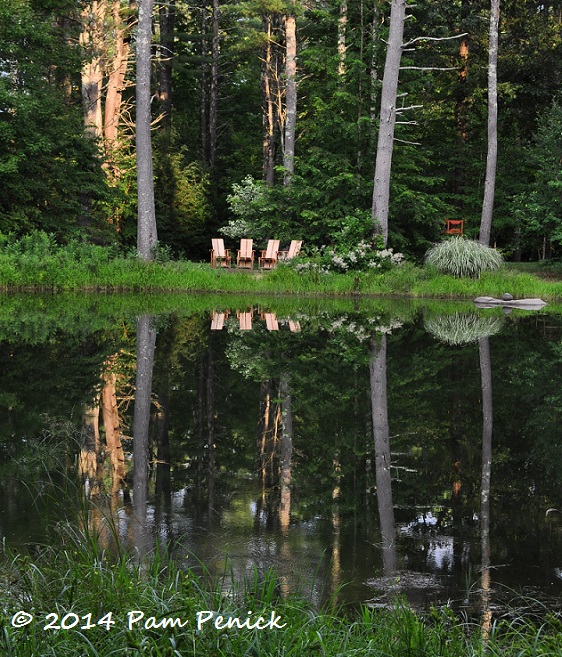 Another peaceful pond-viewing spot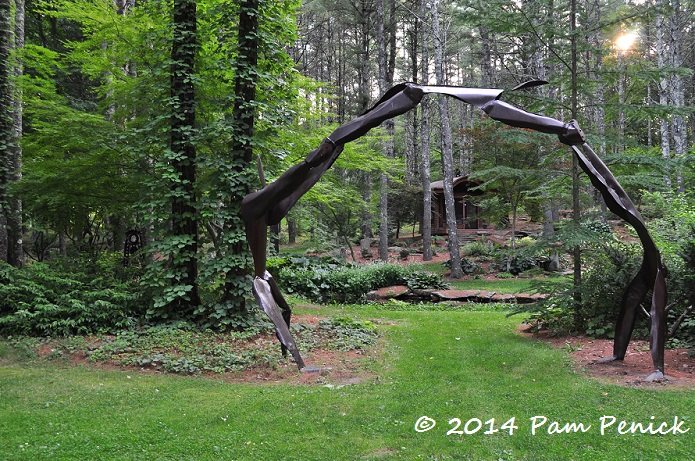 I felt a sense of urgency at this point, as the sun was rapidly sinking, to see everything, so I hurried along the path toward a large metal arch — a sculpture of 3 acrobats leaping across the path.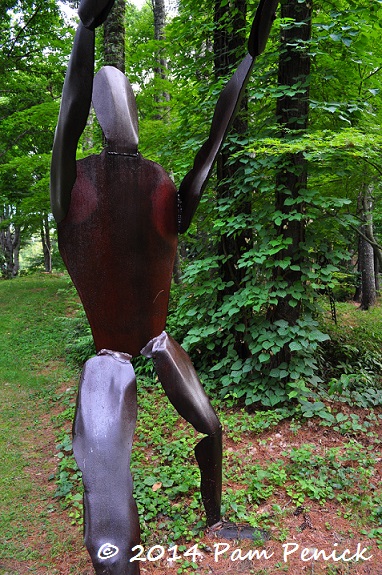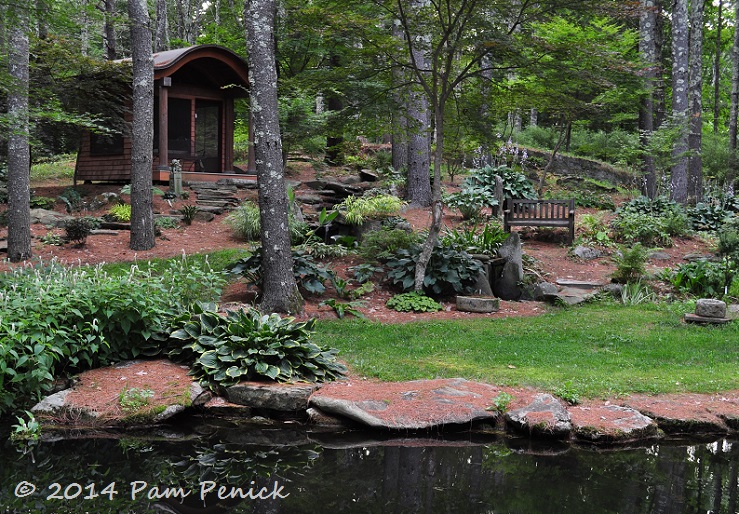 The acrobats usher you into an Asian-style garden containing a small pond and a teahouse just large enough for a bed. Jill says she and Bob sometimes enjoy sleeping in the garden.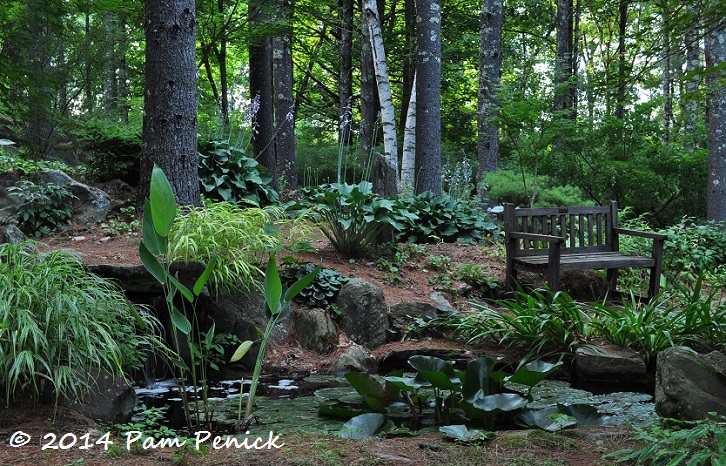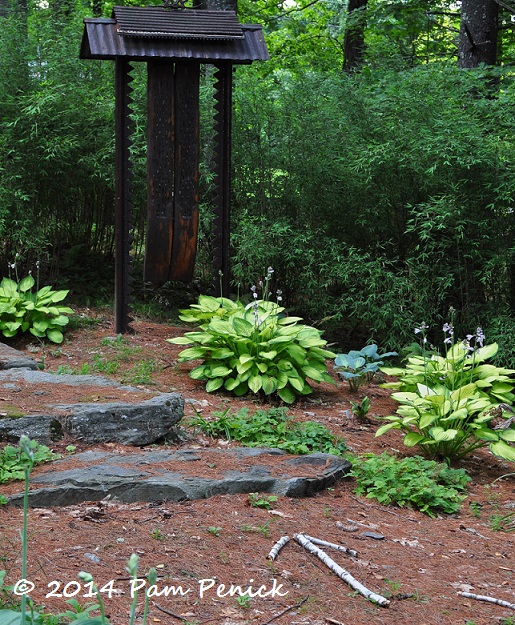 A birch arrow on the ground gleams in the fading light, pointing the way to…what?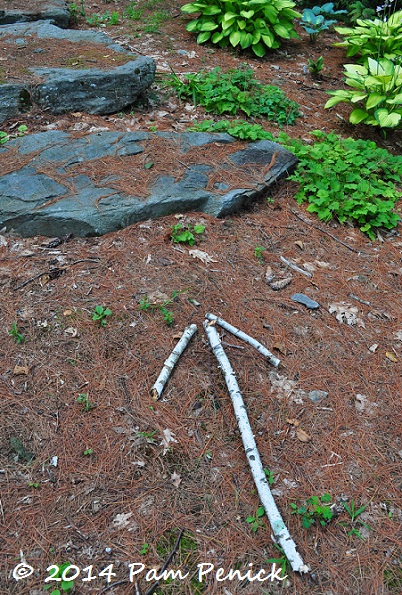 I followed.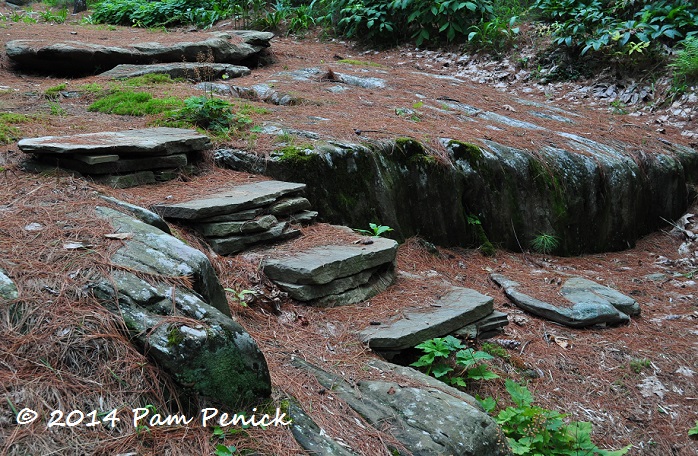 Steps lead past waterfall-like ledge stone carpeted in pine needles.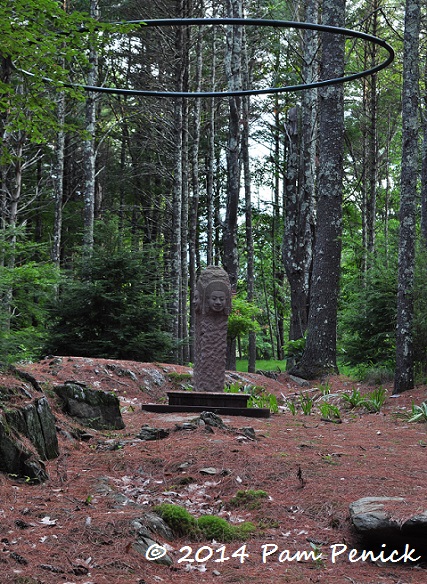 As I reached the top I looked up and gasped: a "halo" floats high above a columnar stone sculpted on all sides with serenely smiling faces.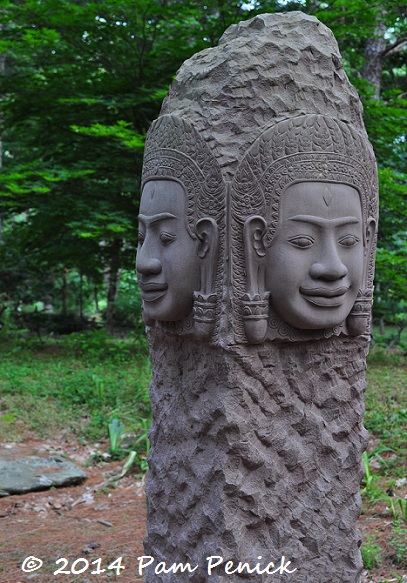 This sculpture is from Cambodia, Jill told me. She and Bob enjoy traveling around the world to visit gardens, and perhaps they brought this home from one of their trips.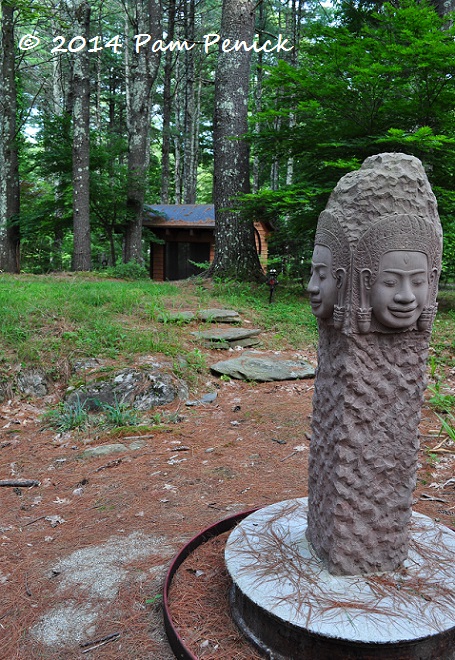 The sculpture sits in center of a knoll behind the teahouse, and the halo above creates a tension, a feeling of energy, here.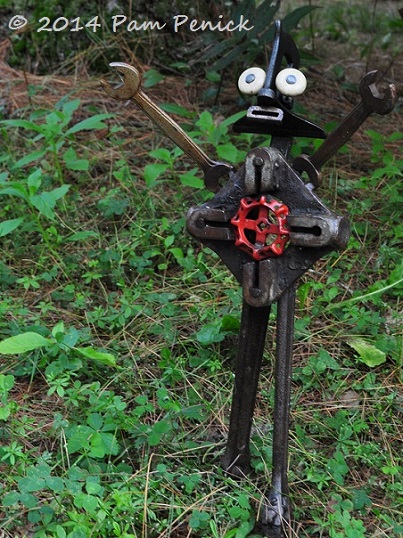 But Jill's sense of humor is evident here as well.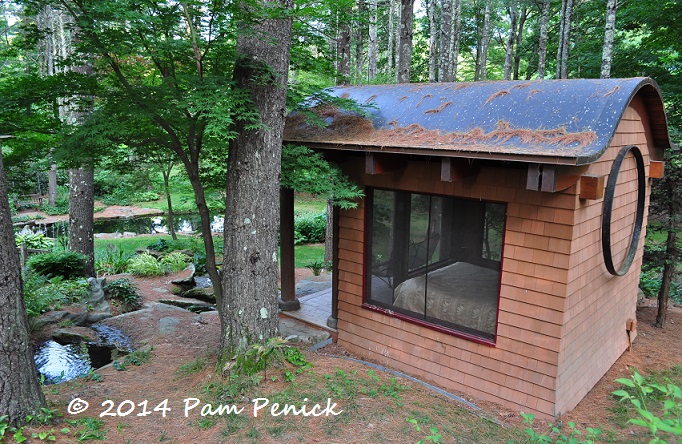 The teahouse has a marvelous swoopy, arched roof.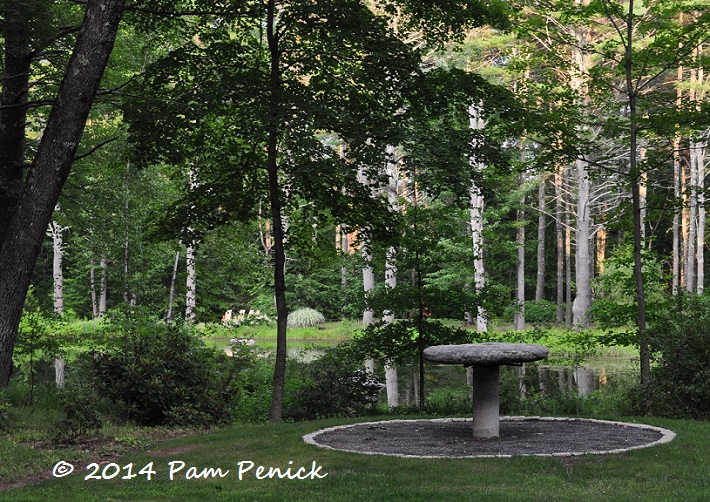 Heading back toward the main gardens, I passed this tall stone table set in a gravel circle: a mushroom in a fairy circle?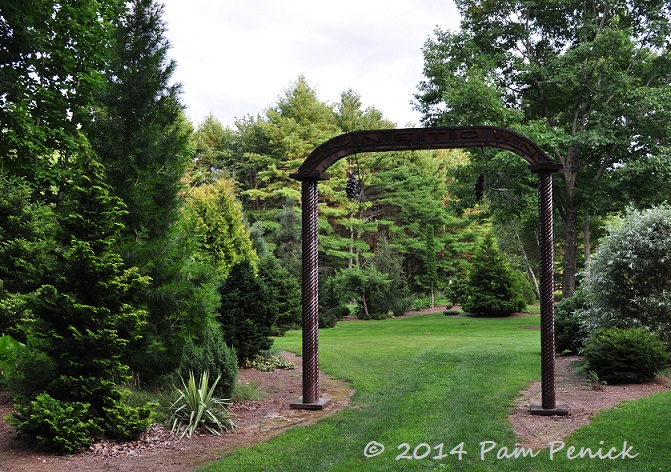 A tall, metal arch marks entry into Conetown, a pinetum of about 50 dwarf and standard conifers.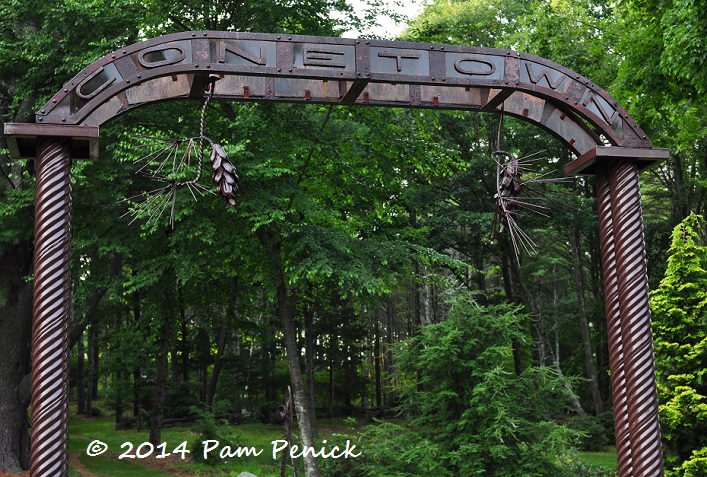 The gateway arch is charming in its own right.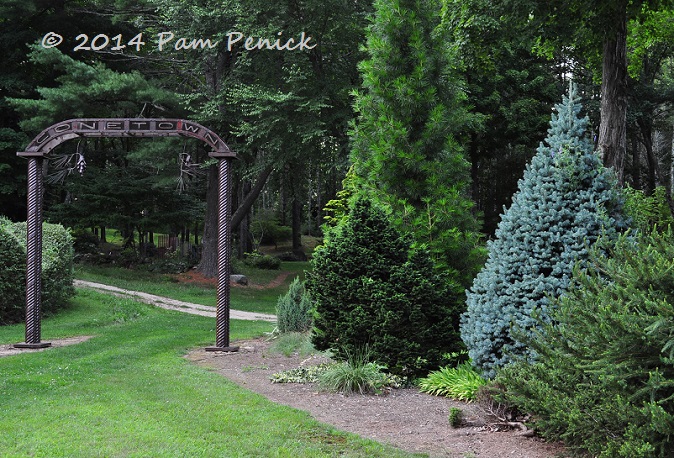 Conifers of all shapes and colors surround a central lawn…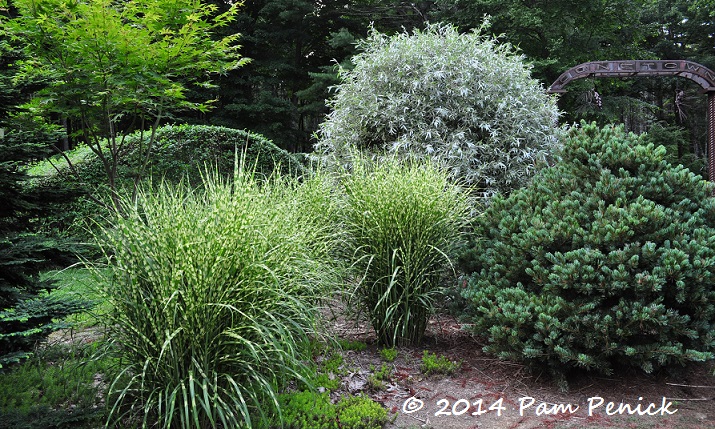 …with variegated grasses, silvery shrubs, and other plants adding different textures to the scene.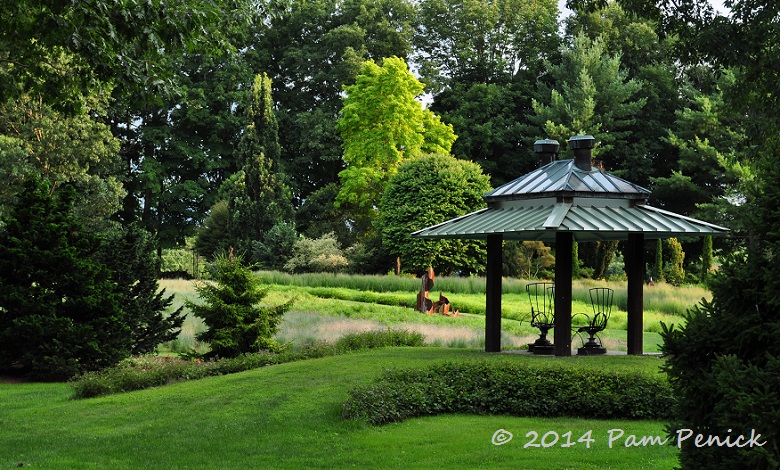 Now we're approaching the back of CopTop, the covered patio that overlooks the Wiggle Waggle, an undulating rill we explored in part 1 of this tour.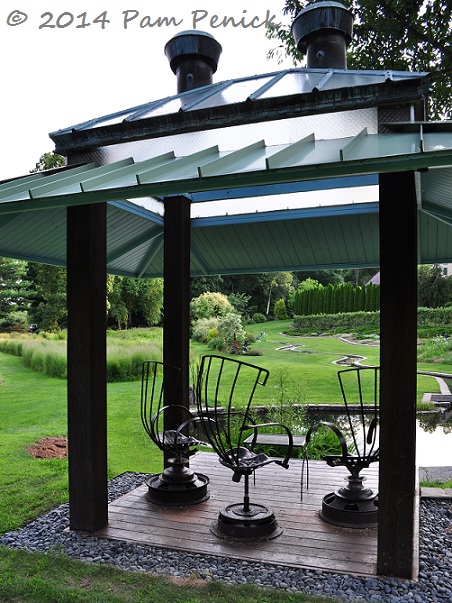 Seats made of old farm equipment swivel to take in views in all directions.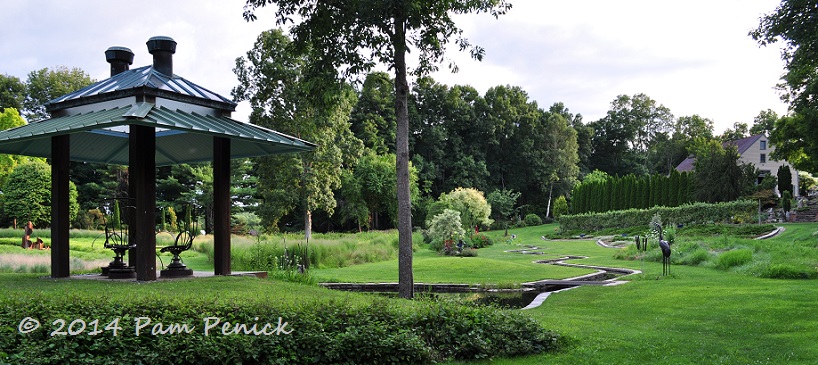 The views are excellent indeed: meadowy GrassAcre, the Wiggle Waggle, Conetown, and more.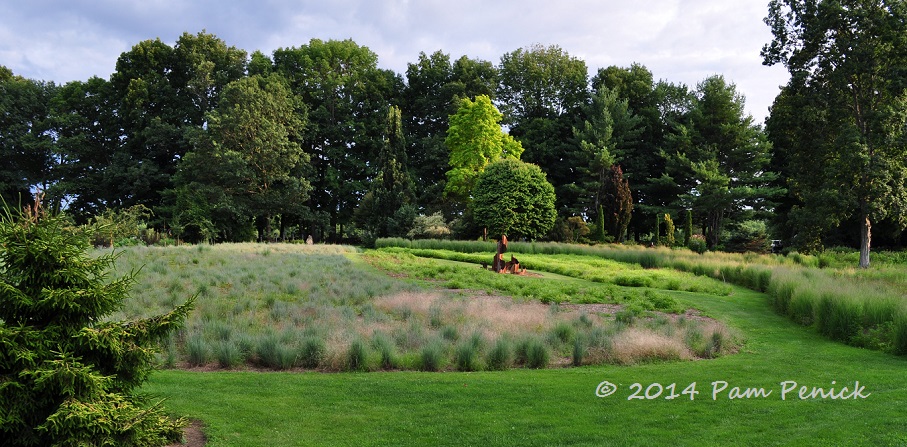 GrassAcre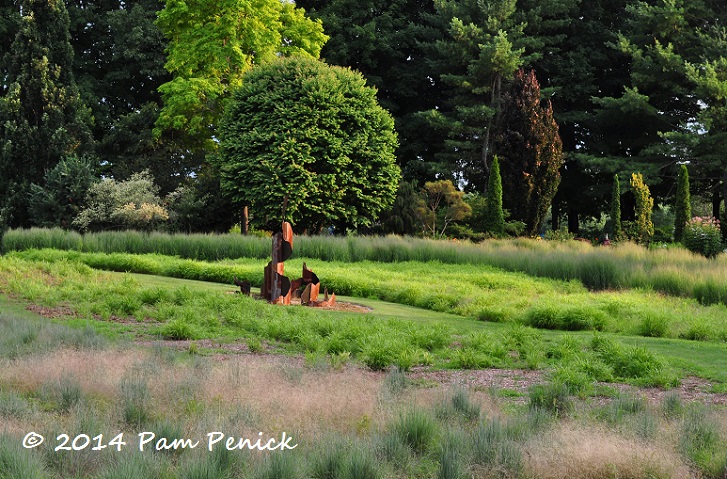 A closer look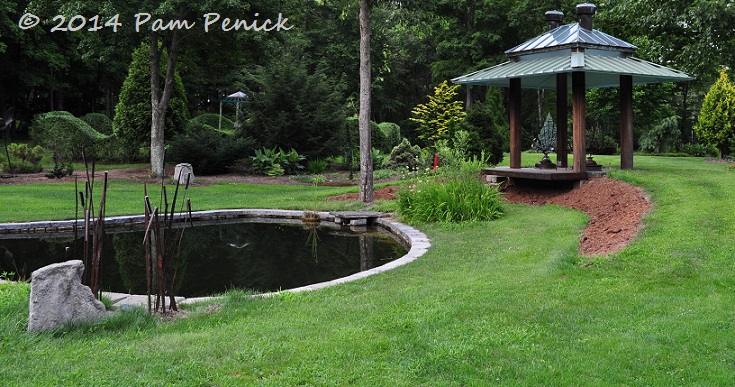 To the left of CopTop and Conetown, an undulating hedge has echoes of Piet Oudolf.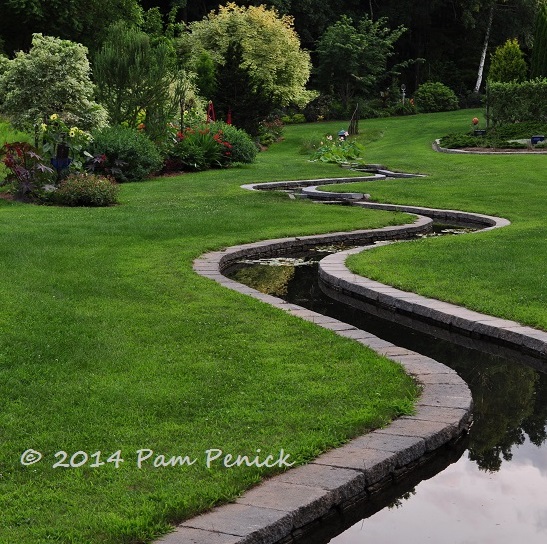 Ahead, the Wiggle Waggle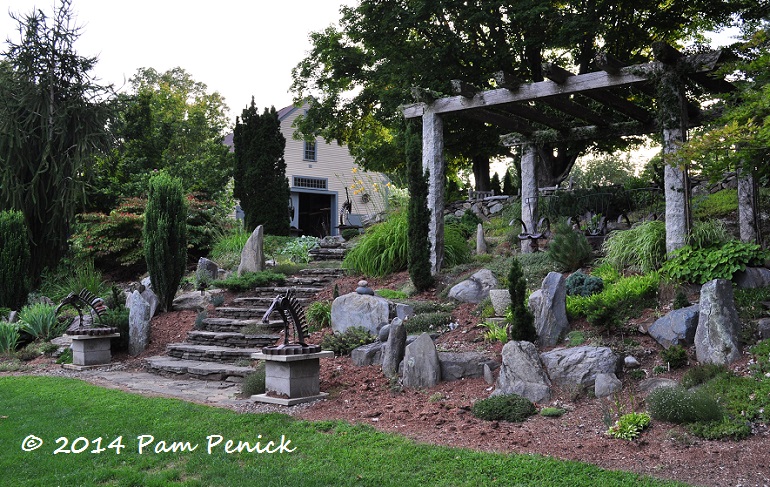 Here's the pergola we spotted in part 1, which I promised I'd show you later. Jill calls it the Landing, and it sits amid a rock garden planted on the slope that leads back up to the barn and house.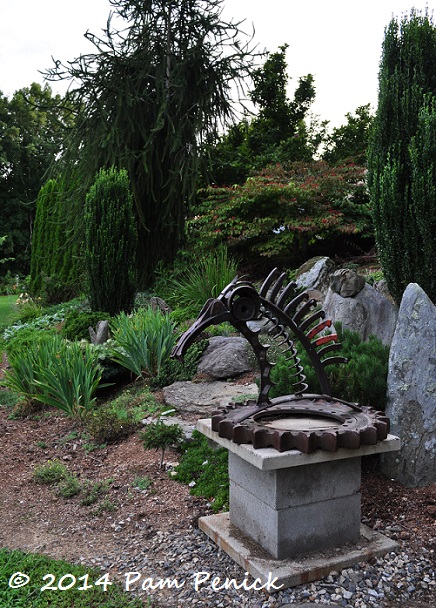 Horse-head sculptures created by Jill riff on the neighboring horse pasture.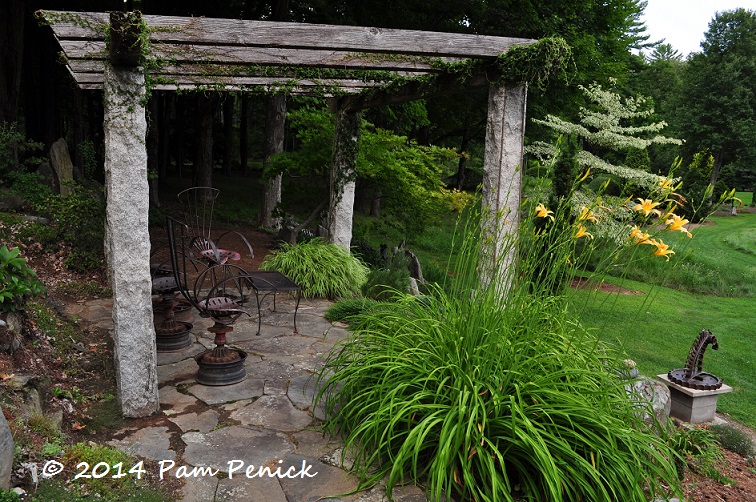 The pergola has a fine view of the Wiggle Waggle, CopTop, and GrassAcre, with more farm-detritus swivel seating.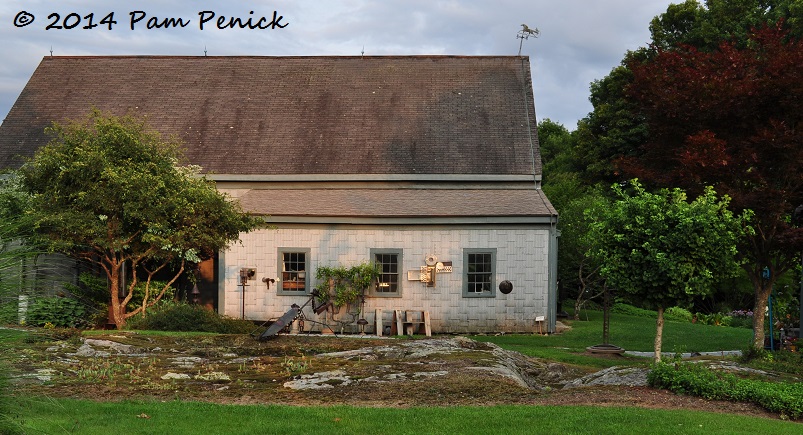 In the last light of evening I popped up to the garden around the house and barn, which sit close to the road in the style of most hundred-year-old homes.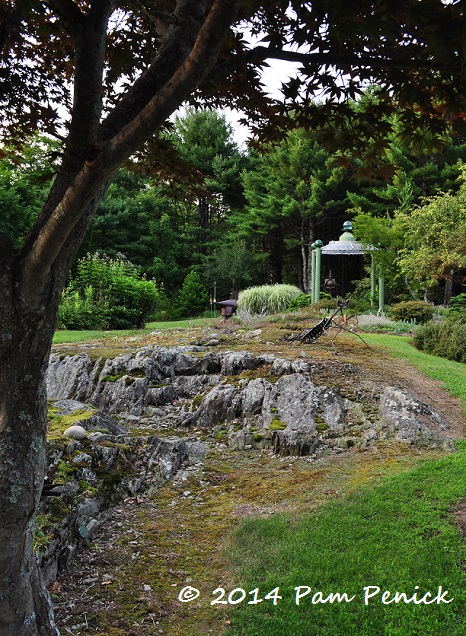 On a ledge outcropping lurks…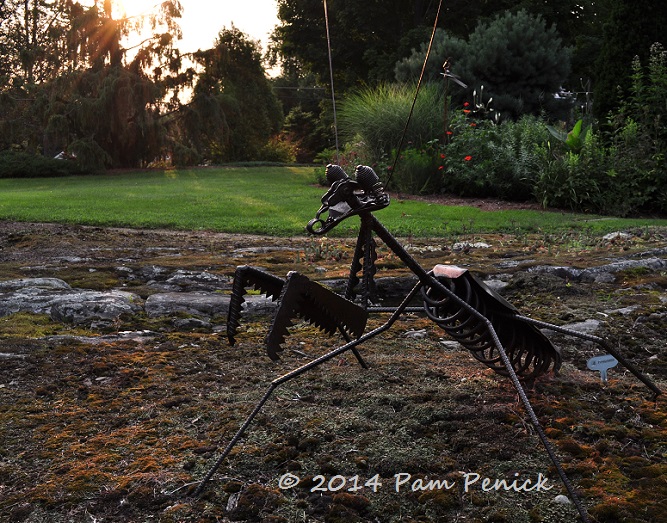 …a hungry praying mantis made by Jill.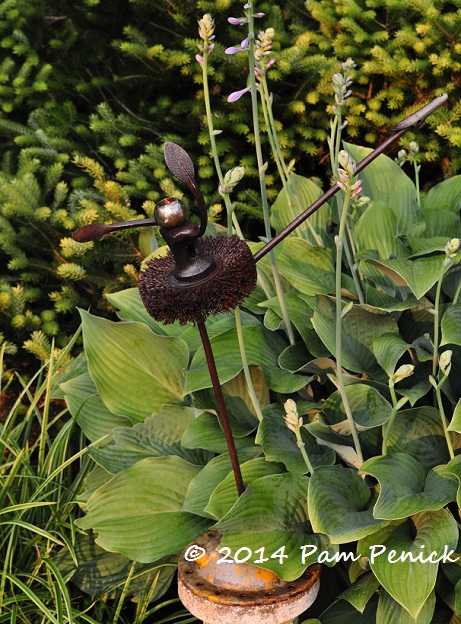 A tiny dancer twirls nearby, her pointed toe an old syrup tap for maple trees.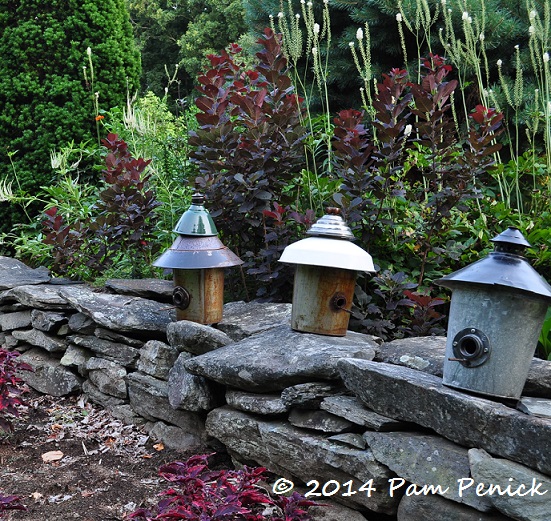 Birdhouses made of old sap buckets (I think)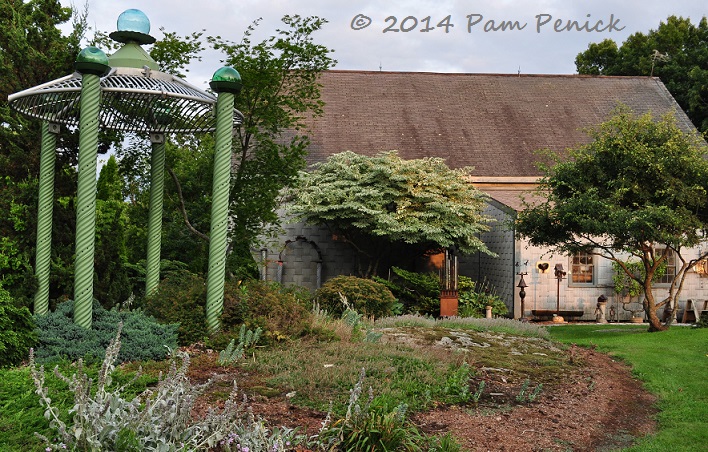 A gazebo or arbor made of culvert-pipe columns and glass-globe finials adds permanent color to the garden, which I'm sure is welcome during New Hampshire's long winters.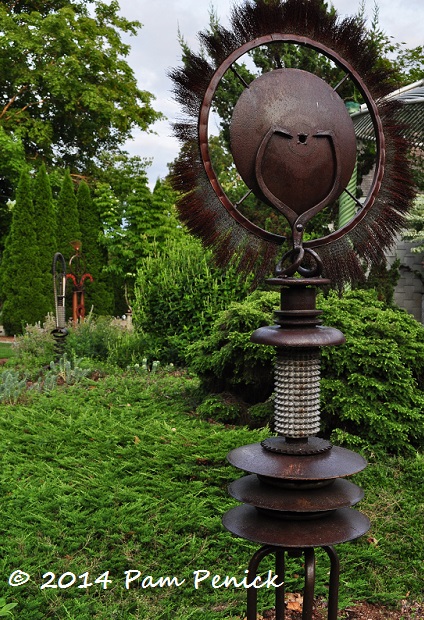 This piece looks sort of tribal to me, but its parts are all about farm life.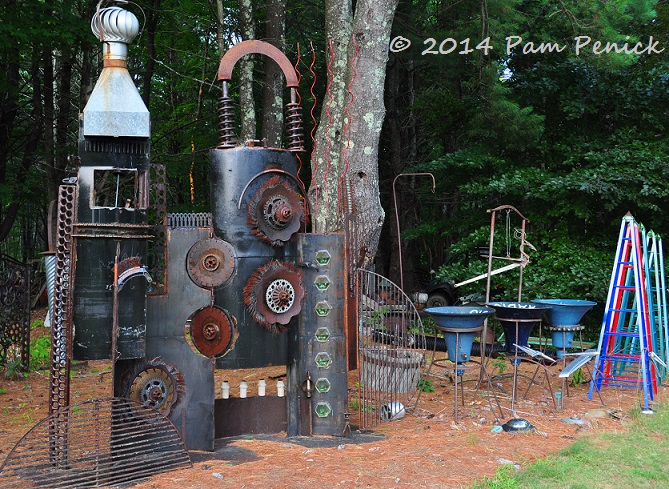 Jill's stash of materials and a few works in progress are tucked off to the side of the driveway. I wonder what this is — a Willy Wonka candy-making contraption?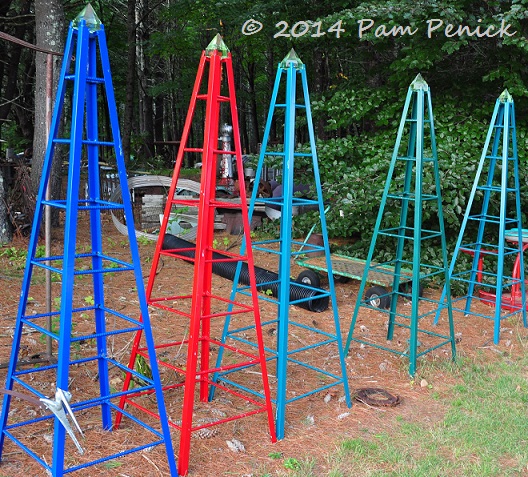 I admired a rainbow assortment of her tuteurs.
Jill and Bob, who at ages 65 and 71 still do all their own maintenance, have begun thinking how they might ensure the garden's preservation when they're no longer physically able to take care of it. They founded Friends of Bedrock Gardens as a tax-exempt charity and hope to raise funds that will allow them eventually to convert Bedrock into a public garden, cultural center, and horticultural sanctuary amid the rapid suburbanization of southern New Hampshire. The couple are generous with their garden, opening it monthly for public tours and hosting numerous events and classes. Click here for more information about visiting the garden.
Huge thanks to Jill and Bob for sharing their incredibly creative garden with me and my family. What a treat to be wowed for two solid hours of strolling and exploring. It was a highlight of our New Hampshire vacation.
If you missed part 1 of my tour of Bedrock Gardens, click here.
All material © 2006-2014 by Pam Penick for Digging. Unauthorized reproduction prohibited.
posted in
Arbors
,
Bridges
,
Bugs
,
Design
,
Garden art
,
Garden structures
,
Garden tours 2014
,
Gates
,
Grasses
,
Paths
,
Patios & decks
,
Ponds
,
Rivers & creeks
,
Rock
,
Sculpture
,
Seating
,
Travel
,
Trees
,
Views
,
Water features