May 11th, 2009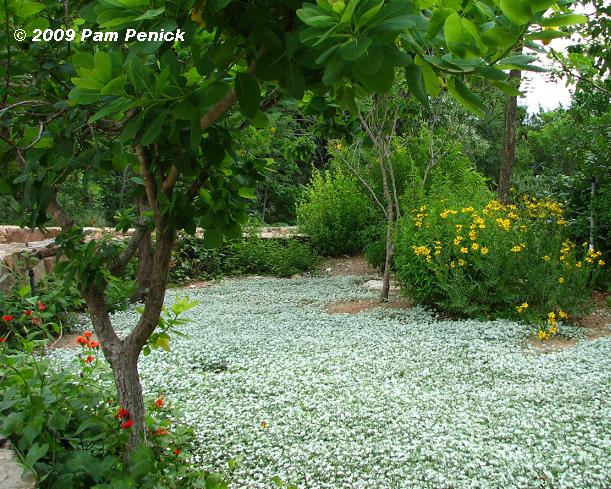 A carpet of silver ponyfoot (Dichondra argentea) sparkles like a stream in the Buckeye Trail garden.
My pictures from this garden, our third stop on the Wildflower Center-sponsored Gardens on Tour, don't do it justice. The Buckeye Trail garden, located in Rollingwood, was my favorite of the four private gardens on the tour, and I'm not just saying that because it was designed by our friend Jill Nokes, whose own garden the Austin bloggers had the pleasure of revisiting last month.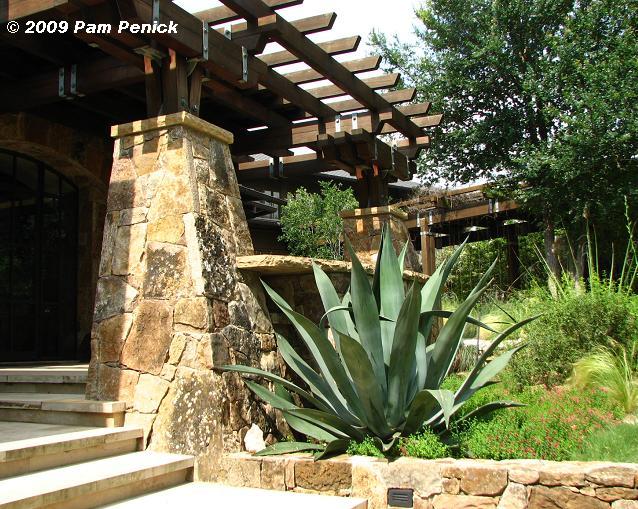 One thing I really admired is how the house and the garden connect. The house, which is beautifully constructed for its site and not overbuilt, reaches out to the garden with arbor-shaded porches and embraces a series of small courtyards. I feel sure that every room in the house looks out upon, and opens onto, a beautiful garden room.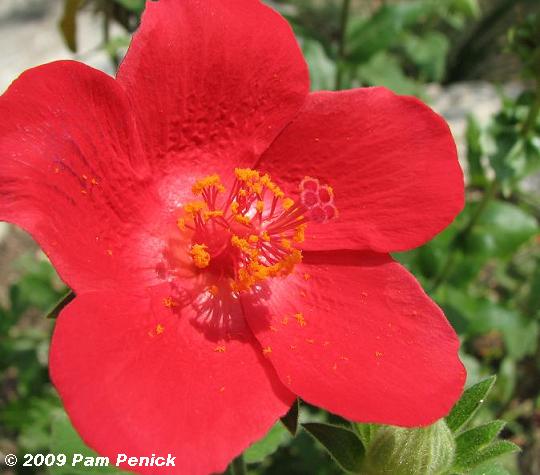 Heartleaf hibiscus (Hibiscus martianus)
Jill was on hand to answer questions, but as she was swamped with eager visitors we only talked with her for a few moments. She told us that she'd been working with the homeowners for five years, and together they restored the five-acre lot with native plants that would attract wildlife—except deer, which they fenced out—and provided natural areas for their children to explore.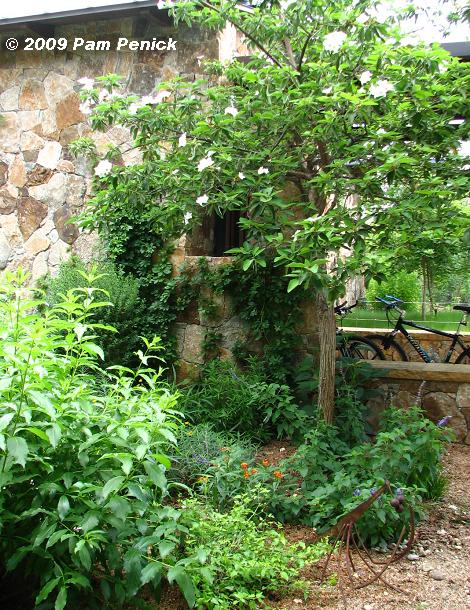 In this small courtyard garden, a wild olive or anacahuita (Cordia boissieri ) stood in flowery, white beauty near a casually rectangular pond filled with water lilies.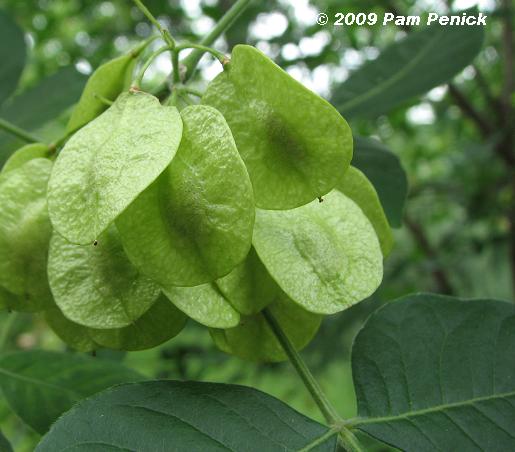 Like Jill's own garden, this one surprised me with plants I'd never encountered before, like this wafer ash (Ptelea trifoliolata ), or hop tree, a member of the rue family. I absolutely love these seedpods. The Wildflower Center's Native Plant Database says this about it : "Hop tree is an attractive tall shrub or small understory tree for both moist conditions and dry rocky sites. However, it prefers moist soil such as a watered garden or seep area. If grown in full sun and cut back, it will be quite bushy. All of the parts of this tree are aromatic." Wafer ash is a larval host and/or nectar source for eastern tiger swallowtail and giant swallowtail butterflies.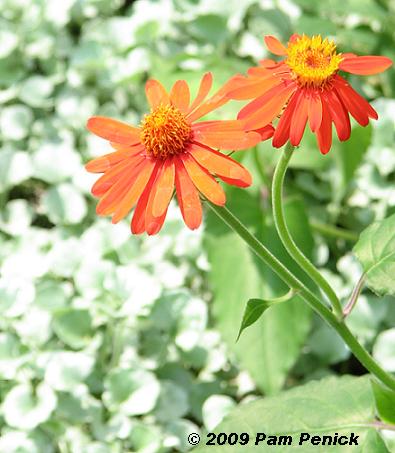 At the edge of the silver ponyfoot carpet pictured at the top of this post, bright orange Mexican flame vine (Senecio confusus ), a vine I've been absolutely coveting, offers a hot contrast. This combo WILL appear in my garden one day.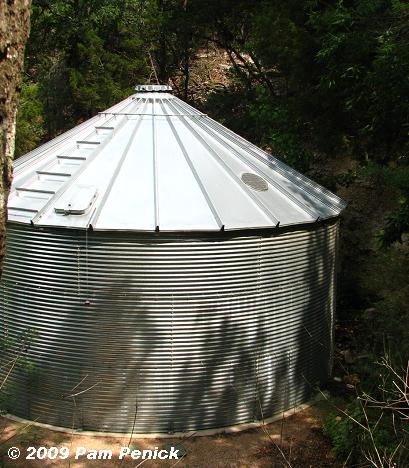 I didn't get a chance to ask anyone how many gallons this water cistern holds, but it's truly massive, the biggest one I've ever seen except at the Wildflower Center. I wonder if they can do all their watering from reclaimed rainwater. (Jill, if you're reading this, do you know?)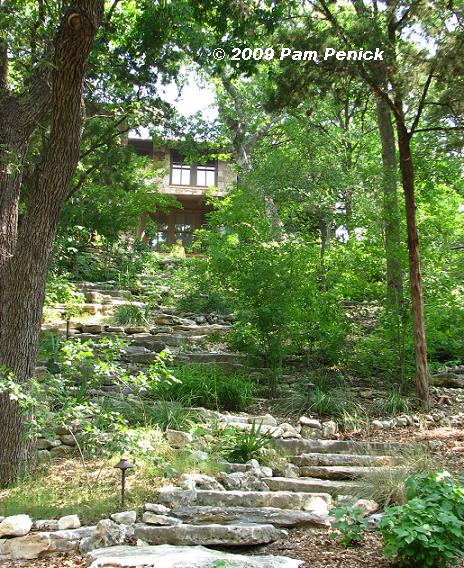 The cistern is located at the bottom of the hill behind the house. Looking back up the limestone stair you can appreciate the naturalistic areas of the garden, which are farther from the house than the more manicured garden rooms.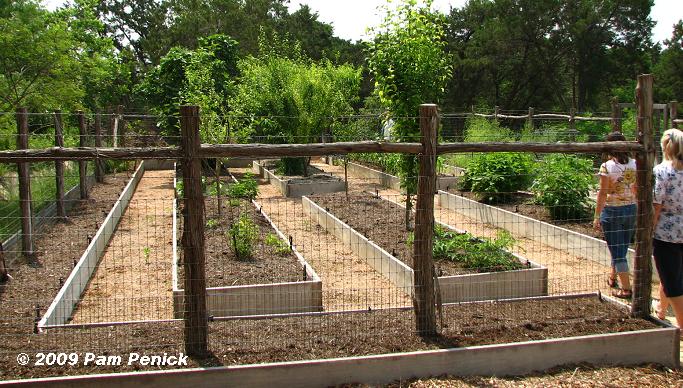 At the bottom of the hillside, a fenced vegetable garden with raised beds occupies a flat, sunny spot.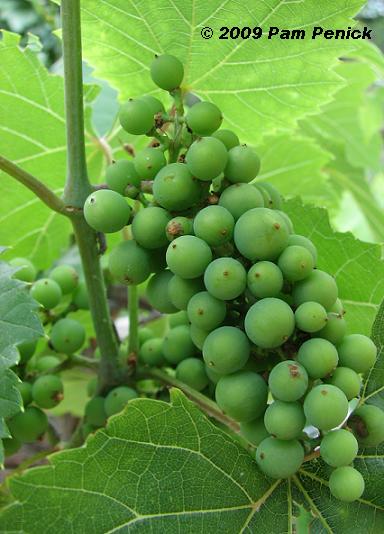 Grapes grow along one fence. We also saw corn and fruit trees.
Not pictured, although I admired how the spaces were designed, were a children's play area, a small lawn, and a pool partially shaded by a pergola and tucked into a corner surrounded by native plants. The garden seemed designed to meet the needs of the whole family, while being ecologically sound thanks to native, wildlife-attracting plants, rainwater harvesting, and sensitivity to the site's development.
Tune in soon for pictures from our last garden of the day at Kempson Drive. For a look at the Rockcliff Road garden in Westlake, click here.
All material © 2006-2009 by Pam Penick for Digging. Unauthorized reproduction prohibited.