August 13th, 2014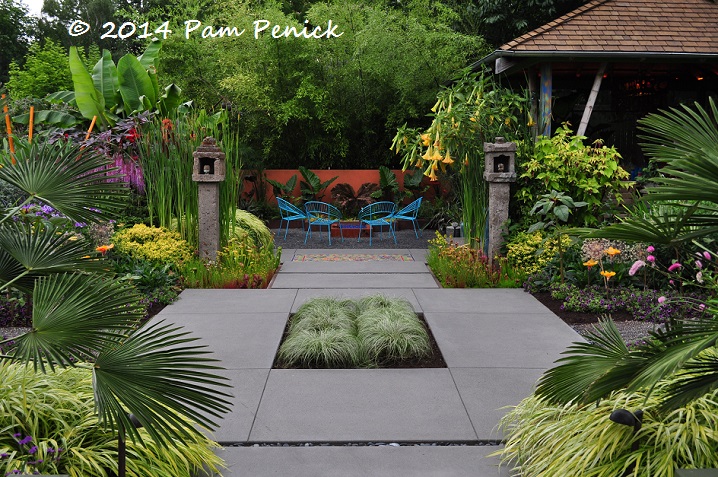 As we entered the intriguingly named Floramagoria garden on the recent Portland Garden Bloggers Fling, thunder rumbled and raindrops pelted our group of 40 or so bloggers. The reasonable — and hungry — among us ran for the two covered pavilions with box lunches in hand. The die-hard photographers, however, saw the brief shower as an opportunity to get softly lit images with few people in them. You know which group I was in. Oh boy, did this garden deliver on wow moments, perfectly framed views, bold foliage, flower-power color, whimsy and naughty humor. Let me give you a rainy-day tour.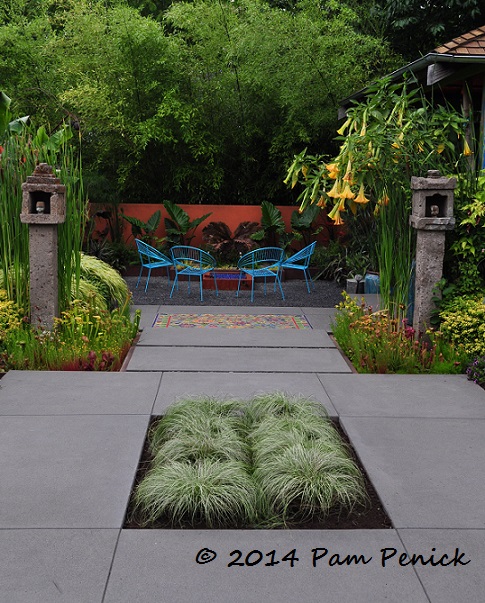 I'll start with the most mouth-dropping view: the axis from the owners' back door to the orange back wall. Poured concrete laid in geometric blocks widens and narrows, creating distinct spaces and slowing the foot and eye with inset beds like this grassy parterre…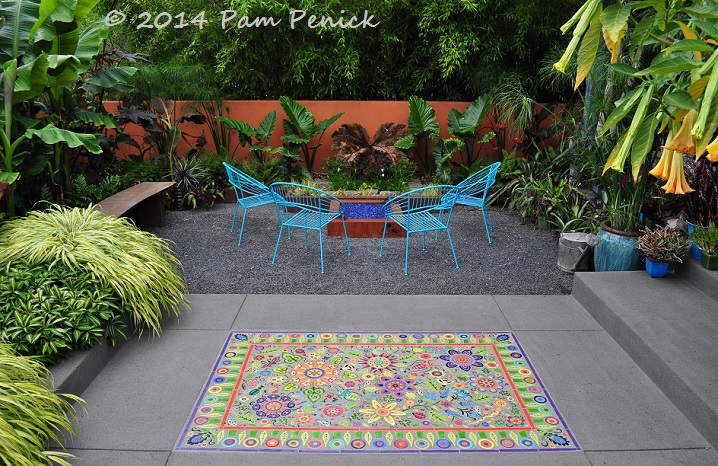 …and a mosaic floral "rug." Its colors reappear in the pumpkin-colored wall, turquoise pots and chairs, cobalt-glass fire pit, and golden and green flora.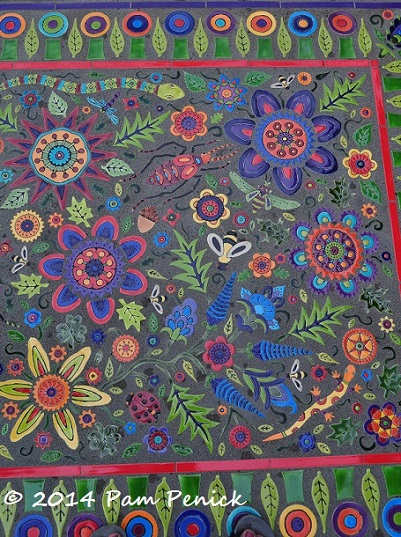 The mosaic "rug" is a tapestry of flowers, leaves, and insects and an absolute work of art.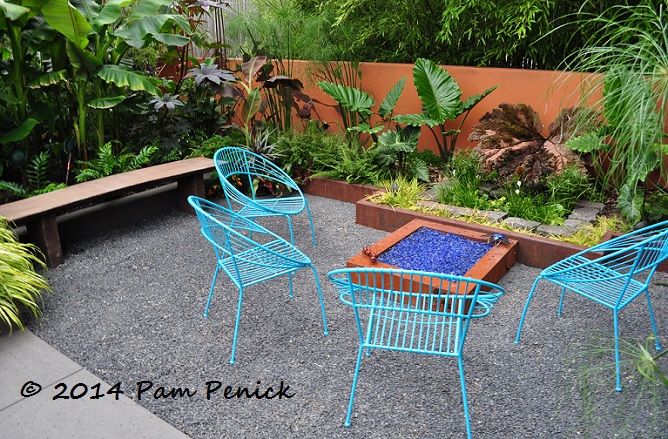 The enormous, mossy gunnera leaf is a Little and Lewis piece. (We saw another of these in the Lane Garden at the Seattle Fling.) In concert with bold-leaf, tropical plants like brugmansia, castor bean, and banana, not to mention a bamboo dining pavilion to the right, this area feels like an exotic garden carved out of jungle rain forest.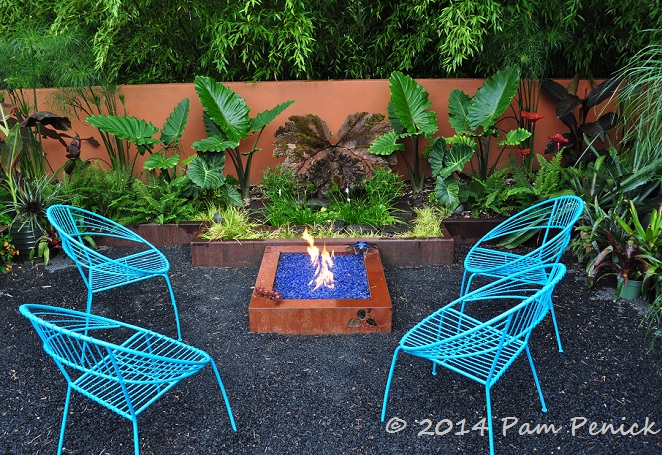 Temps were cool on this day, and one of the owners lit the fire pit when we arrived.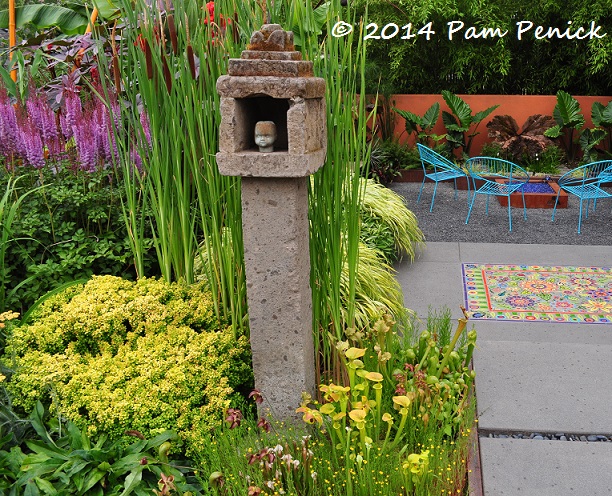 Like exotic gateposts flanking the entry to the fire pit patio, stone shrines on pedestals contain…baby heads! (What is it with baby heads these days? I saw a whole day care's worth at Digs Inside & Out.) A mix of golden bog plants surrounds this shrine, including cattails and pitcher plants.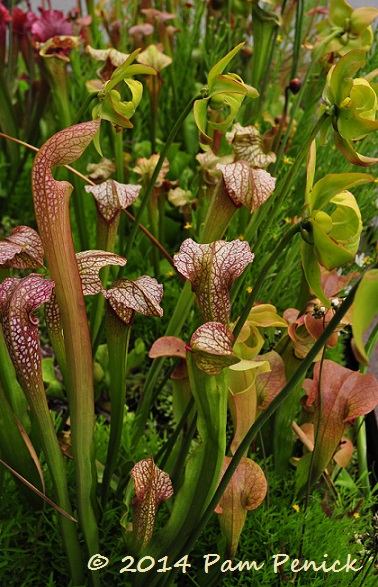 Carnivorous flora with questing mouths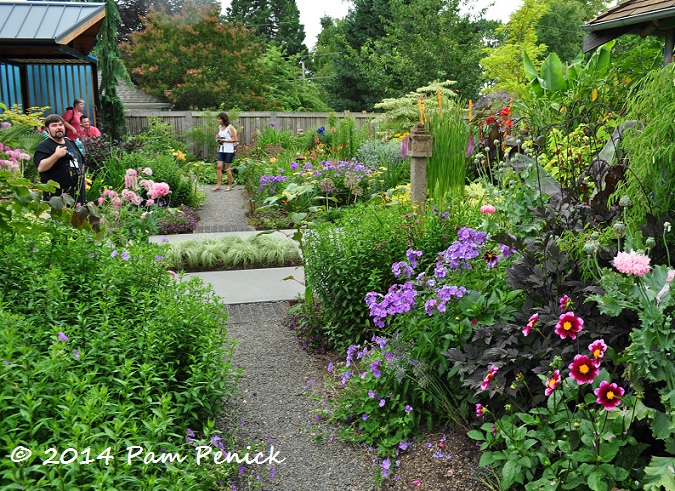 The cross-axis running through the grassy parterre (shown in the top photo) creates a different effect, less tropical and more English-style perennial border. A covered deck, just visible at left, adjoins the house and provides a place to enjoy the garden even during the rainy months (or on summer days like this).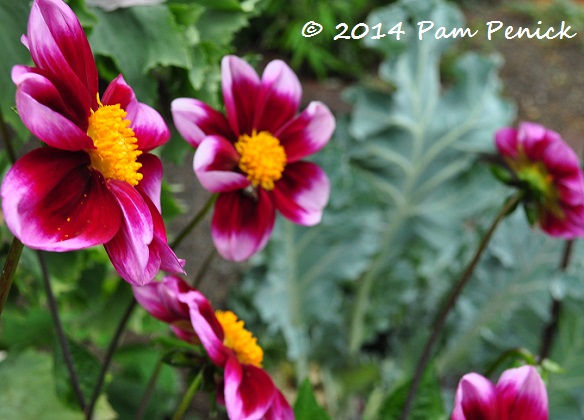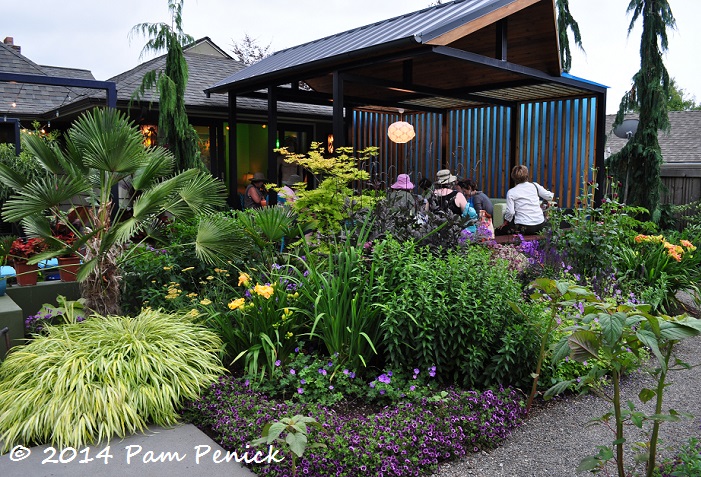 Gosh, which way to turn? Let's take a closer look at the contemporary covered deck. Steel posts support a triangular metal roof, and a blue plexiglass wall provides shelter, privacy, and mood lighting.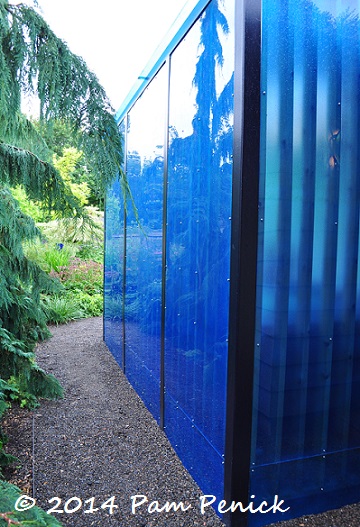 A quick peek at the back: translucent, blue plexi panels admit light and reflect drooping conifers.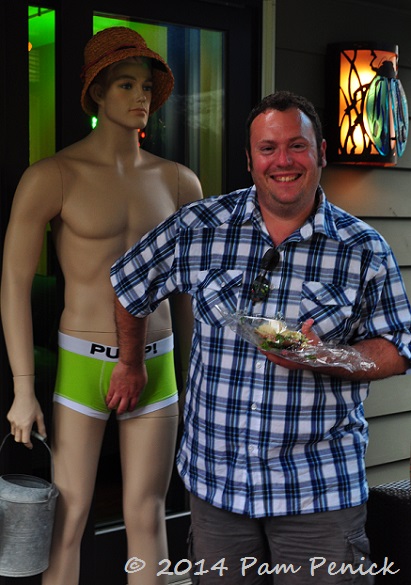 Wait — is that our Fling host, Scott of Rhone Street, manhandling a mannequin? Hmm, I guess what happens at the Fling doesn't always stay at the Fling. But I am opting not to show the seating area of the covered deck, which was jam-packed with bloggers eating their lunches. Nope, no one wants to be photographed while chewing. Just over Scott's shoulder…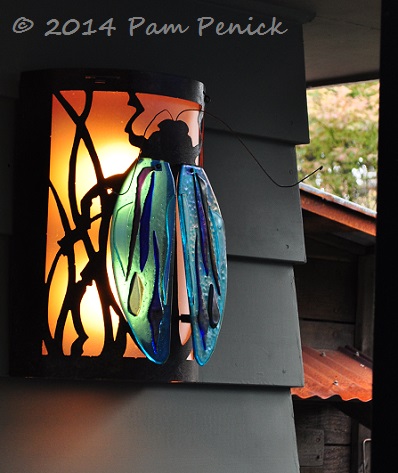 …is a beautiful porch light — a bug with 3-D wings and antennae.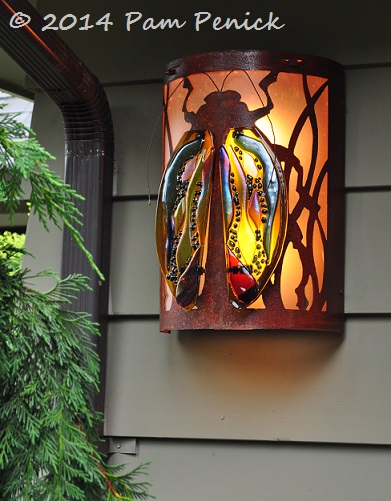 Another one. Aren't these marvelous? Bugs are a decorative motif at Floramagoria.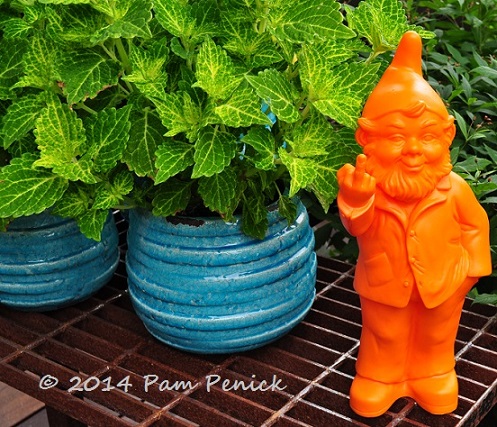 As are gnomes. This one is a bit naughty.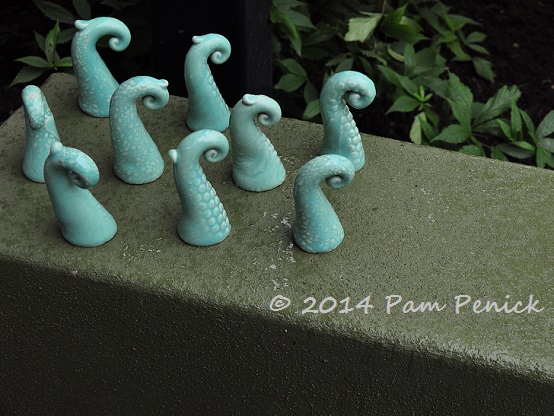 Oh look — tentacles! I'm definitely detecting a Digs/JJ De Sousa influence here.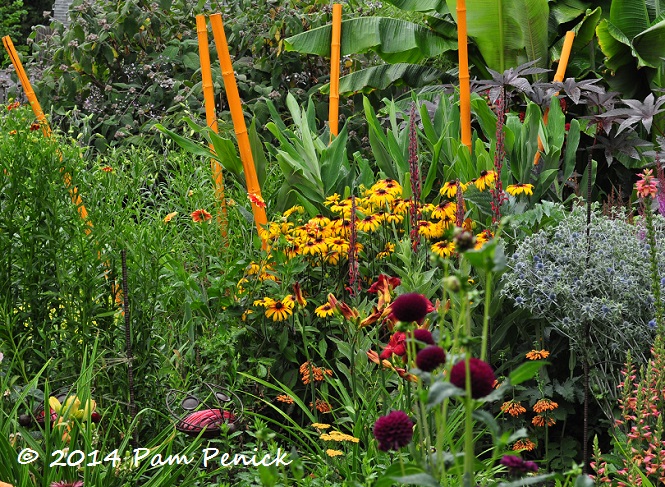 The view from the deck. Hefty bamboo poles, painted orange, add spiky structure and year-round color. Rudbeckia makes a cheery color echo.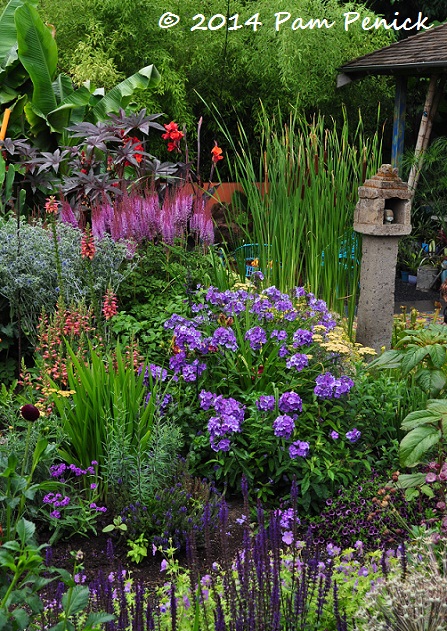 Panning right, purples take over.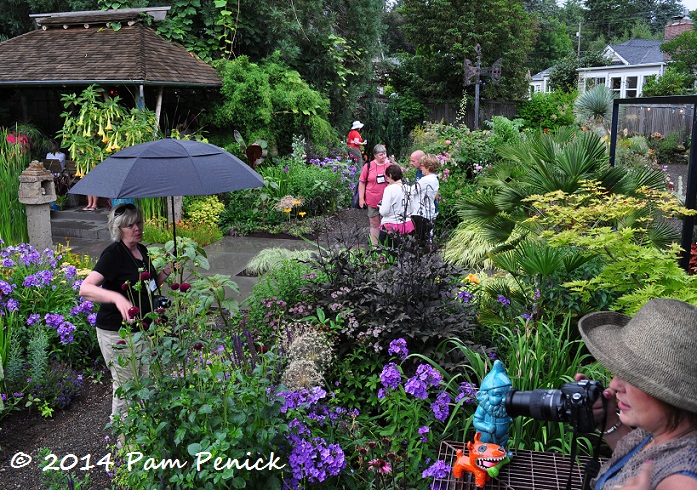 And here's a wider view across the garden. That's the tropical cabana at upper-left, which I'll show you soon. Believe it or not, this garden is only 3 years old. The owners tore out their former, 10-year-old back garden in order to rework it with the help of designer Laura Crockett of Garden Diva Designs. That takes guts. I'd love to have seen before-and-after pics.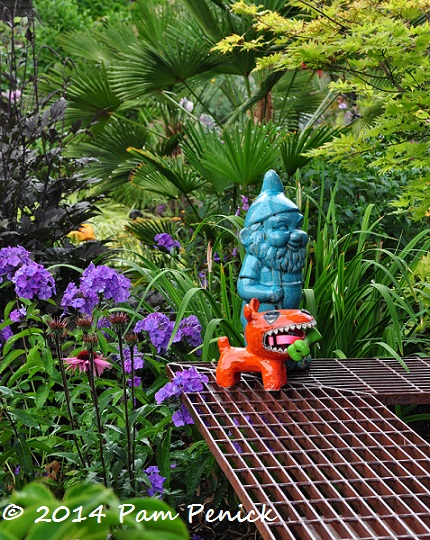 A metal-grate bench runs along the perimeter of the deck.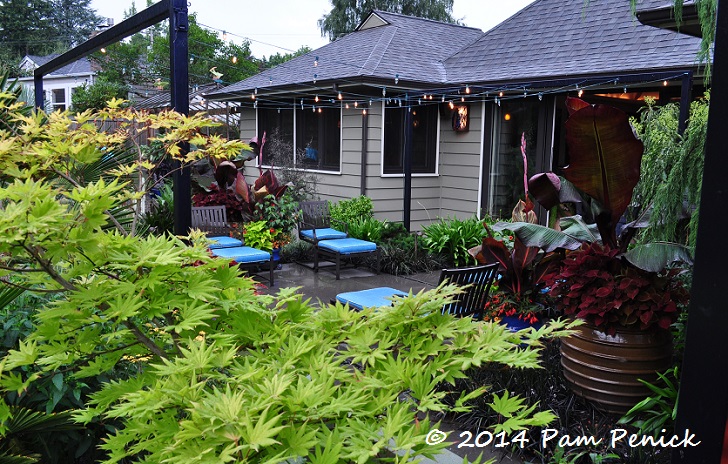 The deck overlooks a patio accessed via large glass doors in the living room.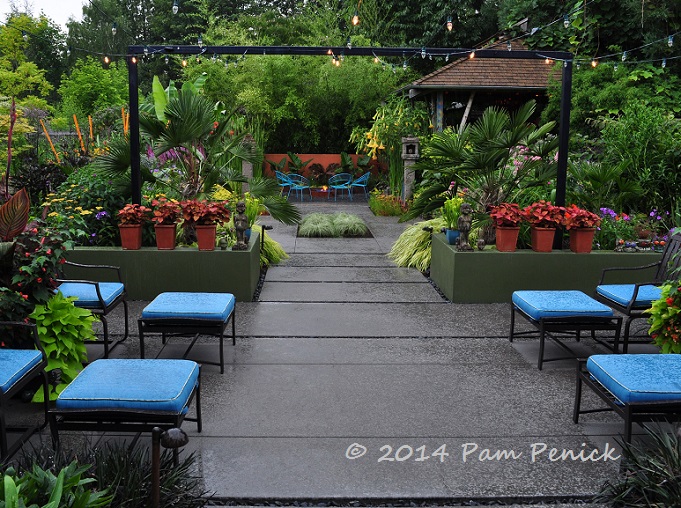 A clean-lined metal arbor frames the view, and string lights create a party atmosphere, as does music piped through the garden. Can you imagine looking out at this view from your living room?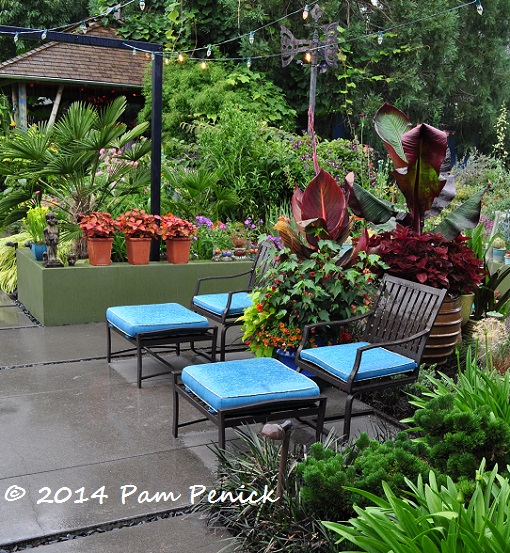 Looking slightly right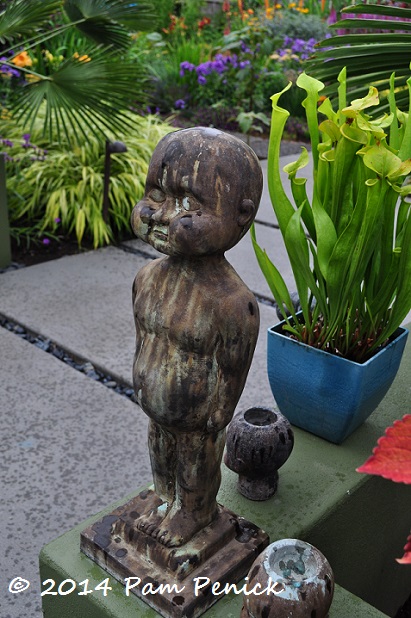 Painted-stucco seat walls define the patio and provide plenty of display space. More babies! More pitcher plants too.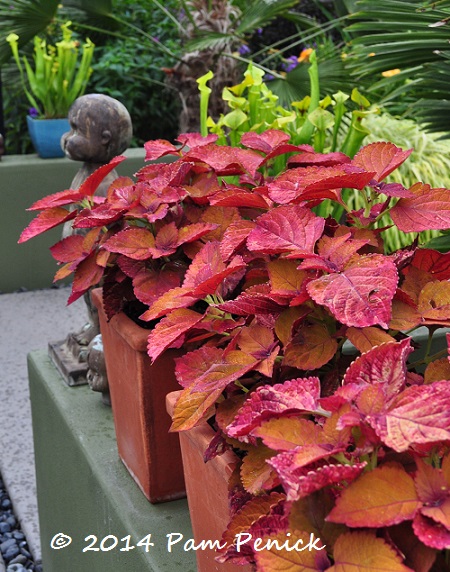 Fiery coleus, in pots to match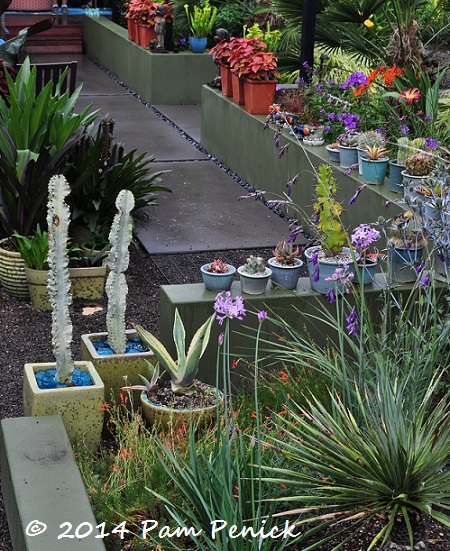 In this longer view, you can really appreciate the magnitude of their potted-plant display.

Succulents and cacti in soft-blue pots are lined up along much of the wall, where the garden segues into a dry garden.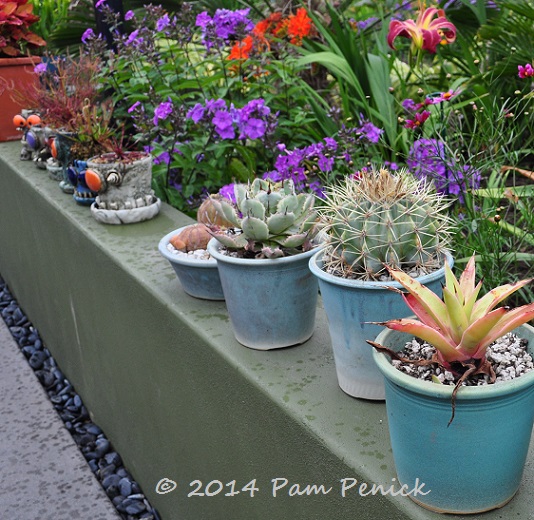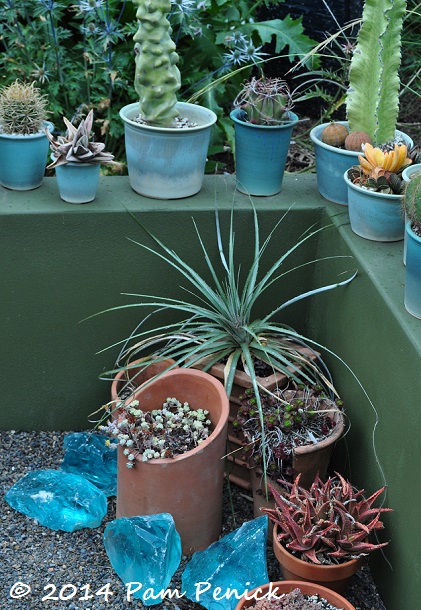 In the corner, terracotta pots add complementary orange, while chunks of slag glass continue the blue theme.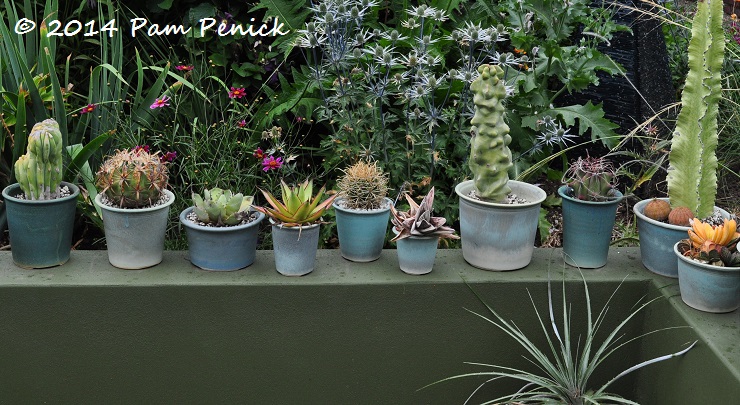 This is one way a collector can cut loose in a garden with a strong design: unify a collection with similar pots and display them en masse.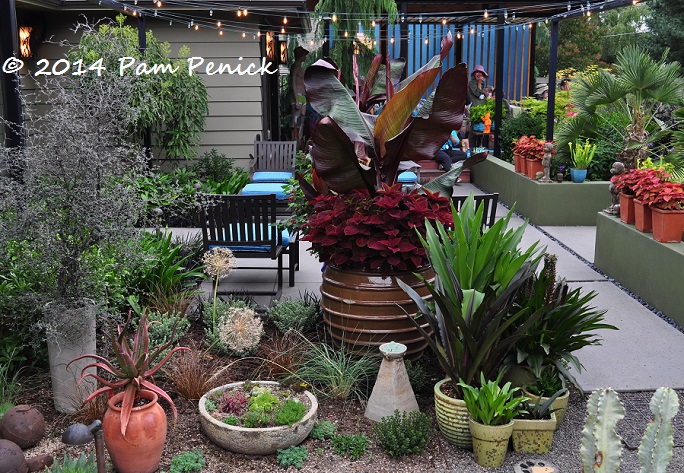 The dry garden starts on one side of the patio…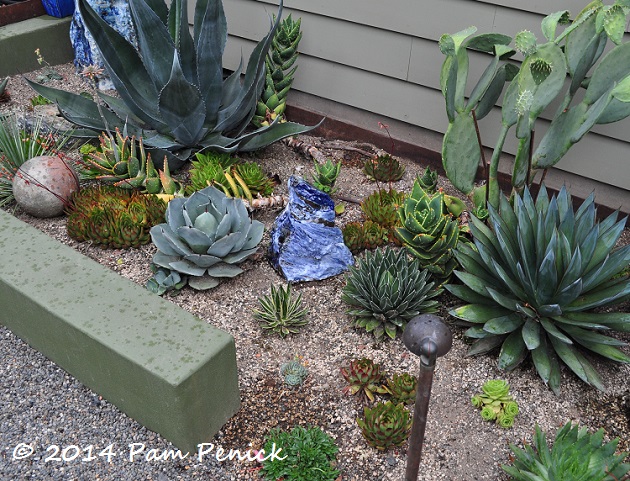 …and runs along the foundation.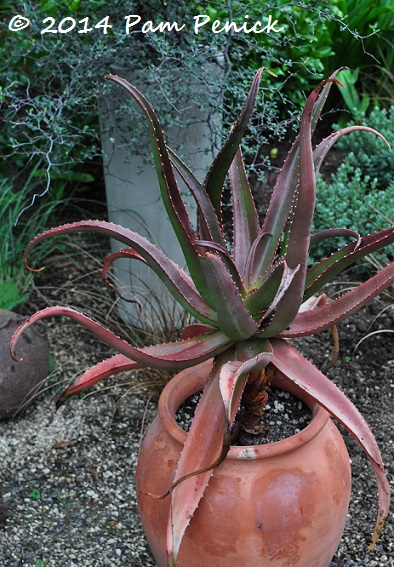 An aloe in a pot to match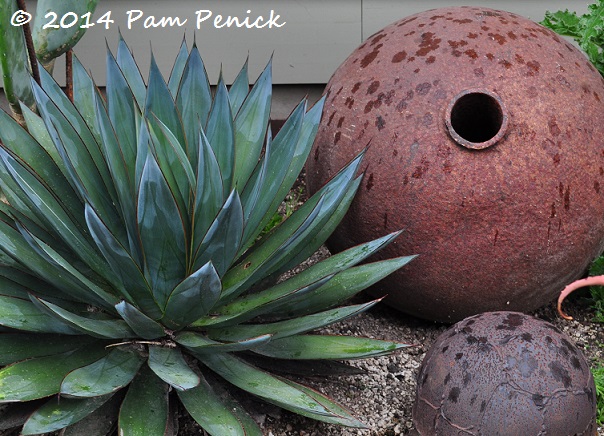 Spiky agave next to an olla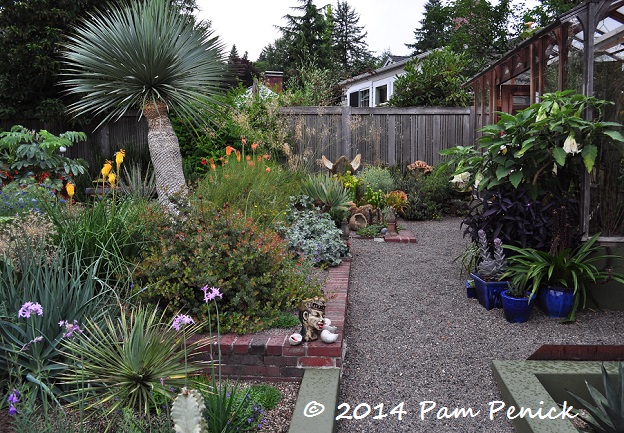 Turning to the left and looking down the path toward the side fence, I stopped to admire a tall Yucca rostrata. But what really grabbed me was another Little and Lewis piece (I think) by the fence.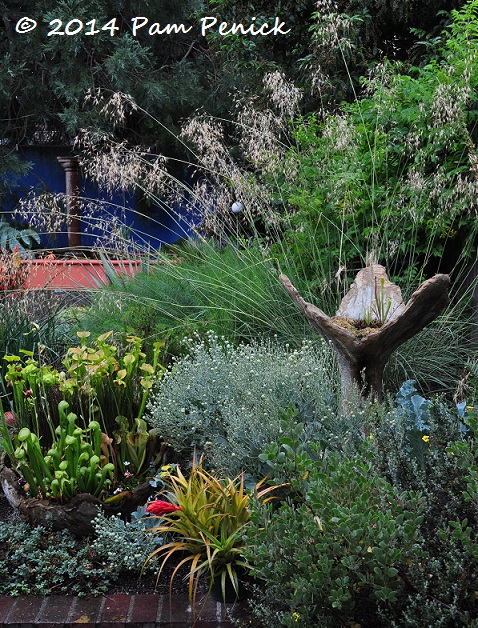 Like an egg out of Alien, the "petals" of this floral-style container open to reveal pitcher plants tucked inside. The surrounding plants make up a stunning vignette.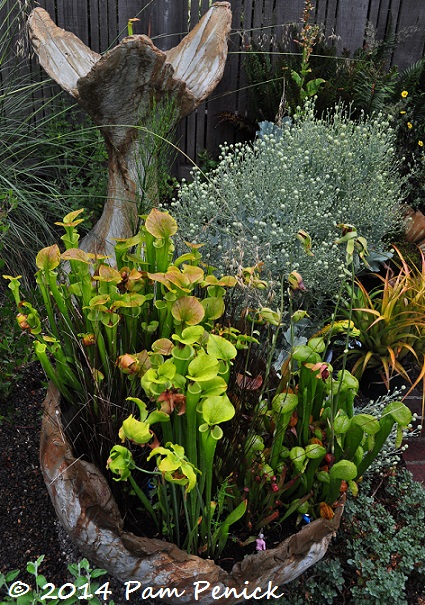 More pitchers are planted in a spherical container.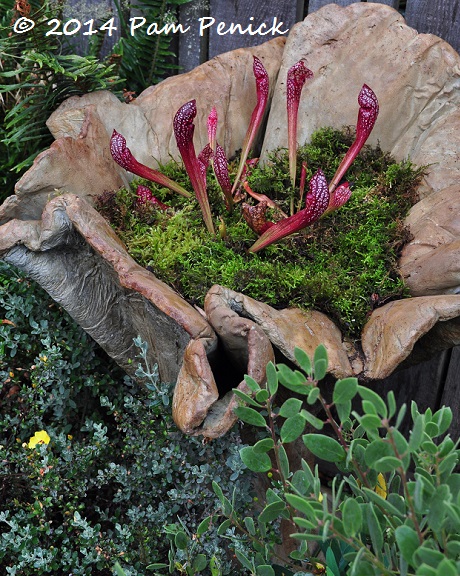 And more yet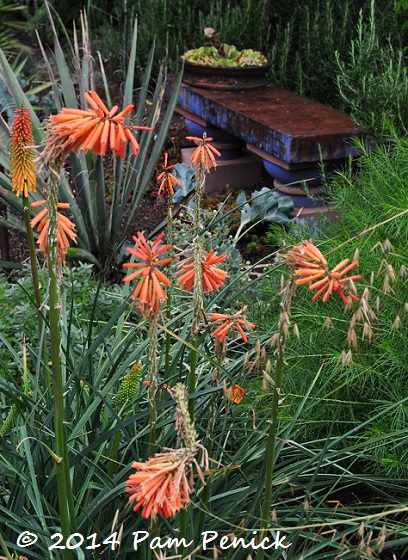 A Little and Lewis bench offers a spot to enjoy the scene.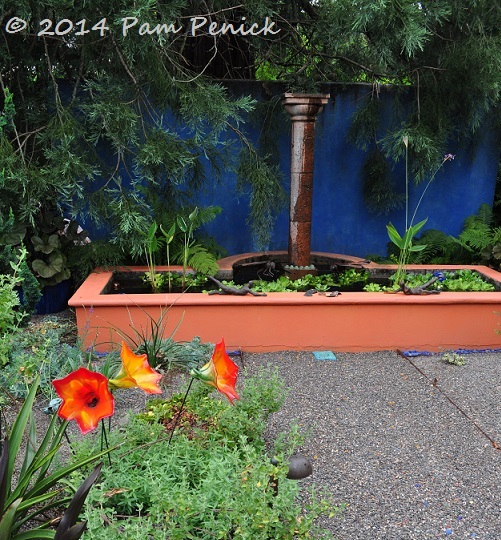 But the star of this area is a Little and Lewis column-fountain centered in a terracotta raised pond, framed by a cobalt-blue wall. Shazam!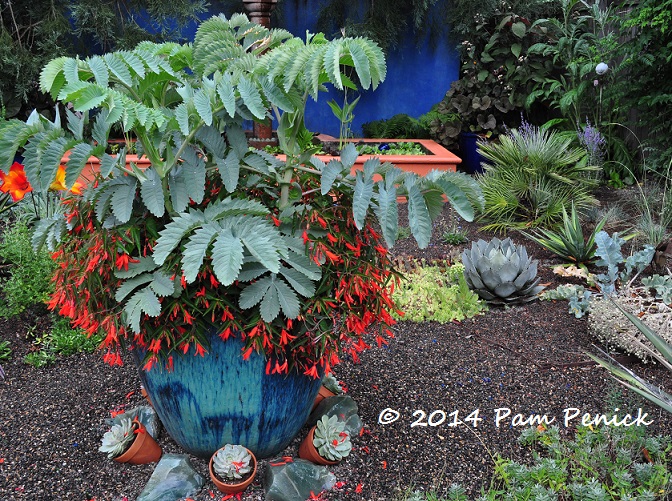 Vying for fabulousness is this focal-point pot in the center of the gravel garden. I have no idea what the plants are — but I LOVE them. Update: The plants are Melianthus underplanted with Begonia boliviensis. Thanks, Vanessa!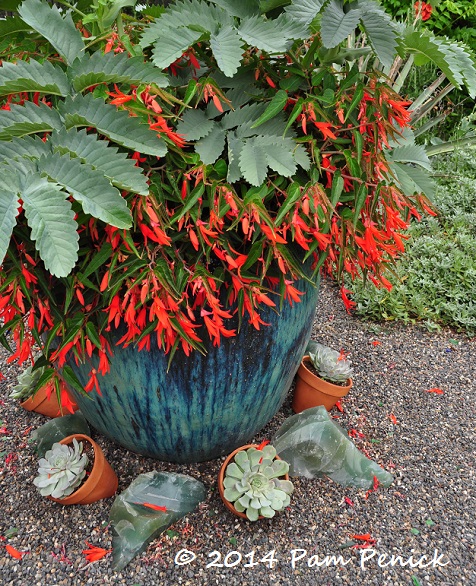 Notice the little pots of succulents and sea-green slag glass alternating around the base of the container.

In all its wide-view glory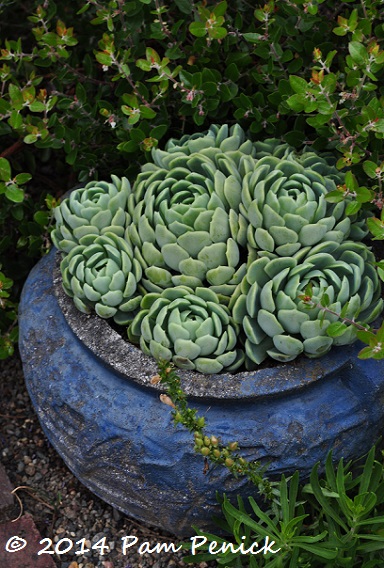 Big moments like the focal-point pots, fountain, and cabanas may elicit the most oohs and aahs, but numerous, smaller details are what really add personality to Floramagoria, from pots tucked here and there…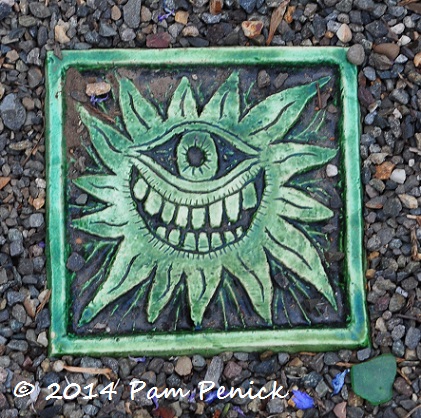 …to fun tiles set in the paths…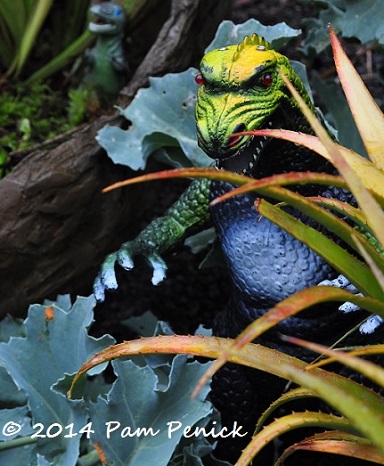 …to plastic dinosaurs rampaging among the beetles and ants. Even with a collection of high-brow art like the Little and Lewis pieces, the gnomes and dinos indicate that the owners don't take themselves or their garden too seriously.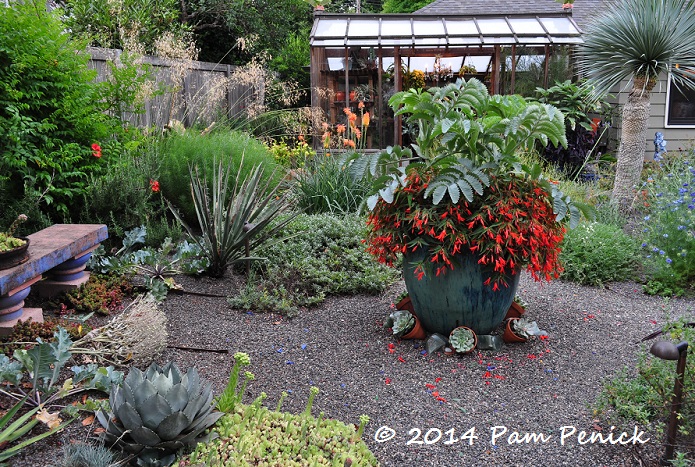 It's a place of discovery and delight.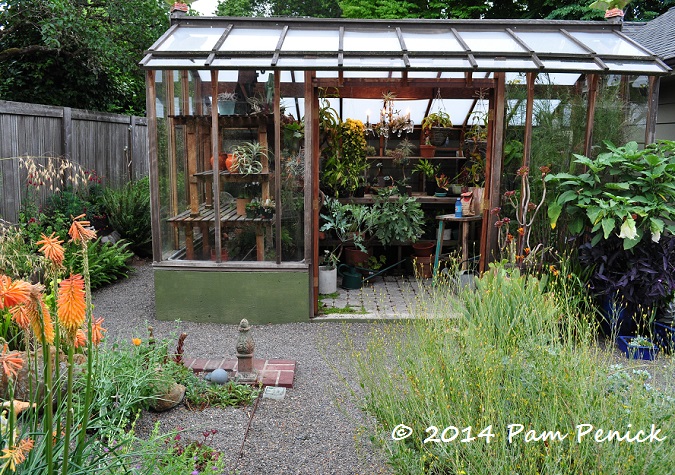 A greenhouse gives the owners a place to overwinter their tender plants. But is there room for them all, I wonder?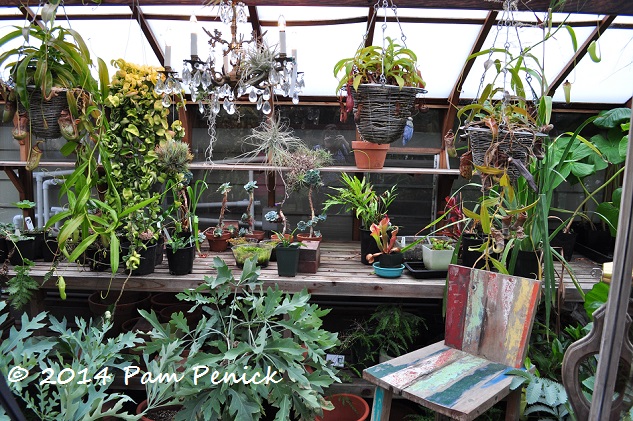 During the warm, dry summer months, it's a place to display a few treasures with the doors wide open. A working chandelier is dressed up with tillandsias tucked among the crystals.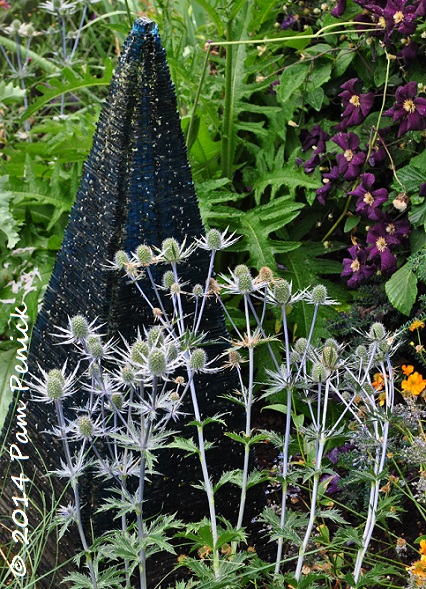 I like this glass pyramid paired with steely blue eryngium.

Astrantia and Japanese forest grass, two Pacific NW plants I lust for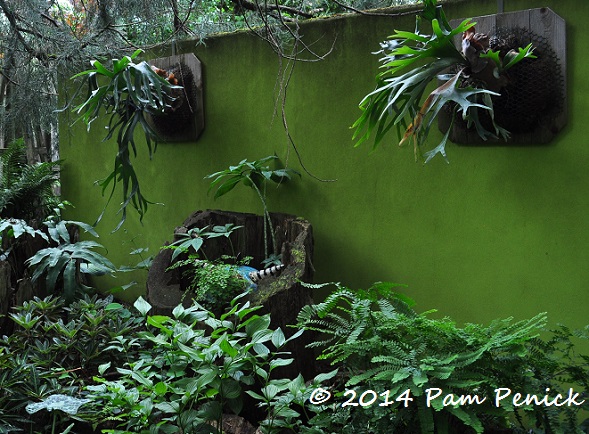 The back side of the cobalt wall is painted mossy green and hung with staghorn ferns.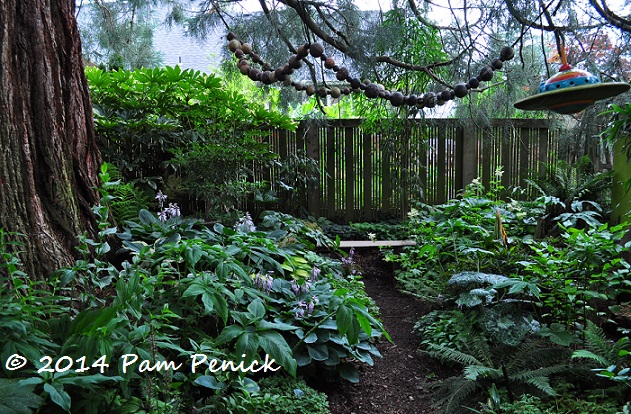 An enormous Douglas fir or redwood (not sure which) puts this garden in deep shade. Hostas, ferns, and other shade plants complete the woodland look. Quirky art like a hanging UFO and Marcia Donahue "necklace" add personality.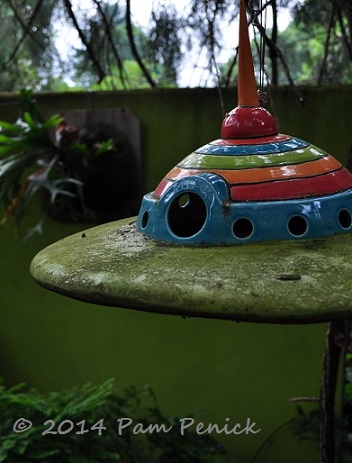 Is this a birdhouse?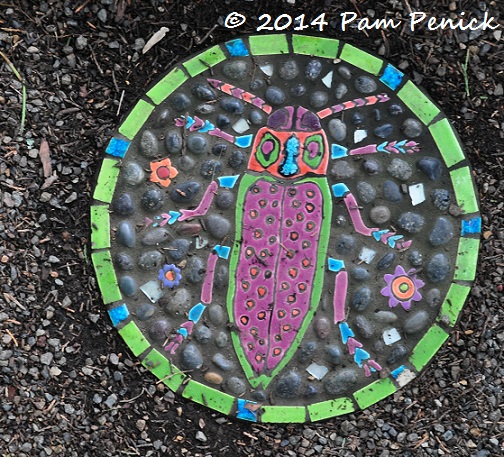 Colorful bug paver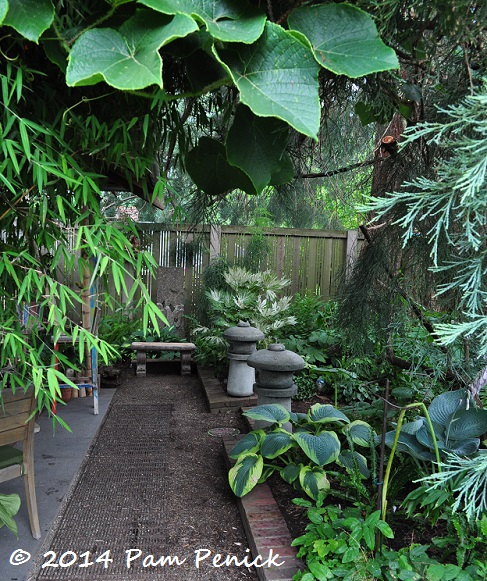 You can enter the tropical pavilion, at left, from the shade garden.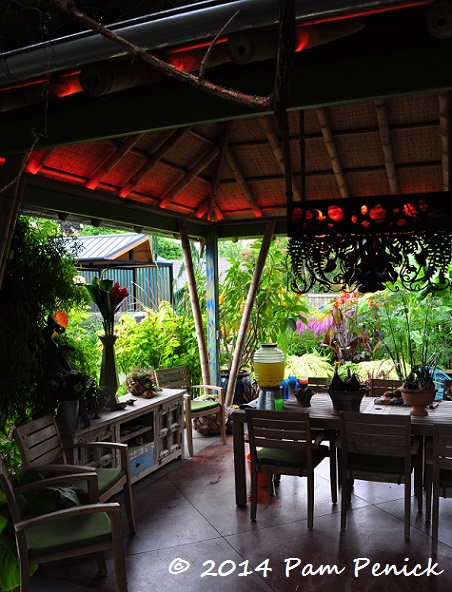 A spacious seating and dining area is sheltered by a bamboo-framed roof. Over the table hangs a striking metal light fixture.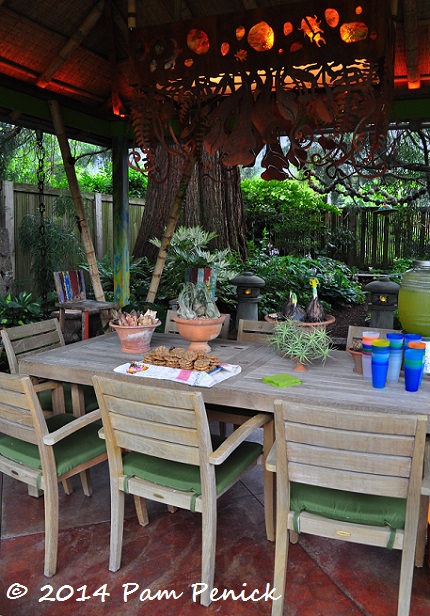 The hosts generously provided us with cookies and lemonade here.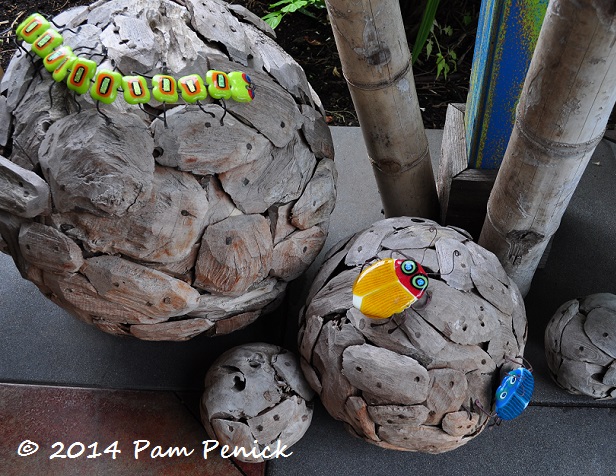 Fun, fused-glass bugs crawl over chunky wooden spheres in one corner of the cabana.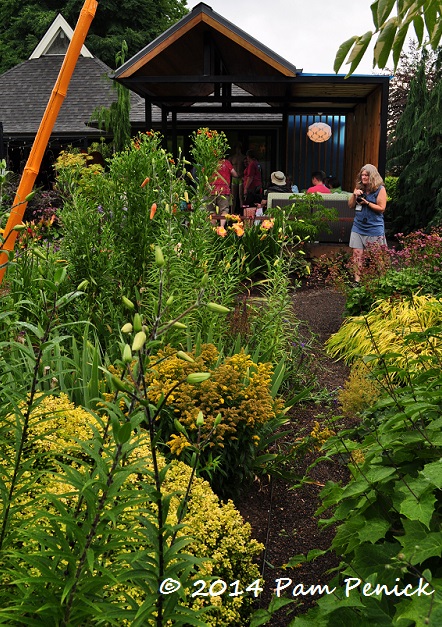 Heading out through the tropical, colorful garden, I catch Barbara of bwisegardening snapping some shots too.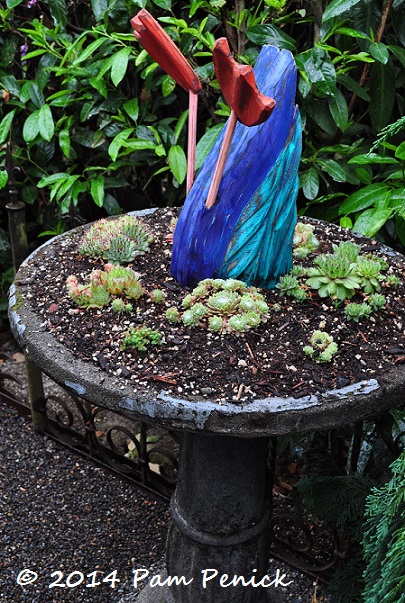 Behind the deck in the side garden is one of the funnier displays at Floramagoria: a wooden duck "diving" into a succulent-planted birdbath.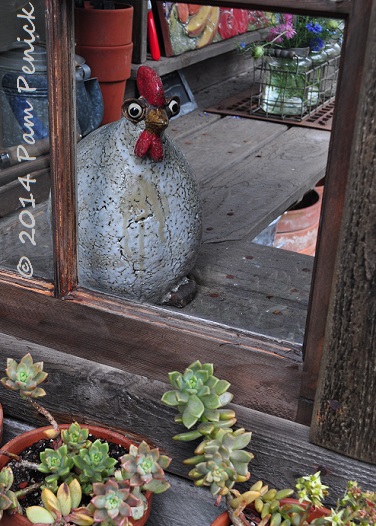 In the window of a rustic garden shed, a curious chicken peers out.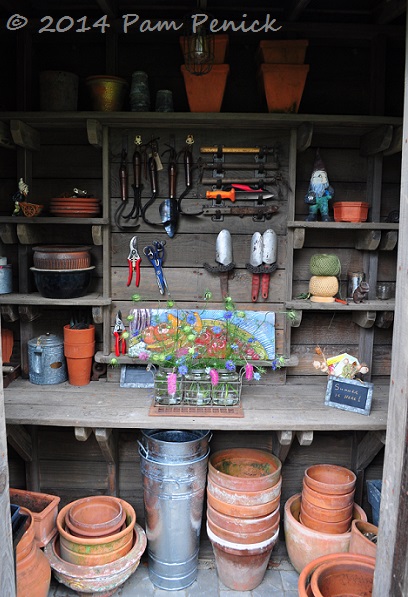 Inside, a tidy display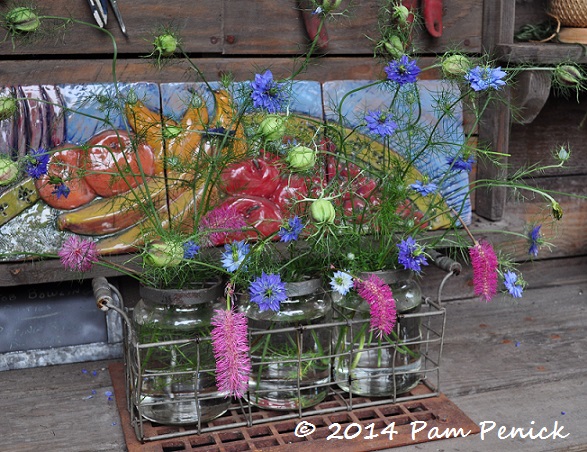 Bouquets in glass jars add a cheery note.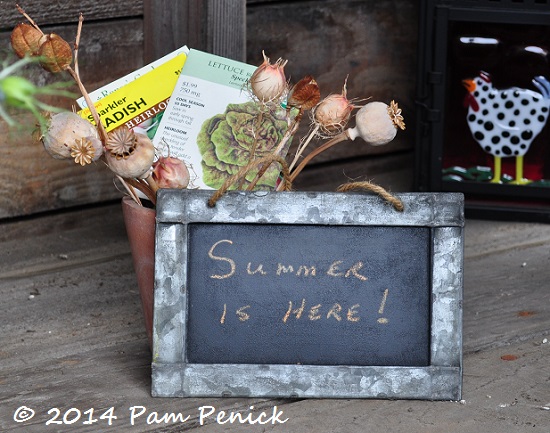 This is a happier phrase in Portland than in Austin, I think.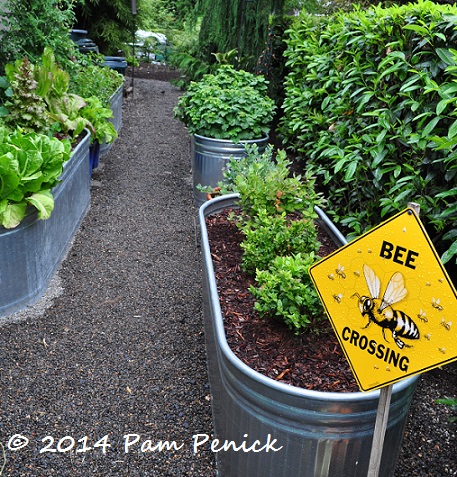 The rest of the side yard is devoted to beekeeping and edibles in stock tanks.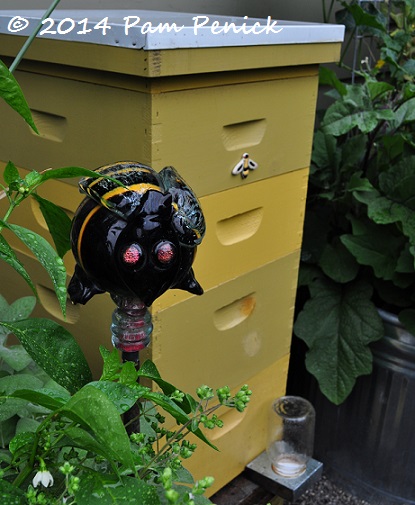 Glass bees on stakes surround a yellow beehive.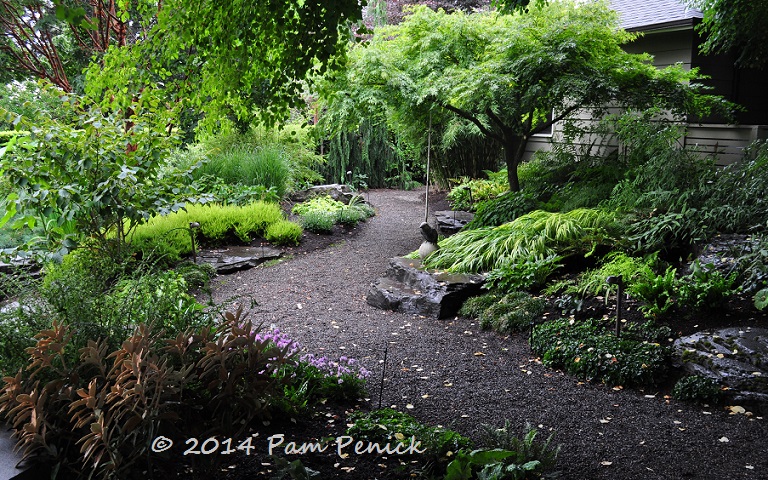 Out front, it's another world entirely: naturalistic rather than formally designed, serene rather than quirky, green rather than colorful.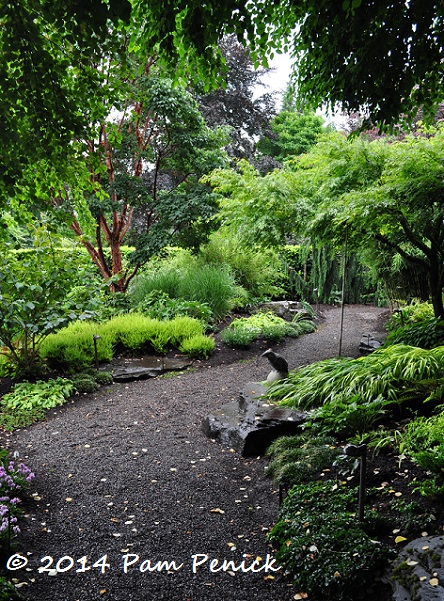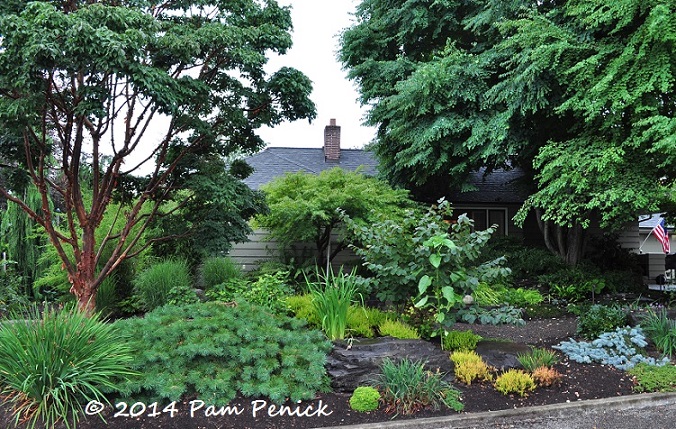 It's very beautiful too, of course, but you'd never know what awaits you in back.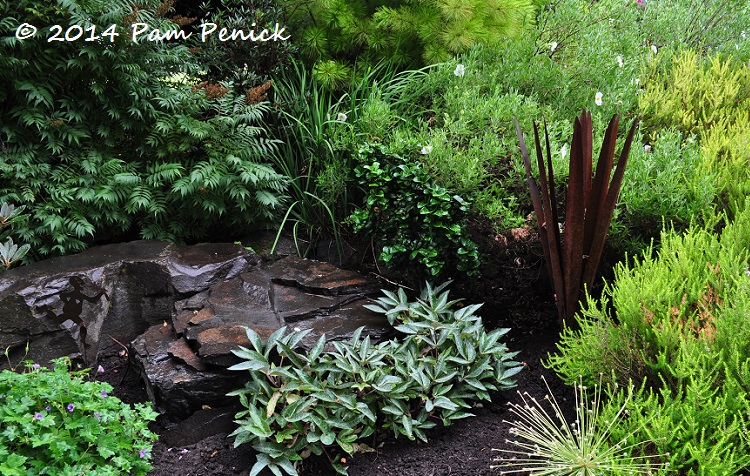 Every space is gardened up, including this side strip along the driveway.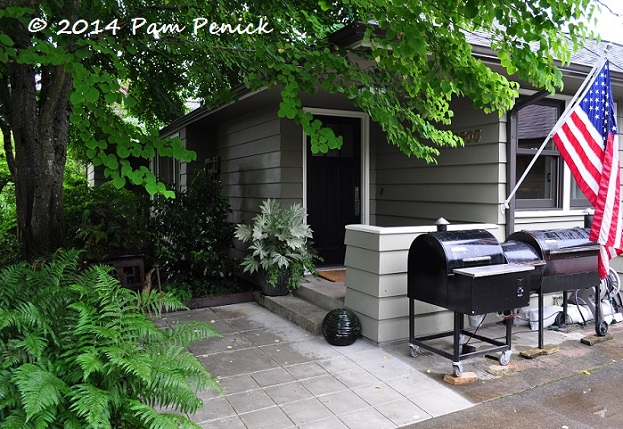 A modest but patriotic front entry and grilling station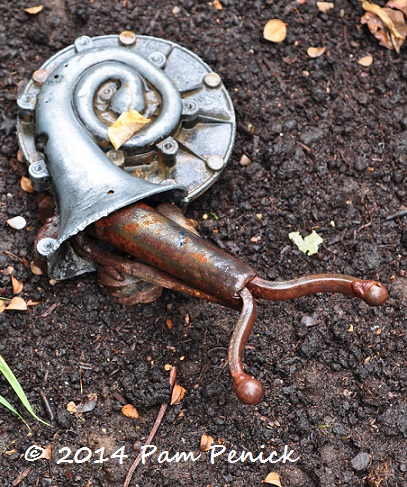 I adored the metal art found throughout the garden.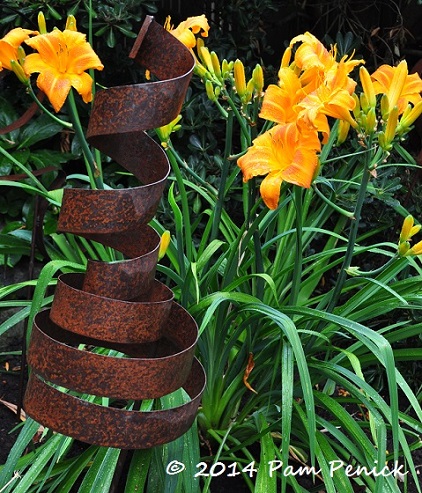 This metal ribbon reminds me of Scott's metal pieces at Rhone Street Gardens.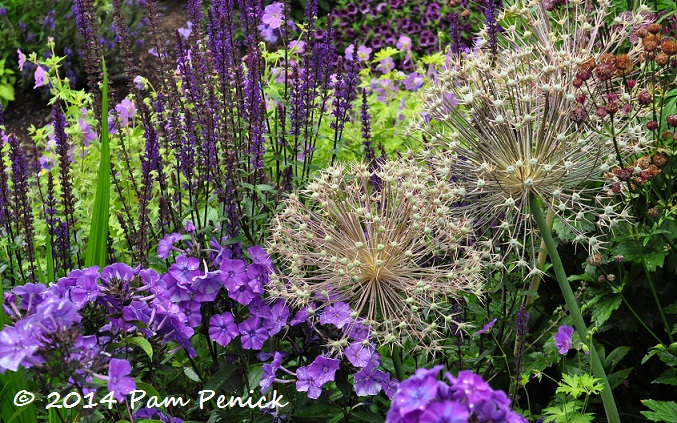 One last glimpse of a colorful vignette from the back garden, and it's time to end this lengthy virtual tour. Floramagoria was one of my very favorite gardens on the Portland Fling, full of personality, color, wit, and strong design of both plants and hardscape.
Up next: The surprisingly xeric, experimental, and contemporary garden of John Kuzma. For a look back at the inviting, art-filled Dancing Ladies Garden of Linda Ernst, click here.
All material © 2006-2014 by Pam Penick for Digging. Unauthorized reproduction prohibited.
posted in
Agaves
,
Aloes
,
Annuals
,
Arbors
,
Bamboo
,
Bees
,
Birds
,
Bouquets
,
Bugs
,
Cactus
,
Carnivorous plants
,
Chickens
,
Color
,
Containers
,
Daylily
,
Decor
,
Design
,
Edibles
,
Fences
,
Fling Portland
,
Fountains
,
Garden art
,
Garden structures
,
Garden tours 2014
,
Grasses
,
Lawn Gone!
,
Lighting
,
Palms/Cycads
,
Paths
,
Patios & decks
,
Ponds
,
Sculpture
,
Seating
,
Sheds
,
Stock tanks
,
Succulents
,
Summer color
,
Tillandsias
,
Travel
,
Trees
,
Tropicals
,
Vines
,
Walls
,
Water features
,
Xeric plants
,
Yuccas