May 10th, 2009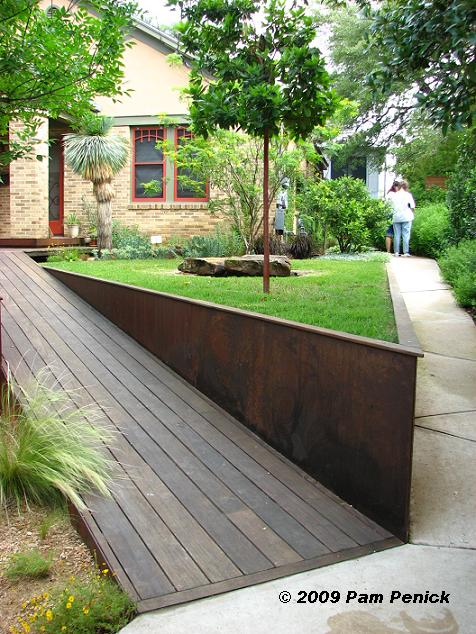 On Saturday I joined Diana of Sharing Nature's Garden, Lori of The Gardener of Good and Evil, and a friend of Lori's from Arizona to visit four private gardens on the Wildflower Center-sponsored Gardens on Tour, an annual tour of gardens that predominantly feature native Texas plants.
Our first stop was in south Austin, right off trendy South Congress Avenue, where we saw an edgy (literally), fun, and funky bungalow garden. The homeowners collaborated with designers Laurie Kemp and Josh Henderson to carve out an off-street parking area and gain privacy in a busy, urban environment. The photo above shows the view from a lower parking area looking up at the raised lawn and garden next to the house. The triangular design of the steel retaining wall brings to mind the prow of a ship. On the left, a wooden ramp leads to the front door; on the right, a scored-concrete path meanders toward a back-yard home office.

A water feature composed of large rocks provides a focal point in the triangular front lawn. That's a golden leadball tree (Leucaena retusa ) by the house.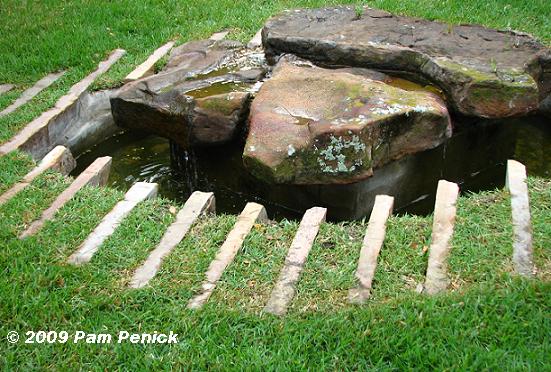 A closer look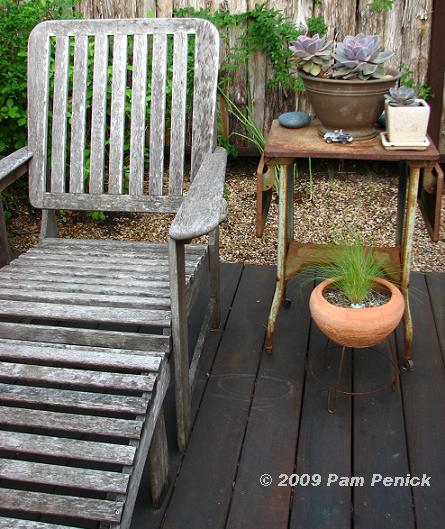 A front-deck extension to the home's front porch offers a bigger seating area.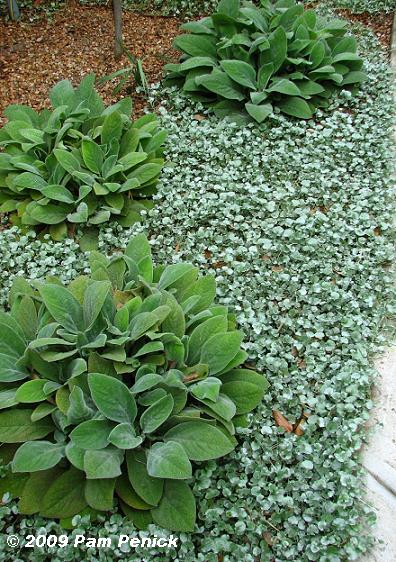 Along the side path to the back yard this cool combo of lamb's ear (Stachys byzantina ) and silver ponyfoot (Dichondra argentea ) caught my eye.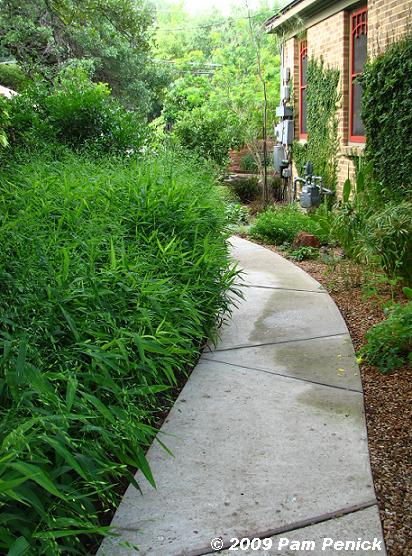 The narrow side yard is maximized with a curving path and a swath of shade-loving inland sea oats (Chasmanthium latifolium ) that hide the end of the path from view, making the space feel larger and inviting the visitor to explore around the bend. This is the view looking back toward the front garden.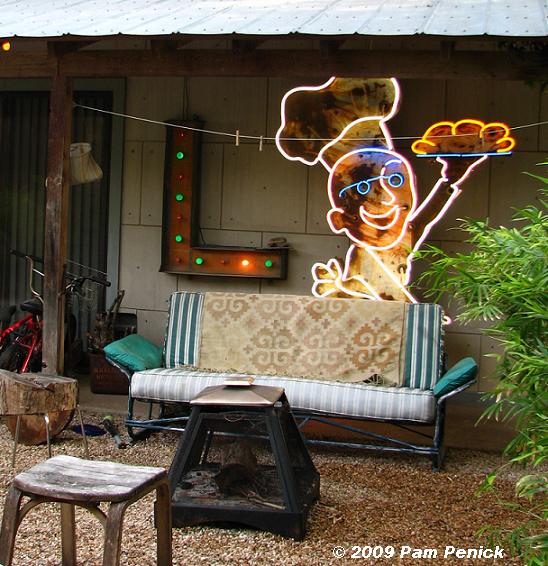 In the back yard, a gravel patio, a playful collection of vintage electric and neon signs, and an old cushioned sofa offer relaxation SoCo-style.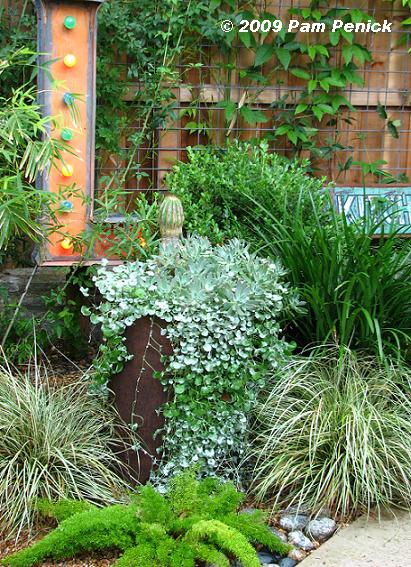 A container planting of cactus and silver ponyfoot, low grasses, foxtail fern (Asparagus meyeri ) and more signs amp up the fun.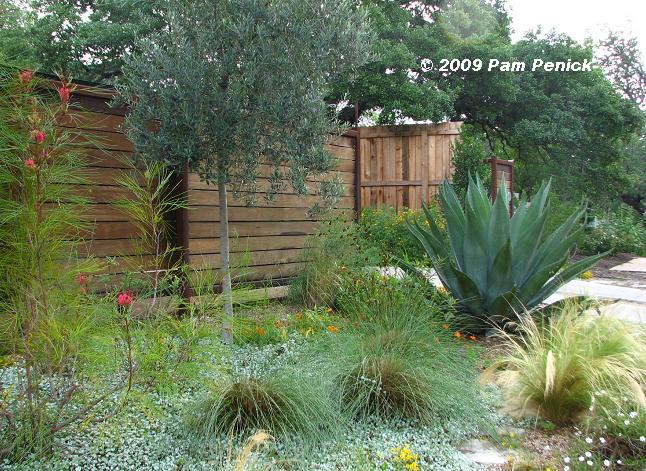 Outside the front fence, along the street, a hot and sunny xeric garden combines Mediterranean, Australian, and native plants. Red-flowering Grevillea mingles here with a Mission olive tree, American agave, Gulf muhly grass (Muhlenbergia capillaris ), Mexican feathergrass (Nassella tenuissima ), and silvery ponyfoot (Dichondra argentea ) groundcover.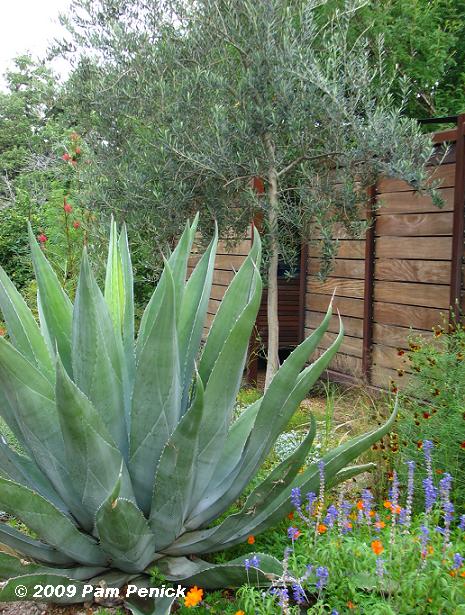 Another look
While small, this garden packs a big punch thanks to a strong geometric design, different elevations, intriguing plant choices, and fun decor. The homeowner, who is friendly, knowledgeable, and enthusiastic about his garden, was available to answer questions, as was one of the designers. Visiting this garden was a great start to the tour.
Tune in soon for a look at the Rockcliff Road garden.
All material © 2006-2009 by Pam Penick for Digging. Unauthorized reproduction prohibited.