August 3rd, 2014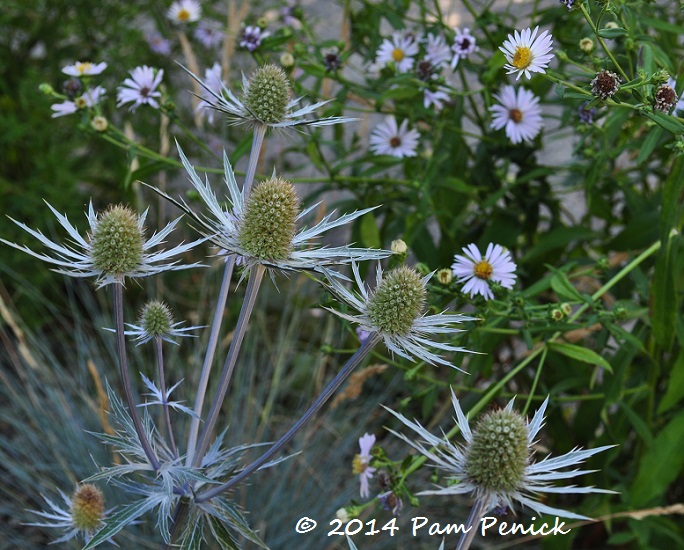 The Garden Bloggers Fling takes you to so many wonderful gardens that it would be understandable if you simply overloaded by the end of the day, unable to appreciate one more. Thankfully I find new gardens energizing, and when our bus pulled up at Portland blogger Tamara's charming Spanish-style home — the last stop on our 2nd day of touring — I hopped out eager to see her Chickadee Gardens in person, having followed her blog of the same name for a while.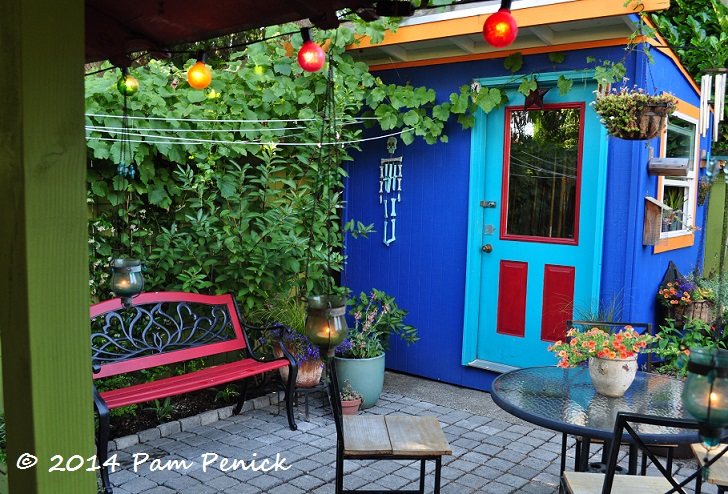 Tamara and her husband welcomed us into the garden, with refreshments set up along the driveway, and their cobblestoned back patio party-ready with strings of colored lights and Japanese paper lanterns hung overhead.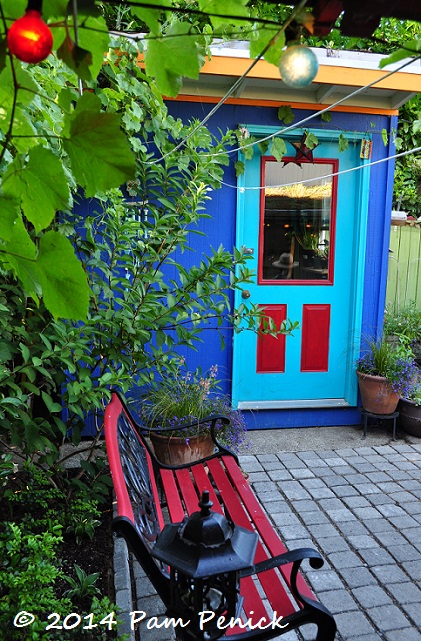 The first thing you notice is the cheerfully painted cobalt, turquoise, and red shed. A painted bench picks up the red of the door.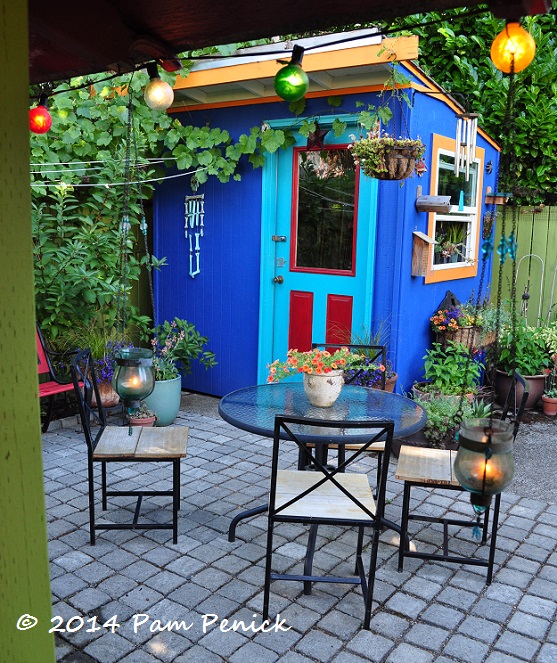 Another view, with glass votives hanging from the eave of a green porch on their 2-story garage, which shelters the patio from the driveway. Notice that the surrounding picket fence is painted the same mossy green. Tamara is not afraid of color, and it must really brighten up their damp, gray winters.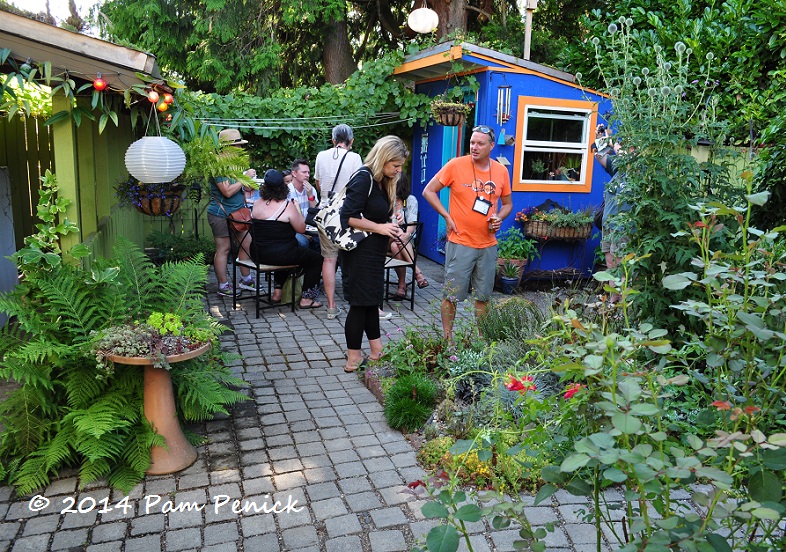 Here you can see that green porch on the garage a little better. Its sloping roof is actually planted up with succulents, taking the garden right up overhead! This small, urban lot is planted densely with a tapestry of native, adapted, and wildlife-attracting plants.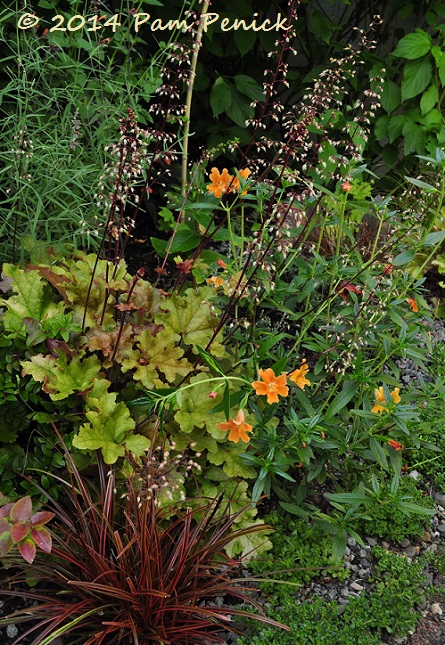 Tamara has a talent for plant combinations with color echoes, like this lovely vignette.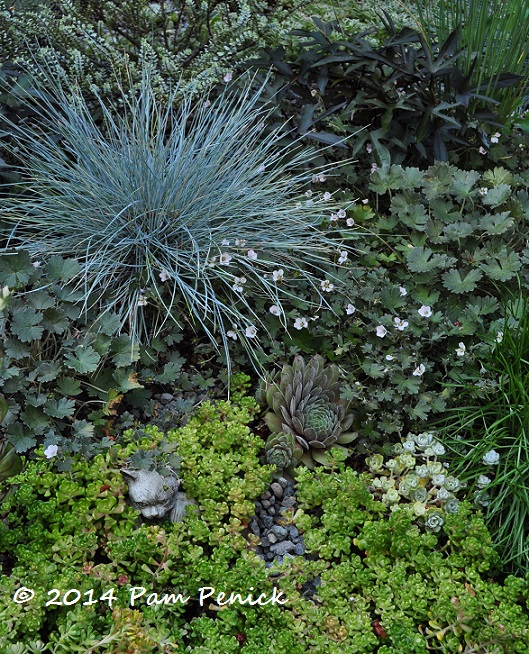 And this one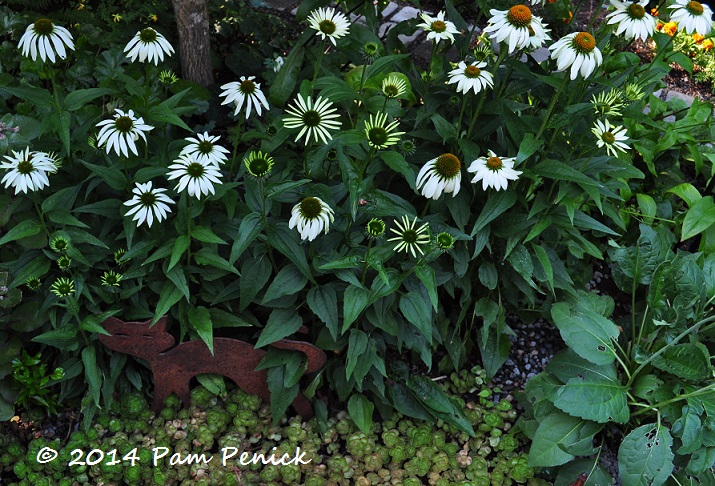 White coneflowers glow during evening gatherings and still attract butterflies and birds.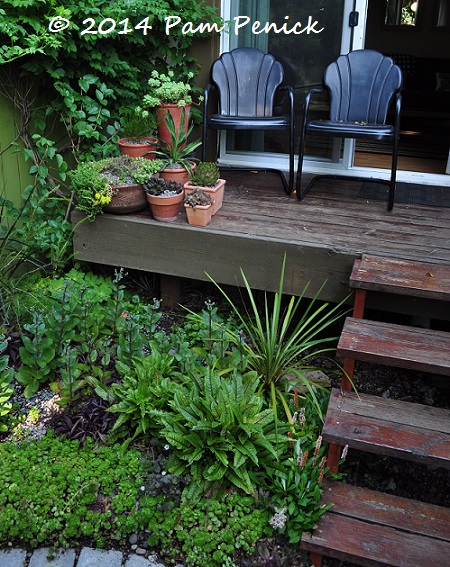 A tiny, elevated back deck offers another spot to enjoy the garden.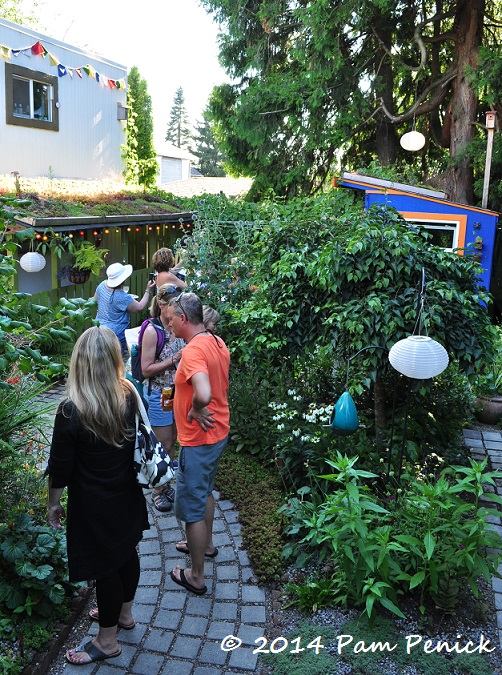 The view from the deck. I like how Tamara lifts the eye with lights, hanging planters, the green roof, and head-high shrubs that keep you from seeing everything at once.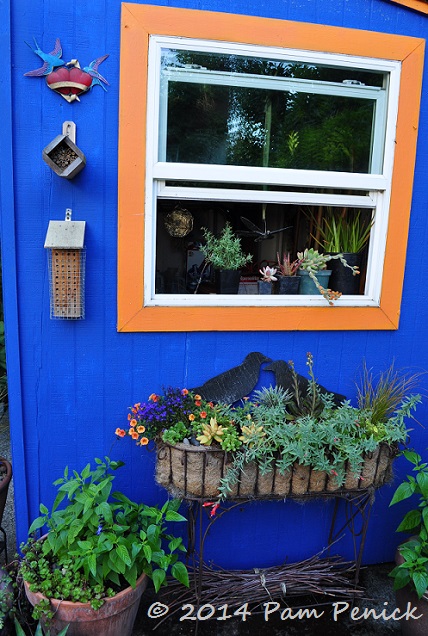 The blue shed is just as eye-catching from the side, with succulents in the window and a pretty planter stand.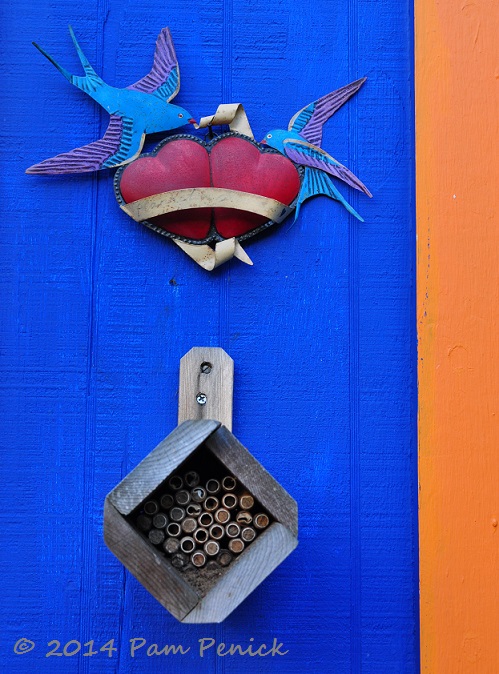 Insect houses are hung here to attract solitary bees and other garden-friendly pollinators.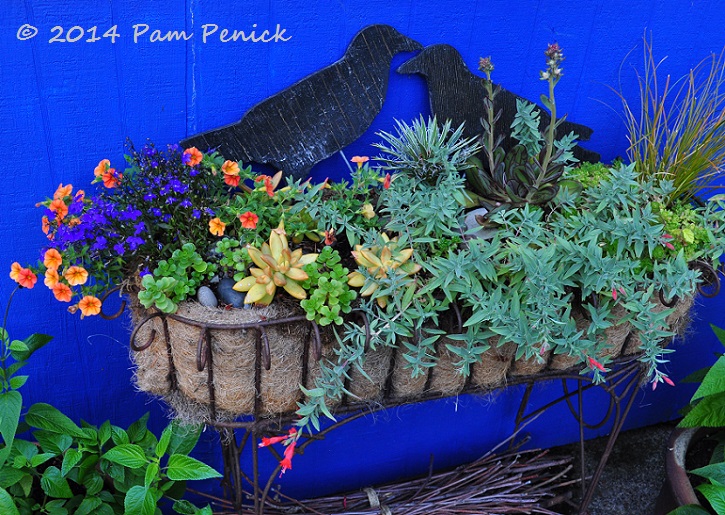 Orange and red flowers pop against the blue shed.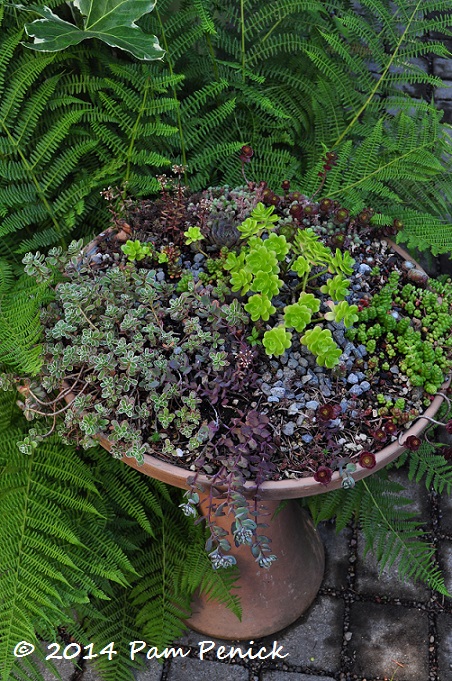 A birdbath tucked among ferns has been transformed into a succulent dish.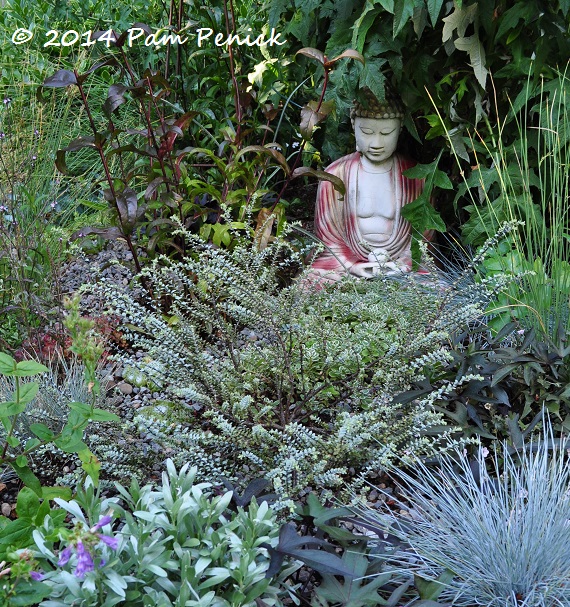 I love this vignette.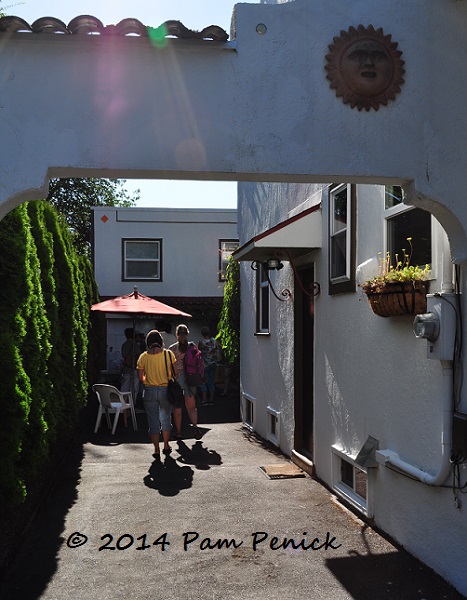 Walking back up the driveway toward the front of the house, you pass under a Spanish-style arch. The stuccoed house is white, so when you enter the back garden the bright colors are a fun surprise.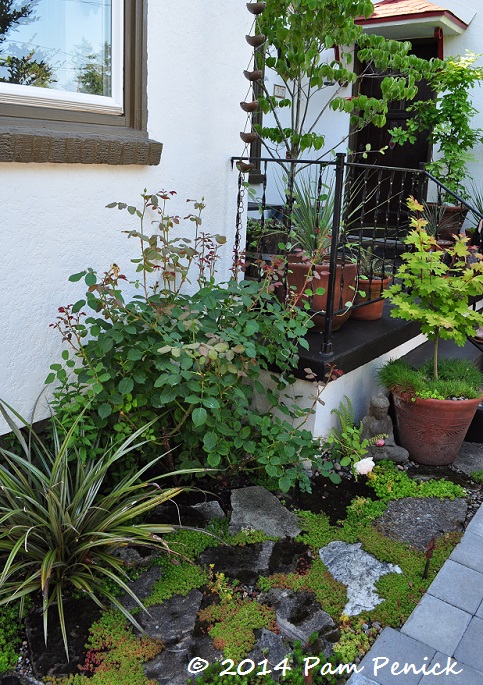 Out front, the house sits atop a slope held in place with a stone retaining wall. Atop the slope, a square-block walk ambles to the front door past a sedum tapestry, a rose bush, and small potted trees that bring the garden right up on the porch.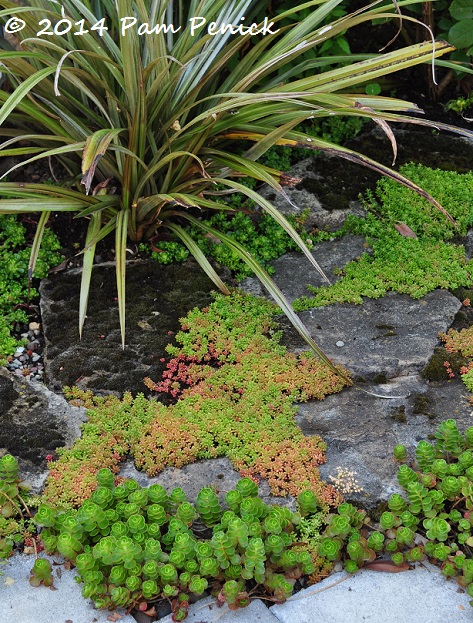 Sedum and stone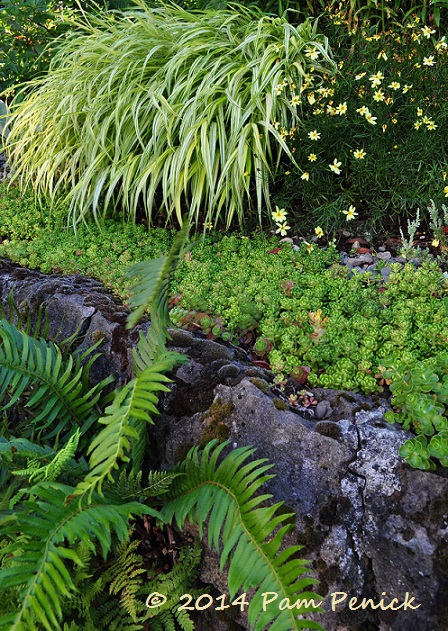 Dense plantings on the slope below provide privacy for the homeowners, offer nesting places for wildlife, and no doubt delight passersby.
Chickadee Gardens is as charming, compact, and spirited as the bird it's named for. Thanks, Tamara, for sharing your garden with us!
Up next: Grass-happy Rhone Street Gardens. For a look back at the orange-infused style and whimsy of JJ De Sousa's garden, click here.
All material © 2006-2014 by Pam Penick for Digging. Unauthorized reproduction prohibited.
posted in
Birds
,
Bugs
,
Cats
,
Containers
,
Fences
,
Fling Portland
,
Garden art
,
Garden tours 2014
,
Grasses
,
Green roofs
,
Groundcovers
,
Lawn Gone!
,
Lighting
,
Paths
,
Patios & decks
,
Seating
,
Sheds
,
Succulents
,
Travel
,
Windows