July 19th, 2014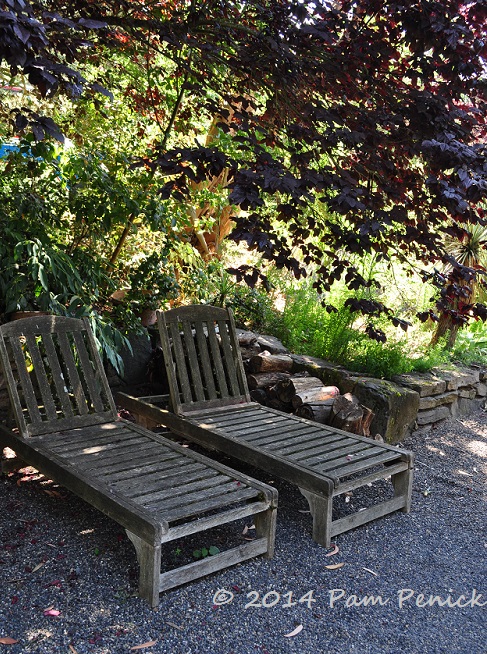 After touring Lan Su Chinese Garden in downtown Portland, the two Fling buses headed out to scenic, agricultural Sauvie Island for our visits to two premier nurseries: Cistus and Joy Creek.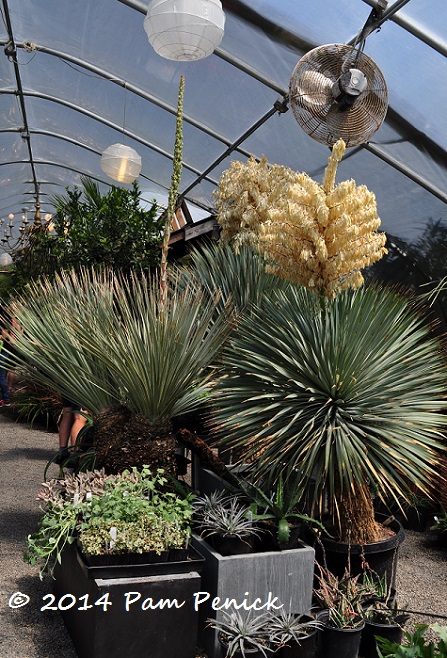 Cistus is a plant lover's mecca, with rare and interesting plants from all over the world, including no small number that are quite at home in Austin, like these Yucca rostrata.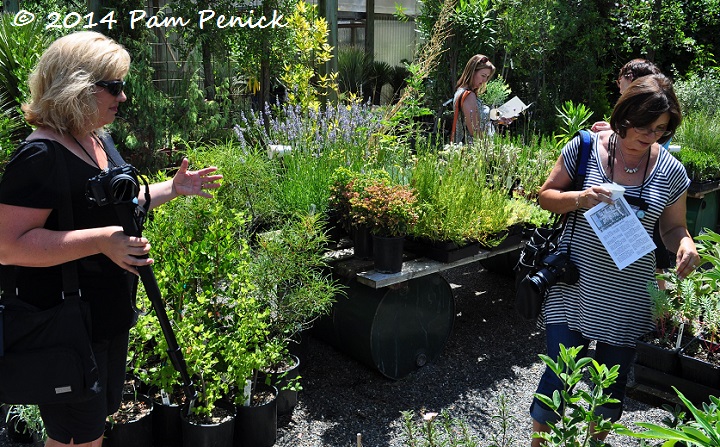 I am rarely tempted by plants when traveling, however, which makes me the odd woman out among plantaholic Flingers like my traveling companion Diana , browsing the plant tables on the right. Seattle-area blogger (and contributor to Lawn Gone!) Christina, whom I was excited to finally meet, seems to be directing Diana for a photo, or perhaps illustrating how large her euphorbia has grown. Like me, she's an obsessive photographer on tour, always working a garden for the perfect angle.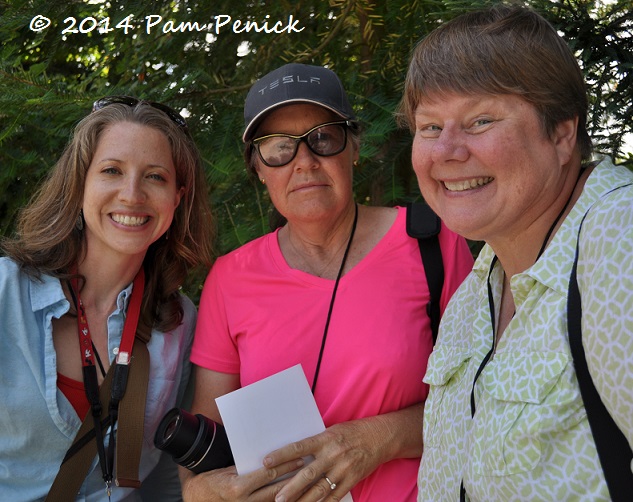 Instead of plant shopping, I took photos of friends, including this one of Austin bloggers Laura (left) and Sheryl (right). In the middle is talented photographer Hoover Boo, as she's known online, from southern California.
Two things to note: I am so proud to be part of the Austin garden bloggers, who totally rocked the number of bloggers from one city (aside from local bloggers) at the Fling. Shout-out to fellow Austinites Diana, Vicki, Caroline — all veteran Flingers — and newbies Sheryl, Laura, Ally, and Chris. Our group of 8 had a lot of fun, especially with former Portlander Sheryl as tour guide in the evenings, but one thing we forgot to do was take a group photo. Oh well, next time!
I was also delighted to run into former Austin blogger/designer and current Portland resident David Meeker, who was working the register at Cistus. What better way to teach oneself the ins and outs of gardening in Portland than to work in one of its best nurseries?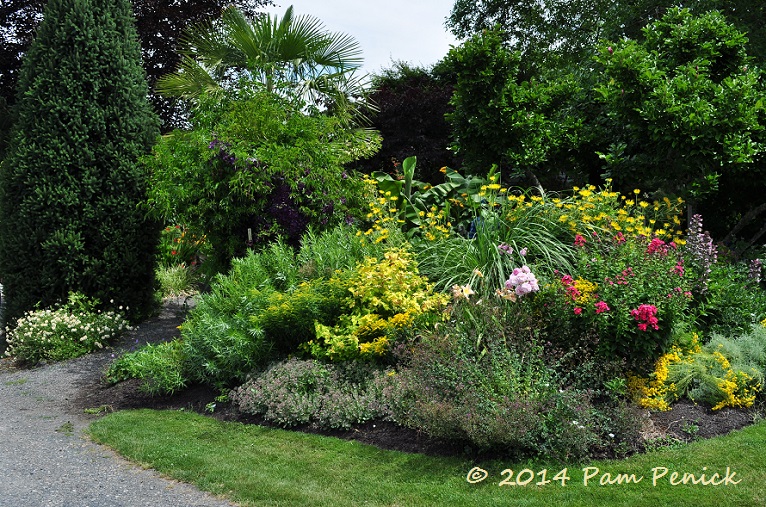 Cistus is great, but my favorite of the two nurseries is Joy Creek, purely for its rural charm and photogenic gardens that envelop a house belonging to one of the owners.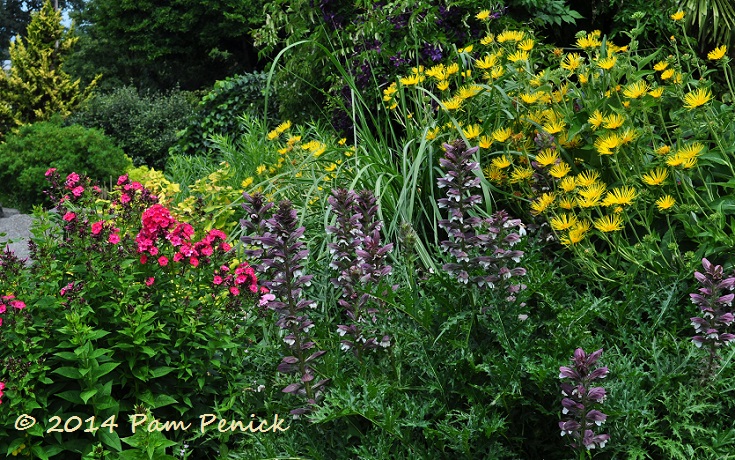 Sunny and shady gardens invite strolling and inspire plant purchases.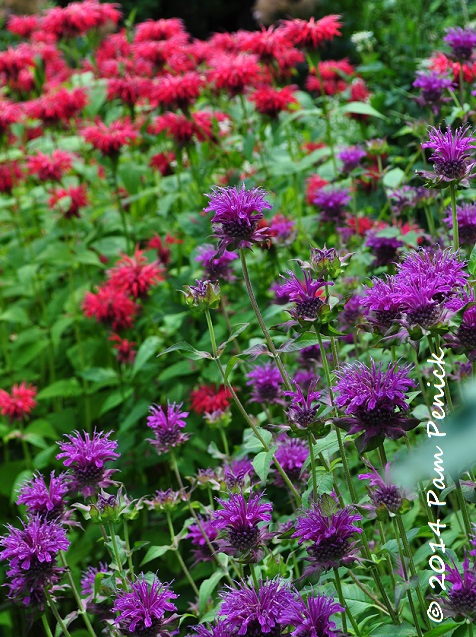 The sunny gardens are a fiesta of color. Beebalm…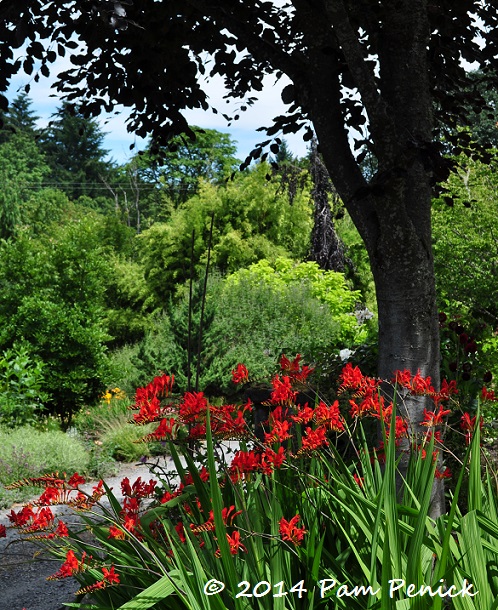 …and croscosmia are two of my favorites.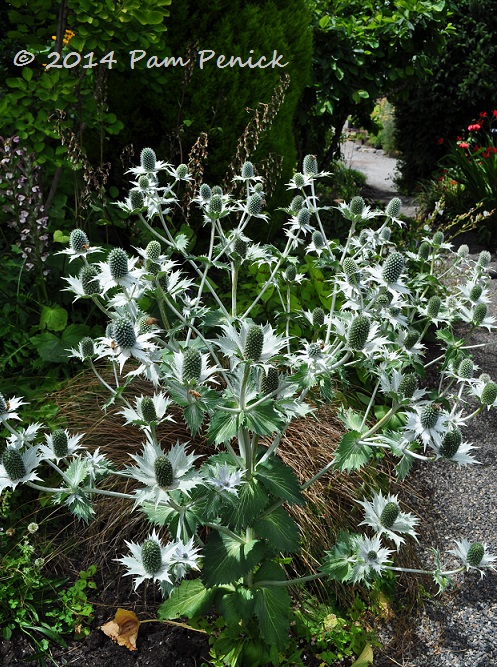 I adore this ghostly eryngium too.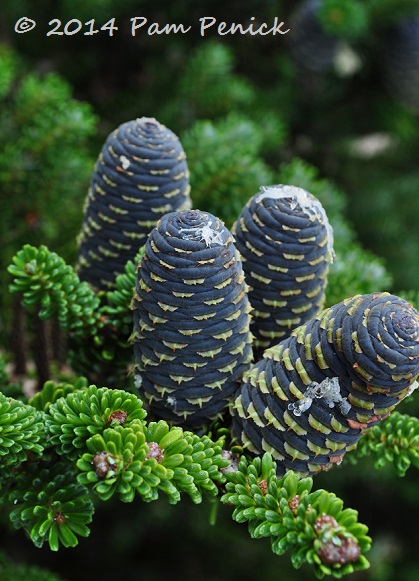 And these fir cones that resemble spooled cords.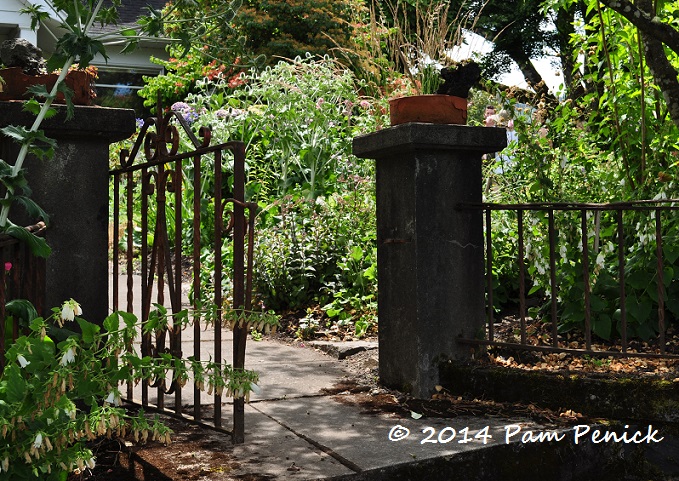 Come on in and enjoy the gardens, says this open gate.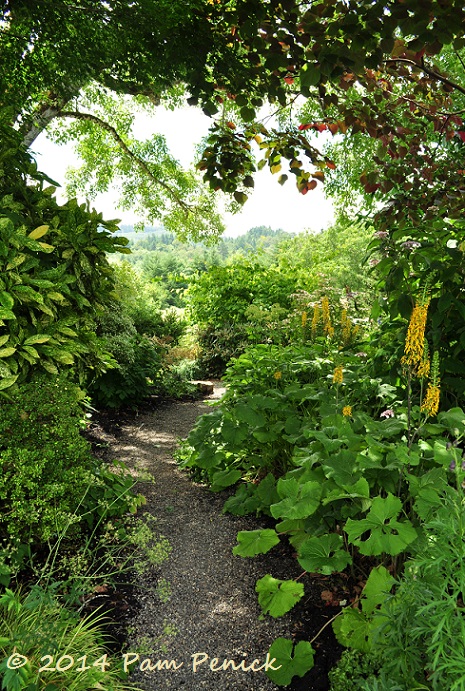 A golden walk between ligularia and acuba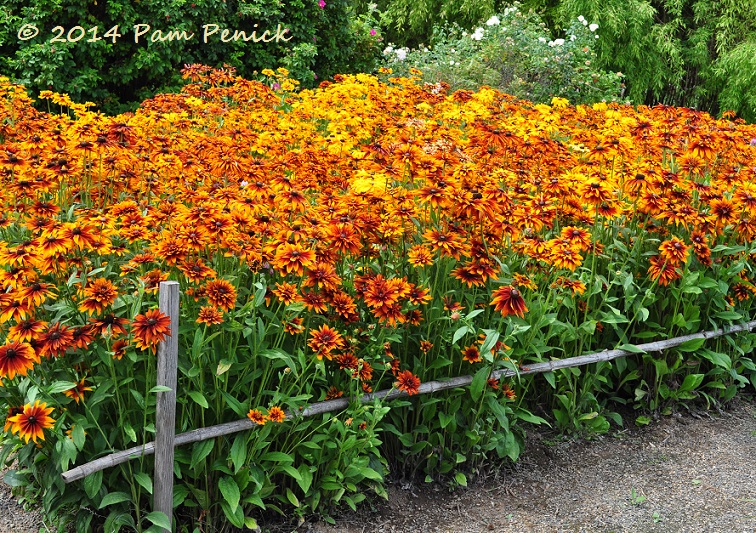 Rudbeckia in sunset hues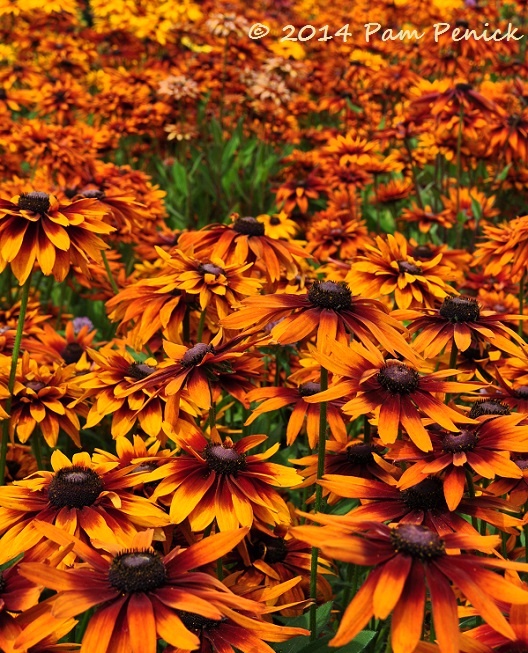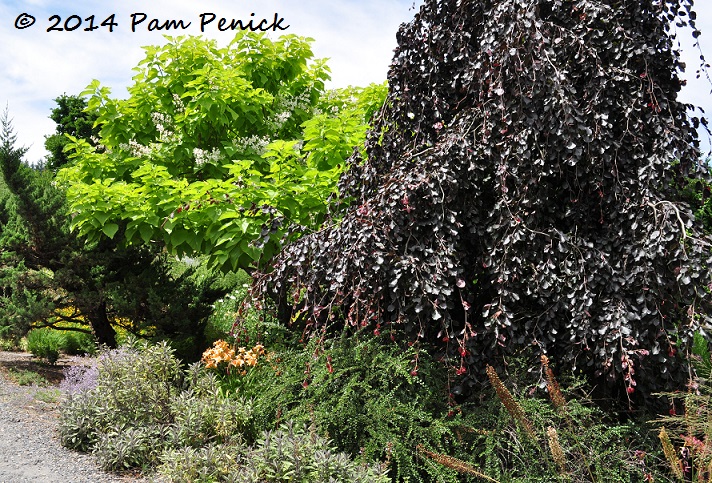 I like this juxtaposition of eggplant-purple and chartreuse.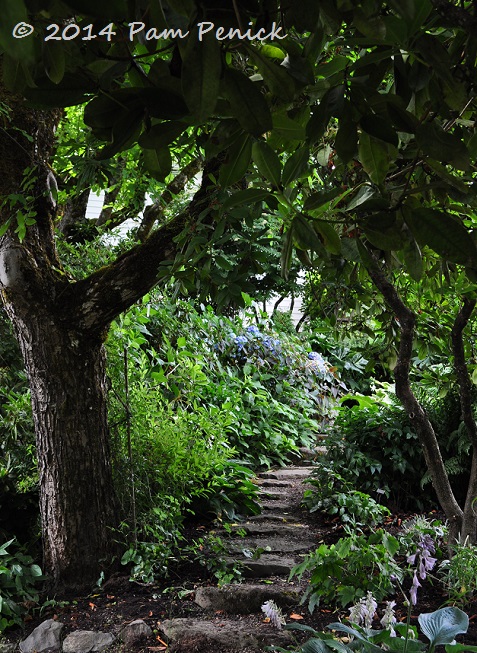 Shade was welcome on this surprisingly warm day. Temps the first two days of the Fling reached the upper 80s and low 90s (33C), but in the shade the low humidity kept things comfortable.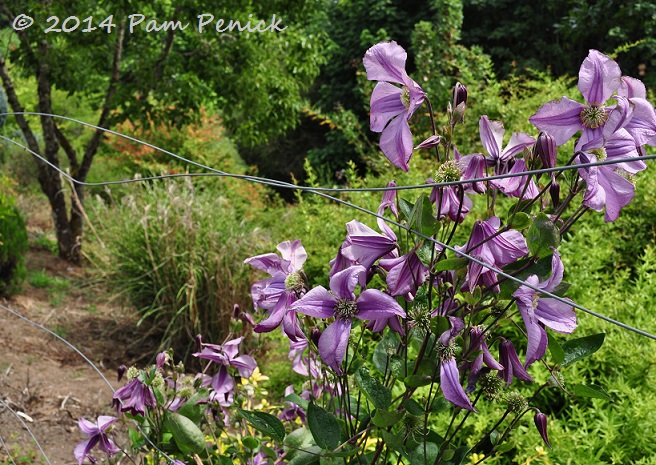 Clematis is a specialty of Joy Creek, and numerous varieties were displayed on wire trellises.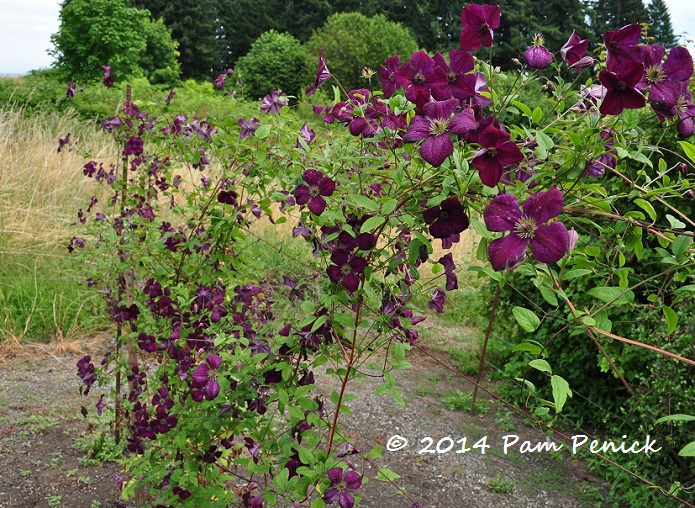 Such rich color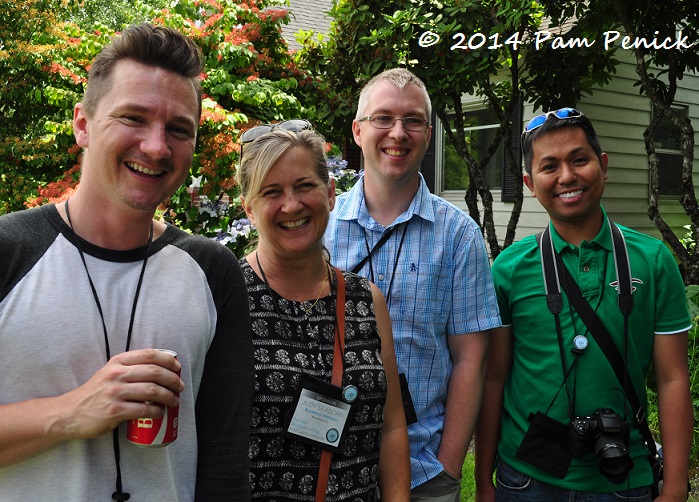 Fling friends: Brandon and Judy, Fling sponsors from Botanical Interests; and Gaz and Mark, all the way from England.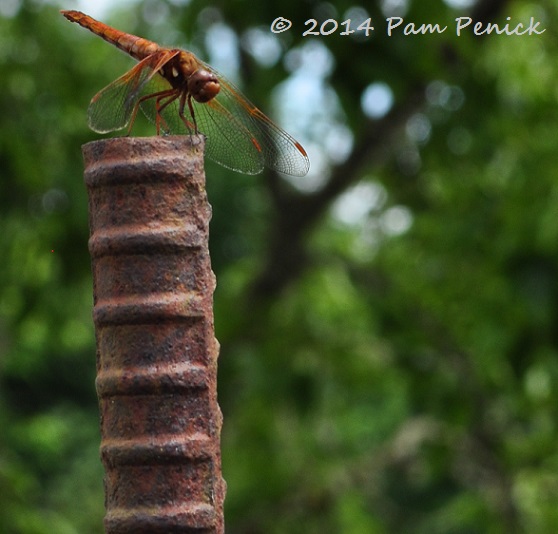 A local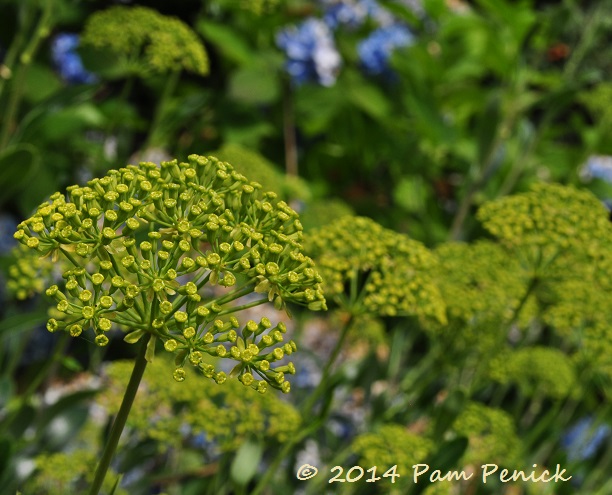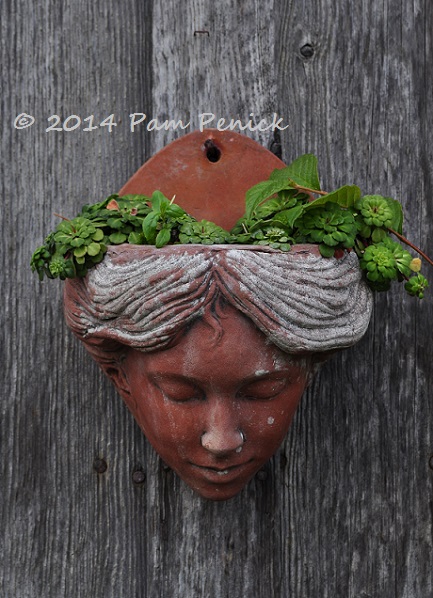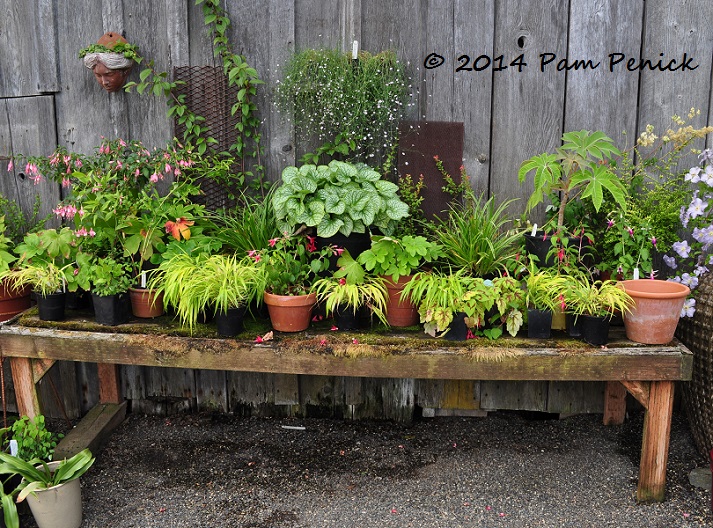 A barn in back of the house serves as the retail area, where plants are appealingly displayed in vignettes on tables and on the ground. I'll take the whole set, I wish I could have said.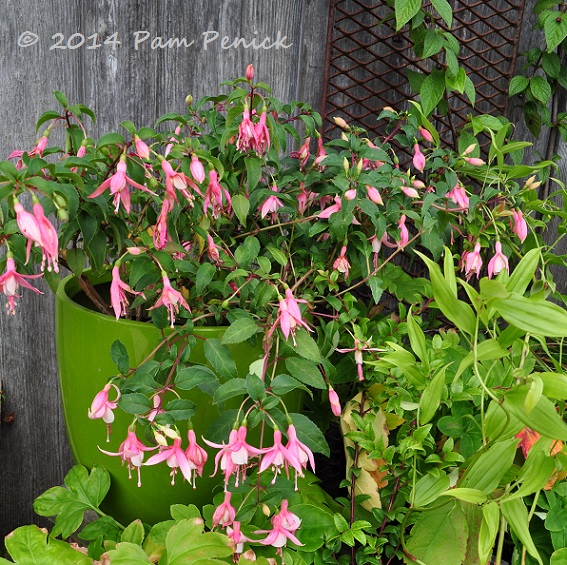 Sigh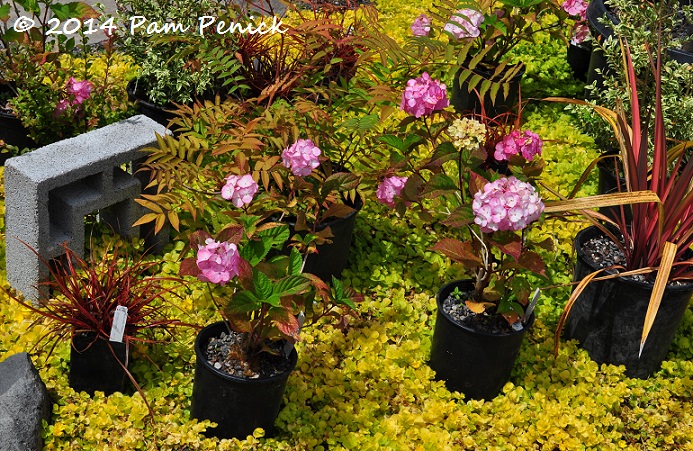 Pink, yellow, and orange — electric!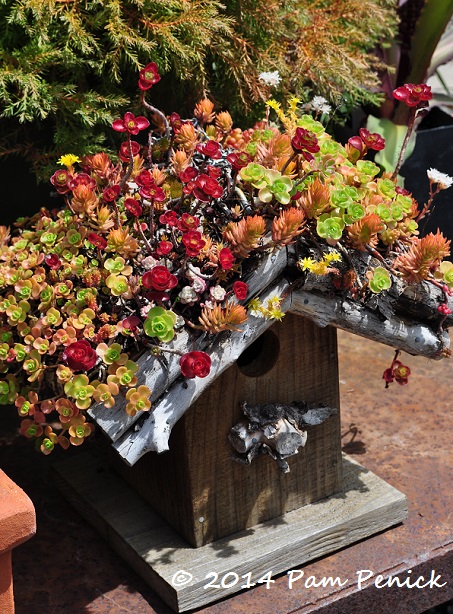 Bloggers snatched up these birdhouses with roofs that can be planted — so chic.
Soon it was time to reboard the buses, stuffing plants into overhead bins or under seats, and head to our first private garden of the Fling.
Up next: The hillside splendor of Old Germantown Gardens. For a look back at my pre-Fling visit to Digs Inside & Out garden shop, click here.
All material © 2006-2014 by Pam Penick for Digging. Unauthorized reproduction prohibited.
posted in
Containers
,
Dragonflies
,
Fling Portland
,
Flowers
,
Garden art
,
Garden tours 2014
,
Gates
,
Green roofs
,
Groundcovers
,
Nurseries & Shops
,
Paths
,
Seating
,
Succulents
,
Summer color
,
Travel
,
Trees
,
Trellis
,
Vines
,
Water features
,
Yuccas