July 9th, 2014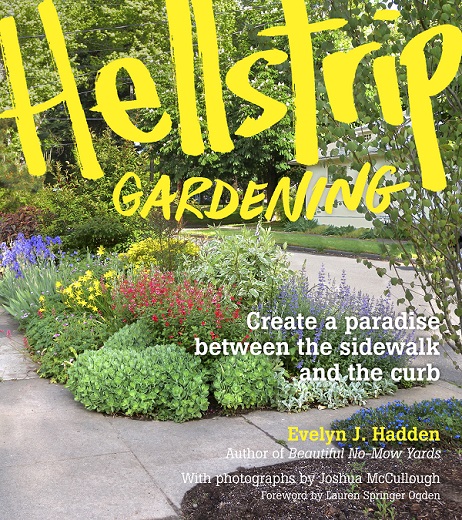 I don't know what people called the strip of grass between street and sidewalk before Lauren Springer Ogden coined the term "hellstrip" to describe it. But it can surely be hellish to maintain, drying to a crisp in hot climates, contaminated with road salt in northern climates, treated by passing dogs as a toilet, subject to utility company digging, with soil compacted by garbage bins, people exiting cars, and even the occasional errant vehicle. It's really a wonder that anything will grow there.
Many homeowners spend way too much time and money trying to keep lawn alive in such inhospitable conditions. Others throw up their hands and spread a layer of river rock or gravel across the entire strip, hoping to reduce maintenance but often creating a weed-friendly or barren heat island along the curb — not the curb appeal most of us want.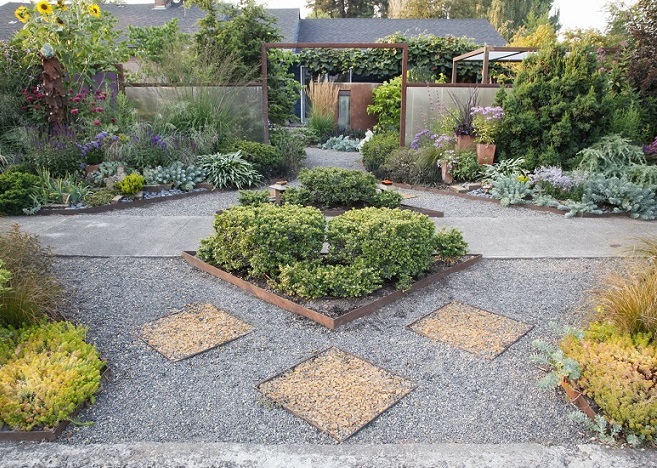 Photo by Joshua McCullough
Less-lawn crusader Evelyn Hadden, an author and speaker from Minnesota who recently relocated to Boise, Idaho, takes on this nebulous public-private space in her new book, Hellstrip Gardening: Create a Paradise Between the Sidewalk and the Curb (2014, Timber Press). Considering that the hellstrip is only a small portion of the average yard, this is a meaty book. Part 1 offers in-depth looks at a dozen curbside gardens, and Hadden performs her usual magic trick of including images of gardens from a range of regions — which I know from experience is not easy unless you do a lot of garden-based travel or have a generous photo budget. Photographer Joshua McCullough is credited for providing most of the images, and they are lovely, as is the design of the book — i.e., plenty of eye candy.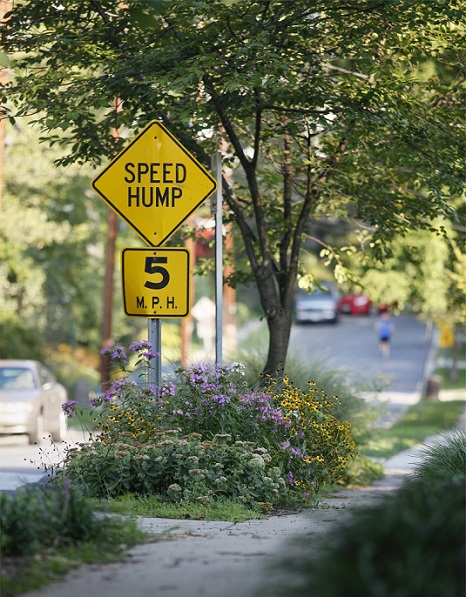 Photo by Joshua McCullough
Part 2 addresses the challenges involved in gardening along the street, from tree roots and HOA rules to car damage and utility maintenance. In Part 3, Hadden offers design solutions specific to curbside gardening, including the types of plants to choose (non-precious and self-repairing) and using berms or rain gardens to address noise or drainage issues. The final section, Part 4, is a generous list of hellstrip-worthy plants organized usefully by showy flowers, showy foliage, culinary or medicinal uses, and four-season structure. As with any plant list geared to a country as geographically and climatically diverse as the U.S., only some of the plants will be applicable to central Texas gardeners, but it'll get you thinking about the types of plants you might use.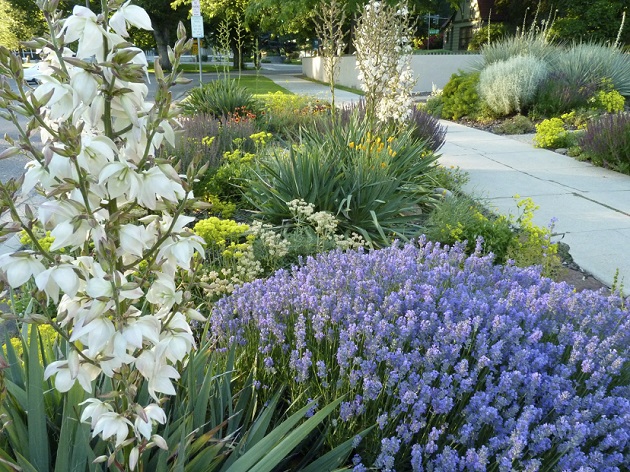 Photo by Evelyn Hadden
Hadden's emphasis throughout the book is on gardening sustainably, with less water and minimal or no chemicals, encouraging each of us to do our part to create more beautiful, runoff-absorbing, wildlife-friendly spaces. She's realistic in her assessment that curbside gardens are generally more work to keep up than plain old lawn, but she points out the many benefits they provide in return: community beautification, crime reduction, wildlife waystations, runoff filtration, and more.
The only quibble I have is that many of the gardens covered are not, strictly speaking, hellstrip gardens between street and sidewalk but front-yard gardens as a whole. It often reads, therefore, more like a front-yard gardening book rather than one tightly focused on curbside conditions. Still, there's plenty of hellstrip to go around, and the extra coverage of entire front yards is a bonus for those looking to garden up little-used lawns. This is, after all, a topic near and dear to my own heart!
BOOK GIVEAWAY
I'm happy to be able to offer a copy of Hellstrip Gardening, courtesy of Timber Press, to one lucky reader. To be entered, simply leave a comment on this post. One comment per person only. Giveaway is limited to U.S. and Canada.
This giveaway runs through Monday, July 14, at 11:59 pm CT, and I'll announce the winner here on Tuesday the 15th. Check back next Tuesday to see if you won, and good luck!
Update 7/15/14: Congratulations to #51 commenter Chris! He's the lucky winner of Hellstrip Gardening. Chris, look for my email.
Disclosure: Timber Press sent me a copy of Hellstrip Gardening for review. I reviewed it at my own discretion and without any compensation. This post, as with everything at Digging, is my own personal opinion.
All material © 2006-2014 by Pam Penick for Digging. Unauthorized reproduction prohibited.