July 3rd, 2014
Now that the early summer frenzy of planting, weeding, and watering new plants is behind us and sultry midsummer is here, it's the perfect time to kick back with a glass of iced tea and a stack of gardening books. I recently read three books authored by friends I've met at the annual Garden Bloggers Fling. Although distance and climate separate us, we share a love of gardening and writing, and it was a treat to delve into their books and learn what stirs their passions.
The Roses at the End of the Road
(Fiftyshift.com, 2011) is a collection of autobiographical essays by Pat Leuchtman, who's gardened for 30 years on a rural property in Heath, Massachusetts. Author of the blog
Commonweeder
, Pat is passionate about roses — the more fragrant and romantically named, the better.
But don't go thinking that this is a precious, teacups-and-roses book. With a keen sense of the absurd and plain-spoken prose enlivened by dry wit, Pat weaves humorous stories of her adventures — of which she's had many — with lightly sketched but touching profiles of neighbors and friends who've enriched her life and her garden over the years. My daughter, reading over my shoulder at one point, declared, "I like this book!" Considering that Roses is not a teen paranormal novel, that's high praise indeed.
If you've ever read Mrs. Whaley and Her Charleston Garden and enjoyed her reminiscences, you'll like The Roses at the End of the Road. It's a slim volume, only 86 pages, perfect for a hostess gift or a stocking stuffer if you're thinking ahead to the holidays.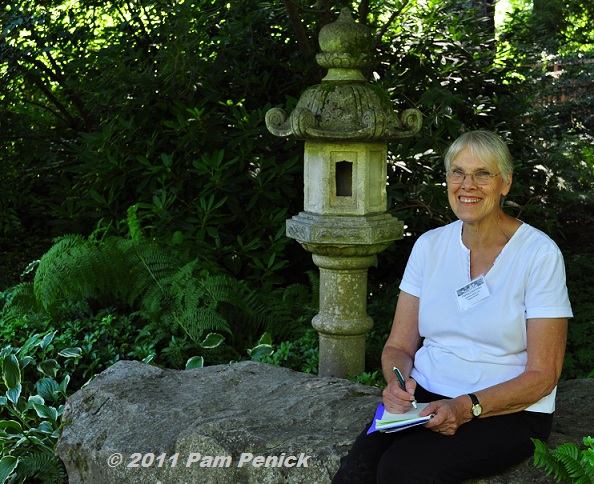 Pat Leuchtman at the Seattle Garden Bloggers Fling in 2011
The titillating title of
Plants with Benefits: An Uninhibited Guide to the Aphrodisiac Herbs, Fruits, Flowers & Veggies in Your Garden
(St. Lynn's, 2014) indicates that this is not your usual edible gardening book — although I do think the cover image shows surprising restraint, with no sign of a banana or cucumber. Too obvious?
Author Helen Yoest, who blogs at Gardening with Confidence, has a playful sense of humor that's necessary when writing about phallic fruits, virile vegetables, and flirtatious flowers. She coyly profiles 45 plants, from cloves to coffee, known for their aphrodisiacal qualities, laying bare their stimulating properties. In addition, 19 recipes are included for readers eager to cook up some romance. It's a fun read.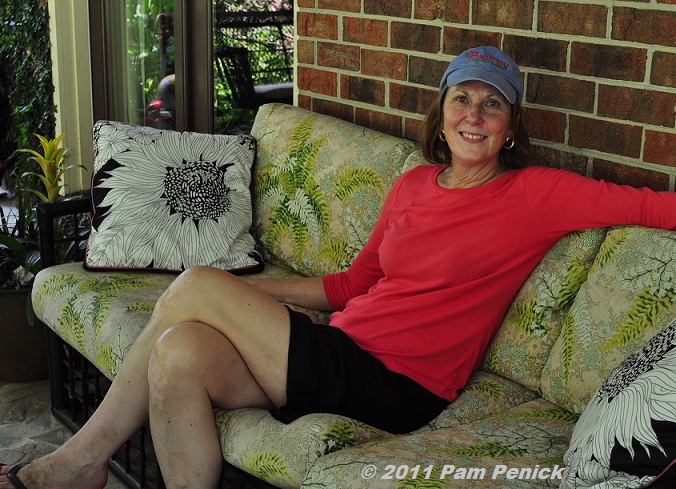 Helen Yoest during my 2011 visit to her Raleigh garden
Central Texas is justly famous for its spring wildflowers. In April,
bluebonnets and Indian paintbrush color fields
and roadsides blue and red. Lady Bird Johnson promoted the value of wildflowers in the 1960s and 1970s, eventually founding the
Wildflower Center
in Austin. In addition, at least two growers specializing in wildflower seeds operate here in central Texas,
Wildseed Farms
and
Native American Seed
.
So it was with a sense of affinity that I opened Miriam Goldberger's Taming Wildflowers: Bringing the Beauty and Splendor of Nature's Blooms into Your Own Backyard (St. Lynn's, 2014). Wildflowers are Miriam's passion and her business. She and her husband started growing flowers for a pick-your-own farm in Ontario, Canada, in 1982. When Miriam realized that they could grow wildflowers more economically and more sustainably than the exotics they'd been cultivating, they shifted their focus to native wildflowers and grasses, dubbing their burgeoning operation Wildflower Farm. "[T]he local farmers thought it was pretty darn funny to see the city slickers…growing weeds," she writes, before noting, "They aren't laughing anymore."
The heart of
Taming Wildflowers
is full-page profiles of wildflowers for most growing zones in North America. Many will be familiar to Texas gardeners. For those looking for how-tos, Miriam explains how to grow wildflowers from seed and gently disabuses the reader of the notion that one can simply buy a mix of wildflower seeds, toss them on the ground, and end up with a beautiful wildflower meadow; prep work and an understanding of one's specific conditions are critical to success. With cutting gardens in mind, Miriam also provides design ideas for wildflower arrangements and wedding bouquets.
Happy reading, y'all, and happy Independence Day to my American readers!
Disclosure: All three books were sent to me for review by the publishers or authors. I reviewed them at my own discretion and without any compensation. This post, as with everything at Digging, is my own personal opinion.
All material © 2006-2014 by Pam Penick for Digging. Unauthorized reproduction prohibited.