June 18th, 2014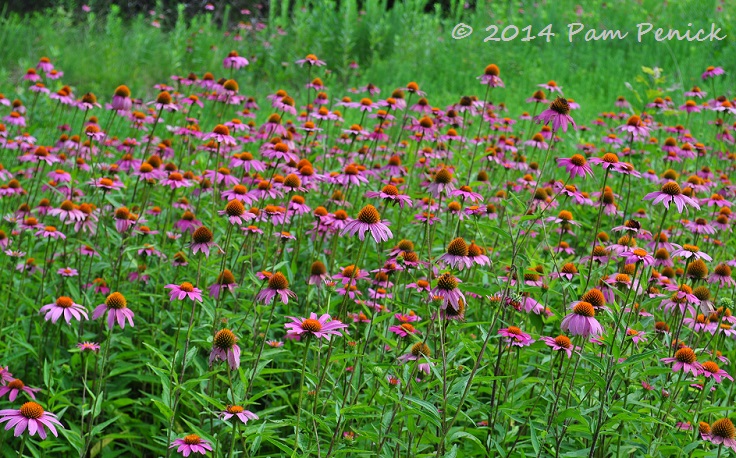 Evening hours last Thursday at the Lady Bird Johnson Wildflower Center drew me to the gardens like a moth to flame. And flaming hot it was too — about 97 F (36.1 C) when I arrived at 5 pm. You may already know this about me: despite my love of Austin and central Texas, I'm as much of a heat wimp as someone from Vermont. Most of my Texas garden and state park visits (and posts), therefore, occur during fall, winter, and spring, when the weather is pleasantly cool or at least not broiling.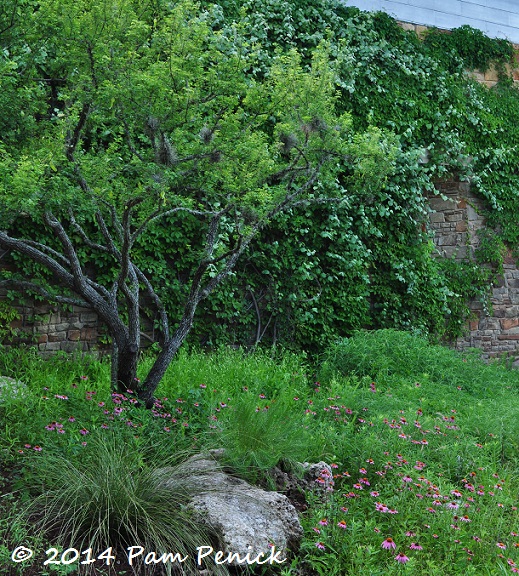 But the fact is, many of our native plants love the heat. They're born to it, you might say, and not only survive but thrive in it. While many Austin gardeners view summer as a season of planning rather than active gardening (certainly not planting), our gardens are anything but dormant. At the Wildflower Center last week, their gardens were positively bursting with color and lush growth.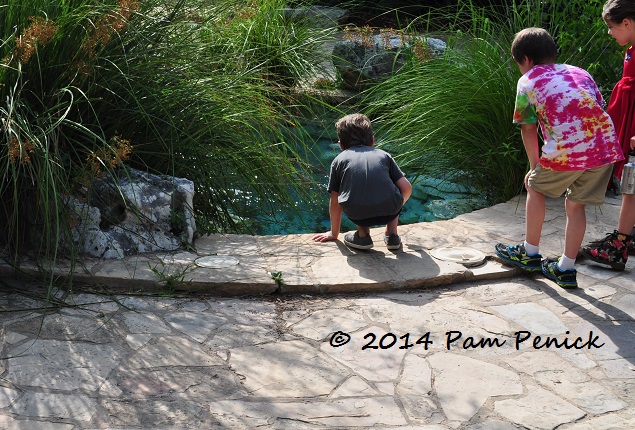 The garden was open late for Nature Nights, which is geared to kids and families. These boys were investigating the pond in the main courtyard, framed by curtains of tall grasses.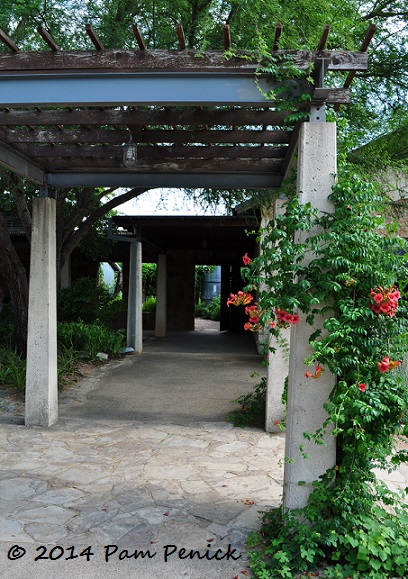 A blaze of color attracted my eye to a trumpet creeper vine (Campsis radicans) climbing an arbor. The Wildflower Center describes this vine as an aggressive colonizer, so I'll be admiring this one from afar.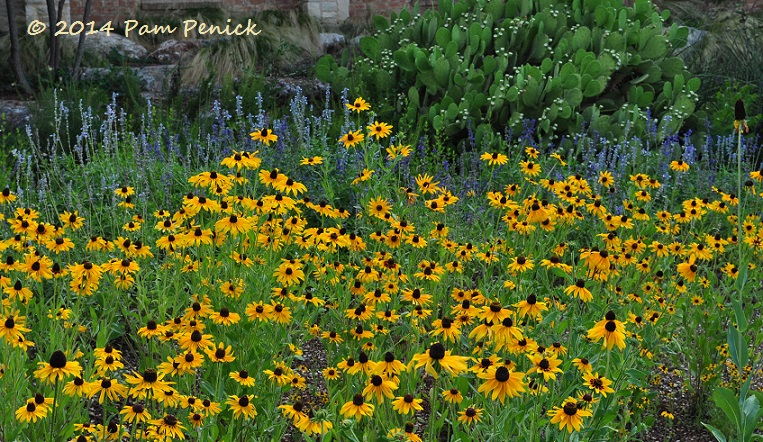 Strolling to the new Family Garden along with most of the other visitors, I stopped to admire a new garden awash in brilliant coneflowers and soft-blue salvia.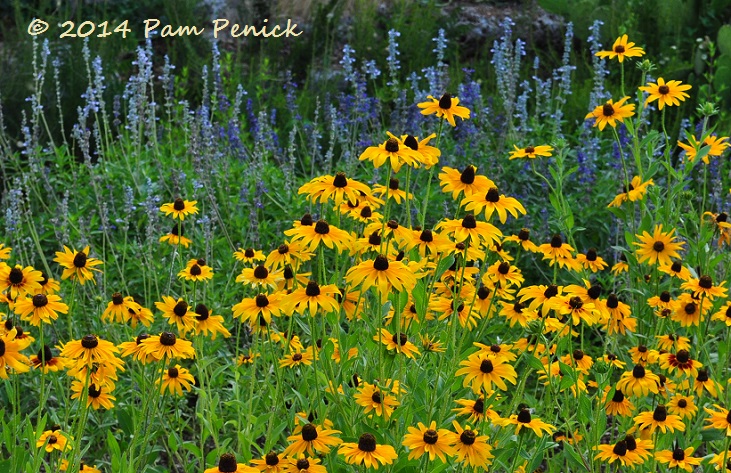 Black-eyed Susans and mealy blue sage

A swath of tall black-eyed Susans stood out against shorter perennials.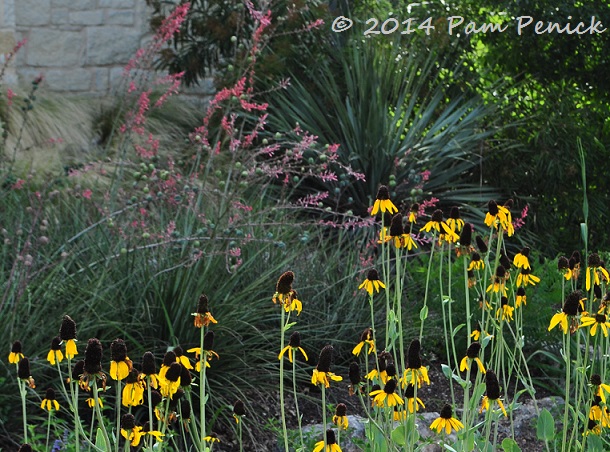 Their golden-yellow petals caught the late-afternoon light, as wands of red yucca (Hesperaloe parviflora) gently bobbed in the background.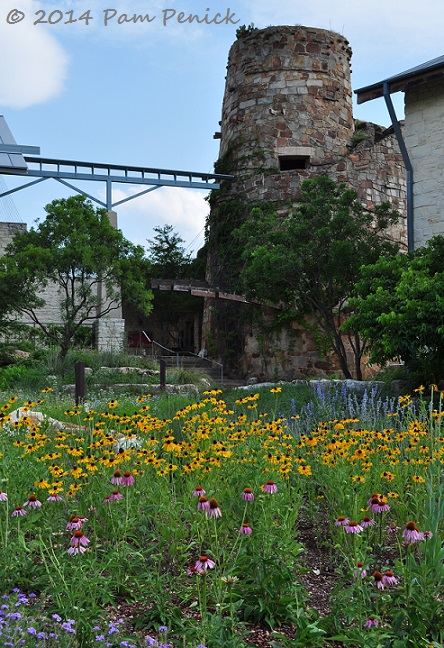 Looking back I enjoyed this view of the Wildflower Center's iconic, spiraling cistern-tower, with wildflowers carpeting the foreground.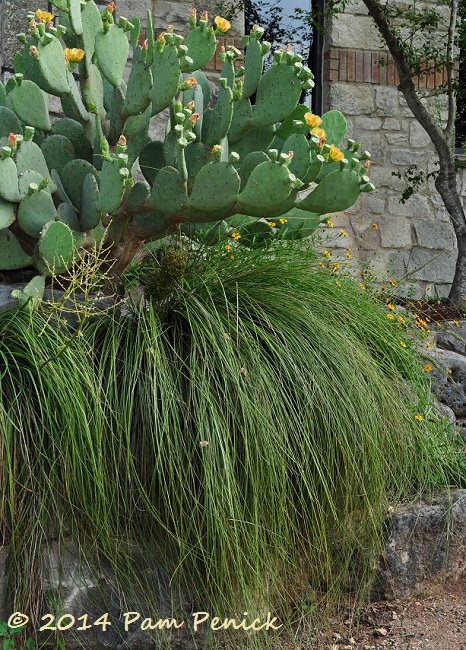 At the back of the administrative building, I spotted this handsome combination of Texas nolina (Nolina texana) spilling over a rock wall, with the Mickey Mouse ears of a spineless prickly pear above it.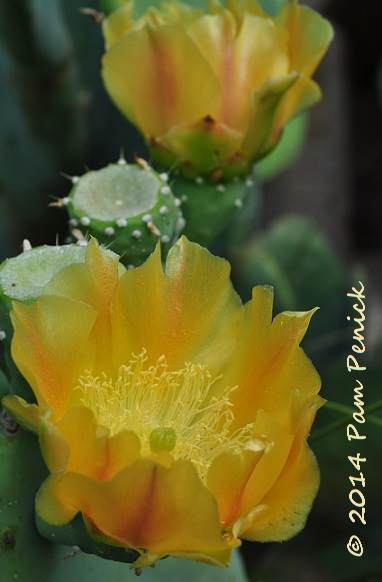 The prickly pear flowers are burnt-gold and surprisingly ruffly.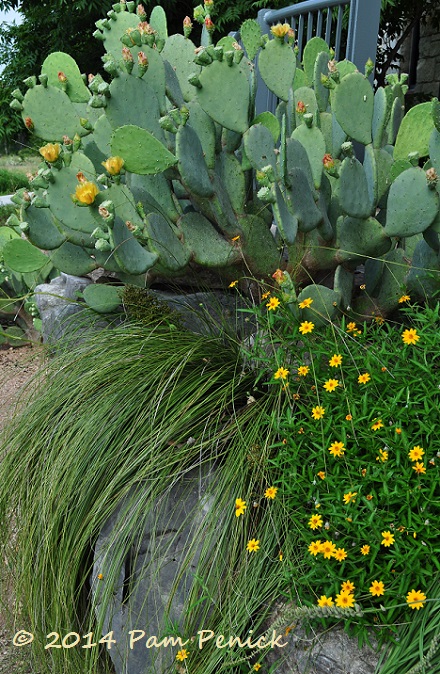 From another angle it gets even better, with a zexmenia (Wedelia texana) adding to the gold color scheme, its narrow leaves contrasting with the spaghetti-like nolina and muscular pad structure of the prickly pear.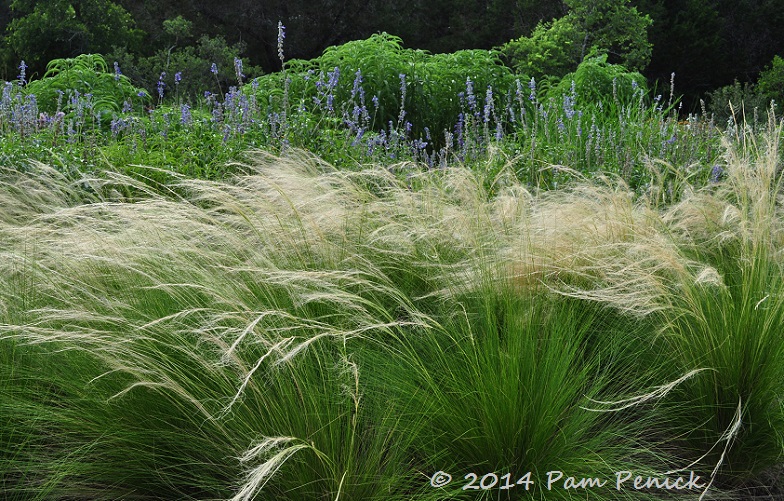 Farther along the path, a billowing cloud of Mexican feathergrass (Nassella tenuissima) seems to float in front of more mealy blue sage (Salvia farinacea).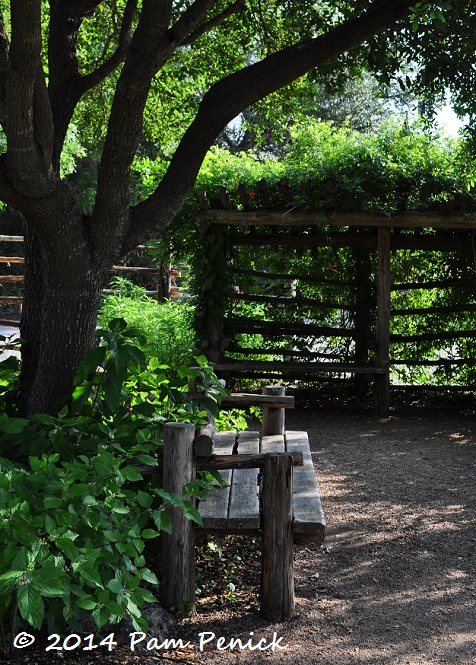 After exploring the Family Garden (click for my post), I entered the central gardens again, passing this peaceful bench and vine-draped arbor.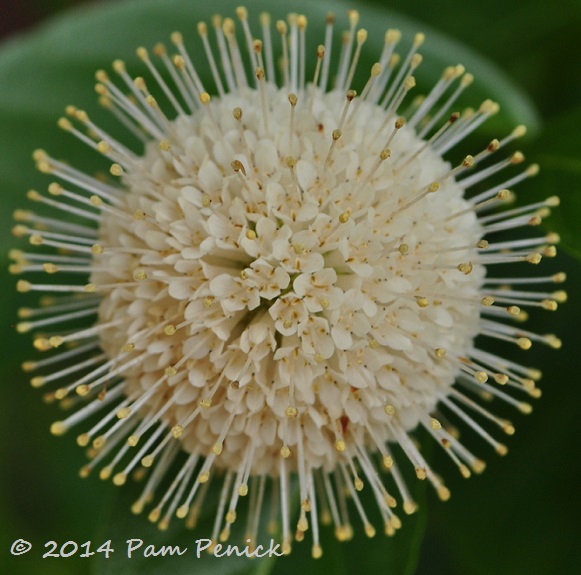 In the butterfly garden I admired the Koosh ball-like flowers of buttonbush (Cephalanthus occidentalis).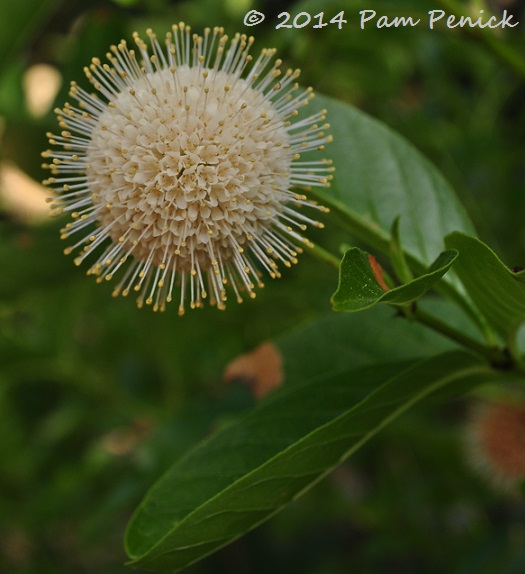 Or maybe it looks like a pincushion?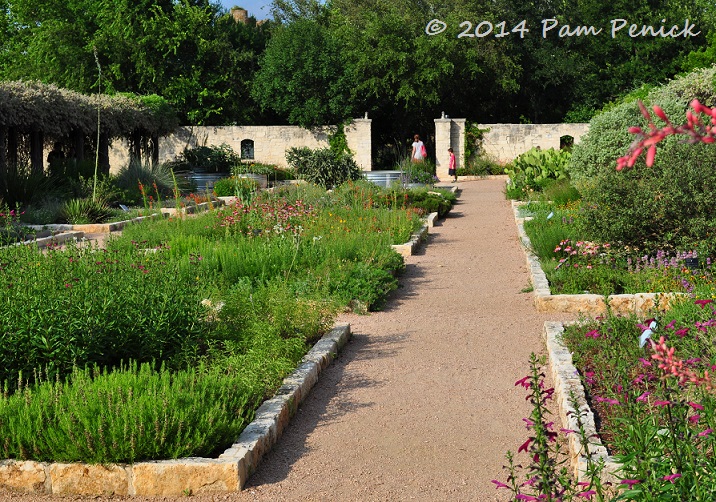 The Demonstration Garden was nearly deserted, despite the glowing beauty of the late afternoon light.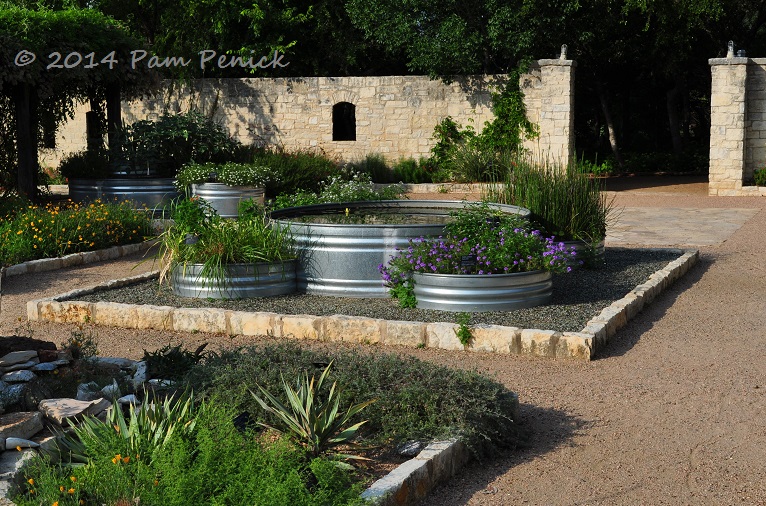 Of course I had to stop for the stock-tank pond and planters.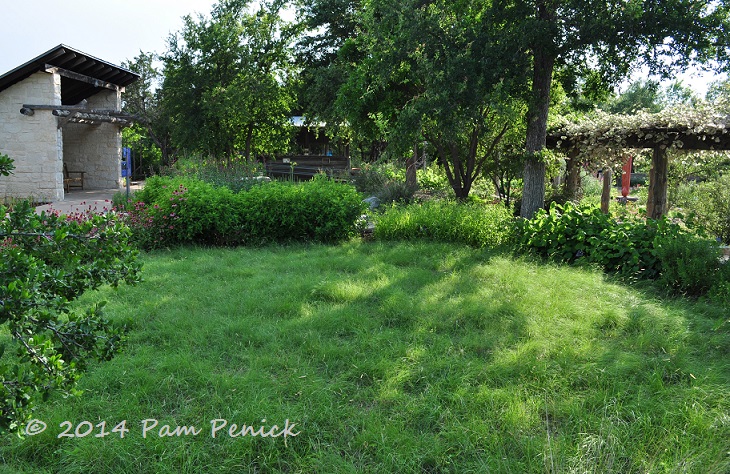 I think this is a Habiturf lawn in the Traditional Homeowner Inspiration Garden. It looks quite nice for a lawn that needs little, if any, supplemental water and seldom needs mowing.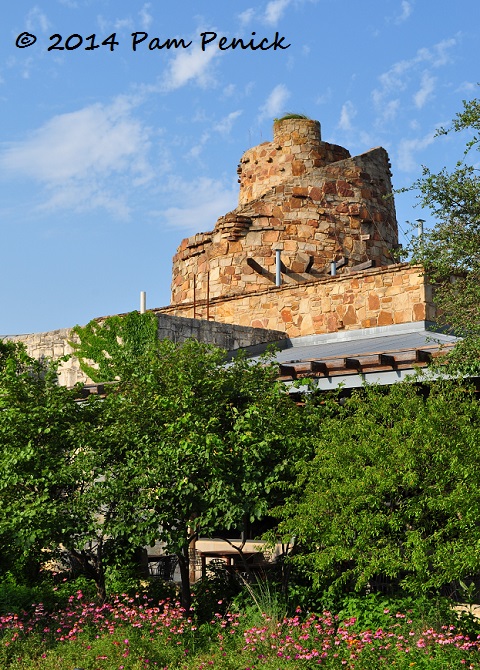 Another view of the cistern-tower, this time from the cafe gardens. Visitors can climb right up a spiraling stair to take in the view from the top.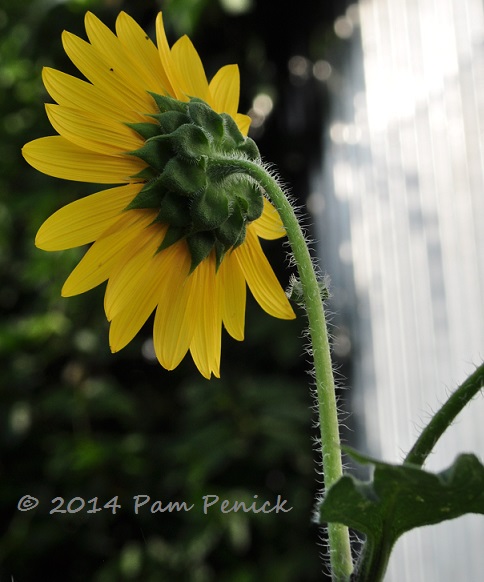 A nodding sunflower bids farewell until next time.
To read my post about Nature Nights at the Luci & Ian Family Garden at the Wildflower Center, click here.
All material © 2006-2014 by Pam Penick for Digging. Unauthorized reproduction prohibited.