June 3rd, 2014
If this vision appeals, wherever you live, you'll want to pick up a copy of Gardens Are for Living: Design Inspiration for Outdoor Spaces and pore over its eye-candy photographs of beautifully designed, sink-in-and-stay-a-while gardens. Author Judy Kameon, founder of Los Angeles-based Elysian Landscapes, believes in using the garden, in living in it on a daily basis, and so her designs emphasize "people places" — the indoor-outdoor connection, seating areas, passageways through the garden — as much as plants, although her floral palette is thoughtfully bold and dramatic. She also advocates resizing or ripping out the "neutral, nonthreatening" and purposeless front lawn in favor of a "beautiful courtyard entrance, a private patio to inhabit, or bold compositions of plants" that use less water and give back more enjoyment.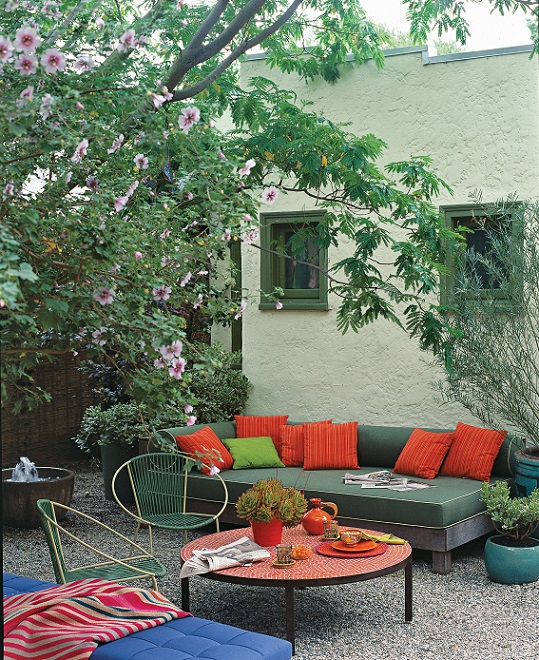 Kameon writes that she loves to entertain friends and family, and she gives that aspect of garden living equal treatment in her book, including recipes, community art projects, and play-space ideas. With chapter titles like "Putting Out the Welcome Mat," "Homegrown Food & Flowers," "Cooking in the Garden," "Art in the Landscape," "Places for Play," and "The Joy of Relaxation," Kameon works her way with ease and assurance through the various pleasures of outdoor living and design, offering illustrative photos and engaging personal anecdotes along the way.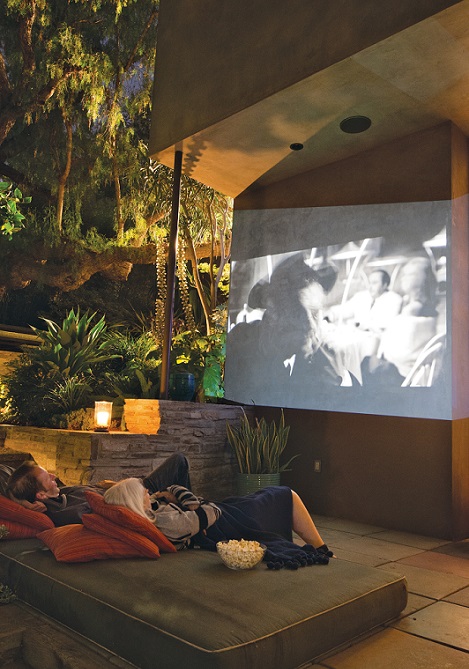 Human activity and enjoyment are very much at the heart of her design aesthetic. She comes at it with an artist's eye. "Since gardens are by their very nature a fabrication — a human manipulation of the natural world — they afford great opportunities for artistic license," she writes.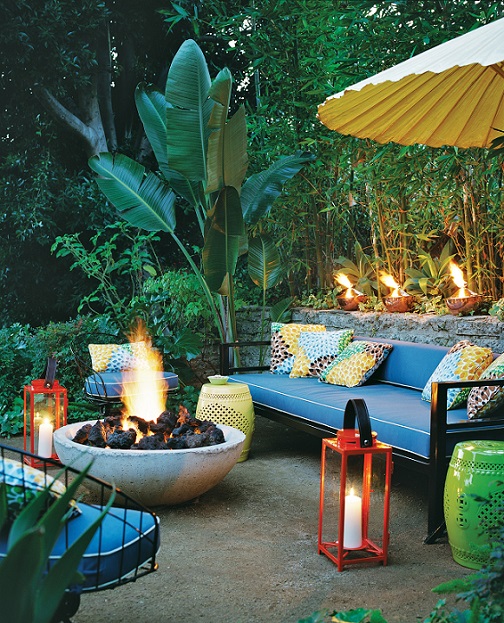 Fantasy and romance…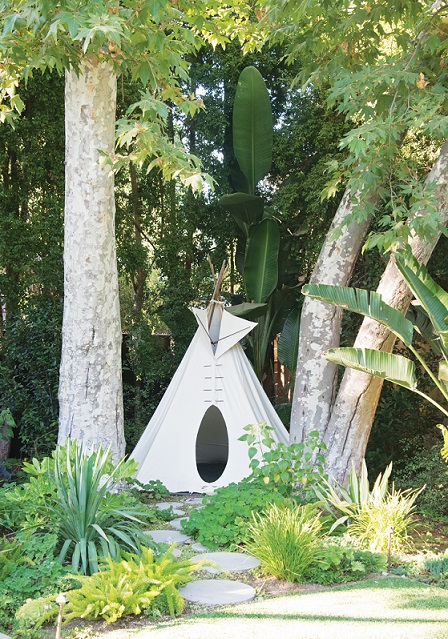 …exploration and play…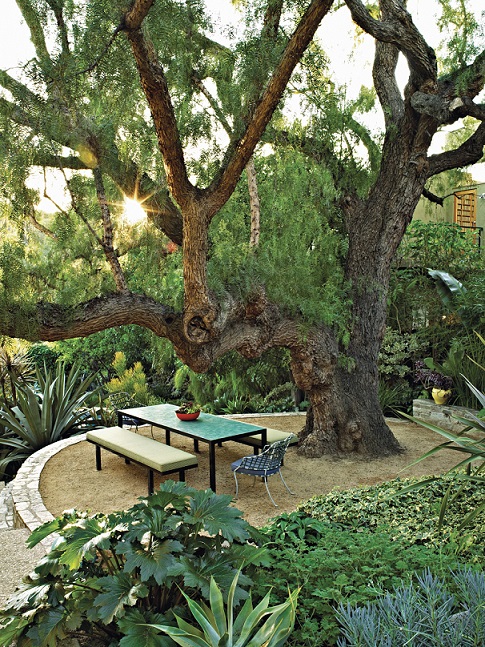 …laughter with friends and moments of serenity — all of these, she promises, can be yours in a garden that invites you to live outdoors. While the Southern California climate obviously helps with that, Kameon devotes her final chapter to creating California style in other parts of the country, from Manhattan to New Orleans to Austin. Local readers will be pleased (and left wanting more) to see several photos of Austin designer Mark Word's gardens in this section.
"California," Kameon says, "is a state of mind," and after reading her book I'm already there.
Disclosure: I purchased this book and reviewed it at my own discretion and without any compensation. This post, as with everything at Digging, is my own personal opinion. All images © Gardens Are For Living: Design Inspiration for Outdoor Spaces by Judy Kameon, Rizzoli New York, 2014.
All material © 2006-2014 by Pam Penick for Digging. Unauthorized reproduction prohibited.
Southern California is all about outdoor living, and its sunny, retro-modern vibe appeals to many Austinites, including myself. Although their summer sun is a Legoland version of the Death Star and frost rarely nips their tender plants, we Austinites with a modernist bent can find much inspiration in their gardens: their architectural agaves and yuccas, raw steel and poured-concrete hardscaping, gravel patios casually furnished with potted succulents, tree-hung lanterns, colorfully cushioned seating, and, on the tile-top table, a salad picked fresh from the garden.