May 30th, 2014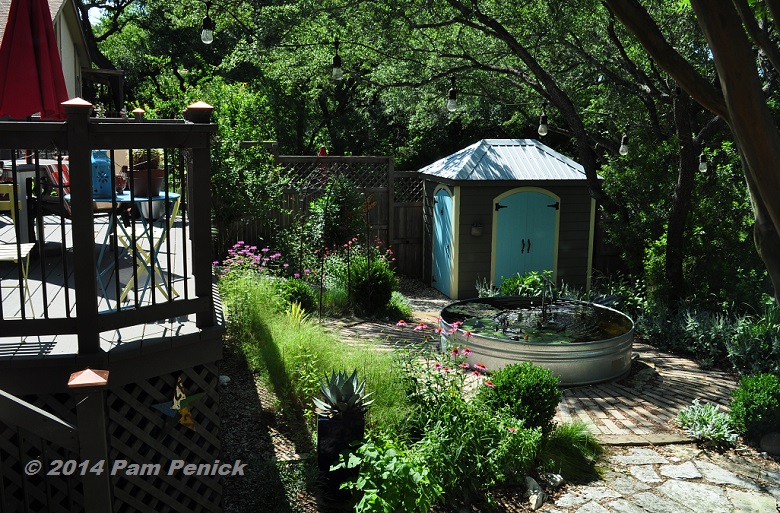 I don't think I've ever shown this view of the stock-tank pond garden and shed. I shot it through the living-room windows, which is why the colors are a bit dark and green-tinged. But it's fun to study an elevated long view of what I normally photograph from ground level, or nearly bird's-eye, straight down, from the deck.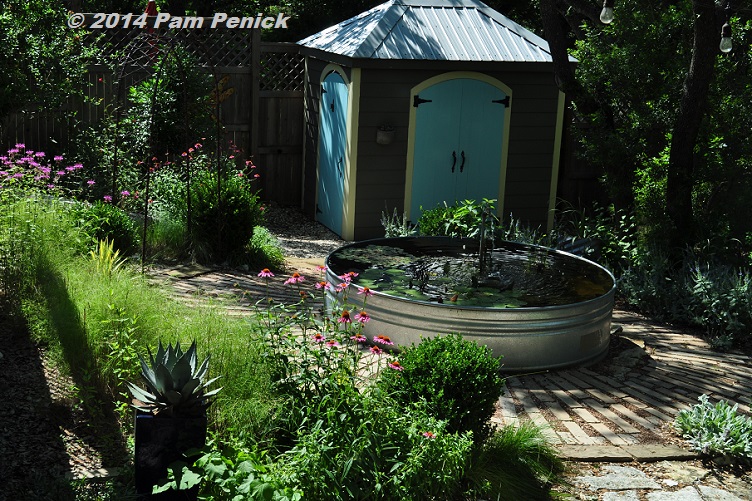 This is the first spring that I've been satisfied with this area. I've reworked it several times over the 5-1/2 years we've lived here, struggling to find plants that would thrive in the root-twisted soil under the live oaks at right, and that would still provide an echo of the sun-baked garden at left. Finally, after many missteps and tweaks, this part of the garden is lushly filled out and currently in springtime bloom with old favorites purple coneflower and heartleaf skullcap and new favorite 'Peter's Purple' monarda. Evergreens like bamboo muhly, 'Winter Gem' boxwood, 'Color Guard' yucca, and squid agave elevated in culvert-pipe planters fill in for year-round greenery and structure.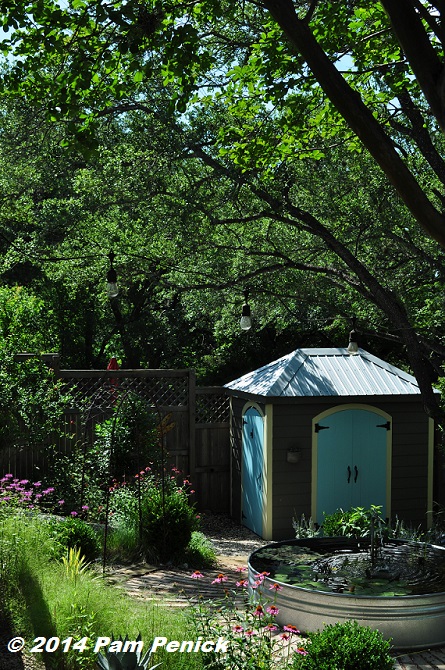 The real story of our back yard that rarely gets told in my garden pictures is the trees. Because we're on a steeply sloping lot, your view from windows in the dining room and den — the highest elevation on the first floor — is of the elevated deck (see top picture) and, beyond that, live oak trunks and branches. But from the sunken living room, you get this ladder-height view of trees and garden.
Have you photographed your garden from a new perspective lately? The roof, upper-story window, or even from atop a stepladder? It really gives you a fresh look at your design.
All material © 2006-2014 by Pam Penick for Digging. Unauthorized reproduction prohibited.