May 26th, 2014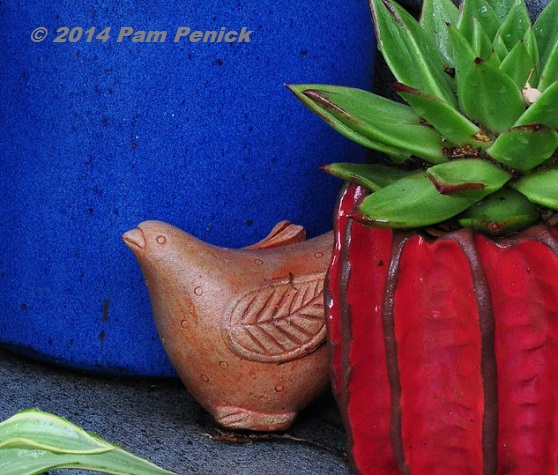 I threw a little soiree in honor of an out-of-town friend last week and got my garden all spruced up for the occasion. The last of the live oak leaves — or as close to last as I'm going to get — were finally banished, chairs and patios were scrubbed, plants were pruned, and pots were tidied. With flush spring growth, a shined up garden, and an overcast, lightly drizzling day, I took my camera out and made the rounds. As I did, I noticed anew how much I love a blue and red combo.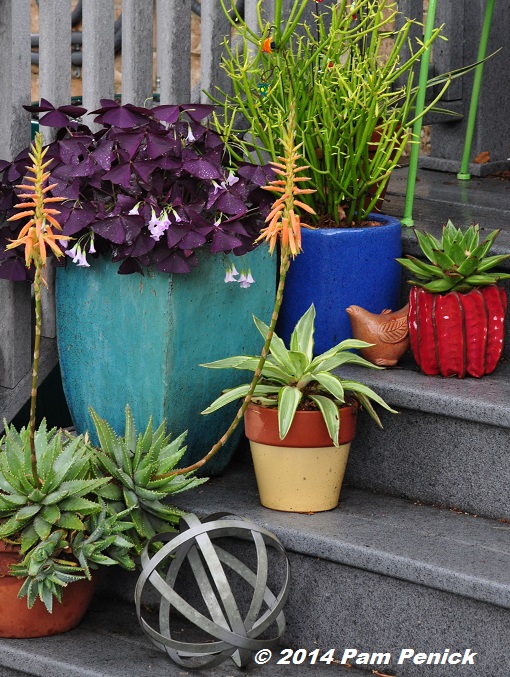 Typically I go for cobalt or royal blue, but more and more turquoise has been creeping into my garden. Witness my new door color, for example.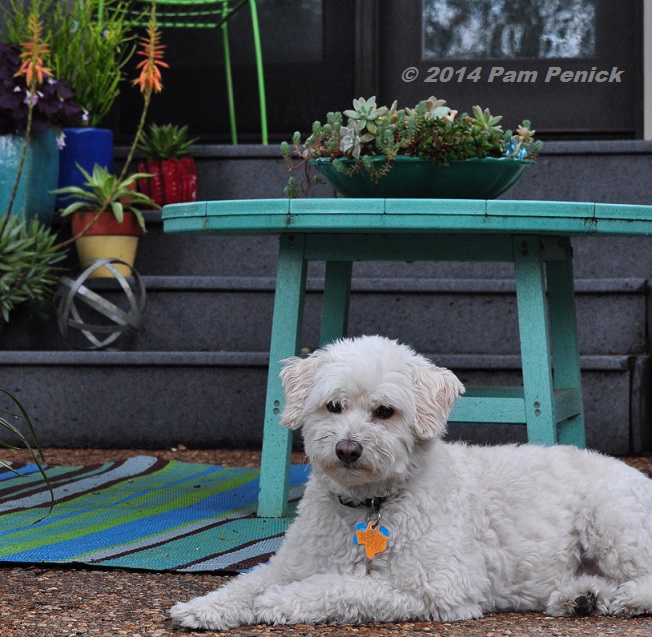 In fact it's pretty ocean-hued on the upper patio thanks to a turquoise table, a greenish blue succulent dish, and a turquoise-striped rug.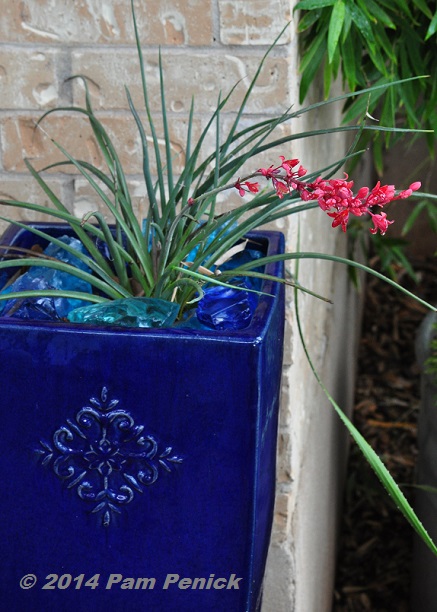 More cobalt and red courtesy of a 'Brakelights' red yucca (Hesperaloe parviflora 'Brakelights') in a blue pot, mulched with chunks of blue and turquoise slag glass.

'Blue Boy' Yucca desmetiana in a red pot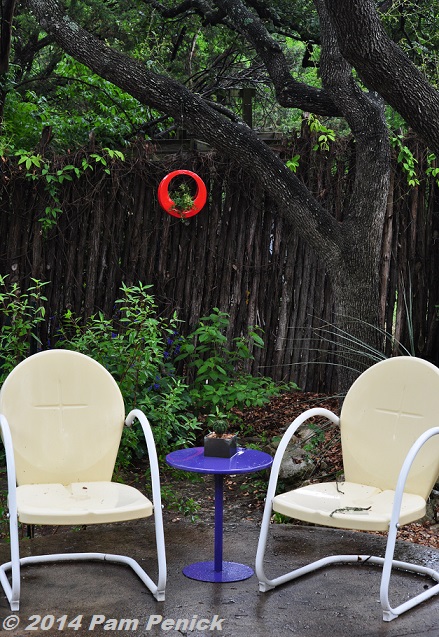 And a red Circle Pot from Potted with a royal-blue table in front. Moonshine-yellow motel chairs add a soft accent color. It's not blooming yet, but cobalt-flowered Salvia guaranitica grows under the red hanging pot.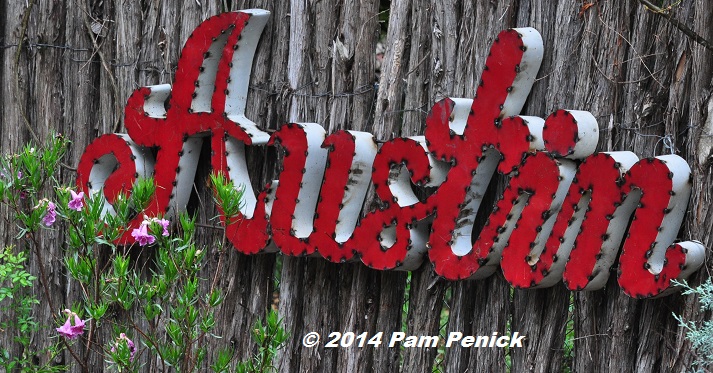 In case I forget where I live. That's my new 'Bubba' desert willow in front. I'm excited to see its first blooms.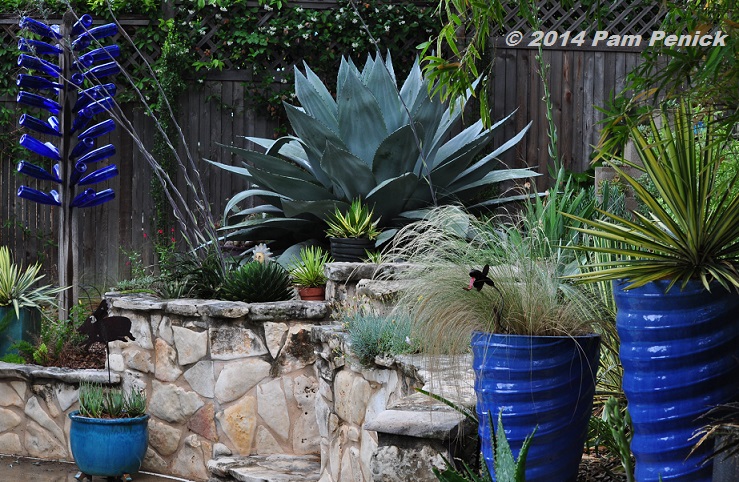 All shades of blue are welcome in the bottle-tree garden. Moby, my 'Whale's Tongue' agave (A. ovatifolia), sets the tone with steel blue, but cobalt and turquoise pots and bottles add richer color to the scene.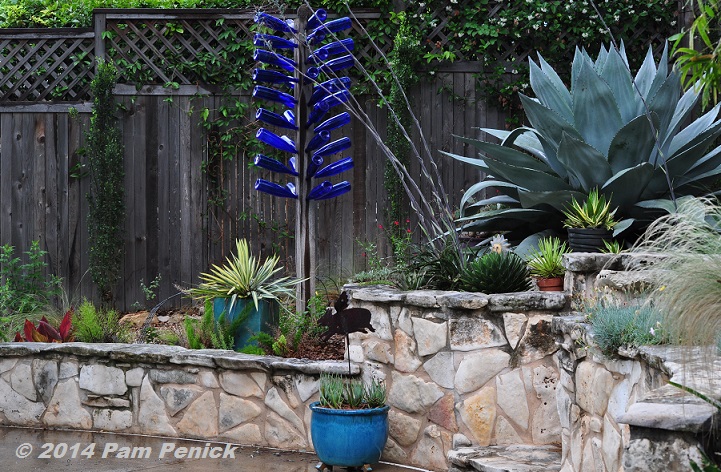 A few red-leaved or -flowering plants under the bottle tree are putting on new growth: 'Tropicanna' canna, firecracker fern, red Salvia greggii.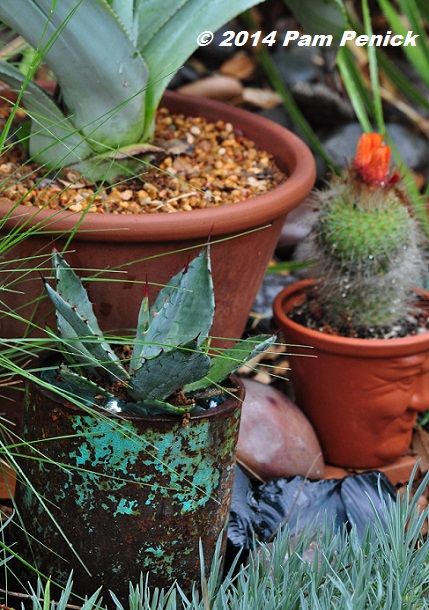 Turquoise agave and pot — a painted pipe remnant, actually — and powder-blue leaves of 'Bath's Pink' dianthus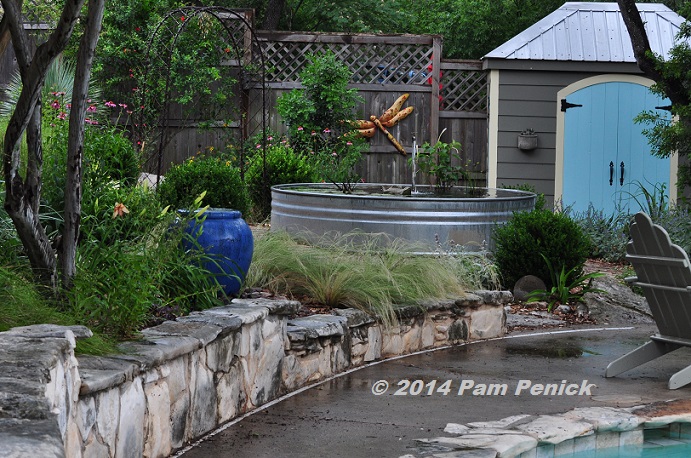 A cobalt pot-style fountain and turquoise shed doors echo the color of the swimming pool.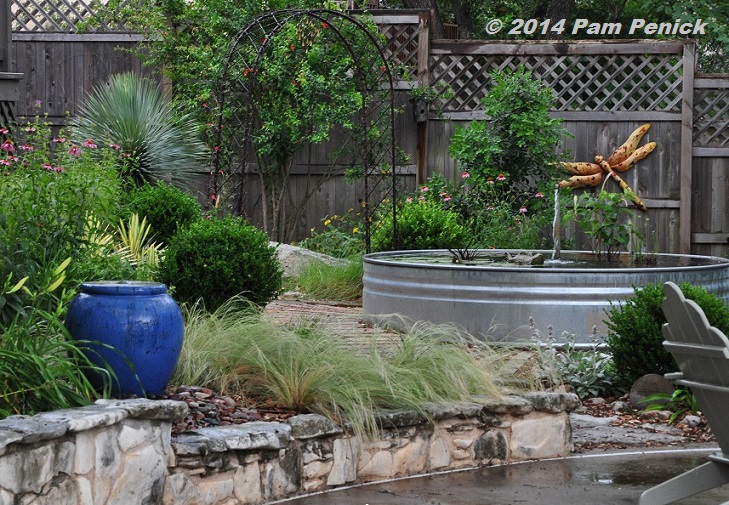 A closer look. I like how the yellows of 'Color Guard' yucca and Mexican feathergrass and the forest-green of the clipped boxwood balls reduces blue to an accent color in this area, giving it a different feel.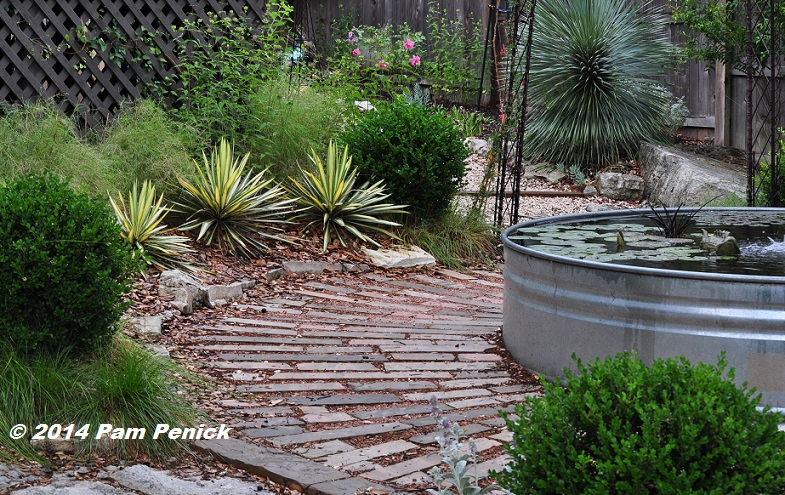 A closer look at the semicircle of 'Color Guard' yuccas, backed by chartreuse bamboo muhly (Muhlenbergia dumosa).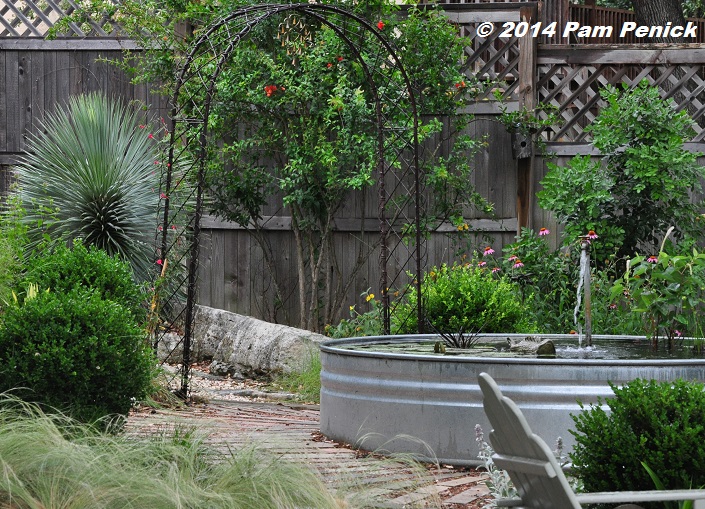 The 'Wonderful' pomegranate behind the arch is blooming, as are purple coneflowers and Jerusalem sage.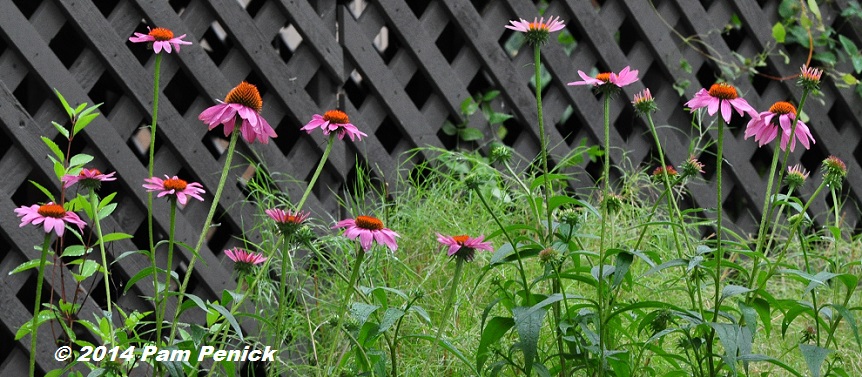 More purple coneflower (Echinacea purpurea). I love having these cheery butterfly attractors in the garden.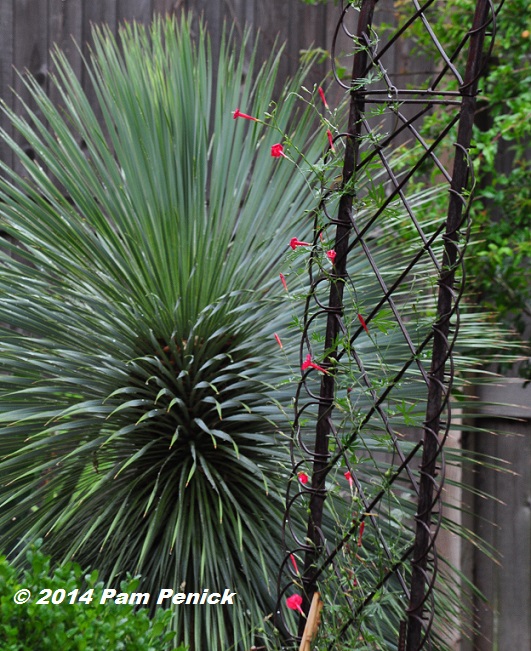 Ah, there's my favorite red again. I've planted a cypress vine on my metal arch this year and am loving the delicate twining of the vine and those lipstick-red flowers against the 'Sapphire Skies' Yucca rostrata.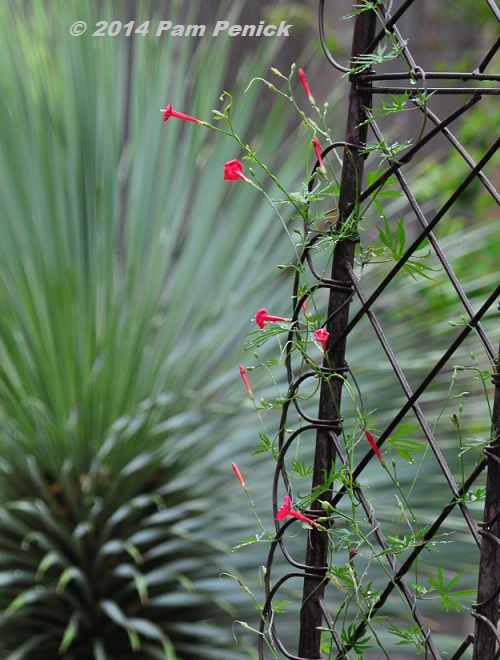 A closer look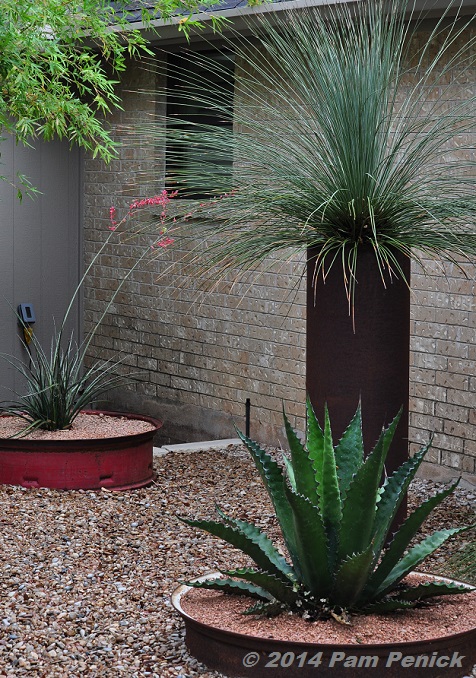 Out front, green is more dominant, with pops of red from a tractor-rim planter and a red yucca (Hesperaloe parviflora). Toothless sotol (Dasylirion longissimum) in the tall pipe and 'Jaws' agave in the rusty tractor rim keep the greens going, as does 'Alphonse Karr' bamboo leaning in from the left.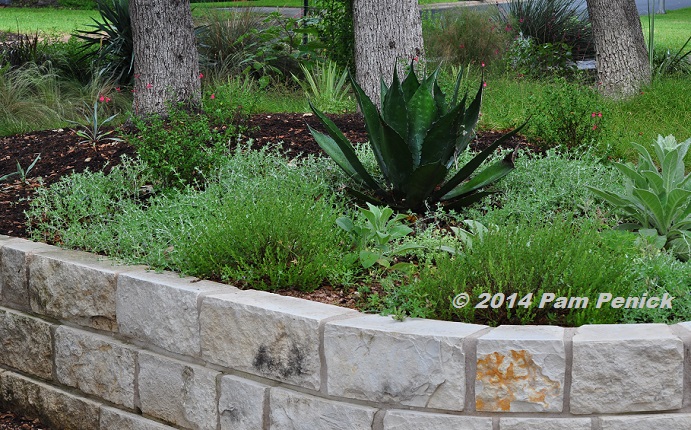 Green, green, green, starting with 'Green Goblet' agave, which will eventually reach 4 to 5 feet tall and wide. But notice I snuck in a few coral-red salvias behind it, whose minty scent will, I hope, deter deer from antlering the poor agave next winter.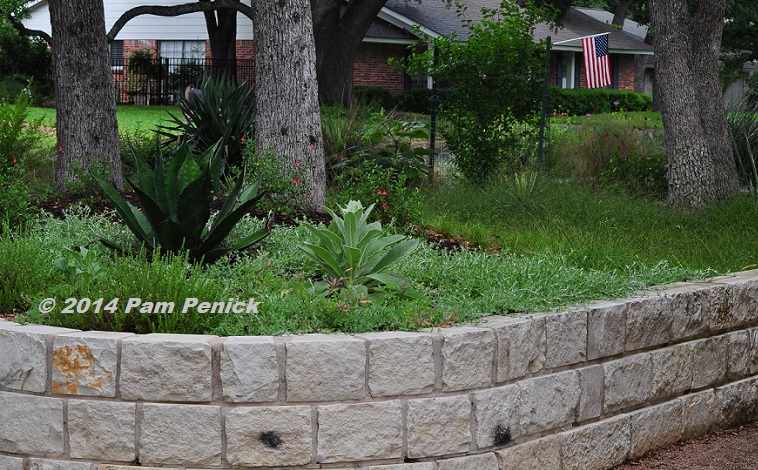 A wider view shows more lush greens — and my neighbor's red-white-and-blue in honor of Memorial Day. I hope my fellow American readers enjoy today's holiday. And to my dear husband on our wedding anniversary, you make life colorful for me. Thanks for 24 wonderful years and counting!
All material © 2006-2014 by Pam Penick for Digging. Unauthorized reproduction prohibited.
posted in
2nd garden--2014
,
Agaves
,
Aloes
,
Arbors
,
Birds
,
Bottle tree
,
Cactus
,
Color
,
Containers
,
Decor
,
Dogs
,
Fountains
,
Garden art
,
Grasses
,
Groundcovers
,
Lawn Gone!
,
Paths
,
Patios & decks
,
Ponds
,
Seating
,
Sheds
,
Stock tanks
,
Succulents
,
Trellis
,
Vines
,
Walls
,
Water features
,
Wildflowers
,
Xeric plants
,
Yuccas