May 22nd, 2014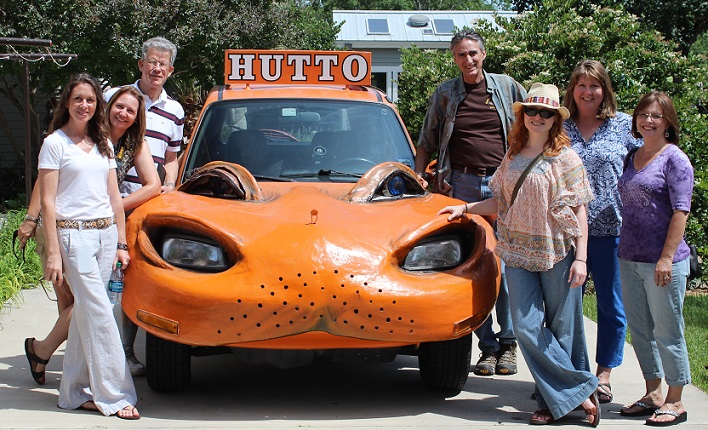 Could the official mascot of Hutto, Texas, possibly be anything other than a hippo? The Hutto Hippos. Nope, it's perfect.
Located 30 miles northeast of Austin, the formerly sleepy hamlet of Hutto is growing as quickly as a hippopotamus in a lake full of duckweed. But the town still has a friendly, everyone-knows-everyone vibe, and its most congenial hosts have to be former mayor and found-object sculptor Mike Fowler and his wife and chief gardener, Donna Fowler. They own a beautiful, hundred-year-old home on three large lots that they've turned into an art-filled garden. Last Tuesday, Mike and Donna welcomed a group of Austin bloggers, shown posing here with the Fowlers' parade-worthy hippomobile.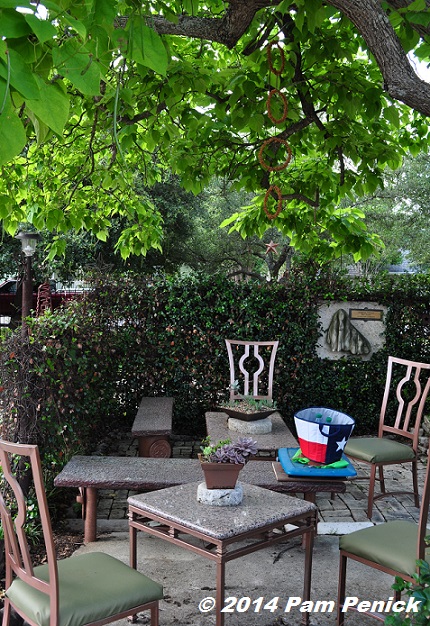 The tour begins under the shade of a large catalpa tree, which provides the roof of a garden room where Mike reads the newspaper.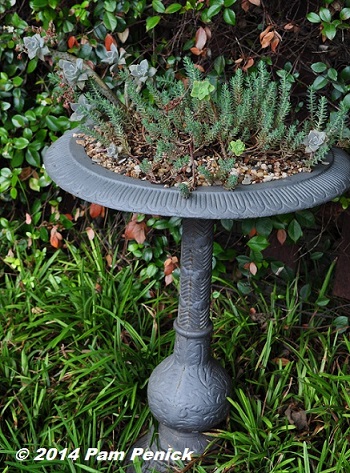 In its shade, an iron birdbath elevates blue-green sedum against a glossy-leaved star jasmine screen, heavily scented in springtime.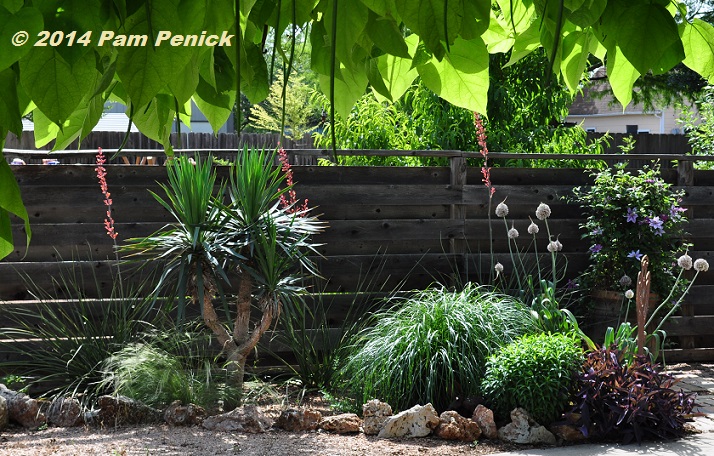 Peeking out from under the low-hanging fringe of catalpa leaves, you see a sunny, xeric border along a wooden fence, with striking plants like yucca, hesperaloe, allium, purple heart, and ornamental grasses.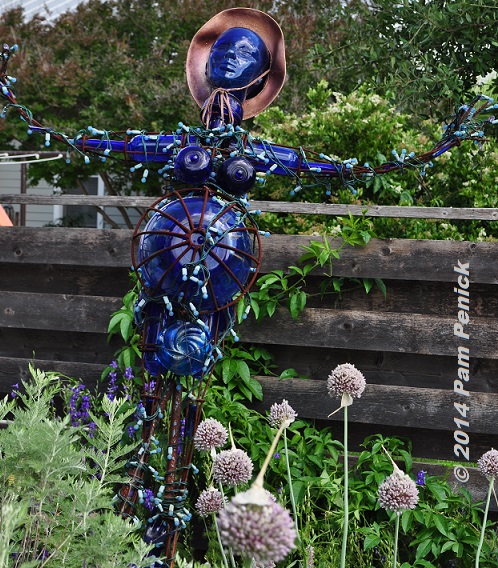 One of Mike's glass sculptures, a pregnant woman with arms outstretched and face tipped to the sky, welcomes visitors. She was built in honor of Mike's niece when she was expecting twins.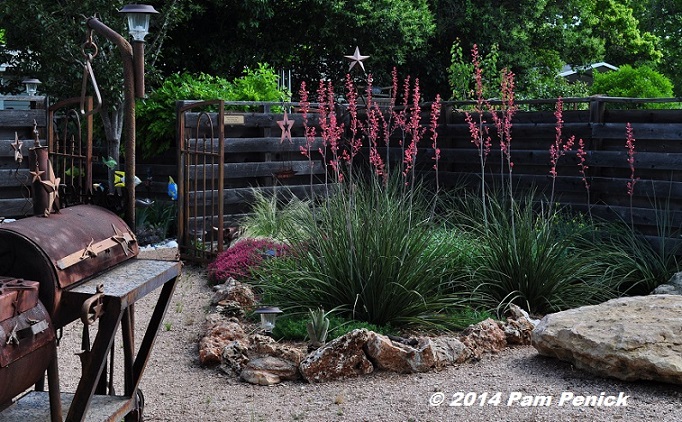 A Texas-themed garden and patio for entertaining features a massing of red yucca and accents of limestone boulders.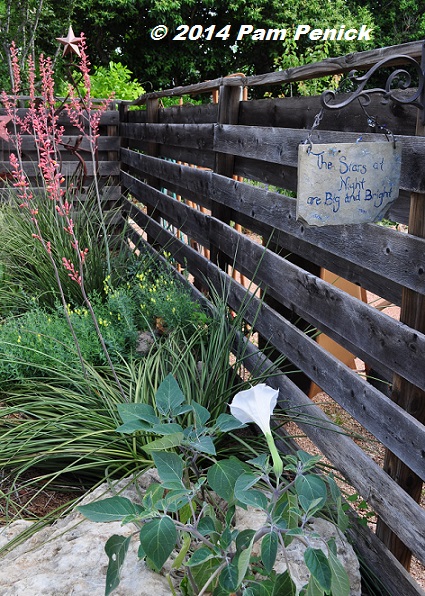 "The stars at night are big and bright" — bump bump bump BUMP — deep in the heart of Texas!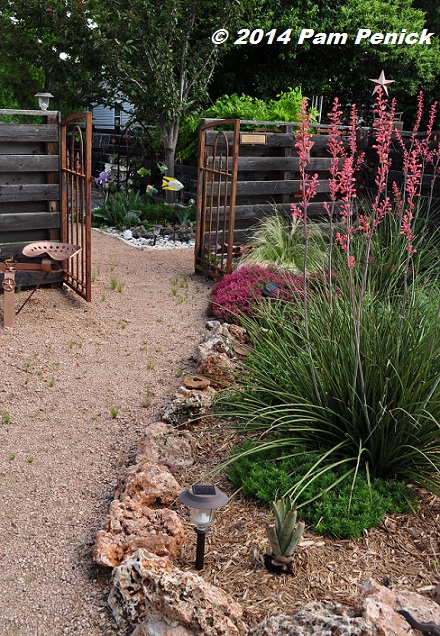 Open gates invite you to explore ahead, but other doorways beckon as well, and we turned the other way…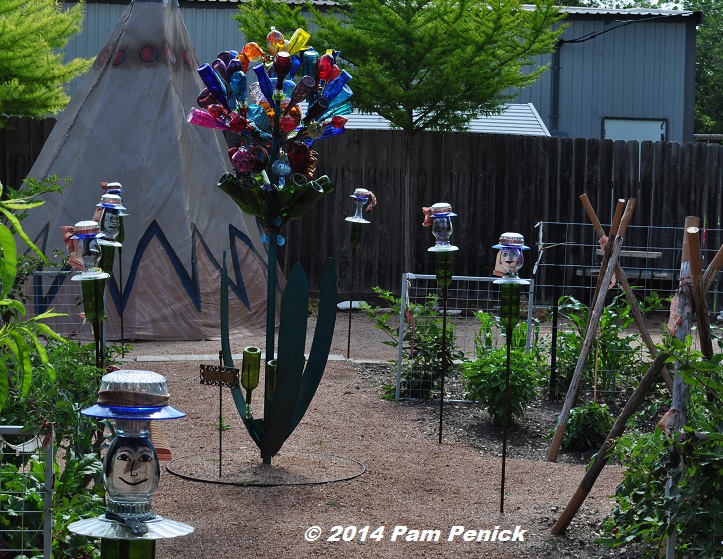 …and entered the vegetable and tepee garden. A "garden club" of glass-bottle ladies stand in rows alongside a magnificent, Chihuly-esque bottle tree — all Mike's creations.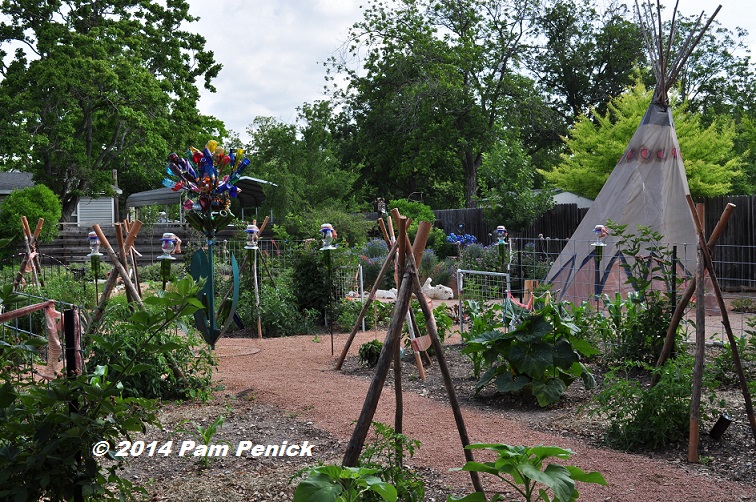 A wide view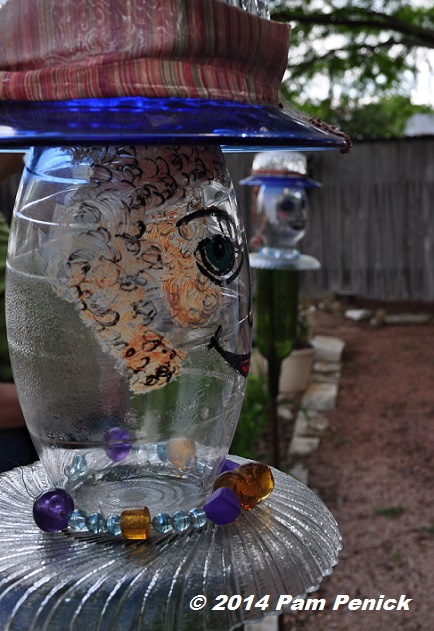 The smiling garden club ladies are actually hose guards made of rebar and salvaged bottles and dishes. Mike made them at Donna's behest in order to keep her hose from tearing up her plants as she watered.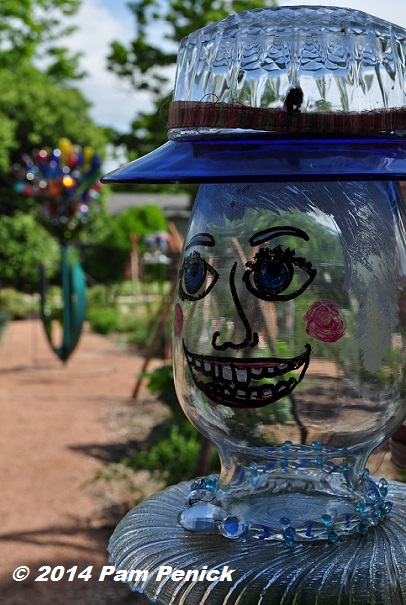 With hats tied with ribbon and beaded necklaces, they are dressed for a tea party.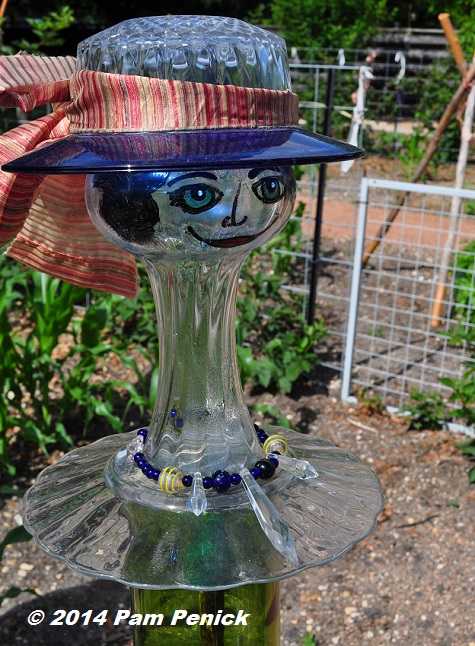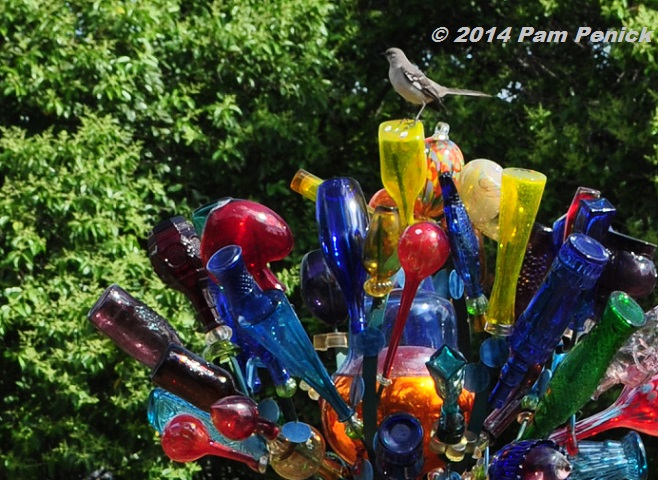 A mockingbird was enjoying a colorful perch atop the bottle tree.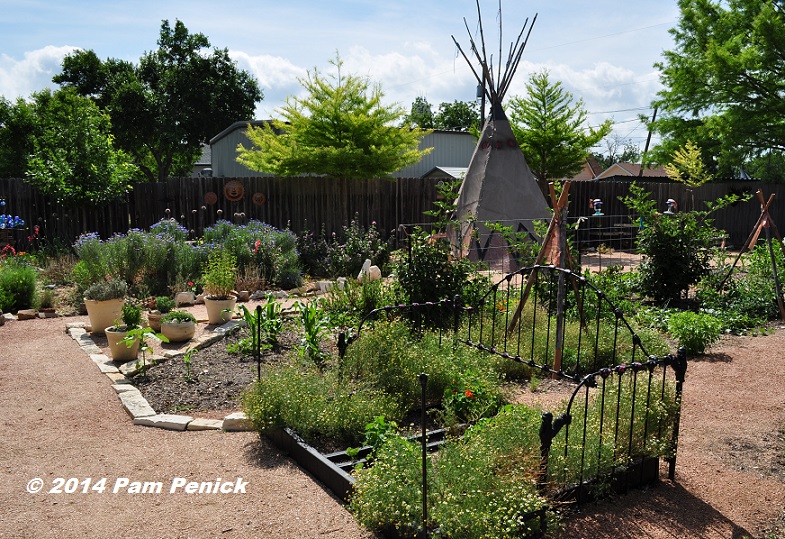 Their son Luke erected the tepee at the far end of the garden.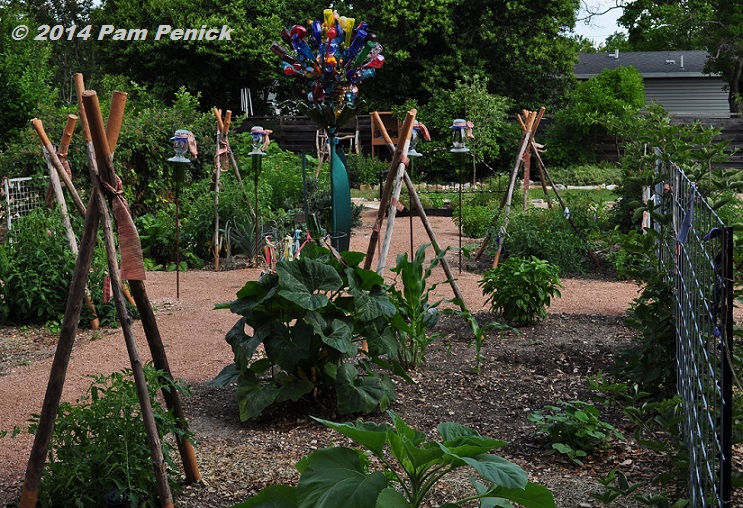 Trellis poles make mini-tepees to echo the real deal.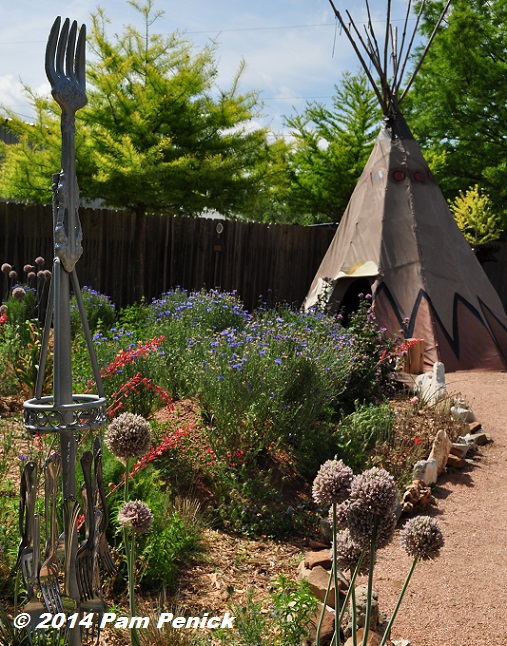 Mike's "Fork in the Road" piece stands along a path to the tepee.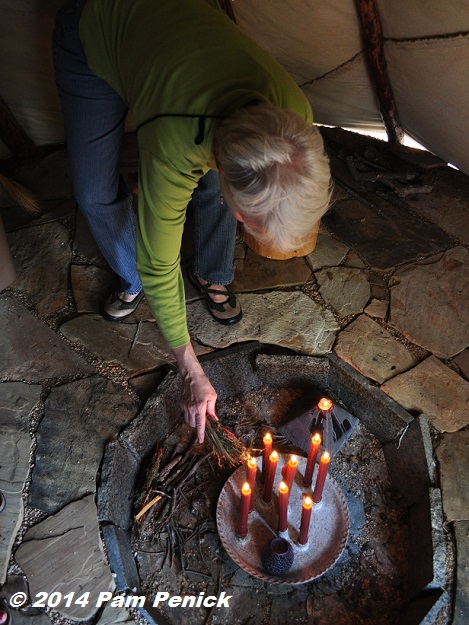 Donna asked if we wanted to be smudged and invited us into the tepee. We huddled in a circle around a central pit filled with candles, which she lit and used to singe a handful of fragrant herbs.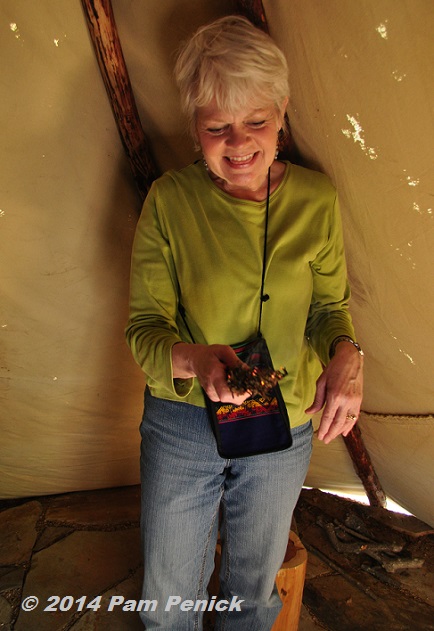 As smoke wafted up from the singed herbs, she waved them before each of us in turn, chanting a blessing for our eyes to be open to the beauty of the world, our hearts to be filled, and more. I was charmed.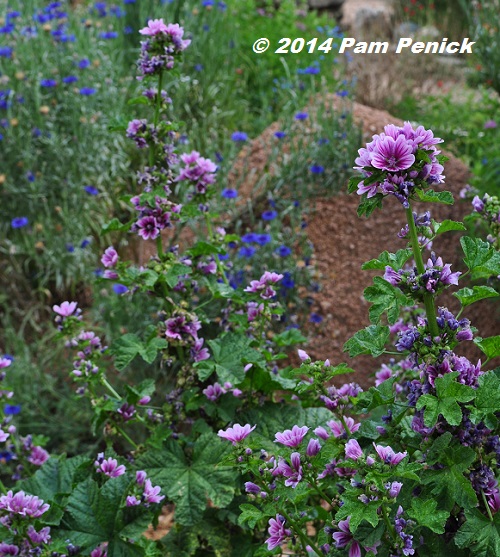 Just outside the tepee, hollyhocks and cornflower were in bloom in a bed thickly mulched with decomposed granite.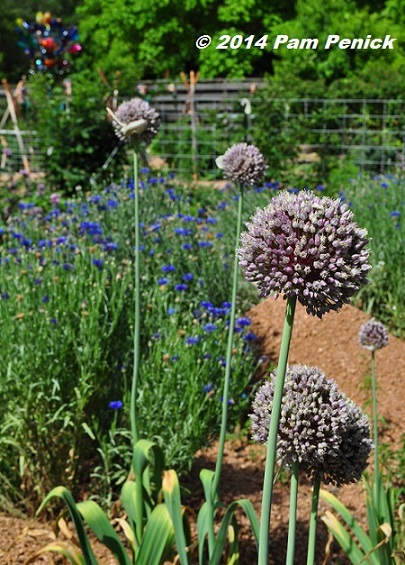 Allium seedheads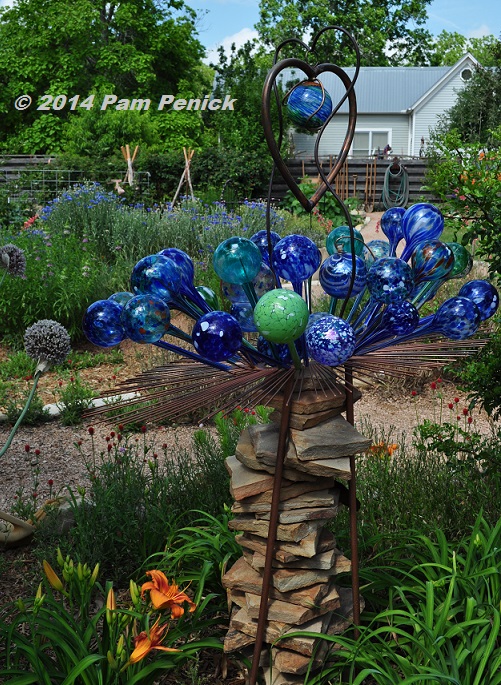 Another of Mike's glass sculptures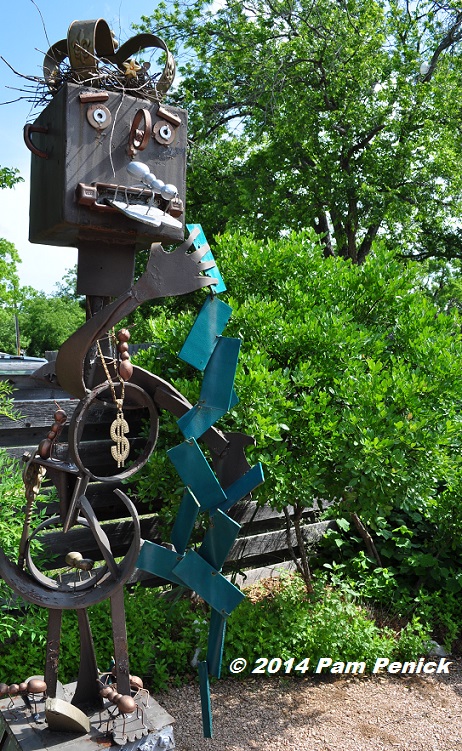 A former mayor and longtime public servant, Mike nurtures a streak of black political humor in his artwork, including in this piece titled "Blockhead and Council: Poor Decisions and Wasteful Spending." The blockhead is devouring money while ants representing council members crawl through his body.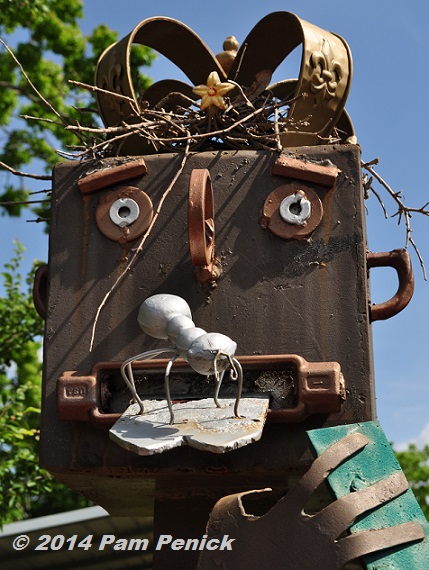 In the crown atop its head, a mockingbird built a nest last season.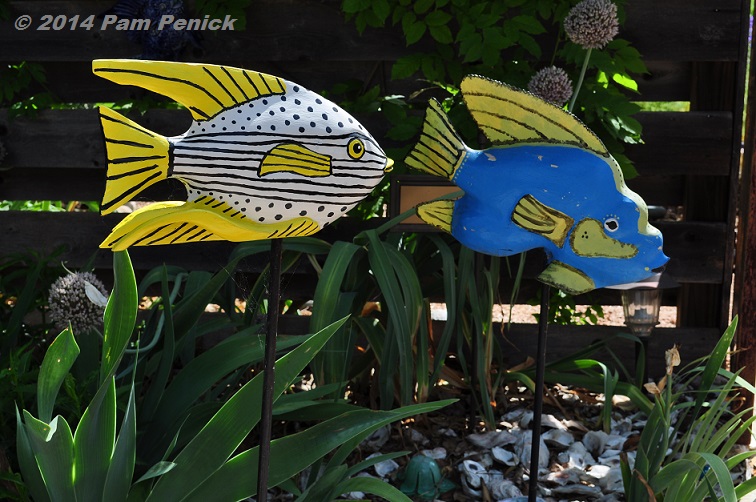 Exiting the vegetable garden, you see another of Mike's pieces, the punny "Fish Sticks" swimming through a bed of iris.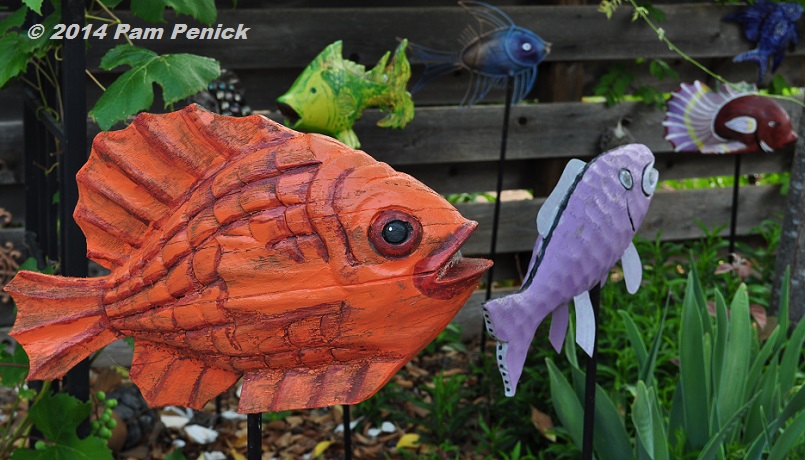 There's a whole school of them.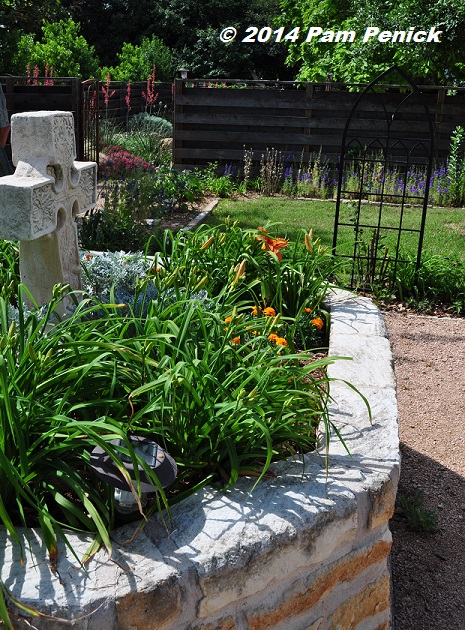 A meditation garden anchored by an altar-like central bed is the next garden room you pass through.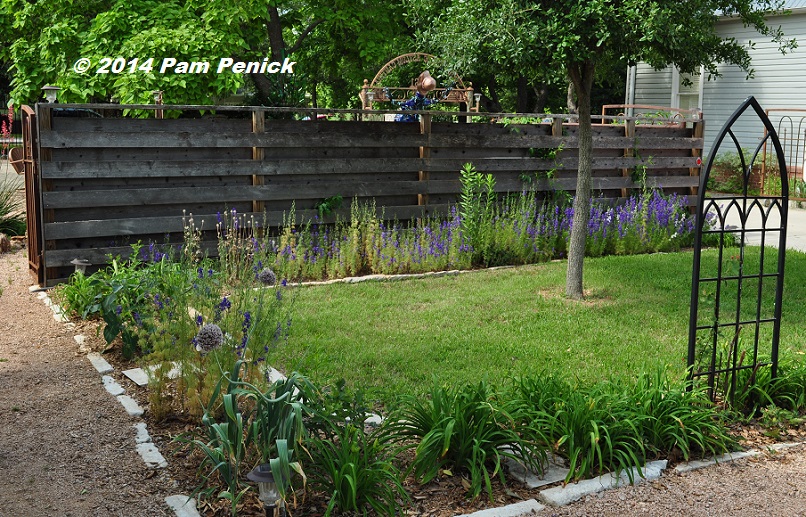 Trellises shaped like gothic church windows edge a small lawn next to the "altar."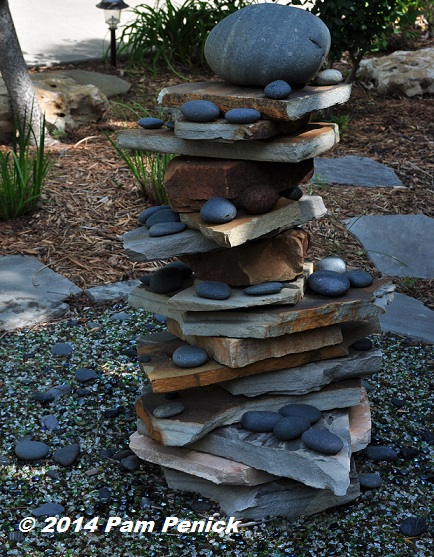 A stacked-stone sculpture sits atop a river of sparkling, recycled glass, which actually conceals a French drain.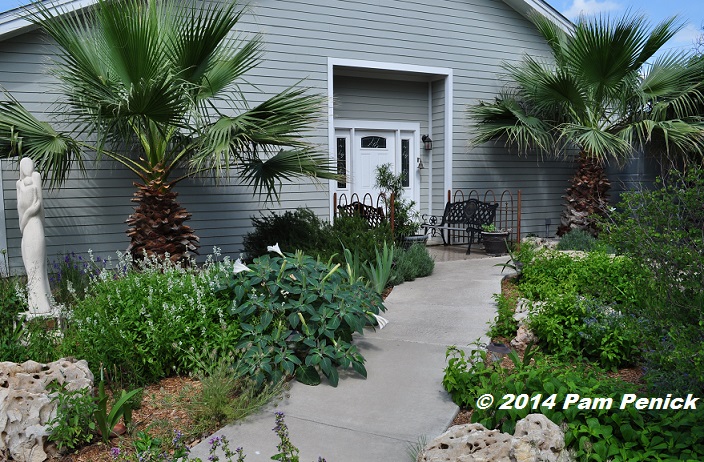 A white garden fronts the large studio/office structure behind the main house. Mike's dad, a fine-art sculptor, created several pieces that now reside here, including the mother-and-child piece at left.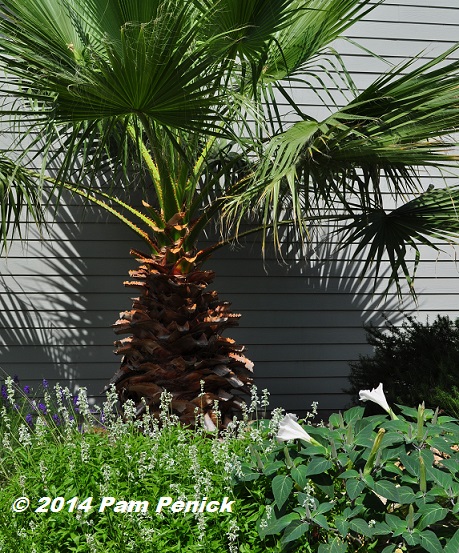 I enjoyed the shadows of the palms against the house.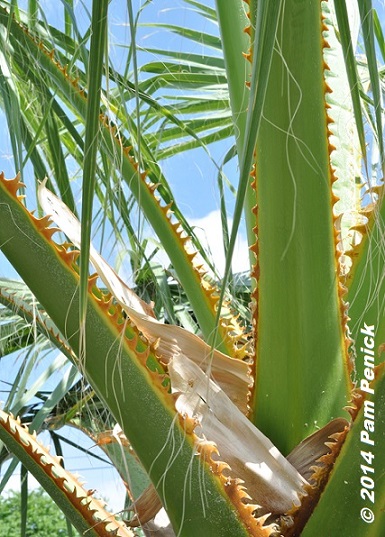 It was fun to look up through palm branches too.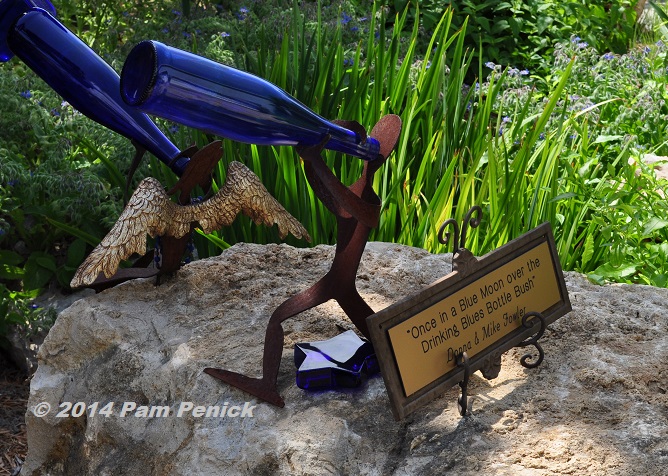 More of Mike's humorous, glass-bottle art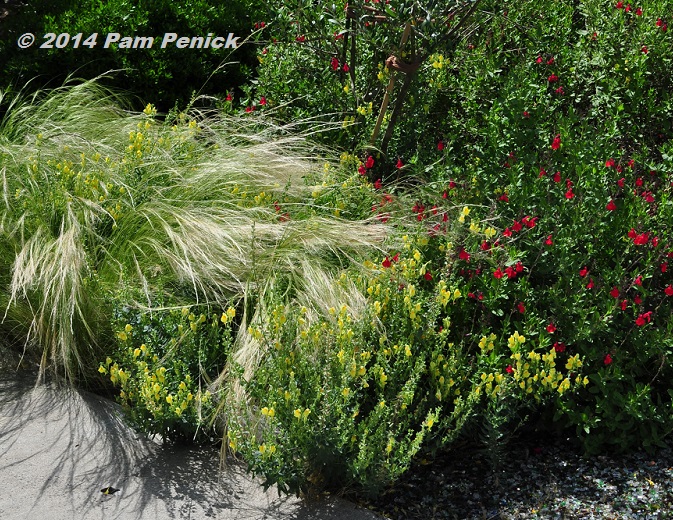 In a hot, sunny border, Donna combined Mexican feathergrass and red salvia with charming but aggressive (like mint, she said) butter-and-eggs, also known as yellow toadflax (Linaria vulgaris).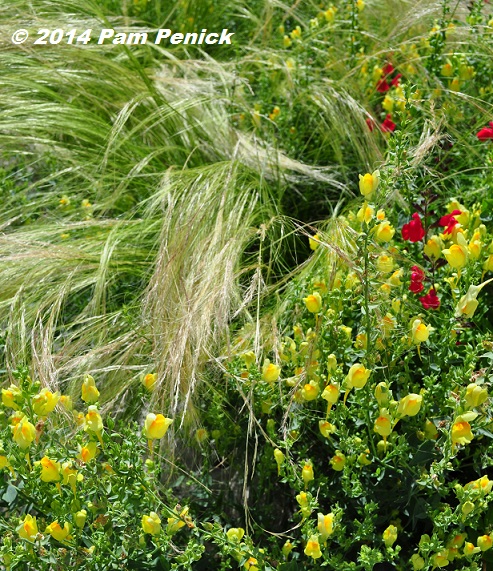 I loved it with the yellow-hued feathergrass.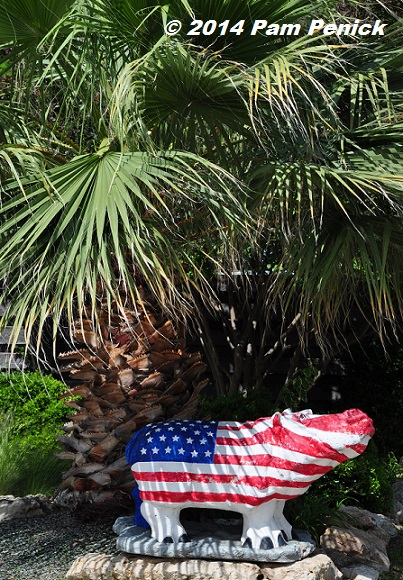 Around back of the house, on either side of the driveway, two hippos stand at attention, one painted like the U.S. flag…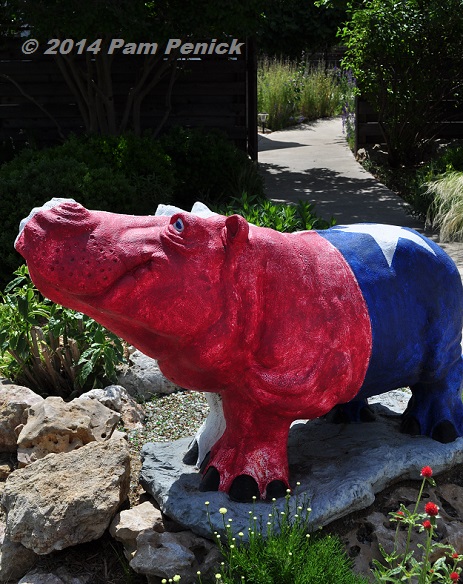 …the other as the Texas flag.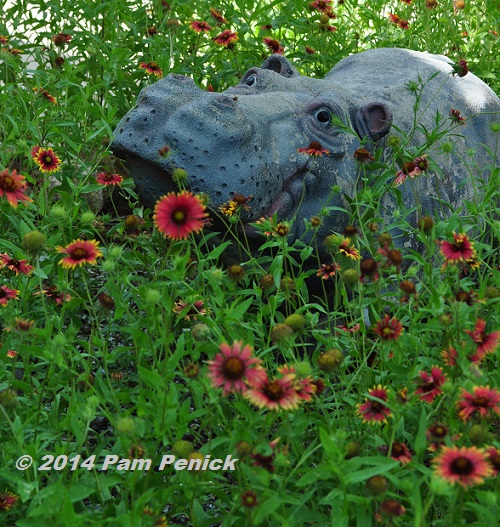 The Fowlers have christened the narrow garden along the side of their house as Hippo Valley, and it is chock full of hippos. This is one of a trio peeking out of a bed of blanketflower.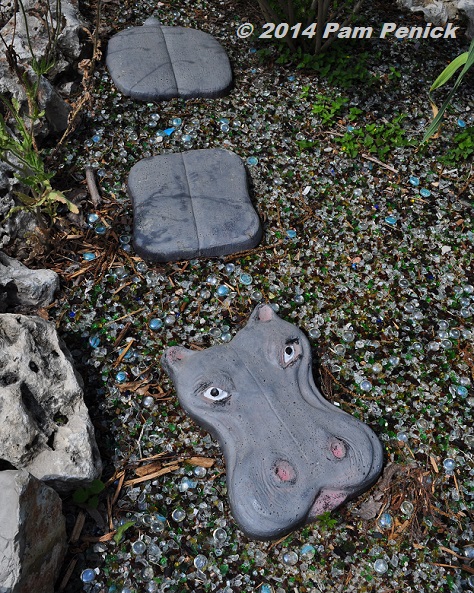 Here's another swimming through a pool of recycled glass. There were many more to be discovered among exuberant plantings.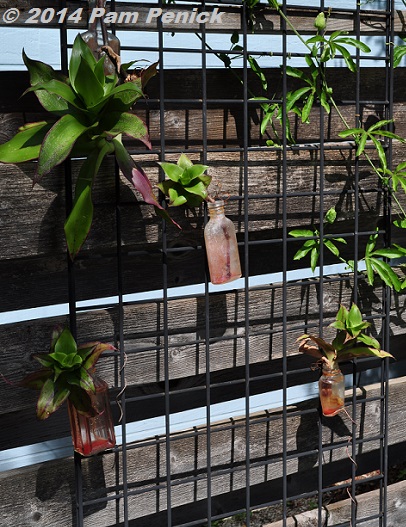 A fence is given eye-level interest with grandfather's pipe (Callisia fragrans) cuttings in old bottles wired to metal trellises.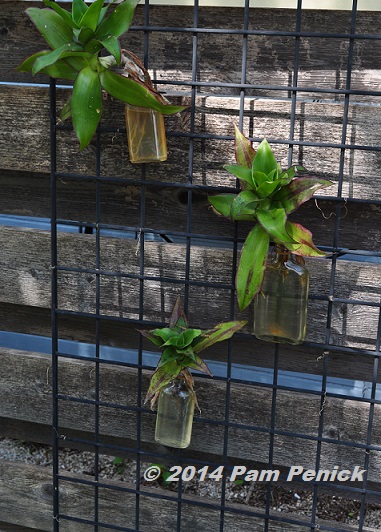 Is this where Donna roots cuttings, I wonder?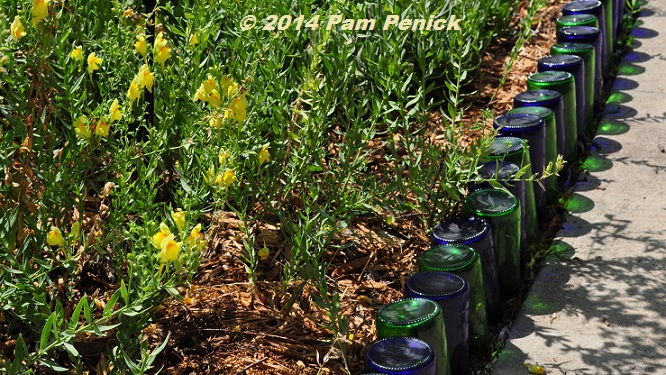 Blue and green bottles are put into service as path edging.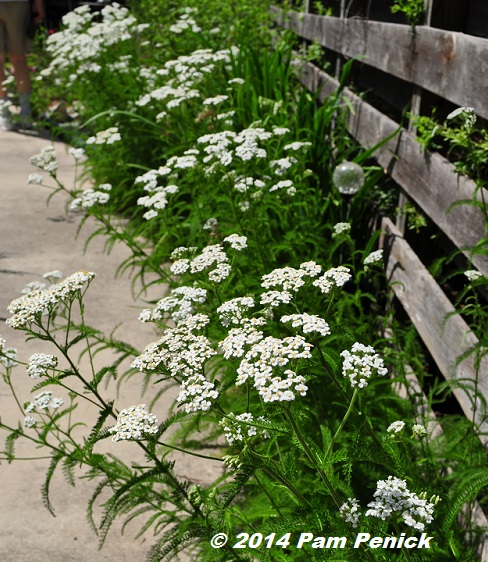 White yarrow offers country charm against a wooden fence.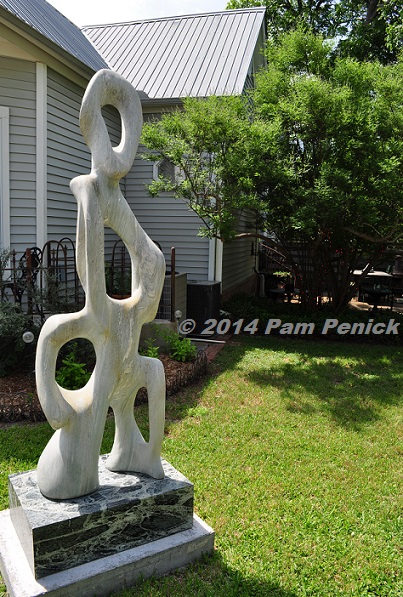 Another of Mike's father's sculptures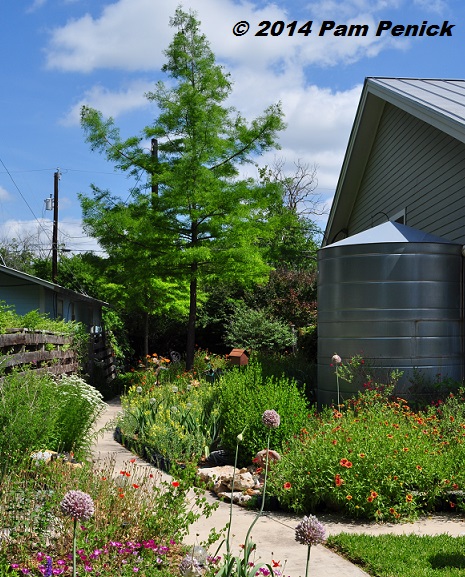 Looking back at the path winding through Hippo Valley, you see a large cistern that collects rainwater off the roof.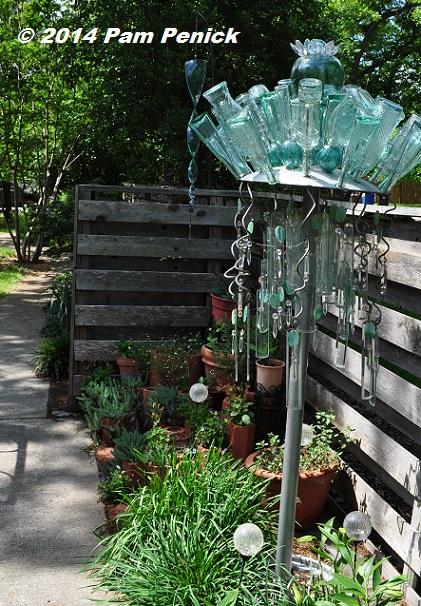 A turquoise assortment of bottles adorns another of Mike's bottle sculptures.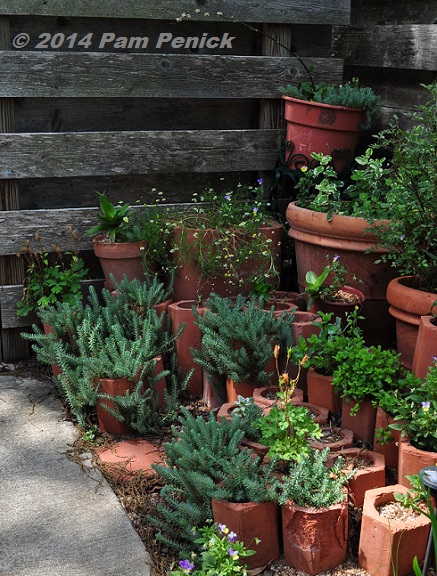 And an empty fence corner is dressed up with sedums and other easy-care plants in a tiered arrangement of terracotta planters.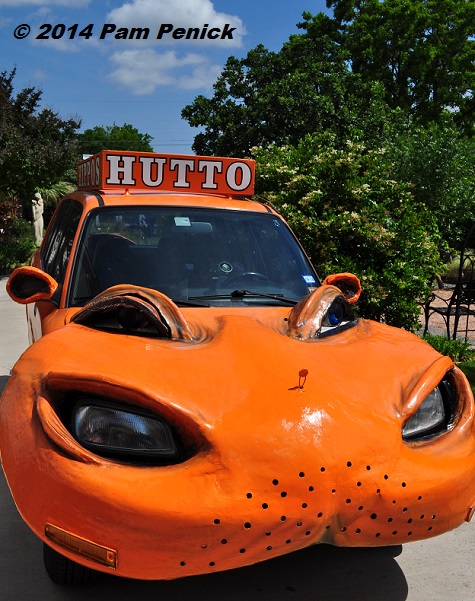 One more look at the hilarious hippomobile, whose right eye can be made to wink via a lever inside.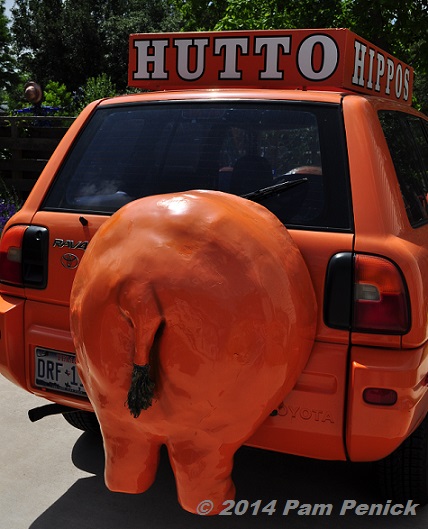 The backside — lifelike down to the brushy tail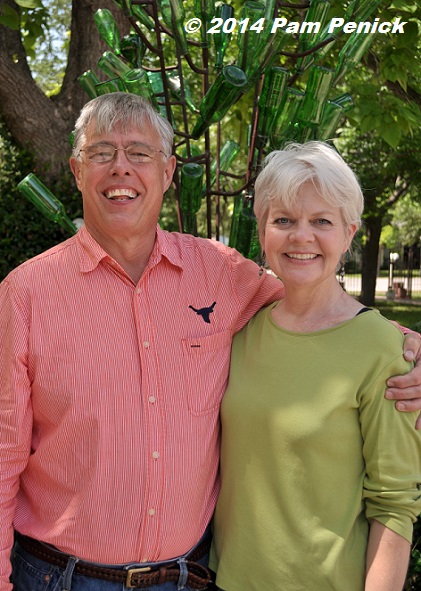 Mike and Donna are generous and gracious hosts, sharing stories, blessings, and the beauty and humor of their garden with us. My thanks to both of them for a wonderful visit! If you'd like to see more of their garden, watch their recent interview on Central Texas Gardener.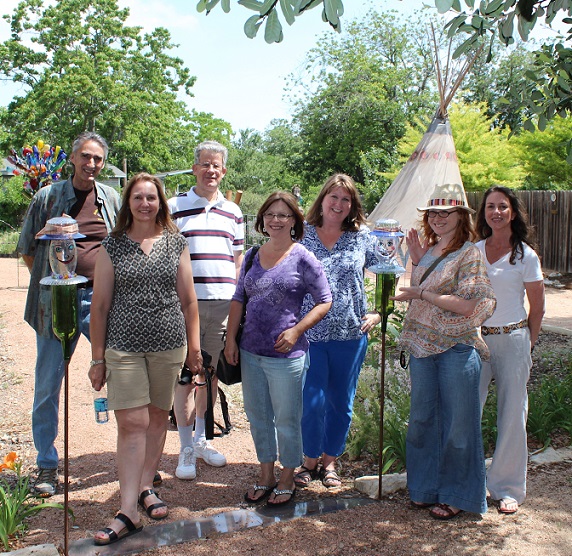 And here's our group enjoying the garden. From left to right: honorary blogger Tom Ellison (whose garden I recently toured), Ally of Garden Ally, Bob of Central Texas Gardening, Diana of Sharing Nature's Garden, me, Lori of The Gardener of Good and Evil, and Cat of The Whimsical Gardener.
All material © 2006-2014 by Pam Penick for Digging. Unauthorized reproduction prohibited.
posted in
Birds
,
Bottle tree
,
Containers
,
Edibles
,
Fences
,
Fish
,
Garden art
,
Garden structures
,
Garden tours 2014
,
Gates
,
Grasses
,
Lawn Gone!
,
Palms/Cycads
,
Paths
,
Patios & decks
,
Sculpture
,
Seating
,
Trees
,
Trellis
,
Vines
,
Water conservation
,
Wildflowers
,
Xeric plants
,
Yuccas