May 15th, 2014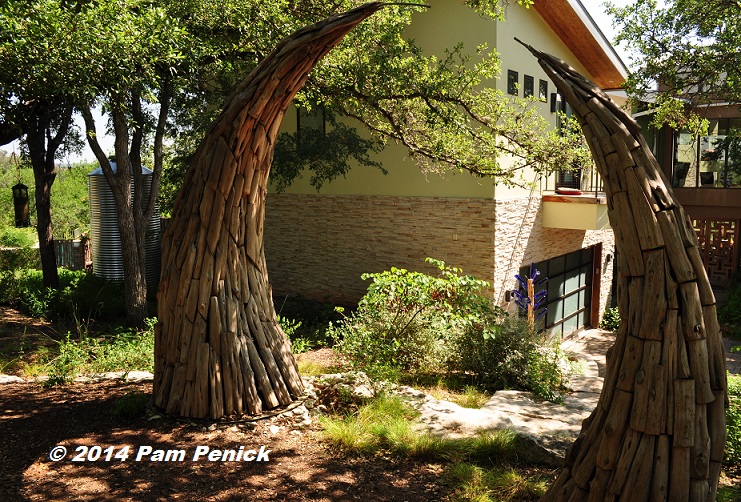 Naturalistic gardens can, I find, be hard to photograph unless they contain strong lines of hardscape (pathways to lead the eye, walls as backdrops, focal-point sculpture or plants, generous negative space to give visual relief, etc.). Gardens on Tour, sponsored by the Lady Bird Johnson Wildflower Center, annually showcases Austin gardens in which native plants play a lead role. Such gardens tend to be naturalistic in design, as was the case with Saturday's tour. While I find such gardens restful, akin to the experience of strolling a lovely nature trail, I prefer more-structured gardens.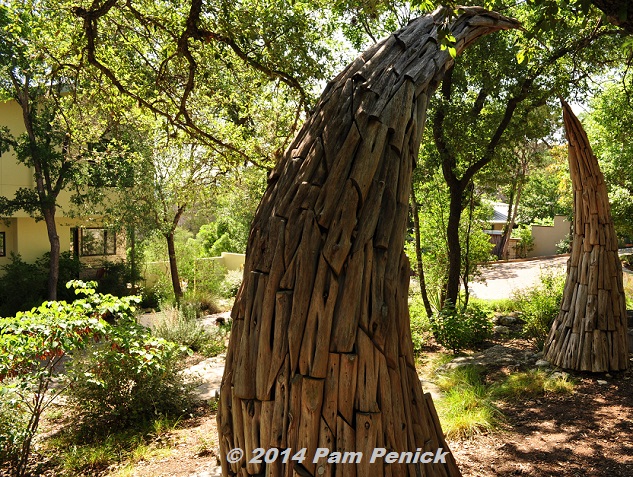 There were two such gardens this year that really caught my eye. Yesterday I showed you Tait Moring's personal garden at Bee Caves Road. Today it's the Stratford Drive garden, designed by Glee Ingram, with a front-entry stream designed by Environmental Survey Consulting. Both gardens, though quite different stylistically, showcase native plants against eye-catching hardscape elements.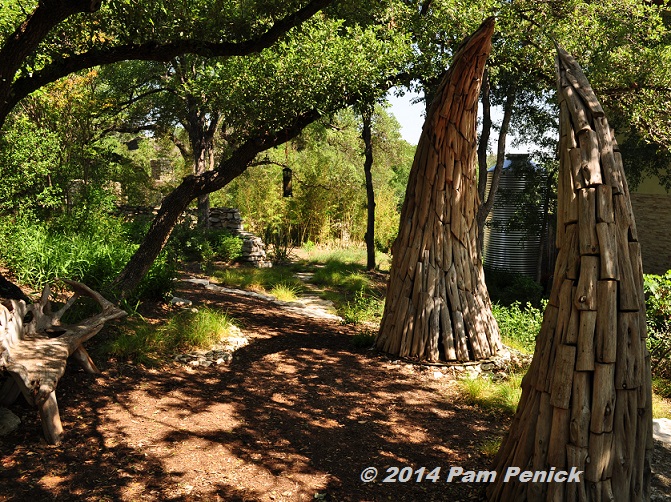 Take this monumental sculpture, for example. Created by Austinite Chris Levack, the crescent "horns" are a gateway to stone steps leading from the street (uphill at left) to the front door (downhill at right). Strong focal points like this help define space and lead the eye in this garden built on a difficult, steeply sloping lot.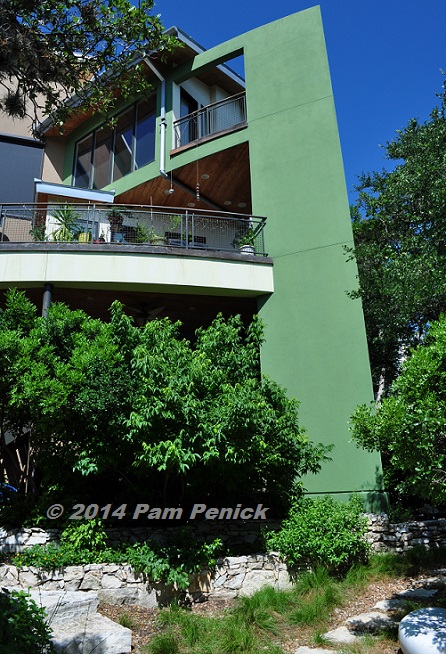 The house is modern, and a towering three stories tall in back, where the land drops into a forested canyon.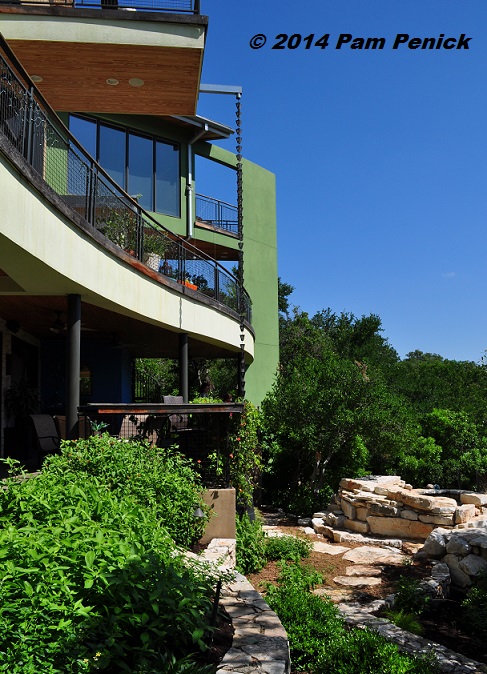 Extensive decks on different levels provide outdoor lounging areas…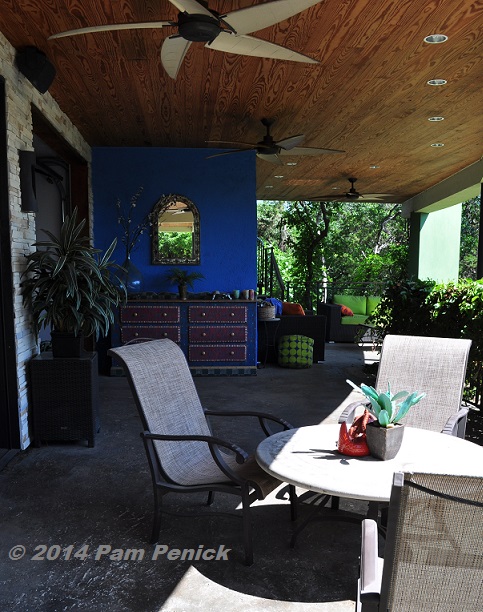 …like this one on the lower level.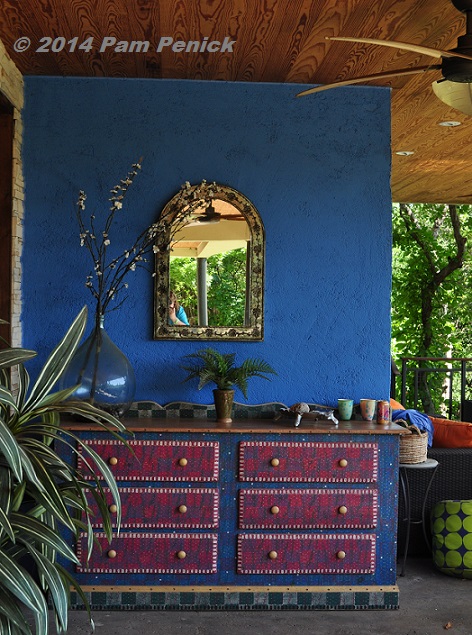 The owners are bold with color, choosing to paint this wall Greek blue and the garden wall celery green — rich colors that reminded me of gardens I saw in Phoenix and Tucson.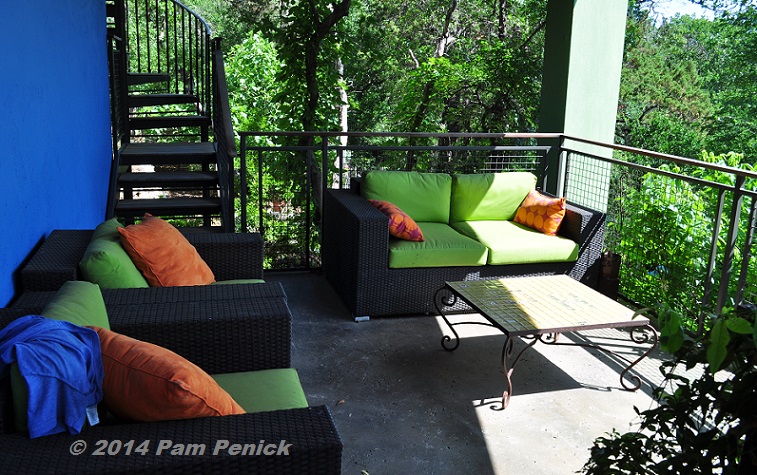 Comfortable sofas and a treehouse view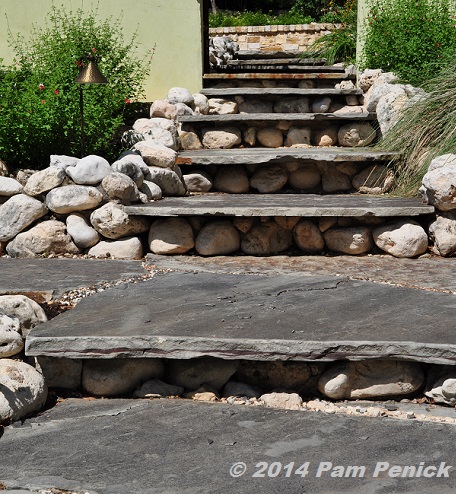 From the lower garden, these lovely steps made of flagstone and river rock lead up to a garden gate.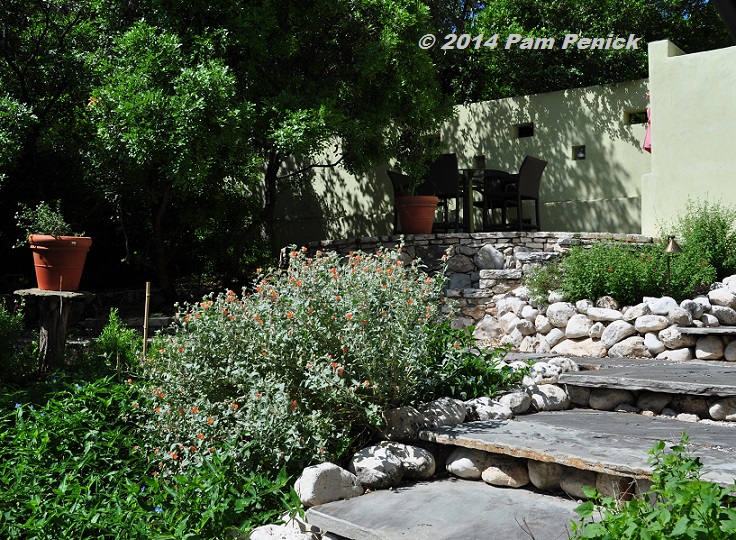 Terraced patios and gardens tame the slope alongside the steps.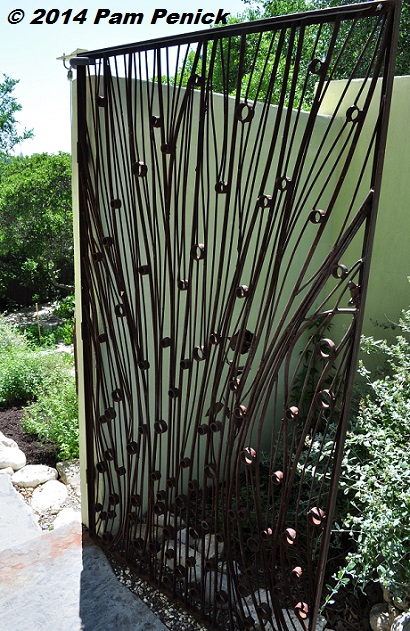 Here's the celery-green wall I mentioned, and a work-of-art steel gate by Chris Levack.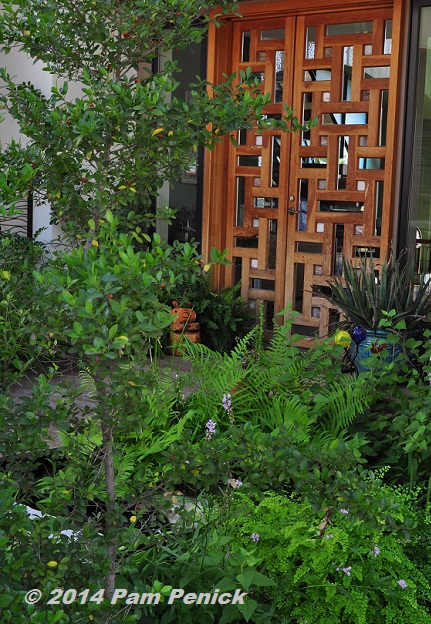 The home's front door is interesting in its own right, with rectangles of glass providing a sense of openness.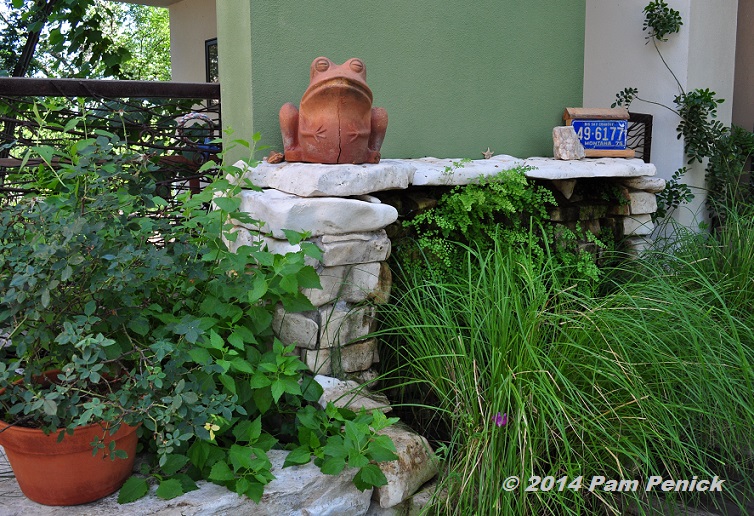 Near the front door, this limestone "fireplace" trades fire for water. A dripping fountain trickles over maidenhair fern into a small pool behind the grasses.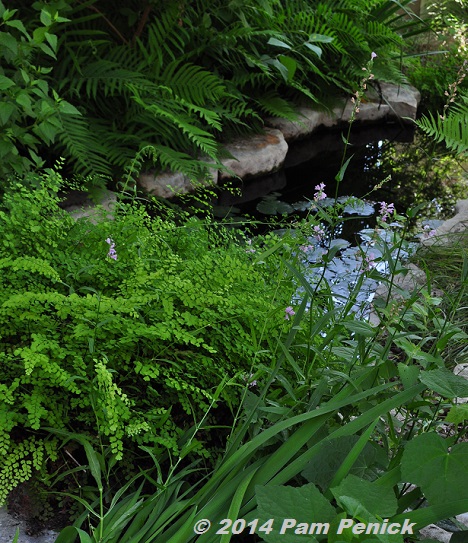 The water appears to flow under the front walk and reappears as a naturalistic stream flowing alongside the front foundation.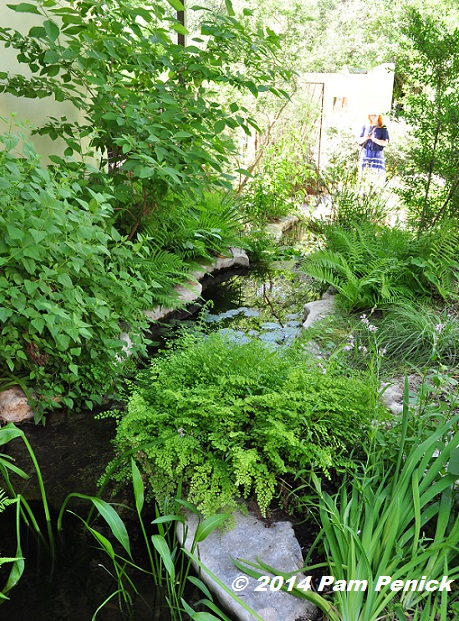 Surrounded by a lush garden of ferns and other wet-tolerant natives, this water feature delivers a pleasant surprise for visitors and a cooling, beautiful daily view for the homeowners.
All material © 2006-2014 by Pam Penick for Digging. Unauthorized reproduction prohibited.
posted in
Decor
,
Doors
,
Fountains
,
Garden art
,
Garden tours 2014
,
Gates
,
Grasses
,
Groundcovers
,
Hillside
,
Lawn Gone!
,
Paths
,
Patios & decks
,
Rivers & creeks
,
Sculpture
,
Seating
,
Texas natives
,
Trees
,
Walls
,
Water features
,
Water gardening