May 5th, 2014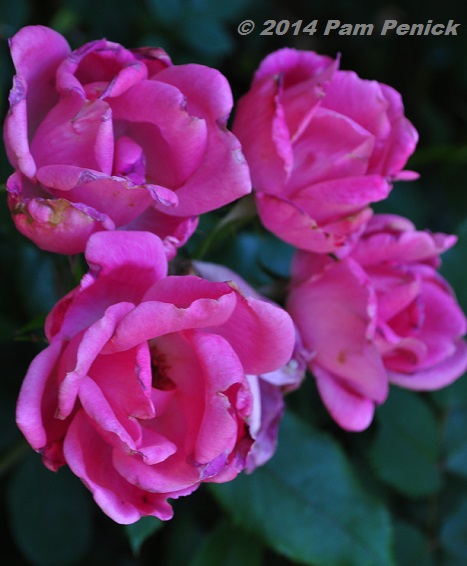 I met Vicki Blachman, who blogs at Playin' Outside, at the first Garden Bloggers Fling here in Austin in 2008. She's been a warm, light-hearted, steady presence at the Fling and other local blogger events ever since, and I'm glad to know her — not least because she knows her way around a kitchen and whips up a delicious spread when bloggers visit.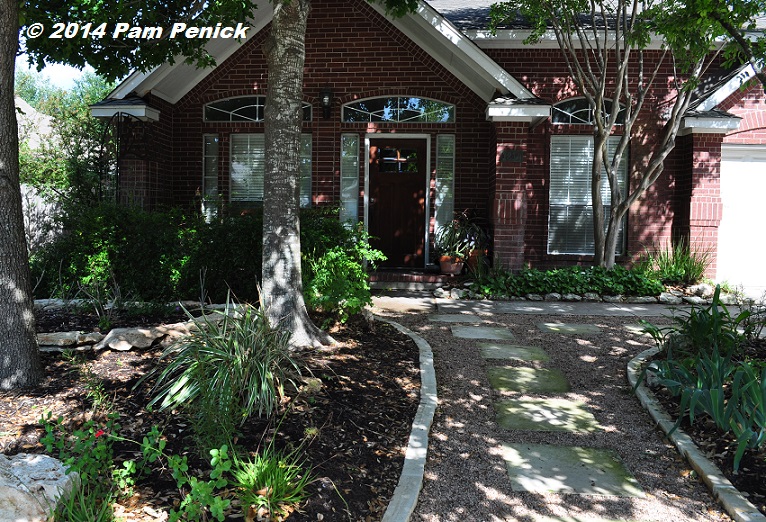 Last week, after a blogger meet-up at her garden, Vicki let me come by again and photograph her garden at the peak, or nearly, of her many flowering roses. But first I want to show you her brand-new, lawn-gone front garden, which is deeply shaded in the morning but gets hit with a blast of the Death Star in the afternoon — tricky gardening conditions.
She'd been gardening in back for a long while but hesitated out front, worried that lawn-loving neighbors wouldn't like it if she ripped hers out. So she left a swath of grass along the sidewalk at first. But her neighbors' enthusiasm for her new front garden was so encouraging that she pulled out the last bit of grass last year and took the garden all the way to the street.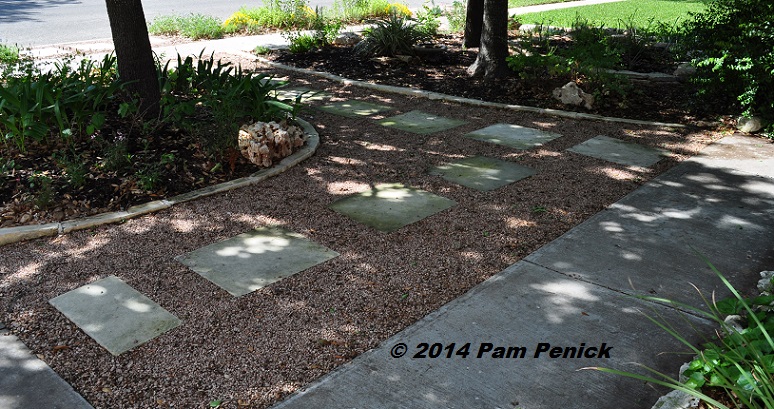 A gravel path inset with cut stone (soon to be replaced by something less slippery when wet) curves through the front beds where once there was only grass and invites visitors in. It connects with the original builder's walk — a narrow strip of concrete between the driveway and the front door — and widens there too for a more gracious and functional entry. Note how generously sized the new path is, and that gravel never needs watering!
Now Vicki's front garden hosts birds, butterflies, and other pollinating insects while adding color and texture for her to enjoy from her front porch, and for the neighbors to enjoy as they stroll by.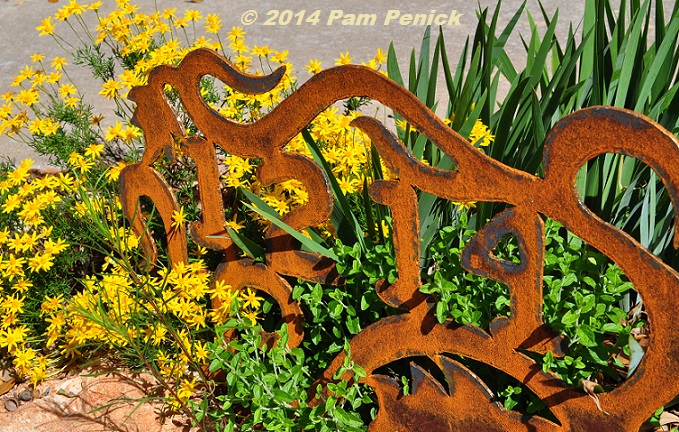 Vicki's hired fellow blogger and metalworker Bob Pool to construct a number of leaf-themed pieces for her garden, like this house number that sits amid damianita (Chrysactinia mexicana) near her driveway.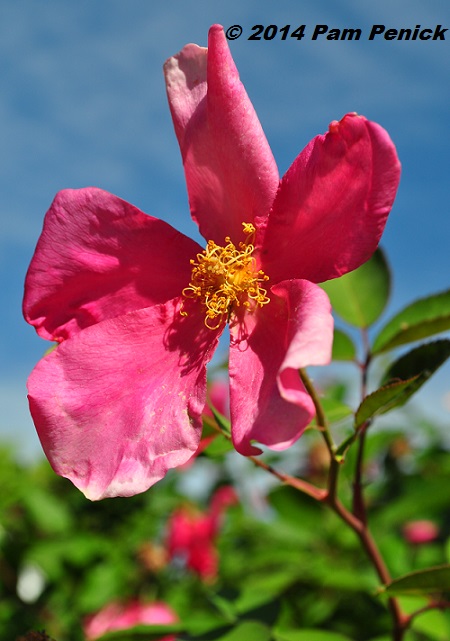 In the sunny side yard, 'Mutabilis' rose blooms against blue sky.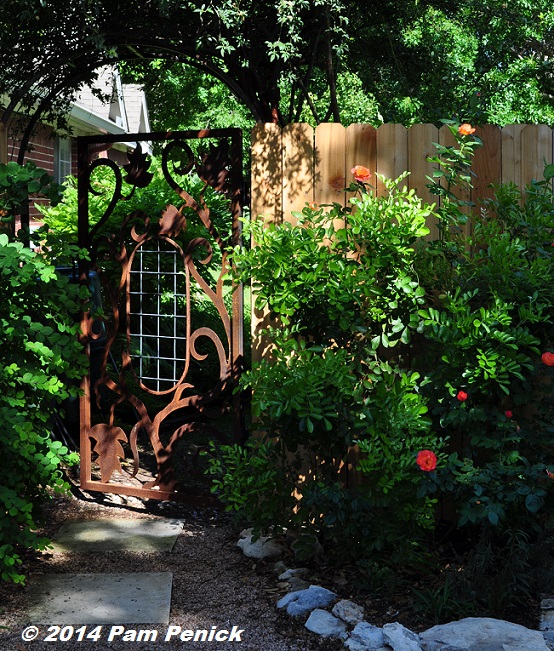 Another Bob Pool creation, this steel gate invites you into the back garden.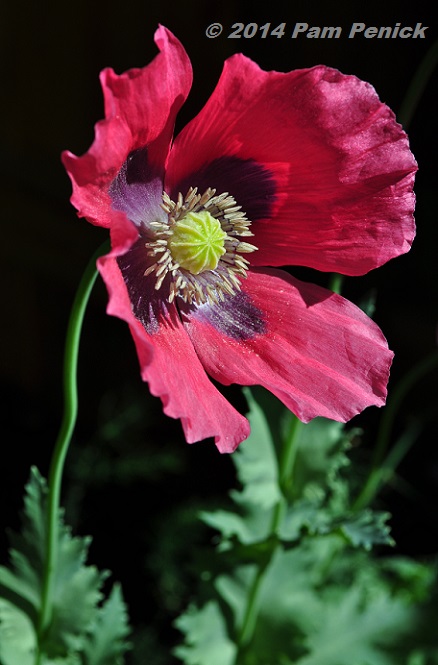 In the side garden, poppies were blooming…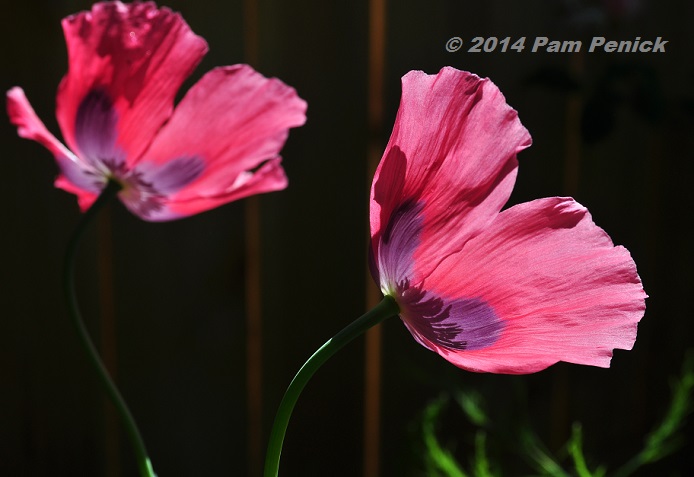 …and glowing in the sunlight.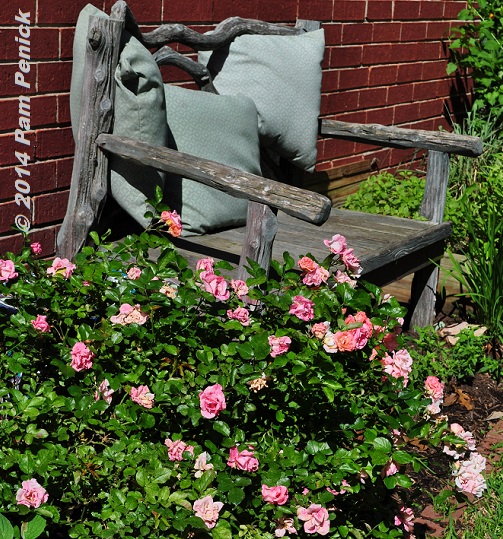 Vicki has created inviting vignettes throughout her garden, even in the narrow side garden where this bench lined with pillows sits comfortably alongside a profusion of pink roses.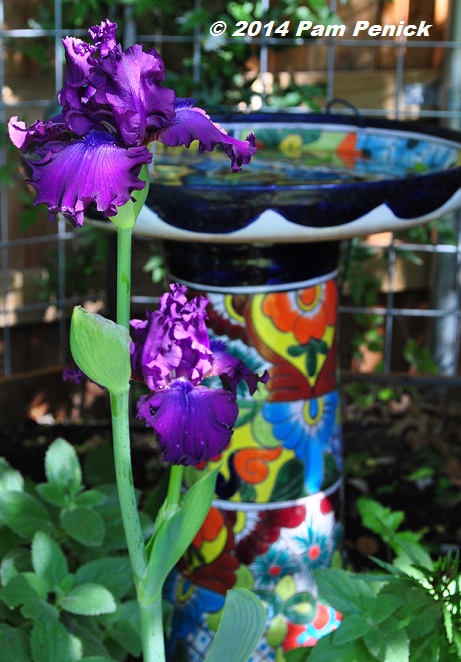 A late iris was blooming by her Mexican birdbath.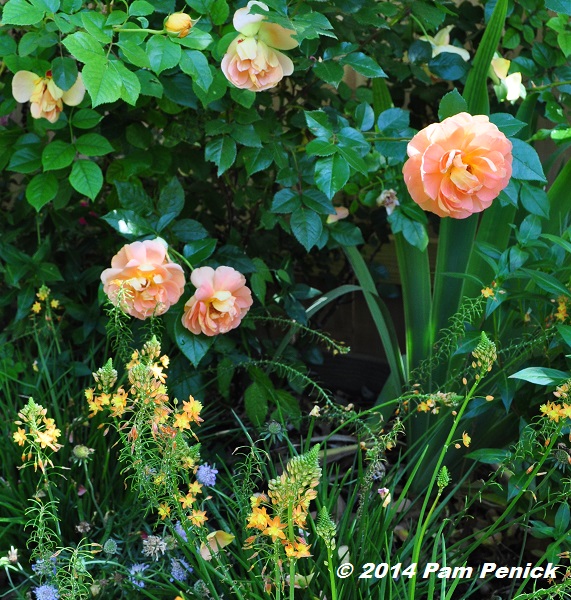 And the roses, tucked in wherever Vicki has a patch of sun, were in lush full bloom as well.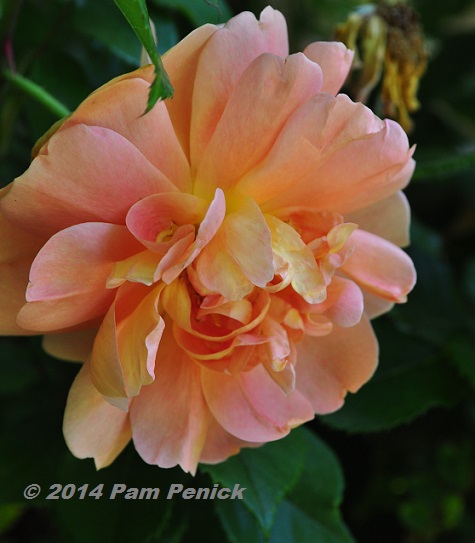 'Pat Austin' rose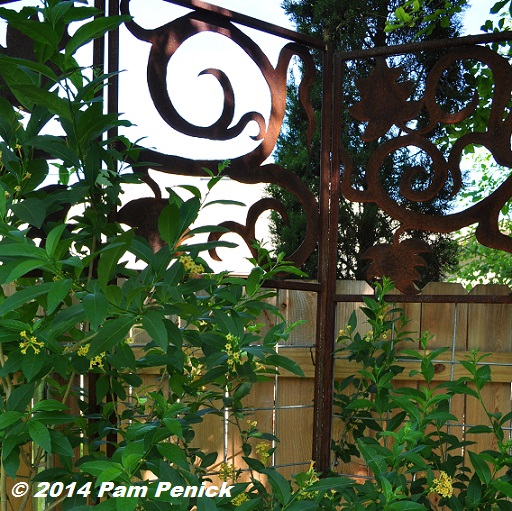 To green up and hide her back fence, Vicki has installed several trellises, including these topped with Bob Pool-crafted, vine-and-leaf-themed metalwork.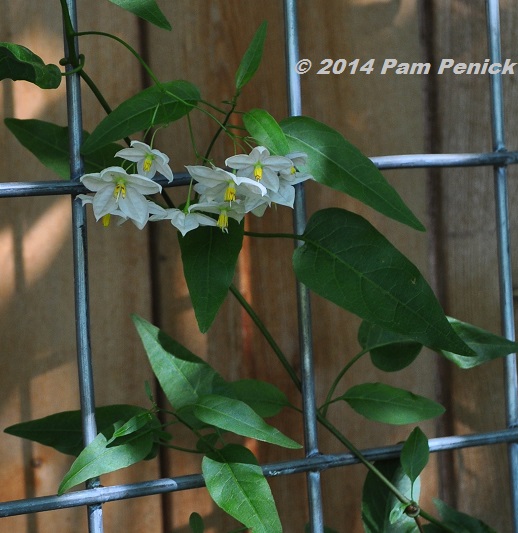 White potato vine (Solanum jasminoides) climbs in the shade.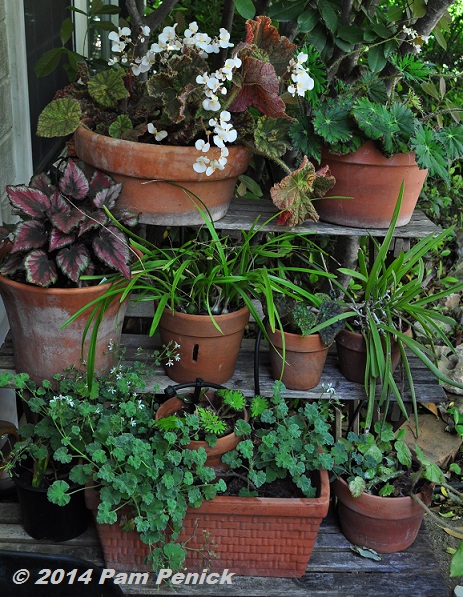 A tiered arrangement of potted plants makes a green backdrop on the back patio…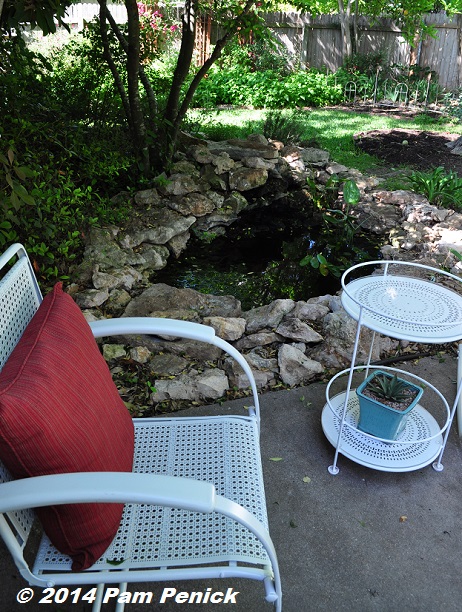 …where white patio chairs and tables invite you to sit a spell and enjoy the fish pond.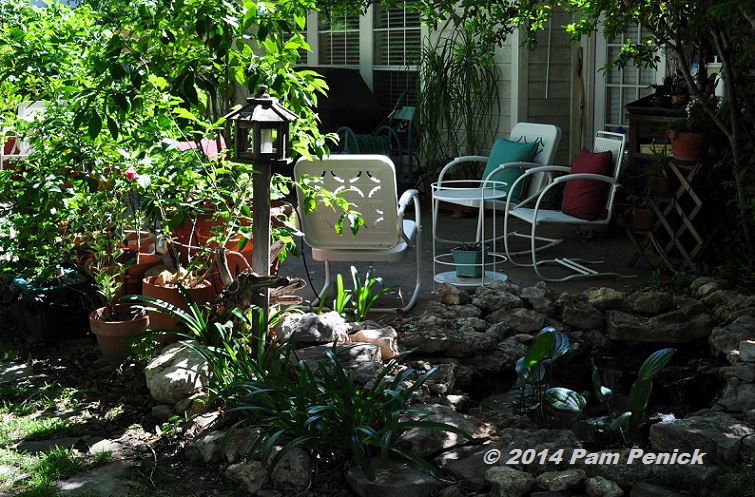 Vicki has lined the edge of her concrete patio with dozens of potted plants, creating a sense of enclosure and a low wall of greenery.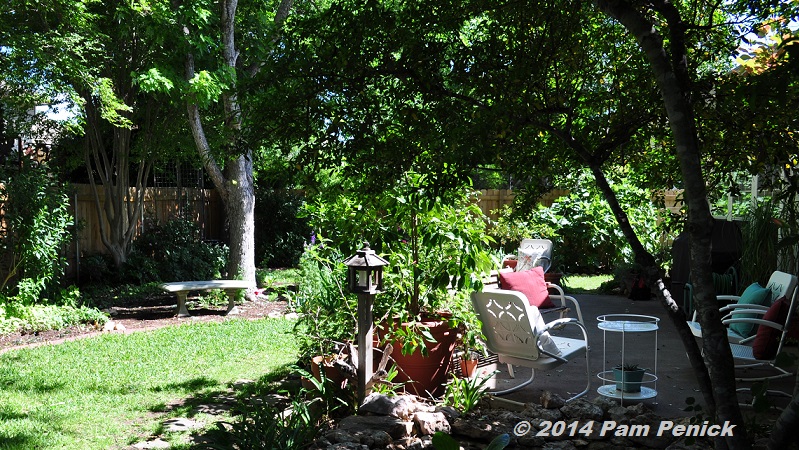 Adjacent to the patio is a curved swath of lawn for her dog and for openness in the center.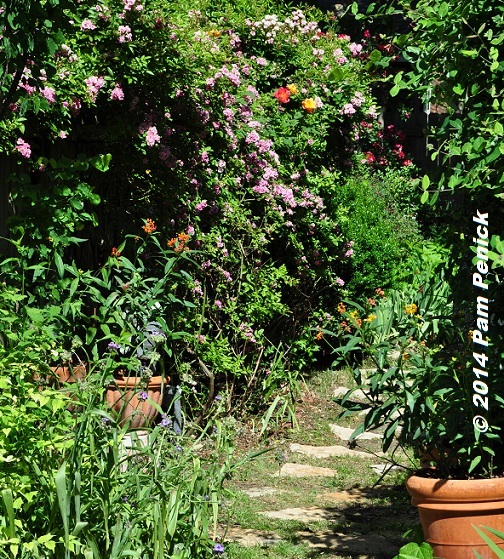 Vicki's garden feels much larger than it is thanks to winding paths through her borders and her gardened-up side yards. On the far side of her house, a stepping-stone path wanders past a gorgeous 'Peggy Martin' rose (the pink rambler), with a few mango-colored roses nudging in for space too.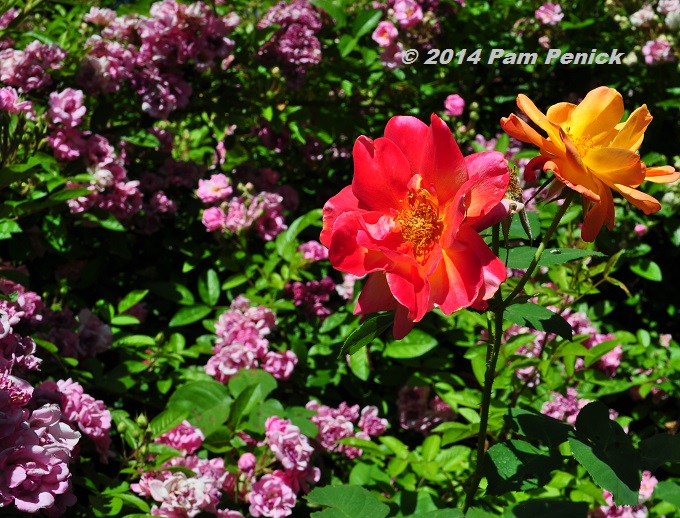 Rich color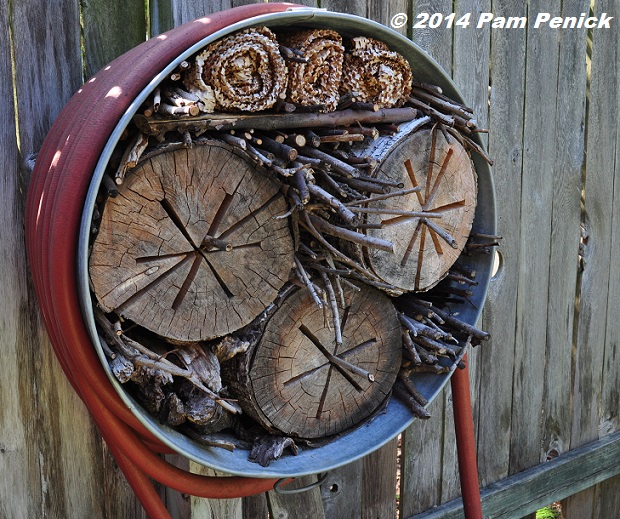 Vicki installed a large water-collection tank in the side garden a few years ago to save water, and I bet she's glad to have it in our ongoing drought. I neglected to take a photo, but you can read about it here and here on her blog.
As part of her efforts to make a sustainable garden, she's also built insect hotels for solitary bees and other beneficial insects — bee B&Bs, she calls them. The one shown above has the advantage of holding her hose as well.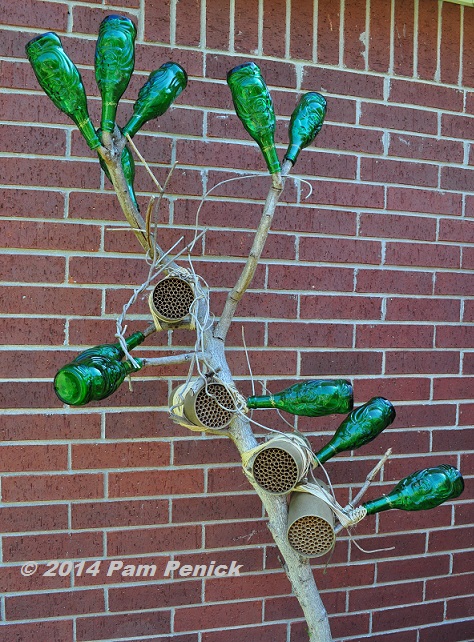 A few more insect hotels hang on her charming Lucky Buddha beer-bottle tree. Each of those bottles is in the shape of a smiling Buddha, which makes for a fun surprise when you see it.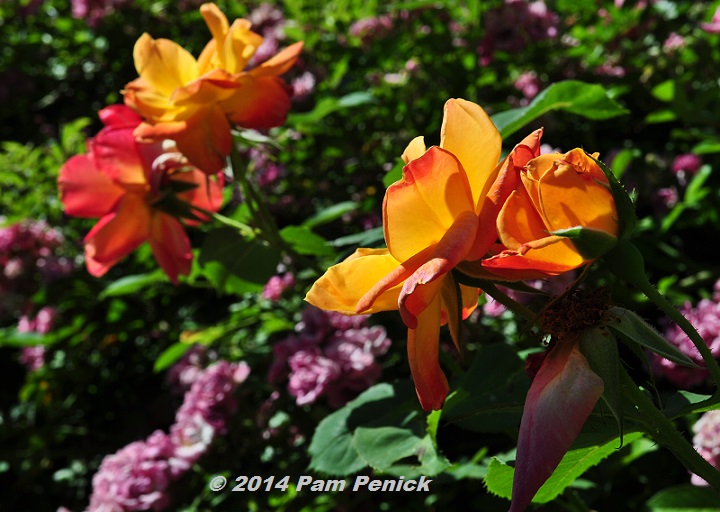 One more photo of the roses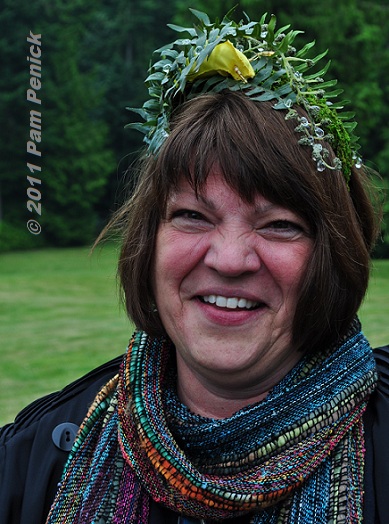 I had such a nice visit with Vicki that I forgot all about taking her picture. So I'm resharing this one of Vicki sporting a banana-slug fascinator that she made and wore at the Seattle Garden Bloggers Fling. Doesn't this say so much about Vicki's playful personality, not to mention her one-of-a-kind style? Thanks, Vicki, for sharing your lovely, peaceful garden with me!
All material © 2006-2014 by Pam Penick for Digging. Unauthorized reproduction prohibited.
posted in
Annuals
,
Arbors
,
Bottle tree
,
Bugs
,
Bulbs/Rhizomes
,
Containers
,
Garden art
,
Garden tours 2014
,
Gates
,
Lawn Gone!
,
Paths
,
Patios & decks
,
Ponds
,
Roses
,
Seating
,
Trellis
,
Vines
,
Water features