April 29th, 2014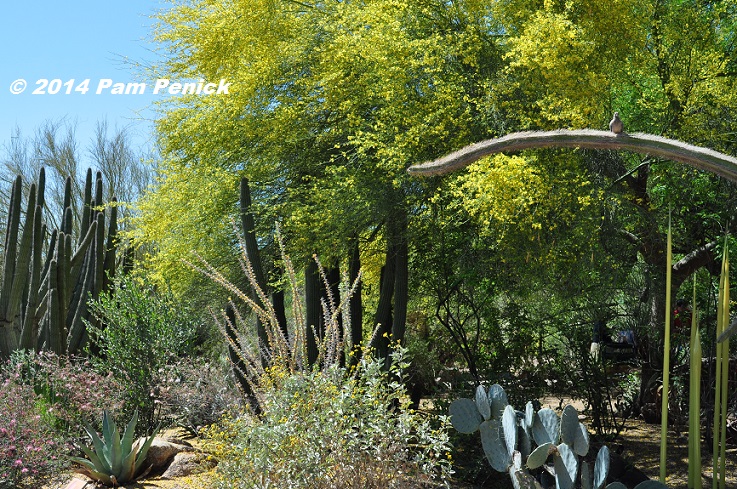 If you're a birdwatcher, you really must visit Desert Botanical Garden in Phoenix, Arizona. I arrived around 10 am on April 4th and saw more birds than I could identify, photograph, or count. Imagine an early morning visit, when all the birds are waking up! This dove amused me by perching complacently on a leaning cactus.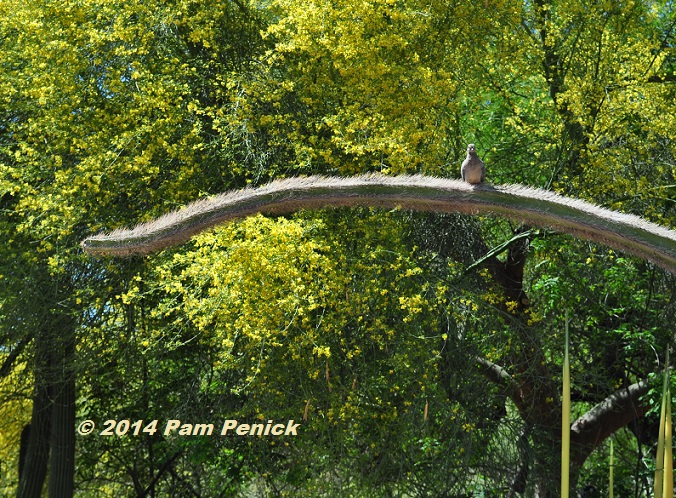 Is it a spiny or cushy perch, I wonder? That's a palo verde tree in bloom behind him. These trees had turned the entire city gold that first week of April.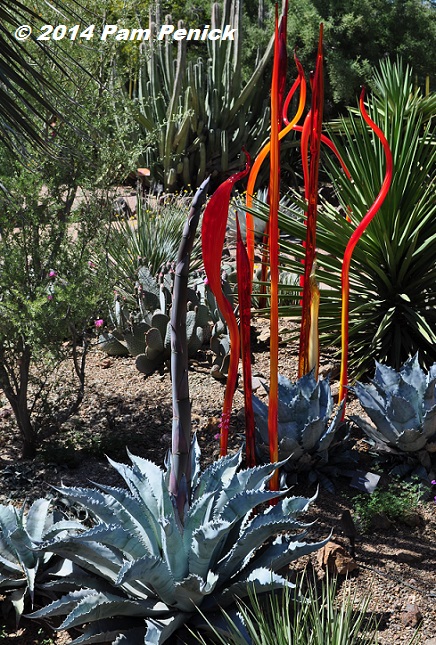 The Chihuly exhibit was on display while I was there (and will be until May 18). These serpentine pieces serendipitously echo an agave bloom spike in the foreground.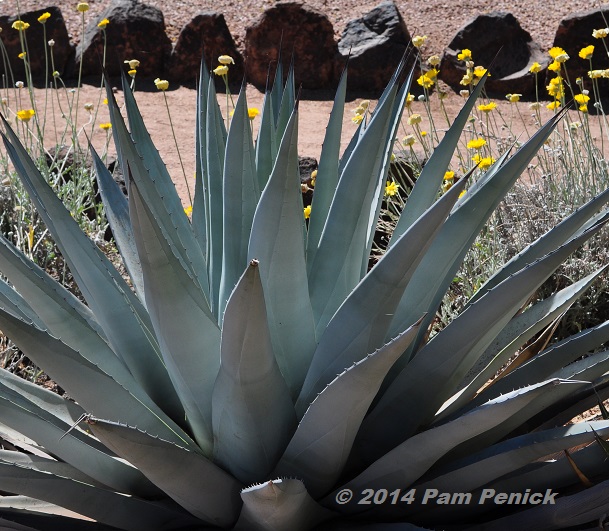 This agave was a stunner with its smooth skin, triangular leaves, blue-gray color, and symmetrical form.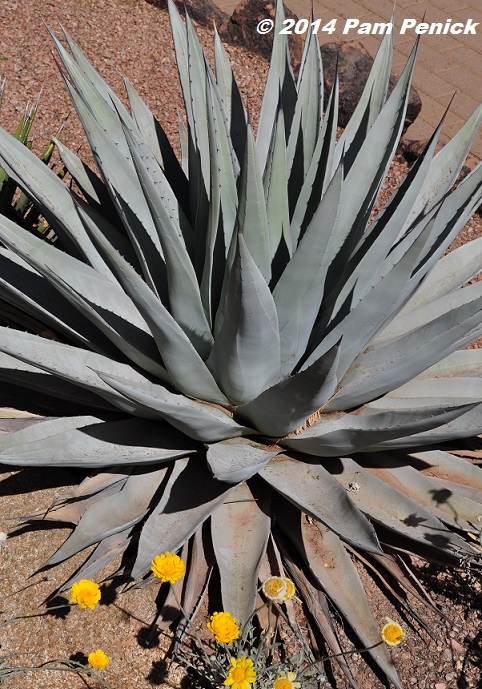 It's wicked looking, isn't it?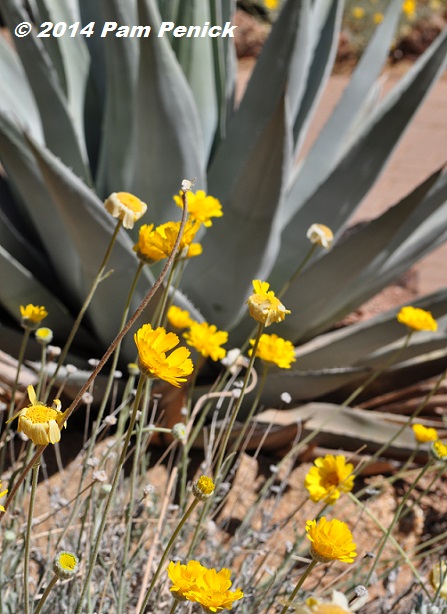 I think the yellow wildflower is Perky Sue (Tetraneuris ivesiana), a relative of our native four-nerve daisy (Tetraneuris scaposa).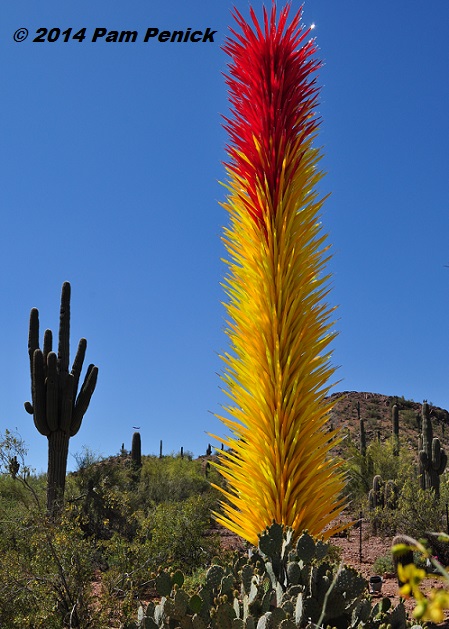 One of the mega-sculptures in the Chihuly exhibit is this red-and-yellow, bristling tower. (You can see a yellow version of 'Icicle Tower' in my post about Chihuly at Dallas Arboretum in 2012.) I was lukewarm on many of the other placements, but this one is a standout — monumental against a rugged red hill studded with iconic saguaro cactus.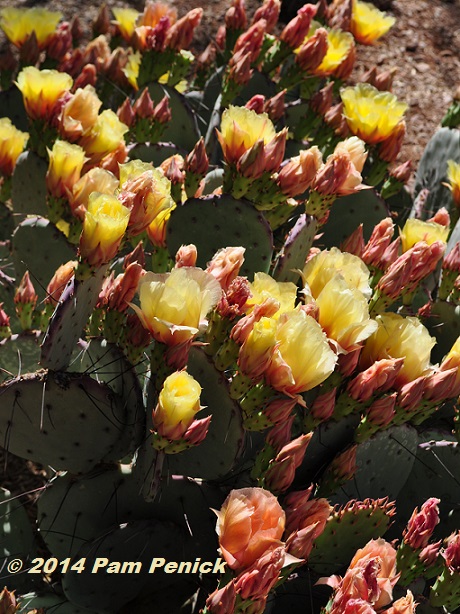 A Rooney's prickly pear echoes the tower's color scheme in reverse.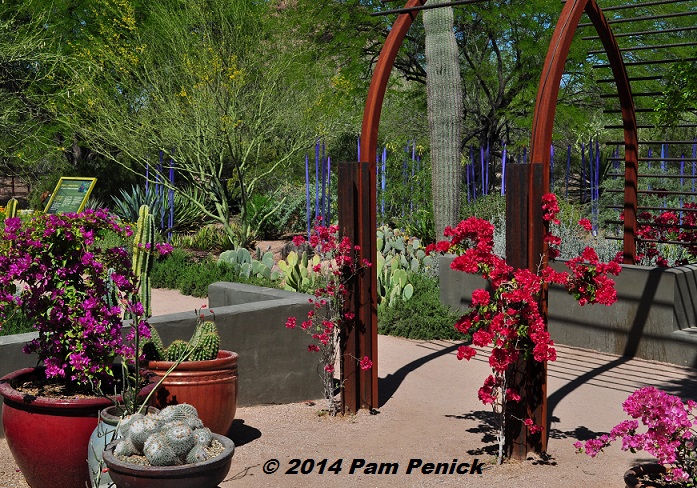 The Desert Living Trail diverges from the main loop with entry through a tunnel-like arbor of rust-red steel. Bougainvillea were just starting to climb the supports.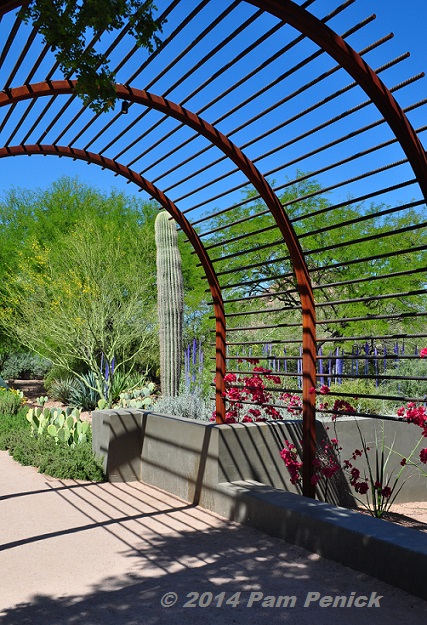 These metal structures fit in beautifully in the desert gardens.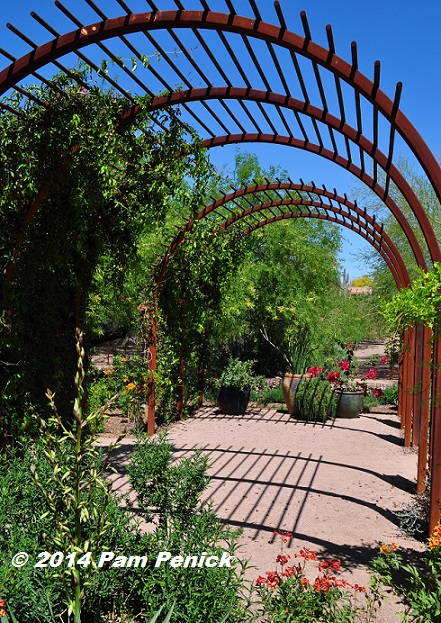 A series of arches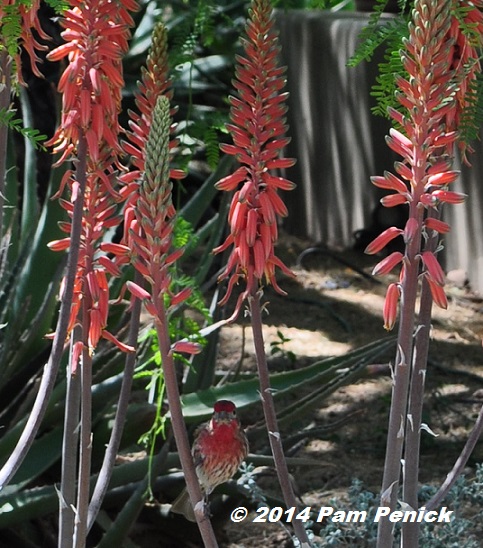 In a patch of flowering aloes I spotted this red-breasted bird — a house finch?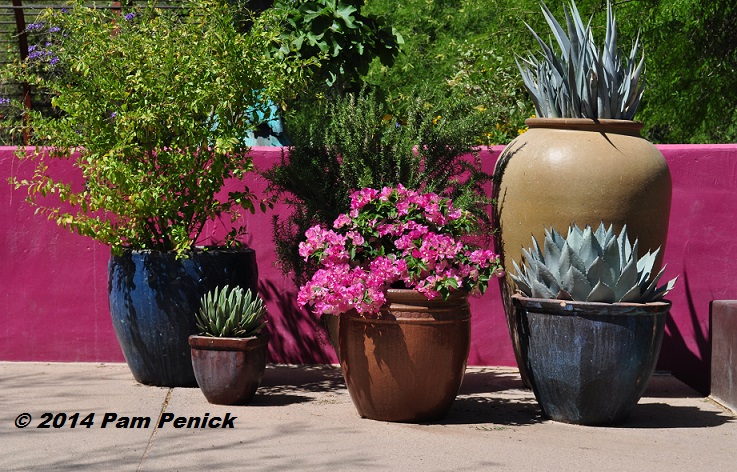 Nearby a hot-pink wall made a standout backdrop for a cluster of potted plants, including a matching bougainvillea.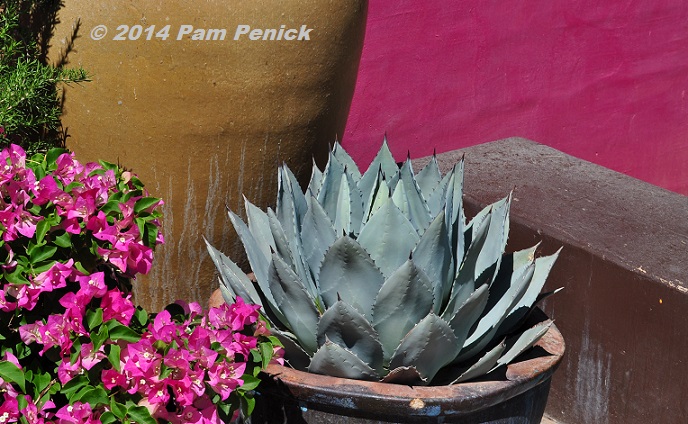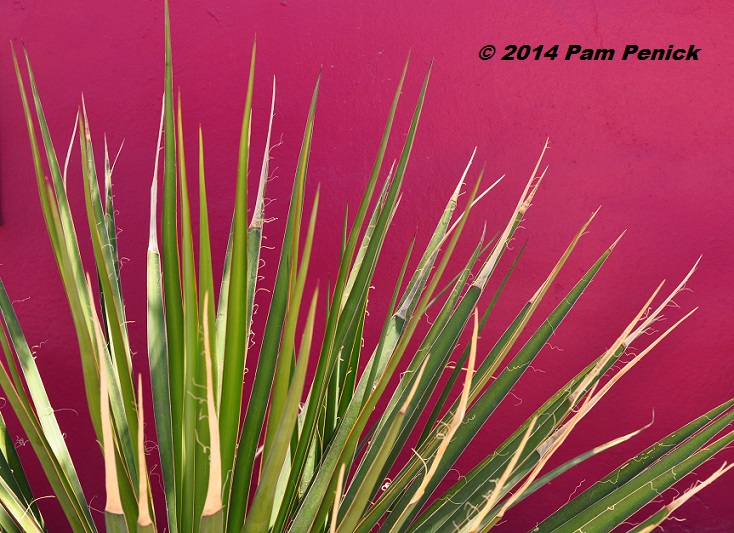 Colored walls and spiky plants — a fantastic combination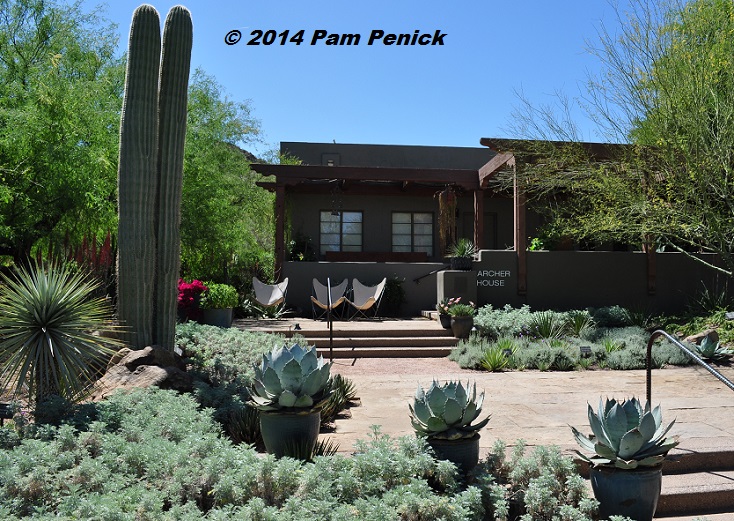 I believe the garden superintendent once lived at Archer House, but I can find no information about it online. At any rate, the beautiful gardens surrounding it offer lots of inspiration for local homeowners.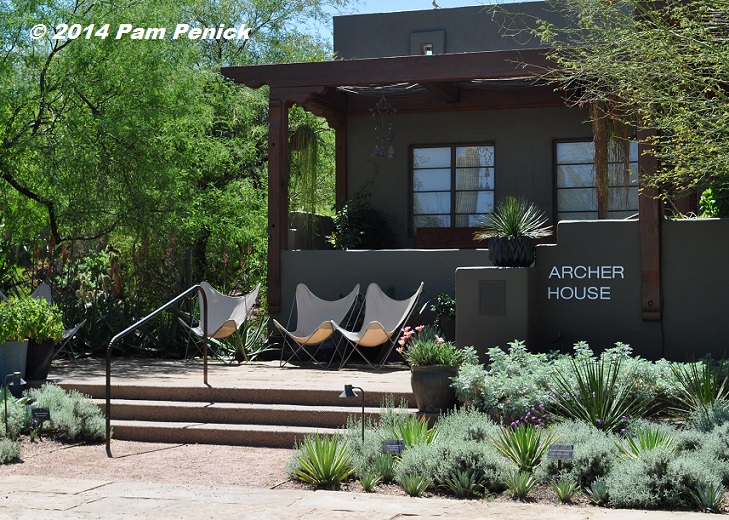 The dark-khaki house color allows the house to blend into the background and lets the silvery plants shine.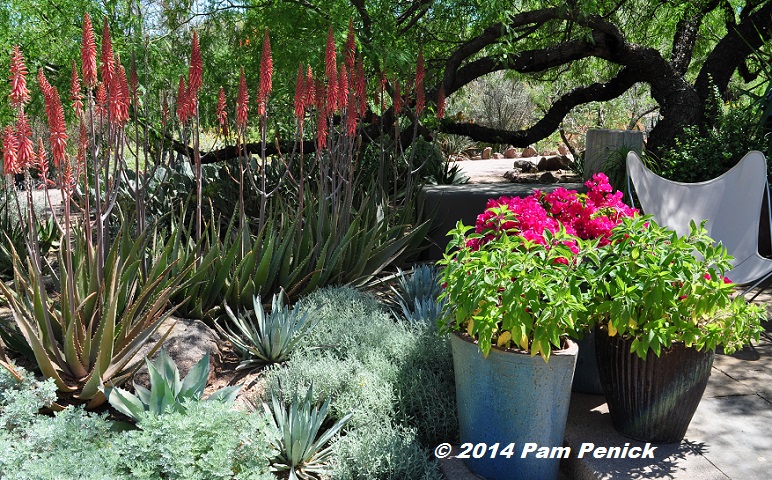 Aloes, artemisia, agaves, and santolina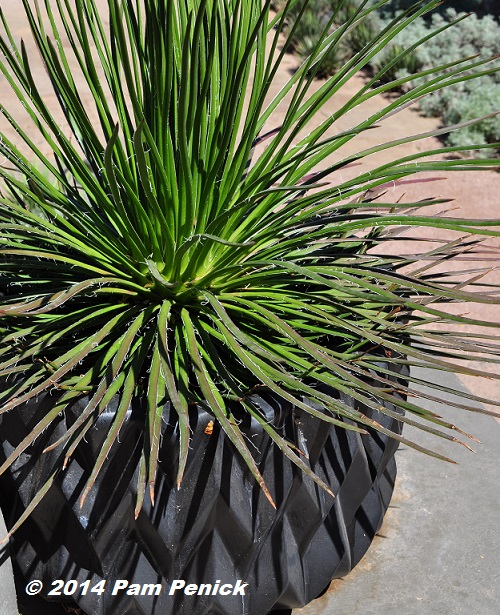 Cool lines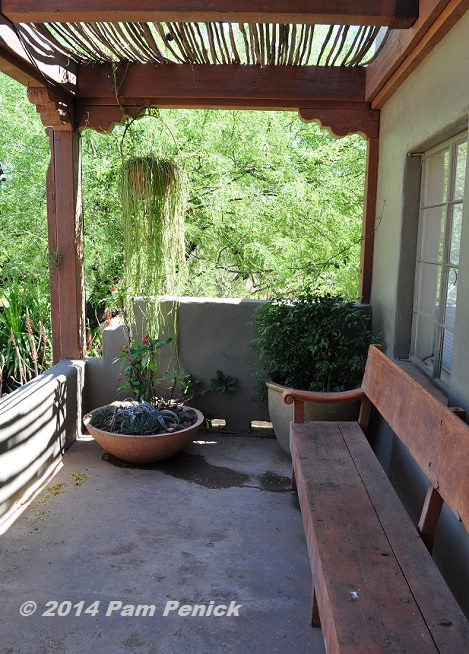 More lines on the porch roof — a ramada shelters the porch from the Death Star, providing welcome shade.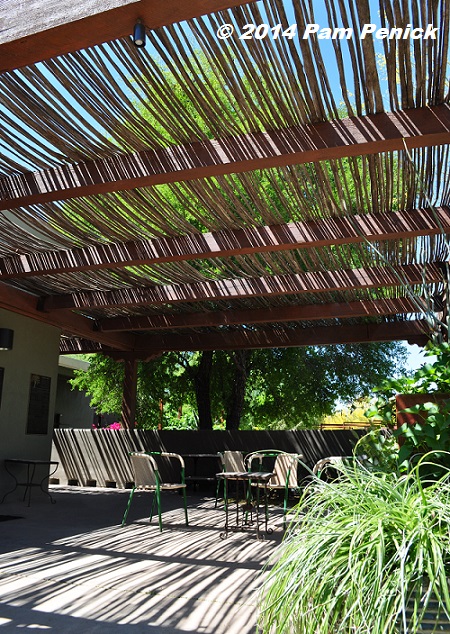 A large patio extends in the other direction, and the ramada widens to shade it too. The linear shadows are mesmerizing.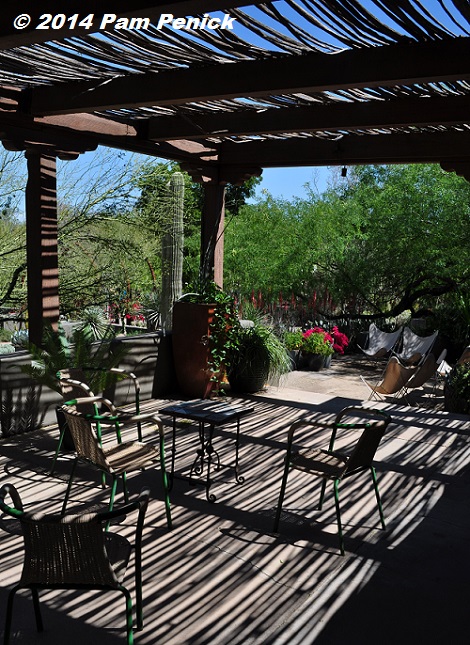 The view from the other direction. A ramada like this would make an inviting destination in a home garden, wouldn't it?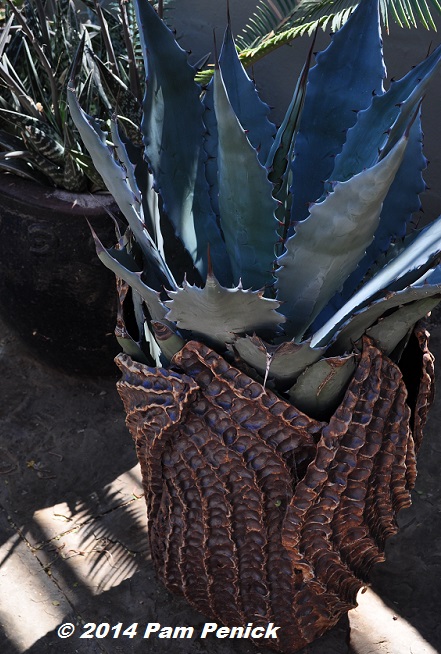 On the patio, an agave echoes the leafy form of its handcrafted pot.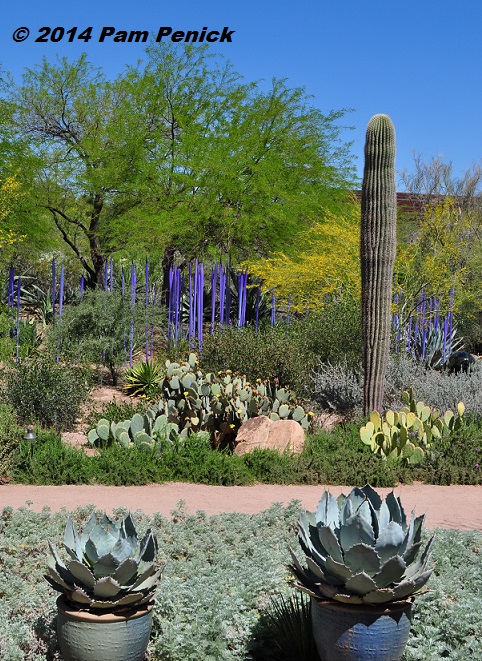 The view from Archer House's front porch. The purple spires are Chihuly glass sculptures. I'll have more pictures of them in my next post.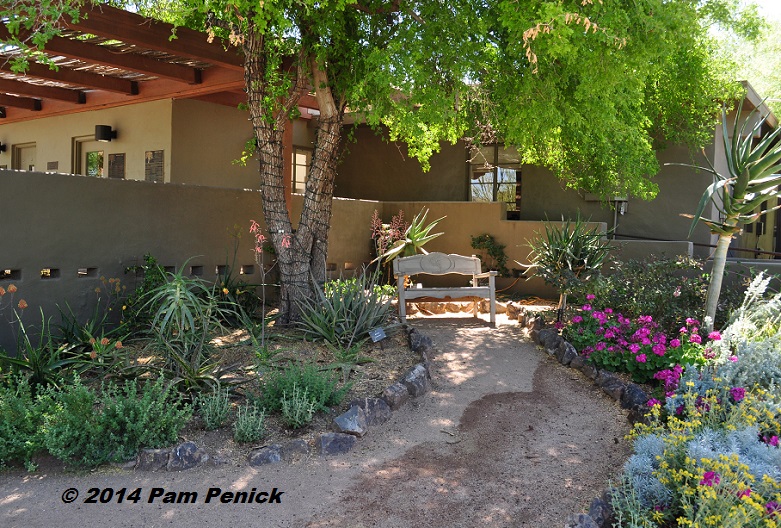 But first let's stroll around the side of the house and enjoy this intimate garden framed on two sides by khaki-colored walls.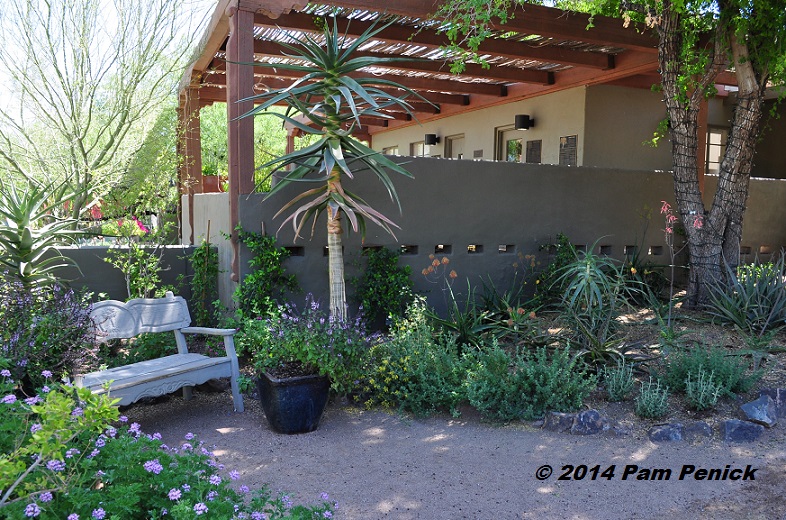 Two wooden benches sit at the ends of paths, offering a secluded place to rest and enjoy the pretty view.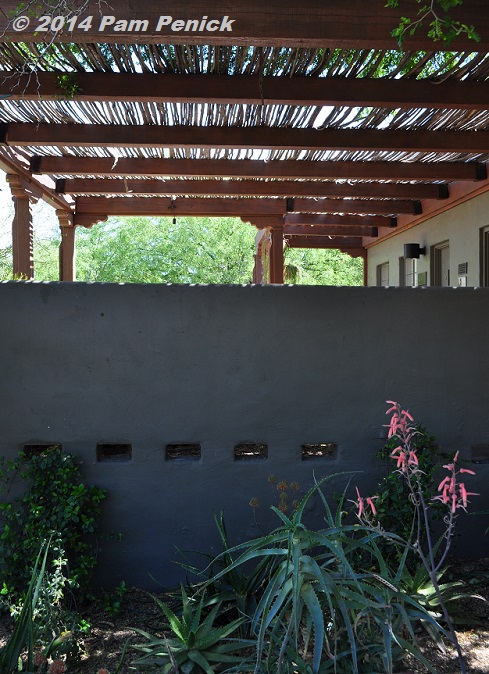 The wall, with a line of small, rectangular cutouts that admit light, and the lines of the porch ramada make a nice backdrop for this garden space.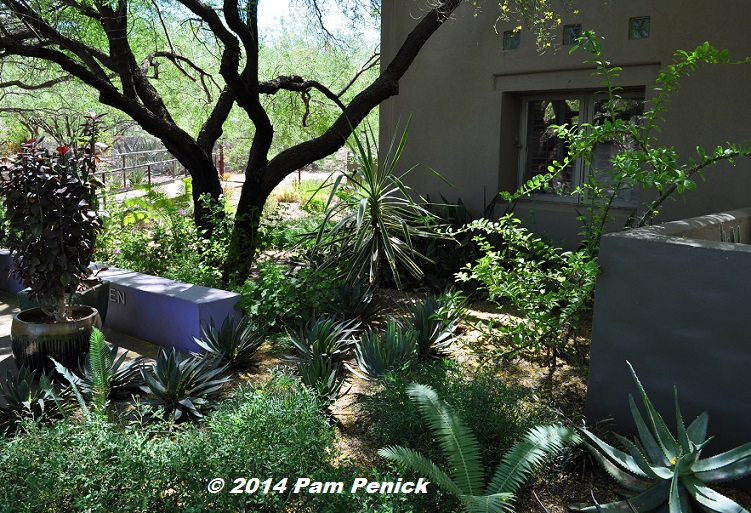 Behind the house, a shady garden offers relief from the desert sun, which was pretty intense even in early April.

A large bowl filled with water and surrounded by river rock makes a striking focal point for the shade garden. A small amount of water in a dry garden makes such an impact, creating the feeling of an oasis.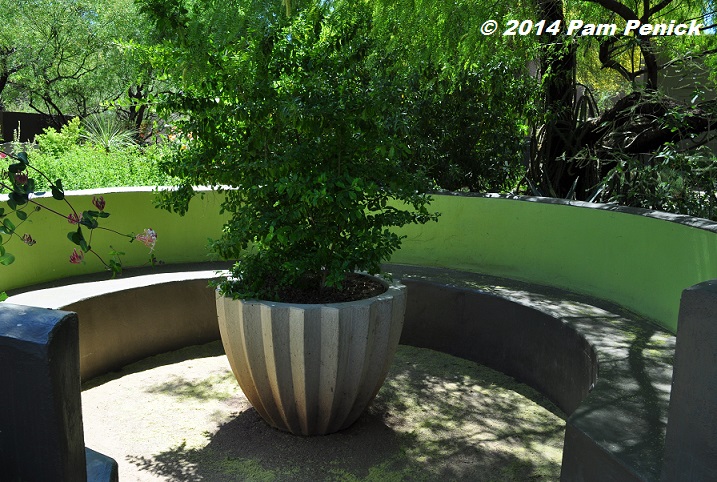 A semicircular banco offers an intimate spot to sit — or hide out.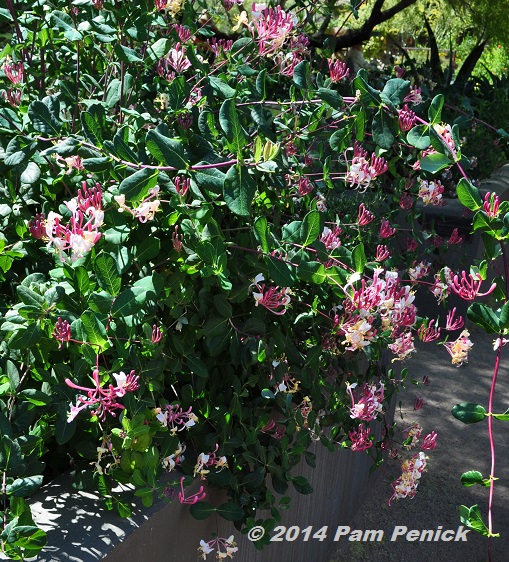 This pretty, lightly fragrant honeysuckle, 'Pam's Pink', rambles along a low wall near the banco. 'Pam's Pink' is a Texas Superstar plant and is said to be less aggressive than the yellow-and-white honeysuckle wise gardeners fear to plant.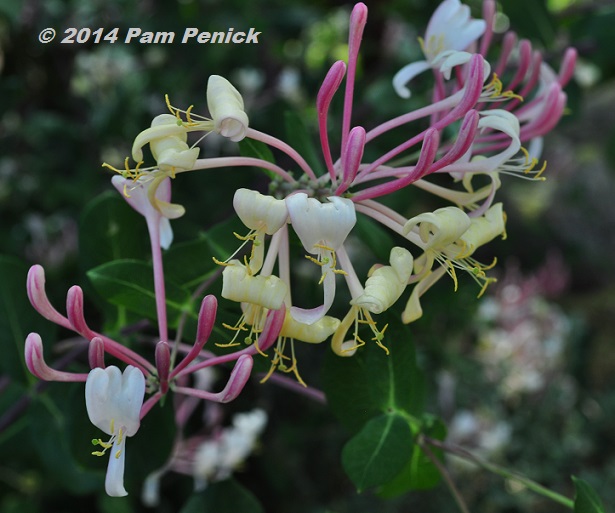 I feel an inordinate fondness for any plant that shares my name.
Up next: The Edible Garden and a cactus sundial, plus more Chihuly sculptures. For a look back at the Cactus and Succulent Galleries, click here.
All material © 2006-2014 by Pam Penick for Digging. Unauthorized reproduction prohibited.
posted in
Agaves
,
Aloes
,
Arbors
,
Birds
,
Botanic/Public Gardens
,
Cactus
,
Color
,
Containers
,
Desert
,
Garden structures
,
Paths
,
Patios & decks
,
Porch
,
Sculpture
,
Seating
,
Succulents
,
Travel
,
Trees
,
Vines
,
Walls
,
Water features
,
Wildflowers
,
Xeric plants
,
Yuccas