April 28th, 2014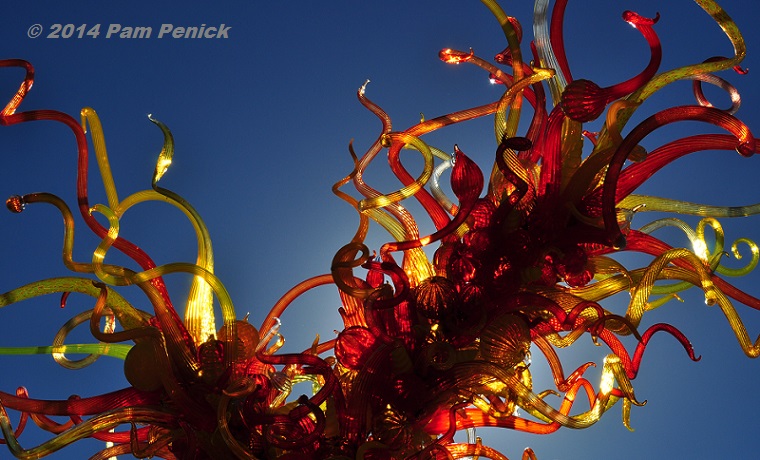 The Chihuly exhibit at Desert Botanical Garden in Phoenix, Arizona, is a huge draw for visitors, and it was for me too. When I visited on April 4th, I was keen to see the colorful glass sculptures in a desert setting after seeing them at Dallas Arboretum two years ago.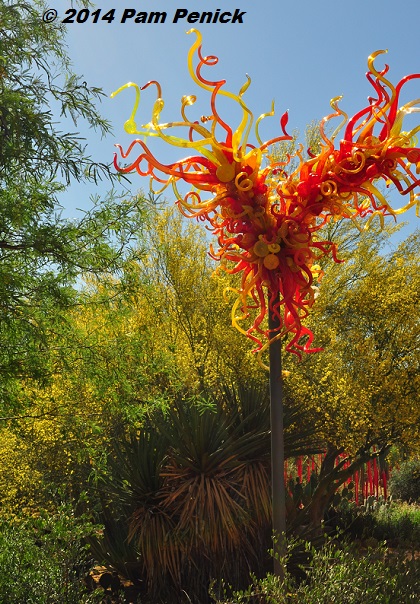 This is one of a pair marking the entrance to the Desert Discovery Loop Trail, the DBG's main walk that leads through gardens of cactus and succulents from around the world. This Chihuly piece didn't really move me.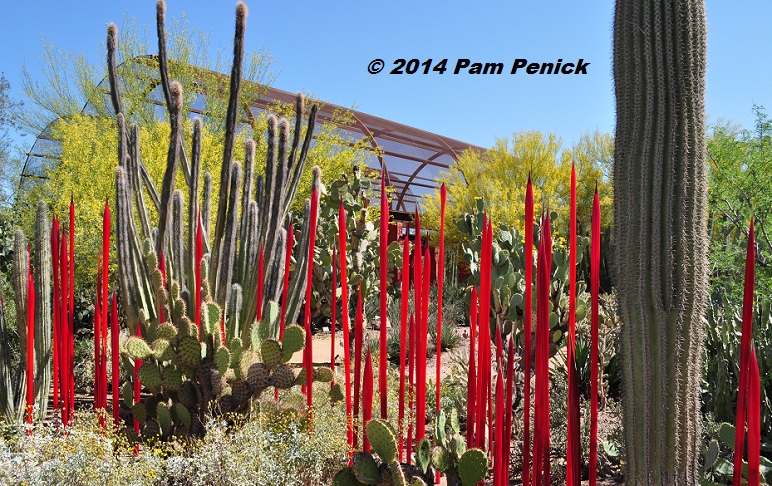 But I liked these red "reeds" echoing the shapes of columnar cactus.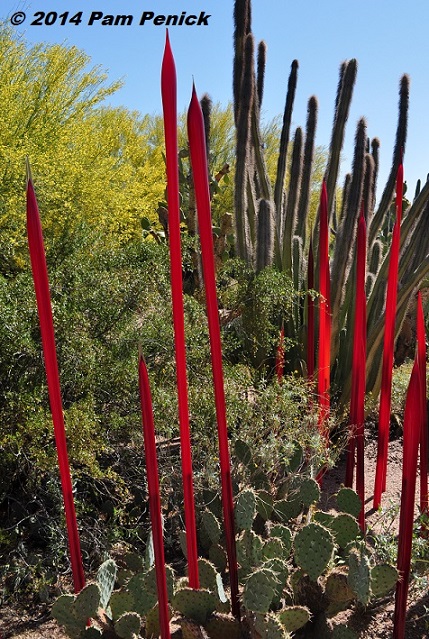 Nicely placed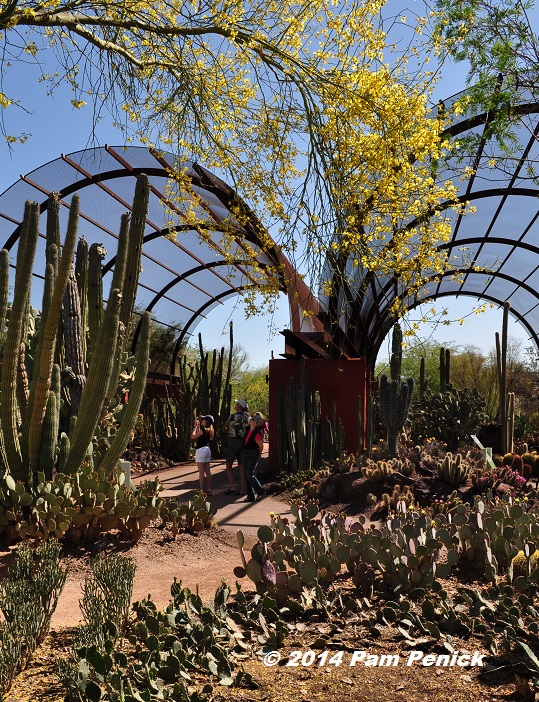 These arched shade structures are part of the Sybil B. Harrington Cactus and Succulent Galleries, which were designed by Phoenix landscape architect Steve Martino, who showed me two of his gardens later that afternoon.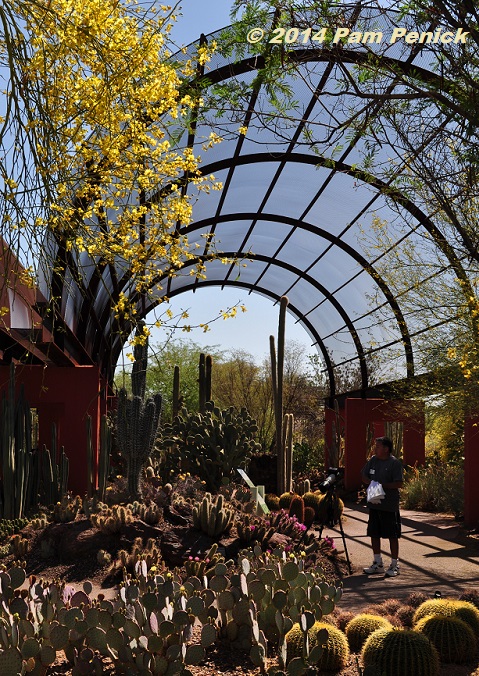 You get a glimpse of the galleries from the main trail, but you can't enter from here.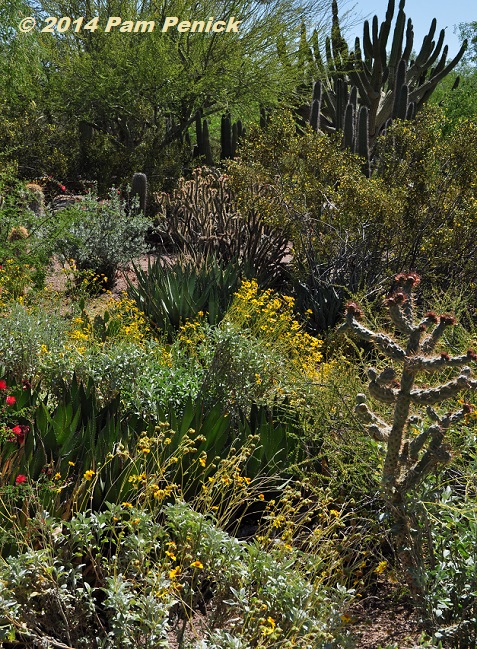 Continuing along the trail, you pass densely planted gardens. The Sonoran truly is a lush desert, oxymoronic as that may sound.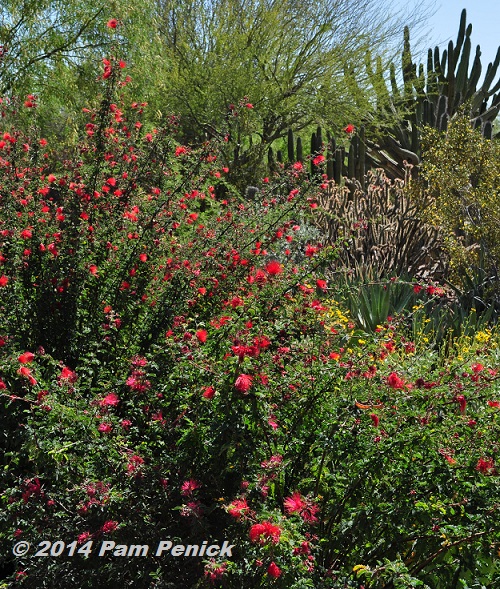 I loved the Baja fairy duster in bloom.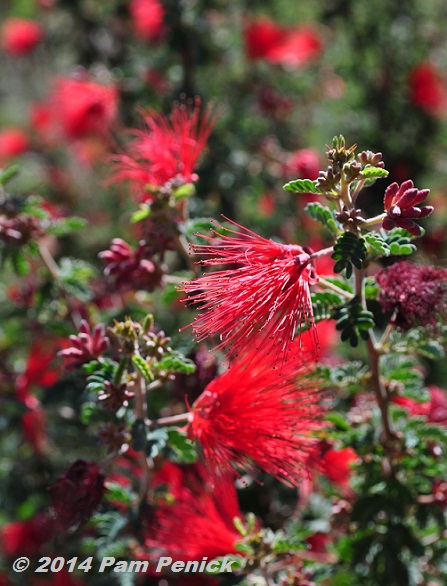 A close-up of its powderpuff blossoms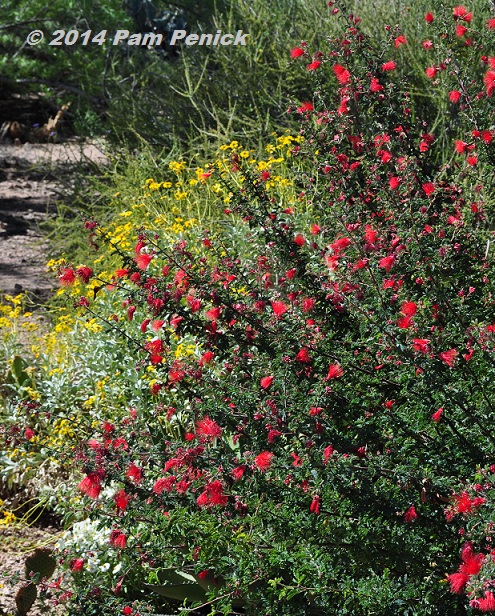 I do have a thing for red flowers in a hot-climate garden. They just work. Actually I like them in cool-climate gardens too (remembering all that glorious crocosmia in Seattle).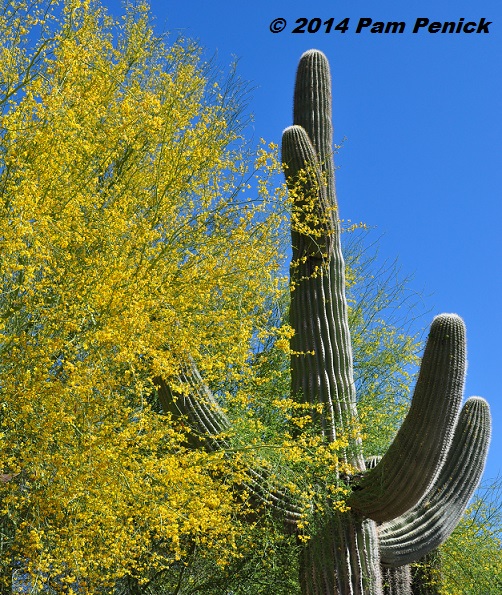 But yellow is the color of Phoenix in spring. A saguaro cactus seems to lean into a golden palo verde tree, against a blue, blue sky.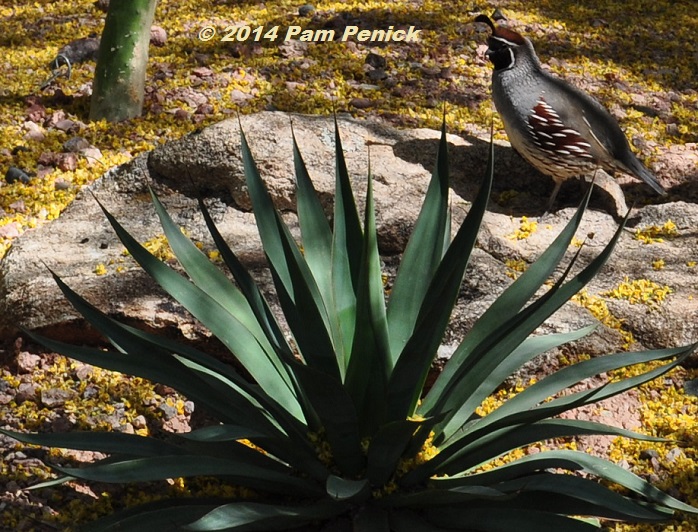 A Gambel's quail attracted my attention as it hunted for seeds or insects among the confetti of palo verde blossoms.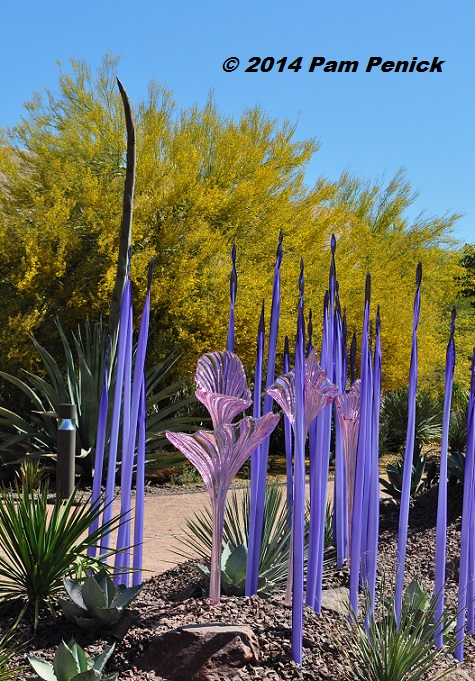 Entering the Cactus and Succulent Galleries, you see another Chihuly piece: purple reeds and periwinkle, flower-like sculptures — pretty against a palo verde in bloom.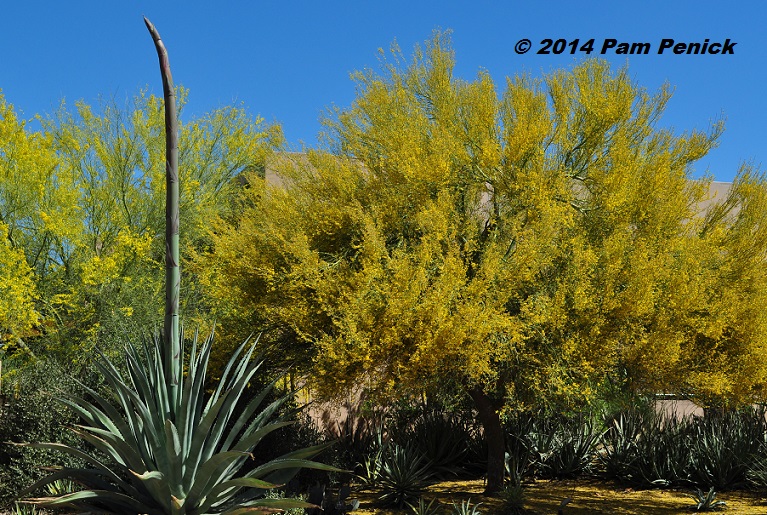 Sorry, Chihuly. You can't compete with a full-bloom palo verde, nor a massive agave sending up a bloom spike taller than the tree.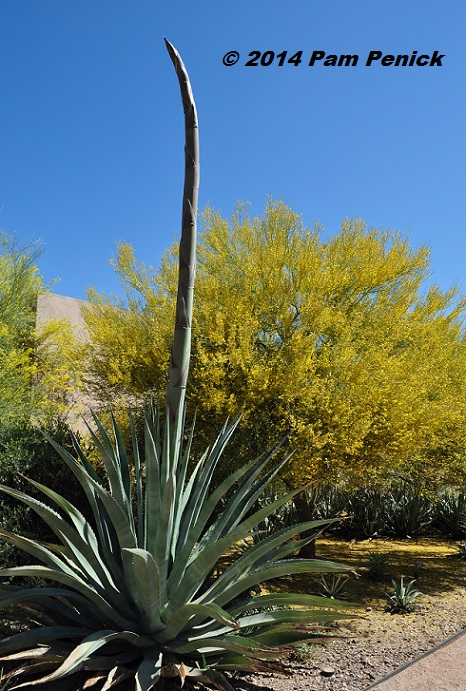 Agaves go out with a bang. Once it flowers, the mother plant dies. But the plant lives on through seeds or bulbils (baby agaves) produced on the flower stalk.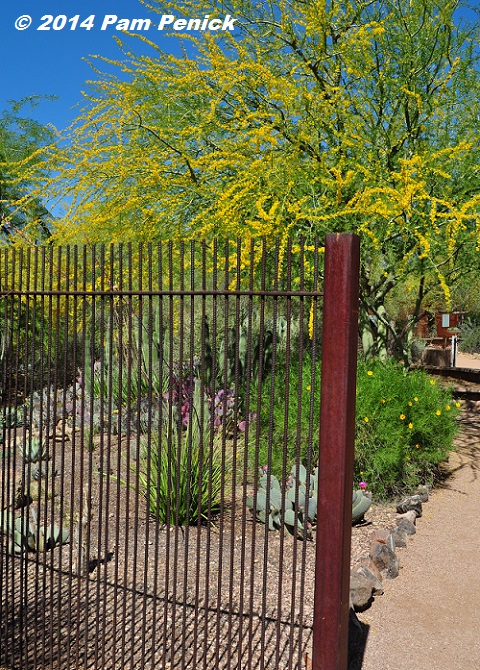 I really liked this airy rebar fence.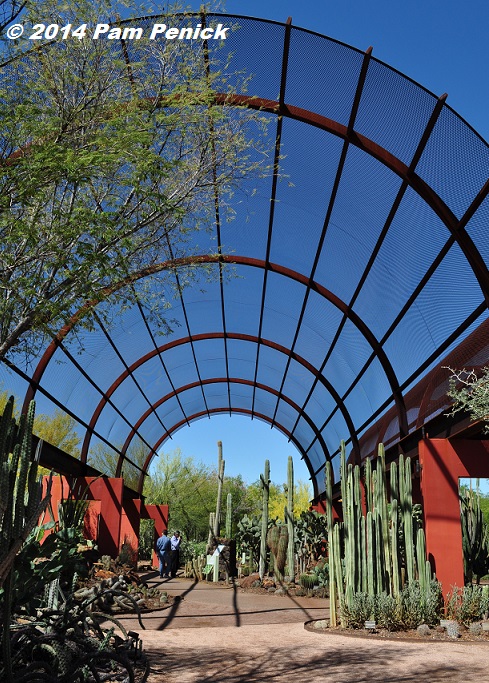 More rust-red metal makes up the barrel-vaulted sunscreens of the cactus galleries. At 28 feet tall, the vaulted mesh provides filtered shade for plants and people, and the brick-red supports add that trademark Martino flair for colored walls. A heating and cooling system is built into the galleries to allow tender desert plants to survive here.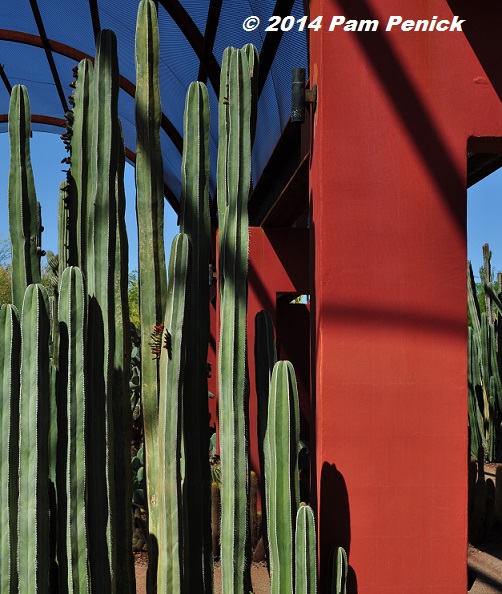 Columns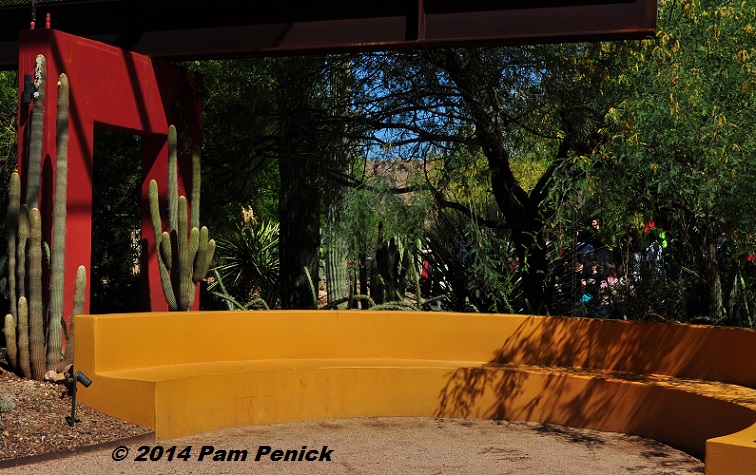 A goldenrod-yellow banco offers a place to rest — and more rich color.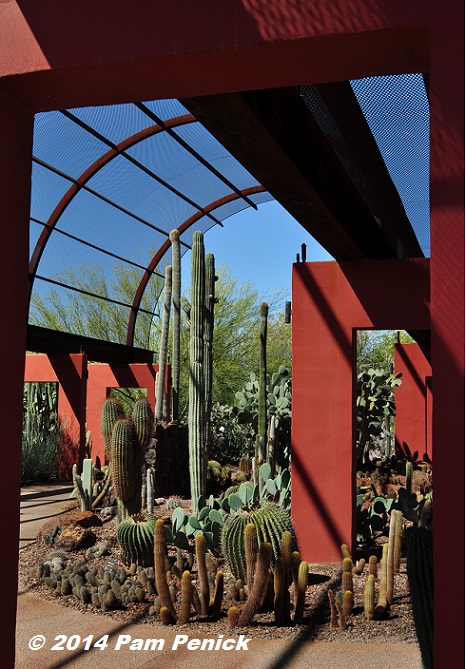 Strong architecture suits the architecture of desert flora.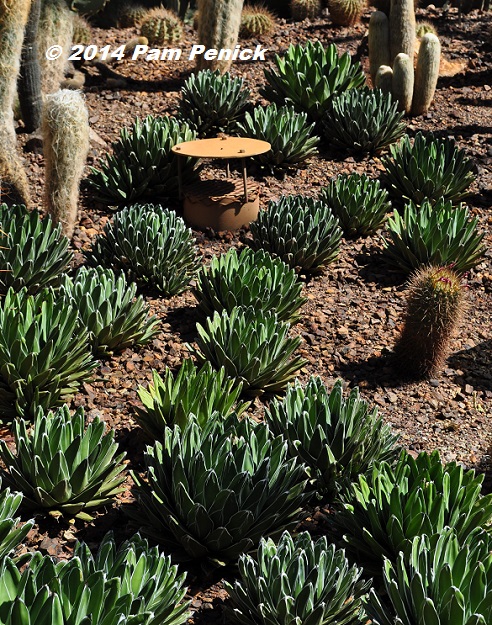 Mass plantings are fresh and modern. Here's a royal gathering of Queen Victoria agaves.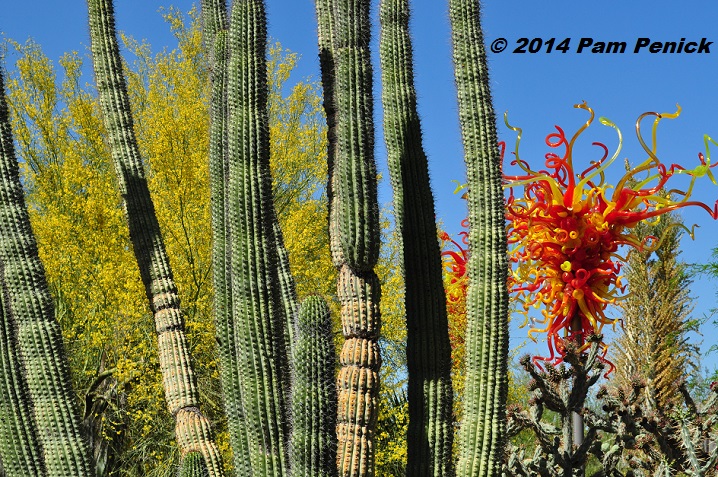 At the end of one gallery I spotted the Chihuly piece that marks the trail entrance. I like it better from this angle, juxtaposed against columnar cactus.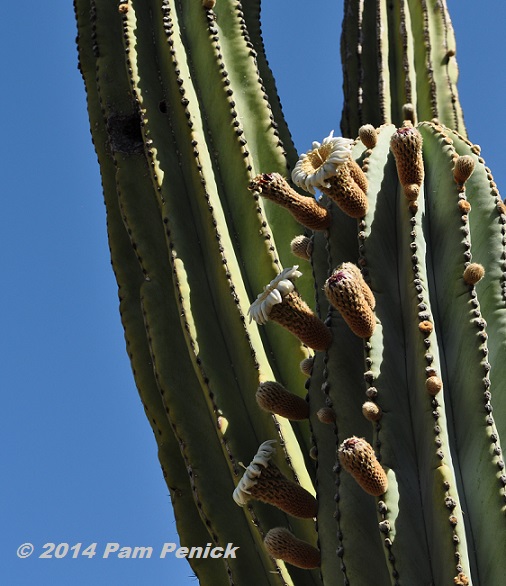 Dr. Seussian flowers of a saguaro cactus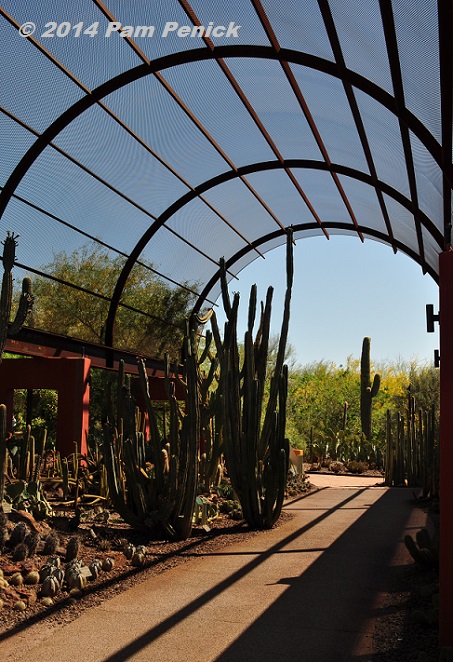 Lines and shadows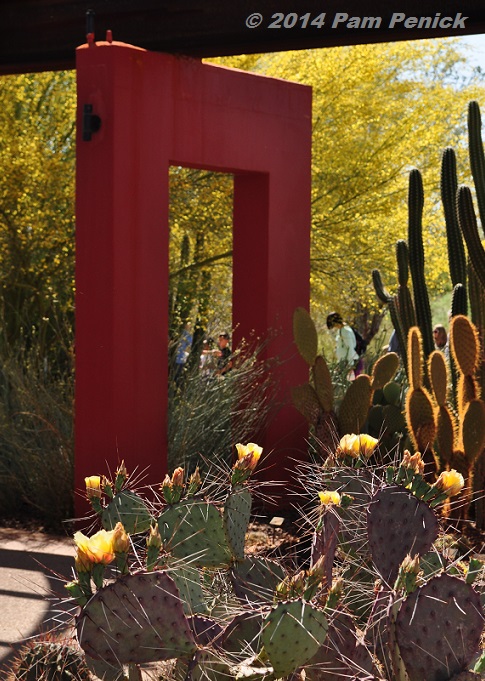 When the light hits everything just right — magic!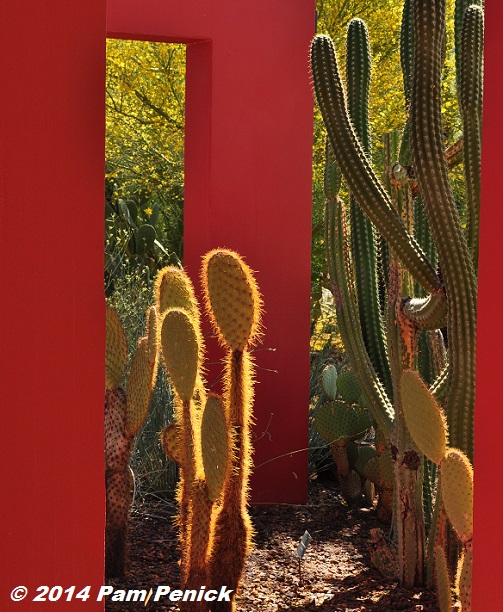 I love, love, love this fuzzy orange Opuntia, especially against the red masonry.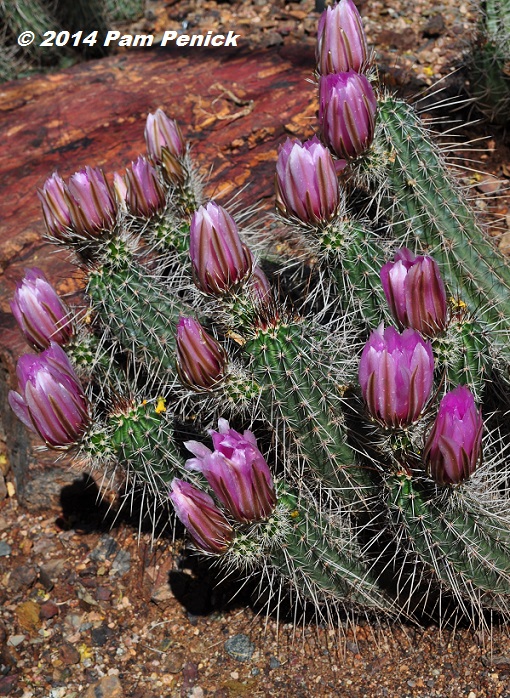 Webster's hedgehog cactus in bud against warm, orangey red rocks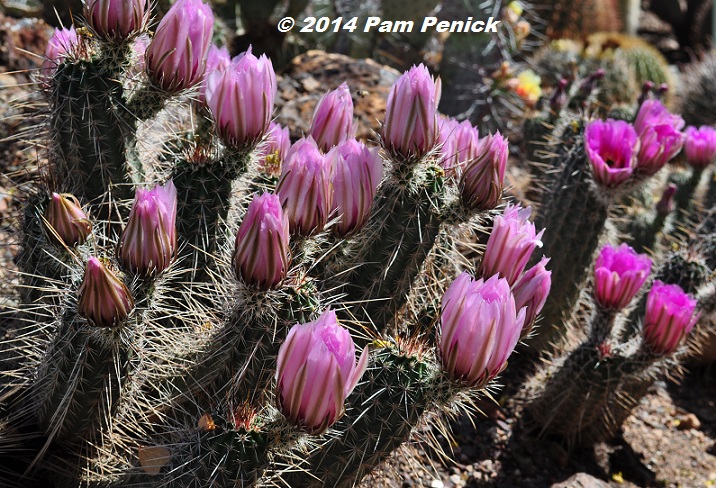 The light catches in the long, white spines and pink petals.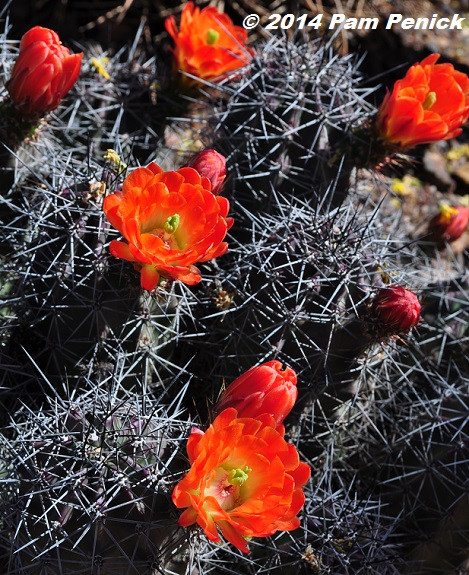 Scarlet hedgehog cactus with brilliant orange flowers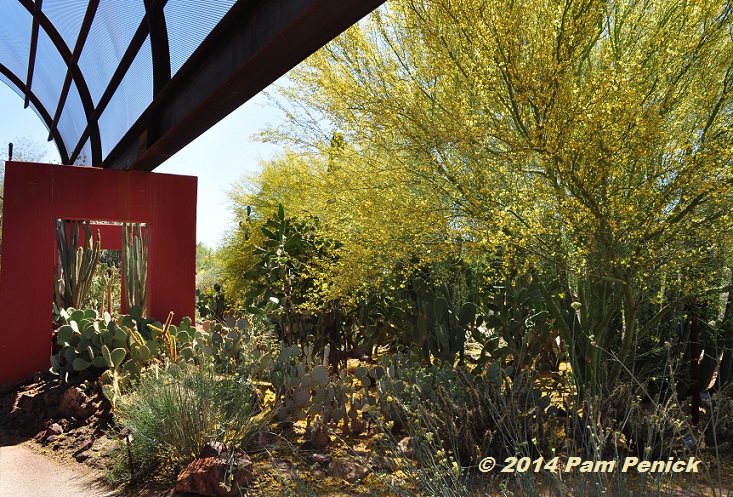 The red support posts double as windows framing views of columnar cactus.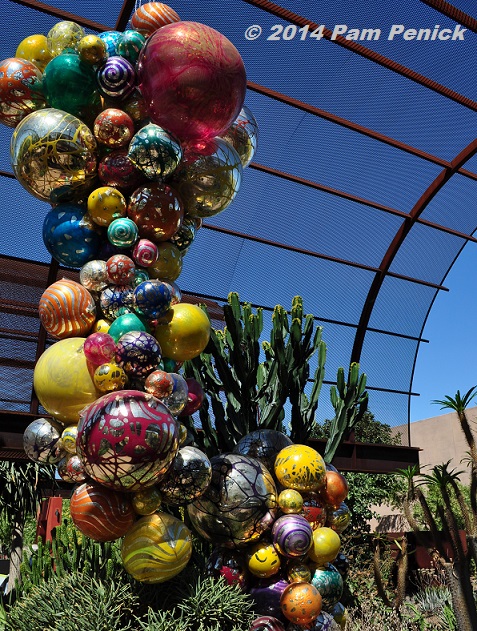 A fun Chihuly piece is located in the galleries — like Mr. Fredricksen's house-lifting balloons in Up! They nearly scrape the top of the barrel-vaulted screen.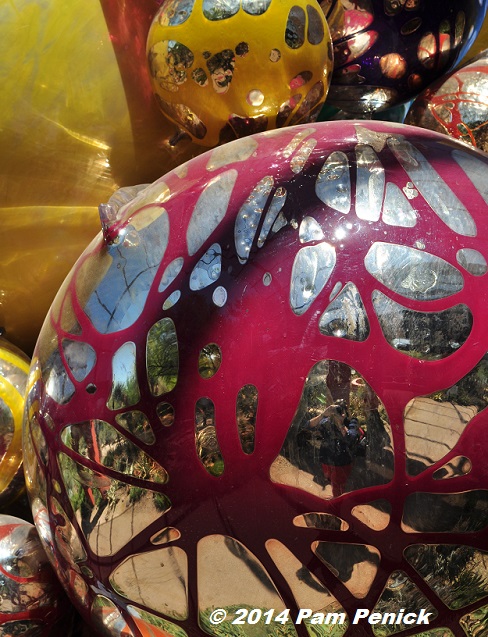 Self-portrait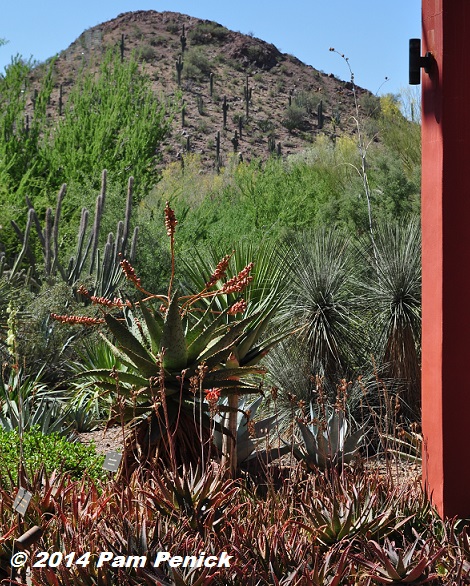 As you exit the galleries, a mass planting of red aloes — echoing the color of the supports — and a hillside studded with cross-like saguaros greets you.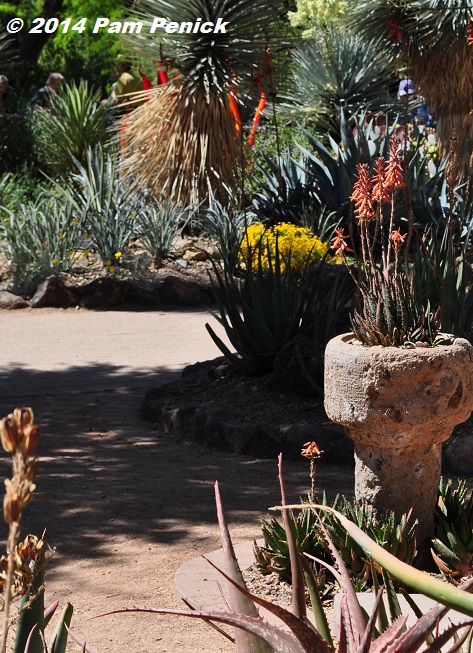 Nearby, an intimate, circular garden room offers a bench and is anchored by an aloe in a rugged pedestal planter.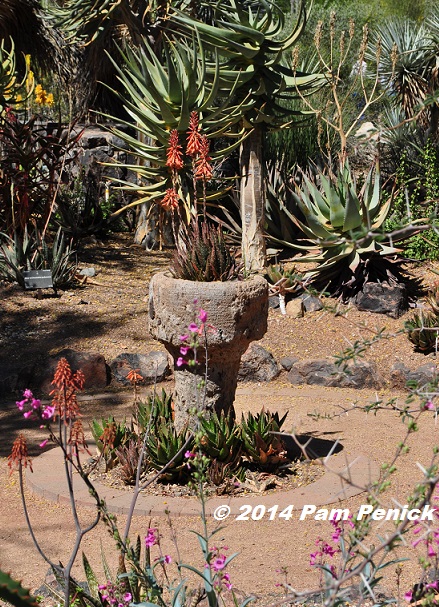 This is a space that would work beautifully in a home garden. It's inspiring to see smaller gardens like this mixed in with big mass plantings.
Up next: Archer House garden — excellent homeowner inspiration! — and Desert Living Trail, plus more Chihuly sculpture at DBG. For a look back at the Entry Garden and Desert Wildflower Loop, click here.
All material © 2006-2014 by Pam Penick for Digging. Unauthorized reproduction prohibited.
posted in
Agaves
,
Aloes
,
Arbors
,
Birds
,
Botanic/Public Gardens
,
Cactus
,
Containers
,
Desert
,
Fences
,
Garden art
,
Garden structures
,
Garden tours 2014
,
Sculpture
,
Seating
,
Succulents
,
Trees
,
Walls
,
Wildlife
,
Windows
,
Xeric plants