April 26th, 2014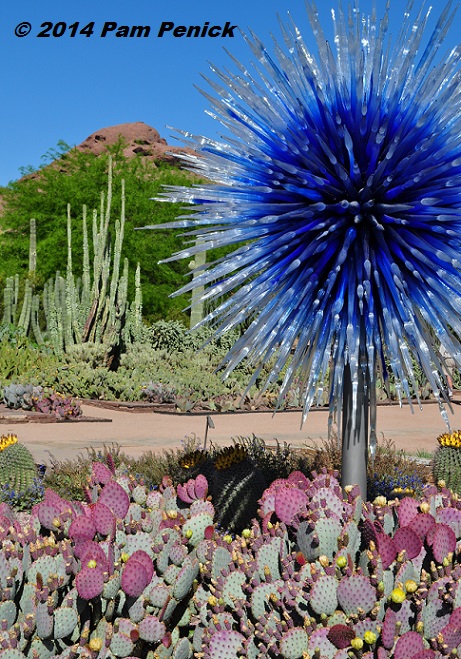 As soon as I got off the plane and into my rental car on my April 3rd visit to Phoenix, Arizona, I drove straight to Desert Botanical Garden, which is consistently rated one of the best botanical gardens in the U.S. I knew a spring visit would be spectacular with the Sonoran Desert in bloom, and there was the added inducement of the Chihuly glass sculpture exhibit, which runs until May 18.
I saw the Chihuly exhibit at the Dallas Arboretum in 2012, and truth be told, I liked it better there, perhaps because the Arboretum has a more formal layout that worked well with Chihuly's monumental pieces. But I was eager to see the colorful, organic glass sculptures amid the light-catching, Dr. Seussian plants of the desert, and some of them were placed to spectacular effect, like this blue starburst in a bed of prickly pear and fishhook barrels in the entry garden.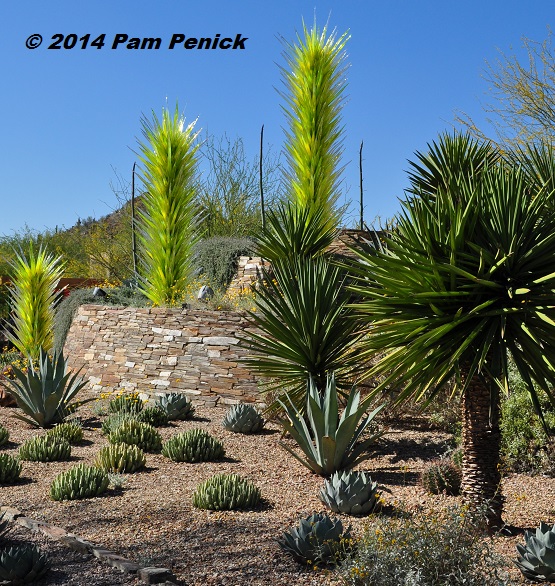 Before that, along the entry walk, you see this trio of bristly spikes, their form echoing the yuccas and agave bloom spikes in the garden around them.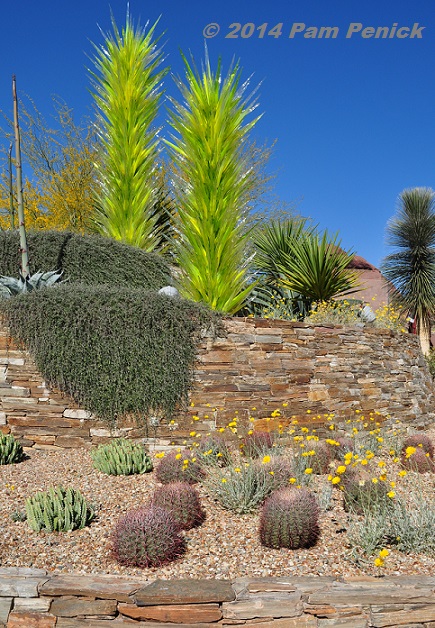 They could easily be described as yucca towers. Update: "Desert Towers" is a permanent Chihuly sculpture at DBG, acquired after the first Chihuly exhibit in 2009.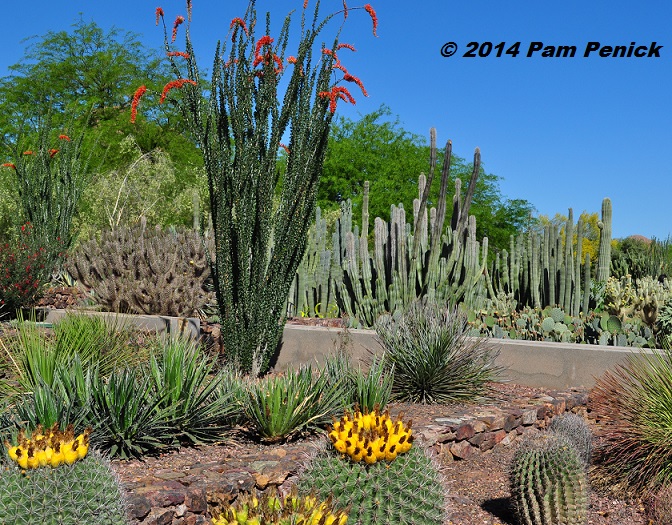 But my god, with plants like these, you don't really need sculpture. The ocotillo in bloom against a backdrop of columnar and rounded cactus was breathtaking, with a china-blue sky of mid-morning the perfect backdrop for these sky-scraping plants.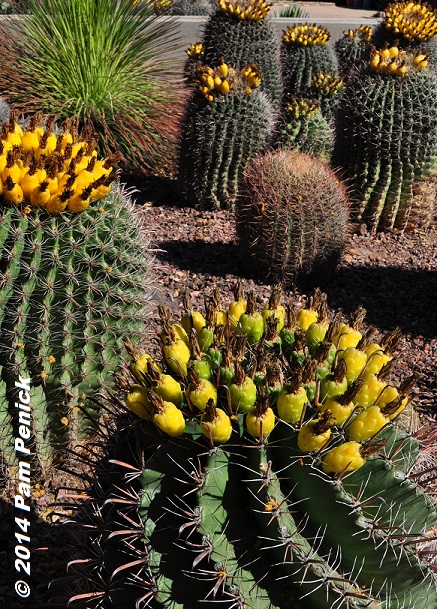 Fishhook barrel cactus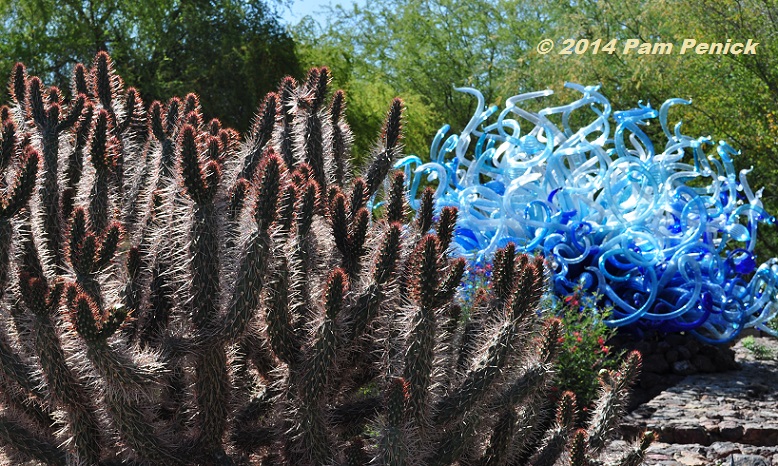 I found this pairing inspiring: a bristly, coppery, many-armed cholla with a writhing, octopus-like sculpture.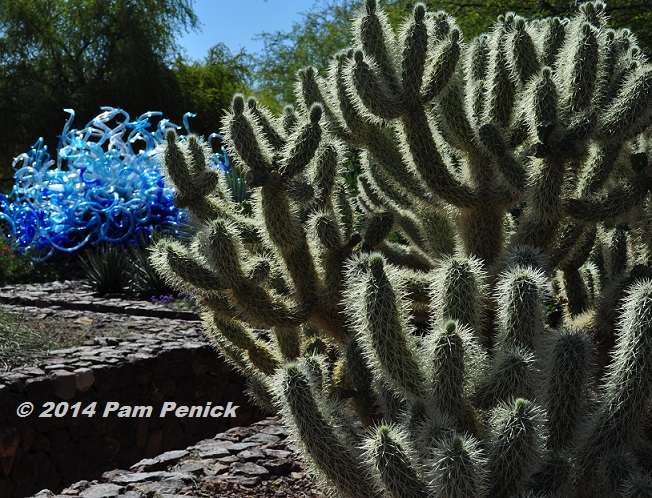 And from another angle, a blond cholla looks just as good with it.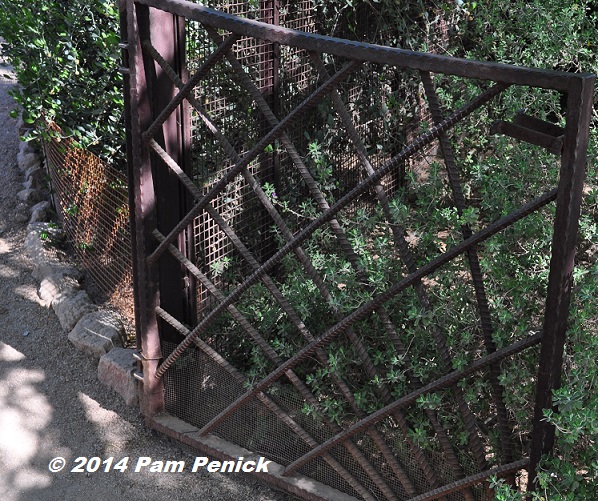 I'm not one for maps when visiting a new garden. I like to wander at random. So with my map stuck in my back pocket, not knowing that most of the Chihuly pieces were in the other direction, I headed toward the Desert Wildflower Loop. The sun was getting higher by the minute, and the garden was filling up with people, and I wanted to see as much as I could before the sun washed everything out and people got in all of my shots. And yet I couldn't help stopping to admire this rebar gate and take a picture for future reference.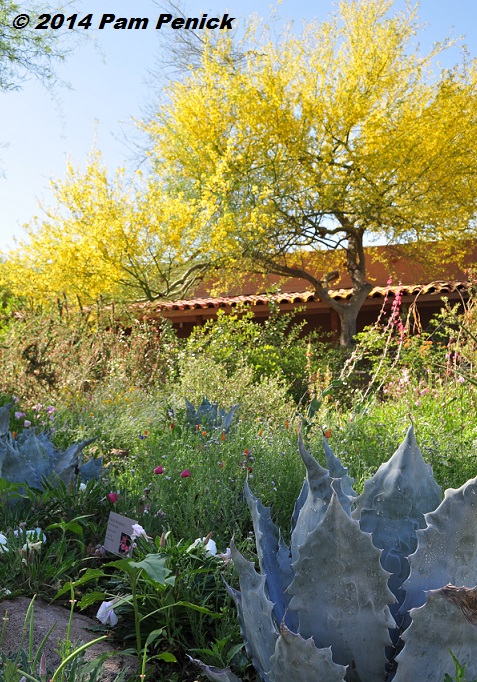 I quickly realized that desert wildflowers are as stunning as Texas wildflowers — in fact, many of them are the same or very similar, like pink evening primose, winecup, and penstemon. But we don't have those golden palo verde trees, and I was agape over them.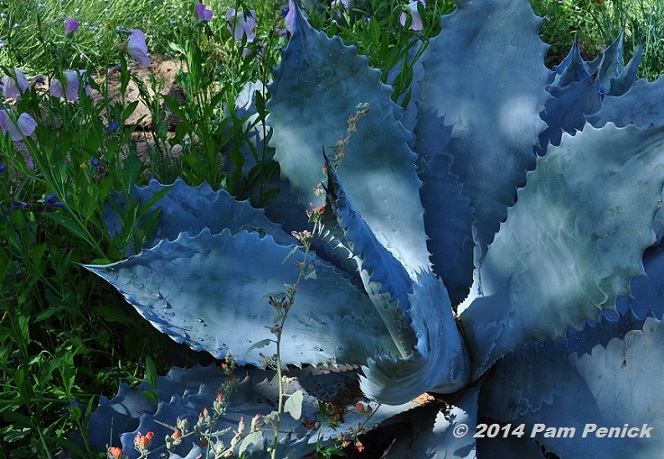 Agave colorata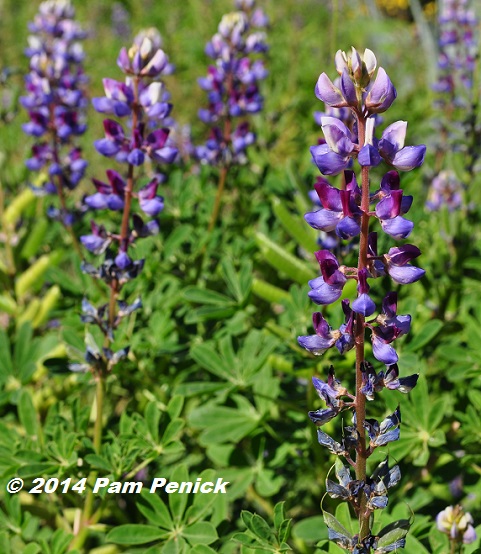 Some variety of lupine, a relative of our beloved Texas bluebonnets.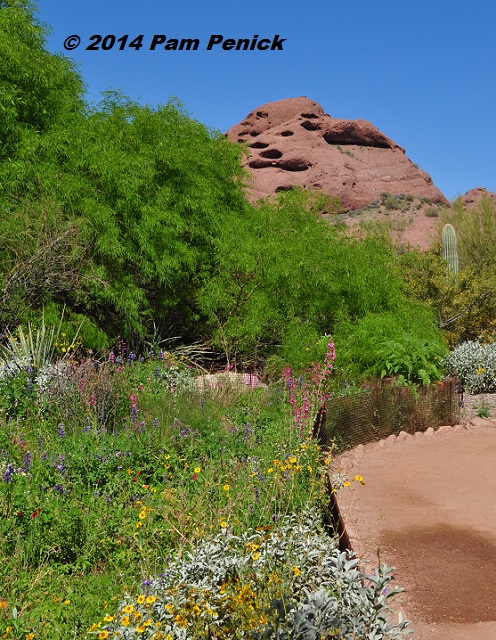 The Wildflower Loop is laid out as a winding, decomposed-granite path with meadowy gardens and views of a holey, sandstone butte, part of Papago Park, just past the garden's border. Phoenix gardens, I soon learned, often capitalize on views of the rugged mountains and rock formations that surround the city — a majestic borrowed view.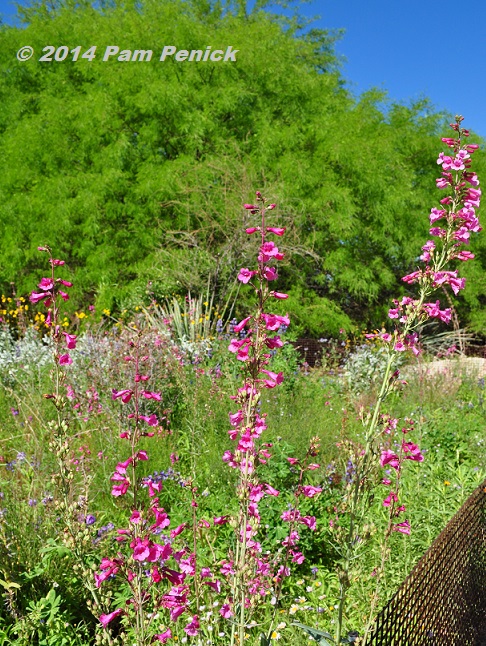 Parry's penstemon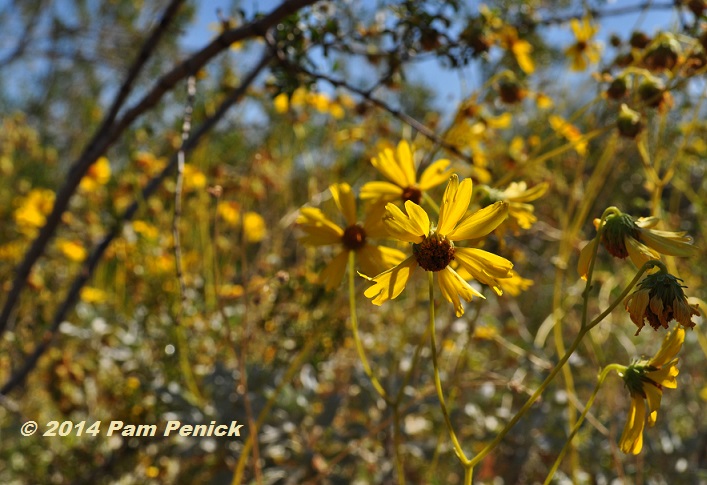 Coreopsis? Brittlebush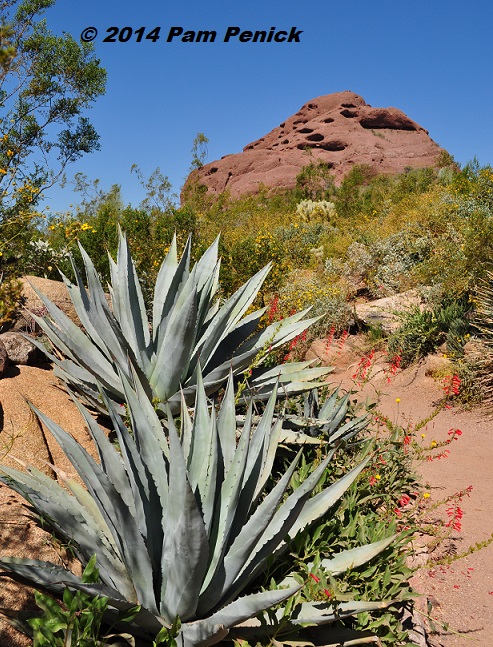 Agaves and that red hill — great architecture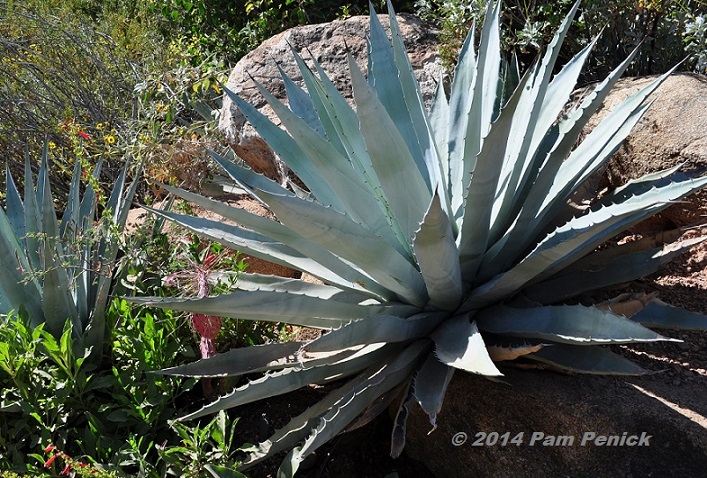 The agave seems to grow right out of the rock.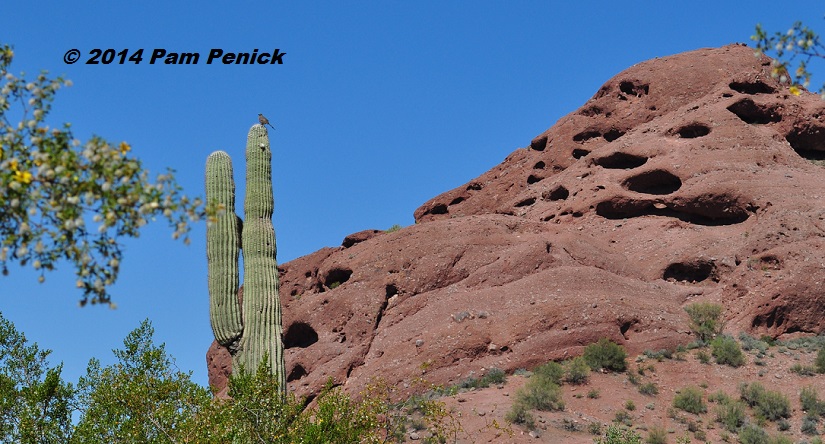 This butte looks like a dollop of whipped cream sliding sideways. How are these holey formations formed, I wonder? I never did find out. Note the bird taking a rest break atop the saguaro cactus.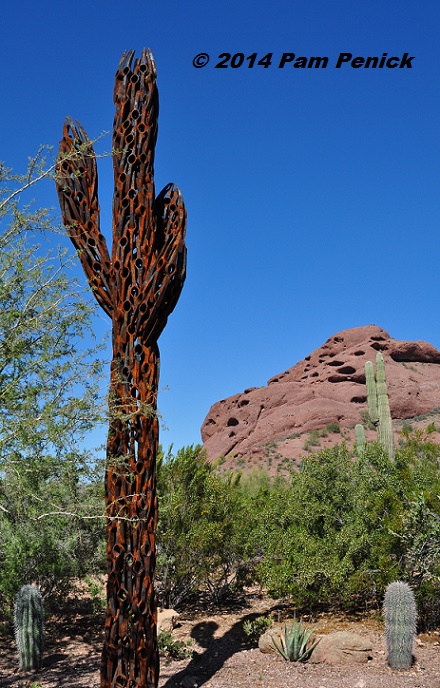 Sculptures of cactus and succulents always look good because the plants themselves are so sculptural. This is a 20-foot saguaro sculpture made of the heads of picks used to salvage native plants.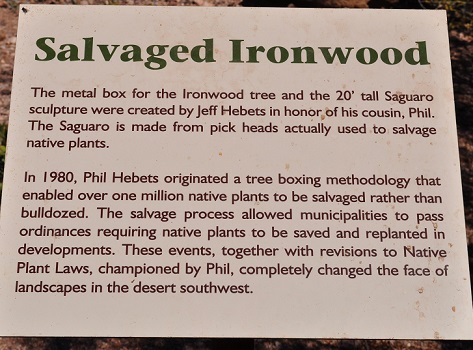 A sign tells the larger story.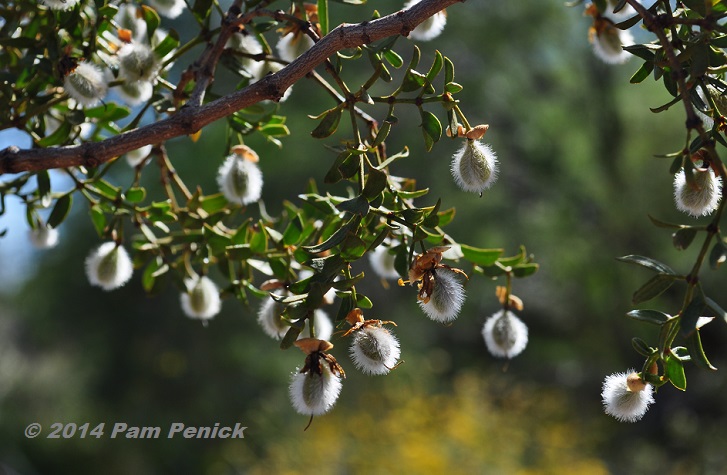 I've no idea what these are, but look how they catch the light. Update: These are creosote fruits (Larrea tridentata)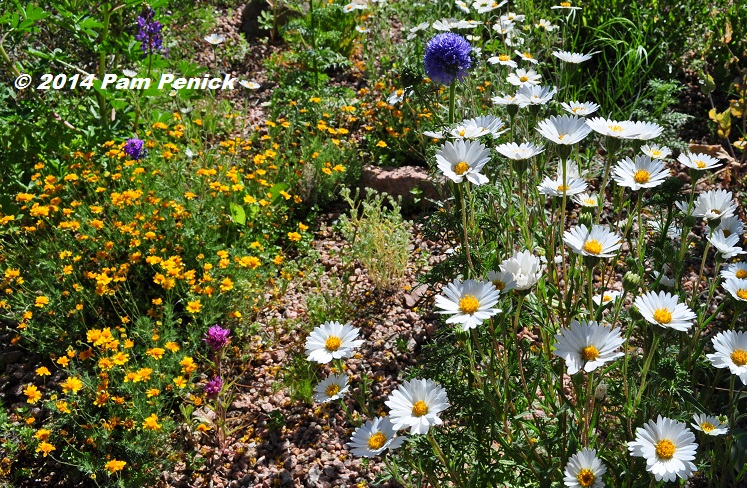 Damianita and daisies make a fresh combination.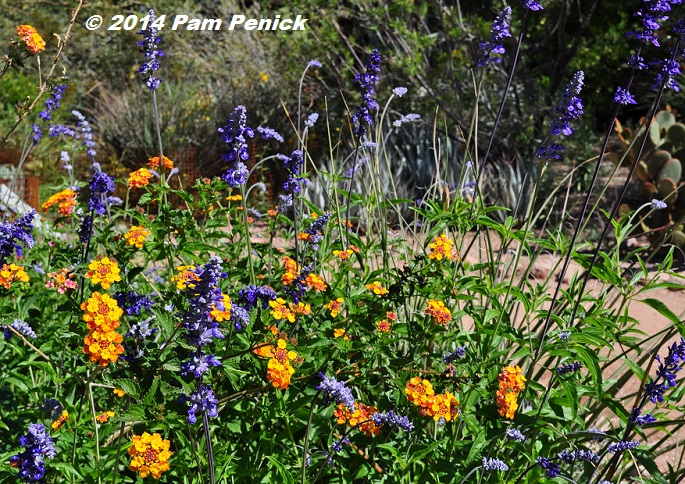 Lantana and mealy blue sage — a pairing we can grow here in Austin.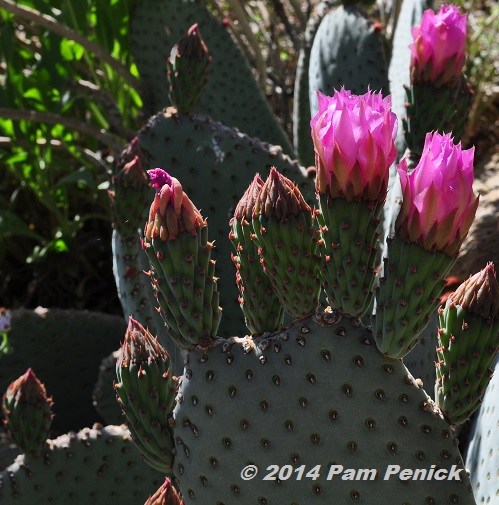 Beavertail Opuntia in lipstick-pink bloom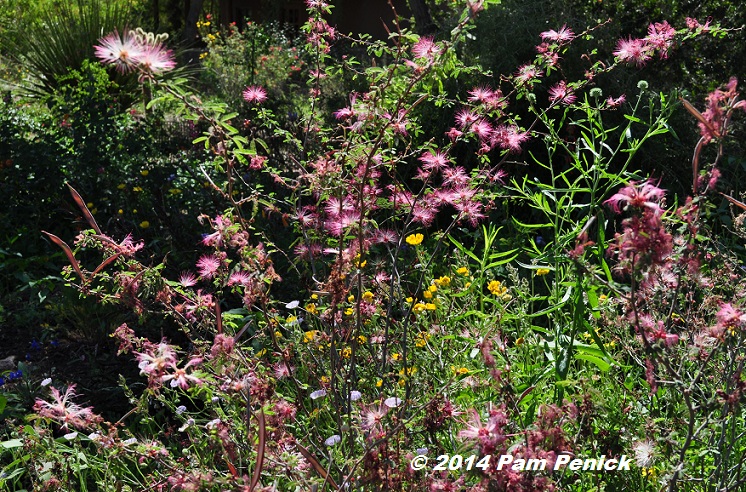 Pink fairy duster with its mimosa-like flowers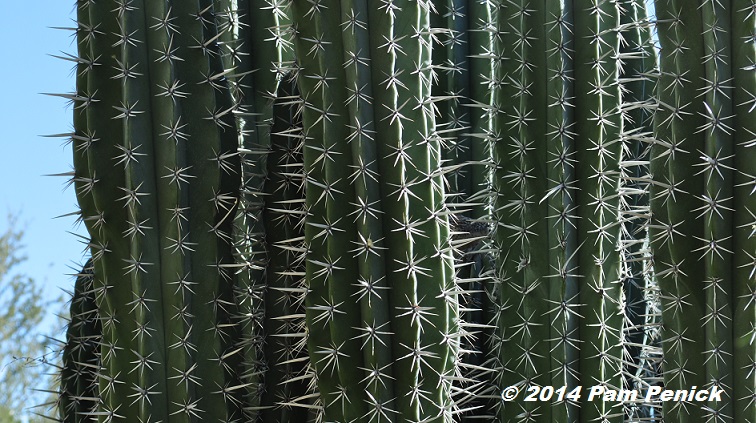 Back at the entry garden, I stopped to watch a speckled bird hop amid the star-shaped thorns of a tall cactus. I didn't get a clear shot of the bird, but the cactus spines came out nicely.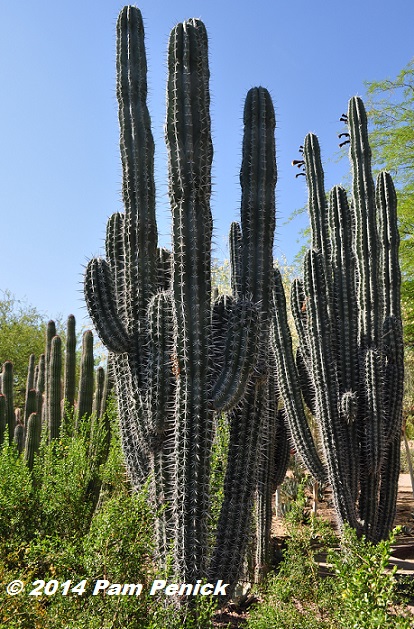 Here is his playground.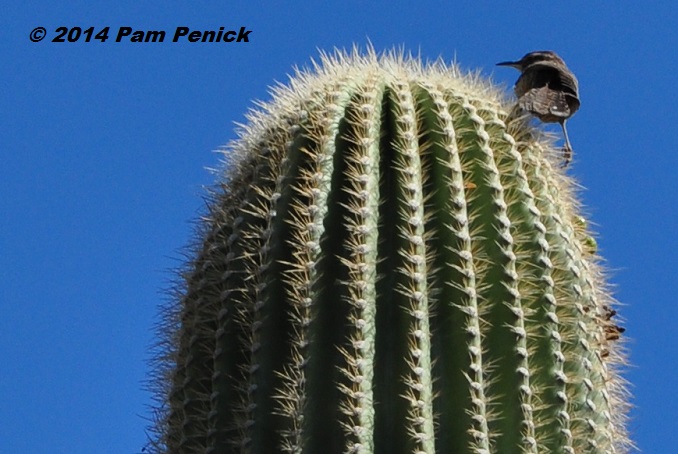 I did capture this bird on a tall cactus lookout.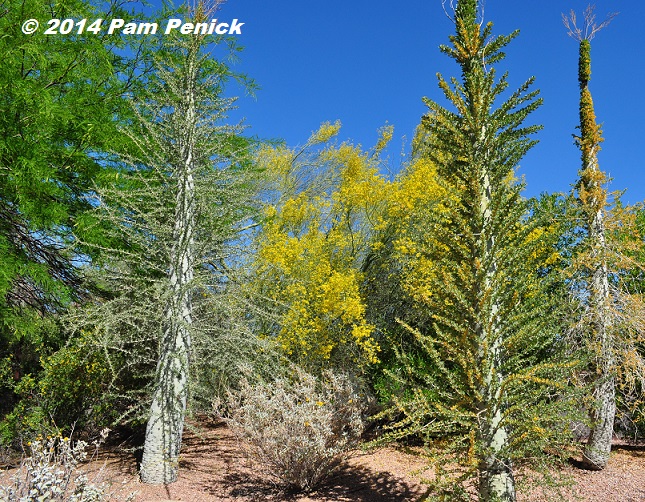 The oddly shaped and named boojum tree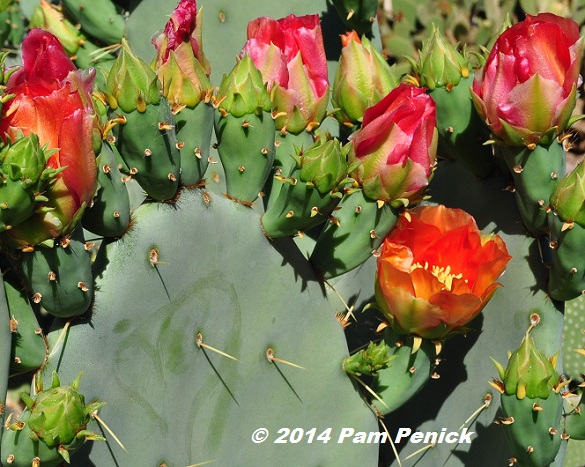 And more flowering prickly pear. Someone (not me!) drew a heart in the glaucous coating of the pad.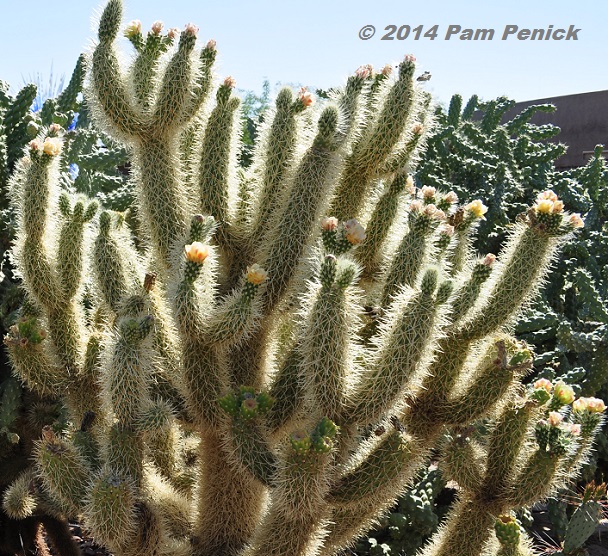 A creamy white cholla with apricot flowers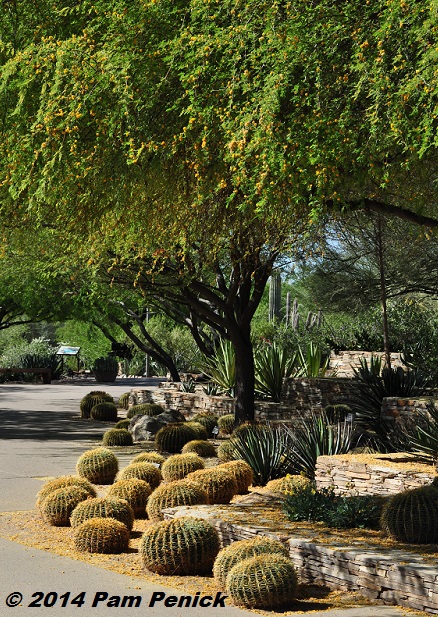 Heading left toward the next garden, I admired this modern arrangement — geometric and en masse — of golden barrel cactus. I believe that's golden leadball tree dropping its petals and making the barrels even more golden.
Up next: The Cactus and Succulent Galleries and more Chihuly sculpture at DBG
All material © 2006-2014 by Pam Penick for Digging. Unauthorized reproduction prohibited.
posted in
Agaves
,
Birds
,
Botanic/Public Gardens
,
Cactus
,
Desert
,
Garden art
,
Garden tours 2014
,
Gates
,
Paths
,
Sculpture
,
Succulents
,
Travel
,
Trees
,
Views
,
Walls
,
Wildflowers
,
Xeric plants