August 15th, 2007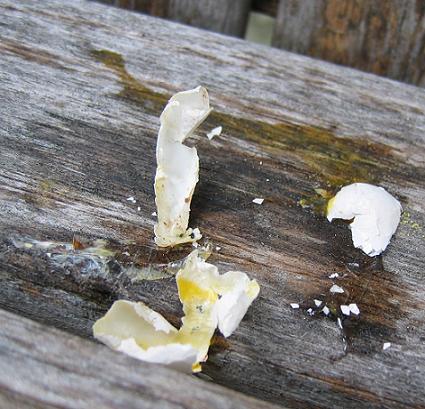 Last spring a mourning dove built a nest in the cedar elm, right over the patio. Whenever I was out there, she cocked her gray head at me but sat tight. Her loosely built stick nest looked precarious, unlike the tightly woven sparrow nests I often see. I checked on her daily and always spotted her smooth, gray head and her blue-ringed eye staring back.
One morning I found disaster: her nest hanging in tatters, two eggs smashed below. The dove was gone. I wondered what had happened. Had a cat attacked? Had there been strong winds? Or, as seemed likely, had her nest been so poorly built that it had just given way?
When I'd blogged about the nest earlier, Kim commented that mourning doves are known to be inept builders. Now I was seeing the proof. And yet—the number of mourning doves in my neighborhood indicates that some are successfully hatching eggs. Obviously, if you keep trying, you'll get it right some of the time.
Thank goodness that applies to gardeners too. When I recall how many plants I've killed over the years, I'm a little appalled, but I just chalk it up to the learning process. My mistakes don't stop me from trying again with the same plant elsewhere in the garden or with a new plant at the scene of the crime.
But what if I looked at each plant's death as confirmation of an inability to garden?
I have a friend who enjoys other people's gardens but talks deprecatingly about her own "gangrene" thumb. "I kill everything," she laughs. "But with your green thumb, you can grow anything." Little does she know that my thumb is often more gangrene than green.
Culled from my garden notes, below is a partial list of the plants I've murdered. Sadly, many more floral John Does lie in unmarked, forgotten graves.
Ajuga
Gerbera daisy
Dahlberg daisy
Chocolate daisy
Pine muhly
Mexican coral vine
Water hawthorn
Bushy bluestem
Japanese fatsia
Red columbine
Jerusalem sage
Autumn sage
Daylily
Liatris
Hosta
'Autumn Joy' sedum
'Moonshine' yarrow
Lamb's ear
'Early Sunrise' coreopsis
Southern wax myrtle
Kidneywood
Moss verbena
Flowery senna
Blue-eyed grass
Bee balm
Wooly stemodia
Hyacinth bean vine
Yellow lantana (how do you kill one of these?!)
Hollyhock
What may surprise many non-gardeners is that gardeners who read my list won't be shocked by its length. (Am I right?) Anyone you'd consider a successful gardener has, I'll bet, his or her own list of victims: plants that succumbed to too much shade, too much sun, too much water, not enough water, early frost, heat, insects, bad pruning jobs, being mistaken for weeds, lack of protection from dogs, deer, or soccer balls. The list goes on.
The fact is that anyone who loves plants will kill many of them in the process of gardening. It's part of the learning curve. Whoever said, "You never really know a plant until you've killed it three times" was exactly right. I would add, "And that's OK."
Yes, it's OK to kill plants. As a plant fails, you learn something about it : What it doesn't like. What pests like it. A plant's death doesn't, however, tell you anything about yourself as a gardener.
But how you respond to it does. Those who throw up their hands and say they can't garden are missing out on the joy of success that will surely come if they keep trying. After all, if you have to break a few eggs to make an omelet, you surely have to kill a few plants to make a garden.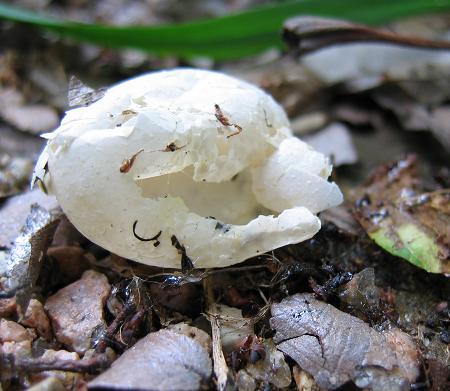 All material © 2006-2010 by Pam Penick for Digging. Unauthorized reproduction prohibited.